5 Best Online Stock Brokers and Trading Platforms For Beginners in 2022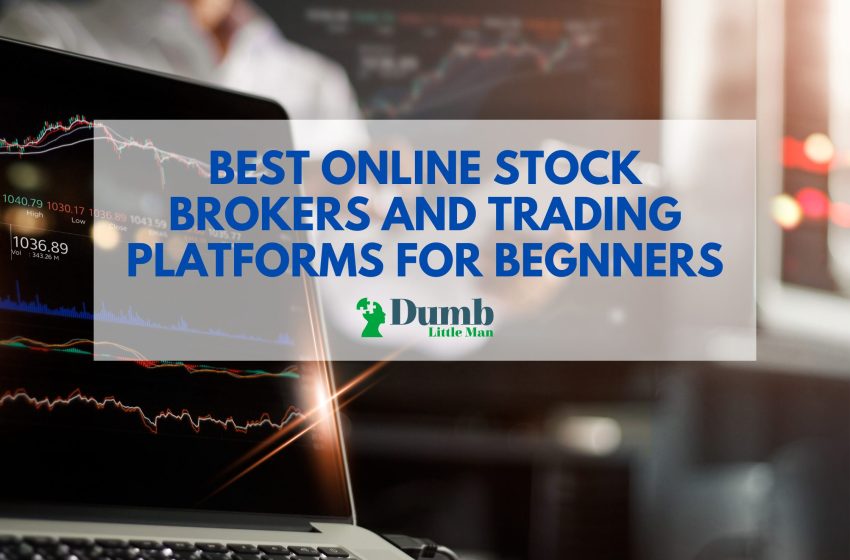 Want to jump straight to the answer? The best Stock Brokers are Tradestation and Tradier
The #1 Stocks and Forex Trading Course is Asia Forex Mentor
Investing in stock and forex trading is not an easy task, especially for a newcomer. The process of trading and investment requires expertise and most importantly a license to perform trade. Hence, any beginner who has the intention of investing or trading in the stock market needs the support of a stock broker or an online platform.
The role of a stock broker or an online platform is that of a bridge between the investors and the stock exchange where trades are processed. Moreover, the stockbroker is responsible for an effortless and profitable trading outcome between the two parties. Consequently, profitable investment or trading without a stock broker or best trading platforms is unachievable.
For this reason, it is crucial to choose the best stock broker or online platform for beginning investors and traders. However, with the numerous options at our disposal, it is becoming an unnerving task to select a credible full-service brokerage.
As a result, this review aims at narrowing down the finest trading platforms and stock brokers for beginners for effortless selection. Additionally, with the help of this review, new investors and traders can evaluate which of these brokerage options would best suit their trading needs
5 Best Online Stock Brokers and Trading Platforms for Beginners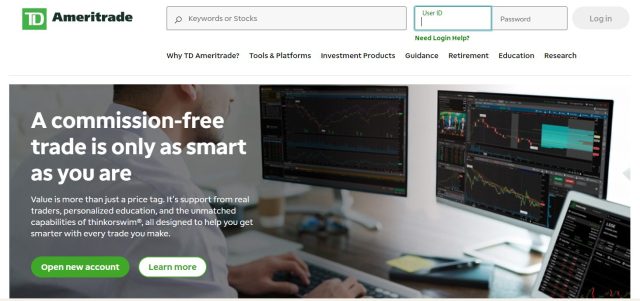 When it comes to the best full-service online broker for any investment portfolio, TD Ameritrade tops the list. With its advance online trading platform, extensive asset allocation, and comprehensible educational resources, TD Ameritrade provides the complete solution to all the trading and investing needs. Therefore, it is ideal for new investors as it offers a brokerage account without any minimum deposit rule.
Moreover, TD Ameritrade is among the few brokerage companies that is a member of the securities investor protection corporation (SIPC). This means that in case the brokerage firm fails, the SIPC holds responsible to protect the securities of its members for up to $500,000 (including $250,000 for claims for cash).
Online trading platforms which are easily accessible and user-friendly tend to be more popular among their users. As a result, TD Ameritrade has aced the technological aspect of trading through its desktop platform thinkorswim as well as other web and mobile applications. Similarly, the online platform provided by TD Ameritrade is also designed keeping in mind both the new and experienced traders.
Another advantage of TD Ameritrade for beginner investors is that it offers tons of educational resources on its platform regarding numerous financial concepts. These resources include physical instructional classes as well as virtual classes through online courses, workshops, and, webinars and live streaming. Consequently, it becomes easier for inexperienced traders to learn multiple basic aspects and strategies regarding trading and investment.
In addition to this, TD Ameritrade proposes brokerage services for a wide range of assets. Whether a new investor plans to invest in ETFs, stocks, mutual funds, options, futures, or cryptocurrency such as Bitcoin, this online brokerage platform provides up-to-the-mark services for all kinds of trading portfolios. For this reason, it is safe to say that TD Ameritrade should be the first choice for beginning investors and traders who are looking for advanced trading platforms.
Broker
Best For
More Details


Beginners
Read Review




securely through TD Ameritrade website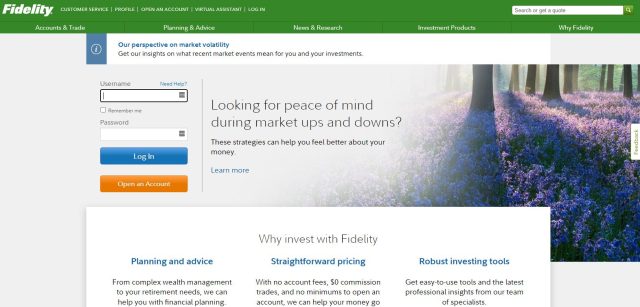 Fidelity is also a reputable brokerage company that offers profitable online services. The highlight of this company is that they are discount brokers who do not charge commissions, specifically in EFTs and so they provide the lowest-cost investment options for the traders. Hence, Fidelity is an affordable option in the top online brokerage space compared to the costly traditional brokerage services.
The most essential part of any online brokerage service is the usability of its platforms. That being the case, along with a standardized online platform, Fidelity also provides tools and asset screeners, particularly for novice traders who require support for finding the perfect trading opportunities.  Moreover, Fidelity is not only exclusive for newcomers, as experienced traders have the alternative of subscribing to the Active Trader Pro as an advanced trading interface.
The only drawback of Fidelity as an online brokerage firm is that it provides services for only the basic investment assets, like stocks, ETFs, options, and mutual funds. However, other popular assets among new traders such as futures, commodities, and cryptocurrencies, are not offered by Fidelity which could be a disadvantage for some active traders as well as for the company.
Broker
Best For
More Details


Mobile Trading App
Read Review

 




securely through Fidelity website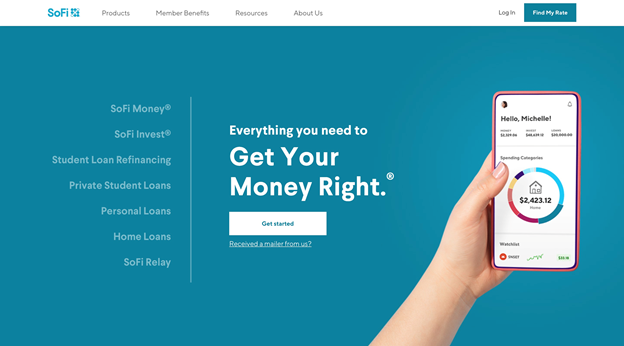 Sofi Invest is included in the list of top stock brokers and online platforms for beginners because it is an ideal company for an investment newcomer. Due to its 0% commission strategy and no account minimum criteria, new investors are encouraged to open a brokerage account through Sofi Invest. Moreover, Sofi is a convenient as a one-stop shop for all financial needs of a trader as it also offers credit cards, refinancing, and mortgage services all under one roof.
Sofi Invest deals in stocks, EFTs, and Cryptocurrencies and offers the lowest cost trading in these assets. However, the company does not deal in other underlying assets such as index funds, mutual funds, security bonds, etc. For this reason, anyone who is looking for asset allocation for retirement accounts has to look for other brokerage companies for these services.
Lastly, like any other competent brokerage company, Sofi Invest also promotes free financial advice for trading newbies. Therefore, Sofi invests not only provides educational material for traders on their platforms but also holds out meetings and seminars which aim at providing the best investment advice from the financial expert's panel.
Broker
Best For
More Details


Advanced Banking Products
Read Review

 




securely through Sofi website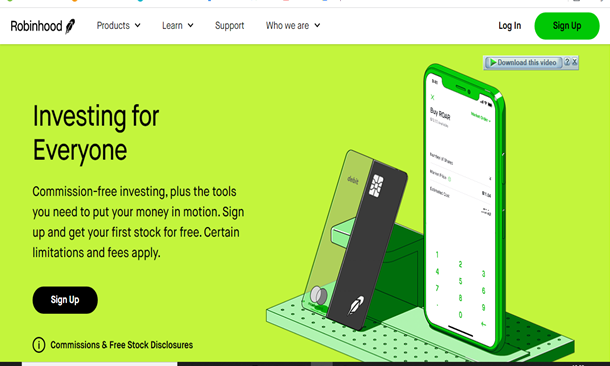 When Robinhood entered as an online stock broker in the financial market, it stood out from all its competitors. The reason for its popularity was that it was Robinhood the company which introduced the concept of the lowest-cost investment for traders. By reducing their brokerage commission to almost 0%, Robinhood allured many investors to open their brokerage accounts with Robinhood.
However, as this trend emerged and Robinhood has become a brand name among the online brokerage platforms, many of its competitors also followed the same strategy. Nevertheless, Robinhood has still sustained itself as the leading brokerage company and has managed to not only retain its clients but has been able to attract new customers as well.
Moreover, tech-savvy investors also appreciate Robinhood's constant evolution through technology in its brokerage services. Recently the company has introduced a cash management option. This feature would make transactions fast and more convenient through android apps.
Overall, selecting Robinhood for your brokerage accounts is a good decision for any neophyte trader as it offers a simple and smooth trading journey. However, those who are looking for top-notch trading experiences need to look elsewhere. As Robinhood lacks in-depth research tools or analytical screeners to achieve desired trading results. For this reason, we can say that there are no perks for a professional trader or investor in Robinhood.
Broker
Best For
More Details


Beginners
Read Review

 




securely through Robinhood website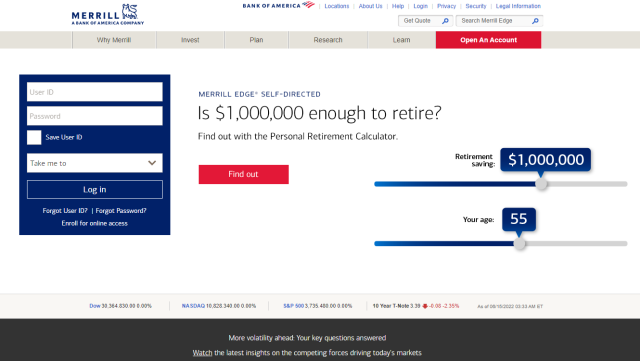 Merrill Edge is an online trading platform which is owned by the bank of America. This collaboration mostly turns out profitable for both the company as well as the active traders. As it provides a beneficial means for investors to manage their cash account and brokerage needs all at the same place.
Along with the dual advantage of brokerage and finance, Merill Edge also presents a systematized software to attract potential clients. The Market Pro interface offered by Merill Edge is effective software that makes the whole online process a lot easier for the client and at the same time creates a professional image of the firm. Similarly, this trading platform also uses the best technology to provide effective trading tools and strategies for both professional as well as casual traders.
Moreover, Merrill Edge covers a wide range of standard assets for trading. These include stocks, ETFs, options, mini options, weekly options, binary options (new), mutual funds, CDs, Treasuries, municipal bonds, and corporate bonds. However, those new investors who aim at trading in, futures options, forex, or cryptocurrency cannot use Merrill Edge brokerage accounts as the company does not offer these services.
Broker
Best For
More Details


Retirement Savers
Read Review

 




securely through Merrill Edge website
Featured Investing Broker of 2022
Broker
Best For
More Details

Advanced Non US Traders
Read Review




securely through Avatrade website




Intermediate Non-US Traders


Read Review





securely through FXCC website






Overall Broker
Read Review





securely through Forex.com website




Professional Forex Traders

Read Review




securely through Interactive Brokers website



Broker
Best For
More Details

Advanced Traders
Read Review




securely through Tradestation website




Intuitive Platforms


Read Review





securely through Tradier website




Powerful Services at a Low Cost
Read Review





securely through Tradezero website




Professional Forex Traders

Read Review




securely through Interactive Brokers website