Top 7 BEST Forex Mentors in 2023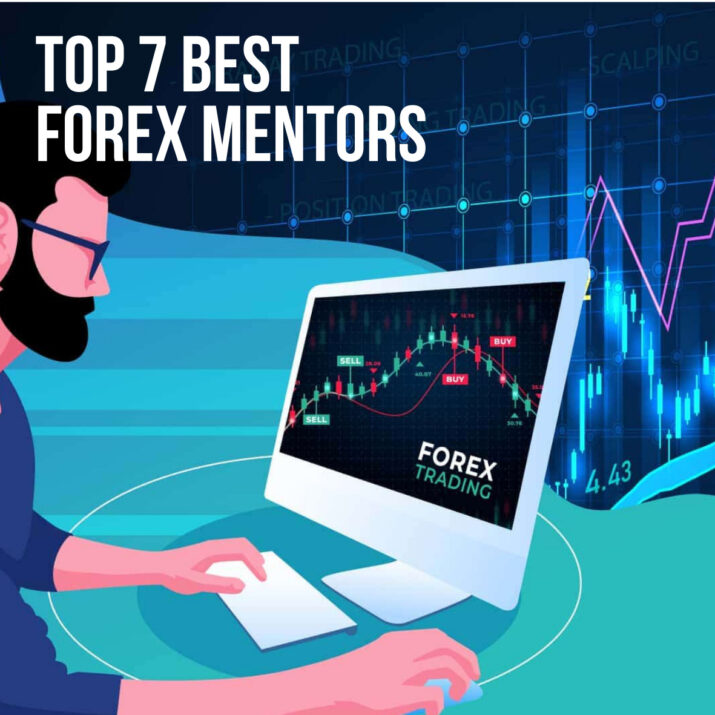 Foreign exchange is the act of exchanging one currency with another currency for various reasons. It is a universally decentralized or over-the-counter (OTC) market for trading currencies.
The forex market is one of the most potent and reliable means of investment in the financial sector. An increasing number of people are seeking knowledge on how to trade forex. Hence, the question of; How to start trading? What do I need to do? What do I need to know? What do I need to possess? How much is needed to kick start? How to be profitable? These are common among people new to trading, and even existing traders also struggle with some of the rudiments of trading.
In the same vein as every other business and investment opportunity, the importance of Mentorship cannot be overstated. Get a forex mentor with an excellent and evidence-based track record of profit and loss to provide answers to your questions about buying and selling in the foreign exchange market. A tutor would guide you through the theoretical, technical, tactical, and mental strategies involved in trading to build the appropriate mindset in approaching forex. Having a tutor also helps you stay positive and consistent, setting the right goals, and helping you become a consistently profitable trader.
Deciding to invest your resources, which include; your finance, time, and efforts, into the foreign exchange market, means that you must be ready to be counselled and tutored rather than trying to "cut corners" or work your way through becoming profitable. If you are prepared to be guided and do not know how or which out of the numerous coaches available to work with, this writeup is for you as we have put up a comprehensive list and details of the best mentors to learn from 2022.
Investing your money into forex should fetch you extra money, but it can go south if you are not properly coached. Of course, you would make money, but it is not a "get rich quick" scheme.
WHO IS A FOREX MENTOR?
Newbies in the industry are usually a victim of shuffling from one material to another trying to find a headway, and they usually end up being misguided. The harm would have been done before it dawns on them that they need to be counselled and guided. A mentor is a tutor, guide, and companion that you learn from on your trading journey. He uses and shares his experiences in the currency market to teach you the basic tools and skillsets to be successful. He uses the combination of his past experiences in success and failures as guidance to set you up on the right track to becoming successful. He helps you identify the trading method that suits you.
In most cases, mentees implement their tutor's patterns using the same trading tools, ideas, and analysis. Being coached helps you save time on rigorous and pointless research that would not be helpful and reading through unproductive materials. The objective of your tutor and the essence of Mentorship is to help you succeed and provide you with the assistance and knowledge you need to achieve your desired goals.
Our writeup would be exposing you to the best mentors available. These mentors have over the years demonstrated their technical and fundamental abilities, their reputations with long periods of underlying passion for aiding their mentees or students to attain good and consistent profitable results. In addition, they are known for giving undeniable high-quality teachings and sharing ideas with regards to helping their students and their clients accomplish positive results and becoming established traders.
Top 7 Best Forex Trading Mentors
Ezekiel Chew (Asia Forex Mentor)
Vladimir Ribakov (Traders Academy Club)
Andrew Mitchem (The Forex Trading Coach)
Marc Walton (ForexMentorPro)
Nick Siyek (A1 Trading Company)
Clay Hodges (Ronin Forex Group)
Dan Taylor (TeePee FX)
1. EZEKIEL CHEW (ASIA FOREX MENTOR)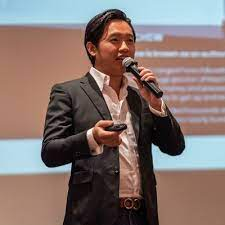 Chew is the founder and head of a training group known as Asian forex mentor, founded in 2008 (14 years ago) with its headquarters situated in Singapore. His Mentorship is considered one of the best, and the journey started with him teaching his friends how to trade. The small group of friends whom he trained went on to grow and metamorphosed over the years into what is universally known as the Asia forex mentor group.
He is a forex coach, investor, and business acquisitions and growth advisory. Chew's Asia forex mentorship incorporates unparalleled strategies to organize Asia's leading forex education and trading company that facilitates and sustains a strong presence across Asia, the USA, and United Kingdom. Asia forex mentor has also developed relationships with reputable clients like banks and other trading institutions. As a trader, either new, intermediate, or experienced, and you intend to develop and expand your portfolio, Asian Forex Mentor's ROI-focused trading approach is a suitable option for you.
Ezekiel Chew's bid to make learning comprehensive and reach out to as many people as possible developed an online course titled "one core program." The course is all-encompassing as it assists traders in acquiring essential knowledge. The course also helps in teaching how to identify trading systems and charts patterns, trading tools, and chart interpretation accurately and gradually grow a live account.
Deliverables in the one core program, categorically teach; trade management methods, chart reading, trading skills improvements, trading strategy development, risk-reward ratio components/risk management, and the MT4 setup used by Ezekiel Chew. His teachings are a reflection of his market perspective, trading methods, and strategies.
Renowned bodies and institutions have pledged for and reviewed the credibility of the Asia Forex mentorship program. Benzinga, a reputable financial news platform, nominated Asia forex mentor's one core course as the best trading mentorship. Investopedia, regarded as the world's leading source of financial content, promoted Ezekiel chew's mentorship program as the best all-inclusive forex course offering.
His Mentorship involves 26 full-scale lessons with over 60+ subtopics supported by a studio-quality online video. Each of the videos includes Chew's personally selected examples and interpretations. The package cost $997 in total. However, for transparency's sake and to have an idea of what you are subscribing for, with no money involved, he provides a free, five-lesson trial for students to test run the Asia Forex Mentor program.
In addition, students can have access to another optional value-oriented proprietary program named the Golden Eye Group. Once you pay and become a member, you are granted access to Chew's membership inner trading room. Students can view his weekly chart evaluation and trade setups for the week, including explanations and interpretations of his trading setups, trading strategies, and how he places his trades, his take profit and stoploss level. Under his watch, the chances are high that you would get value for every money spent depending on your level of commitment.
Chew's Mentorship suitable for?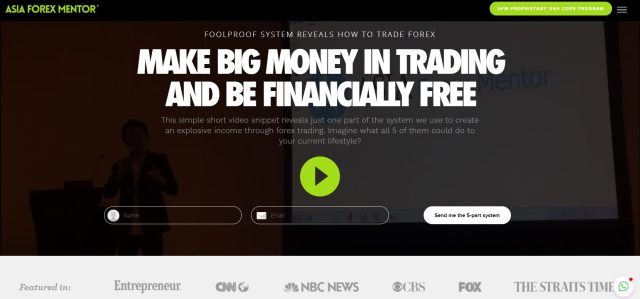 The Asia forex mentorship is suitable for traders seeking to add value to their skills by learning all the rudiments of trading. Traders willing to understand the concept of trading forex from the basics are suited to Ezekiel chew's Mentorship. He is, without a doubt, one of the best forex trainers around. On his website, www.asiaforexmentor.com, is additional information about Chew and his coaching setup.
2. VLADIMIR RIBAKOV (TRADERS ACADEMY CLUB)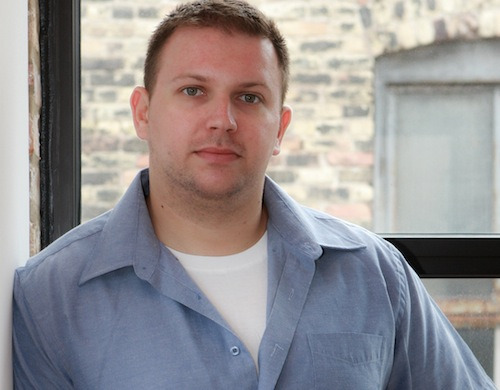 Ribakov is a professional trader, trading coach, and certified financial technician. He is the founder of the renowned trading club known as Traders Academy Club. He also owns a blog where he shares his trading methods, trading educational articles, and the technical tools he uses in trading. In 2011, he established "Vladimir's forex signals and mentoring club," helping traders grow their accounts with reliable trade signals.
The club has grown significantly, and in 2014 they expanded such that guest traders were introduced into the system, and the club's name changed to "Traders Academy Club." The club's objective is education and practices, trade ideas, chart interpretation, and daily live trading room sessions. Vladimir has been trading for more than a decade and started as a young student passionate and excited about the financial markets. He has trained and coached over three thousand students adding value to their lives and helping them generate income and earn a living through buying and selling in the currency market.
He is a popular figure in the industry based on his accurate trade pattern and the practical impacts his tutelage has on his students. His Trading Academy Club is an online center designed for committed traders who have shown the utmost desire to succeed in trading. As a club member, you would be exposed to the necessary education to elevate your skills to a higher level. In addition, members of the club are provided with the tools and knowledge to help traders avoid common mistakes of conventional traders and equip them with practical approaches, technically, fundamentally, and psychologically.
Membership subscriptions to the club cost $197 per year. If you pay to activate your membership, you would be granted access to a comprehensive media zone that includes hundreds of recorded webinars for beginners and experienced traders. Recordings of trade assessments and live trading sessions recordings are also included. There is also an accessible 24/7 instructor support and an active chat room where members can interact with Vladimir. The most significant part of the course is the live trading sessions daily between 30-50 minutes via webinar. The sessions provide signals and detailed chart analysis, providing explanations and interpretations for every suggested trade during the session.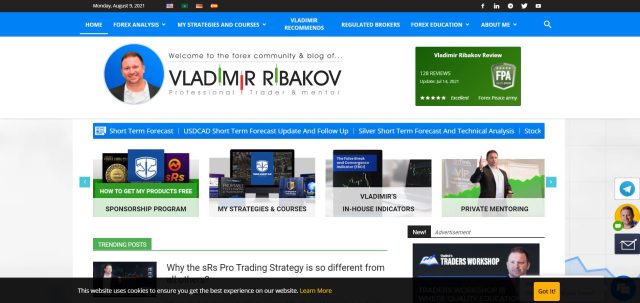 Vladimir Ribakov and his Traders Academy club are recommended if you intend to have a sustainable and successful trading experience. On his website, www.vladimirribakov.com, is additional information about Ribakov and his academy.
3. ANDREW MITCHEM (THE FOREX TRADING COACH)
Andrew is a full-time trader and the founder of "The Forex Trading Coach," an organization specialized in mentoring traders on becoming independent and profitable traders. The organization has been running for more than six years, with clients spread across over 52 countries globally. The forex trading coach is value and quality content driven, regarded as one of the most highly rated Mentorships available.
His Mentorship reflects his passion and desire to help other traders become successful with their trading careers. He developed his mentorship project solely, and he runs it independently. Andrew relates with his mentees personally and provides personalized help when necessary. The mentorship course is designed to prevent traders from liquidating their accounts and also teaching and providing them with the technical tools needed to trade profitably and remain consistent on a long-term basis.
Upon enrollment, the course comes with a series of emails directly from him. These emails contain instructions on how to get started under his Mentorship. For example, one of the emails you would get has a vital PDF that explains the basics of trading. Deliverables of this PDF include; how forex works, profit and loss calculation, and how to make accurate predictions to increase your profitability. The PDF introduces you to programs and tools that make calculative and simplified trading processes and teaches you how to implement them.
Andrew's Mentorship emphasizes Japanese Candlesticks analysis. It provides a detailed chart breakdown using candlesticks clues and hints. He is a more personal trainer, and his mentorship system is designed so that mentees can reach out to him with ease and he can reach out to his clients with ease. Webinars are frequently used to train his students and also sharing possible trade entries. There is also a "desk help" page that is sent to you through email upon subscription. The desk help has answers to practically all your questions.
Andrew Mitchem's years of experience and forex trading success are evident, and his mentorship prowess is highly effective and life-impacting. He delivers regular live sessions with the forex trading coach, and his Mentorship is reasonably priced. As a result, access to highly focused materials with a clear trading style is guaranteed. If you feel a more personal trainer suits you more, then Andrew Mitchem would be a perfect match for you.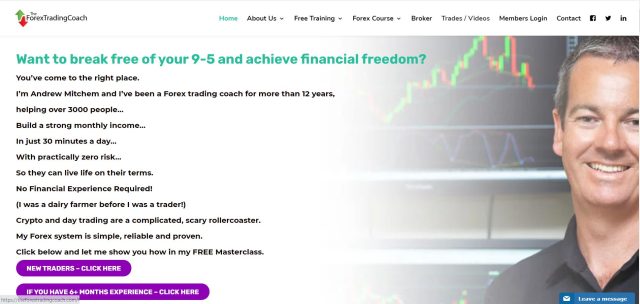 His trading system is suited to those who want to be technical traders. On his website, www.theforextradingcoach.com, is additional information about Mitchem and his organization.
4. MARC WALTON (FOREX MENTOR PRO)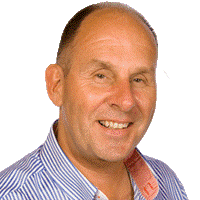 Marc is another prominent forex trader with over 30 years of experience in the financial market and business development. In addition, he is a professional, home-based forex trader and coach. Marc started in 2002 (19 years ago) and lost about $20,000 within the space of 3 years before making significant headway in 2005. He has continued to trade remotely for a hedge fund and clients with large capitals from that point onward.
Today, he co-manages a considerable number of $'s of clients' funds utilizing his assets. In 2009, he started an online coaching program known as "Forex Mentor Pro." The coaching program has coached over 1000's students to consistently profitable trading. He also engages in private coaching for individuals who desire to become professional traders. His coaching journey dates back to 2008 when he taught a few friends how to trade. First, he documented his analysis and shared it with them, and then during the early days of Twitter, he was also sharing tips and advice for viewers. All these bits and pieces are what he put together and then evolved into his online traders Forex Mentor Pro program.
Since its inception, he has maintained over 10,000 people across the globe. Forex Mentor Pro is quite distinct in the world of the foreign exchange market. Aside from being a coaching setup, it is also a trading indicator that serves as a technical tool. Marc and his team state that his program does not give tips on chart structures but educates mentees on how to actualize profitable analyses. Another thing that sets Marc's coaching apart is that he has incorporated other forex gurus into his coaching system. Hence, the program provides mentees with various trading systems about each of the trading gurus.
In the spring of 2020, Marc retired from full-time trading and now channels more efforts towards running Forex Mentor Pro.
Marc's Coaching Is Suitable For?
The program is suitable for newbies as it is specifically designed for individuals new to the foreign exchange market. However, provisions are made for traders with many skill levels and experience to support their already existing knowledge.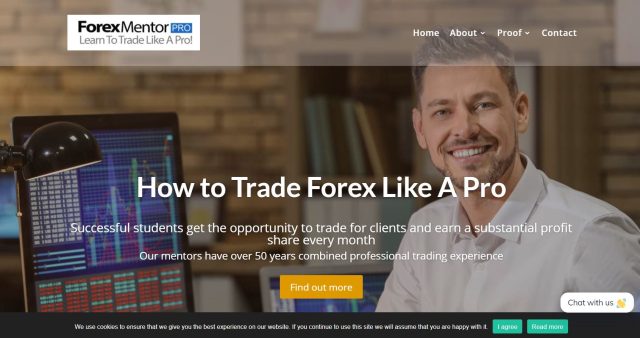 On his website, www.forexmentorpro.com, is additional information about Marc and his mentorship group.
5. NICK SYIEK (A1 TRADING COMAPANY)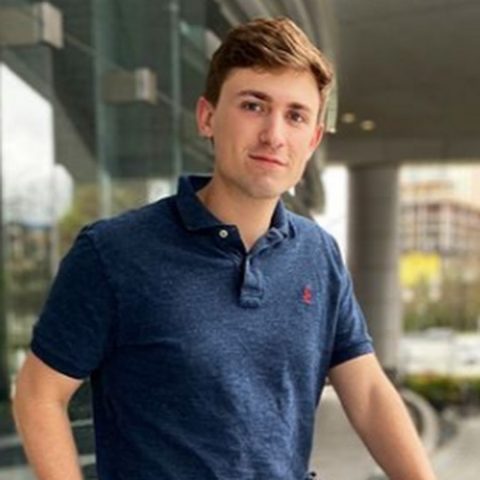 Nick is an online influencer, entrepreneur, and investor with over 150,000+ Youtube subscribers, 42,000+ Instagram followers, and 2000+ fans on Facebook. He is also the founder of the A1 trading company, which is a financial media group providing market coverage and services to traders. He is a lifelong business visionary with enthusiasm for social media. These factors combined are what eventually drove him to get his "big break" when his Youtube channel known as "TraderNick" quickly grew a large following in the foreign exchange and stock market industry.
His channel depicts his journey, erring his challenges and successes as a yerning trader. Nick has shared many videos of his trading journey showing the bad and good sides of investing in forex. As the channel developed, he employed individuals to assist with boosting the nature of his content. As of now, the team has moved into a full-time office in Atlanta, Georgia.
As he progressed, he remodelled his business from a personal brand to a media company brand. As a result, A1 Trading Company shares financial coverage in all content types, from articles to social media posts across their profiles and pages.
Until today, Nick and his team of traders and content creators share trading tips and predictions with their enormous community of followers. Their objective is to make a difference in the financial industry by showing their belief in a meticulous approach to moderately develop wealth in the financial market.
A1 trading also has one of the quickest developing internet trading networking and enlists experienced traders worldwide to furnish their audience with the most recent market development. On his Youtube channel and other social media pages, you can find additional information about Nick and links to his social media pages and Youtube channel.
6. CLAY HODGES (RONIN FOREX GROUP)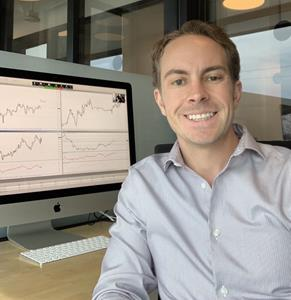 Clay is the founder of Ronin Forex Group and the trainer of the Trader Education and Community programs that educate traders and trains traders towards understanding the nitty-gritty of trading. He also assists in providing resources to get funded by outside capital. His teaching is quite personal as he trains his mentees personally and guides them into self-assured, efficient, and independent traders.
The Traders Education and Community Programs teach its mentees how to become self-sufficient, profitable, consistent, and understand trading psychology. In addition, his training is a healthy and safe environment to trade and learn in. Clay's Ronin Forex Group Program is set up to provide support for people new to forex and established forex traders who intend to learn all about technical and fundamental evaluation.
Mentees can also follow daily trade setups from the program to hasten their learning curve. In addition, he hosts clients or students from all over the world where they develop their skills and learn from trainers and fellow students.
According to Clay, with regards to his Ronin Forex Group, there are 3 step processes to forex trading success which he posited as;
Learn how to trade.
Follow traders and see their forex strategies in Action.
Practice with ongoing group support.
BENEFIT OF CLAY'S MENTORSHIP·
High-Performance forex trading: learning beyond the basics of forex and taking your trading skills to a higher level towards becoming a self-sufficient and experienced trader.
Lifetime Access to the trading course: All mentees get lifetime access to the community and training.
Highly Recommendable: His training through the Trader Education and Community Programs is evident with his students' positive results worldwide. He is a top trainer for forex trading as he offers a lively, secure, non-egotistical environment for individuals who intend to acquire the necessary skills and resources to become elite forex traders.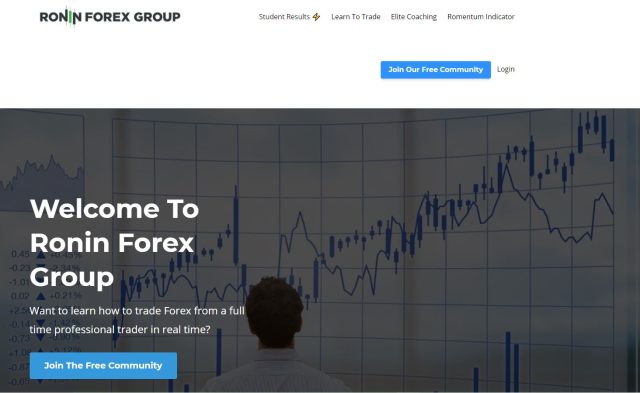 On his website, www.roninforexgroup.com, is additional information about Clay and his organization.
7. DAN TAYLOR (TeePee FX)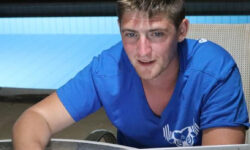 He is a full-time forex trader and co-founder of TeePee FX. Dan is also a forex coach with a passion for helping people reach their potential. Other specialties aside from the foreign exchange market include; cryptocurrencies and stock. The TeePee FX is one of many forex training academies that delivers elite beginner to advanced trading mentorship known as "The Vault."
The Vault is a comprehensive Course created to elevate forex traders from beginners to confident, successful, and independent traders. The mentorship course is well detailed and designed to support and improve their skills and become familiar with various tricks and techniques in trading to help them become more consistent and profitable. His mentorship programs provide in-depth written guides and video tutorials and weekly outlook videos, trade recaps, new technique explanations, and many others.
The program is everything a forex trader needs to learn and master the forex market. Dan's forex trading mentorship through "The Vault" takes Mentorship from the basic concepts such as; What is forex? Why does the market do what it does? And then progressing into more advanced discussions such as understanding why banks do what they do, advanced chat patterns, and trading psychology. He focuses his Mentorship on newbies and makes provisions for people who have been in the system for years but still finding a path to become consistent with profit-making.
Also, his teachings are centered on chat reading using lagging indicators. Unlike other coaches, he is more concerned about helping his mentees become independent rather than dependent on someone. If you are looking to start your trading career as a newbie and develop into a professional trader, Dan Taylor's TeePee FX is the best Mentorship for you.
On his website, www.teepeefx.co.uk is additional information about Dan and his training setup.
How choosing the right trading course and mentor helps you better trade forex.
A mentor is a trusted counsellor or guide. In the journey of forex trading, the importance of a coach cannot be overemphasized. Unfortunately, some of you have to rely on yourselves to find a suitable coach who can guide you on your forex trading career to become a consistent and profitable forex trader. You put in a lot of work by going through books, forum posts, and blogs to find a suitable coach for yourself.
Excluding the forex mentors that have been discussed in this writeup, some of you might have been understudying some forex coaches you intend to enroll with. There are many good ones out there, but you must choose wisely. The internet is saturated with false advertisements and different fraudulent forex mentorship groups. Therefore, you must know how to differentiate from legitimate forex tutors with results and fake forex tutors. Below are traits to look out for while analyzing a good mentor;
Credibility
Ability to inspire you.
You must be able to trust them.
Honesty
Help you become one of the independent forex traders
Credibility
A good coach must have vast knowledge about the foreign exchange market. That is, he must be able to make available track records of his profits and losses dated back to at least three years with enough data showing their trading strategies and processes.
Ability to Inspire You
A mentor should be a source of inspiration to you, not excluding outside the trading context. Mentorship should cover phenomena outside of trading such as; ambitions, relationships, and possibly faith. These are possible external factors that could affect your mental state at any point in time and result in trading psychology imbalance as well as losing invested capital. It is expected that your coach has your best interest in mind and should nurture you towards actualizing your goals and your desired lifestyle.
You Must be Able to Trust Them
Trust is an essential trait in a coach-to-student relationship. This is because, over the course of the Mentorship, you would not only be following his methods, but he would also be critiquing you as a trader. Hence, it would be best if you trust them enough to be open to their critique. If you do not trust your coach, it will stall your development as a trader because you would not keep an open mind with them.
In the long run, you would switch from demo to live account trading. At this point, it would be a matter of; Do you trust this person's teaching enough for you to go live so that you do not end up liquidating your capital, waste your time and efforts?
They Must be Honest
Understand that there are no 100% wins in forex trading. There would always be losses. Therefore, if your tutor promises you 100% wins, you should consider moving on from such a person. They should be transparent enough to help you realize that forex trading comes with its highs and lows. It is the job of a tutor to prepare you and help you navigate through those tough times.
Help you become one of the independent forex traders
You would not be reliant nor dependent on your coach forever. Therefore, ensure that your Mentorship is tailored towards helping you become a self-reliant, consistent, and profitable trader. The goal of the Mentorship is to help you realize and make you confident enough to make predictions and confidently know when to buy or sell a currency pair or asset on your own.
Finding a suitable coach with all the traits listed above is very challenging. However, it is a necessity that you take your time and analyze as many coaches available as possible and observe these traits.
FAQs
Q: How to find a mentor for forex trading?
A: To find a forex mentor for yourself, I would propose that you use google search and Youtube as either platform have enough contents on forex to help you decide which mentor suits you.
However, the 7 forex mentors discussed above is are the ones that we have researched to be amongst the best. If we were to choose just 1, Ezekiel Chew from Asia Forex Mentor will be our recommendation.
Q: Where to find a good Forex Mentor?
A: The most reliable channel to get a good mentor is through reviews. Use professional traders and investors forums in traders' rankings on bloggers' websites and traders' blog posts by brokers to reach out to forex mentors. Our list above covers the 7 best forex mentors.
Q: Why do some supply and demand zones work multiple times – forex mentor online?
A: Supply and demand is a price action theory that posits that when this occurs, the banks are holding on to those supply or demand zones because of limited orders in the market. Therefore, they create movements in the market to accumulate more orders. When the market returns to their Zones, then they take more trade positions.