9 Best High Yield Savings Account of 2023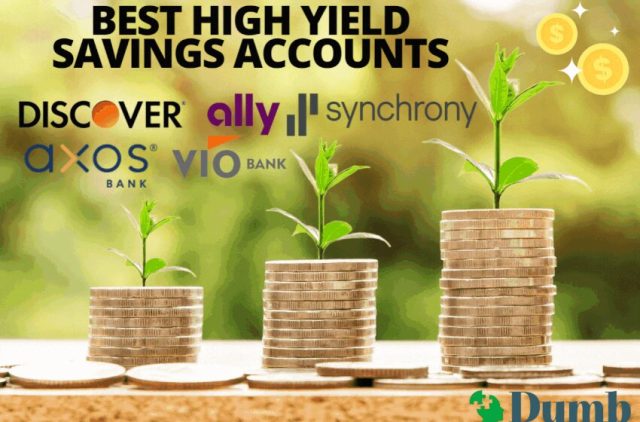 High-yield savings account are used all over the world for storing savings and emergency funds for the future. It enables the savers to reach their financial aims rapidly by paying a yield that is much higher than average.
As compared to money market accounts and traditional savings, CDs offer much higher yields. An annual percentage yield of 0.06% is paid in an average savings account.
You should opt for accounts that have low service charges and high-interest rates. For your convenience, make sure you don't have to pay monthly fees.
Some organizations don't demand monthly fees, while some do but will eliminate them once you reach a minimum balance.
Best High Yield Savings Account in 2023
Top Consumer's Choice: Discover 
Best Annual Percentage Yields: Ally
Best Mobile App Savings Account: American Express
Best Secured Savings Account: Barclays
Best Minimum Deposit Saving Accounts: Vio
Best Monthly Maintenance Fee: Varo
Best High-Interest Savings Account: Synchrony
Best Money Market Accounts: Axos
Best Interest Rates Savings Account:

Marcus by Goldman Sachs
9 Best High Yield Online Savings Account: Detailed Insight
#1. Top Consumer's Choice: Discover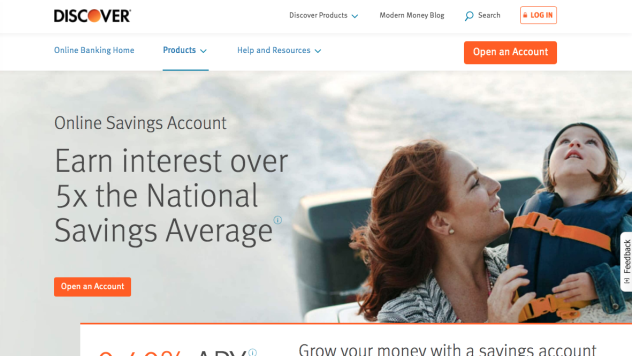 The Discover cashback debit account is perfect for its reward credit cards with full-service features and payment services worldwide. What makes it better? Let's take a detailed look!
Discover aims to provide retirement and multiple banking solutions to people. Do you Discover is a lender known to provide personal, student, and home loans making it more accessible to customers.
It is one of the most premium credit unions known for effective bonus on lack of fees and other card services that allows it to stand as a top choice. Moreover, it includes effective and competitive interest rates. Sounds impressive, right?
Discover also includes both IRA saving accounts and individual Retirement Account CD. YES! It only needs a minimum balance of $2,500 to provide APY similar to regular CDs.
Best Feature?
The main feature within a Discover free account is the cashback debit cards. Let us show you how! It applies a 1% cashback reward to purchases. But wait! Any loan payments, transactions, or orders you made with debit cards or peer-to-peer platforms will not make you eligible for rewards.
This credit union has no minimum balance essential to open an account, or you will not pay any fee to maintain the account monthly.
Who is it Best For?
Discover accounts are ideal for people seeking a digital bank that combines multiple services. It works best for people with digital transactions, don't want to pay an opening deposit and use their debit card for everyday transactions.
>>Read More About Discover Bank Reviews: Is Discover a Good Bank?
#2. Best Annual Percentage Yields: Ally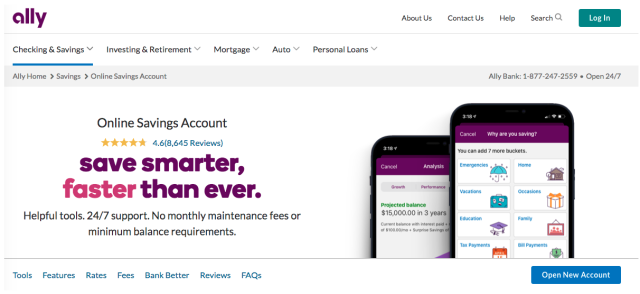 Ally is no more an exception, and it's a leader known for innovative online banking with minimum deposit accounts available. It also involves competitive interest rates that make the bank one of the top-notch options within the banking industry.
Despite providing some premium personal banking options, Ally bank also involves a broad range of banking services such as home loans, Ally bank interest checking feature, and minimum daily balance. The checking accounts pay interest with a significant annual percentage yield APY.
You can pass the savings with effortless and minimum balance while using this online account. It has no physical branch but includes an interest account, that's the most accessible account offered by the bank.
With no monthly maintenance fee within the free checking accounts, you will also get access to a minimum deposit while opening the account. It won't cost you an overdraft fee, and that's a valuable advantage to the user.
Ally bank also includes three different CD types with high-yield premium CD options available. You won't find any minimum deposit to get certificates of deposit as the rates will vary depending on the balance and other direct deposit options.
Best Feature?
Ally's savings account undoubtedly offers an annual percentage yield option that offers 0.50% APY without account balance. Getting an online savings account is an excellent way to reach financial aims and save money. It also completes refunding customers who get charged an excessive transaction fee for transfers per cycle.
The online account includes a free debit card and checks option with fee-free access to ATMs throughout the US. Ally Bank also reimburses almost $10 per statement period for fees when going for different out-of-network ATMs.
Who is it Best For?
Ally should appeal to customers who search for any full-service online banking feature and is particularly an excellent fit for customers. It works ideally to provide access to ATMs without paying more fees while providing a customer support feature. You can enjoy competitive rates on CDs with a minimum opening deposit.
>>Read More About Ally Bank Review: Is Ally a Good Bank?
#3. Best Mobile App Savings Account: American Express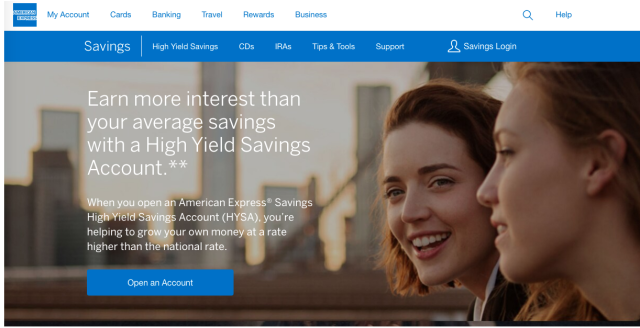 American Express is known all over the world due to its popular credit cards. In 2019 there were approximately up to 114 million credit cards of American Express in circulation worldwide.
If you want access to a savings account that has good earning potential, then American Express's high yield savings accounts will be your top pick. The interest is posted monthly and earned daily. The account will earn up to 0.40% APY.
American Express's high yield savings accounts have no minimum balance and no monthly fee. Accounts are automatically closed if there is zero balance for more than 180 days.
The personal savings account is powerful with its earnings potential. American Express has a deficient amount of products and services as compared to other online banks.
Best Feature?
Your experience with online banks depends upon what product you use. American Express Travel company is responsible for issuing the AMEX prepaid debit cards. For instance, American Express offers its customers a mobile app that enables them to deposit checks and pay bills.
The customers with savings accounts on American Express won't be able to enjoy many digital options. They are able to use their online banking accounts to complete the tasks such as transfer money.
Who is it Best For?
If you are looking for a high yield savings account and CDS and you are comfortable with using an online banking platform without making any cash deposits. American Express offers its users a savings account that has a high annual yield percentage and certificates of deposit that are worth it.
>>Read More About American Express Banking Reviews: Is Amex a Good Bank?
#4. Best Secured Savings Account: Barclays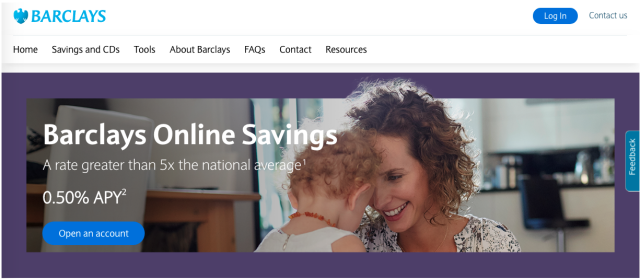 There is no exaggeration in saying that Barclays online banking is an excellent choice for CD accounts and savings in the market with highly innovative rates. SSL technology is used for data encryption with firewalls and many other technologies to protect the customer's personal information and account details. To prevent unauthorized use, Barclays includes monitor equipment.
Are you searching for multiple investment banking features, Barclays savings account, decent wealth management, and annual percentage yield? It fulfills the federal regulation d and offer competitive rates while focusing on cutting fees and high-end exceptional customer experiences with reasonable purchase assurance.
Moreover, the Barclays savings accounts and network partners with an effective price protection method that's no more an exception. You can accrue additional money in interest. It has zero minimum balance with the least fees.
The plus point is that you don't require any minimum balance to open a Barclays savings account, and it will not cost you monthly maintenance fees. It offers excellent contact customer service by a specific service provider and up-to-date credit card options.
Best Feature?
Do you know Barclays incorporates online CD options from three months to almost five years? It is one of the ideal financial institutions where CD will renew within the current available interest. The CD rates offer minimum deposit amounts with no fees.
You will get an email alert a month before the CD matures. That's a reminder. It will provide you with a 14-days grace period to add or withdraw your funds without additional fees.
Who is it Best For?
To be honest, Barclay's bank suits all those clients who desire to get an online-only bank account that features competitive interest rates. Moreover, the bank includes no monthly fees or bad credit, making it one of the best options available. It works great for the following people:
Anyone who desires to get competitive and highly performing interest rates on the CDs and savings can benefit from the following options. It is an excellent option for anyone who wants to open an account with no opening deposit funds. Furthermore, it allows people to get interested and rewards from the cards. Sounds great, right?
>>Read More About Barclays Banking Reviews: Is Barclays a Good Bank?
#5. Best Minimum Deposit Saving Accounts: Vio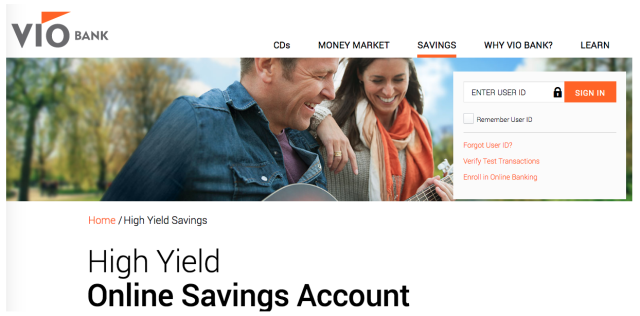 One of the best savings accounts, the VIO bank, is the online-only bank known for offering low minimums and high-interest rates to help improve annual percentage yields. The Federal deposit insurance corporation allows people to earn interest with this no-frills online bank that ensures high-yield online savings and CDs. Let's take a closer look!
Are you looking for a new savings account with an online savings option and a high-yield savings accounts feature? YES! The best online savings accounts are known to provide minimum balance or monthly maintenance fees with yield savings features that make them an excellent choice for you. You only need an initial deposit of $500 on CDs bank feature with credit union feature.
The Vio Bank includes the high-yield savings accounts rates with 0.51% annual percentage APY making it more accessible than other traditional savings accounts. You will find the rates applicable on all balances within the credit union. It includes minimum balance requirements of $100 with no monthly maintenance fee. If you need a per statement cycle, it will charge you $5 for savings rates.
You can make up to nine withdrawals per month with the national average APY for the credit union accounts. You can get access to the bank online savings account 24/7, and it allows users to make transfers, set notifications, and eStatements like most online banks, as illustrated by the federal reserve.
Best Feature?
It is one of the exclusive online banks that offer an effortless transfer of funds between different online accounts. If you want to deposit money from any bank other than Vio, it's possible by depositing a check. The savings accounts include a 0.51% annual percentage yield that's effective than a traditional savings account.
No need to worry about the monthly maintenance fees; the national credit union administration ensures that the savings accounts have waivable monthly fee features on yield savings. You only require a minimum initial deposit to improve savings account interest rates to meet the savings goals that are far more effective than an average traditional savings account.
Who is it Best For?
Vio bank is a top choice for people who desire to get high-interest savings to account with the no-frills option to save money. If you desire to find a bank with a broad range of deposit account and federal funds rate of products and services, this bank or credit union is the best choice.
Vio Bank is best for people who are searching for an online bank that aims to squirrel away money. Anyone who wants to avoid monthly maintenance fees or minimum balance requirements will find Vio bank a beneficial option. You should not worry about savings account rates as it doesn't include a checking account or debit option.
>>Read More About Vio Bank Reviews: Is Vio a Good Bank?
#6. Best Monthly Maintenance Fee: Varo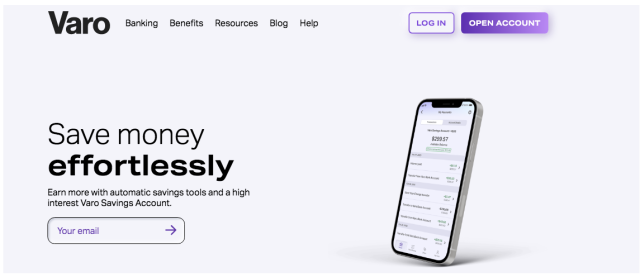 Aren't you tired of navigating a clunky app or searching for a branch that you need to manage the bank account? If you haven't used any online bank before, Varo can be a genuinely convenient option for banking and reliability. Varo offers premium features for the user to provide on-the-go services that may provide an effective online route.
Varo Bank Accounts are proficient enough to work reliably, and all their checking account and online savings accounts are FDIC-safeguarded up to $250,000 through Varo bank, N.A; Member FDIC. The cash deposits and direct deposit features include foreign transaction fees with this mobile-only bank for assistance.
The Varo Bank account is the standard financial record, and it comes without month-to-month support fees. There's no base equilibrium prerequisite, either, so you're allowed to put a lot or minimal in the record to set it up.
The current APY is 0.20%. All Varo Savings Account holders get this rate paying little mind to their record balance. Neither the ledger nor the bank account requires the least stores to open, and you really want only $0.01 to begin procuring revenue with your web-based investment account.
Best Feature?
Your Varo Bank Account will accompany a Varo visa debit card charge that includes an EMV chip for security. In case you need cash, Varo has collaborated with the 55,000 all-point ATMs organization, which claims 55,000 expense-free ATMs all through the U.S.
Notwithstanding Varo's layered reserve funds APY program, the web-based bank offers two projects that naturally move cash from your ledger to your investment account. Varo offers significant benefits. Varo bank has no monthly expense and least less bank with cutthroat APYs for its investment account, alongside an upgradeable rate.
Who is it Best For?
It is no longer an exception for people who desire to get a fee-free ATM network or get into total qualifying direct deposits. It appeals to clients who want to get a mobile banking experience or open an account online and avoid fees. Moreover, people who look for debit card replacement fees or online banking transactions with minimum deposits will choose Varo.
Student and personal loans are also available within the savings account balance to provide you exclusive benefits. The bottom line Varo bank is ideal for people with tech-savvy and helps enjoy handling the banking on the phone.
>>Read More About Varo Bank Reviews: Is Varo a Good Bank?
#7. Best High-Interest Savings Account: Synchrony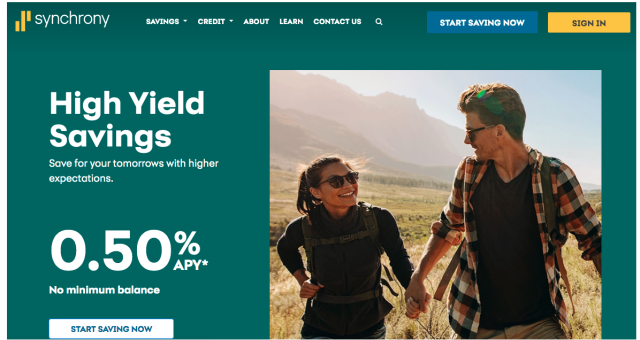 Another credit union option on our list is Synchrony bank that includes competitive deposit products for healthcare providers. It includes competitive rates on savings, CD accounts, and money market options that partner with retailers to provide different credit cards.
This financial institution includes healthcare providers with CareCredit options. Moreover, it doesn't provide investments, mortgages, checking, or other options making it better than many other institutions.
The bank also offers credit card options throughout the country. In addition to this, it includes different reliable options and uses it for personal finance such as dental, vision, cosmetics, etc. That's how it works!
Best Feature?
The competitive high-yield annual percentage account with no monthly maintenance fee and other options. Sounds impressive, right? Clients offer an interest rate of almost 0.50% APY on different balances.
It includes checking bank account features and also has options for writing checks from the money market account. The money market accounts intend to offer suitable deposit accounts where the money is beneficial to accrue interests making it reliable for everyday banking.
Who is it Best For?
Many banks and credit unions include monthly maintenance fee, but this Synchrony Bank is ideal for people who want to enjoy annual percentage yield. It suits people who don't want to change their primary account and need no access to any physical branch.
Furthermore, it is beneficial for people who are looking for the benefits of getting a retailer credit card. Moreover, if anyone desires to get finance healthcare expenses, a money market account is a beneficial option.
>>Read More About Synchrony Bank Reviews: Is Synchrony a Good Bank?
#8. Best Money Market Account: Axos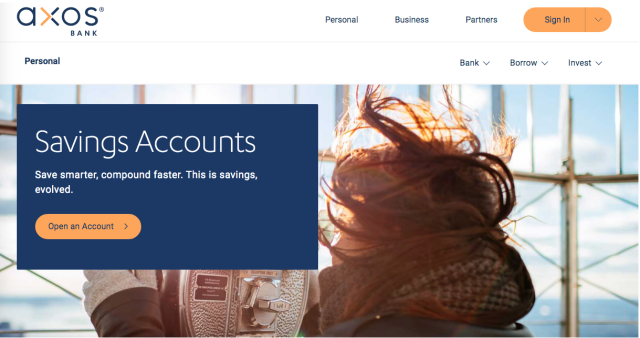 Axos Bank is one of the popular and oldest mobile banking platforms around. Established in 2000, it has been growing rapidly till now, providing full-service banking opportunities for businessmen and individuals.
Deciding whether Axos Bank is the right bank for you is quite easy, as this detailed review of the top online banking leaders will provide you with information about the services and accounts available through it.
The standard account used in Axos Bank, Essential Checking, does not earn rewards or interest. It offers you benefits like the Direct Deposit Express, enabling you to get your payment two days early.
This account has unlimited ATM fee recompense with no monthly minimum balance demands. With Axos Bank's highly convenient account, you don't need to worry about paying your Overdraft fees, monthly maintenance fees, and insufficient funds fees.
The rewards account of Axos Bank is an interest account earning up to 1.00% APY. Just a $50 deposit is required to open it without any minimum balance requirements or fees.
Best Feature?
Finding a checking account earning cashback is rare, but Axos Bank is doing just that. On every signature-based purchase, the customers earn more than 1% cashback. Featuring no monthly fees, unlimited writing advantages, and domestic ATM reimbursements are CashBack Checking accounts privileges.
As Axos Bank do not have their own ATM network, the customers enjoy unlimited ATM fee reimbursements, including Cashback, Essential checking accounts, and Rewards. The Golden checking accounts get up to an $8 recompense fee per month.
Who is it Best For?
Axos Bank should be appealing to customers who are finding a full-service mobile bank. It is a good option for customers who are willing to earn rewards and interest using an account. It enables you to open a savings or checking account without any maintenance fees.
It enables the customers to earn savings with competitive rates. It allows users to complete most of the banking work online. Axos bank gives access to parents to open a checking account for their child. You can easily get unlimited recompense for ATM fees.
>>Read More About Axos Bank Reviews: Is Axos a Good Bank?
#9. Best Interest Rates Savings Account:
Marcus by Goldman Sachs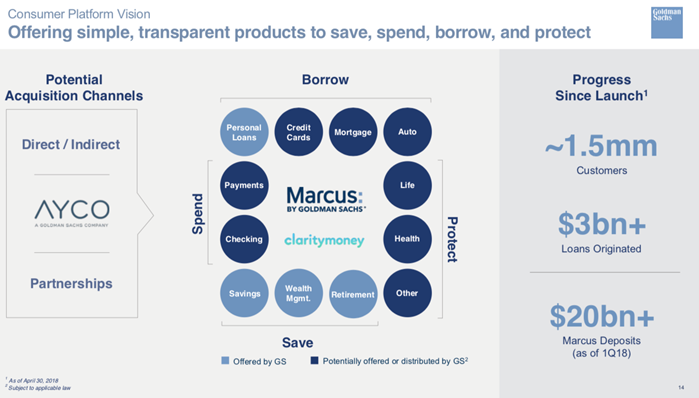 Here comes our top pick, Goldman Sachs that is well known on wall street for its investment banking. In 2016 with Marcus by Goldman Sachs, the bank expanded its options to consumer banking. Marcus is an online bank that offers high-yield savings accounts and certificates of deposit without any fee personal loans.
As compared to other online banks, Marcus does not offer its customers a wide range of financial products, but the ones Marcus provides are highly rated. It has a very high ranking for providing the best CD rates and some of the best online savings accounts.
In addition to this, Marcus does not have any monthly fees as well as no minimum deposit for opening an account. But it is not much of a convenient option if you want to transfer money around.
The bank has fewer options to withdraw money in contrast to others, such as you are unable to make cash withdrawals from ATMs. But it allows you to transfer money to other bank accounts through wire transfer or to request a check.
Best Feature?
The only Traditional bank account that Marcus offers is its high-yield savings account. For savers, it is the biggest bang for their bucks as this account is built with no monthly fees for maintenance, no minimum deposit, and a 0.50% APY.
As Marcus has no physical branch, the users have to access their accounts online, through the mobile app, or on the phone. Although even after not having brick-and-mortar banks, Marcus still provides its customers with several methods for answering their questions.
Who is it Best For?
Marcus by Goldman Sachs is appealing to customers who want superb rates from a trustworthy bank. It is considered a good option for customers that want higher CD and saving rates. The bank has no minimum deposit for opening a savings account, and it offers CDs that are highly flexible.
It is the best fit for users who are looking for an account that is hard to access. Marcus offers you fixed-rate personal loans without any fees. Moreover, the bank does not handle all the account needs of its customers.
Best High Yield Savings Accounts Comparison
| Bank | Minimum Opening Deposit | Monthly Fee | APY% |
| --- | --- | --- | --- |
| Discover | $0 | $0 | 0.40% |
| Ally | $0 | $0 | 0.06% |
| American Express | $0 | $0 | 0.40% |
| Barclays | $0 | $0 | 0.40% |
| Vio | $100 | $5 | 0.57% |
| Varo | $0 | $0 | 0.50% |
| Synchrony | $0 | $0 | 0.50% |
| Axos | $50 | $0 | 0.61% |
| Marcus by Goldman Sachs | $0 | $0 | 0.50% |
How We Rank the Best High Yield Savings Accounts?
Ranking the best online savings accounts is an intimidating task with many top-notch online savings account available. You cannot find the right savings account without any knowledge and guide. But wait! How do we rank the high-yield savings accounts? Let's take a detailed look!
 High Yield (High APY)
While evaluating a savings account, the first question that comes into your mind is probably, "what will be the interest rate?". A higher yield or interest rate expresses that your money will expand rapidly. To shield yourself against falling buying power when inflation runs hot, yield is the best option.
Low Fees
As a saver, account fees are your worst enemy. The high-yield savings accounts do not charge minimum balance fees or maintenance fees. They should not charge P2P funds transfer fees or overdraft fees either.
Checking and Savings Combo
Many banks offer the same roof for checking and savings accounts, but only a few of them are capable of doing both well.
Mobile Experience
The bank's mobile app should have all the features that your desktop banking platform has, such as acceptance of check deposits, paying your bills, organizing your savings plan, carrying out P2P funds transfer, and many more. The mobile app should look appealing on a mini screen.
Conclusion: The Best High Yield Savings Accounts
Most traditional savings accounts, mainly the ones that partner with the federal deposit insurance corp, aim to slash the rates regarding federal reserve or to the emergency fund. These high-yield savings account offer the least monthly fee and minimum balance requirements like other money market accounts and online savings accounts.
But wait! The high-yield savings accounts with premium annual percentage yield APY offer users the strongest yield savings available. These online savings accounts promote effective account balance allowing users to earn interest and never lose money. Moreover, the savings account rates are second to none per statement cycle, making them reliable than most online banks.
Besides this, the best savings account aids in boosting the emergency fund. These high-interest savings accounts are the financial institutions that help earn high-yield savings rates to meet the overall saving goals. And you know what? These online savings accounts come with low-charge monthly maintenance fees making them better than a checking account.
Our top recommendation is the Discover Savings Account as the best high-yield savings accounts available with no monthly maintenance fee and increased annual percentage yield APY. It is one of the best online banks with high-interest savings accounts that contain increased account balance and no checking account.
High Yield Saving Accounts FAQs
Can you lose money in a high-yield savings account?
Here's a YES! Many savings accounts, like a traditional savings account, might lose money over a prolonged time. However, it's not always true.
You might not come across the aspect of losing account balance as these online banks are safe and effective with a proficient working online savings account, no doubt.
How much interest will I get on $1000 a year in a high-yield savings account?
The more money you put, the more interest you'll be able to get. At 0.01% APY, if you save $1000 for a whole year, you will be left with $1000.10. But if you save the same amount of money, that is $1000, in a high-yield savings account, then after a year, you could earn an interest of $5.
Is high-yield savings account worth it?
As compared to checking accounts, high-yield savings accounts are safer. It is difficult to theft and money launder on a debit card in contrast to a credit card. It is alarming to keep extra money in your checking account as it can cost you in ways. Therefore high yield savings account is worth looking upon.
How much interest does $10000 earn in a year?
Do you really earn interest in an online savings account? Is it possible? Well, these brick-and-mortar banks meet the savings goals with ease and help you earn maximum interest.
If you get an online savings account with earning 0.01%, it will make the account balance $10,001 after a year. You can put this amount in high-yield savings account for almost a year, and it will let you earn $50.