ClickUp, Trello or Hive – Which Project Management tool is right for your business?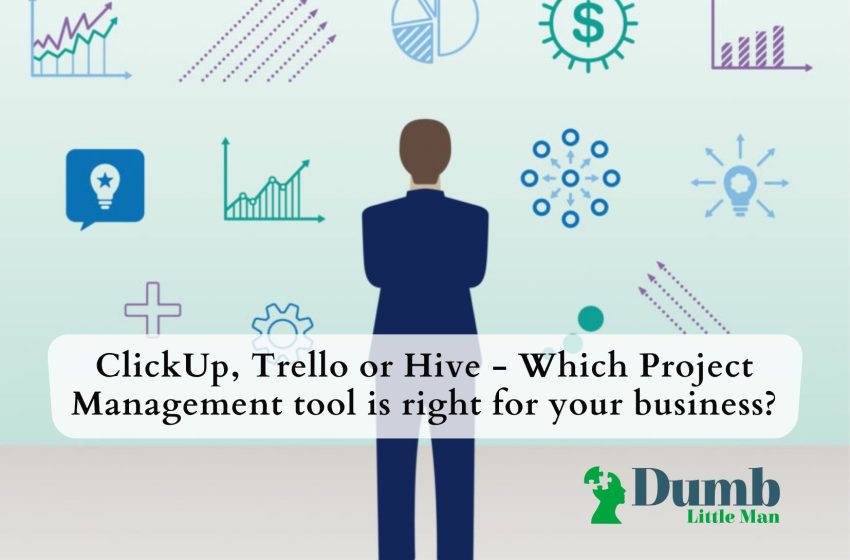 Good project management is essential for the success of any business. The dynamic nature of work makes each project unique and different from others, hence a need for them to be managed. This means for your business to run smoothly, the time, budget and scope of every activity within your business environment should be clearly defined. And that's why you need a project professional to manage your projects, whether you're a small enterprise starting up or you're an already established business looking to scale up your processes.
Globalization, technological advancements, the need for value and other factors have resulted in the creation of project management tools where skillful individuals are brought together based on the professionalism needed for each specific task. These tools are so helpful to businesses nowadays as they help in planning or scheduling different tasks for their projects and to monitor the progress of those tasks for successful project completion. To achieve success, you need to have the right project management tool with features that will meet your needs. Therefore, regardless of your business, choosing the right tool is vital, whether you offer marketing services, investment plans or even operate a casino like Platincasino UK, take a look at these tools and find the one that suits your business.
ClickUp

Keeping everything organized is one of the determinants of a successful project and 'ClickUp' helps you take care of that. It operates on a hierarchy of levels with a perfect structure that will help you to scale up your needs. Each level gives you more control and flexibility to organize yourself.
ClickUp Features
'ClickUp' has hundreds of features that you can customize to meet your needs.
Integration – A feature that enables you to integrate with several tools allowing you to bring things together such as synching your messaging apps, team calendars, Google storage and more. 
Collaboration – This feature helps you to work together with your team on different types of projects.
ClickUp docs – Helps you to collaborate with your team by documenting and sharing anything to ensure everyone is updated.
Customization – Allows you to customize everything in 'ClickUp' to easily meet your needs.
Reporting – This allows you to track progress, set goals and manage your projects more effectively.
Advantages of using ClickUp
With hundreds of useful features, 'ClickUp' has the following advantages.
Multiple views to choose from.

Customization capabilities.

It has real-time reporting.

It has time-tracking capabilities.

Team collaboration and communication.

Efficient dashboard views.

User friendly layout.

Affordable pricing.
Disadvantages of ClickUp
Too many customization options which can be confusing to some.

Too many features can be overwhelming to some users.
ClickUp Pricing
ClickUp has five pricing options depending on the needs of a business.
Free Plan – Best for personal use – This plan is free forever.
Unlimited –  Best for small teams – $5 per memeber per month.
Business – Best for mid-sized teams – $12 per memeber per month.
Business Plus – Best for multiple teams – $19 per member per month.
Enterprise – Best for many large teams – No fixed price. You need to contact them for inquiries.
Trello

'Trello' is a popular and easy to use tool full of great features. To enhance productivity, 'Trello' ensures that all your projects are organized into distinct groups called boards with each board containing multiple lists loaded with a set of tasks.
Features of Trello
Trello aims at helping teams or individuals to manage projects, collaborate and achieve new productivity peaks. It has the following features:
Views – This feature will help you to monitor your projects from different angles with boards, calendars, dashboards, timelines, maps and table views.
Automation – Here, you'll get powerful no-code automation so that you can focus on priority work and leave the rest to the robots.
Power-Ups – This feature allows you to integrate your teams favorite tools needed for the success of the projects.
Templates – 'Trello' allows you to give your team a humble time to complete their tasks with its customizable templates.
Advantages of Trello
Allows collaboration of team members to enhance productivity.

It has a reasonable timeframe e.g. power-up calendars

It has a searchable database.

It's secure.

It can easily be integrated with other tools.

It's mobile-optimized.
Disadvantages of Trello
It's hectic in cases of complex projects.

It has limited storage.
Trello Pricing
Trello has four pricing options.
Free – This plan is best for teams or individuals looking to manage simple projects – Free for each member.
Standard – Best for team members looking to collaborate with each other to manage big projects – $5 per member per month.
Premium – Suitable for tracking multiple project for teams up to 100 – $10 per member per month.
Enterprise – Best for large organizations – The price per member per month varies according to the amount of users the organization wishes to use it for. 
Hive

As one of the best project management tools in the world, 'Hive' helps teams and individuals to enhance their productivity through transparency, communication, file sharing. and monitoring among other cool features.
Features of Hive
Time management –  This feature helps you understand where and how each team member spends their time.
Team collaboration – Brings your team together for a common goal.
Automation – Gives you a chance to automate operations.
Integration – This feature allows you to integrate 'Hive' with other useful tools such as Google Drive, Slack, Okta and more. 
(Most Importantly) Project Management – This allows you to manage your projects in one place.
Advantages of using Hive
Built for individuals and teams of all sizes, 'Hive' has the following advantages.
It boosts project flexibility.

You can easily automate your operations.

Ensures proper organization of projects.

It has improved communication and file sharing features.

It's easy to gain insights via the predictive analytics feature.
Disadvantages of Hive
It has limited mobile functionality.

Task dependencies.

Pop up notification instead of inbox.
Hive Pricing
Hive has 3 pricing options
Hive solo – This is a plan best for start-up individuals looking to manage their projects – Free for each member forever. 
Hive Teams – Suitable for teams that handle multiple projects and want to run their work smoothly – $12 per user per month (when billed annually).
Hive Enterprise – Suitable for companies and teams of all sizes looking for a project management system with customized features, and further customer support – You must get in touch with the sales team to discuss pricing. 
Although designed for teams of all sizes, Hive is more suitable for large companies that want to handle complex projects. Examples of hive users include Zendesk Inc, DATA Inc and Lorven Technologies.
Conclusion
After looking at the features, pricing, advantages and disadvantages of ClickUp, Trello and Hive, you must have noticed some similarities and differences between them all. Ultimately, all three are project management systems, and many business nowadays rely on them for their day-to-day operations. However, each system has its own unique features. It's now up to you to decide which one you're going for by evaluating the pros, cons, and features of each one of these project management tools. Through this, you will find out which one is most suitable for your business. It's still ideal to do further research on the tools though. You can do this by visiting their official websites, and if need be, further contacting their support line for more details. 
Like this Article? Subscribe to Our Feed!
At Dumb Little Man, we strive to provide quality content with accuracy for our readers. We bring you the most up-to-date news and our articles are fact-checked before publishing.