TD Ameritrade Review: Is it the Best for Beginners?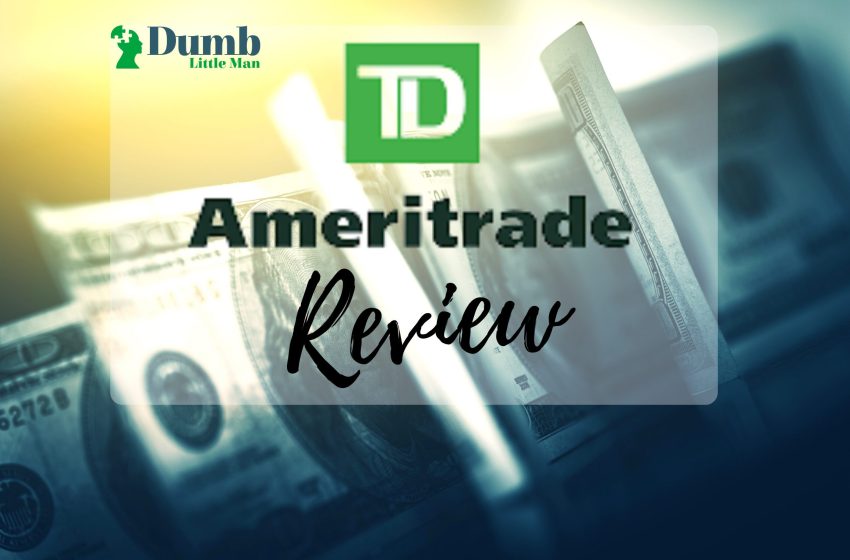 Want to jump straight to the answer? The best forex brokers for traders are Avatrade and FXCC
The #1 Forex Trading Course is Asia Forex Mentor
TD Ameritrade offers a full-service trading experience that can accommodate both beginner investors and expert traders trading a variety of asset classes. TD Ameritrade is one of the best web brokerage firms for beginner traders because of the educational content and overall simplicity of use.
The powerful trading interface, which is also available in a mobile app form, will appeal to experienced traders. At the same time, newer investors will benefit from a variety of education and research materials. Regardless of where you lie on that spectrum, you'll have access to a wide number of investment and account choices, making the broker a smart choice if you want to grow your connection with new accounts.
The highly respected thinkorswim program is hard to challenge. Customizing, graphing and analytical tools are all conveniently available on mobile and desktop. It gives you access to trade expertise as well as exceptional customer service that responds quickly and accurately to any questions you may have. Well-designed screeners aid in shortlisting the vast universes of funds, shares, and bonds to find the assets they need.
There are multiple trading platforms, but here we'll look at how TD Ameritrade ranks as an independent brokerage to determine if it's a good fit for your investing needs. Charles Schwab acquired TD Ameritrade, but somehow it continues to function as a separate company.
What is TD Ameritrade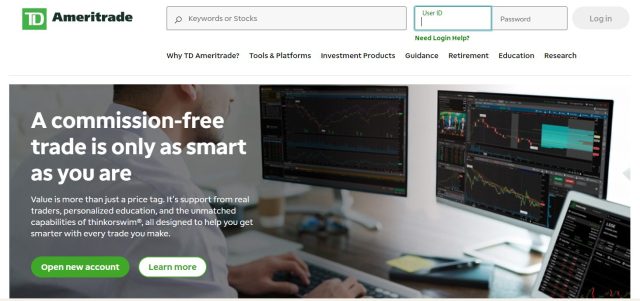 TD Ameritrade is ideal for both new and seasoned investors, especially those looking for a free web trader with outstanding educational resources. Although TD Ameritrade is one of the leading online brokers in the Us, it offers traders of all levels of skill, many platforms. Both passive and active traders will find the web platform and standard mobile app platforms to be straightforward to use.
The broker's traditional web interface handles all of the fundamentals, including stock and ETFs trades, mutual fund, and options trading. There's also live news, third-party research, and watchlists to choose from.
The robust thinkorswim policies, on the other hand, are arguably the greatest solution for casual traders and day traders due to their broad screening capabilities, charting tools, and analytical insights.
TD Ameritrade offers broad learning materials which will cover topics like technical analysis, income investing, options trades, trading strategies, investment foundations, and more. Overall, the trading platform and entire service that TD Ameritrade offers will impress passive investors, active traders, casual traders, and day traders alike.
How does TD Ameritrade work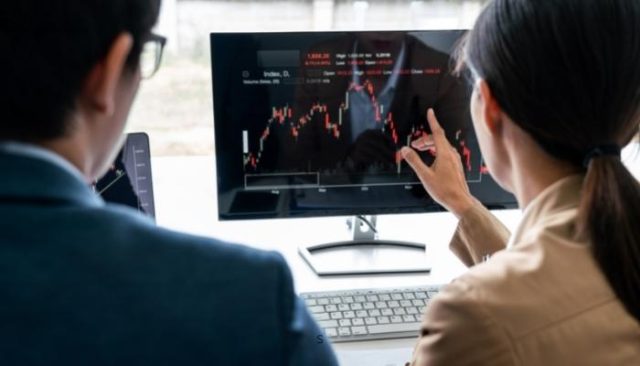 Because of TD Ameritrade's focus on the customer experience, its platforms are intuitive and straightforward to use. TD Ameritrade places the user at the heart of the design and optimizes their particular experience by using innovation to transform the individual client experience. The web platform, thinkorswim and smartphone apps from TD Ameritrade seem to be highly customizable to the user's specific interests.
The dock tool, which is a completely customized dashboard, is available on the TD Ameritrade site. Whenever screen size allows, it shows on the right side of the screen and stays persistent while users move across the site on the left. Users can often choose from 13 different modules to watch.
Using any of the four trading platforms (TD Ameritrade's website platform, mobile apps, thinkorswim platform, thinkorswim mobile app) to access TD Ameritrade is simple. On the web-based platform and the regular android apps, switching between different views is similarly straightforward. Your position and current account are displayed in a simple one-page interface on the app that enables checking in on the market and your account quickly and easily.
On the web-based platform, go to the news section to find out what's new. You can quickly see overall market news, as well as updates on your particular positions on the basic app's dashboard by scrolling down. Overall, both the web and traditional mobile trading platforms are simple to use and maintain for new investors.
| RECOMMENDED TRADING COURSE | REVIEW | VISIT |
| --- | --- | --- |
| | #1 Forex, Crypto and Stocks trading course. Ranked most comprehensive by Investopedia and Best by Benzinga. Free to Try! | |
TD Ameritrade Platform and Technology

TD Ameritrade Account Types
Customers may find everything they need at TD Ameritrade, from basic to specialized accounts, including:
Taxable brokerage accounts
SEP IRAs & SIMPLE IRAs for employers
Other specialized accounts encompass a broad variety of business, investing clubs, including charitable trust alternatives.
Web Platform & Mobile App Platform
TD Ameritrade offers an easy web-based trading interface with a mobile app, as well as the well-known thinkorswim trading platform, which is accessible in desktop, web-based, and mobile versions. Users can trade stocks, bonds, stocks ETFs, mutual funds, and options trades via the web. It's highly intuitive and simple to use with extra features like broadcast news, third-party research, and trade watch lists.
Thinkorswim Trading Platform
TD Ameritrade's thinkorswim trading platform was built for investors, and it shows. In contrast to all of the asset classes available on the web platform, TD Ameritrade customers have access to advanced asset classes such as futures trading, Forex trades, and futures options.
What are the Features of the TD Ameritrade platform

Free Research
Users can access TD Ameritrade's free third-party research from credible sources such as the Federal Reserve Economic Database, the Center for Financial Research and Analysis, and Morningstar.
High-quality trading platforms
The highly regarded thinkorswim platform, in addition to its TD Ameritrade online and mobile platforms, enables professional-level trading on desktop and mobile.
TD Ameritrade Research and Education
TD Ameritrade was chosen as our top online broker for novices and best day trading platform for education TD Ameritrade by Forbes Advisor, in part because of its unrivaled research and education facilities.
Educational Resources
TD Ameritrade is a leader in online financial education. Education Td Ameritrade offers Interactive courses, articles and videos, Webcasts, Trading TD Ameritrade Network, and paper trading.
Research Resources
Third-party analyst reports and a range of screeners are among the investing research tools offered by TD Ameritrade.
TD Ameritrade Customer Service
In terms of customer service, TD Ameritrade exceeds its competitors. We tested TD Ameritrade's email, call, text, and chat responses several times and were pleased with the results. Short phone hold times, proper answers to our inquiries, and quick email responses were all found in the tests.
The most of phone calls were replied to within a minute, with the most fabulous wait time being 10 minutes. Text messages were promptly responded to. Emails were typically addressed within an hour, with the most significant response time being three hours.
Every question was accurately answered, and the customer service employees were well-trained and qualified. TD Ameritrade good chatbot. When it couldn't answer a query, it was swiftly changed by a human support worker.
TD Ameritrade Security
The majority of investors will be satisfied with the firm's security and insurance. TD Ameritrade provides the following security features:
Firewalls
128-bit encryption
Two-factor authentication
The Securities Investor Protection Corporation (SIPC) has provided a $500,000 insurance policy. As additional protection against firm failure or insolvency, TD Ameritrade automatically provides $149.5 million in supplemental insurance to each customer.
Additional coverage of up to $2 million is provided for cash assets. Customers should be informed that no brokerage offers insurance to safeguard financial assets against losses incurred from poor investment decisions or market drops.
How much are TD Ameritrade Commissions and Fees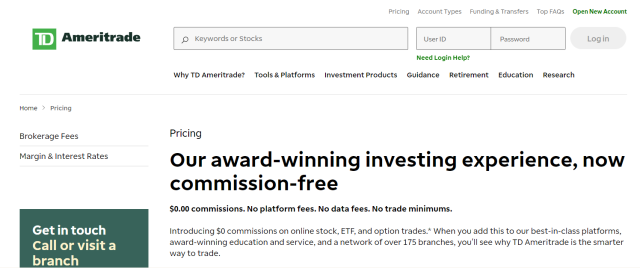 Like the rest of its main online brokers, TD Ameritrade charges no trading cost commissions for online free stock and exchange-traded fund (ETF) transactions. Online brokers charge commissions and trading costs, but they are equivalent to those charged by other firms.
Options are $0.65 per contract;
Futures and futures options: $2.25 per trade
OTC stock trades: $6.95 per deal
Broker-assisted trades: $25 per transaction
TD Ameritrade has 13,000 mutual funds, with over 4,000 of them being no-load, no-transaction-fee funds. Compared to other online brokers, this fund selection is competitive Keep in mind that TD Ameritrade, like several of its competitors, imposes a $49.99 cost if you offer most no fee, no-load funds within six months after purchase. Shorter holding periods, such as those provided by E*TRADE, may appeal to some types of investors.
TD Ameritrade has the second-highest margin rates of the online brokers we looked at. Fees for margin account balances of less than $10,000 are 9.50 percent, and fees for amounts of $10,000 to $25,000 are 9.25 percent. Moreover, for those borrowing $1 million, the lowest margin rates (6.75 percent) are available.
For instance, Interactive Brokers, the low-fee champion, charges a fixed cost of 2.60 percent for all margin trading. In terms of the service fees, TD Ameritrade is in the middle of the pack. Wire transfers cost $25, complete account transfers cost $75, and monthly hardcopy reports cost $2. There are no fines for inactivity or for receiving a printed confirmation statement.
Who is TD Ameritrade Best For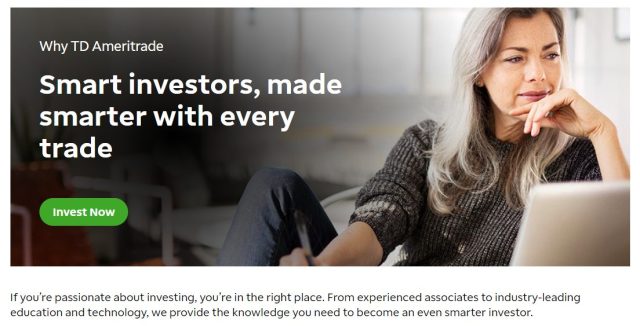 TD Ameritrade is best suited for:
Beginner investors.
Advanced traders.
Investor education/advice.
Fund investors.
Traders who want to do their trading on an internet platform should choose TD Ameritrade. Newer investors will appreciate the wealth of instructional materials available, including free online investment seminars, a practice account to assist newbies in understanding the basics of investing, and bespoke learning paths.
Active traders can make use of advanced tools like thinkorswim and account for a minimum of 0% commission fees on stock trading, ETFs, and options listed on the New York Stock Exchange.
TD Ameritrade Pros and Cons
Pros
Stocks Trading, ETFs, and options without paying a commission.
There is no charge for research.
Trading platforms of the highest caliber.
There is no account minimum.
Excellent customer support.
A wide range of investing options.
Cons
TD Ameritrade lacks Fractional shares
Account and fund fees are higher than competitors.
TD Ameritrade User Experience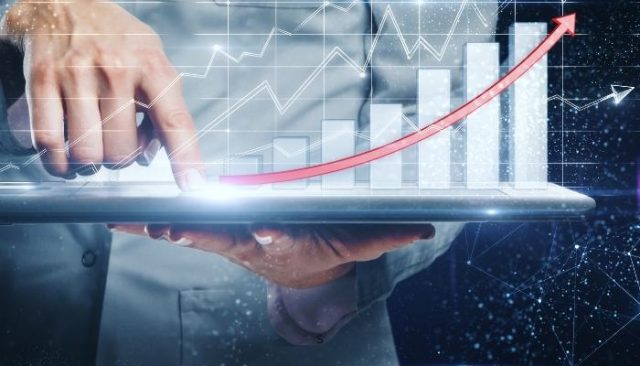 Trading on the normal android app is even easier than trading on TD Ameritrade's website if you use TD Ameritrade as your online broker. The user's screen has a notable green "trade" button in the upper right corner. The process of entering a symbol and trading is simple but effective. Watchlists and real-time statistics are available on the TD Ameritrade mobile app.
In light of this, the thinkorswim mobile app's charts outperformed the normal TD Ameritrade app by a wide margin. You can trade multi-leg options, tweak charts, perform position analysis, and more using the thinkorswim app. Indeed, thinkorswim mobile is remarkably comparable to the downloaded platform, making it a simple transfer for traders.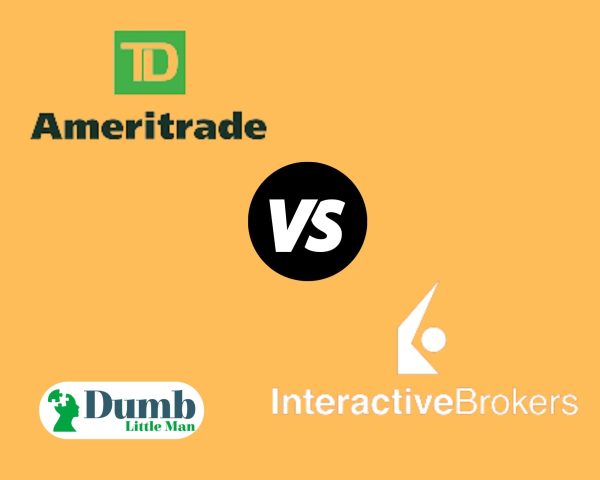 We'll examine some of the important differences between Interactive broker (IBKR and) TD Ameritrade to help you decide better for your investing and trading needs.
We discovered that TDA makes it easy to get started by allowing you to open and fund an account through the website and android app. IBKR's onboarding procedure has improved, but it is still tricky, and you may need customer support assistance to finish the application.
IBKR has only one ("IBKR Mobile") app, whereas TDA has two: the TD Ameritrade Mobile App for beginners and the thinkorswim Mobile App for active traders. TDA's apps are more famous, according to user ratings on the App Store.
However, we found the TDA apps to be intuitive and straightforward to use, but the IBKR apps appeared to be a little buggy. We also found TDA's customer service to be more flexible and reliable than Interactive Brokers.
Broker
Best For
More Details


Lowest Cost Online Stock Platform
Read Review




securely through Interactive Brokers website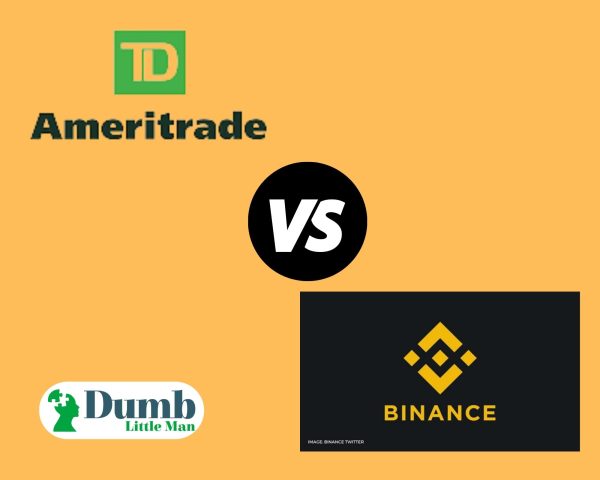 Binance is one of the most prominent online crypto exchanges for trade bitcoin futures.TD Ameritrade has an account minimum 0 deposit, while Binance has a 100 minimum deposit.
TD Ameritrade's trading platform has around 219 financial instruments, whereas Binance allows traders to trade up to 52.
TD Ameritrade is not a scam because major financial advisors authorize it. Binance has been in operation since 2011 and is controlled by Unregulated. Looking for a Binance alternative with stronger financial regulation is a good idea.
Broker
Best For
More Details


Altcoin Trading
Read Review




securely through Binance website
Choose Asia Forex Mentor for Your Forex and Stocks Trading Success
If you have a keen interest in establishing a successful career in forex trading and aspire to achieve substantial financial gains, Asia Forex Mentor stands as the optimal choice for the best forex, stock, and crypto trading course. Ezekiel Chew, renowned as the visionary behind trading institutions and banks, is the driving force behind Asia Forex Mentor. On a personal note, Ezekiel consistently achieves seven-figure trades, a distinction that truly sets him apart from other educators in the field. Here are the compelling reasons that underpin our recommendation:

Comprehensive Curriculum: Asia Forex Mentor offers an all-encompassing educational program that covers stock, crypto, and forex trading. This well-structured curriculum equips aspiring traders with the knowledge and skills necessary to excel in these diverse markets.

Proven Track Record: The credibility of Asia Forex Mentor is firmly established through its impressive track record of producing consistently profitable traders across various market sectors. This achievement serves as a testament to the effectiveness of their training methodologies and mentorship.

Expert Mentors: At Asia Forex Mentor, students benefit from the guidance and insights of experienced mentors who have demonstrated remarkable success in stock, crypto, and forex trading. These mentors provide personalized support, enabling students to navigate the intricacies of each market with confidence.

Supportive Community: Joining Asia Forex Mentor brings access to a supportive community of like-minded traders pursuing success in the stock, crypto, and forex markets. This community fosters collaboration, idea-sharing, and peer learning, enhancing the overall learning experience.

Emphasis on Discipline and Psychology: Success in trading necessitates a strong mindset and disciplined approach. Asia Forex Mentor provides crucial psychological training to help traders manage emotions, handle stress, and make rational decisions during trading.

Constant Updates and Resources: The financial markets are dynamic, and Asia Forex Mentor ensures that students remain up-to-date with the latest trends, strategies, and market insights. Continuous access to valuable resources keeps traders ahead of the curve.

Success Stories: Asia Forex Mentor takes pride in a multitude of success stories where students have transformed their trading careers and achieved financial independence through their comprehensive forex, stock, and crypto trading education.

In summary, Asia Forex Mentor emerges as the premier choice for those seeking the best forex, stock, and crypto trading course to carve a rewarding career and achieve financial prosperity. Through its comprehensive curriculum, experienced mentors, practical approach, and supportive community, Asia Forex Mentor provides the necessary tools and guidance to mold aspiring traders into accomplished professionals across diverse financial markets.
Conclusion: Is TD Ameritrade a Good Platform for investors and traders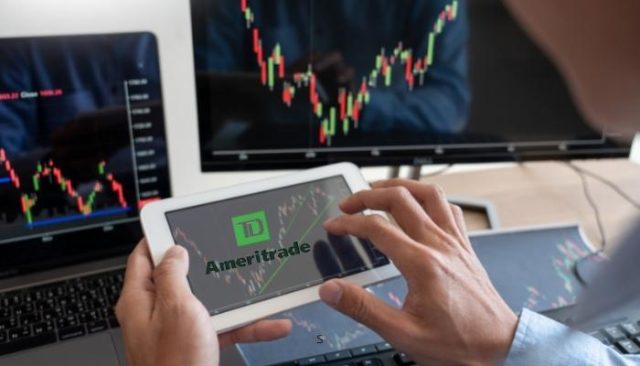 We strongly recommend TD Ameritrade to experienced traders searching for quality research and a well-equipped desktop trading platform. TD Ameritrade is one of the largest online brokers in the United States, and it doesn't charge commissions on stock and ETF trades. Research and education TD Ameritrade are excellent, and the thinkorswim desktop platform is one of the top choices in the market. Its Customer service is also excellent.
TD Ameritrade offers a comprehensive range of assets, trading tools, and instructional resources, as one would expect from a large online broker, along with industry-standard pricing, security, and reliability. It's the best way to utilize technology and make life easier and peaceful with new innovations. These types of platforms help to make future healthy wealthy without any hesitation.
Although trading across platforms is generally simple, active investors and traders prefer the thinkorswim trade engine's comprehensive tools and capabilities. On the other hand, TD Ameritrade's many platform solutions make trading and research more accessible to investors of all backgrounds and levels of experience.
TD Ameritrade Network, articles, videos, and courses provide a client-centric learning experience for new investors. TD's completely integrated platforms, tailored, goal-driven, and intuitive, will appeal to more recent investors. The extensive and in-depth features of the thinkorswim platform will appeal to traders and active investors.
The upcoming merger of TD Ameritrade and Charles Schwab should bring the best of both industry titans together, bringing fractional shares and other components to the TD Ameritrade experience while maintaining a solid user-centered trading and education experience.
| RECOMMENDED TRADING COURSE | REVIEW | VISIT |
| --- | --- | --- |
| | #1 Forex, Crypto and Stocks trading course. Ranked most comprehensive by Investopedia and Best by Benzinga. Free to Try! | |
TD Ameritrade FAQs
Can TD Ameritrade be trusted?
Yes. TD Ameritrade is a trustworthy corporation with a long record in financial buying and selling, and it has kept its technology and internet resources up to date. It has a wide range of investment products, account types, and trading tools to choose from.
Furthermore, TD Ameritrade offers certain trading at an account minimum of 0 and is upfront about all the other fees.
Is TD Ameritrade Mobile secured?
End-to-end encryption is available on our mobile platforms (a process in which data is converted into a code to protect sensitive information). Our mobile applications are updated via auto-upgrades, releases, and app updates inside the app store to cover extra security measures.
App for TD Ameritrade When trading, Trader does have an auto-lock delay setting and a password request. When you use the privacy mode, your balance information is hidden.
How do I watch my TD Ameritrade network?
TD Ameritrade Network is brought to you by TD Ameritrade Media Organization. TD Ameritrade Holding Corporation owns two separate but linked companies, i.e., TD Ameritrade Media-Productions Company & TD Ameritrade, Inc., TD Ameritrade Holding Corporation is a totally subsidiary of Charles Schwab Company.
You can Browse the TD Ameritrade Network webpage for online broadcasts, on-demand videos, and much more. Live broadcasts can be viewed on the thinkorswim platform, the Mobile Trader app, YouTube, Twitter, and Amazon Prime Video.
| RECOMMENDED TRADING COURSE | REVIEW | VISIT |
| --- | --- | --- |
| | #1 Forex, Crypto and Stocks trading course. Ranked most comprehensive by Investopedia and Best by Benzinga. Free to Try! | |
Like this Article? Subscribe to Our Feed!
Wilbert is an avid researcher and is deeply passionate about finance and health. When he's not working, he writes research and review articles by doing a thorough analysis on the products based on personal experience, user reviews and feedbacks from forums, quora, reddit, trustpilot amongst others.