Best Blue Chip Stocks: How and Where to Invest in 2023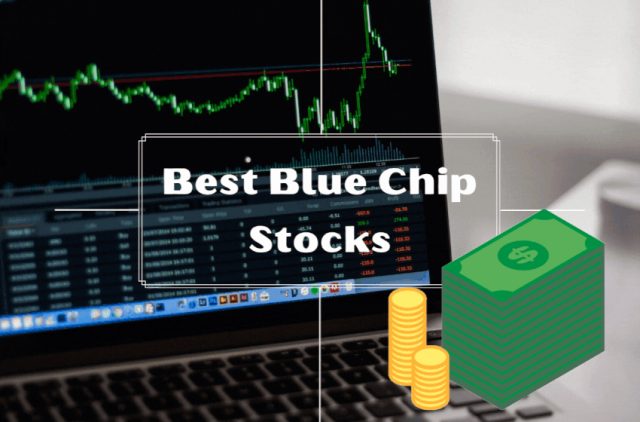 Global equity markets have thousands of shares on offer. Each stock is backed by the fundamentals of the underlying business. However, it's very difficult these days to choose just the right stock to put your money in.
But despite these challenges, a lot of investors go for the best blue-chip stocks. Although these shares are quite expensive in most cases, they are seen as a safe bet, especially in volatile financial markets. Large-cap companies have in fact been referred to as recession-proof.
Although this is not 100% true, stable blue-chip stocks tend to be very resilient in the face of significant turmoil in the stock market. Besides, some of the leading blue-chip corporations in the world have survived for so long it's hard to imagine there is anything that can bring them down.
But what exactly is a blue-chip stock? Why are so many investors obsessed with these shares? Well, in this post we will give you all the info you need.
Best Blue Chip Stocks: What Is Blue Chip Stocks?
Before we give you a list of some of the best blue chips you can buy in the stock market, let's first begin by explaining what these stocks are. So, to put it in simple terms, a blue-chip stock refers to the shares of a large company with a superb reputation. In essence, they are shares of some of the most successful companies in the world.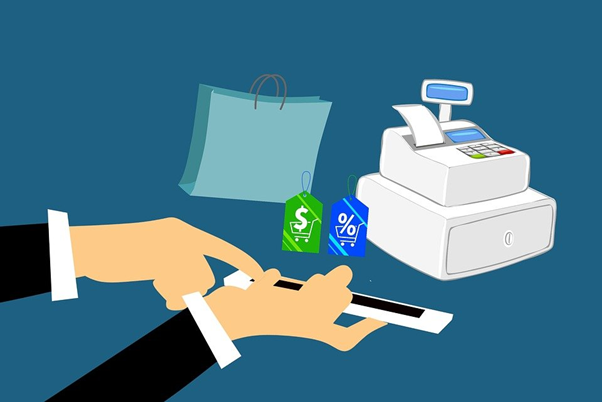 These firms are typically present in all countries around the world. For example, you can buy Chinese blue-chip stocks, US-based stocks, and even European. In most cases, these companies will have certain unique attributes. First, they tend to be large-cap stocks. In fact, a company can only be considered a blue chip if indeed it has a market capitalization of more than $100 Billion.
Secondly, the biggest blue-chip stocks have a history of excellent performance over a long period of time. These are stocks that have traded for decades and continue to deliver value for investors either through dividend payments or capital appreciation.
As a matter of fact, these companies normally pay rising dividends over a long period of time, making them a good choice for folks looking for robust opportunities. The stocks also have good corporate governance. Other fundamental factors include resilience and the ability to withstand global economic upheaval, good returns year to date, and a wide range of investors.
The Best Blue-Chip Stocks
Now that you have a general idea of what blue chip shares are, it's time to look at some of the major companies right now. The COVID 19 pandemic and its delta variant have of course had a huge impact on these companies. Also, the semiconductor crisis forced many of them to cut revenue projections. But they are still so resilient and here they are:
US tech giant Apple is the most valuable company on the planet. Apple was the first company in the history of markets to hit a $1 Trillion dollar market capitalization in 2018. Fast forward 2 years later and Apple is today worth a whopping $2 Trillion.
Apple made its name selling smartphones, some of which could even be bought at Walmart China. But it has since diversified into software and related services. Although former President Donald Trump had some public spats with the company, it still held strong. Apple is good for beginner investors and a recent CNBC article mentioned that the company could get even bigger. It is one of the best stocks to buy for anyone.
Microsoft Corporation (NYSE: MSFT)
When you look at various investment related publications or ask any senior business analyst what the best capital market opportunities are, then Microsoft will be there in the list. It's a company with a proven track record of results and is also backed by a positive global consumer sentiment thanks to its top products.
The software giant founded by Bill Gates had a value of $2.483 Trillion in 2021. The company also pays an annual dividend yield of $2.24 per share. The Microsoft stock has also reached a record price tag in recent years and is expected to keep going. These are those companies that have to be in your portfolio. You don't even need exotic financial vehicles to buy this industry leader in software and computing. Simply buy directly and see the value grow.
Sony Group Corporation (TSE: SONY)
Sony is a Japanese multinational that made its name as a consumer tech giant. The Sony PlayStation gaming console is perhaps one of the most popular products from the company. But in addition to video game consoles, Sony is also known for TVs, cameras, and others. Sony electronics are literally in every country globally and for this reason, the Sony stock has grown in leaps and bounds.
As of 2021, Sony had a market cap of over $150 Billion. The company has also consistently paid dividend payments to its shareholders over the years. It has however suffered a lot from the semiconductor supply crunch but still remains among the better blue-chip stocks from Japan. However, the very Japanese competitor Komatsu, could make a claim for that title.
Best Online Brokers for Blue Chip Stocks?
Brokers are essential in virtually every investment market. Whether you want to buy stocks in a consumer electronics retailer, an electric vehicle manufacturer, or even cat stock, the three companies below will give you access to so many bets in the capital markets. Here is a breakdown of each: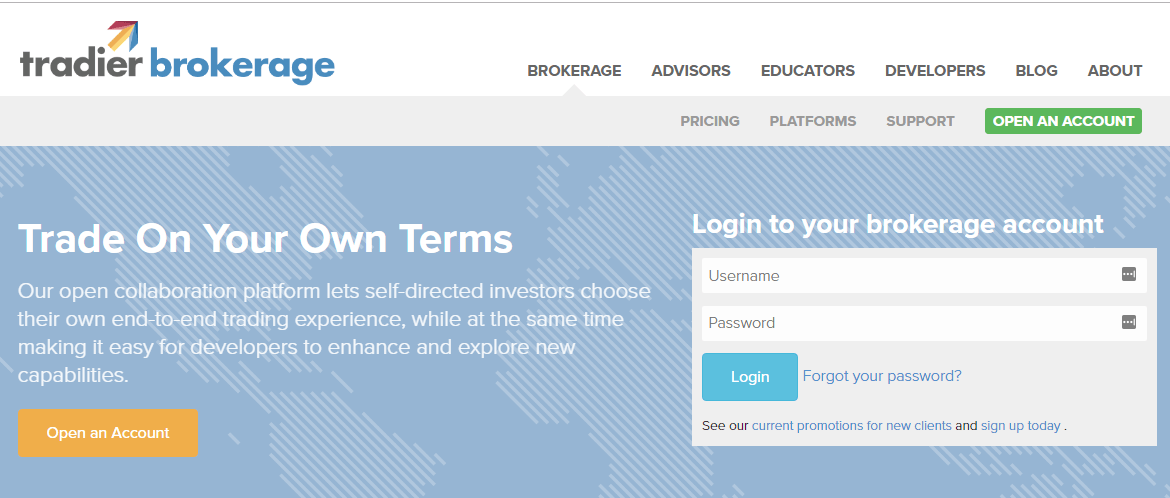 Tradier is a global online broker that gives customers access to the global investment markets. you can buy any large-cap stock with this broker through very minimal fees. Tradier also has a wide range of financial products for an investor including derivatives like options.
You will also get access to a state-of-the-art platform on both your browser, desktop, and mobile. If you are new to stocks, the broker has some amazing learner's materials for every beginner.
Click Here to Open an Account with Tradier Brokerage (Official Page)
>>Read more About Tradier Brokerage Review: Is it the Best Intuitive Trading Platform?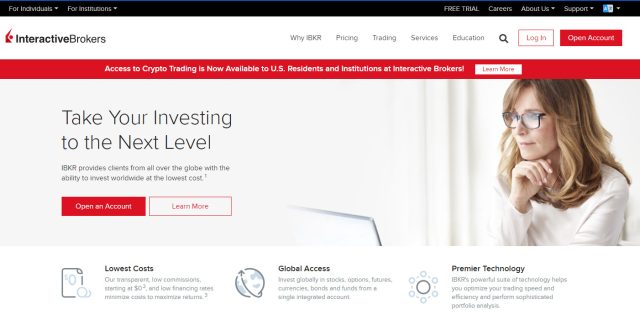 Founded in the US in the 1970s, Interactive Brokers has grown to become a huge player in financial markets. The firm is also global and has a huge range of products too. Whether you want to explore the China bull market or a slow and steady environment for large companies in the US, this broker has you covered.
Interactive Brokers is also known for its low fees, fast trade execution, and top security. It is also regulated by the Financial Industry Regulatory Authority or FINRA. The brokerage also has several trading platforms for you and offers easy-to-use technical analysis tools to help you make better investments.
Click Here to Open an Account with Interactive Brokers (Official Page)
>>Read more About Interactive Brokers Review: Is it the Lowest Cost Online Stock Platform?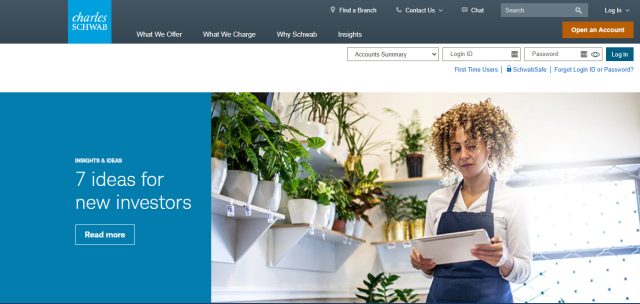 As a listed financial services company, Charles Schwab offers superb credibility as a broker. The firm has helped broker major contracts, including mergers but more importantly, its brokerage service is outstanding.
First, you get a modern high-tech trading platform to buy and sell your stock anytime. Charles Schwab also gives you access to investment advice and detailed market analysis to help you make informed decisions. As one of the most reputable brands in the US financial services sector, it should be a good pick for any investor.
Click Here to Open an Account with Charles Schwab (Official Page)
>>Read more About Detailed Charles Schwab Review: Important Notes for 2021!
Blue Chip Stocks Pros and Cons
Although blue-chip stocks to buy are seen as safe investments, there are some things you need to know. Here is a list of pros and cons:
Pros
Blue-chip stocks to buy tend to have long term value and will lead to respectable capital appreciation
The stocks are backed by solid companies with a consistent history of good revenues and proper management
They also offer a good option for people seeking robust growth year after year in their portfolio
The stocks also pay dividends on a regular basis, giving you some steady income on capital.
Cons
Blue-chip companies can still go bankrupt, something that actually happened a lot following the credit crisis
The stocks are often very expensive and this may limit retail investors
Blue-chip stocks to buy tend to have very limited volatility and as such, they are not good for short term plays
The stocks are also global and may be affected by a china related headwind and other global factors
Reason Why Should You Invest in Blue Chip Stocks?
It's very hard to start discussing capital market opportunities without looking at blue chip stocks to buy. These companies are huge and plas different roles in the economy. People invest in blue chips for several reasons too.
First, they offer a safer bet compared to other stocks. Blue-chip stocks to buy are also going to regularly pay a dividend. So, if you are a dividend investor looking to live off your capital or simply find an extra source of income, these stocks are going to be great.
The companies are also seen as better hedges against volatility in the market. Modern financial markets have become so interrelated. For instance, when China shakes its economy or political climate, the ripple effects are felt globally. But blue chips weather that storm better than everyone else.
Choose Asia Forex Mentor for Your Forex and Stocks Trading Success
If you have a keen interest in establishing a successful career in forex trading and aspire to achieve substantial financial gains, Asia Forex Mentor stands as the optimal choice for the best forex, stock, and crypto trading course. Ezekiel Chew, renowned as the visionary behind trading institutions and banks, is the driving force behind Asia Forex Mentor. On a personal note, Ezekiel consistently achieves seven-figure trades, a distinction that truly sets him apart from other educators in the field. Here are the compelling reasons that underpin our recommendation:

Comprehensive Curriculum: Asia Forex Mentor offers an all-encompassing educational program that covers stock, crypto, and forex trading. This well-structured curriculum equips aspiring traders with the knowledge and skills necessary to excel in these diverse markets.

Proven Track Record: The credibility of Asia Forex Mentor is firmly established through its impressive track record of producing consistently profitable traders across various market sectors. This achievement serves as a testament to the effectiveness of their training methodologies and mentorship.

Expert Mentors: At Asia Forex Mentor, students benefit from the guidance and insights of experienced mentors who have demonstrated remarkable success in stock, crypto, and forex trading. These mentors provide personalized support, enabling students to navigate the intricacies of each market with confidence.

Supportive Community: Joining Asia Forex Mentor brings access to a supportive community of like-minded traders pursuing success in the stock, crypto, and forex markets. This community fosters collaboration, idea-sharing, and peer learning, enhancing the overall learning experience.

Emphasis on Discipline and Psychology: Success in trading necessitates a strong mindset and disciplined approach. Asia Forex Mentor provides crucial psychological training to help traders manage emotions, handle stress, and make rational decisions during trading.

Constant Updates and Resources: The financial markets are dynamic, and Asia Forex Mentor ensures that students remain up-to-date with the latest trends, strategies, and market insights. Continuous access to valuable resources keeps traders ahead of the curve.

Success Stories: Asia Forex Mentor takes pride in a multitude of success stories where students have transformed their trading careers and achieved financial independence through their comprehensive forex, stock, and crypto trading education.

In summary, Asia Forex Mentor emerges as the premier choice for those seeking the best forex, stock, and crypto trading course to carve a rewarding career and achieve financial prosperity. Through its comprehensive curriculum, experienced mentors, practical approach, and supportive community, Asia Forex Mentor provides the necessary tools and guidance to mold aspiring traders into accomplished professionals across diverse financial markets.
Conclusion: Is Blue Chip Stocks a Good Investment?
There is no doubt that blue-chip stocks to buy are good investments, in fact, they are perhaps the best investments you can make. This is based on several factors. First, these stocks have staying power. In other words, they will continue to grow for a very long time to come.
Secondly, the stocks already have a track record of delivering value for investors. You don't need to do a lot of due diligence to get in. You can rest assured your money is safe. There is also the opportunity to make an annual income through dividends. After all, these stocks have a history of paying dividends to investors.
However, these large companies are not always 100% safe. For example, American icon general motors went bankrupt after the 2008 financial crisis even though it was a blue-chip.
A former senior business analyst at the company has however revived the company and is now back to profitability. Blue-chip stocks to buy are also very expensive. But despite this, they are perfect for any investor who wants to build long-term value.
Blue Chip Stocks FAQs
How do you Qualify for Blue Chip Stock?
Blue-chip stocks have certain attributes. First, they have a value of more than $100 Billion. They are also intertwined with the global economy in fact, a mature economy translates to more growth for these companies. The large companies are also well run, have a history of beating revenue targets, and attract some of the best investors in the world.
What are samples of Blue Chip Companies?
A noted above, there are many blue-chip stocks to buy. Some of the most notable names include the four we have listed above. Others to note are companies like the US eCommerce giant Amazon, Meta Platforms Inc, Alphabet Inc, German carmaker Daimler AG, mining giant Glencore and others.
Is it safe to invest in Stock Market?
Generally, yes. But you need to pick the best blue-chip stocks or companies that have the right business fundamentals. Also, do not go into the stock market if you don't know what you are doing. This is not gambling and you must be ready to do research on companies before you invest.