Best Money Market Accounts of 2023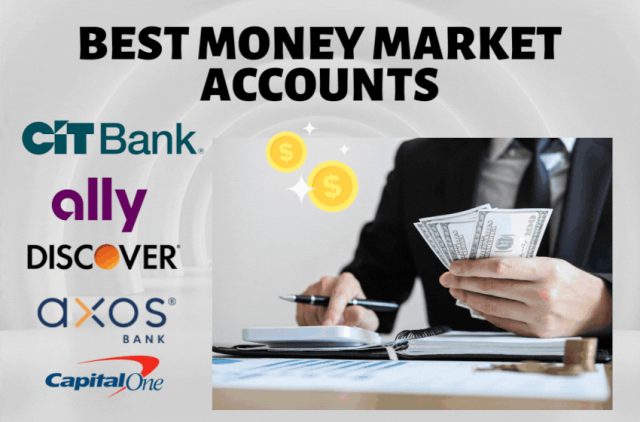 Undoubtedly, the bank and credit unions are constantly battling to offer incredible rates and terms for different people who want to use multiple money market accounts.
Isn't it a great deal for users? The money market accounts feature multiple options to build up savings and get the maximum benefit.
These money market accounts with highly competitive rates are far more effective than savings accounts and will help you grow the bank balance rapidly than those with average rates.
The money market accounts are high-yield savings account that will aid you to save more. We have narrowed down the choices to the nine best money market accounts to benefit you.
Best Money Market Account Overview
What are Money Market Accounts?
Have you ever heard about a money market account? It is a type of savings account that offers debit card and check services. A money market account has an increased interest rate than other annual percentage yield account to provide premium services.
Some high-yield accounts beat market accounts and have lower fees but they still include some disadvantages. Therefore, the money market accounts have no minimum deposits and high-interest rates to provide customers exclusive benefits.
Why do you need a Money Market Account?
A money market account is beneficial for check-writing privileges. You can access money at any ATM or must have a debit card for functioning. A money market account includes a higher interest rate than traditional accounts with a minimum deposit that might be higher.
Money market account includes a debit card and checks that distinguishes them from high annual percentage yield accounts. The check-writing capability of a money market account ensures a great degree of flexibility that you will not find in any savings accounts.
A bank or credit union has a money market account with higher interest rates than regular accounts. Moreover, in every bank, a money market account is a beneficial aspect that comes with a monthly maintenance fee and different features to support customers.
9 Best Money Market Accounts: Detailed Insight
#1. Top Consumer's Choice: CIT Bank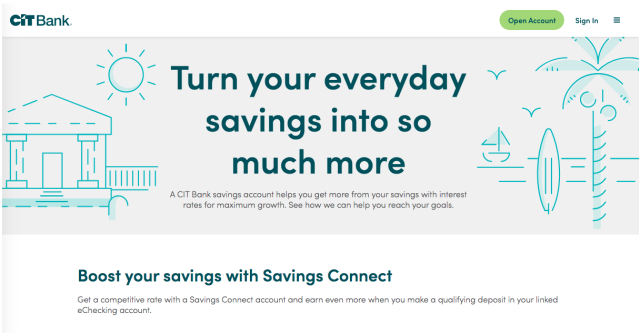 Here comes our top pick, which is none other than CIT Bank. This bank is completely digital and provides you with home loans and attractive Here deposit products. The bank belongs to CIT, whose roots trace back to the early 1900s when it was started by giving work financing in St. Louis.
The bank was inaugurated in 2011 to provide a vast arrangement of banking products entirely online because the bank does not offer any physical branches or ATMs. For finding whether the online deposit accounts of CIT are preferable for you, we have this in-depth review.
In 2019 eChecking accounts were added to CIT Bank's product menu. The checking option offers CIT users access to a wide array of banking products. CIT grants its customers the advantage of using a checking account throughout the day, whether online or with the mobile app. With a minimum opening deposit of $100, a checking account can easily be accessed.
CIT provides you with a fixed-rate mortgage loan that ranges between 10 to 30 years. They offer the customer's relationship pricing and a Savings Builder Account. In addition, you can receive $525 cashback after shutting the new CIT home loan.
Best Feature?
For the banking services paying high fees is a hectic thing, but CIT bank intends to be your only solution. CIT bank money market is highly convenient as the money market account helps you earn up to 0.45% APY. You will earn this much no matter what you deposit each month as they don't have any balance requirements.
It has an opening deposit of only $100 without any monthly service fees. To make payments to any person from the CIT bank money market account is quite easy by using Bill Pay which is a free service. Since CIT bank is an online bank, so access to CIT accounts is provided either through CITs mobile app or the CIT website. Customers can access the accounts throughout the day.
Who is it Best For?
For the customers who want digital banks that offer to save and check accounts that can easily be accessed without any fees, CIT bank should be your top pick. It enables digitally savvy customers to earn good prices on saving accounts.
Moreover, before opening an account, ensure that the bank refunds the ATM fees. It offers the users to have access to a certificate of deposit without any penalty.
Click Here to Open CIT Money Market Account Today to Get Their Latest Deals!
>>Read More About CIT Bank Reviews: Is CIT a Good Bank?
#2. Best High Yield Savings accounts: Ally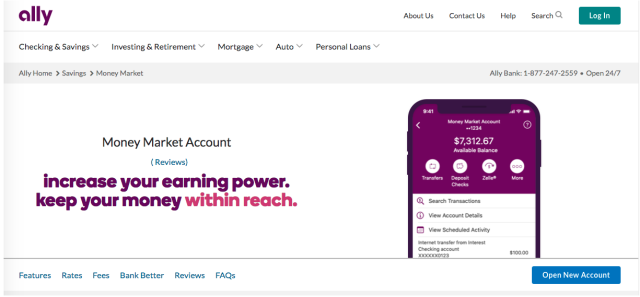 Ally is no more an exception, and it's a leader known for innovative online banking with minimum deposit accounts available. It also involves competitive interest rates that make the bank one of the top-notch options within the banking industry.
Despite providing some premium personal banking options, Ally bank also involves a broad range of banking services such as home loans, Ally bank interest checking feature, and minimum daily balance. The checking accounts pay interest with a significant annual percentage yield APY.
You can pass the savings with effortless and minimum balance while using this online account. It has no physical branch but includes an interest account, that's the most accessible account offered by the bank.
With no monthly maintenance fee within the free checking accounts, you will also get access to a minimum deposit while opening the account. It won't cost you an overdraft fee, and that's a valuable advantage to the user.
Ally bank also includes three different CD types with high-yield premium CD options available. You won't find any minimum deposit to get certificates of deposit as the rates will vary depending on the balance and other direct deposit options.
Best Feature?
Ally's savings account undoubtedly offers an annual percentage yield option that offers 0.50% APY without account balance. Getting an online savings account is an excellent way to reach financial aims and save money. It also completes refunding customers who get charged an excessive transaction fee for transfers per cycle.
The online account includes a free debit card and checks option with fee-free access to ATMs throughout the US. Ally Bank also reimburses almost $10 per statement period for fees when going for different out-of-network ATMs.
Who is it Best For?
Ally should appeal to customers who search for any full-service online banking feature and is particularly an excellent fit for customers. It works ideally to provide access to ATMs without paying more fees while providing a customer support feature. You can enjoy competitive rates on CDs with a minimum opening deposit.
>>Read More About Ally Bank Review: Is Ally a Good Bank?
#3. Best Minimum Balance Requirement: Sallie Mae
Sallie Mae offers you wide vast loan options as compared to every other lender. It offers you loans for medical, residency, career training, and bar study. With multiple loan options, such as loan terms and repayment plans, you can customize your loans according to your needs.
Sallie Mae provides you with a wide range of professional loans, student loans, bar exam loans, and residency loans. Sallie Mae's Career Coaching Option Student Loan is a go-to loan for students attending school to acquire a certificate in trade or for professional training like a technical school or a culinary school.
Sallie Mae offers you the Sallie Mae parent loans for graduate, undergraduate, and certificate education, which are highly convenient. The loan amounts can cover the 100% certified cost of school attendance.
Sallie Mae's money market is profitable and has its loan service. The yearly report provided by the private education loan protection bureau has left out Sallie Mae in its compilation of complaints regarding the private student loan lenders.
Best Feature?
In addition, Sallie Mae Bank offers you a vast range of loans with several repayment choices for students of every category. It also includes discharge and loan forbearance programs that contrast well with the federal loan discharge policies.
It enables you to appeal as a consigner release only in 12 months, making it approachable compared to other lenders. However, as a drawback, Sallie Mae bank does not permit you to receive a rate quote beforehand you apply, due to which a hard credit inquiry is essential to look at your rates.
Who is it Best For?
For students who want rewards for making payments still in school, Sallie Mae's student loans are top-notch for them. For example, it offers low-interest rates to mortgagors who do not earn much and make only $25 payments while in school.
The relocation and medical residency loans provided by Sallie Mae bank can be utilized to pay the cost of your board examination, moving expenses, and travel.
#4. Best Money Market Rates: Discover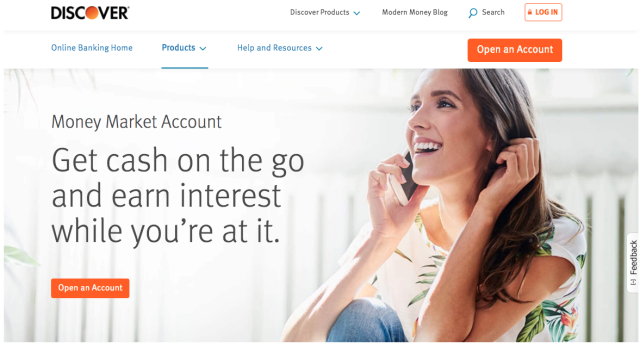 The Discover cashback debit account is perfect for its reward credit cards with full-service features and payment services worldwide. What makes it better? Let's take a detailed look!
Discover aims to provide retirement and multiple banking solutions to people. Do you Discover is a lender known to provide personal, student, and home loans making it more accessible to customers.
It is one of the most premium credit unions known for effective bonus on lack of fees and other card services that allows it to stand as a top choice. Moreover, it includes effective and competitive interest rates. Sounds impressive, right?
Discover also includes both IRA saving accounts or individual Retirement Account CD. YES! It only needs a minimum balance of $2,500 to provide APY similar to regular CDs.
Best Feature?
The main feature within a Discover free account is the cashback debit cards. Let us show you how! It applies a 1% cashback reward to purchases. But wait! Any loan payments, transactions, or orders you made with debit cards or peer-to-peer platforms will not make you eligible for rewards.
This credit union has no minimum balance essential to open an account, or you will not pay any fee to maintain the account monthly.
Who is it Best For?
Discover accounts are ideal for people seeking a digital bank that combines multiple services. It works best for people with digital transactions, don't want to pay an opening deposit and use their debit card for everyday transactions.
>>Read More About Discover Bank Reviews: Is Discover a Good Bank?
#5. Top Superior Money Market Account: TIAA Bank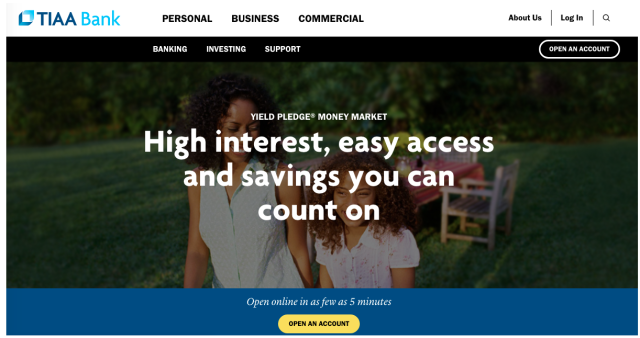 TIAA bank was established in the late 19th century with the prime objective to help teachers retire. Today it has approximately more than 80,000 ATMs in the U.S as a full-service bank. As it is an online option, you will only visit the physical bank if you are in Florida.
The Basic account has a minimum deposit of $25, to begin with. To eliminate the monthly account fee of $5, you will have to keep a $25 balance. The residents of New York are not obliged to pay the monthly account fee or pay the minimum account fee to open.
The yield pledge account of TIAA Bank is an interest-bearing account that guarantees its customers that the rates are always in the top 5 checking accounts.
The annual percentage yield APY of the yield pledge account is high and enables holders to earn up to 0.10% APY for every account balance. For starting a yield pledge account, the minimum deposit required is $100.
As compared to other online banks, TIAA provides its users with a variety of personal banking products. Looking for an online option with full-service, then TIAA is a good choice for you.
Best Feature?
TITAA bank has more than 80,000 ATM networks nationwide. If your account has a balance of about $5000, the bank will eliminate all the ATM fees from other platforms when using an out-of-network ATM. Or else about $15 ATM fees in a month will be waived.
The basic CD accounts are available with terms from about three months to five years. Depending upon the term, the CDs can earn between 0.35% to 0.85% APY. With a maturity alert of 20 days, they can automatically rollover. Basic CDs are associated with early withdrawal penalties.
Who is it Best For?
TIAA Bank is appealing to customers who want a wide range of services in an online institution. It is especially good for those who need a vast network of ATMs. The users can efficiently meet the minimum balance requirements to eliminate the account fee.
It enables the customers to enjoy the debit cards that come with extra advantages and perks. Furthermore, TIAA bank offers users a wide range of options for certificates of deposit.
#6. Best Monthly Maintenance Fee: Capital One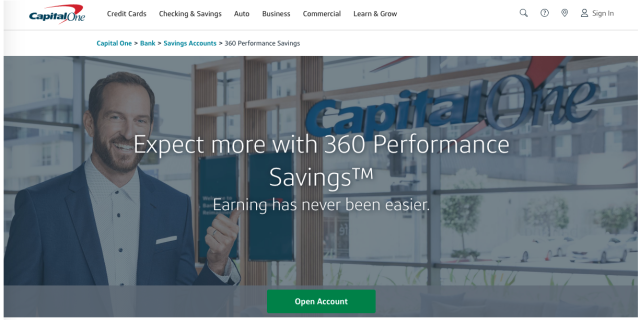 Another premium bank on our list is Capital One, with no-fee accounts and high-interest rates to meet the banking needs. Generally, it's an online institution that meets checking needs by offering Checking accounts.
The account includes a Checking MasterCard with a free checkbook and no fees for the accounts. YES! It has no minimum opening deposit requirements or fees.
Besides this, it has three different overdraft options: Next day grace, auto-decline, and free transfer with savings. Quite simply, it includes a banking option via CD.
Let's dig a little deeper! Opening a CD is an excellent option to enhance the savings with time. That's because the option is available from six to five years.
Best Feature?
One cool feature that this Capital One account incorporates is the money account. Moreover, the account is ideal for students as it doesn't require an opening deposit or any monthly fee to maintain it.
What's more? The money account will pay 0.10% APY on interest, and you will get access to real-time alerts to let you know where the child is spending or when the balance is getting low.
Who is it Best For?
For anyone who desires to get a free money market and savings account with excellent rates and other options, this option is no more an exception. It is reliable for people searching for a bank with a minimum daily balance and no monthly fees.
>>Read More About Capital One Bank Review: Is Capital One a Good Bank?
#7. Best Money Market Mutual Fund: Axos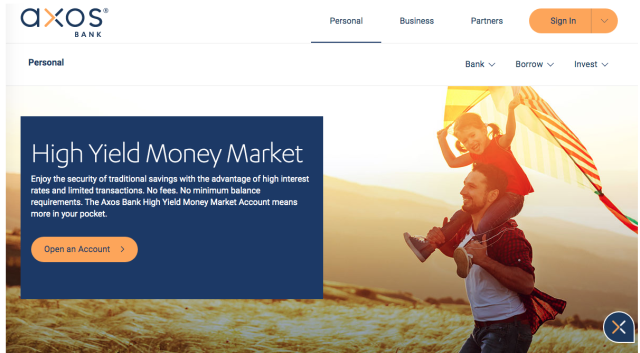 Axos Bank is one of the popular and oldest mobile banking platforms around. Established in 2000, it has been growing rapidly till now, providing full-service banking opportunities for businessmen and individuals.
Deciding whether Axos Bank is the right bank for you is quite easy, as this detailed review of the top online banking leaders will provide you with information about the services and accounts available through it.
The standard account used in Axos Bank, Essential Checking, does not earn rewards or interest. It offers you benefits like the Direct Deposit Express, enabling you to get your payment two days early.
This account has unlimited ATM fee recompense with no monthly minimum balance demands. With Axos Bank's highly convenient account, you don't need to worry about paying your Overdraft fees, monthly maintenance fees, and insufficient funds fees.
The rewards account of Axos Bank is an interesting account earning up to 1.00% APY. Just a $50 deposit is required to open it without any minimum balance requirements or fees.
Best Feature?
Finding a checking account earning cashback is rare, but Axos Bank is doing just that. On every signature-based purchase, the customers earn more than 1% cashback. Featuring no monthly fees, unlimited writing advantages, and domestic ATM reimbursements are CashBack Checking accounts privileges.
As Axos Bank do not have their own ATM network, the customers enjoy unlimited ATM fee reimbursements, including Cashback, Essential checking accounts, and Rewards. The Golden checking accounts get up to an $8 recompense fee per month.
Who is it Best For?
Axos Bank should be appealing to customers who are finding a full-service mobile bank. It is a good option for customers who are willing to earn rewards and interest using an account. It enables you to open a savings or checking account without any maintenance fees.
It enables the customers to earn savings with competitive rates. It allows users to complete most of the banking work online. Axos bank gives access to parents to open a checking account for their child. You can easily get unlimited recompense for ATM fees.
>>Read More About Axos Bank Reviews: Is Axos a Good Bank?
#8. Top High-Interest Savings Account: Synchrony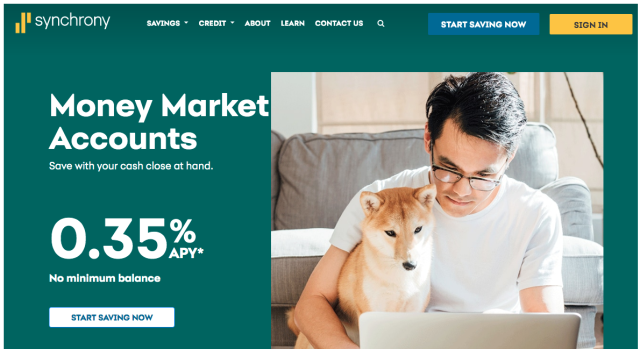 Another credit union option on our list is Synchrony bank that includes competitive deposit products for healthcare providers. It includes competitive rates on savings, CD accounts, and money market options that partner with retailers to provide different credit cards.
This financial institution includes healthcare providers with CareCredit options. Moreover, it doesn't provide investments, mortgages, checking, or other options making it better than many other institutions.
The bank also offers credit card options throughout the country. In addition to this, it includes different reliable options and uses it for personal finance such as dental, vision, cosmetics, etc. That's how it works!
Best Feature?
The competitive high-yield annual percentage account with no monthly maintenance fee and other options. Sounds impressive, right? Clients offer an interest rate of almost 0.50% APY on different balances.
It includes checking bank account features and also has options for writing checks from the money market account. The money market accounts intend to offer suitable deposit accounts where the money is beneficial to accrue interests making it reliable for everyday banking.
Who is it Best For?
Many banks and credit unions include monthly maintenance fees, but this Synchrony Bank is ideal for people who want to enjoy an annual percentage yield. It suits people who don't want to change their primary account and need no access to any physical branch.
Furthermore, it is beneficial for people who are looking for the benefits of getting a retailer credit card. Moreover, if anyone desires to get finance healthcare expenses, a money market account is a beneficial option.
>>Read More About
#9. Best Credit Union Money Market: BMO Harris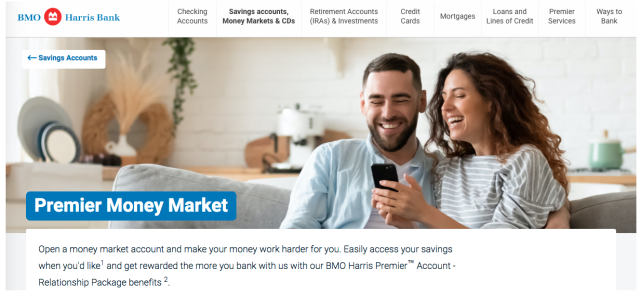 Lastly, we have BMO Harris Bank as a top choice bank that includes a full range of deposits and investment products. It has specific ATMs and works with Allpoint to ensure 40,000 ATMs nationwide that clients can utilize without any monthly fees. It also costs you $3 per transaction.
It also offers users a broad range of banking services and products for businesses and consumers that includes checking and money market accounts, CDs, and credit cards. This internet bank comes with different special-term CDs with interest rates to meet the funding requirements. The CD options are also reliable for clients that need an existing certificate.
Moreover, the bank includes different credit card options making it a part of the Mastercard network. The options contain different cards to earn credit card rewards, cashback, and other transfer features. It also provides different one-stop features to provide users with a premium banking experience.
Best Feature?
The best part is that customers will get access to three different accounts to choose from with a smart advantage account with a monthly fee-free feature for paperless statements. The account also includes one specific $5 monthly fee with waivable non-sufficient and overdraft fees.
The credit union includes a premier account to earn interest with a waivable ATM fee and reimburses for almost $25 fees charged by different banks. Lastly, the debit Mastercard purchase offers protection if the item gets damaged. It includes debit card options for accessibility.
Who is it Best For?
BMO Harris Bank is ideal for people who live in different countries like Florida, Indiana, etc., while providing you access to physical branches. It will also help you open checking, saving, and money market account with a small deposit.
You can maintain the four-figure accounts to get interested. We must use debit cards for all-day purchases, mainly for people 25 years of age. It also suits people who look for a full-service bank that helps to meet financial needs.
Best Money Market Accounts Comparison
| Bank | APY% | Monthly Fee | Minimum Opening Deposit | Monthly Minimum Balance | Max. Number of Withdrawals per Month |
| --- | --- | --- | --- | --- | --- |
| CIT | 0.45% | $0 | $100 | $25000 or $100 monthly deposit | Six |
| Ally | 0.06% | $0 | $0 | $500 | Six |
| Sallie Mae | 0.50% | $0 | $0 | $0 | Six |
| Discover | 0.50% | $0 | $0 | $100,000 | Six |
| TIAA | 0.40% | $0 | $25 | $500 | Six |
| Capital One 360 | 0.40% | $0 | $50 | $300 | Six |
| Axos Bank | 0.15% - 0.61% | $0 | $250 | $1000 | Six |
| Synchrony | 0.50% | $0 | $0 | $2500 | Six |
| BMO Harris | 0.01% | $0 | $25 | $5000 | Six |
| Aspiration | 0.50% | $0 | $0 | $25 | $4 |
| FNBO Direct | 0.01% | $0 | $0 | $33 | $0 |
How We Rank the Best Money Market Accounts?
Ranking the money market account is necessary to consider when narrowing your choices. Therefore, we mentioned a few factors which we considered while ranking these money market accounts.
APY
The foremost aspect we considered is the annual percentage yield APY. We mentioned the accounts with highly competitive APYs that will meet the users' requirements and needs. That's the most significant part, no doubt.
Fees
Another thing we mentioned while ranking the accounts is the monthly fees. We considered the transaction fees and other monthly aspects to make it more reliable and beneficial.
Minimums
The balance requirements and minimum deposit options vary by financial institutions. Generally, low minimum deposit requirements will make it effortless to maintain the account. You will find one account that you will afford.
Customer experience
The premier members credit union include limited branch access and you have to ensure that the bank or credit union provides clients different representatives that are highly responsive and accessible.
How to Choose the Best Money Market Account?
Getting the right money market account is a bit intimidating task when you have multiple online banks available. How will you choose the ideal one? Let's take a closer look to help you choose an innovative bank with effective money market account. Here are the considerable factors:
Digital Banking
The first thing to consider is the mobile banking and online banking feature which people like to use for better effectiveness. You should look for money market account at banks and credit unions to meet such expectations and requirements.
Accessibility
Another essential factor to consider is accessibility. A bank or credit union will vary significantly about how they enable users to withdraw money from their money market account. Many accounts offer check-writing privileges and debit card options.
However, you might find a limited number of transactions allowing the saver to make per cycle from a saving account. Moreover, each financial institution includes specific policies and you should ask for the withdrawal options to excess transaction fees before opening an account.
Safety
Look for an account insured by the Federal Deposit Insurance Corporation (FDIC), which provides up to $250,000 in insurance per depositor, per bank, for each account ownership category, in the event of a bank failure. At credit unions, make sure the account is similarly insured by the National Credit Union Administration
Conclusion: Best Money Market Accounts
Overall, a money market account is far more effective than a regular savings account and will offer the right annual percentage yields within the union money market account. It aims to work the same as a regular saving deposit account where you can withdraw or save money easily.
Money market accounts typically provide variable services. What does that mean? It means that the APY and rate can rise and fall along with the market change. YES! Are money market rates fixed? It explains that APY changes with market conditions. Are money market accounts insured?
The premium members credit union provides the best annual percentage yield with the right money market interest rates to provide exclusive results. Do you know the highest interest rates make a good money market account? These are fully permitted to offer high-interest rates and invest in CDs, commercial paper and earn interest better than an online savings account.
CIT is the best bank to offer exclusive money market fund features for more than a decade. It's a premier members credit union that offers the most innovative personal finance services and effective annual percentage yield to provide users endless benefits.
Money Market Accounts FAQs
Can you lose your money in a money market account?
Well, a money market account seeks security and stability enabling the user to never lose money. It also keeps the asset value at $1. But you will find an exception, here. Whenever the value falls below $1, you will lose the original investments and all investors will lose a significant amount of money.
If you want to save money or need to keep things liquid, money market account will be an excellent choice.
What is better than a money market account?
Is there anything better than a money market account? Generally, the money market account offers better services and reliabilities than regular banks. Typically they are higher than CDs and a basic saving account. Moreover, CDs include higher money market rates while they are long-term accounts.
Moreover, the short-term bonds have high annual percentage yield APY than money market funds. Therefore, it involves better potential allowing users to earn more interest with time. Therefore, short-term bonds are a better investment than many money market funds.
Is it better to put money in a savings account or a money market account?
Different money market accounts include minimum deposit and balance features than a regular account that ultimately provides higher returns with money market funds. Some interest rates vary significantly depending how much money you have deposited.
The money market account includes limited check writing privileges or limited debit card purchasing every month to help you save more money and earn interest.
Where can I make the most interest on my money?
Generally, any high-yield savings account is a better option for people who desire to grow savings while providing effortless access to money. The CDs account is another option to make money on interest and set a specific term. It will charge you a penalty while withdrawing the cash.
But wait! If you are searching for the safest bank, a money market account is an ideal option than a traditional account. You should consider the money market known for offering minimum deposit and high annual percentage yield APY. These accounts pay additional interest and offer a maximum number of transactions every month with beneficial money market account rates to save or transfer money.
Like this Article? Subscribe to Our Feed!
John is an avid researcher and is deeply passionate about health and finance. When he's not working, he writes research and review articles by doing a thorough analysis on the products based on personal experience, user reviews and feedbacks from forums, quora, reddit, trustpilot amongst others.