Sofi Review: Is it the Best for Advanced Banking Products?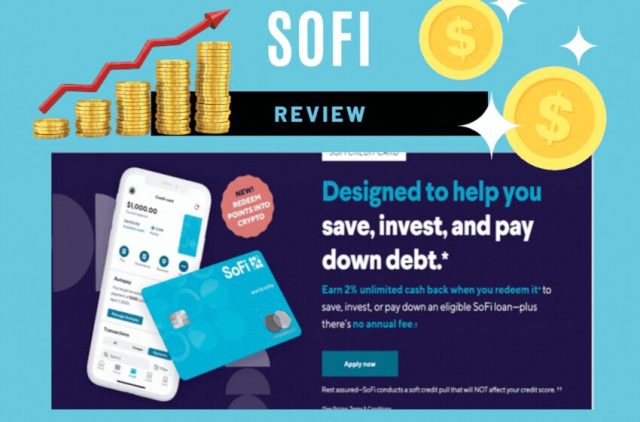 Achieving financial independence is perhaps one of the most important goals for a lot of people. While there are so many ways to do that, it all starts with managing your money and of course making your money work for you.
Sofi is here to make this happen. With a wide variety of innovative financial services, Sofi allows customers to take control of their financial future.
The company offers an array of services including personal loans, credit card debt consolidation, investing, and insurance. You also get tips on how to budget and manage your cash.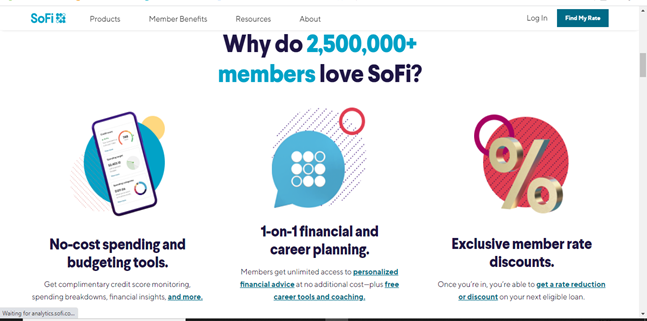 Sofi is simply designed for people who are looking for innovative new technology in managing money. whether you are an active trader, someone drowning in debt, or simply looking to finance your first home, this firm has a product for everyone. In this review, we take a deeper look at Sofi and what it offers.
Sofi Review: What Is Sofi?
Sofi, or Social Finance Inc, was founded by a bunch of Stanford Business school students in 2011. The purpose was to create a social lending platform funded fully by the Sandford alumni.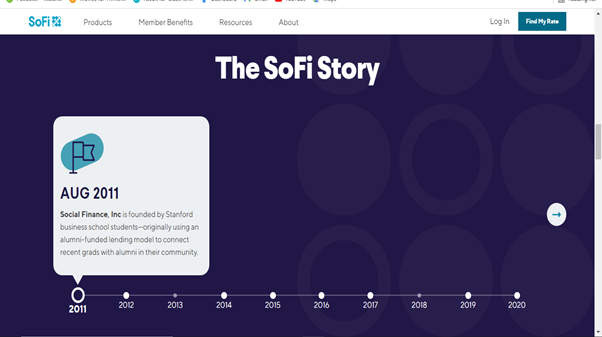 At the time, Sofi hoped to connect recent grad students with alumni in their community with the sole purpose of social lending, especially on private student loans.
However, ever since the company has evolved to become a major player in finance. Today, it has a huge variety of financial products including loans, insurance products, investments, and others. Sofi is designed to give its members access to low-cost credit with no fees at all.
According to the company, ever since its inception, it has offered over $50 Billion in financing. This figure cuts across its products including things like student loans, student loan refinancing, personal loans, and others.
In addition to this, Sofi Loan has over 2.5 million members, making it one of the largest social finance companies in the world. The company has also invested heavily in developing important financial management technology. From simple personal finance and budgeting tools to advanced automated trading bots, the firm has it all. Think of it as your traditional bank only better.
Even if you have a bad credit karma score, the firm could be able to offer a personal loan or a debt consolidation loan with flexible monthly repayment and competitive interest rates. In the end, Sofi aims to make your finances stable and aligned with your personal goals.
How does Sofi work?
Sofi is your one-stop shop for all your financial needs. The platform works in three simple ways. First, you will need to register an account. Unlike traditional banks that ask for lots of information before you apply for a personal loan, Sofi only needs your name, state, and password.
After you've created an account, download the Sofi personal loans app. With the app, you will be able to access all the financial products you need. So, for example, if you want a loan, all you have to do is apply.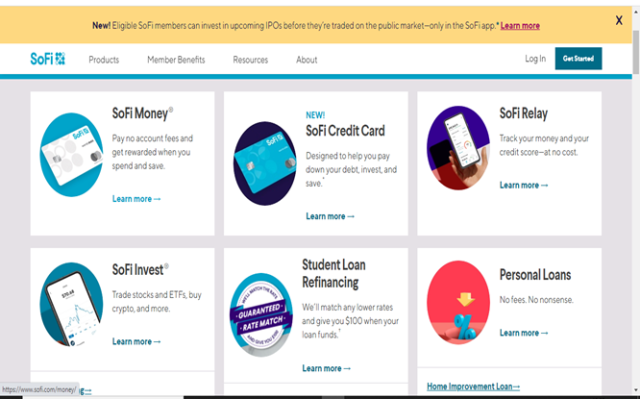 The app will request additional financial information including your credit score or credit report. Do not worry about this. The credit score is not used to approve or reject applications for Sofi personal loans. Instead, it is used for appraisal to determine your interest rate. If you have a good credit karma credit score, chances are you will get a low-interest personal loan with no prepayment penalties. But even for people with a bad credit score, Sofi Loans will still work for you.
For example, if you want to grow your wealth through active or passive investing, then Sofi Investing is for you. This product is designed to help folks invest and make returns trading stocks, ETFs, indices, and cryptocurrencies.
You also get to choose between two investing accounts. The first is an active trading account where you make all investment decisions on your own. Secondly, you can choose a passive investment account where an automated investing bot does this for you.
Either way, Sofi gives you the power to make your money grow and it also has unemployment protection too. You don't need to meet too many conditions to qualify for a Sofi investing account. As long as you have an investment strategy, you are good to go.
Sofi also has student loans for creditworthy borrowers and those who have a not-so-good credit history. You can also get car loans with simple monthly payments and favorable loan terms. If you have a co-borrower, you may also get good loan terms ranging from two to seven years.
Secured loans for home improvements and other emergencies are also offered. Loan amounts range from 5,000 to 100,000 depending on your excellent credit score.
Click Here to Open an Account with Sofi (Official Page)
What are the Features of Sofi platform?
As one of the leading online-based loan companies in the world, Sofi Loans has created an innovative and intuitive platform. The platform is designed to give you quick access to all the services offered by the company, including debt consolidation loans.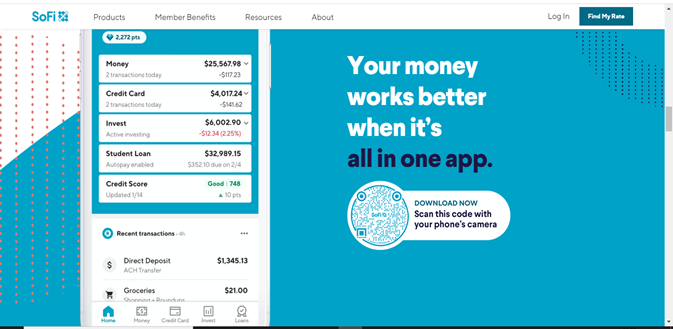 The Sofi personal loans platform also has a feature that allows you to pay all your bills in one single app. Do not also forget to look out for the Sofi Loans rewards program for its members.
Sofi is also offering automated investing services for its customers. Everybody knows that there is money to be made in the stock market but the technicalities involved in trading stock can be intimidating for folks. However, with Sofi investing, you can use proven automated trading bots to maximize your returns and reduce exposure to risk.
Sofi is also a certified financial planner. A big part of getting financial freedom involves managing your money well. It has top-rated financial planning tools that can help you consolidate debt, track your finances, and maintain excellent credit for the future. It is also offering a credit card service with up to 2% cashback.
The card is a new product and it targets most creditworthy borrowers as well as folks who meet its credit score requirements. You can use the Sofi credit card to make purchases anywhere. Interestingly, the 2% unlimited cash back can also be used to service your existing Sofi personal loans or make investments through its platform. Sofi also offers crypto rewards for its credit cardholders. You must be a U.S citizen permanent resident to be able to get the card and receive compensation from it.
How much are Sofi Commissions and Fees?
Sofi does not charge a fixed rate for its unsecured personal loan. You see, the interest rate charged on loan amounts depends on several factors. This includes your credit score from credit karma, the loan amount you intend to borrow, the benchmark interest rate, and the monthly payments you wish to make.
Despite this, the interest rate on Sofi's personal loans starts at 4.99% APR (Annual percentage rate). Compared to other lenders, the advertised rates by Sofi are some of the best in the market. Besides, unlike multiple lenders, Sofi does not charge an origination fee for its loans. You can compare rates at credit karma and see.
Whether it's a loan amount of 5,000 or even something from 5,000 to 100,000, the 4.99% rate is still going to apply. You also get flexible monthly payments and if you can get a co-borrower, the rate will go down further.
Sofi does not charge exorbitant penalties for late payments like other lenders. The company is guided by provisions of the consumer financial protection bureau that ensure your unsecured personal loan is not a burden.
There are also provisions for unemployment protection, including a reduction of the monthly payment for loans. Additionally, commissions for other Sofi products, including Sofi Investing are also very low.
Click Here to Open an Account with Sofi (Official Page)
Who is Sofi Best For?
Sofi is designed for people who simply want to achieve financial interdependence. If you are struggling with credit card debt, a low credit score, and other financial challenges, it can be very difficult to get loans from traditional lenders.
However, Sofi, which is short for social finance is here to help. If you are a U.S citizen permanent resident, then you can start taking advantage of the low-interest personal loans offered here.
Sofi loan amount of 5,000 can be used the way you see fit but you can get up to 100, 000. In addition to personal loans, Sofi also targets people who want to make their money work for them. If you have been struggling not knowing how to invest your money, the Sofi investing product will be ideal for you.
Finally, if you also want to be part of a large community of people who are ditching traditional banks for innovative financial services, then you may find some joy in Sofi. The company is doing its part to revolutionize how finance works for everyone.
Sofi Pros and Cons
According to our Sofi personal loan review, this firm has several pros and cons that each potential customer must be aware of. Here they are:
Pros
Offers a wide range of financial services including personal loans, insurance, credit cards, and investing.
Quick approval for personal loans with interest rates of as low as 4.99% APR
You get reasonably good loan amounts starting from 5, 000 to 100, 000 dollars
Very low loan processing fee including zero origination fees and low late penalties
Unemployment protection inline with consumer protection laws is also included as part of the deal
Easy to use platform and mobile app that let's apply for Sofi personal loans in less than a minute
Has a member's reward program that can allow you to redeem cash and other goodies
Cons
Loans only available to permanent residents of the United States
The firm does not have information filed with the Consumer Financial Protection Bureau
You will need to contact customer support to delete your account if need be
Sofi User Experience
The overall user experience with Sofi is quite good, especially when you compare it to traditional financial institutions. First, the firm does very well when it comes to quick loan approval.
Once you get your free credit score from credit karma or anywhere else, you can quite literally start your application and get approved in a few minutes.
It is also clear that a lot of users on Sofi are quite enthusiastic about the variety of products on offer. From debt consolidation loans with zero origination fee to unsecured personal loans, Sofi loan has everything.
The firm has also done well to create a simple platform that is so easy to navigate. There is also a mobile app that lets you access all services on the go.
We did see a few complaints about the efficiency of customer support. But other than that, it seems most Sofi customers are pretty much very happy.
Sofi vs Competitors
There are several multiple lenders out there who have adopted the Sofi loan model. One company of note is called Coinbase. It is a platform for storing digital currency, selling, and buying.
However, unlike Sofi Loan, this provider does not have personal loans. You do however get a one-stop shop that offers an exchange, a wallet, and tools within its interface.
Click Here to Open an Account with Coinbase (Official Page)
>>Read more About Best Cryptocurrency App: Choose Beneficial Ones in 2021!
Nonetheless, one company that really resembles Sofi is Avant. It is also an online platform that allows users to access personal loans in minutes.
Avant also offered a credit card service and some of the lowest rates in the market. However, even with its pedigree, Avant still falls short of Sofi when it comes to product variety.
Although Avant, just like Sofi, has done well to deliver low-interest personal loans, it has other innovative services like wealth management and personal finance management.
Click Here to Open an Account with Sofi (Official Page)
Conclusion: Is Sofi a Good Platform for investors and traders?
If you are looking for a quick personal loan for any reason, then Sofi is the place to be. With quick approval and simple loan requirements, you can get your account credited within minutes.
Sofi does not charge a prepayment fee or prepayment penalty. The lender trusts your responsible financial history and as such, they work hard to ensure you get a flexible automatic monthly deduction so that you still have sufficient income left.
Sofi also offers home loans at low-interest rates and a quick approval process. You can also get a student loan to refinance with a minimum credit score and very low loan costs. All these products also come with a very simple loan application process.
There is also Sofi investing, a tool that allows you to grow wealth, and personal finance management tools as well. So, are you ready to take charge of your financial future?
Do you need a personal loan for anything? Sofi can help you with a sizable loan amount and you can use the loan proceeds with your most urgent needs.
Sofi Personal Loan FAQs
How can you avail Sofi Personal Loans?
It's actually very simple. You first need to create an account with the company. After that, download the app and access the personal finance section. There you can apply for any loan that you want.
You will need your latest credit score for this. Platforms like credit karma can help with that. After that, you can start with a loan amount of 5,000 or more if you want. Approval takes a few minutes.
Is Sofi safe and Legit?
Yes, Sofi is a legit online-based lender. The company has been in this business since 2011 and is duly registered by relevant US authorities to do business here.
Also, as of now, the lender has issued over $50 billion worth of loans and has over 2.5 million members. This tells you that it's a company that knows exactly what it's doing.
What credit score do you need for Sofi?
Sofi does not specify the credit score needed to apply for loans. The credit score is only used for rate appraisal.
So, you can go ahead and check your score at credit karma or any other platform. But whether it's a good or bad score, there will be a loan for you at Sofi.
Is Sofi a real bank?
No, Sofi is not a bank. Yes, the company has a wide variety of financial services but it doesn't take deposits.
It's simply an innovative fintech that allows underserved communities to access banking services from anywhere in the world.
Click Here to Open an Account with Sofi (Official Page)
Like this Article? Subscribe to Our Feed!
Wilbert is an avid researcher and is deeply passionate about finance and health. When he's not working, he writes research and review articles by doing a thorough analysis on the products based on personal experience, user reviews and feedbacks from forums, quora, reddit, trustpilot amongst others.