7 Best Cryptocurrency Brokers: Top Cryptocurrency Brokers Review of 2023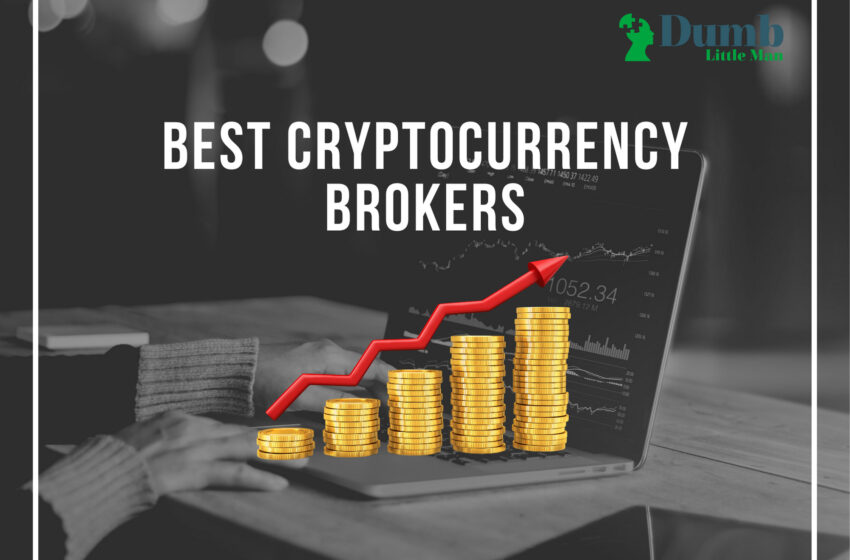 Want to jump straight to the answer? The best cryptocurrency brokers for traders are Coinbase and Gemini
The #1 Forex Trading Course is Asia Forex Mentor
There is no doubt that cryptocurrencies are here to stay. These digital currencies have become huge too. Besides, those who got into crypto early are now smiling all the way to the bank due to the immense growth seen in the industry.
Well, in case you are thinking of getting into crypto, one thing you need is a good cryptocurrencies exchange or broker. After all, you can only purchase these assets and begin your cryptocurrency trading journey if indeed you pick the best crypto exchanges in the world.
Do not worry though. We actually did extensive research for you and came up with the top 7 crypto trading brokers in the market right now. Keep reading and learn why we chose these 7 brokers, the features that they offer, and why you should consider them to buy and sell crypto assets.
Best Cryptocurrency Brokers
7 Best Cryptocurrency Brokers
#1. Top Overall Online Broker Choice: Coinbase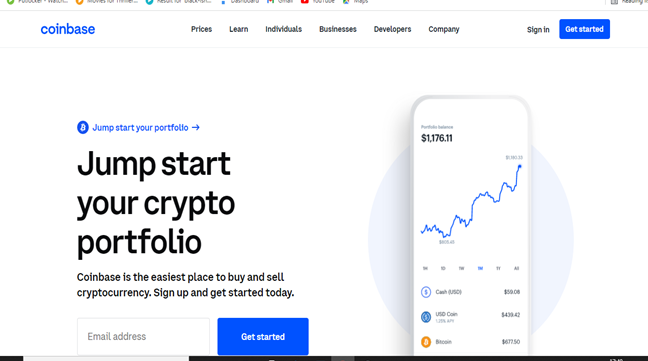 Coinbase is one of the largest cryptocurrency exchanges in the world. The cryptocurrency broker ranks first on our list for three main reasons. First, it is so easy to open and start crypto trading here. Secondly, Coinbase offers global access to its platform. Thirdly, Coinbase has a huge variety of digital currencies to buy and sell.
The exchange also offers several other unique features. For instance, you get superior platform technology that offers advanced charting and analytical tools for both beginner and advanced traders. With Coinbase, you can automatically execute crypto purchases, set recurring buys, and use innovative tools to manage and track your portfolio.
Coinbase also stores all currencies purchased and sold through the crypto exchange in secure offline accounts for added security. It also has comprehensive insurance coverage on all its assets. The exchange offers its own proprietary cryptocurrency wallet too which is fully secured with private keys and other measures.
How does it work?
The first thing, as with other crypto exchanges, is to open a trading account. Coinbase offers two types of accounts. The first one is called Coinbase and the second is called Coinbase Pro. The former is the basic account designed for beginners who want simple crypto trades.
Coinbase Pro on the other hand is perfect for advanced cryptocurrency traders as it offers a wide range of products, including CFD trading, futures, and others. You may also pay low fees on a Coinbase Pro account based on your trading volume. Once you open your account, you will need a deposit of fiat currencies before you start trading cryptocurrencies. Coinbase doesn't have account minimums so you can start with whatever amount you want.
The broker also allows you to deposit digital currencies like Bitcoin Cash, Ether, and others. You can then use the platform to swap with any other assets and transfer them into your cryptocurrency wallets for safe storage.
Pros
Offers a simple and easy to use platform that is perfectly ideal for beginners and experienced traders
Opening and funding retail investor accounts take very little time
You get a huge variety of digital assets to buy, including popular altcoins and DeFi tokens
Offers global access to the cryptocurrency market
With account minimum 0, anyone crypto investor can start even on a small budget
Cons
The confusing fee structure can be a turn off for cryptocurrency traders
The customer support is way behind compared to other online brokers
Access to tradable altcoins is limited
Commission & Fees
The transaction fee you pay for crypto trades here is based on your average trading volume. However, the fee structure on Coinbase is not that clear. But based on past performance, trades between $10 and $200 in value often attract a flat dollar fee. However, crypto trades above $200 are charged as a percentage of the total transaction.
Additionally, you may also be charged an additional spread-based fee of 0.5%. Coinbase also charges for deposits. While an ACH Transfer won't cost you anything, other methods like bank account transfers and debit or credit cards will attract fees of between 1.49% and 3.99%. Withdrawal fees of between $10 and $25 per transaction will also be applied if you decide to use a wire transfer.
Click Here to Open an Account with Coinbase (Official Page)
>>Read more About Coinbase Review: Is it the Best for Earning Rewards?
#2. Best for Altcoins: Binance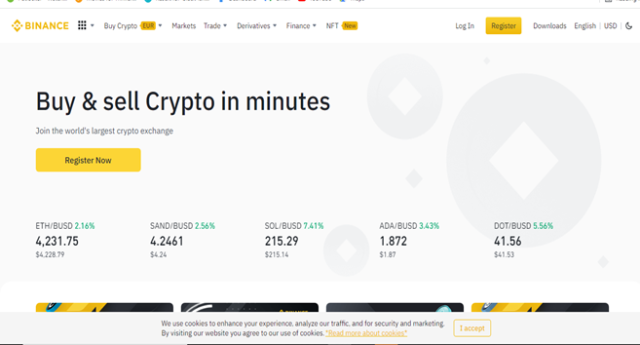 Binance is the ultimate exchange for people who want to make cryptocurrency investments in altcoins. In addition to this, the crypto broker is also known for its advanced trading platform with superior technology and innovative features. Also, with over 500 digital currencies on offer here, Binance is by far the biggest crypto trading platform in the world.
The broker also offers a multi-platform trading experience for its users. There is a mobile app for both Android and iOS users and a desktop version for macOS, Windows, and Linux. Binance also offers API integration as well. The platform looks simple and responsive too. Users can buy cryptocurrency assets in just a matter of minutes.
Binance also offers state-of-the-art security for its users. First, two-factor authentication is needed for account sign-in. Binance is also one of the few crypto brokers that offer cold storage for its assets. You also get advanced trading instruments to make the most of crypto investing while reducing market risk.
How does it work?
Binance has made a name as one of the best online brokers for crypto-to-crypto trading. With a powerful platform that can execute up to 1.4 million orders per second, it remains one of the most advanced crypto exchanges out there.
In case you'd like to try the platform, you will need to first of all open a trading account there. Once your account is open, you can now transfer your digital currencies into Binance from your crypto wallet. There is an account minimum 0 there so you should start from anywhere.
Binance has three main order types. The first is a limit order, which is only executed at the limit price set by the cryptocurrency investor. The second is the market order which will be executed immediately at the best available market price. You can also explore the stop-limit orders which become valid only if the price of an asset reaches a certain threshold.
Pros
Supports over 500 hundred tradable currencies on its platform
Low transaction fees compared to other online brokers
A wide range of assets to buy and sell including crypto derivatives
A superior platform that can execute 1.4 million cryptocurrency transactions in a second
Easy account opening and set up
Cons
Limited for US customers who want to buy and sell digital currencies
Subjected to various regulatory actions in different countries
The platform can be a bit complicated for new traders.
Commission & Fees
Since Binance offers a wide range of cryptocurrency trading services, its fees are very diverse. However, one thing you can know for sure is that the transaction fees here are relatively low compared to most crypto brokers in the market. Nonetheless, fees are based on trade volume. They however range between 0.03% to 0.1%.
Besides, Binance also has what it calls VIP categories. These categories are based on trade volume and there are 9 of them. Those who fall under VIP 9 will typically pay very little fees compared to those in VIP 1. But VIP 9 will typically have huge trading volumes compared to VIP 1.
Click Here to Open an Account with Binance (Official Page)
>>Read more About Binance Review: Is is the Best for Altcoin Trading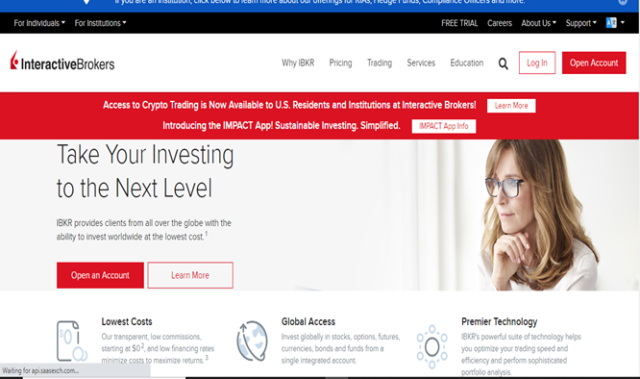 Although Binance has low trading fees, if you really want to pay way less then Interactive Brokers (Ibkr) should be a great place to start. This is one of those all-inclusive online brokers that offers access to a huge variety of markets, including digital currency. You also get a high-quality platform available on both mobile and desktop.
Based in New York City, Ibkr has built a reputation for fast and efficient trade execution, trustworthiness, and amazing support. Besides, the online broker also offers access to so many assets, not just digital currency. So, if you are an all-around investor looking to expose your portfolio to a diversified asset pool, then this broker will be ideal for you.
In addition, Ibkr is a global player that provides market access to millions of people. As of now, the broker accepts applications from over 220 countries, making it one of the most accessible platforms for crypto investors.
How does it work?
This broker has very strict KYC requirements. Before you start trading cryptocurrency here, you will need to verify your identity and your address. However, as long as you have the required documents, this takes less than 24 hours.
As soon as your account is ready, you should go ahead and make a deposit. However, Ibkr does not support crypto deposits. All deposits are done in fiat currencies. Nonetheless, with an Account minimum 0, you can still start small if you wish. Once your deposit is accepted, you can now select the best crypto you want to buy and execute your trades.
Pros
All-inclusive broker that offers a wide range of assets including bitcoin futures and exchange-traded funds
Some of the lowest fees in the market
Reliable modern exchange platform with efficient and fast trade execution
Excellent customer support team
Cons
Offers very limited cryptocurrencies
Does not support crypto deposits
Commission & Fees
This online broker charges its fees based on volume. However, on average, fees range between 0.12% to 0.18% of the total trade values. The minimum amount you can pay though is set at USD 1.75 per transaction.
However, fees are capped at a maximum of 1% of the total trade value. The broker does not also charge for added spreads, markups, or custody fees. You may also be able to pay way less for transactions of above $1000.
Click Here to Open an Account with Interactive Broker (Official Page)
>>Read more About Interactive Brokers Review: Is it the Lowest Cost Online Stock Platform?
#4. Best Commission-Free Trades: FXCC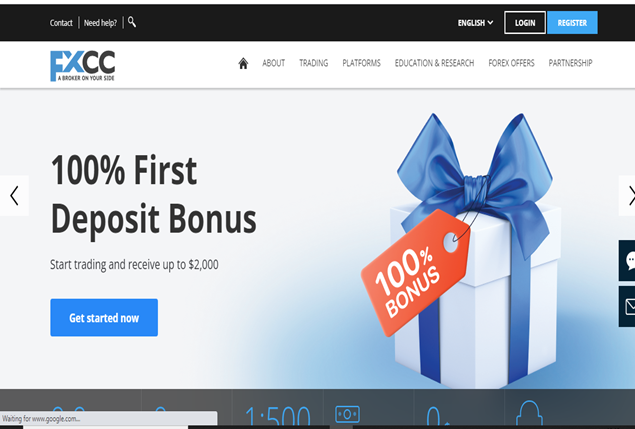 FXCC is one of the most popular forex brokers that offer commission-free trading, easy account opening and set up, and efficient trade execution, thanks to its fast platform. Although the broker is technically not a cryptocurrency exchange, it is an all-inclusive forex broker that gives you access to some of the main digital currency pairs out there.
FXCC also offers a bunch of goodies for new account holders. For instance, new users get a 100% first deposit bonus of up to $2000. You also get zero trading commissions, zero deposit fees, and incredibly low spreads on all crypto and fiat currency pairs.
The broker also has a wide range of platforms, all of which are available on both mobile and desktop. You also get responsive customer support albeit it's only available 24 hours a day and five days a week. FXCC also provides demo trading accounts, price alerts, charting tools, automatic trading bots, and so much more.
How does it work?
FXCC is a global broker and as such, it allows account applications from a huge number of countries. However, just like Etoro USA LLC, there are some stringent KYC requirements including identity and address verification. However, the moment your account is approved, you can go ahead and deposit fiat currency. Crypto deposits are not allowed.
Your trading account will be credited with the dollar amount and you can start trading. There are several platforms to choose from. While most choose MT4 platforms for trading digital currency, there are still others on offer too.
Pros
Offers some of the lowest fees compared to most online brokers
A wide range of platforms to choose from for trading
You get a 100% first deposit bonus of up to $2000
A wide range of tools for seamless trading are also offered
Cons
Has a very limited number of cryptocurrencies to buy and sell
Does not allow crypto deposits
Commission & Fees
As a primary forex broker, FXCC does not charge fixed fees in fact, it is one of the few brokers that offer zero-commission trading. However, fees here are calculated based on the spread between quoted cryptocurrencies.
Typically, the spread is the difference between the bid price and the ask price of a given currency pair. This is often the fee that FXCC will normally charge.
Click Here to Open an Account with FXCC (Official Page)
>>Read more About FXCC Review: Is it the Best Commissions Free Trades for Non-US Traders?
#5. Best for New Investors: Gemini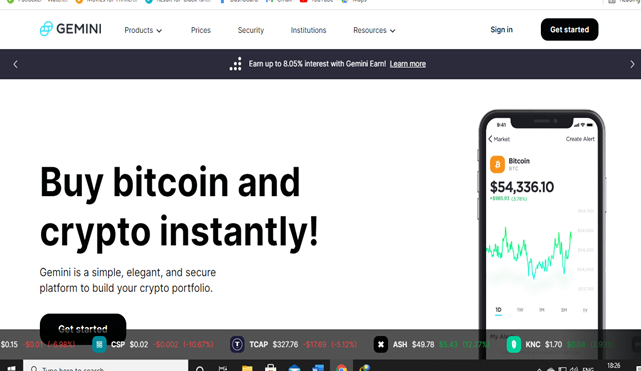 If you are new to cryptocurrency trading, then Gemini is the broker for you. It comes with a simple trading interface, easy account opening, and so many educational materials that allow you to learn and earn in the process. Gemini also offers superior trade execution thanks to its high-tech platform and some of the lowest fees in the market.
You also get advanced security measures including cold storage for crypto assets, and hardware security keys to secure your individual account. The exchange is also insured to give you the peace of mind you need.
As one of the leading cryptocurrency exchanges in the world, Gemini also has several beginner tools to maximize your trades. There is also a Gemini credit card that lets you earn rewards every time you shop and a crypto wallet as well.
How does it work?
Gemini is a US-based exchange that also accepts account applications from other countries. Before you open an account, check to see if your country is supported. Nonetheless, there is some screening done before traders gain access to the exchange.
But after you get the account approved, you can now deposit a fiat currency or crypto and start trading. Gemini is an account minimum 0 exchange so anyone can start from anywhere regardless of the budget. It takes just a few hours to get the account opened and verified.
Pros
One of the easiest places to start cryptocurrency investing
Offers some of the best fees in the market
Over 50 cryptocurrencies on offer to customers
High-end security measures including cold storage and insurance
Excellent customer support
Cons
Does not have a global reach and may limit people in many countries
The educational materials offered are not nearly as extensive as we hoped
Commission & Fees
Gemini's fees are all based on trade volume and the type of assets you intend to buy. However, on average, most users on the platform will normally pay between 0.5% and 3.99% of the total trade value.
Also, all transactions below $200 in value will be subjected to a flat dollar fee as opposed to a percentage of the total. The Minimum fee for these trades is USD 0.99 while the maximum is $2.99.
Click Here to Open an Account with Gemini (Official Page)
>>Read more About Gemini Review: Is it the Best for New Trading Investors?
#6. Best Intuitive Platform: Tradier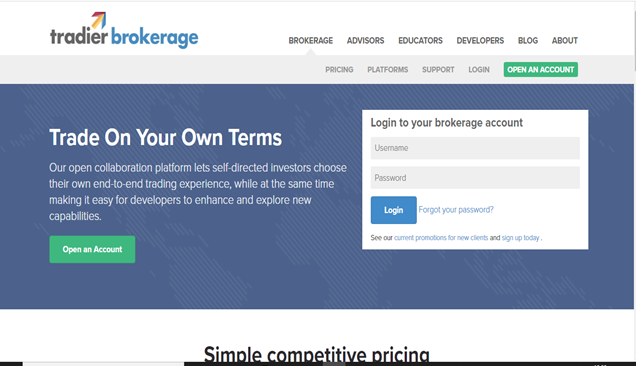 Tradier is not actually one of the cryptocurrency exchanges but the broker gives customers a gateway to the crypto market through an intuitive, well-built, and easy-to-use platform, which is available on both mobile and desktop.
The broker also offers commission-free trading on options and futures. You also get free API access to your account in case you'd like to add external tools to help you trade better. The platform also offers reliable premium customer support 24/7 for all traders.
How does it work?
Tradier is more or less a full stockbroker that happens to offer access to the crypto market. So, opening an account here will be subjected to various KYC requirements that traditional brokers have. However, it takes less than 24 hours to get your account opened and funded.
After that, you get access to the intuitive platform. Here, you can find the digital cryptos that you want, place the trade, and manage your portfolio in one window. However, the number of cryptocurrencies available here is quite limited. You may need other exchanges if you want to buy or sell altcoins and DeFi tokens.
Pros
Offers a simple and easy to use intuitive platform
Easy account opening and set up
Fast trade execution and security
Premium 24/7 customer support
Cons
Very limited cryptocurrencies available for trade
Does not support crypto deposits and swaps
Commission & Fees
Tradier has two pricing options. First, you can pay a flat $10 subscription every month and access commission-free trading on all assets, including crypto. This would be a great deal for people who trade large volumes. Secondly, you may also decide to pay per contract, especially for low-volume trading. Here, a single contract attracts a fee of $0.35
Click Here to Open an Account with Tradier Brokerage (Official Page)
>>Read more About Tradier Brokerage Review: Is it the Best Intuitive Trading Platform?
#7. Best for Beginners: Robinhood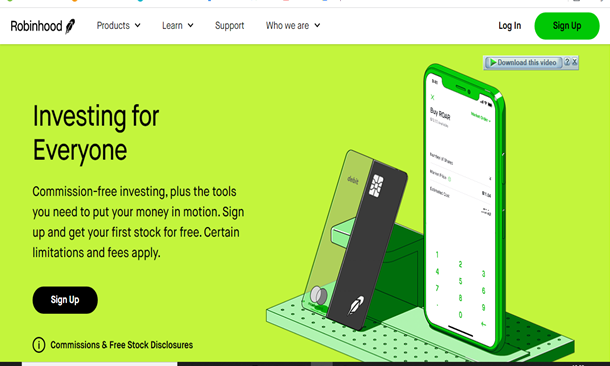 Robinhood is a relatively new broker that targets retail investors. Although it has a wide range of assets to trade, it recently introduced crypto as part of its offerings. Robinhood is known for superior trading technology, zero-commission trading, and excellent usability, especially for beginners.
Robinhood has also introduced what it calls fractional shares, the ability to buy very small amounts of assets. this is designed to give small account holders access to various assets regardless of how much money they have. The app also has innovative portfolio management tools including automated trade execution and others.
How does it work?
You only need three simple steps to sell cryptocurrencies on Robinhood. First, download and install the app either on iOS or Android depending on your phone. Register for an account and upload required verification documents.
Once the verification is done, make a deposit of fiat currency, choose the crypto you need to buy, and execute your trade in less than a minute. In most cases, it takes less than 24 hours to open, fund, and trade with a new Robinhood account.
Pros
Quick and easy account opening
Superior platform with several trading tools
Designed to suit the retail investor
Offers a wide range of assets to buy including crypto
Zero commission trading
Cons
Only available for customers in the United States
Questionable transparency regarding payment for order flow
Commission & Fees
Robinhood does not charge any commissions for trading. However, there are some other charges depending on what you want to trade. For example, accessing margin trading requires a $5 subscription per month. You may also be charged live broker fees of up to $25 to trade crypto. Charges to transfer money may also apply to certain accounts.
Click Here to Open an Account with Robinhood (Official Page)
>>Read more About Robinhood Review: Is it the Best for Beginners Trading Platform?
How we rank the Best Cryptocurrency Brokers?
Our ranking of the seven brokers above was based on three key factors. They include security, fees, and ease of use. We also looked at the individual strengths of each broker to see how it suits different crypto traders.
This is why we categorized the online brokers based on what they do best, including things like fees, beginner friendliness, and others. Our review also looked at the feedback of traders on each platform to help gauge the user experience. Platforms that had better customer feedback were ranked higher.
How to choose the Best Cryptocurrency Brokers?
There are three main things to look for when you choose crypto exchanges. First, the best crypto exchanges must have low fees. In addition to this, assess the security features offered by each platform and see if it's trustworthy.
You will also need to check if the crypto exchanges have a better variety of cryptocurrencies to trade, including bitcoin cash and others. Some other factors to note include good customer support, excellent customer ratings, superior trading technology, and easy-to-use platforms.
Choose Asia Forex Mentor for Your Forex and Crypto Trading Success
If you have a keen interest in establishing a successful career in forex trading and aspire to achieve substantial financial gains, Asia Forex Mentor stands as the optimal choice for the best forex, stock, and crypto trading course. Ezekiel Chew, renowned as the visionary behind trading institutions and banks, is the driving force behind Asia Forex Mentor. On a personal note, Ezekiel consistently achieves seven-figure trades, a distinction that truly sets him apart from other educators in the field. Here are the compelling reasons that underpin our recommendation:

Comprehensive Curriculum: Asia Forex Mentor offers an all-encompassing educational program that covers stock, crypto, and forex trading. This well-structured curriculum equips aspiring traders with the knowledge and skills necessary to excel in these diverse markets.

Proven Track Record: The credibility of Asia Forex Mentor is firmly established through its impressive track record of producing consistently profitable traders across various market sectors. This achievement serves as a testament to the effectiveness of their training methodologies and mentorship.

Expert Mentors: At Asia Forex Mentor, students benefit from the guidance and insights of experienced mentors who have demonstrated remarkable success in stock, crypto, and forex trading. These mentors provide personalized support, enabling students to navigate the intricacies of each market with confidence.

Supportive Community: Joining Asia Forex Mentor brings access to a supportive community of like-minded traders pursuing success in the stock, crypto, and forex markets. This community fosters collaboration, idea-sharing, and peer learning, enhancing the overall learning experience.

Emphasis on Discipline and Psychology: Success in trading necessitates a strong mindset and disciplined approach. Asia Forex Mentor provides crucial psychological training to help traders manage emotions, handle stress, and make rational decisions during trading.

Constant Updates and Resources: The financial markets are dynamic, and Asia Forex Mentor ensures that students remain up-to-date with the latest trends, strategies, and market insights. Continuous access to valuable resources keeps traders ahead of the curve.

Success Stories: Asia Forex Mentor takes pride in a multitude of success stories where students have transformed their trading careers and achieved financial independence through their comprehensive forex, stock, and crypto trading education.

In summary, Asia Forex Mentor emerges as the premier choice for those seeking the best forex, stock, and crypto trading course to carve a rewarding career and achieve financial prosperity. Through its comprehensive curriculum, experienced mentors, practical approach, and supportive community, Asia Forex Mentor provides the necessary tools and guidance to mold aspiring traders into accomplished professionals across diverse financial markets.
Conclusion: Best Cryptocurrency Brokers
Coinbase is no doubt one of the leading brokers to buy and sell cryptocurrencies. With over 73 million active users, it is also one of the most trusted exchanges in the market. If you are looking for a simple place to buy crypto in a matter of minutes, then Coinbase will surely be the place to be.
However, the platform needs to do better on customer support. In addition to this, the fees and commissions charged by the exchange are a bit confusing. Even for someone who has a lot of experience with giving investment advice, they will struggle to explain Coinbase fees. Other than that, it is a decent platform to trade cryptocurrency.
Best Cryptocurrency Brokers FAQs
Is Cryptocurrency exchange safe?
Yes, the crypto exchanges listed above are all very safe to use. They have been vetted and used by millions of other people. However, if you are not sure about crypto, get an investment advisor just to be on the safe side.
Which are the top 2 Crypto exchanges platform?
Well, Coinbase is the best platform by virtual of being so easy to use and has a huge variety of assets to buy and trade. However, Binance is not far behind especially based on its global reach and superior trading technology.
How are trading fees calculated?
Each broker has a unique way of calculating fees. In most cases though, fees will be calculated as a percentage of the total trade value. Some brokers also have flat rate fees for certain transactions as well.
| RECOMMENDED TRADING COURSE | REVIEW | VISIT |
| --- | --- | --- |
| | #1 Forex, Crypto and Stocks trading course. Ranked most comprehensive by Investopedia and Best by Benzinga. Free to Try! | |
Like this Article? Subscribe to Our Feed!
Wilbert is an avid researcher and is deeply passionate about finance and health. When he's not working, he writes research and review articles by doing a thorough analysis on the products based on personal experience, user reviews and feedbacks from forums, quora, reddit, trustpilot amongst others.