eHealth Insurance Reviews: Insurance Coverage, Features, Pros & Cons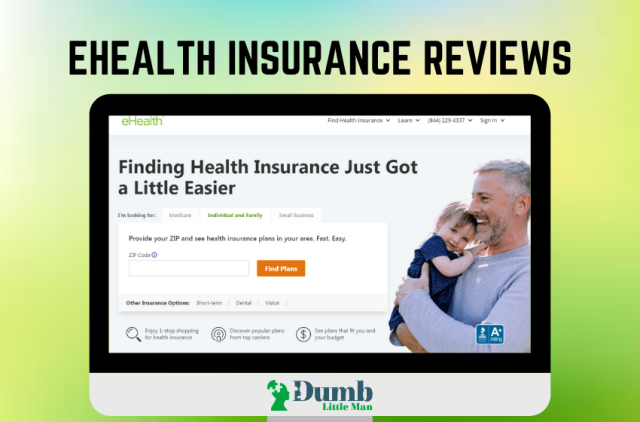 Purchasing a health insurance plan from an insurance marketplace can offer several benefits, including price comparison, multiple quotes, and multiple policies in one place. In addition, this can create a new dashboard to collect and manage multiple insurance plans.
To help with this function, eHealth Insurance is built with an expert team. As a result, the company offers a wide range of health insurance plans from top-rated insurers all across the US.
The quick application process, multiple plan comparison, easily accessible tools are some of the highlights of eHealth Insurance. If you are about to buy some health insurance plans for yourself, your family, or employees, an eHealth Insurance review can be helpful.
What is eHealth Insurance?
eHealth is an online health insurance broker that provides a massive network of reputed insurers to US citizens. Founded in 1999, the company has partnered with over 180 insurers, including Aetna, Highmark, WellCare, Cigna, Humana, BlueCross, Kaiser Permanente, and UnitedHealth
They have a team of professionals and are proud of reaching over five million customers with thousands of insurance plans. Besides, they have earned an A+ rating from the Better Business Bureau (BBB).
Available in 50 US states, eHealth Insurance offers multiple insurance plans or policies for individuals, families, and businesses. With online access, customers can reach out and manage their insurance account from anywhere, 24/7.
What are the Types of Insurance Offered by eHealth?
eHealth offers several health insurance products from 180 plus Insurance companies.
Individual and Family Health Insurance
eHealth claims to offer affordable health insurance for individuals and families from multiple insurers, including Aetna, Blue Cross Brue Shield, Humana. They have three Insurance for these categories; Affordable Care Act Plans, Short-Term Plans, Medical Indemnity Plans.
Small Business Health Insurance
eHealth also offers small business group health insurance. They have over 1300 small business health insurance plans from 70 plus carriers. Besides, they include plans including Health Maintenance Organization (HMO), Preferred Provider Organization (PPO), and Point of Service Plan (POS).
Medicaid Insurance
Medicaid Insurance is designed for low-income and disabled people of all ages, covering inpatient hospital care, doctor visits, rural health clinic services, and more. Besides, eHealth benefits customers with easy application in this category.
Medicare Insurance
eHealth also has some medicare health insurance options that apply to those 65 and older. They have Medicare Advantage Plans, Medicare Supplement Plans, and Medicare Part D under this insurance category.
Besides, there are several other insurance types offered by eHealth, such as:
Short-term health insurance
International health insurance
Dental Insurance
Vision insurance products
Medical Indemnity Insurance
Life insurance
GAP insurance
Accident insurance
Critical illness insurance
Telemedicine
Pet insurance
Travel insurance
Click Here to Get Started With eHealth Insurance.
How does eHealth Insurance work?
eHealth is not a direct insurance provider, but it works as an insurance agency. It has a team of professions who find the best matching insurance plans for customers from the partnered insurers.
When the customers apply for Insurance based on the Zip code and some basic required information, a team passes those details to insurers. After the insurer sends back the insurance quotes, the customers can compare the plans and sign the agreement.
For this process, eHealth does not take any service fee. Besides, if the customers are new to health insurance, they can read the valuable posts from eHealth blogs on the Learn section and contact health agents.
What is the Coverage of eHealth Insurance?
eHealth Insurance does not sell health insurance directly; instead, it only refers to customers' needs to a network of insurers and matches the desired plans. So, providing health insurance coverage does not come under the company's control.
The customers make an agreement with partnered insurance providers who determine the package and terms of the plans. However, eHealth can ensure the following:
Emergency and urgent care
Inpatient hospital care
Outpatient services
Preventive care services
Prescription drugs
eHealth Insurance Requirement
You will need some basic requirements to get health insurance quotes from eHealth.
Zipcode
Date of birth
Gender
Spouse or children
Coverage dates
Preferred payment
How to Apply for eHealth Insurance?
eHealth Insurance has made finding the best insurance plans from reputed insurers is easy. For this, you need to follow the steps below.
Step 1: Decide a Type of Insurance Plan
You can start by selecting the type of insurance plan you want from the homepage on the eHealth official website. Then, when you click on Find Insurance Plans, you will encounter several plans to choose from. If you don't find the related one, contact the eHealth representatives.
Step 2: Enter Your Details
They will ask your location through Zip Code and your basic information, including gender, date of birth, smoking status, and spouses or children. You can also check if you qualify for savings, such as tax subsidies, by entering your household income and household size.
Step 3: Compare Quotes
eHealth will provide you with the best matching insurance plans after entering your details. You will receive multiple insurance quotes from several insurers and choose the best deal based on your requirements.
Step 4: Apply
When you decide which plan you need to buy, you can add a cart directly to the compare page or see the plan's details. In the cart, you will get an option to add other insurance plans or go by simply forwarding the application with "Begin Application.
Once your application proceeds, you will receive quick agreement details, including insurance terms and coverages. After you finish signing the agreement, you will get a notification of insurance activation soon.
Click Here to Get Started With eHealth Insurance.
How much does eHealth Insurance Cost?
eHealth Insurance does not charge any fee as it is not a direct insurance provider. Instead, they only refer the potential customers to partnered insurers, and that's how they receive some commissions.
The cost will differ based on the policy or plan you have selected, your age, and some other factors. The price of the insurance plans is listed in a very straightforward way on the website.
However, the customers can expect to pay between $225 and $327 per month for a single person on an individual and family plan. Likewise, employers can expect small business health insurance plans to start from $225 per month.
Who is eHealth Insurance Best For?
eHealth Insurance can be best for shopping rates and multiple insurance options. Instead of randomly opting for the single insurer's plan, eHealth provides multiple health insurance plans from over 180 insurers.
Those who live in the United States can significantly leverage eHealth for having insurance products ranging from individual to business plans. However, they need to verify via Zip code if the service is available at your location. For example, service from eHealth is not available for Salt Lake City.
Besides, customers who want to buy multiple insurance policies from different categories in one place. Also, Customers can take independent financial advice as eHealth claims that they are unbiased.
eHealth Insurance Pros and Cons
👍 PROS
► Multiple plans to compare
eHealth offers a wide range of health insurance plans for individuals, families, and businesses. This way, customers can compare the multiple plans and choose the best options based on your requirements.
The affiliated insurance partners provide Affordable Care Act, Medicare, Dental Insurance, Vision Insurance, Life insurance, GAP insurance, and more. So, customers can find multiple insurance products in one place.


► Useful tools
eHealth offers quick tools to compare the multiple insurance plans and choose the best one based on your preference. Besides, the marketplace is online, so you can access your account anytime and from anywhere.
Besides, customers can improve their knowledge about Insurance if they lack it or are beginners. There are several valuable sources under Learn section.


► Good customer support
eHealth has received an A+ rating from BBB, which means it provides a satisfying service. Besides, they claimed to have served over 5 million customers nationwide.
👎 CONS
► All insurance plans are not available in each US state.


► Some insurers are claimed to charge non-refundable application fees.
Click Here to Get Started With eHealth Insurance.
eHealth Compare to other Health Insurance Companies
eHealth and Agile Health are similar as both represent online health insurance agencies based in the US. They have services available in all states across the nation, and customers can apply for insurance quotes 24/7 in both marketplaces.
However, Agile has fewer partnered insurers and less popularity than eHealth. Besides, customers can not qualify for benefits if they have pre-existing medical conditions at Agile Health.
Unlike Agile Health, eHealth offers additional insurance products like small business insurance plans so employers can leverage them. Besides, they have a simple and accessible health insurance application process which do not take much time.
>> Full Article Review: Agile Health Insurance Reviews: Insurance Coverage, Features, Pros & Cons
eHealth Insurance vs. Aetna
Aetna is a direct insurance provider that offers health insurance for individuals and families. It can be beneficial in providing low-premium prescription drug plans and O$ premium Medicare Advantage plans.
Aetna and eHealth Insurance have received an A+ rating from BBB, which makes them similar. However, they are different as Aetna is a direct insurer, whereas eHealth is a big insurance marketplace.
Aetna is one of the partnered insurers of eHealth, so eHealth refers customers to Aetna and keep referring fee from it. eHealth also provides valuable sources for beginners new in the insurance marketplace.
Like Aetna, Blue Cross Blue Shield is also partnered insurance provider of eHealth Insurance. In addition, Blue Cross Blue Shield has a vast network of its own 36 company members that offer several health insurance plans for individuals, families, and small businesses.
It has a Blue365 discount program and many Medicare insurance options, which can be beneficial for customers. However, they also struggle with average customer satisfaction ratings.
Unlike Blue Cross Blue Shield, eHealth is a significant health insurance marketplace that offers multiple plans and policies. Customers can have a facility to compare multiple health insurance plans from various insurance companies at eHealth.
Final Verdict
eHealth Insurance is a giant online health insurance marketplace that offers thousands of health insurance policies from 180 plus top US insurers. They have individual, family, and small business insurance products, including short-term health insurance, medicare, dental, vision, and more.
eHealth allows customers to compare multiple insurance plans to get the best plans based on their preferences. Besides, an online agency has valuable sources for beginners to understand the insurance plans deeply.
So, if you are looking for some health insurance plans, eHealth Insurance is an ideal place to find the best insurance plans. It is easy to apply and find the desired plans without wandering anywhere.
eHealth Insurance FAQs
Why is it important to purchase health insurance?
There are many benefits to having health insurance, such as covering medical expenses, safeguarding the family, protecting the savings, and more.
Is eHealth the best health insurance company?
Yes. eHealth has over 180 health insurance companies that offer multiple plans and policies for customers to compare and find the best one.
Is eHealth Insurance legit?
Yes. eHealth Insurance is a licensed online health insurance marketplace and is proud of serving over 5 million customers.