Best Student Loans of 2023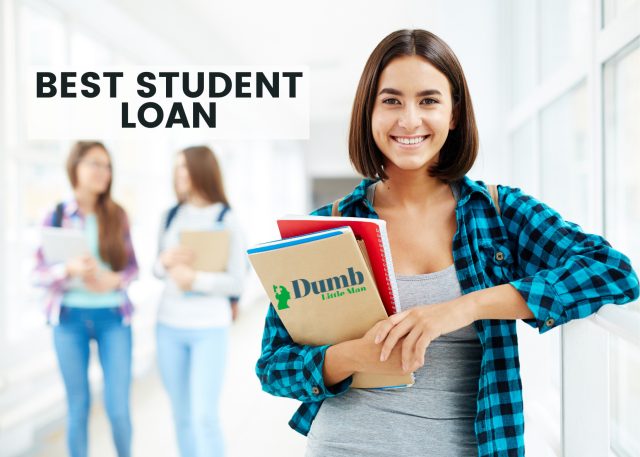 If you want to go to college, you'll almost certainly have to take out student loans to pay for it. As per the College Board, the cost of attendance and fees for an in-state student at a public university in 2020–2021 was $10,560. For a private school, the price rose to $37,650
Financial aid from the federal government may not be enough to cover the total cost of attendance. Applying for private student loans might assist bridge the gap in this case.
Moreover, it might also be a viable alternative if you have exhausted all of your grant, work-study, scholarship, and federal student aid options and still need money for college.
But the question is, which all lenders provide the best rates and perks? To assist you in finding the best private student loan lender for you, we've produced a list of the finest private student loan lenders accessible today.
Overview: Best Student Loans of 2023
Student Loan Lenders: Detailed Insight
Ascent

: Best Student Loan, No Co-signer Needed
Ascent provides loans to ones even with lower credit scores. In all 50 states, Ascent provides private student loans for undergraduate and graduate students. Borrowers who do not have a co-signer can get their own loan, which is unusual in the private student loan world. If you don't have a co-signer, your past school, graduation date, major, and cost of attendance may be enough to make you for a loan. The lender also provides a longer-than-average forbearance period under a hardship program that temporarily permits you to discontinue paying installments.
↳ Best Feature?
The best feature of Ascent is that it provides many deferral and forbearance alternatives to borrowers who are searching for repayment protection. Active-duty military deferral, residence or internship deferment, and in-school deferment are all options for Ascent's student loans.
Loans include temporary hardship forbearance, administrative forbearance, and natural catastrophe or proclaimed emergency forbearance for people in financial distress. All three of these solutions will lengthen your loan's payback period.
Students may be a U.S. citizen, U.S. permanent resident, DACA recipient or U.S. temporary resident, cosigners must be a U.S. citizen or U.S. permanent resident.
↳ Who is it Best For?
Ascent loans are an intelligent alternative for applicants with a bankable co-signer, solo borrowers with at least two years of credit history, or senior students who become eligible for a loan based on their future salary.
If you are a freshman or sophomore without a co-signer or good credit rating, you may not be eligible for one of Ascent's loans. Additionally, the lender does not provide student loans for parents and refinancing, limiting the possibilities.
Click Here to Know More About Ascent Student Loan.
College Ave

: Best Student Loans Given Within Minutes
College Ave offers a broader choice of repayment options than the majority of competitors.
College Ave is a digital lender that provides private student loans to graduate and undergraduate students, as well as parents and students enrolled in community colleges and professional programs. The lender claims that the application procedure takes not more than three minutes, and results are given out instantly.
Applicants may also examine their loan conditions and see whether they are prequalified for a loan without affecting their credit. Borrowers must be U.S citizens or permanent residents of the United States and enrolled half-time.
One of the key features of college Ave student loans is international students are allowed for loans provided they have a valid U.S. Social Security number and a qualifying co-signer. Most other lenders only lend to U.S citizen or permanent residents of the United States.
In comparison to other lenders, College Ave has a low borrowing cap. You may borrow such little as $1,000 for private student loans and refinance as little as $5,000, making the financial lender an excellent alternative if you need to supplement federal student loans or your college funds.
↳ Best Feature?
College Ave provides four distinct payback durations and four alternative repayment ways for most of its loans, making it easier to fit student loans into your budget. College Ave is also a good digital resource with student debt calculators, scholarships, and a wealth of instructional content that seeks to meet students at all phases of their student loan experience.
Another essential thing to remember is the release of a co-signer feature. Not all lenders will let you release a co-signer. College Ave makes the option available after half of the payback time has passed if you fulfill specific payment and income conditions.
↳ Who is it Best For?
College Ave student loans are an excellent choice for students seeking a number of repayment alternatives as well as a complete online experience. Through the lender's scholarships, sweepstakes, and contests, borrowers may earn additional financial help for education expenditures.
Click Here to Know More About College Ave Student Loan.
Citizens Bank

: Best Student Loans with Longer Term
Citizens Bank isn't particularly tech-friendly, but it does have some distinct features.
Citizens Bank student loans provide student loans to undergraduate, graduate, and parent borrowers. Borrowers may be authorized for many years of student loans; when a student applies, Citizens Bank will do a thorough credit search and determine whether he qualifies for the multiyear loan program. Once authorized, he may apply for funding in consecutive years without having to provide further income evidence, making the process go faster and requiring only a mild credit check from Citizens.
Citizens Bank has around 1,000 locations in 11 states of the New England, Mid-Atlantic, and Midwest areas. Applicants from all over the country can apply for the bank's student loans.
International students can also take a loan through the bank's website, but they must have an eligible cosigner who is a US citizen or permanent resident.
Citizens Bank distinguishes itself from other lenders with its multi-year approval processes. Borrowers can apply once and be authorized for additional student loans for the following academic years without having to formally resubmit. If you want more cash, just apply for a loan and go through a mild credit check.
↳ Best Feature?
Citizens Bank does not impose fees for student or parent loans at the time of origination, application, or payment. If you pay off your loan before time, you will not be fined. If you skip a payment, though, you may be charged late fees on your loan. Moreover, You may be entitled to a 0.25 percent reduction on your student loan if you or your co-signer have a Citizens Bank checking, savings, money market, or CD account, or any outstanding Citizens Bank loan.
In addition to this, the Better Business Bureau gives Citizens Bank an "A+" rating. The score takes into account the institution's complaint history as well as its reaction to those concerns. The student loan customer care center is open Monday to Friday from 8 a.m. to 9 p.m. and on Saturdays from 8:30 a.m. to 5 p.m. You may call 800-600-0008 to contact the customer care department. Customers may use the Citizens Bank website to log in to their accounts and send encrypted messages, and those who live close by a branch can come during regular business hours.
↳ Who is it Best For?
Citizens Bank is a fantastic lender for students who need money for numerous years of school because its multi-year approval enables them to acquire money each year without having applied each year.
In addition to that, refinancing a student loan with Citizens Bank is also a good choice for students who are economically sound but could not graduate, and also for non-US citizens with a co-signer. If you wish to take on your parents' debts, it's less desirable. Your parent must first refinance with you as a co-signer before you can apply for a loan on your own.
Click Here to Know More About Citizens Bank Student Loan.
Earnest

: Best Student Loans With Unique Repayment Options
Loan aspects are robust, although eligibility for some applicants may be difficult.
Earnest is one of the online lenders that provides graduate and graduate students with student loans and provides a variety of repayment choices. Earnest offers a nine-month grace period, three months longer than other lenders. Borrowers can also miss a payment once a year.
If you need to fill in the gaps after maxing out your federal student loan, Earnest's student loan might be a wonderful choice. However, like with every financial product, there are drawbacks too.
There is no requirement for a co-signer. You may qualify for a student loan depending on your credit history, income, and other characteristics, unlike other student loan providers.
To begin with, Earnest allows borrowers with student loans and refinances to skip one payment every 12 months. However, keep in mind that this action lengthens your payback period and counts against your forbearance restrictions. Payments can be deferred for up to nine months after graduation for qualified borrowers. Also, except few states, you will receive a $200 referral incentive from the lender every time you suggest a friend who refinances a student loan.
On the other hand, no co-signer release option is there. If you have a co-signer on your loan, you won't be able to get them off till you refinance. Moreover, borrowers or their co-signers must have a credit score of at least 650 to qualify for Earnest. If you have a bad credit history, there is a possibility you might not get the loan.
↳ Best Feature?
Earnest provides loans to undergraduate, graduate, business, legal, and medical students. Borrowers can either qualify on their own or with the help of a co-signer. You may also refinance your student loan with Earnest.
The most attractive feature of Earnest is its extensive list of repayment choices. Borrowers can pick from four major repayment plans, and they may be eligible for numerous specified forbearance and deferment options during repayment. For instance, you can ask to forgo a payment once a year. There are no fees and has cheap interest rates on all of the lender's loans.
↳ Who is it Best For?
Earnest's student loans are suitable for individuals who can either qualify on their own or have a credit-worthy co-signer. The lender is also an excellent choice for customers who want some financial security because it offers many repayment guarantees.
Its refinancing loan is ideal for borrowers who wish to tailor their repayment plan in order to pay off debt quickly also it is the best student loan for students who wish to borrow money with or without a cosigner. Moreover, it's a good option for graduates to refinance their student debt.
Click Here to Know More About Earnest Student Loan.
CommonBond

: Best Student Loans for Customized Guidance
A lender with a desire to be socially conscious. CommonBond is an online lender that provides student loans to students. The "money mentor" program, which helps you handle your finances before, during, and after college, provides significant hardship choices and specialized money counseling to customers.
Borrowers can demand hardship forbearance lasting 24 months at any time during the loan's duration. Natural catastrophe forbearance is also available from the lender, enabling you to suspend payments during a national emergency like the COVID-19 outbreak.
As low as $2,000 minimum loan amounts are available with CommonBond. If you simply need a tiny amount of money to cover the gaps in your school fees, this is a viable option.
Also, after making at least 24 consecutive on-time installments, you could release your co-signer from your loan.
↳ Best Feature?
Students pursuing undergraduate, graduate, business, dentistry, and medical degrees can apply for CommonBond loans. You can also use a CommonBond loan to refinance existing student debt. Rates are reasonable, ranging from 3.74% to 10.74% annual percentage rate (APR) based on the applicant's loan type and credit score, and can be fixed or fluctuating.
Deferment and forbearance options are available through CommonBond, which might help if you need to suspend payments in the future due to financial difficulties. In addition, the lender has a charity goal. Every time it provides a loan, the firm pays to the worldwide education charity Pencils of Promise.
↳ Who is it Best For?
This loan is appropriate for borrowers who appreciate good customer service and plan to utilize a co-signer. Each borrower is assigned a Money Mentor or a manager who assists you in budgeting, understanding your loan, and locating internship possibilities.
CommonBond also has a specified hardship program that allows you to halt installments if you need to in the future. Over the term of the loan, borrowers can apply for hardship forbearance for up to 24 months. Natural disaster forbearance is also available from the lender, which allows you to suspend payments during a national emergency. In addition to that, If you want your lender to have a decisive charity goal, CommonBond is a fantastic choice as it supports one needy child on every loan.
Click Here to Know More About CommonBond Student Loan.
Discover

: Best Student Loans for High Graded Students
This student loan is a viable alternative for borrowers who want to minimize costs. Undergraduate students, graduate students, and parents can apply for a private student loan from Discover, which can pay up to 100% of school-certified undergraduate and graduate school fees. Students who obtain a minimum of a 3.0 GPA in college or graduate school may be eligible for a one-time monetary award of 1% on any new student loan they take out with Discover. Students who graduate from high school with a minimum of a 3.0 GPA may be eligible for a bonus on their very first college loan.
Discover provides a range of financial services including student loans, personal loans credit cards, and mortgages.
The reward for high grades isn't the only advantage of borrowing with Discover. The bank offers a variety of repayment options to assist borrowers who are having trouble making their monthly payments. Deferment options, a grace period extension, temporary interest or payment reductions, and other perks are available.
Moreover, there are no application, origination, or late fees with Discover. You can also get prequalified for future academic seasons, which means you can request a student loan without affecting your credit score.
↳ Best Feature?
Discover is an online lender that provides customers around the country with private student loans and loan consolidation facilities. It pays up to 100% of school-certified college and graduates school expenditures, less any other financial help. Loans for MBA, health professions, residency, law, bar exam, undergraduate, graduate, consolidation, and loans for parents are all available via Discover.
This lender's distinguishing feature is that it pays a reward to borrowers who achieve a 3.0 GPA (or equivalent) in any academic semester covered by their loan. That's a plus for any student who wants to be recognized for their academic achievements.
↳ Who is it Best For?
Discover student loans are a good choice for students who have exhausted all of their available grants, scholarships, and other forms of free financial help and want a lender that offers a variety of loans as well as a debt consolidation option.
They provide financial flexibility while in school, a 6- to the 9-month grace period, and a high level of borrower protection after payback begins. Additionally, students with high marks may be eligible for a 1% cashback return. So make your choice accordingly.
Click Here to Know More About Discover Student Loan.
SoFi

: Best Student Loans for Member Benefits
A lender with a high loan minimum, affordable rates, and various repayment choices.
There are no application or origination costs associated with a private student loan from SoFi. There are no prepayment penalties as well. Borrowers on SoFi may also take advantage of unique rate cuts of up to 0.25 percent if they set up recurring monthly payments.
When you apply for a student loan, it evaluates your career experience, cash flow, and financial responsibility past. You should be enrolled for a minimum of half the time in a four-year degree-granting university to be eligible.
As a SoFi member, you will have access to partner-provided advantages, including a Coursera course in Personal Financial Fundamentals, Best of Evernote, and Grammarly Premium access for three months.
↳ Best Feature?
One of the most compelling reasons to borrow from SoFi is the extensive list of incentives provided to its users. These advantages are divided into three categories: financial, social, and professional.
Financial planning assistance from qualified advisers, referral bonuses, and member rate reductions are all monetary perks. Attending networking events, dinners, and happy hours are all examples of community advantages. Tools to assist you in getting a raise, individualized career guidance, and an unemployment protection program are all available as career perks.
↳ Who is it Best For?
SoFi is one of the best student loans for its members. It also lets you put your loan payments on hold for up to a year under the Unemployment Protection Plan, hence generally beneficial for all the students.
Moreover, family members of SoFi clients receive a $400 discount on SAT/ACT prep courses, and there is no need for a cosigner to apply. Hence, it generally is best for any common borrower.
Click Here to Know More About SoFi Student Loan.
Sallie Mae

: Best Student Loan For Part-Timers
Sallie Mae is one of the few lenders that cater to part-time students and offers lenient credit repayment choices.
Sallie Mae provides private student loans to undergraduates, graduates, parents, and students in career-training programs. This is one of the few private student loans lenders that really doesn't need applicants to attend school full- or part-time, making it an excellent choice whether you're studying overseas, taking only one or two classes at a time, or pursuing a professional certification.
The most well-known student loan provider, Sallie Mae, is headquartered in Newark, Delaware. It began as a government agency with the responsibility of servicing federal student loans when it was established. Sallie Mae then became a fully privatized bank and began issuing private student loans between 1997 and 2004.
Sallie Mae now controls the majority of the private student loan industry. Its product line has also been expanded to include credit cards, savings accounts, and other services.
Student loan borrowers with Sallie Mae may take advantage of free Chegg® study aid for four months, Multi-Year Advantage, and no origination or application costs. Returning undergraduate students with a cosigner have a 95% acceptance rate for a subsequent loan with Multi-Year Advantage.
↳ Best Feature?
Sallie Mae's Career Training student loan offers affordably fixed and fluctuating-rate loans with no origination fee or prepayment charge if you attend a non-degree issuing institution. Fixed-rate loans have an APR ranging from 6.62% to 13.83%, while variable-rate loans have an APR ranging from 4.12% to 11.52%.
Returning students may also take advantage of Sallie Mae's "multi-year advantage," which permits them to borrow year after year if they fulfill credit and income requirements. It's worth noting that having a cosigner increases your chances of getting approved.
↳ Who is it Best For?
Because of its short cosigner release term, Sallie Mae is our top pick for cosigners. After the borrower makes 12 consecutive on-time monthly installments, cosigners can be freed from a Sallie Mae student loan.
Click Here to Know More About Sallie Mae Student Loan.
What is a student loan?
A student loan is a type of financial aid that is designed to assist students in obtaining a higher education. Since 2006, student loan debt in the United States has risen dramatically. By July 2021, the total debt was $1.73 trillion, with graduate school loans accounting for about half of it; the average Bachelor's degree borrower has roughly $30,000 in debt when they graduate.
Student loans, with a few noteworthy exceptions, must be repaid, unlike other types of financial help such as scholarships, which are never paid back, and grants, which are seldom refunded. However, a student loan may also be erased in bankruptcy if "undue hardship" can be proven, although the standard for release is high.
Private Student Loans vs. Federal Student Loans
Federal student loans are issued by the government and come with a variety of perks, such as income-driven repayment plans and fixed interest rates, that are generally not available with private loans.
If you work in public service, you may be able to have a part of your loans forgiven.
Lastly, If you have a financial necessity, you may be eligible for a loan for which the government will pay the interest while you are enrolled in school at least half-time.
Private Student Loans
Private loans, on the other hand, are made by private institutions such as banks, government-based or government-affiliated organizations, and credit unions, and are subject to the terms and circumstances set out by the lender.
Depending on the situation, a private student loan may have fluctuating or fixed interest rates that are higher or lower than federal student loan rates. However, the cost of a private student loan is often higher than the cost of a federal student loan.
Even though many private lenders do not provide loan forgiveness schemes, some state-backed student loans may be canceled under specific situations.
The majority of private student loans are not subsidized. You will be obligated to pay all of your loan's interest.
How does student loan works?
Private student loans do not have set options or interest rates. Your credit, as well as that of any co-signers, will influence the kind of loans you may get and the interest rate you'll pay.
Types of Loans
Based on the degree you're pursuing, private lenders may provide different sorts of loans. Your loan amount, interest rate, and payback periods may be affected by the loan type.
Term of the Loan
The loan term refers to the duration of the loan payback period, which for private student loans can range from five to twenty years. Shorter loans are often associated with larger monthly payments, lower interest rates, and lower overall expenses. Monthly payments are cheaper for longer loans, but interest rates and overall costs are greater.
Loan Limits
Minimum loan amounts: Most lenders have a minimum loan amount that you can borrow, which varies by state. A private student loan may not be the greatest option if you simply need a few hundred dollars for books, for example, because the minimum may be as low as $1,000.
Maximum loan amounts: Lenders may impose a number of restrictions on how much you can borrow. You could be able to borrow a limited amount every year. Alternatively, you may need to be under a certain amount of total private and federal student loan debt to qualify for a loan.
You could also be restricted to borrowing just up to the certified cost of attendance at your institution. If you are a graduate from professional or medical school, your maximum loan limit may be greater, reflecting possibly higher expenditures than undergraduate programs.
Types of Interest Rates
A student loan is available with fixed or adjustable interest rates from lenders. You may not be able to change your interest rate type once you've taken out a loan, so think about your alternatives carefully before making a decision.
Examine the annual percentage rate rather than the interest rate while considering student loans from different lenders. The annual percentage rate (APR) is the total cost of borrowing yearly.
Different types of Student Loans?
There are two kinds of student loans. Federal student loans are available from the United States government. Private student loans are available through banks, credit unions, state lending agencies, and other financial entities.
Be cautious, as some private student loan lenders also handle federal student loans on behalf of the US government, making it easy to become confused.
Federal Loans
Federal student loans are loans issued by the United States government. It's a good idea to start with government loans since they're less expensive and typically come with more perks than private-lender loans.
For college, there are four categories of federal student loans:
Direct Subsidized Loan
Undergraduate students who have proved financial need can apply for subsidized Stafford loans. You won't have to pay interest on the amount you borrowed as long as you're enrolled at least half-time in college and for six months after you graduate or drop below half-time enrollment. This way a lot of money can be saved.
Unsubsidized Direct Loan
Undergraduate and graduate students, regardless of financial need, can apply for unsubsidized Stafford loans. Unlike subsidized loans, you will be responsible for paying the interest on your loan while in college, or the interest will be capitalized (added to the loan balance).
Federal Direct PLUS loan
Graduate students and parents of dependent undergraduate students can apply for Grad PLUS and Parent PLUS loans. Because PLUS loans are not subsidized, interest will begin to accrue once the loan is fully issued. Repayment might be postponed for six months after graduation.
Federal Direct Consolidation loan
Consolidation loans allow you to consolidate several federal student loans into a single loan while maintaining their advantages. Consolidation might help you simplify your repayments or transfer loan servicers.
Loans from a private lender, such as a bank, a credit union, a state lending agency, or a non-bank financial entity, are known as private student loans. They can have fixed or floating interest rates, and they frequently demand a cosigner from the student borrower. Because interest isn't subsidized, you'll start paying interest as soon as you borrow money.
How to apply for a student loan?
Federal student loans and private student loans have various application processes. Remember to apply for a private student loan only after you've exhausted your federal student loan alternatives.
Federal Loans Application Process
You'll need to fill out the Free Application form for Federal Student Aid (FAFSA) to register for a federal student loan. The amount of money you can borrow is determined by the details you provide on the FAFSA. Your institution will give you a financial assistance package with instructions on how to accept the loan. After that, you'll have to submit a Master Promissory Note (MPN).
Private Loans Application Process
For private loans, you don't need a FAFSA. You'll have to apply for a loan through a private lender. Your credit score will be checked, and a creditworthy cosigner will typically be required.
How to pay off your student loan?
You must begin loan payments six months after you graduate, quit school, or drop under half-time enrollment on federal Direct Stafford loans. Though Federal Direct PLUS loans were originally due 60 days after full release of the loan amount, student loan borrowers have been permitted to postpone payments up to six months after the student graduates or drop below half-time enrollment since 2008.
The terms of a private loan are determined by the lender. Your lender may compel you to make loan payments while you are still enrolled in school. However, there may be opportunities to delay payments. During an in-school deferral and grace period, interest continues to accumulate.
If you don't have enough money to pay for college, student loans are a terrific way to cover the costs. However, it's critical to understand how loans operate so that you're not caught off guard when it's time to start repaying your loan.
Final Verdict
Don't wait for your school to choose how much of a loan you can afford while you prepare for a private student loan; do your homework. Experts advise taking on no more debt than you'll probably earn in your first year once out of college. Once you've graduated, this can assist you to avoid having a heap of monthly costs.
When choosing a private student loan, consider the whole cost of the loan, including the interest rate and fees, as well as the lender's assistance if you are having problems making payments. Only one of the lenders on this list imposes origination fees, and all but one waits at least 120 days after a loan is late to place it into default. When comparing rates, keep in mind that the lowest rates are only accessible to people with strong or exceptional credit. Furthermore, when making automatic payments, all of the rates include a 0.25 percent interest rate discount.
We would recommend that go for Ascent students loan as its non-co-signed credit-based choice is appropriate for applicants with a minimum of two years of credit history and sufficient income. Seniors with no income, credit or co-signer should use the non-co-signed future-income option.
Or Discover student loan is also an excellent choice as its refinance loan is the best for borrowers who require some payment flexibility or who did not complete high school. Its private loan and also refinancing both are suitable for students who want some relaxed payment options.
FAQs
Which Are the Best Private Student Loan Lenders?
There are a number of factors that you can consider before deciding on which of the best private lenders best suit your requirements. Like with Discover, loans as modest as $1,000 can be availed, and up to 100% of college expenditures are covered, with fixed or floating interest rates. This can assist families in bridging the financial aid and out-of-pocket educational spending divide.
Or with SoFi, there are no origination costs, application fees, late fees, or insufficient funds fines. It also provides co-signer release alternatives, as well as programs and perks for borrowers in financial distress. Furthermore, whether you're looking for undergraduate, graduate, or parent loans, you and your co-signer may compare rates and terms before filing a full loan application, which won't harm your credit ratings.
So, one must access her needs to zero down on the best student loans for herself.
When Is Refinancing Student Loans a Good Option?
If you want to consolidate numerous loans into a single loan or if interest rates have dropped considerably since you took out your fixed-rate loan, then refinancing your student loans is a suitable alternative. If you refinance your federal loans, you'll forfeit choices like income-driven repayment and COVID-19 assistance programs since refinancing is only available through private lenders.
What Are the 3 Types of Student Loans?
Federal student loans, private student loans, and student loan refinancing loans are the 3 types of student loans available. The government provides federal loans, whereas banks, credit unions, and states offer private loans and refinancing loans. Generally, federal loans are more adaptable.
The optimal loan for you is determined by criteria such as your budgetary need, year in school, and whether or your co-signer has a good credit history.
Consolidating or refinancing your student loans, whether federal, private, or both may help you lower your student debt, better manage installments, and strive toward other financial planning. You may be unable to start saving for retirement or qualify for other loans, like a mortgage if you have too much student debt.
Can I deduct student loan interest?
Interest on student loans is a tax-deductible cost. Under current tax standards, you can deduct up to $2,500 in student loan interest from your taxable income.
Other conditions must be met in order to receive a student loan tax deduction. You must have an eligible student loan utilized only for educational purposes, as well as fulfill income and other requirements.
How do I defer student loans?
Student loans can indeed be deferred, which means that in some situations, repayment will be formally halted for up to three years.
You'll need to file a request to your loan servicer if you wish to delay your student loans.
Keep in mind that obtaining a deferral will almost certainly necessitate proving financial hardship or meeting other qualifying conditions.
How Much Should You Borrow In Student Loans?
You should only borrow as much as you require, not the maximum amount that lenders will allow you to borrow. The more money you borrow now, the more money you'll have to pay back later—with interest.
Calculate your cost of attendance to see how much you may borrow in student loans. Tuition and fees (such as transportation and athletic fees), lodging and board or other living expenditures, books, supplies, and technology charges (such as a computer, tablet, and calculator), loan fees, transportation, and so on are all included.
If the cost of your education exceeds the amount you may borrow from the federal government, you may need to look for alternative options. This includes borrowing money from friends and relatives or taking out private student loans. Consider less costly institutions if a particular college is just too much of a financial strain. Use tools such as institutions' net pricing calculators on their websites to figure out how much it will cost you after grants and scholarships are applied.