How To Get The Best Forex Education in 2023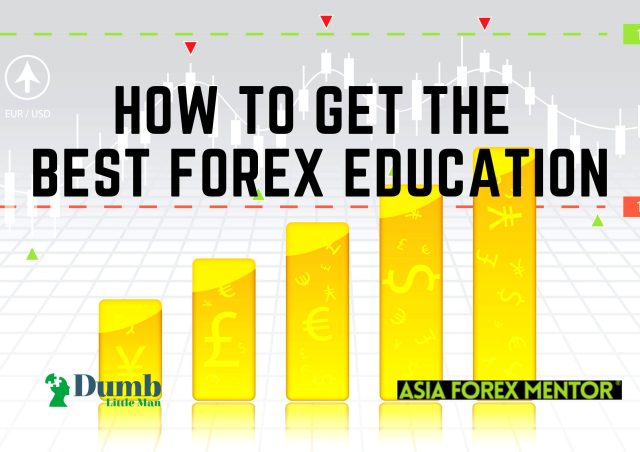 Want to jump straight to the answer? The best forex broker for traders is Avatrade
The #1 Forex Trading Course is Asia Forex Mentor
The Forex market is the largest financial market in the world. The ease of access and phenomenal profit potential makes it one of the best financial markets for retail traders to trade. However, trading forex successfully requires discipline and in-depth knowledge – both of which require hard work to obtain.
Fortunately, new traders can access numerous offline and online forex trading classes and courses. The ease of creating these courses has attracted a lot of scammers and fraudsters who create substandard courses for the sole purpose of making profits. The best forex trading courses are created by successful, experienced, and profitable traders in form of trading chat rooms, webinars, and online videos.
We have reviewed the top 30 forex trading classes and courses, and after scrutinizing them with various criteria, we have arrived at the best Forex trading classes available today. In this review, you will learn what forex trading is, as well as the best forex courses in 6 different categories. Let's begin!
What is Forex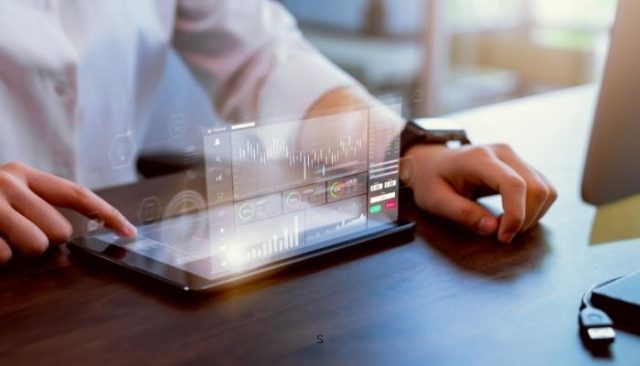 Forex stands for foreign exchange and Forex trading involves trading one currency for another. These currencies are traded in pairs – the first is the base currency and the second is the quote currency. Forex traders take advantage of the fluctuations in the interest rate and exchange rate of these currencies. In a currency pair, the stronger currency is bought while the weaker currency is sold.
To determine when to buy or sell, forex traders employ different trading strategies and systems. These are used to analyze the forex markets and they're grouped into two;
Technical analysis
Fundamental analysis
Technical analysis involves the use of technical analysis tools, indicators, chart patterns, and other technical concepts (smart money concepts, Elliot waves, support, and resistance) to forecast price movement. These mainly use price data as a determinant of future price behavior.
Fundamental analysis can be carried out by analyzing and comparing the news and economic data of different currencies to determine the strength or weakness of one currency compared to another. This helps to determine a bias and traders can trade in line with this bias by executing trades on a forex broker.
6 Best Forex Training Courses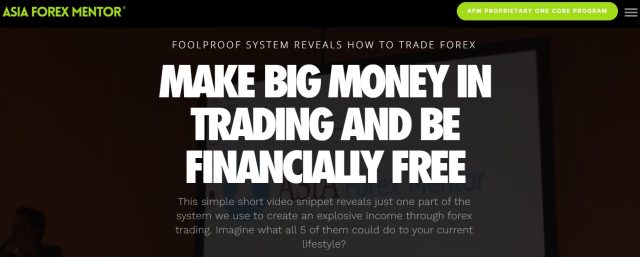 Asia forex mentor is one of the best forex trading courses in the world. It's offered by Ezekiel Chew – a renowned trader who has trained several forex traders in banks, prop firms, trading institutions, and Investment companies. The course has a high success rate and is well known for its ROI-focused trading approach. This approach helps to increase the risk to reward ratio and win rate of traders.
This online forex trading course boasts of a team of professional forex traders who educate both new and advanced traders on a daily basis. The ROI-focused approach is results-oriented and teaches multiple trading strategies and combinations of strategies than most forex courses do. These lessons cover basic to advanced trading strategies and topics. The versatility and proven track record of this course make it the best online forex trading course for forex traders all around the world.
How does it work?
Asia forex mentor provides a variety of services that can be accessed easily from the company's website. These include;
Corporate Training and Advisory: These are offered to banks, prop firms, and financial trading institutions to help them improve their trading results and boost the returns on their trading investment.
The One Core Program: This is a forex trading course that empowers traders with the necessary technical, fundamental, and psychological skills they need to become professional traders. The course is suitable for both new and experienced forex traders because it covers basic to advanced trading strategies and tools.
Trade Rescue Service: This service helps traders recover from drastic drawdown and prevents the total loss of capital. Asia forex mentor provides this service specifically for forex traders who have open trades running at a loss – with actual or potential capital losses.
Pros
A money-back guarantee is provided on the One Core Program
The trading course is well structured and easy to follow
The course is comprehensive and suitable for both new and experienced traders
The trading module can be customized to suit the trading needs of a specific trader
Cons
It is quite costly compared to other Forex trading courses, but the cost is definitely worth the benefits.
No monthly plan available for the course
Price
The One Core Program currently costs $940. Alternatively, you can pay $0 at first and then pay $997 after 7 days of access(if you find the course valuable).
#2. Best Comprehensive Course Offering: ForexSignals.com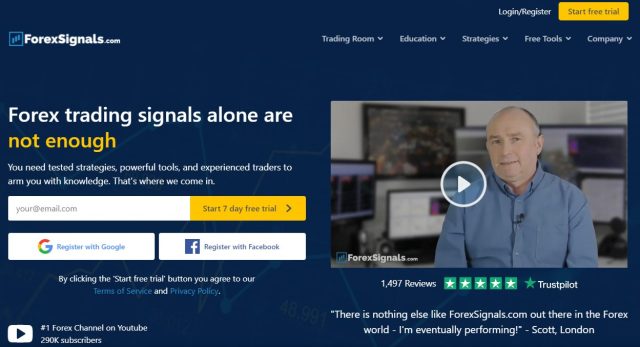 ForexSignals is an online forex education platform that provides access to training videos, educational content, and live streams to help Forex traders improve their trading skills and results. Besides providing signals, ForexSignals offers an active trading chat room as well as market analysis from experienced and successful forex traders.
The ForexSignals course teaches unique trading strategies and a combination of strategies that help to improve the precision and win rates of the traders in the trading community. These strategies include a naked trading strategy, Fx propulsion strategy, and trend surfing strategy.
How does it work?
ForexSignals is one of the most comprehensive forex courses available today aside from Asia Forex Mentor. This is because the course provides access to a variety of tools and training resources that are hardly found in other courses. You can purchase the annual or monthly plan to gain access to the live trading chatrooms, 300+ hours of video lessons, interactive Forex trading quizzes, and so much more.
Pros
Free seven-day trial
Access to a live trading room and professional trading tools
A proven track record of great trading results
Highly comprehensive forex trading classes
Cons
The monthly subscription plan is twice as expensive as the annual plan
The lessons are best suited for intermediate and beginner traders
Price
The monthly plan costs $97 per month while the annual plan costs $297 per year.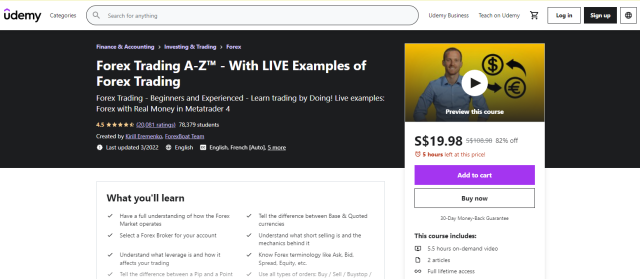 The Udemy Forex trading course was created by MUSA TSHIKOTSHI. The course has over 120 students on Udemy and is one of the best forex trading courses for new traders.
This course is aimed at helping traders understand the foundational concepts of forex trading and how they can be applied to live market conditions. Unlike other courses, it lays emphasis on helping new traders understand and master these basic concepts by explaining them with relevant illustrations and examples.
How does it work?
This forex course is readily available on Udemy. To gain access to it, you simply need to visit the Udemy website and purchase the course. The course content covers trade management, types of orders, MT4 set-up, and technical analysis tools and concepts.
The course is beginner-friendly and concise, covering basic topics like how to execute and manage trades, advanced concepts like technical and fundamental analysis as well as support and resistance.
Pros
The course is affordable and less costly than most forex trading courses on Udemy
Comprehensive content for new traders
Live examples and executions are included
Extensive course selection
Cons
Not comprehensive enough for advanced traders
The video content is of low quality
Price
The course can be purchased for $50 on Udemy. Fortunately, coupons and discounts may be available.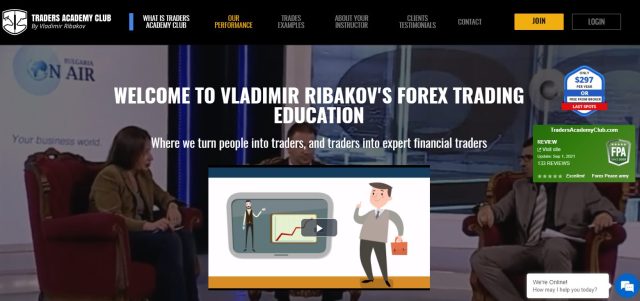 The Traders Academy club was developed by Vladimir Ribakov, a professional trader and mentor with over 12 years of forex trading experience. He uses his wealth of experience to provide information, education, and insight to traders and help them grow as traders – from a psychological, technical, and fundamental perspective.
This course provides a trading chat room, trading resources, and tools to help new and advanced traders learn Forex trading the right way. The weekly educational webinars are great for new traders to gain insight into current price action and learn the thought processes behind the trade analyses being done. In addition, the course provides access to trading ideas and analysis by Vladimir. All these and many more, make Traders academy club the forex trading course with the best value.
How does it work?
To join the Traders Academy club, you simply need to purchase an annual subscription plan. This gives you access to a variety of services offered on the platform. One of the most notable services is the weekly webinar. The webinar helps to summarize and review the trading week and note the trading processes and the outcomes they provided. This helps the traders in the community to consistently grow and develop their trading skills. The trading resources, chat rooms, and forex signals also contribute immensely to the success of traders in this online forex trading course.
Pros
Extensive educational resources and content
Resourceful and active chat room
Free resources and access to weekly educational webinars
Access to real-time trading simulator
Cons
It's expensive compared to other courses
Only an annual subscription is allowed
Price
This course costs $297 yearly.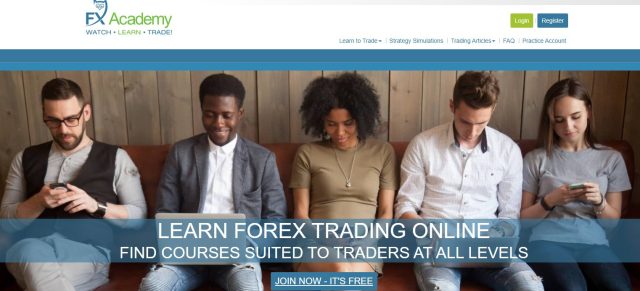 The Fx Academy course is a free course that provides comprehensive forex trading lessons to help traders understand the key forex trading concepts.
The lessons are written by professional traders and cut across several aspects of trading – from technical and fundamental analysis to risk management and trade orders. This is a great course because despite being free of charge, it is comprehensive enough to help traders learn and develop trading skills.
How does it work?
The Fx Academy course is a comprehensive trading course that provides free access to interactive and results-oriented trading resources. The forex trading lessons include quizzes and video lessons that cover all the important topics in forex. The resources can be accessed in a personalized manner. This means that as a trader, you're allowed to study at your own pace and choose the specific lessons to study until you master them all.
Pros
No Cost
The lessons are written and created by professional traders
The course is comprehensive with an extensive video library
Provides access to trading tools
Cons
No live forex trading sessions
Does not provide easy access to experienced traders and mentors
Price
The course is free of charge.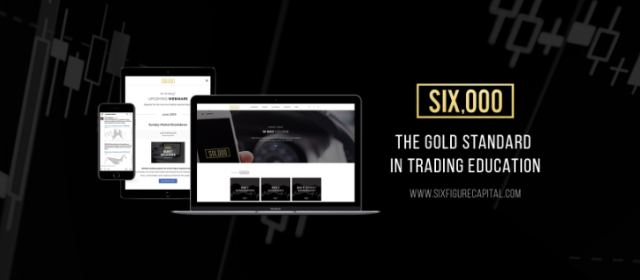 Some forex courses provide lots of information that tend to overwhelm new traders. The Six Figure Capital course provides a simplified and concise approach to learning forex trading concepts.
The course teaches traders the specific forex trading systems and strategies that work. These strategies are taught in a 14-day course which includes 19 simplified training videos. This is the best forex crash course because it teaches profitable trading systems in just 14 days.
How does it work?
As a forex trader, you may have come across forex trading courses worth thousands of dollars but yield no results even after years of recurrent payments. The Six Figure Capital course provides a concise approach to learning forex. The course teaches basic concepts like forex terminologies and price action, as well as advanced concepts like chart patterns and technical indicators. To gain access to these lessons, you need to purchase a monthly or lifetime membership from the company's website.
The membership provides access to live trading sessions during which professional traders analyze the forex market, and provide information and insight to help traders understand how the trading systems are applied to live market conditions. The private slack community is a trading chat room that allows members of the trading community to interact, discuss and share ideas and valuable information.
In addition, Six Figure Capital provides resources such as e-books, video content, and spreadsheets to help members of the community improve their trading results.
Pros
Provides live trading sessions
The course can be completed in two weeks
Provides an active trading chat room and community
Lifetime membership requires an affordable one-time payment
Cons
No free trial is available
The course isn't as comprehensive as others
Price
The 12-month contract costs $129 monthly but the lifetime membership costs a one-time fee of $1,067
Best Forex Brokers for Trading
Conclusion: How to Get the Best Forex Education
Finally, there are lots of forex trading courses available, and finding the right one can be extremely difficult.
Before choosing an online forex trading course, you need to understand your trading needs and then choose a course that can meet those needs.
The best forex courses available usually have a proven track record of profitable trading results, with reputable and experienced traders available to provide valuable forex market insight.
In this review, we have discussed the best online forex trading courses available across 6 different categories. After identifying your trading needs and requirements, you can start learning forex by using any of the courses discussed above.
How to get the Best Forex Education FAQs
How can I learn Forex?
To learn forex, you need to find a great forex course and devote time to learning the forex trading concepts. The best online forex trading courses have been discussed in this review.
What is the best way to learn to trade forex?
The best way to learn forex is to choose a reliable Forex course, learn a trading strategy, and practice that strategy on a demo account till you gain mastery of it.