3 Best Online Brokers for Stocks Under $100 in 2023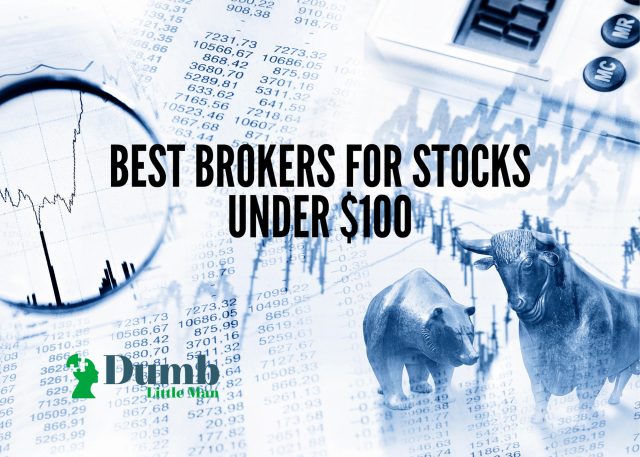 Want to jump straight to the answer? The best Stock Brokers are Tradestation and Tradier
The #1 Stocks and Forex Trading Course is Asia Forex Mentor
The stock market has rallied incredibly in 2021 after pandemic shocks sent stocks tumbling last year. The entrance of retail investors into the market has also pushed prices and returns as well. Nonetheless, there are of course some bargain hunters out there looking for penny stocks, or some undervalued assets with a really attractive buying point.
Well, there are actually a lot of cheap stocks in the market right now. But this does not mean they are all good investments. Even though there is nothing wrong with buying cheap stocks, it is important to make sure that the fundamentals of the underlying business are still good. For example, mid-September showed sales are rebounding in the retail sector after pandemic led shocks. That's the kind of info you look for.
You may also want to avoid a super volatile stock, especially if you are looking for interesting growth opportunities in the long term. Nonetheless, you still need a good broker to snap up these bargains. Here is our list of the top online brokers for stocks under $100.
Best Online Brokers for Stocks Under $100
3 Best Online Brokers for Stocks Under $100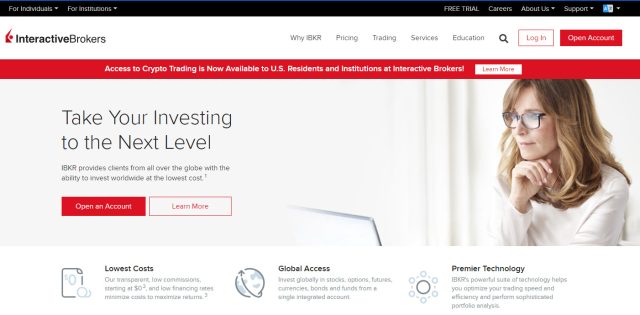 Interactive Brokers is one of the biggest online-based brokers in the US. The firm was founded in the 1980s and has since grown to become a household name. Interactive Brokers tops our list for three main reasons. First, it providers global access to top financial markets. In fact, the broker gives customers access to over 135 markets in at least 33 countries around the world.
The broker is also known for its superior stock trading technology, especially for people who have a very extensive portfolio. Finally, IBKR offers some of the lowest stock trading fees. Whether you are looking for healthcare stock at a pretty decent price, a no-brainer stock of a really established company, or a volatile stock for short-term speculation, the broker will ensure you pay the lowest fees possible.
Interactive Brokers also offers a multi-platform stocks trading approach. You can use a web platform, a desktop app, and even a mobile app to manage your very tight portfolio. In addition to this, the broker has excellent leverage and margin trading for folks who would like to take advantage of enhanced market volatility in the long term. This can give you a huge boost when short-selling price swings.
How does it work?
Interactive Brokers is a huge one-stop shop for buying stocks at any share price. It is used by both individuals and institutions like mutual funds. As a global leader in this space, the firm offers several different accounts suited for different people. So, before you open an account here, make sure you look through the options and decide which one suits you best.
After that, go ahead and open the account. As a traditional US broker, there are so many operating trends that IBKR needs to follow. First, personal info including social security numbers will be needed before you start trading geographic markets. You will also be required to present verification documents before the trading desk approves your account. Nonetheless, if everything goes well, the final step is to deposit money.
IBKR supports deposits in 23 currencies to cater to individuals and hedge funds in all parts of the world. In most cases, deposits take at most 3 business days to reflect depending on your payment method chosen. After the money is in, you can now pick the stocks that you want. It could be a transactional business, some top-quality drug makers, or a firm in the e-commerce industry with attractive valuations and a nice growth story. Either way, as long as growth metrics are looking good, then you will make money.
Pros
One of the most interesting company brands in this space with global recognition
Offers some of the lowest fees of any online broker
You also get superior trading technology with automated trading tools and portfolio tracking tech
Easy account opening and set up, including fast deposits
Cons
The broker may not be available in most countries
The KYC requirements are very hectic and time-consuming
Price
The fees charged by Interactive Brokers will largely depend on the type of assets you are buying. In case you'd like to buy options on companies that offer interesting growth opportunities, then fees range between USD 0.15 and USD 0.65 per contract.
As for folks who want to trade futures, fees start from USD 0.25 and are capped at USD 0.85 per contract. There are also certain assets that are charged as a percentage of the trade volume as opposed to a single flat fee. They include spot currencies, mutual funds, bonds, and others.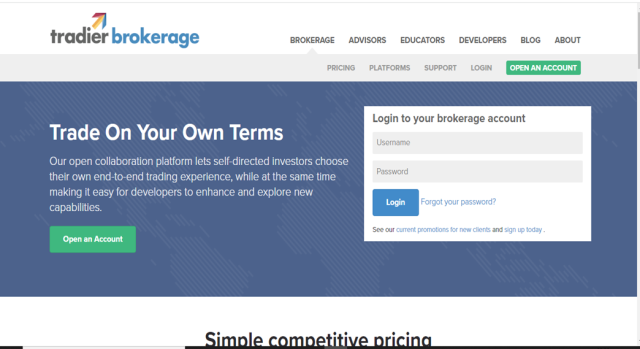 Tradier is also a popular online broker that offers an intuitive and highly interactive trading platform that allows users to customize their trading experience. The broker also offers different trading platforms too, including simple and easy-to-use ones for beginner traders. There are also advanced trading tools and bots for trade automation and portfolio tracking.
Tradier also has very low fees. Whether you are looking at Pfizer's balance sheet and thinking it's time to get in on the act or perhaps you just want to focus on companies that sell apparel, the brokerage fees at Tradier will ensure you buy stocks at the most affordable rates possible.
The brokerage has also done well to expand its customer support. In fact, the team here has a feature called the feedback loop where customer concerns, suggestions, and reviews are carefully analyzed and integrated into service delivery. You also get full API access in case you'd like to connect a trading bot or any other trading technology.
How does it work?
Tradier is a traditional online broker and as such, setting up an account here and starting your trading journey takes just about three steps. First, head over to Trader's website and open an account. Unlike Interactive Brokers that has multiple accounts, Tradier has just one. For this reason, it should be easy to decide what you want.
You will however need to key in a lot of personal data and verify it using supporting documents. In most cases, if these documents are available and up to standard, you should, be able to get your account ready in 24 hours. The second step is to deposit money. Tradier offers a wide range of deposit options including bank transfers, credit cards, checks, and so many others. Just as a reminder, the deposit fees charged and the time it takes for the money to reflect in your trading account depends on the deposit method chosen.
Nonetheless, once the money is in, it's time to choose a trading platform. Tradier has several platforms on offer so it would be best to try out a few before settling for the one that suits you best. After that, you can now start to look for stocks to buy. It could be a subscription business streaming television specifically, the generics business Upjohn, or any other firm with good earnings. The choice is yours!
Pros
Offers an intuitive and fully customizable trading experience
Comes with multiple, trading platforms to suit different investors
Some of the lowest fees in the market right now
Gives you access to a wide range of financial assets
Cons
The brokerage is not available in many countries globally
Account verification can sometimes take too long
Price
Tradier offers one of the most competitive pricing plans out there. Now, there are two ways to pay for orders here. First, you can pay on a per-contract basis or through a flat monthly subscription fee. As for folks on low-volume trades, paying per contract is often a great idea.
In such a case, the average fee will range from USD 0 to USD 0.35 per contract depending on the type of asset bought at the same period. You can however pay a flat $10 fee every month and enjoy commission-free trading. This is often a great plan for large volume traders as it will save you a lot of money.
#3. Best for Web Platforms: E*Trade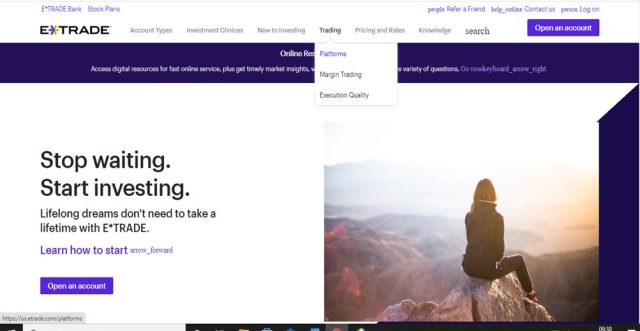 As a subsidiary of Morgan Stanley, one of the biggest Banks on the planet, E*TRADE is a global online broker that offers superior trading technology, low fees, and overall a great customer experience. The brokerage also offers a wide range of accounts suited for different people.
Whether you are looking for a retirement investment account, an active trading account, or just a passive trading account, E*TRADE has everything you need. The brokerage also offers zero-commission trades on US-listed stocks, ETFs, and options.
Besides, new accounts also get sign-up bonuses of up to $3000. E*TRADE has also done quite well to offer comprehensive learning materials under its resource center to give you the edge you need to reach your goals.
How does it work?
In case you are a retail investor looking to buy hopefully top-quality drugs companies in the US, then you can open an account with this broker anytime. You will of course need to fill in some details about yourself ad verify your identity as well. Please also note that more documents may be needed depending on the account you need to open.
The next step is to set up your deposit method. E*Trade offers you some good variety here including bank transfers. Now, once you have deposited money into the trading account, head to the trading platform and start picking shares. The company's spending in the e commerce industry looks good right now so that is a sector worth watching. The last two quarterly reports on eCommerce sales also look robust.
Pros
Offers an advanced trading platform with tech-superior trading tools
You get a wide variety of accounts to choose from
Commission-free trading on several US stocks, options, and ETFs
Excellent customer support team
Welcome bonuses and discounts of up to $3000
Cons
The fees are a bit higher compared to the other brokers on our list
Opening an account for non-US traders can be a bit hectic
Price
The fees charged by E*Trade normally depend on what you are buying. So, for US-based stocks, options, and ETFs, you will enjoy commission-free trading here. However, options outside the US will attract a fee of USD 0.65 per contract.
As for investors who want to buy futures in the US or any other market out there, fees start from USD 1.5 per contract. Bonds on the other hand attract a fee of USD 1 for a single bond. However, bond fees are capped at a maximum of $250.
How we rank the Best Online Brokers for Stocks Under $100?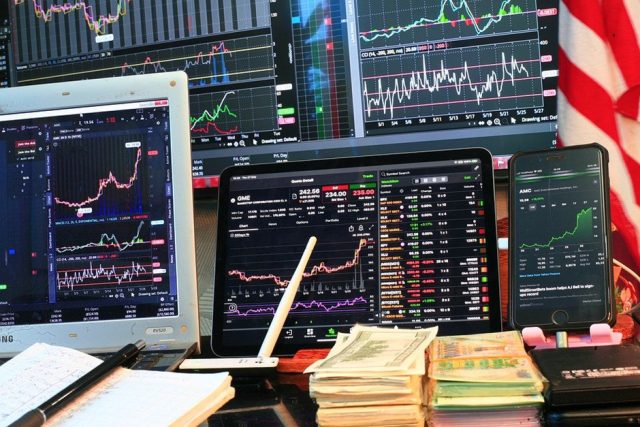 We did a lot of due diligence when deciding which brokers to include in our list. The opinions expressed here are all based on extensive research. Nonetheless, we looked at three key things. First, we analyzed fees charged by brokers. In recent years, we have seen a huge decline in fees and as such, the brokers that made our list included companies that offer the lowest trading fees possible.
We also looked at security as well. In fact, according to fool contributors Brian Withers and others, the safety and security of personal data and assets was a huge factor in picking online brokers the past year.
Finally, our team also looked at platform technology and usability. Brokers that offer superior and easy-to-use trading tools ranked higher in our fourth quarter rankings. We also looked at brokers that have had vast commercial success, and those that have a reputation of offering excellent customer support.
How to choose the Best Online Brokers for Stocks Under $100?
There are many things to consider when choosing a broker including good consumer engagement metrics. However, the best investors focus on a few important things. First, pick a broker that has the latest tech. This will make it so easy to buy the highest-grossing pharmaceutical companies at the right stock price and sell at a huge share price.
But in case pharma is not something for you, you can pick companies in the global economy with decent free cash flow at the top and bottom line. In addition to tech, check the fees. Traders these days operate on very small profit margins. High fees can really mess with your net income even if you make quite a genius move in picking stocks with the best average yields.
Finally, usability matters a lot. Your ability to use direct buy functionality on any broker depends on how well trained you are with the trading platform. Easy-to-use platforms feel intuitive and will often allow traders to take advantage of huge share jumps in no time.
Choose Asia Forex Mentor for Your Forex and Stocks Trading Success
If you have a keen interest in establishing a successful career in forex trading and aspire to achieve substantial financial gains, Asia Forex Mentor stands as the optimal choice for the best forex, stock, and crypto trading course. Ezekiel Chew, renowned as the visionary behind trading institutions and banks, is the driving force behind Asia Forex Mentor. On a personal note, Ezekiel consistently achieves seven-figure trades, a distinction that truly sets him apart from other educators in the field. Here are the compelling reasons that underpin our recommendation:

Comprehensive Curriculum: Asia Forex Mentor offers an all-encompassing educational program that covers stock, crypto, and forex trading. This well-structured curriculum equips aspiring traders with the knowledge and skills necessary to excel in these diverse markets.

Proven Track Record: The credibility of Asia Forex Mentor is firmly established through its impressive track record of producing consistently profitable traders across various market sectors. This achievement serves as a testament to the effectiveness of their training methodologies and mentorship.

Expert Mentors: At Asia Forex Mentor, students benefit from the guidance and insights of experienced mentors who have demonstrated remarkable success in stock, crypto, and forex trading. These mentors provide personalized support, enabling students to navigate the intricacies of each market with confidence.

Supportive Community: Joining Asia Forex Mentor brings access to a supportive community of like-minded traders pursuing success in the stock, crypto, and forex markets. This community fosters collaboration, idea-sharing, and peer learning, enhancing the overall learning experience.

Emphasis on Discipline and Psychology: Success in trading necessitates a strong mindset and disciplined approach. Asia Forex Mentor provides crucial psychological training to help traders manage emotions, handle stress, and make rational decisions during trading.

Constant Updates and Resources: The financial markets are dynamic, and Asia Forex Mentor ensures that students remain up-to-date with the latest trends, strategies, and market insights. Continuous access to valuable resources keeps traders ahead of the curve.

Success Stories: Asia Forex Mentor takes pride in a multitude of success stories where students have transformed their trading careers and achieved financial independence through their comprehensive forex, stock, and crypto trading education.

In summary, Asia Forex Mentor emerges as the premier choice for those seeking the best forex, stock, and crypto trading course to carve a rewarding career and achieve financial prosperity. Through its comprehensive curriculum, experienced mentors, practical approach, and supportive community, Asia Forex Mentor provides the necessary tools and guidance to mold aspiring traders into accomplished professionals across diverse financial markets.
Conclusion: Best Online Brokers for Stocks Under $100
Buying cheap stocks that eventually go on to achieve huge share price increases is a great way to invest. However, to buy the stocks mentioned you will need a great broker. While the market these days is flooded with a huge variety of online brokers, Interactive Brokers stands out. The firm has a lot of industry name recognition.
Besides, you also get state-of-the-art trading technology, including innovative portfolio management tools for your stocks to buy. The firm is also known for its relatively low fees. In fact, the average spending for personal buyers of stocks on Interactive Brokers is very small compared to other brokers. You also get reliable customer support, access to a huge variety of markets, and availability in so many parts of the world.
But even with these pros, the KYC requirements here can be very hectic for the average person to pull through. Other than that, Interactive Brokers is by far one of the best places to buy and sell cheap stocks.
Best Online Brokers for Stocks Under $100 FAQs
What is average stock trading?
Average stock trading refers to a series of trading strategies designed to play around with the stock price in a bid to overcome volatility in the market. This can help mitigate against sudden price changes, including huge share price jumps and drops.
Are Penny stocks good for beginners?
Penny stocks are always cheap and as such, they are good for beginners. But don't just pick a stock simply because it's cheap. You need to look at the fundamentals of the underlying business as well. You can do your research on several platforms like Motley and others. In fact, Motley fool owns shares and they often recommend penny stocks for beginners.
What does Stock Market mean?
A stock market is basically an exchange where people can buy and sell stocks and other financial products. While the New York Stock Exchange is the biggest in the world, literally any country with a relatively developed economy has a stock market where local companies are listed.