How Ezekiel Chew Became 1 of the Top Forex Traders in the Retail World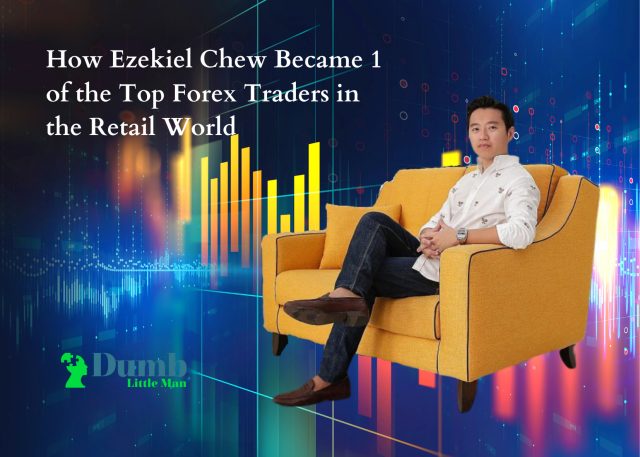 The forex market is a difficult one to navigate. Many people have entered and fled the market as they usually lose money, while others have stayed strong and made more money because of their understanding.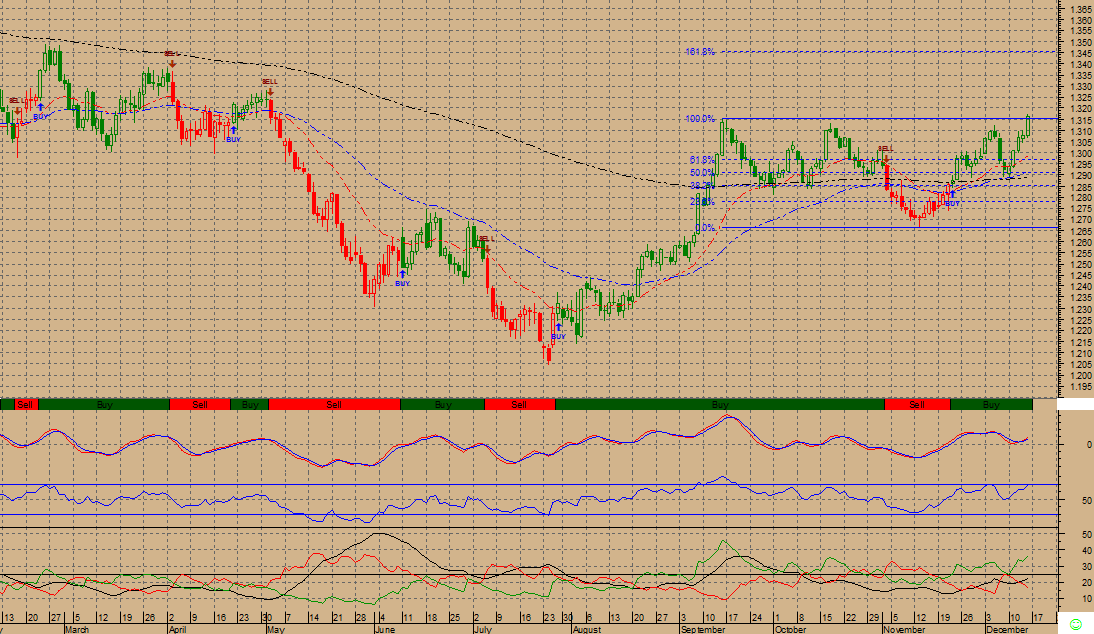 In forex trading, luck is considered a mirage; it is all about what you know. Thus, Ezekiel pursuing the route of knowledge is why he has gone to the top of the market as one of the best forex traders.
Top Forex Trader: Ezekiel Chew's Biography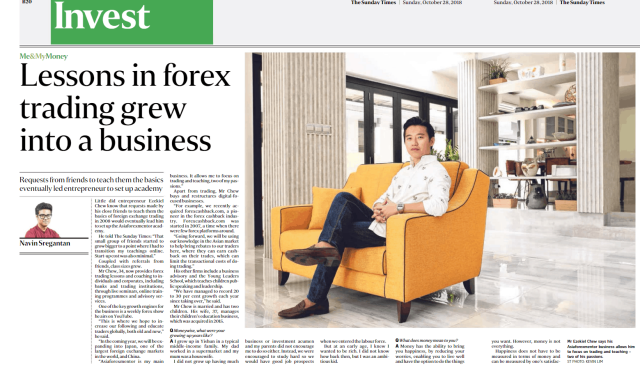 Ezekiel Chew is a forex trader with a lot of experience and is considered one of the most successful forex traders. He is also the CEO and Chief Trainer of AsiaForexMentor. AsiaForexMentor is one of Asia's leading forex academies.
Ezekiel Chew was born into a family of six, including two sisters and a brother. Unfortunately, like many others nowadays, his family experienced a significant financial setback when he was a child.
Regardless of how difficult things were, he aspired to be financially independent and successful in life. However, he was determined to get out of his financial situation, so he learned about money.
While learning how to make money, he stumbled across financial institutions. He proceeded to learn about various financial options, and his enthusiasm expanded as a result.
His research led him to various financial investment opportunities such as commodities, shares, mutual funds, and forex.
Chew claims that forex piqued his interest more than the other investment vehicles. More so, because of his father's cautions to stay away from stocks, his interest in forex got even more potent.
Chew began investigating and reading about Forex trading while still a child. Then, he studied the sector for two years on his own because there were few foreign exchange forex trading courses or trading seminars available at the time.
Due to his low resources, the journey becomes highly challenging for him. He refused to give up, though, since he was determined to lift his family out of poverty.
Ezekiel put in a lot of time practicing and employed all of the trading systems and tactics he had at the time. He failed countless times while studying and practicing, but he kept learning and practicing.
After two years of practicing, learning, failing, and repeating the process, Ezekiel Chew began to make steady profits from the forex market. Those two years were difficult for him, but he never gave up.
He never stopped learning, even after he started making consistent earnings. He claims that learning is the key to success while trading forex.
Asia Forex Mentor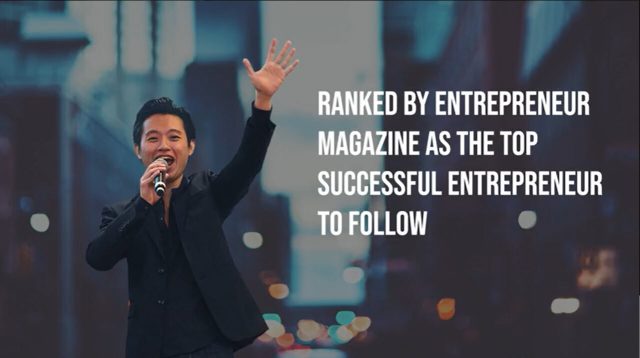 Ezekiel Chew, a world-renowned professional forex trader created Asia Forex Mentor in 2008, with its headquarters in Singapore. Ezekiel began his project slowly, teaching a few close pals how to trade forex.
He fine-tunes his teaching style and approaches as the small group grows into a tiny community.
The idea evolved so quickly that he had to start conducting live classes, and eventually, trading organizations and banks approached him about coaching their teams.
Asia Forex Mentor now includes the following:
AFM Proprietary One Core Program
Golden Eye Group
The mentorship program is aimed towards the Asian market, as the name implies.
Asia Forex Mentor is an established and dependable company famous for its education service in an industry where fraud and scams are common.
AFM Proprietary One Core Program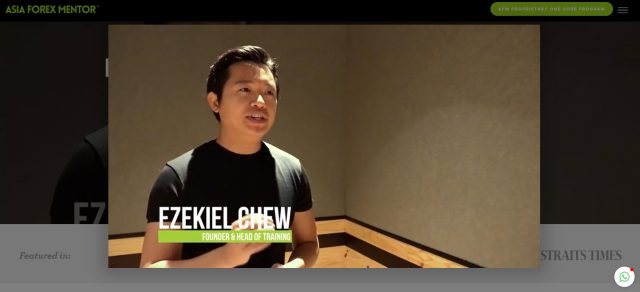 Ezekiel teaches retail traders to trade the forex, stock, commodities and cryptocurrency market in the One Core program, an online training program.
The course enables students to design a trading system, accurately read the forex market, and steadily grow their accounts by assisting forex traders in gaining in-depth trading knowledge.
This program provides traders of all levels with the knowledge and insights they need to improve their trading talents and broaden their trading knowledge to become successful forex traders
Beginners may learn everything from the ground up, making it a fantastic choice for an inexperienced currency trader.
Ezekiel starts the program with the essential step of opening a trading account, then progresses to more technical skills. Technical skills such as trade management, chart reading, trading skill development, trading strategies, risk-reward ratio components, and his MT4 setup are necessary to understand the forex markets and their conditions better.
Contents of the One Core Program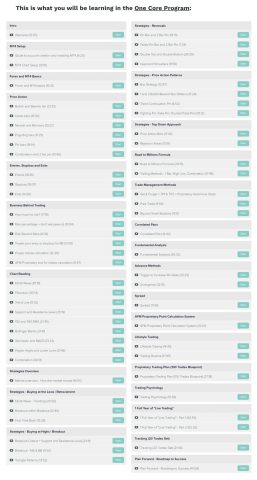 The modules that make up the AFM One Core Program are as follows;
MetaTrader 4 setup and basics
Price Action
Entries, Stop loss and Take profit
Business Behind Trading
Chart Reading
Trade Management Methods
Fundamental Analysis and Advanced Methods
Point Calculation System
Trading Psychology
and many more as seen in the image above
How long would it take to finish the course?
The length of time it takes to complete is dependent on your schedule and learning abilities. However, the program is self-paced, and access is lifelong, and you can take as long as you need to finish it.
There are about 20 hours of video teaching in all. Thus, you may complete the Asia Forex Mentor forex trading course in a week if you devote three hours per day to it. However, that does not include the practice session after each module.
Those who have full-time commitments may require more time. In addition, those who have trouble grasping specific ideas may need to go over some of the modules again.
Verdict on the One Core Program trading course for forex traders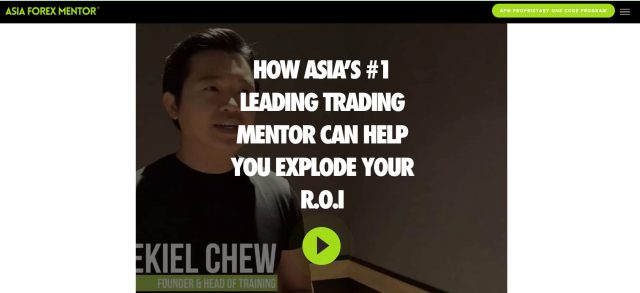 This program may be a piece of cake for newbie forex traders because they have no past knowledge or conceptions of the industry, making it easy to learn the essentials.
Existing traders might pick up golden nuggets from Ezekiel's experience throughout the course. Trading is a vast subject with a myriad of methods for success.
As a result, this trading course will undoubtedly enhance the trader's abilities and market understanding, whether novice or seasoned.
The course's purpose is to teach the best probable forex market entry and exit positions and how to profit from market conditions in the most efficient way feasible.
His scope of teaching also expands to other financial markets trading methodologies.
The course is categorized into several modules, each focusing on a distinct facet of the trade and its components.
Ezekiel calmly and precisely presented each concept with graphical demonstrations and practical examples, including trading charts as needed.
A large percentage of the course consists of unique, practicable, and appropriate trading strategies. Thus, the program's effectiveness and practical effects are evident to see.
Another key benefit of the ONE CORE PROGRAM is that students can progress through it at their own pace in a regulated educational atmosphere, rather than being bound by the schedule and curriculum of a traditional academic setting.
They can go back to a previous lesson, revise it, or even take a break from the course for as long as they choose.
In addition, with Ezekiel Chew as your mentor, you can develop your hedge fund trading tactics which could be in forex trading, stock trading, currency etfs, and others.
To summarize, Ezekiel Chew and the Asia Forex Mentor Academy team have created a cost-effective program appropriate for traders of all levels.
Golden Eye Group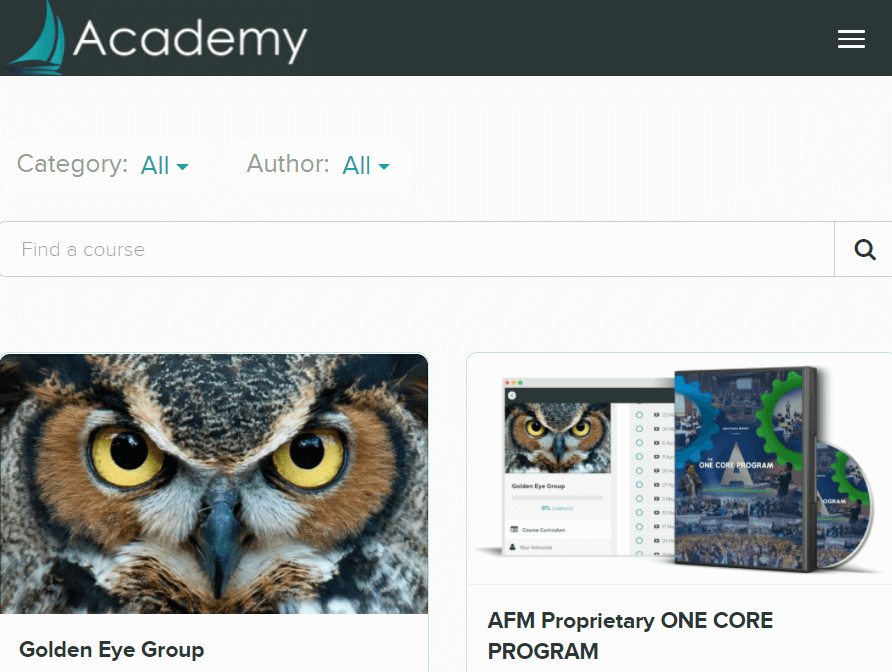 The golden eye group is an optional part of the one core program where Ezekiel goes in-depth each week with the foreign exchange market analysis. His analysis covers currency pairs, stock indexes, gold, silver, oil, and other trading instruments.
The group is where a professional trader's analysis comes into play, where he looks for huge movement trades and day-to-day trades.
It is a particular group where he encourages traders and his mentees to be a part of so as not to miss out on the market's big moves.
The big moves are considered money pot and where the money is, which he shows members how to identify them and when to go in it.
What Services Does Asia Forex Mentor Offer?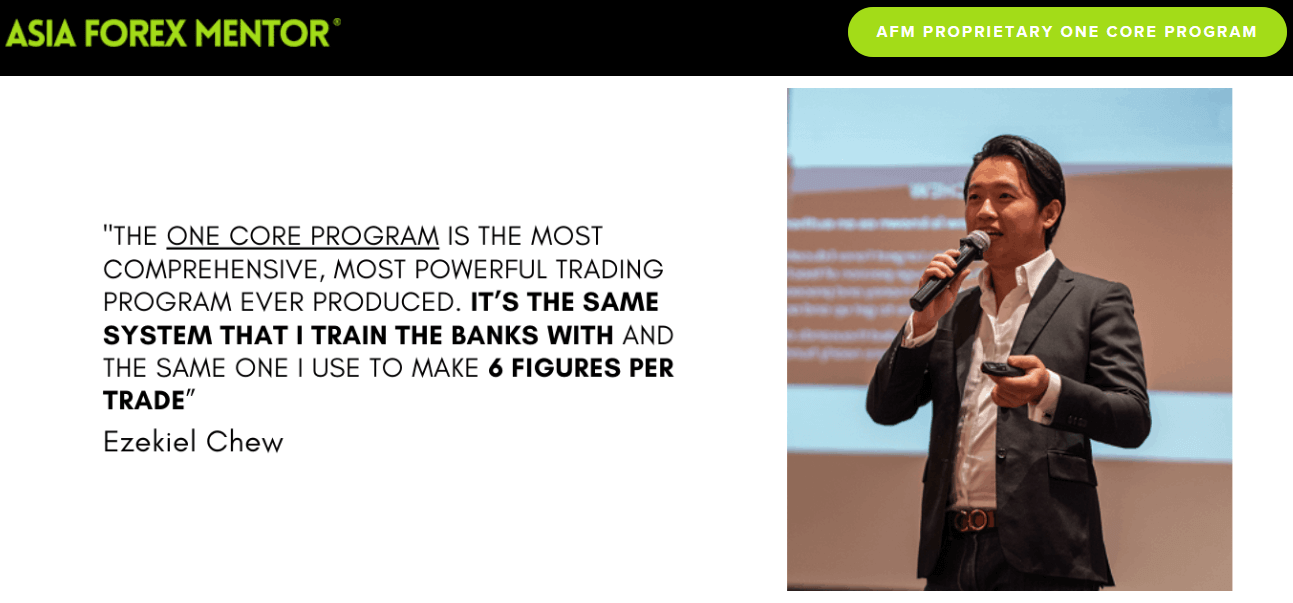 The One Core Program is Asia Forex Mentor's leading educational program.
The program entails 63 videos in total, with 26 courses and an introduction video.
Most traders that have been a part of the program have commended the videos for their exceptional quality, attention to detail, and personal experience.
Ezekiel Chew is dedicated to his trading career and mentorship and is well concerned about his students.
He frequently emphasizes that his mentorship is not a get-rich-quick gimmick but rather a program that teaches how to acquire riches through hard work and commitment in the forex world.
The courses are structured to fit individuals with full-time jobs, and each student is free to work at their own pace as the ultimate goal is becoming a successful trader.
For Whom Is The Asia Forex Mentor Academy Intended?
All traders will benefit from the One Core Program. In addition, this course will provide a complete program in forex trading for those who have no prior trading experience and intend to begin trading.
Those who have started trading and have prior currency trading experience may pick up new tactics and recommendations.
There are so many tips, methods, and ways to trade with forex that each course will be valuable in some way.
If you have no prior knowledge, it may be easier for you to grasp the concepts. However, those who have never traded before may find Mr. Chew's philosophy interesting and different.
What Does the Asia Forex Mentor Course Cost?
There are two ways to pay for the one core program forex education, which includes;
For $940, you get full access right away.
A free seven-day trial is available at $997, and if you like the course, you can convert it to the full program at $940.
Access to the Golden Eye Group is also available for an additional $118 per month subscription. We understand that members have a different pricing.
Conclusion
Ezekiel Chew is a go-to expert and one of the best forex traders in trading, not simply FX trading. They also often invite him to speak at premier financial conferences and several financial firms on topics cutting across the financial market.
Ezekiel Chew's tale is inspiring because he started trading forex from the ground up and his investing journey and achievements are inspiring enough to make anyone start trading. However, during his study days, he had no leverage and a limited number of resources.
His rise to the top demonstrates that anyone can succeed as a forex trader with hard work and commitment.
He was not born privileged, but he did not let that stop him. On the contrary, he understood what he wanted and went after it, and today he is widely considered to be in the bracket of successful traders.
Ezekiel has gotten many accolades for his mentorship and dedication to grooming his students. One of the many reasons he is known as the best forex trader.
If you want to learn more about Ezekiel Chew and the Asia forex mentor, head over to Asia forex mentor, where he shares his 5 part training series for free, and you can benefit from his wealth of experience.
FAQs
Is Asia Forex Mentor legit?
Asia Forex Mentor is a legitimate forex education and mentorship program that has been in operation since 2008.
The One Core Program, according to Ezekiel, is the same system he taught banks and utilized to make six figures a trade.
The program has guided and provided advice to many of his students and aided them to consistently profitable trading in the financial market.
What separates Ezekiel chew from other forex traders?
Price action is the core of all professional trading, and it is the center of Ezekiel's teachings.
The most significant distinction is his approach to educating and sharing what works and does jor work in the real world market.
Most tutors utilize screenshots, but he solely uses live charts.
Is forex trading profitable?
Yes, Forex trading is high-paying, but you have to get your approach correctly. A trading course that constitute investment advice and trading methodologies like the Asia Forex Mentor's one core program can help you better comprehend crucial concepts like risk management.
How can I trade forex?
The most effective way to approach the forex market is to be guided by a mentor who teaches you simple approaches and visualizing techniques, most notably the ability to copy trades of your mentor and earn while learning and growing.
How do I access the forex market as a newbie?
The forex market is open to everyone, but you must access the market through a mentor to put you through all the procedures involved in getting started. Finding the best forex broker, tools, and software like MT4 are the primary needs of accessing the market.