7 Best Websites To Buy Or Sell An Online Business For Free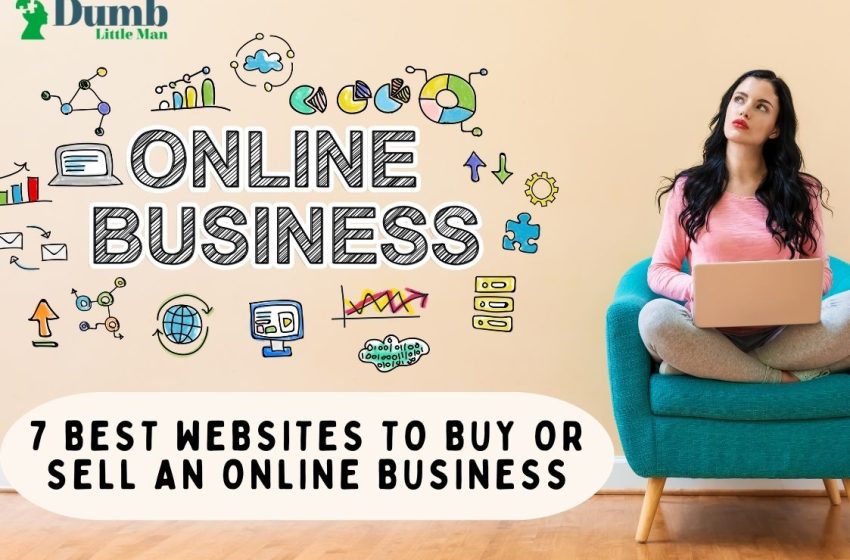 The COVID outbreak has changed everything: from social life to business models. In those dark days of isolation and lockdowns, the internet offered a perfect solution to keep up with things.
Businesses online are moving pretty fast. During the pandemic, eCommerce business growth is at an exceptional length. While online eCommerce stores doing so well, many financial assistance programs are offering loans to help buy already established businesses.
Likewise, if you run a successful online business, you can make some good money by selling it. You will find several business owners who would love to have an online store up and running.
This brings us to the question: where to buy and sell online business? In this article, we will explore 7 of the best websites to buy and sell online businesses.
Without further ado, let's get started!
Top Websites to Buy Online Business For Sale in 2021
7 Best Places to Buy and Sell Online Businesses: Detailed Insight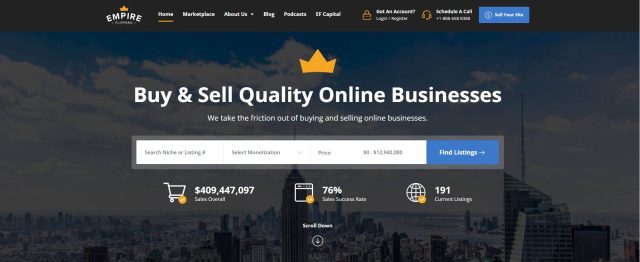 Empire Flippers is our top consumer choice as it streamlines the transaction process through a thorough vetting of both the buyer and seller. Unlike other marketplaces, it provides transparent, honest information about buyers and sellers. However, it encourages users to also perform their own due diligence.
With many years of experience selling online businesses, Empire Flippers come highly recommended. They have over $250 million in sales with an 85% success rate. You can also choose from over 100 listings.
The Empire Flippers online business website is easy to navigate, with a lot of listings that can be filtered easily. On each listing, you can see a range of information including pricing, profit margin, and seller availability. Moreover, here you will find many sites in all categories.
Starting out as an online listing marketplace, it now offers escrow services and other services to help buyers and sellers of online businesses. Surprisingly, buying and selling on this online forum is free. However, they charge you 1% of the final sale price for escrow account fees.
Best Feature?
You can search for web stores based on different business models like affiliates, ads, dropshipping, eCommerce, etc.
You are only required to pay 5% of the value of the business you buy as a refundable deposit.
Additionally, you can find podcasts from many business and industry experts to assist you with your decision.
Each listing is loaded with genuine detail— from the URL to Google Analytics and Profit & Loss Statement— to make a data-driven decision.
Once the purchase has been completed, they will help you migrate your entire business to the new web store.
Who is it Best For?
Empire Flippers only lists legitimate businesses. A perfect place for those who are hesitant to deal online because of scams. Also, this platform can help you buy or sell a business that suits your lifestyle and budget.
>> Read the full review: Empire Flippers Review: A Legitimate Website Broker? »
Click Here to Know More About The Top Choice: Empire Flippers.
#2. Best For Buying Large Online Businesses: FE International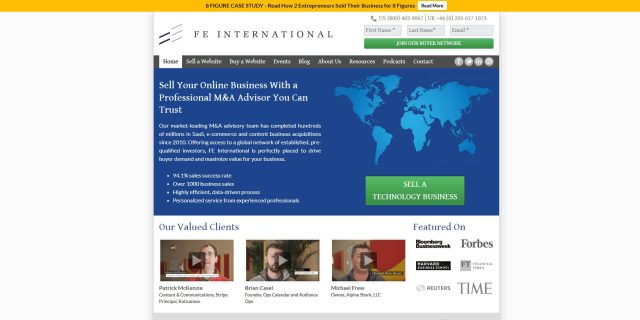 FE International is one of the most trusted online business websites dealing with all kinds of large businesses. They are a business brokerage firm dedicated to evaluating 5-7 figure businesses, and their brokers work together to provide buyers and sellers with a quality experience. It also offers a valuation service that can be used to determine the value of your site.
You can select from a variety of established big businesses: blog sites to SaaS companies. The typical listings cost $50k to multiple millions of dollars. Moreover, you get updated listings with all the relevant details, like annual revenue, asking price, and net profit.
This marketplace provides both the buyer and seller with the best possible deal through its team of experts. This is evident in the 94.1% success rate of sales.
FE International charges a buyer's fee, unlike most other business-buying sites. The fee is 2.5% of the business's final sale price.
Best Feature?
The global investor network of FE International is composed of over 50,000 online pre-qualified investors who make it for you to find a suitable buyer.
By utilizing the expertise of the experts, you can examine the business with more effectiveness.
By using private listings, you can attract serious and verified buyers.
Who is it Best For?
This marketplace is for those who are looking for successful and large businesses in different niches.
#3. Best For Buying Starter Shopify Stores: Shopify Exchange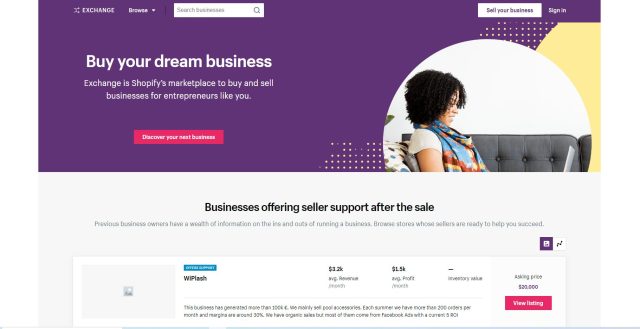 Since it's the only online business marketplace that focuses on Shopify businesses, the Shopify Exchange is probably one of the best for buying and selling online businesses. On this marketplace, you know you are getting a Shopify store when you buy an online business.
Additionally, Shopify exchange allows direct integration of Shopify stores. Sellers are therefore unable to alter any of the store's data, such as traffic and revenue.
The business listings are categorized on the basis of location, sales channel, business type, and more. You can also filter out well-established businesses and choose directly from them.
Shopify Exchange offers free buying and selling, and they offer an escrow service through their partnership with Escrow.com.
Best Feature?
The Shopify Exchange offers starter online stores for just under $100 and you can instantly get started.
With the help of Escrow.com, Shopify Exchange ensures the safe and secure transfer of online businesses.
Shopify staff assist in filtering out some of the best online business websites and creating a list so that you can select the one that best fits your needs.
Who is it Best For?
Shopify Exchange is the best place for those who want instant startup at Shopify with minimum investment.
#4. Best For Buying and Selling Small Businesses and Digital Assets: Flippa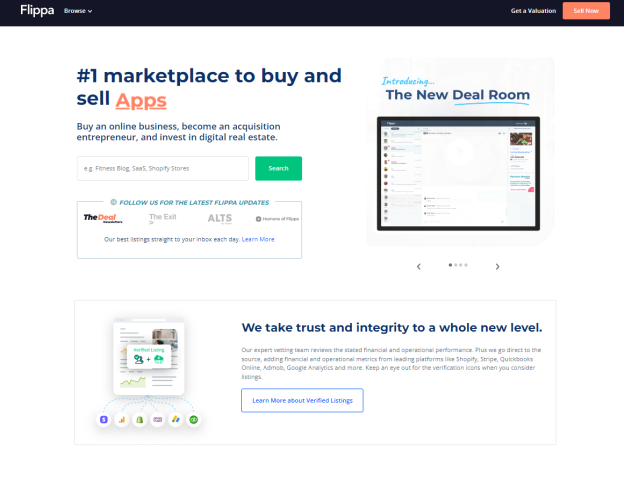 Flippa was a pioneer of online business marketplaces for selling websites, and they are still among the best. The site has over 600,000 users, so there is no shortage of potential buyers, and over 5,000 online businesses and domains are listed for sale every day.
There aren't many places where small businesses can get financial support like Flippa. They have different programs that offer to fund small startups.
On Flippa, you can not only buy and sell online businesses, but you can also find other digital assets like domains, websites, and apps.
Nevertheless, if you are there to solely buy online businesses, you should check out their designated categories for Shopify and Amazon FBA stores first.
Furthermore, with insights from a 'Due Diligence Report,' you can make an informed decision on whether or not to buy an online business. This detailed report includes a variety of analyses such as traffic analysis, pricing analysis, and seller analysis.
Additionally, Flippa Finder offers advisory services to first-time buyers. A fee of $50 is charged for this service, which offers professional tips and guidance from experts.
Aside from offering its own escrow service for secure payment processing, Flippa also provides a free valuation service for sellers to discover their business's worth.
Furthermore, Flippa offers a 'Website Broker' service to make selling your website stress-free. The broker will market your business in the best possible way and help you fetch a good selling price.
Best Feature?
With various funding programs such as Guidant Financial, Flippa offers funding for small businesses through SBA loans.
Flippa also uses Escrow.com to ensure secure transactions.
The free online valuation tool helps you evaluate your business accurately and provides insights to improve your business selling potential.
You can easily navigate through different categories neatly segregated and find the right one for you.
Who is it Best For?
Flippa is more targeted toward supporting small business owners. It has what you need if you're looking to own a well-established small business.
Click Here to Know More About The Top Choice: Empire Flippers.
#5. Best For Selling and Buying Big Tech Companies: Digital Exits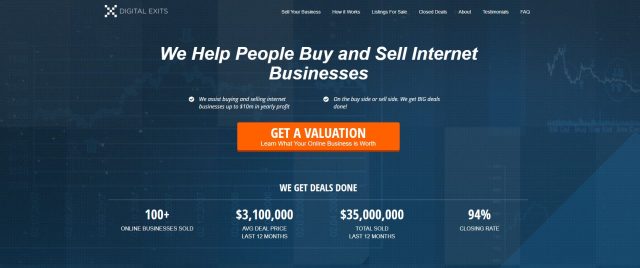 Digital Exits is among the top broker websites that help you sell a profitable online business with $250,000 – $5,000,000 in annual profit. No other online marketplace offers such a high-profit margin. Their specialty is assisting the sale of large technology companies.
Additionally, it comes with a team of advisors who will assist you in maximizing the value of your business and help you get the right buyer.
They provide an extensive marketing plan that boosts your selling potential by preparing an impressive executive summary and efficiently managing the whole deal.
Additionally, they secured a group of potential investors who have a purchasing capacity of approximately $668.27 million. This means you're probably just a click away from finding the right buyer.
Best Feature?
Digital Exits' global network of investors helps you close the deal quickly.
Offers effective marketing strategy to make the business look appealing.
You get bank financing for your business in advance so it's more attractive to buyers with lower net worth.
Who is it Best For?
Digital Exits are for those people who want to invest in big tech companies. Their listings tend to be about high-profit tech companies.
#6. Best For Buying and Selling Unfinished Projects: SideProjectors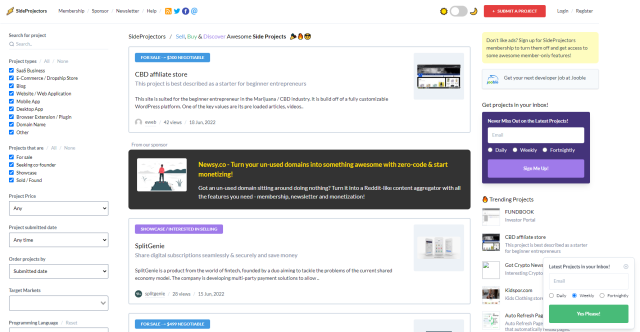 SideProjectors is the best marketplace where you can sell all types of projects: both finished and unfinished. In this way, you can get a return on your investment. The marketplace has a large inventory of side projects in several business categories, such as eCommerce, blog sites, SaaS companies (like Inventory Management Software), mobile apps, domain names, and more.
A further filtering option lets you select buying options based on project types, project status, price, submission date, and target market. In the listing, you will find information about the project summary, description, reasons for sale, and items included.
The listings on SideProjectors are not screened and sales are not managed by SideProjectors. Before buying or selling, you should do your research. They also don't offer an escrow service, so buyers and sellers have to agree on a payment method themselves.
Best Feature?
On this marketplace, you can find projects seeking partnerships or co-founders.
For $3 a month, you get access to various benefits such as customized project email alerts, Stripe payments, direct messages, real-time alerts, and no ads.
Also, for $10 per day, you can sponsor your listing to increase its visibility.
Who is it Best For?
If you're looking for something to do on the side of your 9-5 job, this is the marketplace to check out.
You can also use SideProjectors to list projects that you worked on but never turned into a business, so you can get a return on your investment.
#7. Best For Buying Profitable Online Business: Latona's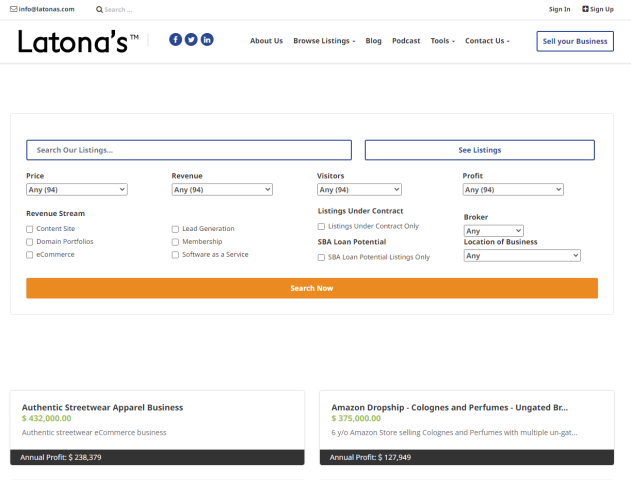 Latona's specializes in high-value business sales and acquisitions. In addition to online boutiques and Amazon stores, Latona's also offers listings on lifestyle and news media platforms.
Businesses sold by the company must make at least $20,000 in profit and be at least one year old. They do, however, have a number of websites and online businesses available for sale all the time.
Additionally, the buyer is not charged any fees. Also, you can use the unique filters to search for businesses that are SBA loan eligible. A section of listings under $3,00,000 is also available for buyers on a budget.
Best Feature?
Among the business listings available on this platform are domain portfolios, content sites, lead generation, membership, eCommerce, and SaaS applications.
It helps you decide whether to go with a payment plan or a single payment.
Each listing is a profitable online business for sale.
Who is it Best For?
People who wish to buy profitable online businesses are invited to this marketplace. And if you are looking to buy an online business in lifestyle, health, and wellness, Latona can get you the best deals in these niches.
Click Here to Know More About The Top Choice: Empire Flippers.
What Are The Factors to Look for In Buying and Selling Online Businesses?
Starting an online business from scratch is not for everyone. And buying an established business has plenty of advantages. To that end, the business you purchase should have a history of generating revenues and cash flow.
Here are some things to consider while buying the right online business.
Monthly Traffic
When buying an online business, you should look at the monthly traffic. You should also look for traffic diversity.
It should be a healthy mix of:
Organic traffic
Paid traffic
Direct
Social Media Traffic
Referral Traffic
It is possible to find out how customers are finding your store by using tools like Google Analytics. As well, look for high-quality backlinks since such sites are more valuable than those with no backlinks or low-quality links. In this case, you can examine a site's backlink profile by using tools such as Ahrefs and Open Site Explorer.
Generate Revenue
Unless you are very skilled or experienced, it's not worth the risk to manage a failed business. Instead, pick the right business with growing revenue.
Request the financial data in monthly increments. This will allow you to determine the direction in which your business is heading.
Expenses
Before you purchase a business, you should consider the costs of web hosting, domain renewals, digital marketing, and SEO.
You should also look for expenses that seem irrationally low or are not mentioned by the owner. The expenses include integrations, plugins, processing fees, etc.
Buying a business that requires more expenses than it makes isn't a good idea.
Prospects for Growth
The right business you are going to purchase may seem perfect. But there are always ways to improve it.
Maybe the owner never hired a CRO service before. Hiring one can help you find potential conversion process loopholes in your business website.
Even better, you can launch a dynamic social media marketing campaign. The possibilities are endless. Be wary of businesses with little to no growth potential.
Consider The Key Metrics
With the help of various valuation and analytic tools, evaluate the metrics like monthly traffic, annual revenues, and net profits. They provide an indication of the financial situation of a business and whether it is established or not.
Determine The Purpose Of The Sale
It is important to determine why the owner of the business is selling. The chances of the business being unprofitable or lacking traffic should raise red flags, so you should move on to another company. By understanding the reasons, you can decide whether you're prepared to deal with them.
Identify The Business Model
It is essential to know the business model. There are many options, such as real estate websites, product-based, lead generation businesses, and subscription-based, to name a few. You should choose the business revenue model that best fits your short and long-term plans.
Customer Reviews
Last but not least, find out how satisfied the current clients are with the business. This will allow you to evaluate the company accurately.
In most cases, it is better to purchase an existing business than to start one from scratch. However, you need to be careful not to spend on a business that will not provide you with a profit.
Click Here to Know More About The Most Recommended Website: Empire Flippers.
How We Rank the Best Website to Buy Profitable Online Business?
The best website to buy legitimate internet business should have the following things:
Finding Buyers: The best website will enable you to find potential buyers who are genuinely interested in your business. The websites we discussed above include global investors who can buy millions of dollars. As a business owner, you should keep this in mind while doing business on these websites.
Diverse Listings: Ideally, the best place to buy a business online should have a wide range of listings. Many websites have multiple categories, where you can find business listings related to SaaS, blogs, tech, and more.
Safe and Secure Transaction: Websites offering escrow or other secure transaction systems rank higher. Such systems build the trust of both buyer and seller.
Financial Support: Some websites, like Flippa, offers financial assistance to small businesses. Own business with minimum investment on these websites.
>> Related Articles: Everything You Need to Know About Online Selling »
Conclusion
When it comes to buying or selling a business, success is determined by a variety of factors: business size, annual revenue, marketing channels, branding, growth, metrics, and so on.
If you're looking to attract buyers from overseas, Empire Flippers is an excellent choice. They have group premium buyers from all over the world.
On the other hand, there is no better platform to buy and sell startups and small businesses than Flippa. Flippa offers small businesses SBA loans and other funding programs.
In the case of large technology companies, Digital Exits can assist with every aspect of the sale.
>> Related Articles: 15 Best Stock Analysis Websites For All [2023]! »
FAQs
How Does Traffic Affect a Website?
With more organic traffic, websites are more likely to convert and sell. It is one essential metric when deciding to buy an online business.
How Does the Escrow System Ensure Safe Transaction?
An escrow is a system by which a third party holds money or assets on behalf of two other parties that are about to complete a transaction.
Like this Article? Subscribe to Our Feed!
John is an avid researcher and is deeply passionate about health and finance. When he's not working, he writes research and review articles by doing a thorough analysis on the products based on personal experience, user reviews and feedbacks from forums, quora, reddit, trustpilot amongst others.