Tradier Brokerage Review: Is it the Best Intuitive Trading Platform in 2023?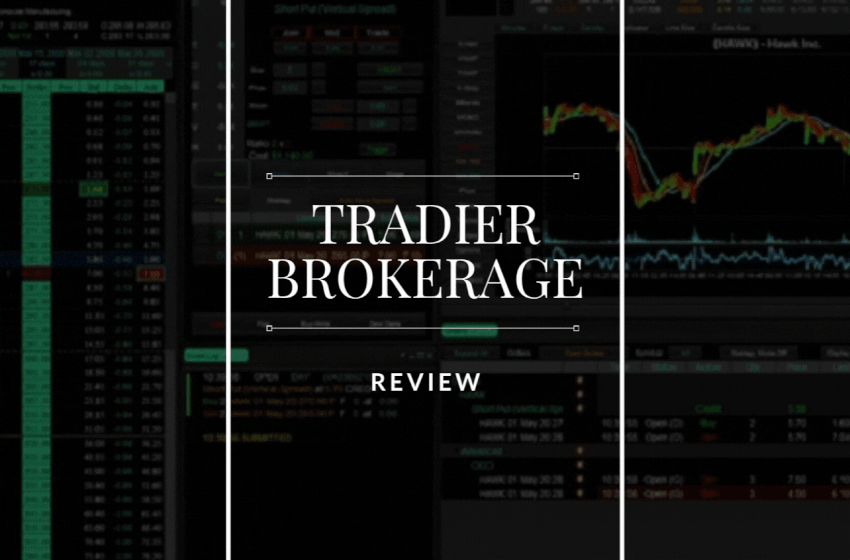 Want to jump straight to the answer? The best forex broker for traders is Avatrade
The #1 Forex Trading Course is Asia Forex Mentor
Many traders have sour user experiences with their brokers' platforms, but they seem to have no power to change anything. They often wished they had a trading tool to help a part of trading easy or they believed they could create a more comfortable trading application for themselves.
Tradier was the first backend trading platform, understands those trading needs, and has provided the tools needed by the traders to create their applications and indicators.
It also understands the difficulty of active users who have a series of accounts with many brokers and wish to consolidate them all in one location. Tradier Broker has provided such an opportunity.
With the innovations created by Tradier, it is the best intuitive trading platform that allows its users who have brokerage accounts to customize its platform as they wish.
Tradier Brokerage Review: What Is Tradier Brokerage?
Tradier broker is a registered broker by the Financial Industry Regulatory Authority (FINRA). It was initially an only backend trading platform until it recently developed its frontend platform. It offers several offerings for traders interested in having a technological taste and freedom to their trading experience.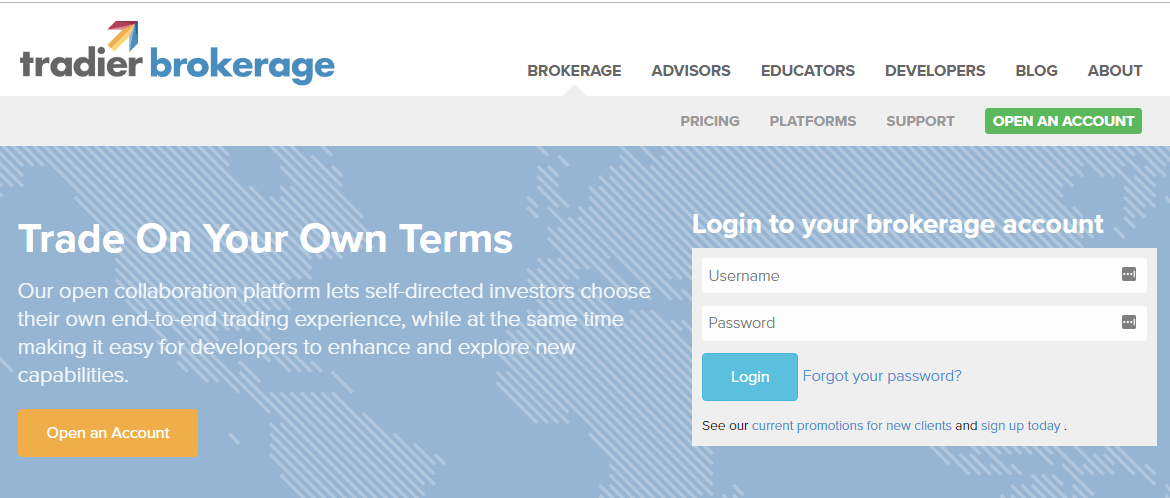 This platform provides a trading engine, a brokerage and portfolio management system, and market data. It also allows access to the Application Programming Interface (API), where the traders can create their trading platform and indicators.
Tradier's proprietary trading platform is called 'TradeHawk.' it was founded in 2012 and is based in Charlotte. It has provided a platform where other brokers' platforms can be hinged upon as it is compatible with several of them. This means that where a trader has accounts with more than a trader, he can operate those platforms from tradier's platform.
How does Tradier Brokerage platform work?
Tradier was originally a backend platform before it decided to delve into the frontend platform. Tradier supports the wide integration range of investment platforms making the Tradier a one-stop shop for traders with many trading accounts.
While the platform can integrate other trading platforms, it created its platform to provide brokerage services called 'TradeHawk,' were stocks, ETFs, and options trading are available.
It also provided two pricing models for its users. They can either enjoy the commission-free policy and pay $0.35 per contract or pay a flat fee of $10 monthly to ensure access to stock and options trading and the commission-free policy.
Click Here to Open an Account with Tradier Brokerage (Official Page)
What are the Features of Tradier Brokerage platform?
Tradier Offerings:
The broker offers stock, option, and ETF trading with two types of payment schedules. There are low fees and monthly fee payment schedules. It does not have other offerings such as cryptocurrency, mutual funds, etc.
The platform offers 22 stock exchanges and 14 options markets. It has a commission-free policy on its stock and ETF trades. There is a low margin trading interest of 5.25%. This rate is flat, no matter the amount borrowed for margin trading.
The platform offers a $0.35 per contract rate on options trading or allows for an options monthly fee of $10. This subscription covers every contract made for that month. It is one of the very few brokerage trading platforms that offer a monthly subscription for its customers.
Order Types
The platform provides for its users almost every type of order, including complex ones. This gets approval for experienced traders who would not want to be limited by the number of order types available in the broker platform because different trades require different orders.
Security
The platform provides insurance for its users up to the tune of $500,000. It is registered and insured with the SIPC. The website is relatively secure as it is encrypted. Also, the founders were formerly specialized in backend operations, which means they have learned the art of securing the money and their website. They know most of the tricks in the books and try to prevent a security breach of their platform and their users' data.
Education
Tradier platform offers several educational resources and research tools for its users, especially its beginner investors. These educational resources help build a trading strategy, learn about trading terms, understand the effect of financials, understand the tools on the platform, etc.
One of the resources provided by the platform is risk-free paper trading. This is a brokerage account where the user has a virtual capital of $100,000 and trades with them. The paper trading style helps users understand trading strategies and carry out their experiments on the market while running a risk-free account. It is free for 60 days, and it is the best practical way to test the tools on the platform since it is the closest type of trade to actual trading.
Another resource provided is the customizable sandbox platform. A tech cum active trader who had long wished to have the ability to create his trade tools, UI, and indicators would have a field day with the customizable sandbox platform as it allows you to create your applications and customize your dashboard and trading experience.
A Tradier blog gives a lot of information on the TradeHawk platform, including how to use the mobile app on different devices, including your mobile device.
The platform has partnered with several trade educators to help the traders with reliable data and educational content. As a user of the platform, you have this wealth of educators and mentors at your fingertips which you can explore to get better at your trading.
Customer Support
There is a chatbox on the platform where you can engage the customer service. A 'live support' feature allows customers to get comprehensive support from the customer service team, especially for technical questions. The team would get access to your screen to provide the support directly.
You can also reach customer service via their mail ([email protected]) or call-in support at 980-272-3880.
How much are Tradier Brokerage Commissions and Fees?
There are two different fee schedules which the users can choose from. These schedules are called the standard equity and options trading and the all-inclusive subscription model.
There is a commission-free policy per order for the standard equity and options trading and a $0.35 fee per contract. For the all-inclusive subscription model, you pay $10 to enjoy the commission-free policy for all orders and contracts for that month.
Margin trading is also available for a flat rate of 5.25%. Other Tradier's commissions and fees include Automated Customer Account Transfer (ACAT), Options assignment, IRA Annual Fee, etc., but these are the major ones.
Click Here to Open an Account with Tradier Brokerage (Official Page)
Who is Tradier Brokerage Best For?
Active Traders
Tradier has more active traders who are only interested in building their portfolio around equity and options. Some traders wish to stay with the markets they understand without exploring further because of the risk.
A trader like this prefers Tradier account because of the commission-free policy and the flat-rate monthly charge.
Tech-savvy traders
Some tech-savvy traders are interested in building or customizing their applications. They believe they can do better than the platform's UI and tools, and this service provider allows them to carry out their wish with the customizable sandbox platform.
Traders with several broker accounts
Some traders have several broker accounts and would love to consolidate their accounts in one platform. Tradier provides such a platform. Tradier brokerage account is a platform that offers integration with platforms like Esignal, Stockstotrade, Evati, and other platforms.
Tradier Brokerage Pros and Cons
Pros
Flat Margin Rates
Low minimum investment requirement
Self-Customizable platform
Wide range of integrated platforms
Cons
Does not trade mutual funds or cryptocurrency
Not ideal for a beginner investor
Tradier Brokerage User Experience
Tradier has a platform that allows you to customize your experience by creating your applications and trading tools. It also has an East way to open an account. However, some features dampen the user experience.
One Step Transaction Process
The brokerage has only one step transaction process, which means it cannot be an opportunity for traders to confirm the amount and order type of the trade before buying or selling securities. This should be improved upon.
Overwhelming features
A beginner investor would not find it fun using Tradier platform because of the overwhelming features that come with it. The platform is just right for professional traders and tech-savvy traders. The platform can be worked upon to make provisions for beginner investors.
Some of Tradier's competitors are Robinhood and E*Trade. Robinhood offers similar offerings with Tradier as both trade stocks, ETFs, and options. However, it stands out as it offers fractional shares and has an easy user interface that would warm the hearts of beginner investors. E*Trade also does not offer forex and cryptocurrencies like Tradier. However, it has a mobile app that provides for the wishes of both beginner investors and advanced traders. It also has more offerings than Tradier.
>>Read more About Robinhood Review: Is it the Best for Beginners Trading Platform?
While Robinhood is a commission-free platform, it has limited customer support as only the chatbox on the platform is available. Tradier has responsive customer support with the 'live support' feature to ensure all customers' technical or not queries are addressed.
E*Trade has separate platforms for beginner investors and experienced traders. Still, Tradier has a lower margin rate and allows tech-savvy investors to explore and create their applications and tools.
Click Here to Open an Account with Tradier Brokerage (Official Page)
>>Read more About E*Trade Review: Is it the Best Web Platform?
Choose Asia Forex Mentor for Your Forex Trading Success
If you have a keen interest in establishing a successful career in forex trading and aspire to achieve substantial financial gains, Asia Forex Mentor stands as the optimal choice for the best forex, stock, and crypto trading course. Ezekiel Chew, renowned as the visionary behind trading institutions and banks, is the driving force behind Asia Forex Mentor. On a personal note, Ezekiel consistently achieves seven-figure trades, a distinction that truly sets him apart from other educators in the field. Here are the compelling reasons that underpin our recommendation:

Comprehensive Curriculum: Asia Forex Mentor offers an all-encompassing educational program that covers stock, crypto, and forex trading. This well-structured curriculum equips aspiring traders with the knowledge and skills necessary to excel in these diverse markets.

Proven Track Record: The credibility of Asia Forex Mentor is firmly established through its impressive track record of producing consistently profitable traders across various market sectors. This achievement serves as a testament to the effectiveness of their training methodologies and mentorship.

Expert Mentors: At Asia Forex Mentor, students benefit from the guidance and insights of experienced mentors who have demonstrated remarkable success in stock, crypto, and forex trading. These mentors provide personalized support, enabling students to navigate the intricacies of each market with confidence.

Supportive Community: Joining Asia Forex Mentor brings access to a supportive community of like-minded traders pursuing success in the stock, crypto, and forex markets. This community fosters collaboration, idea-sharing, and peer learning, enhancing the overall learning experience.

Emphasis on Discipline and Psychology: Success in trading necessitates a strong mindset and disciplined approach. Asia Forex Mentor provides crucial psychological training to help traders manage emotions, handle stress, and make rational decisions during trading.

Constant Updates and Resources: The financial markets are dynamic, and Asia Forex Mentor ensures that students remain up-to-date with the latest trends, strategies, and market insights. Continuous access to valuable resources keeps traders ahead of the curve.

Success Stories: Asia Forex Mentor takes pride in a multitude of success stories where students have transformed their trading careers and achieved financial independence through their comprehensive forex, stock, and crypto trading education.

In summary, Asia Forex Mentor emerges as the premier choice for those seeking the best forex, stock, and crypto trading course to carve a rewarding career and achieve financial prosperity. Through its comprehensive curriculum, experienced mentors, practical approach, and supportive community, Asia Forex Mentor provides the necessary tools and guidance to mold aspiring traders into accomplished professionals across diverse financial markets.
Conclusion: Is Tradier Brokerage a Good Platform for investors and active traders?
Tradier is a fair platform for investors as it provides them with a series of analysis tools and features they need to ensure they enjoy their investment. However, it has a penalty for passive investors who make less than two trades per year as they will be charged an inactivity fee of $50.
It is a good platform for active traders as it provides a wide range of trading tools and order types to explore.
It also provides the active traders the ability to integrate their multiple platforms into its platform.
Active options traders who engage in frequent margin and options trades would enjoy the platform with the flat margin rate and the flat commission rate.
Tradier Brokerage FAQs
Is Tradier Brokerage safe?
Tradier provides safety measures such as website encryption to protect its users' data from a breach. It also insured its users' accounts with the SPIC up to the tune of $500,000.
The brokerage does this to spur confidence in its platform and ensure traders use it without fear of data theft or uninsured trades.
Is Mutual Funds a good investment?
Mutual Funds are a good investment for those who wish to have a professional help them trade securities, particularly securities they do not have enough capital to invest in.
They get funds from several investors and invest them in securities such as stocks. These investors share the profits and the losses proportionally.
Does Tradier Brokerage have an automated customer account transfer service?
Yes, Tradier broker has automated customer service that moves securities from one brokerage to another. This process is more straightforward with Tradier since it has a wide range of integrated platforms.
Click Here to Open an Account with Tradier Brokerage (Official Page)
Like this Article? Subscribe to Our Feed!
Wilbert is an avid researcher and is deeply passionate about finance and health. When he's not working, he writes research and review articles by doing a thorough analysis on the products based on personal experience, user reviews and feedbacks from forums, quora, reddit, trustpilot amongst others.