8 BEST Forex Trading Courses in 2023 – Reviewed By Dumb Little Man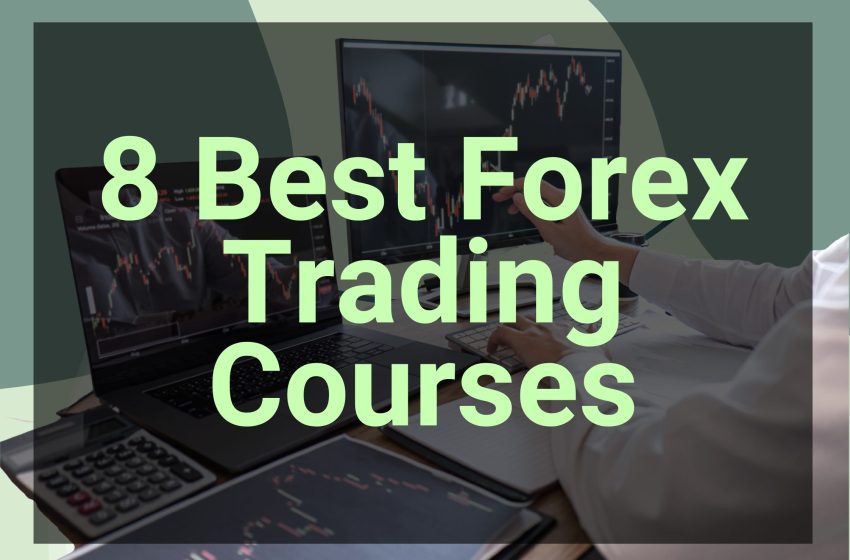 The forex market is incredibly volatile and confusing, to a large extent, and even seasoned traders sometimes struggle to make headway in it. That's why it's a smart idea to first invest some time and effort in gathering invaluable insight from the best forex trading course available before getting more involved in the market.
Online forex courses are designed to arm forex traders, especially those looking to get their feet wet for the first time, with sufficient background knowledge to help them escape common pitfalls associated with forex trading. They'll also help you achieve a working, practical understanding of investment strategies and forecasting currency trends, as well as introduce you to a vast number of brokers and trading platforms, leverage, transaction costs, and spreads.
The best forex trading courses are offered by successful and experienced traders who boast a verifiable track record. Subscribers will usually attain membership into the convener's trading forum as part of the deal. You'll also get the chance to learn at your own pace, along with access to a multitude of educational and engaging materials to help brush up your knowledge and skill.
There are several online forex trading courses available to all kinds of learners. While this is generally a good thing, it does pose a unique set of challenges for beginners who do not know exactly what they're supposed to be looking for. Again, these courses are mostly not offered for free, so there's an element of risk involved on the part of learners.
In this article, we've rounded up 8 of our favorite forex trading courses and compared all their relevant features to come up with the one that scores highest across all the boards. We made our forex trading course reviews as comprehensive as possible to make it easier to identify the perfect professional forex trader course for you.
8 Best Online Forex Trading Courses In 2023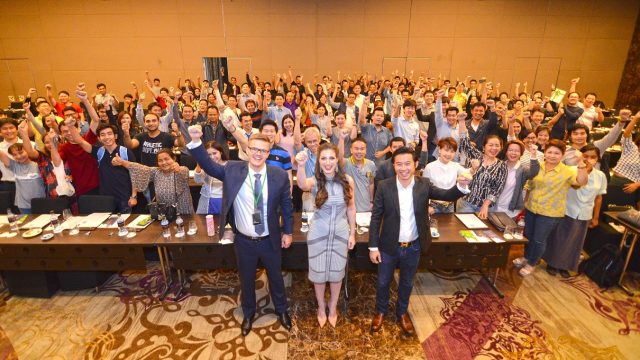 With over 26 lessons filled with detailed examples and spiced with insights from the personal experiences of Ezekiel Chew, Asia Forex Mentor's One Core Program is as comprehensive as they come, making it perfect for beginners seeking to establish a foothold on the forex trading scene. Beyond this, AFM's One Core Program is also attractive to gurus and financial and trading institutions, each seeking to leverage Chew's strategies in a bid to replicate his successes.
Established in 2008 in Singapore by Ezekiel Chew, Asia Forex Mentor consists of their proprietary One Core Program and The Golden Eye Group. Ezekiel Chew started the company to accommodate his friends' requests to teach them forex trading. The startup soon mushroomed into a community, and before long, Chew had to branch out into delivering online courses before later launching physical classes. Today, Asia Forex Mentor is a force to reckon with, counting among its clients The Development Bank of the Philippines (DBP), which, with assets exceeding $13 billion, is the second-largest state-owned bank in the country.
About Ezekiel Chew
As far as investing and forex trading are concerned, Ezekiel Chew is a real A-list trader Coming from a relatively humble background, he has established himself as one of the most prominent figures in Singapore's investment and forex trading space.
Ezekiel Chew, the founder of Asia Forex Mentor, is a well-known trading expert frequently invited to speak at conferences and panels worldwide. Ezekiel is often referred to as "the man behind the gurus." He is semi-retired and earns six figures a trade. He now concentrates on giving back by teaching what he knows through his One Core Program, which is now available in an organized digital learning format.
He devised his own proprietary trading system and forex trading strategies but did not experience success with them for more than 40 months. His success as a trader is credited to a mix of leverage and compounding. Instead of focusing on the ratio of winning transactions against losses, his method focuses on return on investment (ROI).
About The Course
Ezekiel Chew regards The AFM One Core Program as the culmination of over 20 years of trading expertise. His passion and enthusiasm shine through during his lessons, along with his in-depth knowledge of the subject matter. That is perhaps why the lessons are so engaging and easy to comprehend.
In this course, Ezekiel Chew teaches retail traders how to trade forex in the One Core curriculum, an online training program. It covers trade management, chart reading, trading skill development, trading strategy creation, risk-reward ratio components, and his MT4 setup.
There are 26 lessons in all, with many sub-categories, for a total of 63 videos, including a legitimate course introduction. It's a detailed instructional bundle that blends free internet content with Ezekiel Chew's hand-picked life examples drawn from personal experience and his interpretation, enhancing the total value of each session. Subscribers will also be admitted to Ezekiel Chew's Golden Eye Group, where he provides live trading setups, explains his perspective on various assets, and demonstrates how he executes his trades. The total cost of the course is $997, which is way worth the value for the information taught. But if you are not ready to commit just yet, Chew offers a free five-part training where you can see exactly how he teaches and why he is different.
Click here to get his free 5 part training where he teaches traders how to make big money in trading through mathematical probability.
---
2. Simpler Trading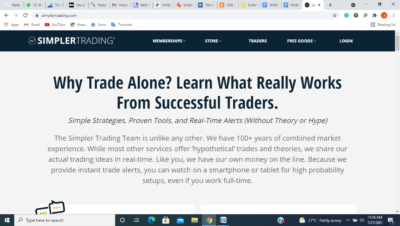 Simpler Trading is well known and highly regarded around the globe for its extensive offering of financial education materials. Over 8 highly successful and renowned traders bring a wealth of knowledge and experience to traders and learners looking for top-notch insights about forex trading on the Simpler Trading platform.
Simpler Trading provides instruction in webinars, videos, a live chat room, and mentorship using cutting-edge technology. The team of specialists is available 24 hours a day, 7 days a week, by phone, online, and in real-time. Depending on skill levels, financial instruments, and trading methods, there are around 66 courses to select from.
Simpler Trading's courses cover stocks, options, futures, forex, and cryptocurrencies and are appropriate for beginners, intermediate, and advanced traders. Students can also learn about Fibonacci price analysis, directional trading, straddles, strangles, and credit spreads, among other strategies.
How To Find the Strongest Forex Trends, headlined by Raghee Horner, is just an excellent example of online forex courses designed by Simpler Trading to help amateur and intermediate traders achieve consistently better returns.
About Raghee Horner
Raghee Horner has achieved phenomenal success in her 3 decades-old careers as a forex trader. She's cultivated a knack for finding the strongest trading trends. Her most significant record, which she still proudly holds, is that she's never endured a losing year throughout the entirety of her career.
Raghee's trading style is based on a systematic approach and a step-by-step process for constructing her trades. She is best known for having spent most of her now three-decade-long career using the same foundational tools. These tools apply to any market and time frame.
Her trade management and analysis are based on The 34EMA Wave and Propulsion Dots and GRaB Candles. Raghee is a trend follower, so these tools help her visually identify sentiment, momentum, and trends. Her tools are programmed to help her quickly and consistently determine whether, when, and where she should concentrate her efforts.
About the Course
In addition to being an accomplished forex trader and tutor, Raghee Horner is also a published author of several forex trading books. She's presented a myriad of courses and webinars on the Simpler Trading platform, and she brings her trademark analytical acumen and engaging manner of presentation to this course.
Subscribers to this course will be exposed to Raghee Horner's highly successful trading system. In the course, she breaks down her methods of taking advantage of strong trends and introduces her step-by-step trend following formulary and original tools. A unique feature of this forex trading course is its utmost simplicity, which ensures that even amateur traders will have no problems processing the information she gives.
If you're interested in subscribing to this course, Simpler Trading offers a 60% discount on the course, just for a limited period.
---
3. Trader's Academy Club by Vladimir Ribakov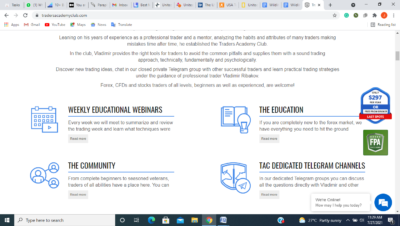 Trader's Academy Club by Vladimir Ribakov has justifiably received tons of positive reviews from enthusiastic traders. For one thing, this online forex trading class is anchored by Vladimir Ribakov, who is an accomplished and successful trader and teacher with years of experience. This course promises to elevate the status of traders, no matter what experience level they're at. And with demonstrable evidence of achievements backing up this claim, it's hard to find any negatives.
Traders in the club get full access to many effective tools, tailored trading ideas, and admittance into an exclusive group of successful traders, with Ribakov also in attendance. Subscribers also get premium educational materials and access to a comprehensive Media Zone.
About Vladimir Ribakov
Vladimir Ribakov has a sterling reputation in the world of forex trading. He boasts 12 years of solid experience in the forest space, enough time to carve out a name for himself and map out his own track record of success.
Ribakov operates a strict transparency policy, and he lays bare everything about his forex trading journey on his website. This adds an extra layer of authenticity to his operations and records.
Ribakov is also a vocal, instantly recognizable actor on the forex trading scene, stemming from the fact that he's enjoyed a long and fruitful association with the forex community. He's the recipient of numerous awards recognizing his contributions to the field, both as a forex trader and forex trading mentor.
In his own words, Ribakov says that he established Trader's Academy Club to help forex traders avoid the numerous pitfalls in the forex market.
About The Course
The live trading sessions, which are broadcast daily in 30- to 50-minute segments via webinar, are the most popular part of the course. Students will receive Forex signals and detailed analysis during the sessions, which will break down the mechanics of each trade recommended during the session.
Members of the club get access to a vast library of educational materials on Forex trading. This includes everything from videos to ebooks to trading guides and tools. The materials provided in the course also cover a wide range of topics, from a beginner's guide for newcomers to advanced/expert analysis. This material can be quite useful to you, no matter what stage of your trading career you're at.
Another important feature of this course is the provided webinars hosted by Ribakov and other team members. Ribakov and his team provide suggestions for trading opportunities and also break down the day's trading strategies in these webinars. In addition to all of these, members of the club get access to trading tools developed by Ribakov and access to the traders' community.
This course costs $197 per year. However, there's a free seven-day trial for you to get a feel for the course and make up your mind if it's the one for you.
---
4. Udemy Forex Trading A-Z Course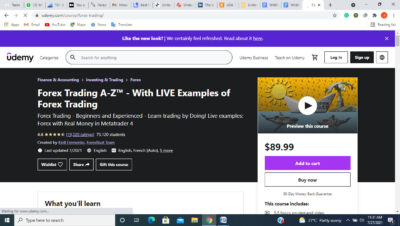 Udemy is one of the foremost providers of online courses, with its hands in many pies. This forex trading course is surprisingly detailed and surprisingly good and is made all the more remarkable by its low price.
The sheer comprehensiveness of this course, coupled with its affordability, makes it almost tailor-made for beginners who would typically want to test the forex trading waters before taking a full dive into the deep end.
Like most Udemy courses, traders who complete the course get a certificate along with lifetime access to the course and everything attached to it. Further, subscribers to the course are entitled to support from the tutor anytime they feel stumped or are struggling with a particular concept.
The course developer is Kirill Eremenko, a Forex systems expert and a data scientist.
About Kirill Eremenko
Krill Eremenko does not boast other course developers' profiles or international recognition on our list, but that doesn't make him any less remarkable.
He is a data scientist and forex trader with over 5 years of experience in various industries, including finance, retail, and transportation. He also works as a consultant and teaches courses on Udemy as part of the SuperDataScience Team.
Kirill combines his professional experience with his academic background to provide excellent courses for learning enthusiasts. He holds degrees in Physics and Mathematics. He has also enjoyed forex trading for the past decade because it provides him with a sense of personal and financial independence.
About the Course
Subscribers to this course can expect a thoroughly in-depth course. As a matter of fact, Udemy's back to basics approach is what stands it apart from other courses and makes it so ideally suited to beginners.
Beginners will learn all they need to know before embarking on the forex trading journey, with basic terms such as charts, currencies, forex brokers, and short selling.
The full course is divided into nine sections:
Forex Basics
Forex Acronyms and Jargon
Forex Analysis
Fundamental Analysis
Technical Analysis
MetaTrader 4
Calculating Risks the SMART Way
Examples Using REAL Money
Bonus Lecture
The course is also heavy on video materials, with more than 57 short videos delivering the lectures. As mentioned earlier, people who subscribe to the course get access to lifetime support, meaning that they'll have automatic access to materials uploaded at any stage when they get uploaded.
Naturally, you'd expect a course that's offered at such a low price to be missing certain key features, and Udemy does have a few shortcomings, the most notable being the absence of practical learning applications, live instructions, and live trading sessions. However, these absences do not impair the learning process at all, and for $12.99, you can look forward to a detailed, in-depth course about forex trading.
---
5. ForexSignals.com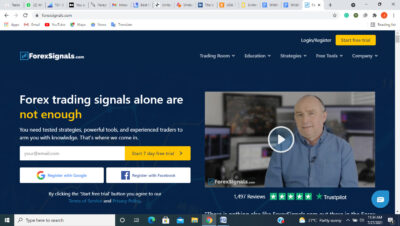 ForexSignals.com is one of the most popular forex trading platforms throughout the whole industry. One only needs to look at the full range of advantages it offers to know the reason. Amongst others, ForexSignals.com offers a wide range of strategies, a vibrant community, high-quality signals, and unimpeded access to professional mentors.
Established in 2012 by experienced forex trader Nick McDonald, ForexSignals.com offers a platform for traders seeking to improve their knowledge of the forex trading market in an environment that actively encourages them to skill up.
Access to professional traders around the clock and daily live analysis streams, and other active community engagement opportunities are all part of this focus on interactivity over passive information.
With a complete academy and a YouTube channel full of tips and guidance, there is also a focus on learning and understanding Forex. Apart from its excellent courses, ForexSignals.com actively encourages your development with cutting-edge trading tools, a community of like-minded traders, and expert mentors offering pro advice.
About Nick McDonald
When Nick McDonald founded ForexSignals.com, he was just a fresh-faced trader with a vision of providing increased value for forex traders. Today, he's an acclaimed independent trader and financial educator with a strong global following.
Adopting an approach that sought, above everything else, to provide value to traders by teaching them how to identify trends and generate their signals, with a team of experienced and professional experts trading with the same insights they provide.
Nick left his nine-to-five job in London in 2004 after discovering technical analysis to become an independent full-time trader, making him a visionary in the industry. He established Trade With Precision in 2006 in response to corporate requests for him to train retail traders for large brokers and exchanges worldwide.
Nick has taught clients from the CME Group, ICE Futures, NYSE Liffe, TradeStation Securities, ETX Capital, IG, OANDA, RJO Futures, Nadex, Open E Cry, CMC Markets, Traders Magazine, Traders Expo, and many others throughout his career.
About the Course
Although a wide range of traders will find the offerings in this course useful, it's primarily been designed for new and inexperienced traders. The platform provides a myriad of options for trader improvement, which is amply reflected in the way lessons are presented. The course introduces the rudimentary aspects of forex trading before gently evolving to the more technical aspects.
The trade room is the hub of the course, a vibrant and active community of traders and professional mentors who provide feedback and support through live streams, chats, and video content.
Four mentors take turns providing live streams throughout the trading day, beginning early in the morning and continuing through the London/New York sessions and even the Asian session. The live streams are also available on-demand, so you can stay up to date even if you missed the broadcast. Real-time trading, advice, questions answered, and educational content is all available during the live streams.
Another outstanding feature of ForexSignals.com is its provision of three trading strategies, offering greater flexibility along with the chance for members to choose what works for them specifically.
In terms of pricing, this platform provides good value for money. At the lowest level, the Apprentice plan offers daily live trading sessions, access to the trade room, access to professional trading tools, and live interactive sessions at $97 per month and $297 annually. The Professional package gives you full access to all ForexSignal.com's features at $567 annually. New traders can test drive the platform free for seven days, and the company also operates a money-back policy if you're unsatisfied with the service seven days after payment.
---
6. Six Figure Capital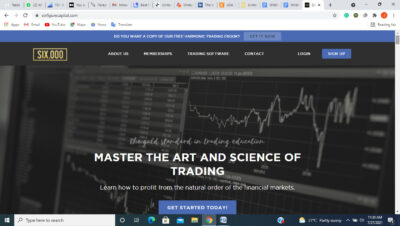 For the novice and intermediate forex traders looking to bump up their skill within a relatively short period, there's no better platform than Six Figure Capital to get it done.
Six Figure Capital offers a course designed by Lewis Glasgow. The course, titled Master the Art and Science of Trading, runs for 14 days and packs a wealth of trading information, distilled into 19 videos spread over two weeks. The beauty of this course is that at no point does it leave you suffering from an overload of information.
According to Lewis Glasgow, the course aims to teach you how to profit from the natural order of financial markets. Glasgow, who is staunch in his dislike for the needless complication of forex trading, only entered the forex trading market in 2013, making him a relatively new trader.
He founded Six Figure Capital in the UK in 2016 after attaining global attention for successfully developing a new method for generating signals. His seemingly sudden success inspired him a passion and fervor for teaching that eventually culminated in this 14-day course. The course is a precursor to Glasgow's harmonic patterns course, which he says is the most advanced forex trading course available.
About Lewis Glasgow
Lewis Glasgow's meteoric rise to global prominence appears to be quite sudden. In reality, it is anything but. By his admission, he didn't find much success throughout his early stages of trading. As a result of the combination of certain factors, including having the wrong expectations, applying unprofitable trading systems, implementing useless information that held no real market value, and failing to develop strict risk management rules that stood in alignment with his trading plan,, he lost huge sums of money.
Yet, as he developed as a trader, he developed a highly profitable system that proved useful in various financial markets. His trading strategy is based on harmonic patterns, which are defined by distinct and consecutive Fibonacci alignments. Lewis was drawn to this methodology because he was passionate about learning about trading behavior, particularly its impact on the market from a cyclical standpoint.
He attributes his success as a trader and mentor to his keenness for simplicity and attention to discipline, patience, and emotion.
About the Course
Glasgow spreads 19 lesson videos across the duration of this course, with a brand new topic introduced every day. This arrangement is intended to keep learners engaged and prevent fatigue.
Throughout the course, subscribers are exposed to live trading sessions, offering you a chance to gain useful real-time experience. Also, you'll gain access to four bonus modules and a wide range of extra course materials, including spreadsheets and ebooks.
Perhaps the standout feature of this course is the social platform Slack, where you can network with your coursemates and gain valuable insights from more experienced traders than you.
After completing the 14-day course, students can enroll in Six Figure's advanced harmonic mastery course, which teaches students how to trade using the company's proprietary harmonic pattern software.
To become a member of Six Figure Capital, you'll need to pay a one-time fee of $1058 (£800) or spread monthly payments of $128 (£97) over 12 months. Becoming a member guarantees lifetime access to new course materials and continuous support.
---
7. Forex Trading Coach by Andrew Mitchem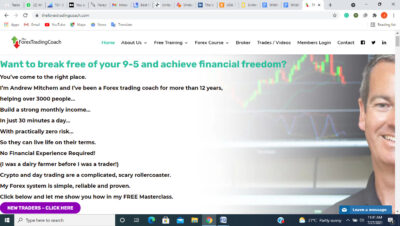 The Forex Trading Coach is a unique course developed by Andrew Mitchem and run by Andrew, Paul, and Mikalai. We say it's unique because rather than being made specifically for a certain type of trader, the course is beneficial to all forex traders, regardless of their skill or experience levels.
That said, beginners can benefit a great deal from this course. Michem says that the course was designed to help traders grow from rookies to experts in 90 days. According to Mitchem, beginners may even make better traders since they're more likely to progress faster than someone with years of experience and who may have plateaued.
Andrew Mitchem founded Forex Trading Coach in New Zealand in 2008 after working on and developing a trading strategy that yielded a consistent profit for him. One remarkable thing about this course is the level of detail it provides, and just a few minutes into it, it becomes clear that the course was designed by someone with a lot of experience, who wants to guide other traders to avoid making the same trading mistakes he made as a beginner.
About Andrew Mitchem
Andrew Mitchem is an experienced, full-time currency trader, investor, and mentor. Massively experienced, he's been trading since 2003 and established Forex Trading Coach in 2008 after landing a trading strategy that made trading forex extremely profitable for him.
Like any other trader, Mitchem had many tough years as a beginner. He failed to make a profit for his first four years as a trader, which he says resulted from the unhelpful e-books and purchasing trading robots that made false promises of success. He soon got rid of most of those materials and concentrated on developing his strategy. That move paid off, and Mitchem says that he's delivered his course to people in more than 97 countries across the globe.
Andrew Mitchem's trading strategy is based on technical analysis. He pays attention to high-impact news releases, but they have little bearing on his trade. It's all about utilizing his total strengths and limitations, according to him. He does well by focusing on trading continuation or reversal patterns, which are both extremely easy.
One of the finest trading recommendations he can give is to keep things as simple as possible while trading. In his trade, there are a few things he prefers to see. If he's going to execute a bi-trade, he likes to see a downward pullback first, followed by a bullish pattern to reversal, for example.
About the Course
The course is very detailed, with a wealth of trading materials to help traders get up to speed. Andrew and his team hold regular live webinar sessions, where he discusses trading strategies and provides forex trading guidance to clients on the platform.
Support is ongoing and superb, with Andrew or any other team member willing to assist with your inquiries within a short while of you reaching out to them. Further, there's an online community on the platform, with traders of different skill and experience levels ready to provide assistance and support to each other.
The pricing of this course varies, depending on the bundle you want to subscribe for. However, all the bundles are fairly reasonably priced.
---
8. The Trading Masterclass by 2nd Skies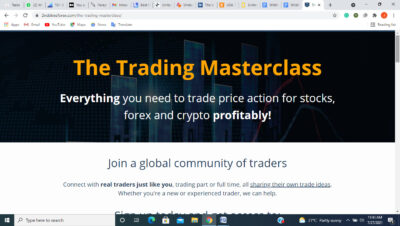 Another course suitable for beginners and more experienced traders, The Trading Masterclass, can benefit newbies who want to advance their skills and increase their profitability.
Chris Capre and 2ndskiesforex diverge from the norm a bit with The Trading Masterclass. Rather than market a miraculous trading strategy, the overarching aim of this course, as revealed by Capre himself, is to challenge his clients to adopt a change of mindset instead.
The course is divided into three different modules, and you'll get to learn how to trade bonds, CFDs, equities, indices, forex, and stock. Before this, though, you'll be given a detailed introduction to currency trading, complete with a full explanation of the terms.
On the platform, there are over 50 free videos for non-members. Members get access to several tools and course materials, along with other perks such as pre-market analysis, live trading with Chris, weekly market analysis, live ongoing mentorship, day and swing trading channels, and exclusive video lessons. Our only grouse with this platform is that it's not licensed in the US, which may make things complicated for US traders.
About Chris Capre
Chris Capre is an experienced and successful forex trader and mentor. He founded 2ndSkiesForex in 2007. He's a proven profitable trader who also serves as a trading mentor. Capre specializes in trading Price Action and the Ichimoku cloud as a professional trader. As a trading coach, his objective is to transform the way you think, trade, and perform by combining 18 years of trading expertise with cutting-edge neuroscience to rewire your brain for trading success.
He has a preference for price action, which he's been using right from the start, and with his strategy, he was able to turn $3000 to $83000 in six months. Capre also claims to have spent over 40,000 hours behind the charts and lists trading, teaching, and philanthropy among his biggest passions.
About The Course
The course is fairly comprehensive, and the support is great. Chris Capre and his assistant Sascha Gogolin are fairly accessible, sparing no pains to respond to questions and provide assistance whenever you find yourself stumped. Both Chris and Sascha provide weekly webinars to discuss market trends and provide pre-market analysis before starting your trading day. In addition to this, members can replicate Capre's trades and access exclusive video lessons.
Most of the course materials are video-based, and the videos and webinars are recorded to view whenever you want. Members also get access to live ongoing mentorship.
Members can choose between four different classes: the Advance Price course ($390), the Swing Day course ($449), the Advance Traders Mindset course ($399), and the Advanced Ichimoku course ($319). You can also purchase all four courses at once, at the price of $1407.
---
Characteristics of the Best Forex Trading Course
Several online forex trading courses all claim ownership of the title of best. In the same vein, different courses approach the teaching of forex in different ways to be more attractive to their target audience. However, most of the more valuable and respected courses we reviewed have all the following characteristics:
They appeal to all types of learners
The very best online forex courses are suitable for learners of all kinds, regardless of their experience or skill levels. Also, learners tend to prefer courses that provide course materials across different platforms.
Some people prefer articles; some would like webinars better, while others like the easy accessibility of videos. The best courses incorporate all of these instructional styles and methods on their platforms.
Professionally presented course materials
Course materials that are not presented professionally do not reflect well on the mentor. If you notice consistent instances of bad grammar, spelling, and formatting, that may indicate that the trainer has a lax attitude to the course, which is not the best image to project. The best courses try as much as possible to avoid these slips.
Engaging material
It's a lot harder for people to focus for extended periods in online classes due to competing interests. The best trading courses deal with this by providing compelling reasons for their students to maintain concentration. They do this by making the class as immersive and engaging as possible and making sure that there are no walls of text at any point during the class.
Fully functional course mechanics
Subscribers to courses are bound to lose interest sooner than later if they have to contend with broken links to material, excessive loading and buffering, and other technical challenges. So, mentors need to possess at least basic technical proficiency levels and check their resources regularly to ensure that there are no defective ones.
FAQs
Are online forex trading classes worth it?
That would depend on how serious you intend to get with it or what you're aiming to get from the course. If you want to become a serious forex trader, however, you'll probably need to subscribe to at least one of the best online forex trading courses available.
Is forex trading a good idea?
For people who are patient, disciplined, and knowledgeable, and who want to make a career out of trading forex, forex trading is a great way to make extra money while working from home. However, forex trading is not a get-rich-quick scheme, and if you find yourself lacking any of the required qualities to thrive at it, you probably should consider looking at other avenues.
Are online forex trading courses good for experienced traders?
While most forex trading classes are designed for beginners, there are still quite a few of them that can help seasoned traders or even experts learn a few new things. The One Core Program by Asia Forex Mentor covers from beginners to advanced.
Wrapping Up
The forex market offers fantastic opportunities to earn extra income from the comfort of your home. On the flip side, it's riddled with many risks and pitfalls, and to navigate through its unique challenges, solid trading education is a must.
We've examined eight of our favorite forex trading courses and, after reviewing their strengths and weaknesses, we established Asia Forex Mentor as the overall best forex trading course available.
Like this Article? Subscribe to Our Feed!
Ben is an avid analyst in the money and investment field. His expertise in the trading and investment field allows him to produce unbiased reviews based on either his personal experience or running in-depth tests on the product/services.