7 Best Stock Brokers: Top Stock Brokers Review of 2023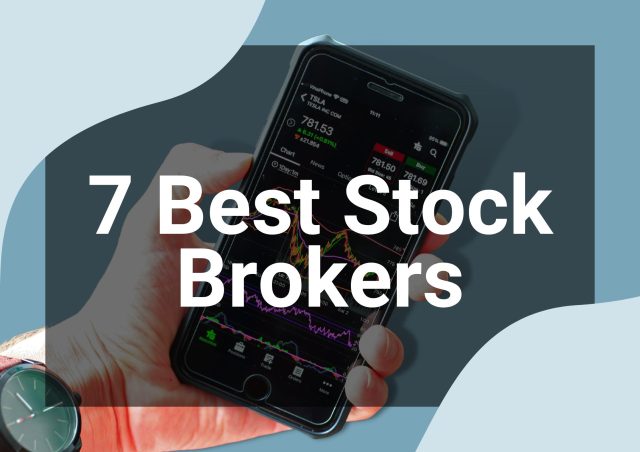 Believe it or not, an online broker is a financial institution designed to help customers purchase different securities such as stocks from one of the best trading platforms with the right financial advice and free trading features.
Do you know we call online brokers also discount brokers? That's because the best brokers offer a considerable discount on full-service brokerage and other charges. But wait! You will need the right investment advisor as the task is a bit intimidating after different fluctuations in the market.
Admittedly, the best brokerage firm is easy to understand and is investor-friendly, making it reliable for beginners and professionals. You can invest in different assets such as bonds, exchange-traded funds, and other mutual funds options.
With account minimum and right brokerage account, you will get the most exclusive stock market benefits, whether it's a taxable brokerage account or not. Read the educational resources to get the best benefits. Let's get right into the details!
Best Stock Brokers in 2023
7 Best Stock Brokers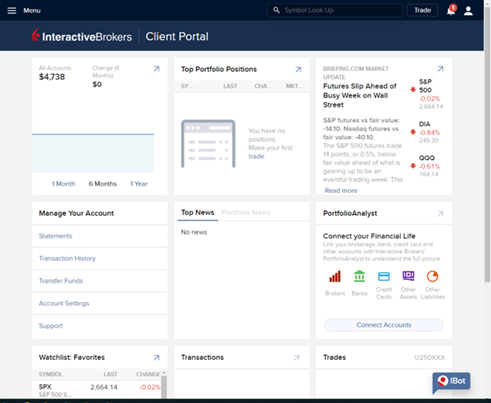 Interactive Brokers are the institutional investors that promote commission-free trading while providing the most accessible brokerage services for decades. This sophisticated publicly-traded company has got the top rankings for the best online brokers for stock and ETF.
Interactive brokers offers the customers global as well as US-based trading. The two plans that the company thought about are IBKR Pro and IBKR Lite.
The IBKR lite customers are available to trade forex, options, stocks, bonds, funds, and options on up to 135 markets, not more than one trade accounts. for the convenience of the customers to easily evaluate assets among the socially responsible investing lens
The IBKR Lite does not offer any trading fees or commissions. For all the experienced active traders who need a wide variety of investments, these brokers are the best choice making them the best online broker.
How does it work?
Like all the online brokers, IBKR also produces interest earnings with the difference between what it earns on the customer's cash backs and what it pays on their idle cash.
The company also offers market research. Like most, the brokers produce income when they accept payment from the market makers to direct orders to the trade venues. That is known as the payment for the order flow.
When the stocks held in the client's account are lent to other hedge funds or traders, the stock loan program produces revenue for interactive trading brokers.
From all the loan shares, the company provides 50% of the total income that it receives to the client. A mobile app is available for the customers who are approved for cash account or margin account with 50000 dollars. The trading interactive brokers offers exclusive benefits.
Pros
Low fees and commissions
Impressive platform stacked with multiple features
Incredibly decent and effective trade execution
A broad range of investment features and offerings
Cons
The platform is a bit intimidating, mainly for beginners
It utilizes highly daunting tiered pricing plans
Commission & Fees
You will find the pricing scheme for these brokers a bit complicated. That's because it includes three different types of commissions named fixed, tiered, and lite programs. Firstly, let's talk about stocks and ETFs. It costs $0 for IBKR lite accounts and ranges from $0.005 to $0.0035 per share for at least 300,000 shares per month or a minimum of $0.35 per trade.
Moreover, depending on the trade volume, the commissions are $0.15 to $0.65 per contract. When trading 15 contracts, it will cost 32.50. Mutual funds are lessening than 3% of total trade value costing $14.95 for funds. When we talk about the future trades, it costs $0.85 per contract with additional regulatory and exchange fees.
Click Here to Open an Account with Interactive Brokers (Official Page)
>>Read more About Interactive Brokers Review: Is it the Lowest Cost Online Stock Platform?
#2. Best brokerage accounts: Robinhood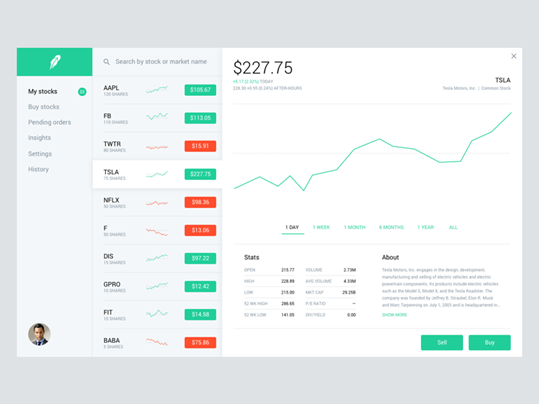 If you are not experienced in investments and your savings account has zero balance to start investments, then Robinhood can help you get accustomed. It is a huge task in comparing the settlement order flow of RobinHood with those of the competitors because it does not publish any type of trading statistics.
The way the broker's route order is whether the trader will receive the best price when the trade is placed. Such a price is called price improvement. This broker also does not disclose price improvement statistics.
All the new investors choose RobinHood due to its zero balance requirements for opening brokerage accounts, easy-to-use interface, and low fees. Clients can trade stocks, cryptocurrency, options, and ETFs. However, there aren't any fixed forex, mutual funds, income, and futures trading.
For trading on market data, in-depth research reports given by MorningStar, view, and margin, the customers need to pay 5 dollars every month for the Robinhood Gold.
How does it work?
The offering range of this broker is cryptocurrency, stocks, options, and ETFs trading. It does not support fixed-income products and mutual funds. In addition, you can not trade future, forex, and commodities.
RobinHood is easy to use and set up. It is possible because of a mobile app which only focuses on basics. For the investors who principally use a device to manage accounts, RobinHood is the best choice.
RobinHood is a mobile-first brokerage aimed at investors who need an easy-to-use trading app without whistles and bells. Unlike other traditional brokers, it does not provide tools that are the same in-depth.
Pros
No account minimum.
Streamlined interface.
Cryptocurrency trading.
Easy to use
Cons
No retirement accounts.
No mutual funds or bonds.
Commission & Fees
There isn't any commission for ETFs and stocks. Also, there are no charges on options trades. Margin trading demands a subscription to RobinHood Golden 5 dollars each month, including 1000 dollars of margin. You will pay 2.5 percent interest if you use above the margin. For an account transfer, you will have to cost 75 dollars.
There aren't any international or domestic wire fees. There aren't any account maintenance, inactivity, or opening charges. To send a domestic check overnight, the check fee is 20 dollars. Charges for live brokerage are 25. Although contacting a broker is not obvious.
Click Here to Open an Account with Robinhood (Official Page)
>>Read more About Robinhood Review: Is it the best for Beginners Trading Platform?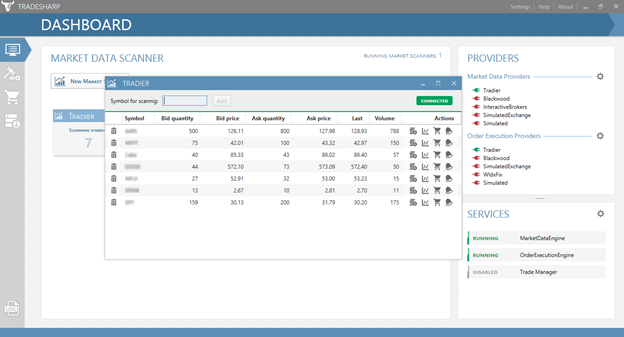 Tradier is a very high-tech broker while keeping in mind some active traders. It provides a large span of platforms to the investors because it uses API technology to collaborate with well-known trading software.
Tradier has invented a plan for an API-integrated brokerage firm. The special feature of the brokerage is that it has customizable interface options. Unlike other brokers, only provide limited ways to customize trading stations.
Instead of that, the Tradier uses an open API interface that allows integrating a platform of your choice into a Tradier workstation as you take advantage of low commission and fees.
It doesn't matter if you are a long or short-term trader and are looking for holds to add to your portfolio; prices and quotes that are up-to-the-minute are crucial.
How does it work?
If you are a tech-savvy or advanced trader, then Tradier's customizable sandbox is made for you. This can help you to make an application by using market data and a paper trading account.
It makes the traders accessible to ETF and the stock market, 14 options, and 22 stock markets. It requires no commission on ETF and stock executions.
The traders who borrow on margin will pay an interest of flat 5.25 percent. Such rate is significantly lesser than other competing brokers, most importantly, the dealers are not thinking of borrowing thousands or hundreds of dollars for trading.
Pros
A wide range of integrated platforms provides an option for any trader.
All-inclusive per-month subscriptions
Exceptionally affordable margin rates.
Quality real-time market data and execution power platforms.
Cons
No online mutual funds are currently available.
newer traders may prefer a platform with fewer integration choices
Commission & Fees
Opening an account with the Tradier, you have a choice between two free schedules. Options trading and standard equity come along 0.35 dollars for each contract and no fees per order. If you are an active trader, you may like the all-inclusive subscription model.
To enjoy options trading and commission-free, you'll pay 10 dollars a month. It is also offering broker-assisted trades of 10 dollars that is cheap than other brokers. For opening Tradier's account minimum of 0 balances is required.
Click Here to Open an Account with Tradier Brokerage (Official Page)
#4. Best online stock brokers: Cobra Trading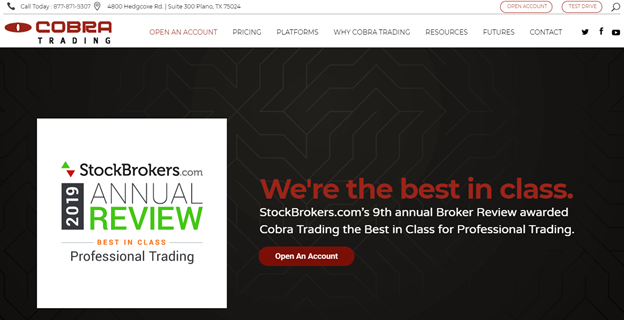 Cobra Trading gives access to the market directly and provides a plethora of routing options to carry out your trades. The Cobra Trading is designed for the active traders and client support that is needed to navigate markets on a given trading day.
DAS is a go-to trading platform for this broker because it is the most versatile and responsive trading platform on the market. The company focuses on cooperation along with experienced investors. Investment options are also included. Thus, the clients of this broker can open corporate, individual, and joint trading account.
Many brokers cannot provide their clients access to short locates, but Cobra is not one of them. Check out the share availability and avail advantage of great opportunities in the market.
The Cobra Trade gives direct access to the market and offers an abundance of routing options for carrying out trades. Cobra Trading is made for active traders while offering clients the support needed for navigating markets on a given day.
How does it work?
Trader Union is a partner of Cobra Trading, which enables the traders who have a Cobra Trading account so that they can receive a financial bonus to trade in the form of rebates. It works in the following manner.
The users of Cobra are able to lessen their transaction costs. For this, you should be part of Trader Union Rebate. to be part of this service, you have to go through a quick registration on Union's website page.
Cobra Trading is a direct market access broker that promotes many routing options to evaluate the trades. Cobra Trading Offers the client support required to navigate the markets.
Pros
Affordable commissions
The DAS Platform
Excellent customer service
Cons
No trading under 25K
Not a self-clearing firm
Commission & Fees
The users can get a 25% commission discount whenever they open an account. This .003/sh rate is highly competitive and reliable.
DAS comes with $125 a month. You can waive the fee every month to trade over 250k shares each month. It has additional features such as relay mode and access.
Click Here to Open an Account with Cobra Trading (Official Page)
#5. Best account minimums: Sofi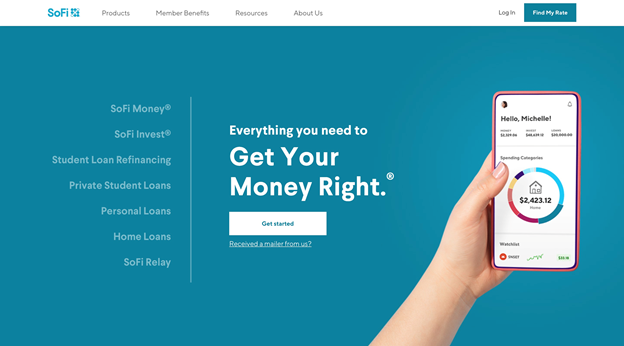 Here we go with Sofi, a well-known cash management brokerage account that aims to earn high interest with minimum fees. Do you know everything about the company? It works excellent with people who know about SoFi loans and SoFi Invest. Let's consider it in detail!
Admittedly, SoFi Money provides different types of accounts, such as brokerage accounts and loan features. Here we have discussed the options in detail as it helps the user open many accounts like joint and individual accounts.
Firstly, you must know about the cash management policies. For instance, SoFi is not a bank but a bank account. Have you got that? It's basically a brokerage account designed with a SoFi Money debit card and app.
The account involves the user performing different money management tasks, such as setting saving vaults or deposit funds and making different purchases through the SoFi debit card. That's how the SoFi Money account works!
Furthermore, it helps users send and receive money through person-to-person transferring, earning premium interests on earnings or cashback features on different purchases.
How does it work?
Do you know SoFi will not charge any maintenance fee or minimum balance fee? Moreover, it doesn't include any overdraft fees or account charges. The charges will not include the first replacement card, cash rush delivery, and stop payments with other services.
The account will provide users access to an effective spending tool called SoFi relay. You can link the other bank accounts with different financial institutions to help users know where they stand. You can set spending targets to know about the top spending options.
When people use SoFi money through a VISA card, that helps withdraw funds through an Allpoint Network ATM as it will not charge any fees. You will get reimbursement for the third-party ATM fees.
Whenever you use SoFi to shop, getting almost 15% cashback options on multiple purchases is essential. The categories aim to change, and you should consider the account to see the eligible stores.
When using money to shop, you may qualify to get 15% cashback on different purchases. The eligible categories keep changing, and you should monitor your account to see the eligible categories and stores.
Pros
Wide range of low-cost investing options
Free management
Enhanced and Automatic rebalancing
Effective customer support
Cons
It includes limited account types
Lacks tax-loss harvestings
Commission & Fees
Let's talk about the commission and fees! SoFi comes with a minimum deposit of $0 and requires a $0 minimum balance, making it more effective than others. It has no monthly fee and comes with an APY of 0.25% better than many savings account in the market.
It also enables the user to withdraw $610 in a single day with $250 peer-to-peer transfers. These highly effective fee charges make the option overwhelming and reliable.
Click Here to Open an Account with Sofi (Official Page)
>>Read more About Sofi Review: Is it the Best for Advanced Banking Products?
#6. Best stock market rates: Tradezero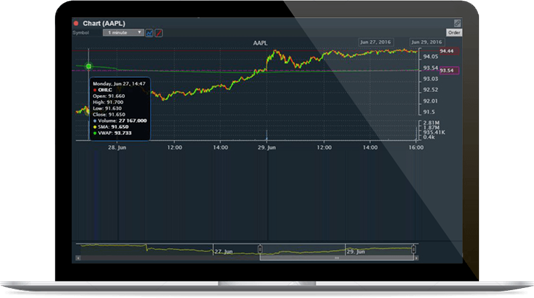 TradeZero is a free stock trading platform and online broker that enables traders to do free trading successfully, including round-the-clock customer support. TradeZero offers the clients four types of modern programs with services, commission-free trading, real-time streaming, and locator as a source to share shorting, to name some features promoted on the website.
It has remarkable ratings for its performance. The software gives a reputable, navigable, solid platform for the dealers to stay on top of the stock market trend. It is a great option for new and experienced active traders.
The user can choose among one 0f the three TradeZero platforms, ZeroPro, ZeroWeb, or ZeroFree, which are all different tiers and have particular functions. Along any of these three tiers, the ZeroMobile is included automatically.
How does it work?
TradeZero is featured to be a limited investment strategy platform. It means that it offers the sets of assets in a limit for the investors. Over here, the trader can trade exchange-traded funds, warrants, exchange-based materials, meaning products, and options contracts. The only excluded major assets are mutual funds, foreign exchange, bonds, and futures contracts.
This online brokerage firm is based in the Bahamas. The U.S can use TradeZero U.S while the global investors are allowed to avail TradeZero's core brand; this is because the American service of the company is updated and meets the U.S securities investor protection corporation.
TradeZero's features and services are well-regarded for shorts locating features that help the dealers so that they can find a lender for short stocks that are hard to borrow. This online stock brokerage firm provides customer support 24/7 via live web chat. All the users of any type of software tier can access convenient and quick support anytime.
If you are trying to find a mobile app as an online trading option that can work smoothly and allow you to easily buy and short sell stocks, it is worth it t explore the TradeZero stock trading application. This online stock broker provides commission-free stock trading and an intraday that is up to 6 ratios one and enables the customers to be accessible to mobile trading.
Pros
live customer support 24/7
Enables users to explore multiple stocks
You can trade in real-time with the mobile app
Provides the best investment advice
Cons
Enforces Trading restrictions
The mobile app lacks some advanced features
Commission & Fees
This online account costs a withdrawal charge of 70 dollars and a deposit charge of 30 dollars for all international clients. Moreover, trading commissions with an agent will be 20 dollars. This is one of the best trading options which provide commission-free trading.
Only two platforms on TradeZero trading cost a monthly fee, which is the Zero web along with level 2 with 59 dollars and ZeroPro with 79 dollars. If you get the ZeroWeb without a level two order book along the ZeroMobile, both are free of cost.
This online account costs a withdrawal charge of 70 dollars and a deposit charge of 30 dollars for all international clients. Moreover, trading commissions with an agent will be 20 dollars. This is one of the best trading options which provide commission-free trading. But there may be some particular circumstances under which your trade might be eligible to execute a free trade.
Click Here to Open an Account with Tradezero (Official Page)
>>Read more About TradeZero Review 2021: 0 Commissions! Is It Real?
#7. Best web trading platform: E*Trade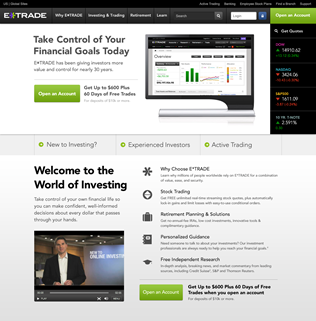 E*TRADE has managed to position itself among the best online brokers. For the advice, it is a well-rounded and a solid pick for professional and new investors.
For the people interested in active trading, this industry has now pushed to attain the attention of active traders along with two quality trading platforms, a span of investment selections, amazing options trading tools, and a full-featured mobile app. The power ETF trades platforms are packed with options, tools that are simple for intuitive and futures trading.
If you have a passion for tracking trade stocks and the market, this trading is made for you. Its etrade.com flagship website provides educational materials and researches and a large span of no-free funds. Like all the other established online brokers, this platform brings value to the investors.
How does it work?
Do you know this brokerage account includes a wide range of investment options and interests? It includes a robust power platform with an incredibly advanced mobile app and is effortless to use.
These online brokers include in-depth options of educational resources while providing a complete range of investment selections that undoubtedly appeal to both investors and traders. It also includes an extended track record and is known for easy-to-use factors.
Undoubtedly, it is beginner-friendly that aims to provide portfolio analysis, educational offerings, market commentary, and other streaming quotes with all necessary tools for a trader. Moreover, it involves involved trading tools and helps users select the bonds, mutual funds, stocks, and ETFs to meet the investment objectives and requirements.
Pros
Power options with the platform
Two different mobile apps for different interests and investors
Automated builder and portfolio option with online brokerage platform
Effective fees and trading options
Cons
No access to international exchanges
Options trading is more expensive for less frequent traders
Commission & Fees
Like many other online brokers, E*TRADE's charges are now more competitive since the race to 0 charges ensured. E*TRADE costs 0 dollar commission on the options trades, online stock, and ETF trades. There is an unlimited number of shares that are traded on such a base commission rate.
The bond transaction charges are 100 dollars with a maximum of 250 dollars and a minimum of 10 dollars. Future transactions charge 1.50 dollars per contract, fees+ per side and per bitcoins future contract 2.50 dollars, fees+per side. When you transfer an account out of E*TRADE, there will be a 75 dollar charge for a full transfer while 25 dollars for a partial transfer.
Click Here to Open an Account with E*Trade (Official Page)
>>Read more About E*Trade Review: Is it the Best Web Platform?
How we rank the Best Online Brokers and Stock Platforms?
Let's take a detailed look at how we ranked the best online trading platform!
Reviews ratings
The first thing is the reviews and ratings. We have rated online stock brokers with educational resources and other particular stocks options. We looked for the past performance and what customers came across after choosing a specific online stock broker.
Trading options
We considered different trading options like active trading, fractional shares, or other stock and ETF trades that help users get the best trading advantage with the right full-service broker. Our options are the best online trading platforms available to get better trading commissions with efficient customer support.
How to choose the Best Online Brokers and Stock Platforms?
Do you know the best online stock brokers promote investor-friendly fees and multiple options to justify effortlessly? You should get the right investment advice to make it work reliably with the right account. After taking suggestions from financial advisors and Securities Investor Protection Corporation, we have made it effortless to choose the right discount brokers.
Price
You should look for options with an account minimum 0 to get the best benefits from different discount brokers when it comes to penny stocks or trading commissions. Have you got that?
Some trading commissions will ask you how much money you need to spend, or the customer support will share the trading commissions on stocks and ETFs. Therefore, consider the best brokers with budget-friendly trading costs and savings account to get the maximum.
Broker resources
Another factor you need to consider is the research tools and advice kinds of brokers that promote the digital trading app while ensuring you an ability to trade effectively and reliable with an online stock brokerage.
Strategy
You have t look for an online brokerage bank account with effective stock and ETF trades and other options for educational materials and fractional shares. Some trading stock brokers offer student loans and comparison services by choosing the best trading platform and consulting financial advisors.
You can trade easily with free stock options and personal investment strategies. Moreover, plan the right ETF trades to get the maximum customer support and benefits when building a relationship with any stock broker.
Conclusion: Best Online Brokers and Stock Platforms
Overall, people use online brokerage platforms to evaluate financial markets and invest within the portfolios to reach the long and short-term goals. It's necessary to get the maximum benefit. With many options available, choosing the right online broker can be a difficult task.
Due to competition, many brokers offer their services with no-fee options for investors to get commonly traded assets while making differences in trading technology or usability. Are you getting it?
Choosing the best online broker is a daunting task, so we have made it easier for you. We have reviewed the top-quality online brokers to determine the best stock trading platforms.
Whether beginners are advanced traders who desire online trading, they found Interactive brokers the best bang for their buck with a broad range of assets and low commission services.
Best Online Broker and Stocks Platform FAQs
What is Trading?
What do we mean by trading? It's a basic concept involving multiple options to buy and sell goods with compensation paid with the exchange of goods. Trade also takes place between consumers and producers.
International trade enables different countries to expand global markets to ensure goods and services make them available. The market involves greater competition and prices, which brings cheaper products to the consumer.
What is the best stock brokers for beginners?
Tradier is one of the best stock brokers for beginners with high-tech trading options for active traders. Tradier differentiates itself from others by using the Application Programming Interface (API) technology and partnering with popular trading software to provide users with a broad range of choices.
It also involves active options and traders to get benefit from a single flat-rate monthly charge. Moreover, advanced traders search for customizable brokers with a broad range of platforms to integrate them.
What is an online brokerage account?
Do you know what an online brokerage account is? An online brokerage account offers both taxable and non-taxable stock market options or trading accounts.
These Brokerages will help the people to buy and sell tradeable securities for the accounts. The account aids the investor in depositing money either by buying, selling, or holding the investment.