Global GT Review: Is it Best for MT5 Traders in 2023?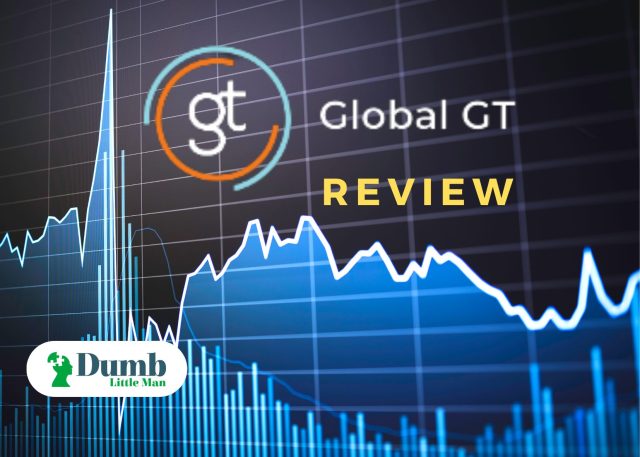 Global GT is a forex and CFD broker that started operations in 2020. The firm has often described itself as the ultimate "hybrid broker". This is based on the fact that Global GT is a full-service brokerage that accepts deposits in a wide range of currencies and crypto as well.
Retail investing has, in recent years, become a huge part of modern financial markets. More and more brokers have come up to try and provide access to these markets. But very few have actually managed to stand out. Global GT is however a solid option and even though it's relatively new, it is backed by excellent technology, a superb team, and growing client trust.
Well, in this Global GT review, we take a deep dive into the firm and what it is about. We will give you details about how it works, the features of its trading platforms, and some of the pros and cons you get with Global GT services. There will also be info for you about pricing plans, the customer experience, and so much more. Here we go:
Global GT Review: What Is Global GT?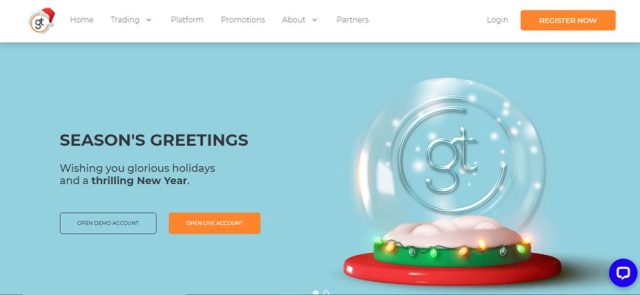 As noted above, the Global GT is a forex and CFD broker that was founded in 2020. The firm is based in South Africa but offers brokerage services for clients in a wide range of countries. Global GT has also done well to diversify its asset pool. In addition to traditional currency trading, Global GT offers crypto trading as well and commodities and metals trading too.
There is a small minimum deposit required of $5 to open an account on the firm. This makes the provider an excellent choice for low-volume traders. Global GT also strives to offer its clients an efficient and simple way to trade with low fees and reliable uptime. It is regulated by the Financial Sector Conduct Authority in South Africa to ensure your money is safe.
Also, Global GT is regulated in other tier-1 jurisdictions, including the Seychelles financial services authority. Despite its global reach, Global GT does not accept account applications from people in the US, Canada, the EU, the UK, and a few other countries. But for traders in other countries, the firm is perfect. You will also get leverage of up to 1:1000 with all trades and a huge pool of tradable assets to invest in.
How does Global GT work?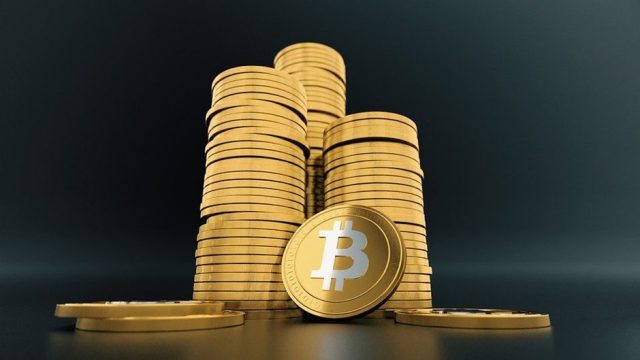 Global GT has put in a lot of effort to make sure that it gives users a simple and effective way to start trading any assets they want. However, it is important to note before you start that CFDs are very risky and complex instruments. In fact, a huge percentage of retail investor accounts lose money when trading CFDs with this provider. Make sure you understand what CFDs are about, how they work, and the risk involved before you start investing.
Nonetheless, in case you intend to use Global GT, head over to its website and open an account. This process is actually very simple and the steps involved shouldn't take you more than 10 minutes to get everything done. Once you put in the required info and upload the verification documents, your trading accounts will be approved in 24 hours.
Please also note that there are several different trading account types that Global GT offers. In case you are a large volume trader, consider the ECN account but for a low volume trader, you can choose the Standard account. The good news is that Global GT trading gives you detailed info about these accounts so it should be easy to choose the account you need. All these accounts also have negative balance protection as one of the key features.
Once your account is ready, it's time to deposit. The minimum deposit requirement with Global GT is just $5. You can also deposit fiat currency via bank wire and other methods into your trading account. GT does not charge for deposits and withdrawals too. Nonetheless, as soon as your deposit has been reflected in the Global GT account, you can head over to the MT5 trading platform and start trading. All account types here have access to the MT5 trading platform, in fact, it's the only trading platform on Global GT.
What are the Features of Global GT platform?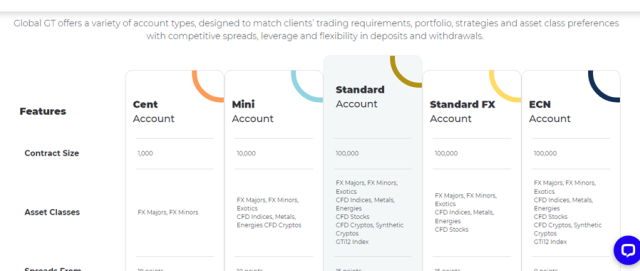 Global GT offers several key features in its service. The broker focuses on delivering a seamless trading experience. First, you will get to use the MT5 trading platform. The MetaTrader 5 is one of the most advanced and reliable trading platforms in forex. Although Global GT does not have its own proprietary trading software or platform, the MT5 should be enough.
The minimum deposit at Global GT is also about $5. This is way low compared to other brokers, meaning the firm is the ideal option for small-ticket investors. Be sure to also check out the welcome bonuses as part of the Global GT offer. In fact, your first deposit will attract a sizable bonus that you can use to trade. It is also important to note that Global GT has several account types designed for different types of traders.
In fact, there are at least 5 different accounts available here including a demo account. You can even get an Islamic account. GT has also invested in the best customer support team. In case you have any queries regarding your account or the 360 Degrees Markets LTD, the customer support department will respond within 24 hours depending on the issue you want to be resolved.
You will also get fast deposits and withdrawals, negative balance protection, real-time pricing, fast trade execution with no slippage, and so much more. Also, At Global GT, you get a hybrid approach to trading. In addition to the huge variety of tradable assets here, you will also get the option to deposit funds through crypto and a host of other currencies. This is the main reason why the broker has earned a lot of clients and besides, Global GT does not charge for deposits and withdrawals.
Global GT Pricing and Plan?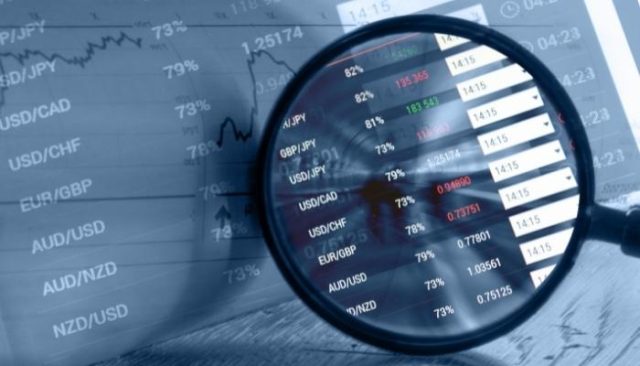 Global GT has distinguished itself as one of the most affordable brokerages in forex and CFDs. For starters, the minimum deposit required to open a Global GT account here is just $5. It is however important to remember that the brokerage charges both fixed commissions and variable spreads.
For example, according to the GT website, a fixed commission of $10 is charged for forex trades depending on the account type you are using. But it's not entirely clear how the fixed commission applies based on trade volume. Also, the information provided about spreads is not clear as well.
Although GT Global insists that spreads on forex and CFDs are tight, it's not verifiable through the site. As for crypto, the pricing is spread based too. The spreads are variable as well but you will pay a swap charge every 4 hours with this provider. The other assets including stocks, metals, commodities, and others are charged on a spread-based basis. But the broker should do better in clarifying some of these rates for the average customer.
Who is Global GT Best For?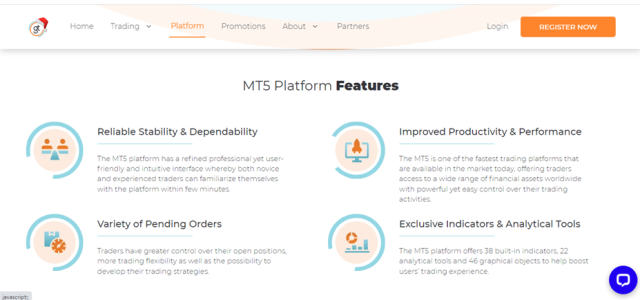 Global GT is a full-service broker designed for investors with a keen eye on CFDs and other financial derivatives. However, the broker may not be suitable for some beginner traders. Nonetheless, in case you are looking for a hybrid brokerage that gives you excellent flexibility as far as CFDs trading goes, then at Global GT you will have that experience for you.
The firm has also created a tech superior trading approach for the tech-savvy and the advanced traders. Although Global GT only uses the MT5 platform, it is still enough technology for anyone. After all, the MT5 is one of the most advanced trading platforms on the planet albeit it can be intimidating for beginners. Also, Global GT is suited for people outside the US and the EU.
These days most brokerages tend to limit account applications to certain countries to meet regulatory requirements. GT is not any different but does better to offer its services to a wide range of countries. Sadly, people in the EU and the US cannot open trading accounts with this broker.
If you are also looking for a safe brokerage, then GT Global will suit you. Besides, many have been asking the question is Global GT Regulated? The answer is yes in fact, the firm is regulated by The Financial Sector Conduct Authority in South Africa, The Seychelles Financial Services Authority, and a few other tier-1 regulators.
You will also enjoy GT global if you like efficient customer support, advanced trading education, and quick deposits and withdrawals. In essence, Global GT offers everything you would want in a full-service hybrid broker. Although the amount of tradable assets available here is a bit limited, in terms of the trading experience and the technology, you won't find a better option out there than GT.
Global GT Pros and Cons
As with other brokers, Global GT offers a series of pros and cons for every client. Here are some of them, starting with Pros.
Pros
The brokerage is highly regulated and offers safe and secure trading for everyone
You get to choose between a huge variety of trading accounts including the ECN account for large volume trades.
The minimum deposit required by this firm is $5, making it ideal for low ticket accounts
You also get the MT5 trading platform for faster trade execution and reliability
Allows you to make deposits and withdrawals using crypto and all the major currencies in the world.
Cons
The firm may not be suitable for people living in the EU, the US, and the UK.
The educational materials offered by the firm leave a lot to be desired.
The fee structure out of the website is not as clear as it should be
Global GT User Experience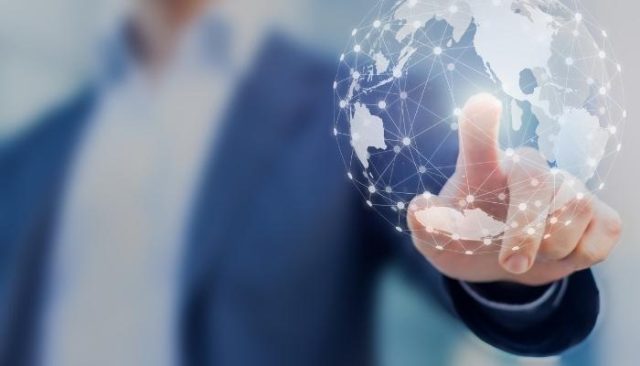 Global GT IO Markets PTY LTD is designed to give advanced traders the most outstanding experience. However, beginners may struggle to take advantage of the platform and all its unique features. But with time, the overall experience for both advanced and beginner traders seems to be quite good. There are of course reasons for this.
First, GT has created a superb variety of trading account types to cater to different people and all their trading needs. If you are just a small ticket investor looking to start small, there is the Cent account that comes with low fees and small contract sizes. Large volume investors get the ECN account and there is also the option to open an Islamic account. This variety of account types gives Global GT a unique level of flexibility that not many brokers have.
Also, the firm has done well to keep its fees relatively low. Yes, the fee structure we saw from the website is not as clear as it should be. But generally, based on previous customer experience, GT is seen as a low-cost Forex and CFD broker. There is also the MT5, one of the most advanced trading platforms in modern-day financial investing.
The Mt5 is known for its efficiency, fast trade execution, and indicators that help you trade with ease. Besides, GT allows you to use the MT5 on both PC and mobile devices. There is also a small minimum deposit requirement here and the process of opening the trading account takes just a few minutes. All these factors combine together to deliver the ultimate customer experience for GT clients.
Global GT vs Competitors
As a leading forex brokerage firm in the world, Global GT IO Markets PTY LTD faces stiff competition from other firms too. There are however two brokers that match up to GT in almost every respect. Here is a basic comparison of how GT fairs against these firms.
1. Global GT vs Avatrade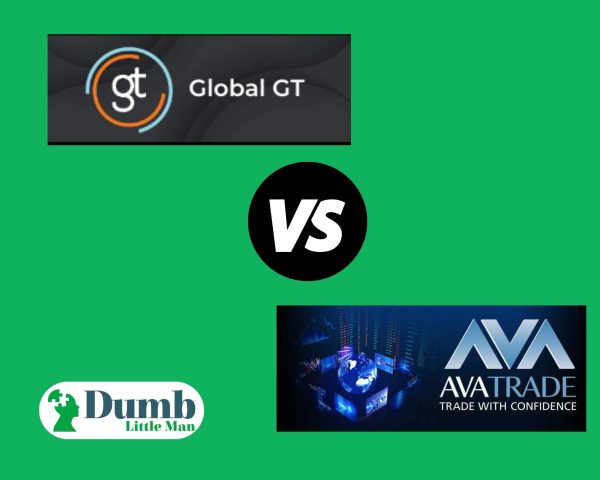 AvaTrade is an Irish-based global forex and CFD broker. The firm is one of the most recognizable brands in this area and offers a lot. Unlike GT, AvaTrade comes with several trading platforms including its own proprietary platform and the mt4 and 5. Both these brokers are however very similar when it comes to fees. But GT does allow for crypto deposits and withdrawals using a huge variety of global currencies.
AvaTrade on the other hand excels in trader education and better trade execution. Despite this, both of these firms do have superb customer support and are regulated by top-tier bodies. AvaTrade is also global. This means that it can accept account applications from so many countries. GT on the other hand will not allow people in the US, the UK, Canada, and the EU to open an account. This is purely due to regulatory barriers and nothing else.
You can also start trading with a demo account in both these brokers to help you get a feel of the trading platforms and how to use them. Either way, there is so much value to get as a trader with both AvaTrade and Global GT.
2. Global GT vs FXCC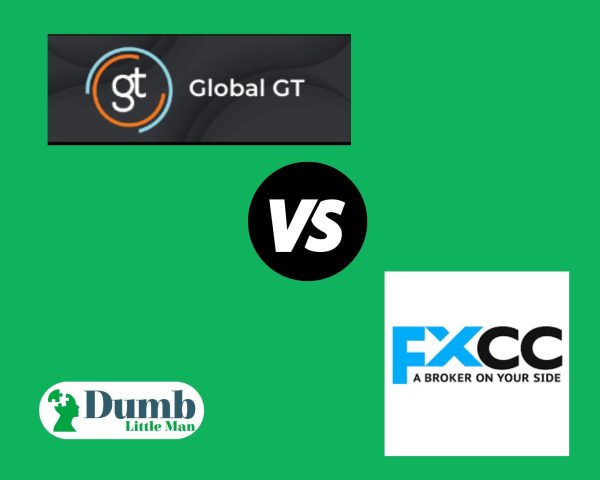 FXCC is also a top-rated brokerage and just like GT, it offers a single MT4 platform. The MetaTrader 4 is not as advanced as the MT5 but both offer superior trading technology especially for the advanced traders. FXCC and GT also provide very easy and quick account opening. In fact, due to minimal KYC requirements, you can get started with these accounts in less than a day.
Additionally, both these firms are regulated in leading tier 1 jurisdictions. While FXCC is regulated in Cyprus and other countries, GT is regulated in South Africa and Seychelles. This gives you the confidence you need as a trader knowing that your money is safeguarded at all times. One Area though that FXCC does better than most brokers is on the fees. You get tight spreads here on various assets and very low fixed commissions.
Also, FXCC has suited for both low volume and large volume traders thanks to its multiple account types. Both these firms are however lacking when it comes to investor education and research. But if you are looking for low-cost brokerages with minimal KYC requirements and advanced Metatrader trading platforms, then GT Global and FXCC should be perfect.
Conclusion: Is Global GT really the Best for MT5 Traders?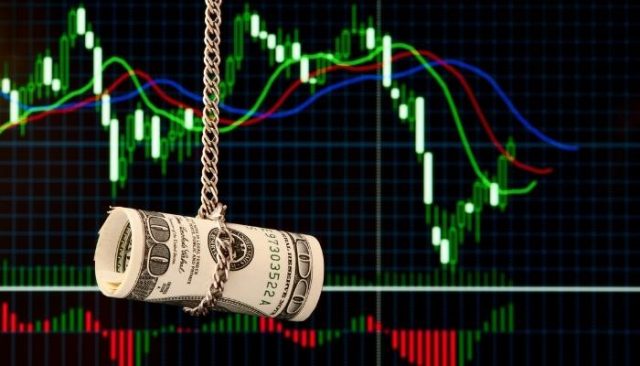 The global forex and CFD markets are now huge. They are attracting a lot of retail and institutional investors and as such, the need for strong and reliable brokers is always there. Well, GT Global has managed to distinguish itself as a leading brokerage with a superb track record. Although the firm was founded in 2020, it has all the hallmarks of a top-tier brokerage thanks to its features.
First, this is a hybrid brokerage that allows you to make deposits and withdrawals using a wide range of currencies, including crypto. The firm also delivers the advanced Metatrader 5. The trading platform is known for its superior trade execution, advanced tech, and outstanding indicators as well.
Global GT is regulated by the leading South African and Seychelles regulators too. This ensures the firm comes with the safety and security every trader needs. You also get negative balance protection, a superb customer support team, low trading fees, and a small minimum deposit, and a demo account to hone your skills.
But despite this, there are a few areas that the firm falls short. First, if you are from the EU, the US, Canada, and the UK, you will not be able to get an account at Global GT. Also, the educational content that the firm offers needs a bit of improvement. But other than that, this is a reputable and solid broker that should offer you immense value as a retail or institutional investor.
Global GT FAQs
Is Global GT Safe and Legit?
Yes, global GT is a safe and reliable broker with a proven track record of safety and reliability. The firm is first of all highly regulated by tier 1 agencies to ensure your money is safe. Besides, At Global GT, all client money is stored in separate accounts and is not used in any circumstances by the broker. GT Global has also invested in state-of-the-art security systems to give you a seamless and uninterrupted trading experience.
Is Global GT wallet the same as Global GT?
To some extent yes. The Global GT wallet is primarily used to store your money. This could be the deposit made in various currencies including crypto. But what is the difference between the wallet and the account? Well, not much really. The wallet is simply the name designated to your financial account with GT. Nonetheless, the brokerage strives to offer an all-inclusive trading experience and that's why the wallet is integral.
Is Global GT safe for bank account?
Yes, this is a safe broker. You can use a wide range of methods to deposit including bank wire or bank account. Withdrawals can be made using bank accounts too but the firm will need to verify your details before the transfer is done. These KYC requirements are put in place to ensure that the system is not abused for financial misconduct. They however take a few minutes to clear and you should be able to get your money in at most 2 business days.