3 Best Brokers for Mutual Funds in 2023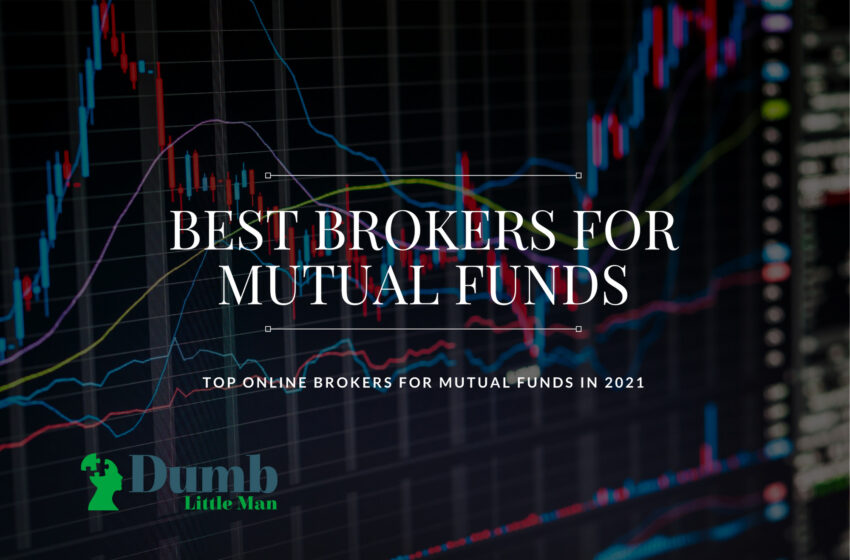 Want to jump straight to the answer? The best Stock Brokers are Tradestation and Tradier
The #1 Stocks and Forex Trading Course is Asia Forex Mentor
Mutual funds are unique investment vehicles that allow average people to invest in various assets through managed portfolios. While you can invest in any public stock, mutual funds give you the chance to pool your money with other investors and create better leverage in your trades.
Besides, investing under the guidance of a capital market expert gives you a healthy chance to make the most with less risk. Nonetheless, you will need a mutual funds broker to get started. These are the companies that pool capital from different folks and invest it in stocks, securities, and bonds. Well, in this post, we will be discussing 3 top brokerage firms (mutual fund companies), their pros and cons, and how you can select the best fit for you. Let's go.
Best Brokers for Mutual Funds
Broker
Best For
More Details

Lowest Cost Overall


Read Review


securely through Interactive Broker website

Web Platforms
Read Review



securely through E*Trade website




Beginners




securely through TD Ameritrade website



3 Best Brokers for Mutual Funds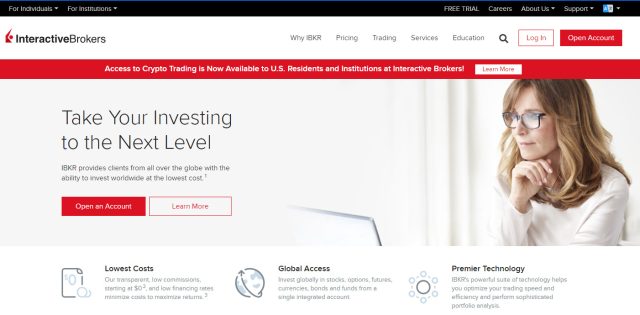 Low per-share pricing, a multi-function trading platform, and negligible margin rates make Interactive Brokers ideal for all types of investors. The firm also offers a massive range of tradable securities with unparalleled pricing ranges. The broker is by far one of the largest mutual fund companies in terms of customers base and revenue traded.
Interactive brokers started operations in the US in 1977 as Timber Lake LLC. The name was however changed to its current one in the 2000s. Interactive Brokers also has one of the largest mutual fund brokerages worldwide in terms of the average revenue of shares traded daily. There are also over 641, 000 active customers.
You also get an advanced and versatile trading platform. The broker also launched a separate platform dubbed IBKR lite for casual investors. IBKR Lite offers unlimited free trades of shares listed on the US stock exchange. The platform also charges no fees for about 135 tradable investments from 33 other countries.
Nevertheless, Interactive Brokers also has the popular IBKR pro platform which is perfect for active traders. It has a wide range of tradable securities too and transaction fees of as low as $0.05 per share ($1 minimum). IBKR Pro does not have an account minimum limit or any fractional or inactivity fees that let you keep most of your profits.
Additionally, over the years Interactive Brokers has received various industry awards for its services. For example, Matt Miler's Barron rated the firm as one of the top-ranked mutual fund brokers in the year 2021. In the same year, it was ranked as number 1 by Stockbrokers.com for active traders and professionals. The goal for IBKR is to create technology that allows easier trading for the least cost.So far, the firm has done pretty well in this.
How does it work?
To start your trading journey with Interactive brokers, you must first choose your preferred account type. The company offers about ten different accounts that have varying requirements. For an individual account, you'd need your social security number, employer's details, and banking documents for funding and withdrawing purposes. However, several other essential informational pieces would be required depending on your subsidiary accounts such as IRA, joint, or trust.
Once you have these documents, you should head to the official website and click on the 'open Account' button. You would need to fill in the required details and attach pictures of the relevant documents. Once you have your account confirmed, you'll be provided with the login credentials to access it through the official website. Just as a note, IBKR offers three deposit options for its users. They Include:
Bank wire: it can transfer funds within a day to your account; however, the bank charges a general fee.
ACH bank transfer: you can set up your bank account to your IB account. The amount can be transferred within a day. It doesn't involve any additional charges.
Online bill pay: Interactive brokers can be enlisted as a payee in your bill payment application. Every time you need to transfer the amount, you can pay it as a bill, and the amount will be received in your IB account.
Pros
Wide range of tradable securities from 135 countries worldwide
Timely order execution that lets you enjoy better profits
An advanced trading platform that provides the traders with various options to enjoy the most profitable mutual fund investment
Competitive interest margins and low commission costs for active traders.
Cons
A wide range of options can be intimidating for novice investors.
IBKR's smart router designed to automatically route orders to the cheapest markets isn't available for IBKR lite users
Commission & Fees
Commission & Fees: The pricing procedure of interactive brokers is complex to understand. There is however a wide range of pricing depending on your account types, shares traded, location, and tier. For casual investors, IBKR lite allows free trades of all stocks and securities from the US market. For IBKR pro, the charge is fixed to 0.005 per share or a minimum of $1. Despite this, the fees charged would never go beyond 1% of the trade value.
Some tiered accounts are charged based on their trading activity. As the trade value per month increases, the price per share would decrease. If the share volume traded is less than 300000 per month, the commission fee is $0.0035 for every share traded. The per-share commission reduces to as low as 0.0005 per share for more than a million shares traded per month. These commission charges don't include any regulatory fees.
Broker
Best For
More Details


Lowest Cost Online Stock Platform
Read Review




securely through Interactive Brokers website
#2. Best for Web Platforms: E*Trade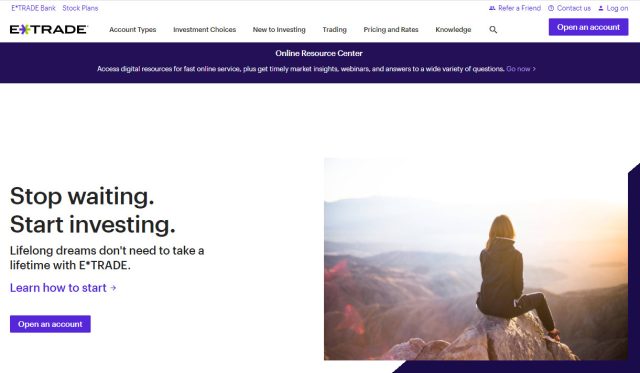 When it comes to the versatility of trading, then the use of web platforms is always advised. E* trade has three web-based downloadable platforms, each suited for different users. The web platforms have a varying range of options based on your skillset and trading activity. Nonetheless, E*Trade strives to offer a sophisticated and user-friendly interface, allowing users to enjoy all premium services without being overwhelmed by the technology.
E*Trade was founded in 1982 by William A. Porter and Bernard Newcomb. The firm made its first trade in 1983 and was publicly listed on the US stock exchange by the end of 1996. It is one of the oldest mutual funds brokers in the US. In 2019, E* Trade announced commission-free trading for futures, stocks and ETFs. For beginners, the company also offers descriptive lectures and educational resources on mutual fund investing and how users can maximize their profits, helping new investors in their early steps.
Also, E*Trade offers research, news, and hint sections, all of which are well embedded in the interface to keep the traders informed on a real-time basis. The web platform is downloadable and allows various customization for active traders. In fact, the newer updates of the web platform have allowed a more efficient watchlist system for securities. Another popular feature amongst E*trade users is the wide range of tradable bonds, securities, and stock options available. The educational resources are expansive as well and they cater to all folks.
How does it work?
Starting up with E* Trade is quite straightforward. All you have to do is head to their website and open an Account. E* Trade allows eight different account options distributed in 3 heads: brokerage account, individual account, and retirement account. The mutual fund fees and commission would vary based on your account choice.
Once you have chosen your account type, the relevant account application will open up. Fill in the required details, and upload the relevant documents. The official website suggests that an individual account would open within ten working days of application submission.
As soon as your brokerage account is opened, you will be mailed your login credentials through the provided email. The next step would be to deposit your investment capital into your account. E* Trade offers three different methods to transfer your mutual fund investment:
Transfer Payment: This is a new integration to the platform which allows you to transfer your money from financial institutions to your trading account for free. However, the payment can take up to 3 business days.
Wire transfer: It allows hassle-free transfer from your bank account to an E*trade mutual fund account. The payment can be transferred within a day but there is a higher transaction fee.
Deposit a check: the simplest method is to deposit a check in the name of E* trade LLC. It would take about five days for the deposit to be available for trade.
Pros
Wide variety of tradable assets, including stocks, bonds, funds, commodities, and futures
Different Website platforms based on your trading interest
Automated portfolio management features are integrated into your E* Trade account to keep you updated
Detailed lectures and other educational resources for new investors.
Cons
Tradable assets are restricted to the USA exchanges only
Pricing for options traders may be higher
Commission & Fees
Commission & Fees:
How you would be charged by E* trade is based on your account type. Like most trading platforms, E* Trade has a $0 commission trading on online stocks, ETFs, and options trade. This rate would be applicable regardless of the quantity or volume of shares you buy.
Nonetheless, the cost to trade OTC stocks and foreign securities is $ 6.95 per trade, which reduces to $4.95 after you have executed 30 or more transactions for the quarter. The margin interest rates can be as high as 8.70% for a $10000 or lesser balance. However, the rate reduces to 5.45% once your capital amount goes above $1,000,000.
Broker
Best For
More Details

Range Platform
Read Review




securely through E*Trade website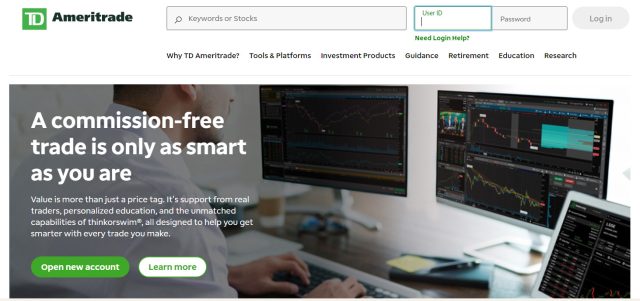 TDA is one of the best introductions to the market for novice investors because of its robust investor education. TD Ameritrade offers the resources, choice of products, and assistance to help rookie investors improve over time. Besides, you have the option to paper trade on the platform without fully committing real money.
TD Ameritrade is also one of the largest online brokers in the United States. As such, it offers a variety of platforms for traders of all skill levels. The web-based and standard mobile app platforms are intuitive and easy for both passive and active investors. Also, there are broad screening features, charting tools, and advanced analytics for everyone.
Additionally, the user interface at TD Ameritrade offers consumers hands-on experience, self-paced learning with so many materials. The mutual fund broker has prioritized its design, resulting in simplicity of use and a personalized experience.
How does it work?
The method to sign up for TDA is the same as the other two brokerages mentioned above. You can simply create your account by signing up from their official website. The deposit methods are consistent with E* Trade. Let's talk about three other factors in the section.
Usability: Because Of TD Ameritrade's focus on the customer experience, its platforms are smooth and easy to use. The online and mobile apps from TD Ameritrade are highly configurable based on the user's specific interests. A docking tool, which is a complete customized dashboard, is available on the TD Ameritrade site. On the four platforms, logging into TD Ameritrade is simple (web, trading mobile software).
Professional Experience: Trading on the online platform is straightforward since users can type in their ticker symbol and place orders. Choosing a decent stock or mutual fund to invest in isn't always easy, particularly for novices. Fortunately, TD Ameritrade's web platform includes stock screeners under the research and ideas area.
Experience in Mobile: Trade using the mobile app is easier than trading on the web if you use TD Ameritrade as your online broker. Watch lists, and real-time data are available on TD Ameritrade mobile.
Pros
Beginner investors will benefit from extensive instructional content.
Web platform and mobile applications that are well-designed
For all sorts of investors and traders, a variety of trading platforms and investment options are available.
Cons
Fractional shares are not available at TD Ameritrade.
Fees for accounts and funds are higher than those charged by rivals.
Money market funds do not automatically invest uninvited funds.
Commission & Fees
Commission & Fees: TD Ameritrade has joined the zero-fee competition, although it hasn't gone as far as some of its main competitors. For online equities or ETF trades, TD Ameritrade does not charge a fee. Options transactions have no per-leg commission too.
Outside of the No Transaction Fee program, mutual fund commissions are $49.99. As of May 2020, margin interest rates vary from 9.5 percent for balances under $10,000 to 7.75 percent for balances above $100,000. Nonetheless, because of their account size, high-net-worth account customers may negotiate reduced margin rates.
The cost of a futures transaction is $2.25 per contract plus exchange costs. The spread shows the amount of trade, and TD Ameritrade is reimbursed depending on volume by its liquidity provider. Across all asset classes, the live broker charge is $25 per trade.
Broker
Best For
More Details


Beginners
Read Review




securely through TD Ameritrade website
>>Read more About 7 Best Online Brokers for Options: Top Brokers for Options Review of 2021
How do we rank the Best Brokers for Mutual Funds?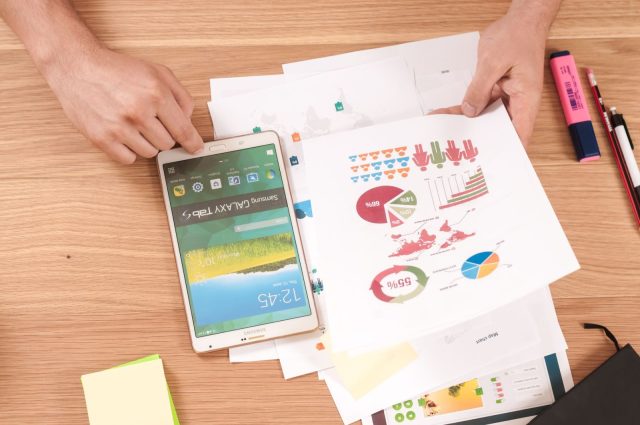 We gathered data on pricing, investment products, services, and client satisfaction for 19 brokers to evaluate their offers side by side. Then we evaluated overall product quality, educational and research alternatives supplied by each broker. We also combined consensus from a range of trusted specialists with feedback from our professional editorial staff.
We chose brokers with minimal fees, platform usability, and a varied product offering for our suggestions. There were six parts to our scoring system:
Accounts and products.
Fees.
Usability.
Tools and research
Education.
Customer service.
How to choose the Best Brokers for Mutual Funds?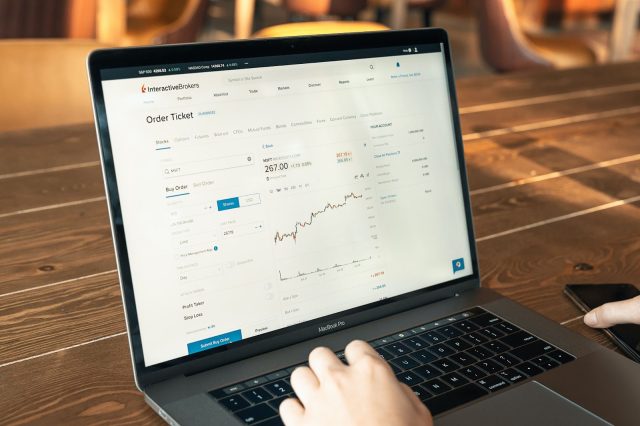 The first step toward a successful investing career is to choose the correct broker. However, finding the appropriate broker is not straightforward. Here are some pointers on how to find the best.
Cost
Consider the commissions and other costs charged by brokerage firms. Also, be aware of the services available and the pricing plans for each. At least two plans are available at every brokerage firm. One is generally for intraday traders, while the other is for long-term investors.
Minimum Trade
Check if there is a section or sub-clause concerning minimum transactions that you will be required to complete, as well as the punishment for failing to do so.
Mutual funds and other investing options
If you want to purchase and sell mutual funds through your brokerage account, look into the funds that the brokerage has partnered with. If you wish to invest in options, exchange-traded funds or ETFs, or fixed deposits, inquire about the brokerage's offerings.
Research Reports
Research services are available at most full-service brokerages. Investors may read analyst reports on businesses or sectors of interest, as well as access company data. Examine whether you require these services since they may assist you in making better stock and mutual fund purchases.
Investment options
Make sure that the broker you select offers the investments you desire in your portfolio. Consider brokers who provide passive investing if you want a more hands-off approach.
Usability
Before you open an account with any broker, check out their website and app to see whether they're user-friendly and easy to manage.
Customer service
When you entrust a firm with your money, you want to know that they'll be there to help you with any issues that arise. If you have any queries, finding a firm that provides customer support 24 hours a day, seven days a week might be beneficial.
Minimum account requirements:
To begin investing in a specific fund, some brokers demand that you have a minimum amount of money in your account. These minimums might be difficult for novice investors who are just starting with $100 but don't be discouraged. To begin, many brokers currently do not need a minimum deposit.
Conclusion: Best Brokers for Mutual Funds
Low costs plus a robust education portal to teach investing fundamentals will make the best brokerage account for beginners. Fortunately, commission-free stock and exchange-traded fund (ETF) investing are available through practically all brokerage accounts. The amount of money you plan to invest, the mobile app's rating, and the financial assets you plan to trade are all aspects to consider when picking the best brokerage account for beginners.
Interactive Brokers, which is integrating its platform with Charles Schwab's, provides no account administration fees or minimums. The broker also offers commission-free stocks and exchange-traded funds.
It developed the highly renowned Thinkorswim trading platform, which is popular among both new and seasoned traders. The research and instructional tools are excellent, and the Interactive Brokers Network regularly updates top-tier investment information. It is indeed one of the best brokerages to join.
Best Brokers for Mutual Funds FAQs
What is a Mutual fund?
A mutual fund is a financial company that invests in securities such as stocks, bonds, money market instruments, and other assets by pooling money from several participants. Mutual funds are managed by experienced money managers who deploy the fund's assets to generate capital gains or income for the fund's investors.
Mutual funds invest in a wide range of assets, and their success is often measured by the change in the fund's total market capitalization, which is calculated by aggregating the performance of the underlying investments.
Are Actively managed funds worth it?
Human portfolio managers handle active funds. Some specialize in identifying particular stocks that they believe will outperform the market. Others concentrate their efforts on sectors or industries that they think will perform well. Most active-fund portfolio managers are assisted by teams of human analysts who do extensive research to help find good investment possibilities.
The premise behind actively managed funds is that they allow ordinary investors to engage experienced stock pickers to handle their money. When things go well, actively managed funds can outperform the market over time, even after costs are deducted. However, there's no assurance that an active fund will outperform the market, and many don't. Because of their higher fees, research reveals that only a few active funds can beat the market.
Can you get rich with Mutual funds?
Your aim when investing in a mutual fund is to make a lot of money. Yes, everyone will most likely invest in mutual funds to find solutions to the eternal issue of "how to get rich." Investors must, however, maintain their portfolios clean to make significant returns. Over the long run, a well-managed portfolio yields good returns. Doing numerous tiny tasks in a focused manner is part of the route to wealth.
| RECOMMENDED TRADING COURSE | REVIEW | VISIT |
| --- | --- | --- |
| | #1 Forex, Crypto and Stocks trading course. Ranked most comprehensive by Investopedia and Best by Benzinga. Free to Try! | |
Like this Article? Subscribe to Our Feed!
Wilbert is an avid researcher and is deeply passionate about finance and health. When he's not working, he writes research and review articles by doing a thorough analysis on the products based on personal experience, user reviews and feedbacks from forums, quora, reddit, trustpilot amongst others.