5 Best Forex Trading Software in 2023: A Guide to Stop Losing Money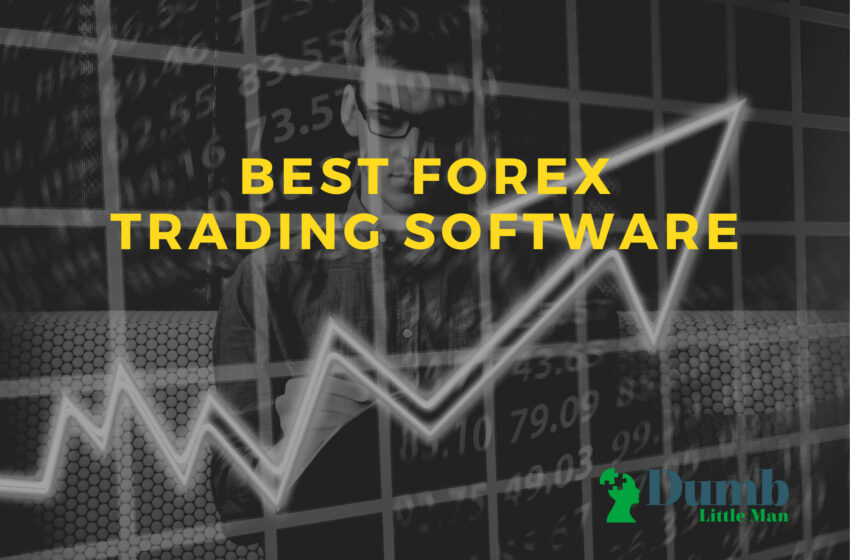 Want to jump straight to the answer? The best forex broker for traders is Avatrade
The #1 Forex Trading Course is Asia Forex Mentor
The forex market is one of the biggest financial markets in the world with trade volumes of over $6 trillion. It's also a very volatile market as well with rapidly changing price action. For this reason, you may find yourself watching your screen all day, tracking price movements, and trying to find an opportunity to trade.
But what if you didn't have to do this. After all, modern-day trading platforms or automated forex trading software can allow you to set trading alerts. These software solutions will also allow forex traders to open and close positions automatically when certain conditions are met.
Well, there is a huge variety of forex trading platforms these days but not all offer the kind of value all successful traders want. Nonetheless, we did some extensive research and came up with some of the best-automated trading tools for the foreign exchange market. Here is our full list:
Best Forex Trading Software
Broker
Best For
More Details

Lowest Cost Overall


Read Review



securely through Interactive Broker website


Options Traders Beginners
Read Review




securely through Tradespoon website




Investors New to Algo
Read Review




securely through Zen Trading website




Overall Broker
Read Review




securely through Forex.com website




Beginners





securely through TD Ameritrade website



5 Best Forex Trading Software
#1. Top Overall Online Trading Software: Interactive Brokers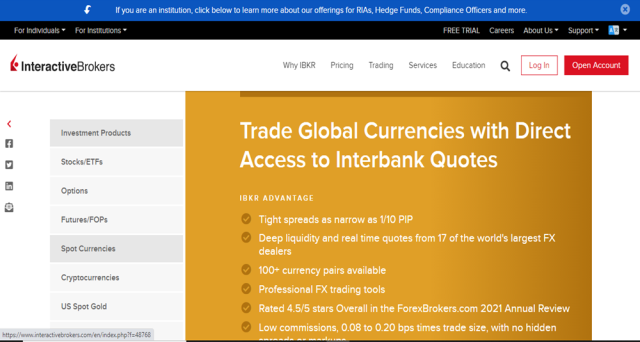 Interactive Brokers or IBKR is a full-service broker that offers access to the forex markets. The broker ranks top in the list for three main reasons. First, it has global name recognition and a strong history of excellence as a forex broker. Secondly, IBKR also offers superior trading technology, including state-of-the-art stock trading and forex platforms.
Finally, the trading costs associated with the broker are also very low. This gives users the chance to maximize returns even when accounts lose money when trading. Interactive Broker also offers fast and efficient trading software. This ensures quick trade execution, especially in volatile markets.
You will also get reliable customer support, a series of educational materials, and a wide variety of retail investor accounts to choose from. In a nutshell, the firm has one of the best forex trading platforms and a series of automated trading systems to ensure you have a superb experience when trading currency pairs.
How does it work?
Interactive Brokers offers a wide range of accounts for automated trading. Before you open any of these accounts, make sure you understand the risks of algorithmic trading. For beginner forex traders, you should know accounts lose money when trading CFDs and other instruments so make sure you know what you are doing.
Nonetheless, it takes three steps to start trading currency pairs with the IBKR's automated trading platform. First, head to the broker's website and open an account. Provide the required verification documents and wait for at most 24 hours. If everything checks out, you will be approved for an account.
Add a payment method and deposit money. Once the money reflects in your account, you can access the automated trading software offered here and use it to enter the forex market. Besides, you can trade forex all day long since the forex market is open for 24 hours.
Pros
Offers some of the most advanced trading tools for forex traders
Trading costs are low due to low fees on various currency pairs
You get a reliable customer support team to ensure trading forex is efficient
Has a wide range of financial instruments including CFD trading
Cons
Opening retail investor accounts can be a bit hectic due to a lot of KYC requirements
High-frequency trading signals and technical indicators can be hard to understand for beginners
Price
Forex brokers do not charge a fixed fee for forex trades. Instead, they use the Bid/Ask Spread. A Bid is basically the highest amount of money a trader is willing to pay for an asset. The Ask is the highest amount of money the owner of the asset is willing to accept.
The difference between these two prices is called the spread, and it is often the basis of fees among forex brokers. This is the same approach that Interactive Brokers follows. But on the good side, the spreads here are very tight, as narrow as 1.10 PIP.
Broker
Best For
More Details


Lowest Cost Online Stock Platform
Read Review




securely through Interactive Brokers website
#2. Best for Options Traders Beginners: Tradespoon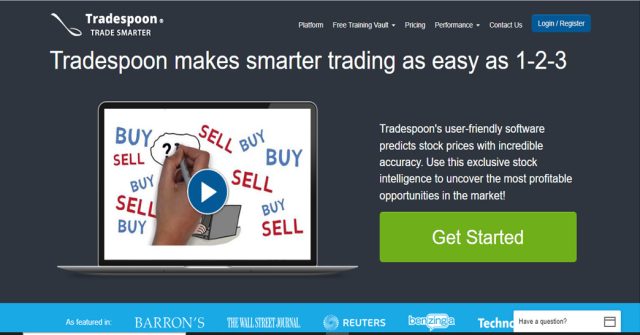 Tradespoon is also an all-inclusive broker that offers a wide range of instruments including cryptocurrency trading and of course FX. Signing up for an account here is free and you get a huge library of investment content to help you when you trade FX.
This forex broker also has a series of trading signals and some advanced forex software that help users find good opportunities in the market. It doesn't matter what your trading style is or your overall trading strategy, this forex broker has all the tools you need. You also get free market commentary on a daily basis, smart trading guides, and dedicated customer support to help you navigate the investment world with ease.
How does it work?
Trading forex starts with a trading account. Tradespoon offers one of the easiest ways to open an account. First, head to their website and sign up. Do not worry, sign up is free of charge here. As you would expect of any traditional brokerage, some verification documents will be required too. Upload them and wait for 24 hours.
Once your account is approved, it's time to access the free trading vault. Here, you get all the info you need to begin automated trading strategies in the forex market. Remember retail investor accounts lose money for folks who do not know what they are doing. learning before trading is therefore crucial.
Once you have learned and you are confident enough you don't have the risk of losing money rapidly, deposit some cash, and start trading. Tradespoon does not have minimum deposits so it's a nice place for beginners and active traders.
Pros
Offers a series of robust learning resources that should help you trade forex
All-inclusive broker with a wide range of assets to buy
State of the art trading platform for quick execution and portfolio management
Dedicated customer support team ready to assist
Low trading fees and tight spreads on currency pairs
Cons
The live trading tools can be hard to use sometimes
The platform requires a bit of time to get used to
Price
Tradespoon offers several pricing options depending on the package you want. It is a subscription service though where you get automated trading bots and stock picks to choose from every month. The basic package costs around $125 a month. The advanced elite trading package on the other hand goes as high as $417 per month.
Broker
Best For
More Details


Options Traders Beginners
Read Review




securely through Tradespoon website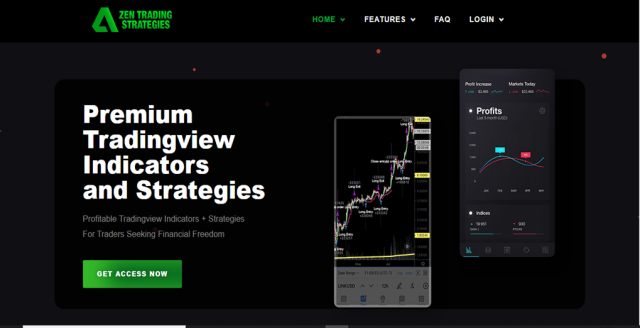 Zen Trading Strategies is one of the most popular algorithmic trading platforms in the world. The forex platform delivers premium-grade trading indicators and strategies to help you earn returns with very minimal effort.
The firm has developed a good track record of great trading performance as well. The aim is to help you maximize your profits while reducing exposure to risks as much as possible. You will also get a series of robust educational materials to help you get started on your trading journey. And if you are new to algo trading, do not worry. This forex broker will help you get a hand on it.
How does it work?
It is important to note that Zen Trading Strategies is not a forex broker per se. It is basically a trading bot or platform that provides algorithm trading using technical indicators, historical data, and other relevant indicators. In essence, it is a platform designed to help folks reduce possible losses when they trade forex.
Remember the risk of losing money rapidly in leveraged trading accounts tends to be high. Zen takes away the guesswork and helps you make informed trades based on actionable data. To take advantage of the trading platform, sign up for an account at any time. Choose the subscription package you want and start trading. It's just that simple.
Pros
Automated trading platform that providers state of the art algo trading
Comes with a wide variety of educational materials to help you get started with algo trading
Dedicated customer support team
Amazing history of trading successes with its automated tools
Cons
The monthly subscription fees can be quite expensive and do not include trading fees
The automated trading platforms look a bit complicated for a beginner
Price
Zen is a subscription service. You can pay either a monthly fee or an annual rate. For those who would like to pay per month, the fee is about $67. The annual fee however allows you to save big with a rate of $599. This translates to roughly $50 a month.
There is also a three-week free trial that can help you learn more about the platform and how you can use it to optimize your strategies. Once you are happy with everything, go for the paid version.
Broker
Best For
More Details


Investors New to Algo
Read Review




securely through Zen Trading website
#4. Best Overall Broker: Forex.com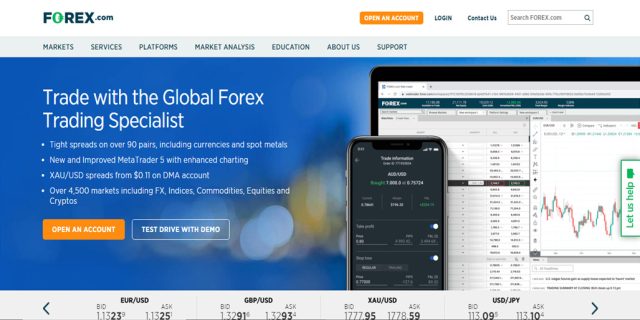 Forex.com is by far the best forex trading platform simply because of the fact that it is actually built for forex traders. The broker also offers a few other features including a wide range of currencies to buy and sell, superior trading platforms, and some of the lowest fees in the market.
Forex.com also has a lot of experience in the Forex market and has built a strong reputation as one of the most dependable brokerages in the world. Additionally, the firm is available globally, giving folks from different countries opportunities to open an account and start trading.
Forex.com also has a team of trading experts and automated trading tools that analyze data and give users alerts on a real-time basis. If you are looking for an efficient low-cost broker fully focused on the forex market, then Forex.com is your best bet.
How does it work?
It takes about 3 simple steps to start trading forex with Forex.com. The first thing to do is to of course open an account. As part of its regulatory requirements, the broker will need your personal details and details about your trading experience. This will determine if indeed you get an account and the parameters involved in the account, including things like applicable leverage.
If your account is approved, then you should go ahead and make a deposit. Forex brokers accept different deposit methods and Forex.com is not any different. You can deposit using wire transfers, credit cards, ACH, and others. It takes about 3 business days at most for the deposit to reflect. Once that happens, log in to your account, pick the trading platform you wish to use, and start trading.
Pros
One of the most recognizable forex brokers in the world right now
Offers a smooth and interactive trading experience for both beginner and advanced traders
Excellent customer support and educational materials to help you navigate through the platform
Some of the lowest trading fees out there
You also get a demo account to hone your forex trading skills before jumping with real money
Cons
Limited trading leverage, especially for non-experienced traders
Educational materials provided need to improve a bit
Price
The pricing on Forex.com is based on the type of account you have. As of now, there are three main account types. The first one of the Standard Account, which is the most basic of the three. The account is designed for people looking for traditional spread pricing.
The second option is the Commission Account. This one is perfect for bargain hunters looking for the lowest possible trading fees. It offers ultra-tight spreads and fixed low commissions for every trade. And finally, there is the Direct Market Access Account. This one is for high-volume FX trading.
The fees payable here are very low, especially when considered as a percentage of the total trade volume. But this account works for large institutional investors. Nonetheless, regardless of the account type you choose, you can rest assured knowing the total fees charged by this broker are typically lower compared to the industry average.
Broker
Best For
More Details


Overall Broker
Read Review




securely through Forex.com website