10 BEST Forex Academy in 2023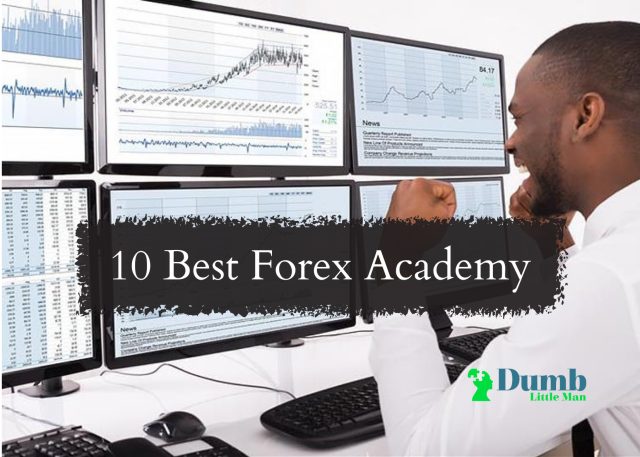 Today, many businesses and ordinary people earn their living from trading Foreign Exchange (Forex). The FX business is basically about buying and selling foreign currency. You buy the currency at low prices and sell when the prices rise. Forex traders can make profits or losses; it all depends on market forces and the skills and experience of the trader.
If you want to be a successful Forex trader, you should have the necessary knowledge and skills. For instance, if you are a beginner, you should learn the basic trading concepts, trading tools, and trading strategies. You should also familiarize yourself with the trading platform and learn how to manage risk.
Once you start trading real currencies, you should learn how to trade profitably. You do this by learning advanced trading techniques. You also have to understand price movements, market opportunities, market analysis, trading signals, etc. In addition, the FX market is ever-evolving, there is, therefore, always something new to learn.
It is therefore advisable to enroll in an FX academy. Although there are numerous online Forex academies, registering with a reputable and legitimate academy is good. This article will show you the 10 best Forex academies. Let's dive in.
10 Best Forex Academy 2023
The Forex Trading Coach
BizInTra
Babypips
FX Academy
Simpler Trading
Forex 101
The Social Traders
ForexSignals
Zen Trading Strategies

10 Best Forex Academy
1. Asia Forex Mentor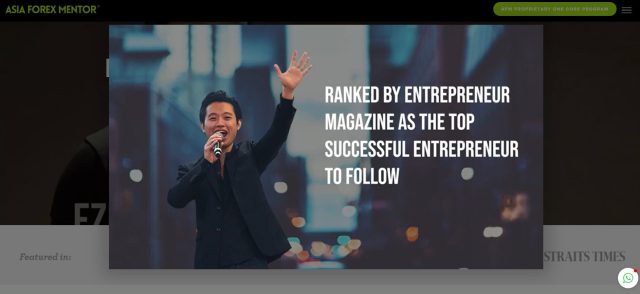 Asia Forex Mentor Academy offers a Forex trading course that is ideal for beginners and those who would like to advance their trading skills. The founder of this academy is Ezekiel Chew. He is also the head of training. He founded the academy in 2008 and has trained thousands of people worldwide.
About Asia Forex Mentor Course
Asia Forex Mentor offers online courses to all students. Ezekiel Chew, who is the chief trainer at the academy, teaches in a stimulating manner using a prerecorded teaching method video. People interested in his method can watch his YouTube channel and more importantly his free 5 part training series where he shows you what methodology he uses and how his teaching style is like.
Ezekiel Chew created a unique Forex trading program known as AFM Proprietary One Core Program. The course focuses on ROI and maximizing profit. The program helps students to trade currencies systematically. It gives them a high scientific probability of making profits.
Why choose Asia Forex Mentor
People in the Forex industry regard Ezekiel Chew as one of the best trainers in the world. He only uses real scenarios and actual strategies that work wonders in live trading. He also has his own trading account where he earns six-figure per trade.
He also trains Forex traders working in prop trading companies, fund management companies, traders working in banks. His business is to ensure that each of his students becomes a successful trader.
Price
Asia Forex Mentor Academy charges $997 for the full course which covers from Beginner to Advanced.
Click here to get his free 5 part training where he teaches traders how to make big money in trading through mathematical probability.
2. The Forex Trading Coach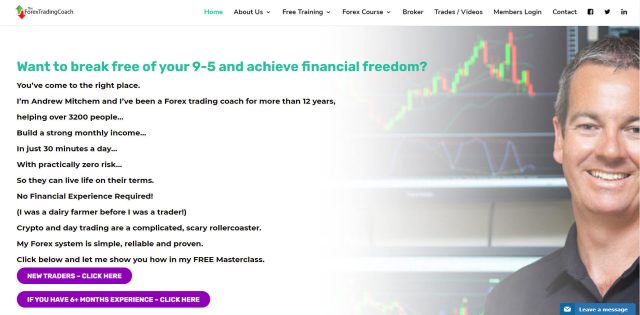 The Forex Trading Coach Academy offers Forex trading courses for traders of all levels. The courses were developed and are taught by Andrew Mitchem. Interestingly, Andrew was a dairy farmer before becoming a successful Forex trainer and trader.
Andrew's students call him The Forex Trading Coach. This is because he trains each student and provides personalized help to each. By relating to each student personally, they feel confident of becoming successful traders just like their coach.
About The Forex Trading Coach Course
Andrew and his team have developed a course called 'The Successful Trader System.' The course teaches foreign exchange technical analysis, price action trading techniques, and advanced trading techniques, among other skills. Once you complete the course, you can trade profitably in just 30 minutes a day. Andrew also teaches stock trading and how to trade Japanese candlestick patterns.
Why Choose The Forex Trading Coach
One of the best things about The Forex Trading Coach is the personalized attention that Andrew gives his students. No wonder they nicknamed him 'The Forex Coach'. His 15 lesson course enables students to become consistently profitable FX traders. He has successfully trained more than 3000 people.
Price
The Forex Trading Coach Academy charges $2000 for the entire course.
3. BizInTra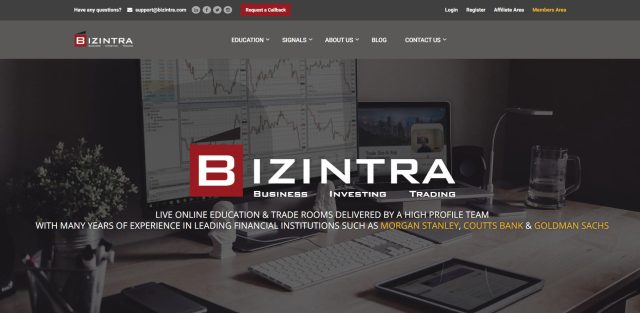 BizInTra Academy trains beginners, intermediate, and advanced FX students. A team of successful Forex trainers teaches the students.
About BizInTra Course
BizInTra course was created by traders from some of the most reputable banks worldwide. They also offer CPD and CISI Accredited courses in collaboration with London Stock Exchange and KTA. They train through videos, live-trade setup, and live, interactive and engaging webinars.
Why choose BizInTra
BizInTra's training team has trained more than 16,000 students about FX, stock trading, stock market, etc. The financial industry regards BizInTra as an excellent academy for training experienced and new trainees. In addition, their signals are among the best. They are also the only FX trading educators who share their trading results.
Price
Beginners – £199
Intermediate – £499
Advanced – £999
4. Babypips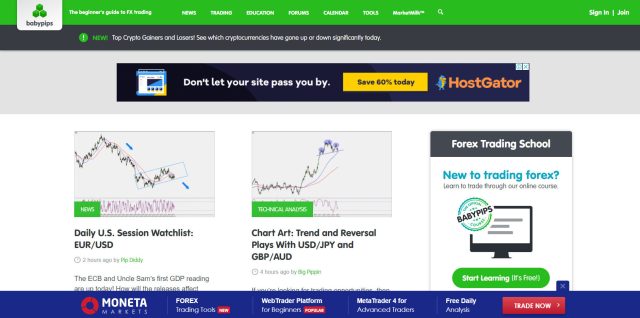 Babypips FX Academy teaches Forex students how to trade Forex profitably. A community of traders teaches the courses. These people also support each other in their daily Forex trading journey.
About Babypips Courses
Babypips offers its courses through the School of Pipsology. There are 11 courses that start from Preschool to Undergraduate level. The school uses a unique teaching tool called MarketMilk. It is a simple, visual tool for technical analysis and market analysis. It makes the process of analyzing market data simple. The tool helps most learners to make wise trading decisions.
Why choose Babypips
This academy is committed to protecting newbie Forex traders from losing their cash while investing and trading. They always teach the First Rule of Trading to their students. This rule says, "Don't blow up. Live to trade another day." In addition, students can track their progress on the Babypips platform. They also provide their students with regular articles on market analysis, trading strategies, and Forex news.
Price
Babypips Academy courses are free.
5. FX Academy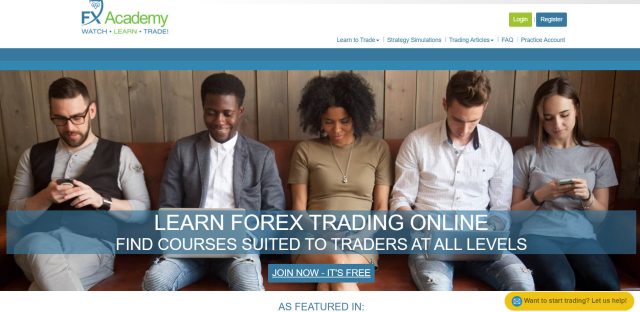 Forex trading experts founded FX Academy. The academy is a branch of DailyForex.com. The courses taught here are ideal for students of all levels.
About the FX Academy Courses
The courses are taught using videos. The videos contain the basics of Forex trading, risk capital, technical trading strategies, price action trading strategies, etc. There are also lessons about trading psychology. The lessons help learners to understand their weaknesses and strengths.
Why Choose FX Academy
Registered members are constantly updated with free materials such as the latest trading tools and currency exchange rates. New curricula and courses are also introduced as learning progresses. The techniques they offer are a successful and innovative way for students to understand and learn trading at their own pace.
Price
FX Academy courses are free. They have a risk disclaimer that the academy should not be held liable for any damage or loss that may occur from information contained in their website.
6. Simpler Trading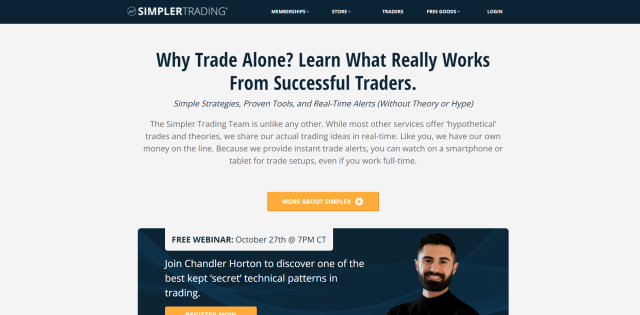 Simpler Trading Academy is run by The Simpler Trading Team. It is a team of dedicated and experienced traders with over 100 years of combined Forex market experience. John F. Carter is the founder of Simpler Trading. He selected and trained the Simpler Trading Team members. He is the author of the bestseller Mastering the Trade. He makes 7-figure in trading.
About Simpler Trading Course
The course teaches about proven FX trading tools such as price action trading strategies, fundamental analysis, and trade simulators, among other things. The team has developed the New Squeeze Pro System. This system helps traders catch the next jump in a currency before it happens. The course also gives real-time trading alerts. You can watch free trade setups on your smartphone or watch regardless of where you are.
Why choose Simpler Trading
The Simpler Trading team trains and trades together in the Forex market. Each of them brings their expertise on board. They offer online courses that give their learners what they need to succeed; a proven EDGE. Their New Squeeze Pro System helps learners to minimize risk, stop loss, and trade with confidence.
Price
Basic – New Squeeze Pro System costs $797
Premium – New Squeeze Pro System costs $997
Elite – New Squeeze Pro System costs $1697
7. Forex 101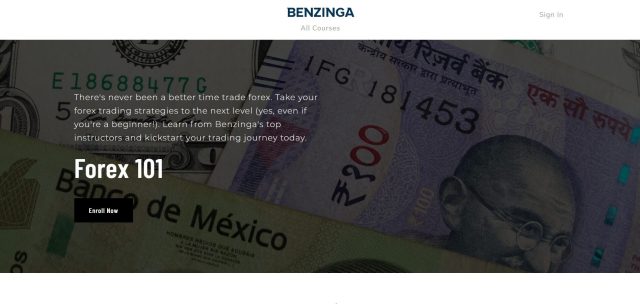 Forex 101 is one of Benzinga's online courses. Benzinga was founded by Jason Raznick. It is a reputable data technology and media company that empowers the new generation of investors. Benzinga's aim is to ensure that students make informed decisions to help them take control of their financial future.
About Forex 101 Course
Benzinga's best instructors teach the course. The course is ideal for trainees of all levels. It is divided into six sections: FX trading basics, price action, price movements, currency pair, fundamental analysis, etc. The course also has examples of real-life trading. It is an online course that is available in 18 different languages. It consists of 9 video lessons. Each video lesson comes with written notes and a quiz.
Why Choose Forex 101
The academy teaches you everything you need to know about FX trading. Once you enroll in the course, you will have full lifetime access to the materials for further study. You will also be issued a certificate of completion.
Price
They charge $47 for the course.
8. The Social Traders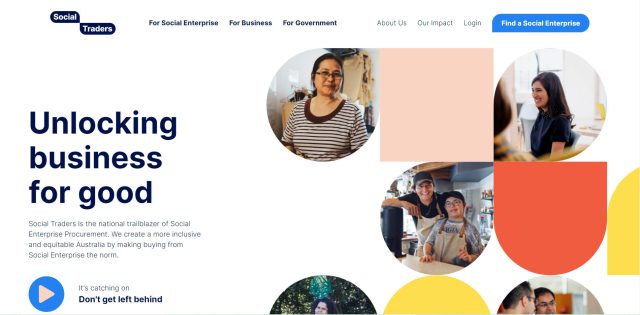 The Social Traders is an academy built and run by a community of traders. They have trained more than 1000 crypto, commodities, and Forex students. They cater to students at all levels.
About The Social Traders Course
They have developed an All-in-One Platform to ensure trading consistency, and that trading is done in a stimulating manner. The academy has a unique trading strategy called Unique SMC + Pattern Play Strategy. This learning strategy combines five trading techniques into one. It helps the academy to capitalize, adapt, and monitor trade setups.
Why Choose The Social Traders
The unique trading strategy they have developed is really powerful. It gives the students a unique trading experience and a market edge. They also give students mindset and trading discipline guidance daily.
Price
Monthly – £ 34.99,
Three months – £ 94.99 three months
Annual – £ 314.91 annual
9. ForexSignals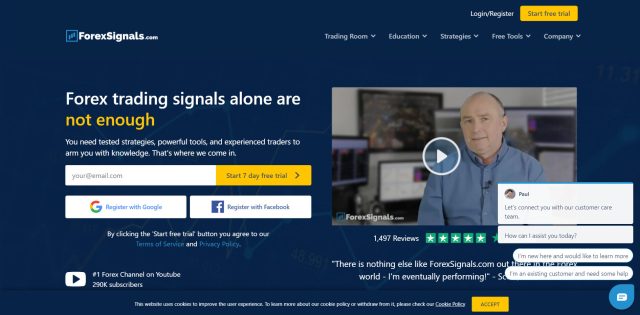 ForexSignals Academy offers courses for trainees of all levels. They use experienced trainers, powerful tools, and tested strategies to train their students. They are a one-stop-shop for anything related to trading Forex.
About the ForexSignals Course
The course is offered through videos that are easy to understand. The videos explain the strategy to use for each type of trading. They have three extraordinary trading strategies; Trend Surfing Strategy, FX Propulsion Strategy, and Naked Trading Strategy. In other words, they have a strategy for every type of trading.
Why Choose ForexSignals
The strategies that ForexSignals has developed give their students an edge. They also have some of the most advanced trading rooms in the world. The rooms are active day and night.
Price·
1-month room access – The Apprentice $97/month – $97 billed every month
6-month room access – The Committed $49.5/month – $297 billed every six months
·12-month room access – The Professional $47/month – $564 billed every 12 months
10. Zen Trading Strategies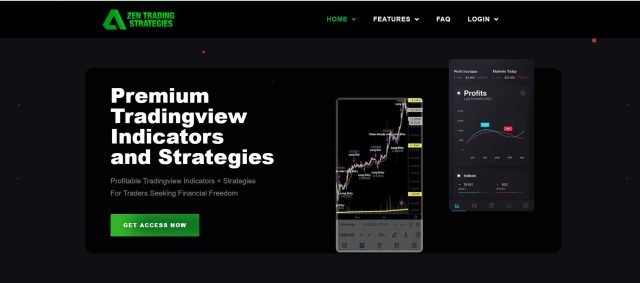 Zen Trading Strategies is a quantitative algorithmic fund. The courses taught at the academy were developed by Jeff Goldberg and his able team. Jeff Goldberg is the Chief Operating Officer of the company. They trade actively, and they understand risk management and trading.
About Zen Trading Strategies Courses
Their courses use quantitative methods and scripts that are mathematically tested. They also offer their learners indicators and strategies that show them when to sell or buy currencies.
Why Choose Zen Trading Strategies
The strategies they use are highly profitable. They take out uncertainty, guessing, and emotions from the trading. They help students to make fundamental analyses and see market opportunities. As a result, the traders have an edge in the markets. The courses they have developed ensure that their students are consistently successful traders.
Price
Zen Trading Strategies charge $597 for their course.
Conclusion
There are numerous FX Academies online. This list of 10 Best Forex Academy should help you make an informed decision when you start or want to advance your FX skills.
However, if you want to make big money and huge ROI in FX trading, Asia Forex Mentor, would be your best bet.
This is because Ezekiel Chew's AFM Proprietary One Core Program is one of the most successful and most profitable programs in the world. In fact, industry players claim that it is the most powerful and most comprehensive FX trading program ever produced. He uses the same program to train banks and also to make 6 figures per trade for himself. He is one of the best Forex mentors of all time.