Sharesight Review: Is it the Best for Intraday Updates in 2023?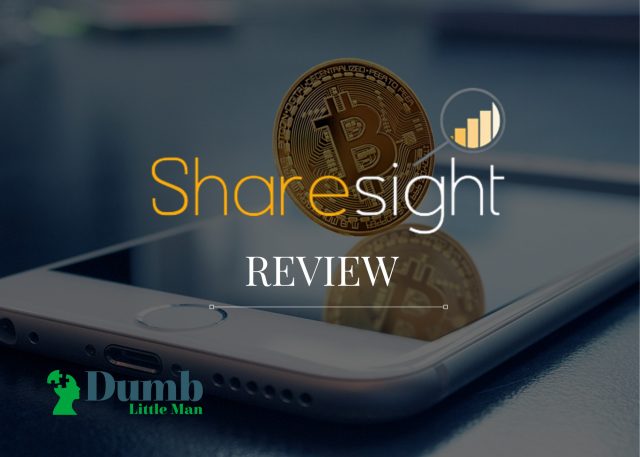 Want to jump straight to the answer? The best Stock Brokers are Tradestation and Tradier
The #1 Stocks and Forex Trading Course is Asia Forex Mentor
It is pretty challenging to monitor all the investments you have made from different investment and brokerage accounts. Sharesight is a great portfolio tracker that enables you to monitor all your assets in a single place easily.
You can track all your investments and stocks, mutual funds, and cryptocurrencies by using Sharesight. It provides an ideal platform for international investors who are looking for a simple method for asset management. This portfolio tracking platform offers unlimited holdings and investment holdings to get future income reports.
You can compare your portfolio with the index and find out if you are doing better than just buying and holding. This solution is straightforward and enables you to make better decisions regarding investments. This will be one of the most innovative Sharesight reviews that will help you!
Sharesight Review: What is Sharesight?
Sharesight is an excellent portfolio tracker tool and provides an ideal platform for investors. You can use it as a replacement for spreadsheets when you have to buy, sell, or return your stock earnings. It also has a new feature that allows you to some benefits as compared to your competitors.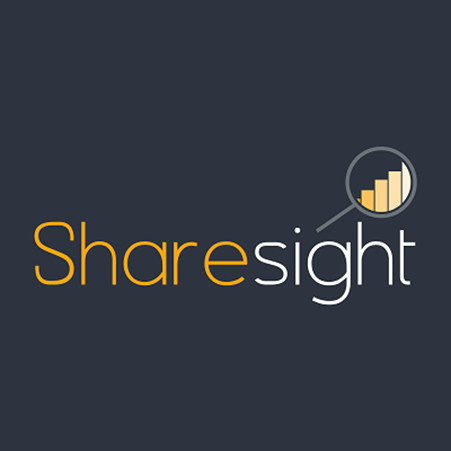 All you need to do is spend 15 minutes per week and review your portfolio of shares and managed funds. After that, you can learn about this tool and how it is beneficial for investors.
You easily do this by putting your buy and sell transactions as they are happening. After that, you can get a complete summary of all your investments on a single page, which is very beginner-friendly.
You can quickly master this process for the new investors who have multiple accounts that need to be managed. An excellent mobile application and a desktop version are also available for Sharesight. Sharesight automatically tracks what's happening with portfolio performance and contribution analysis reports and tax obligations.
How does Sharesight work?
Sharesight is an excellent platform for investors that automatically calculate the entire performance of someone's portfolio and individual stocks. It happens for any period, and all the capital gains, dividends, and currency movements are shown in dollars. Sharesight is also great for generating comprehensive reports and is essential that it is not an investing tool.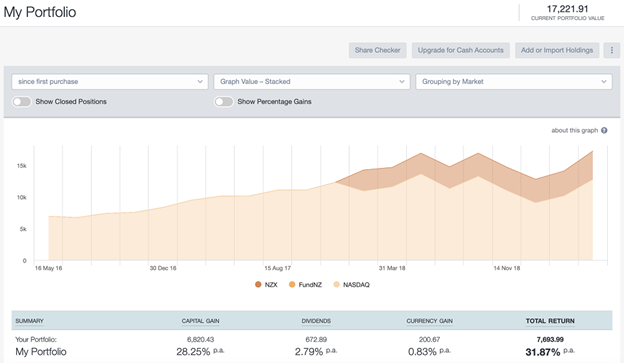 It is the perfect tool for those who are always on the go and looking for something that will help them manage all their things in one place. It will enable you to get an overview of everything in your possession, and it doesn't matter which platform you are trading through.
You can manage your cryptocurrencies by using this platform, which is very beneficial in today's world because everyone is interested in cryptocurrency. You can automatically import trade directly from the growing list of American brokerages, including Robinhood and Charles Schwab. If you are an investor, then you can easily include trades by using spreadsheet or Excel files manually on the platform. You can easily track eight major cryptocurrencies by using the medium of Sharesight, including Bitcoin, Ripple, and more.
What are the features of the Sharesight platform?
Sharesight regularly offers educational webinars with a portfolio tracker and all the best features to help all way to track tax time with the right financial advice and premium plan. Let's have a look at the features below in detail.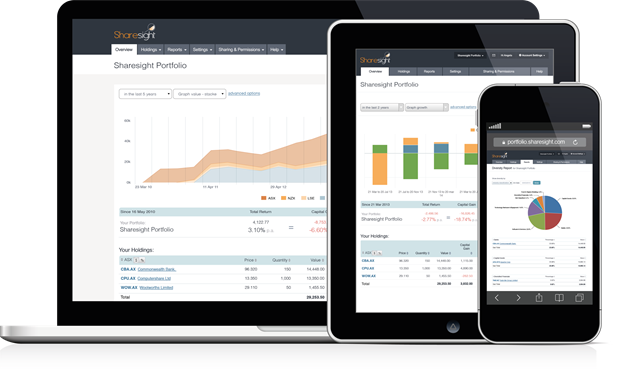 Tax Solutions
You can easily make paying and reporting your taxation easier by using this platform no matter where you are residing in the world. It provides accounts to asset holders in more than 100 countries worldwide and gives an option to customize all the tax reports for local and international dates.
It is easy to manage your taxes using this platform because you can easily set your tax residency. You can do this at the end of the financial year to automatically generate all the tax reports for you. It is a very beneficial feature to have to make everything automated.
Security
Sharesight is currently offering a sold securities reports feature, which is very beneficial for investors looking forward to calculating different instances of capital gains taxes. This is important because it gives you all the information on the total turn on all the sold shares in a certain period.
It is straightforward to switch between the currency and percentage returns, and then it will make the reporting task for you much easier and quicker. There will be no more hassle for you once you start using this platform.
All you need to do is finalize the report, and after that, you can easily export all your data to an Excel spreadsheet or even a Google document. This feature is very beneficial because it makes it easy to share documents between people without any hassle.
Customer Support
Customer support services are also provided by this platform in case you run into any trouble when you are trying to use your account. You never know when things will go on. That is why this platform brings you excellent customer support services that it is convenient for you to solve your most common account-related issues quickly.
A community forum is available, and you can take a look at all the announcements and tips and tricks shared over there. If you are utilizing a paid account, you can also message their team directly by using your account platform.
All you need to do is click on the orange button and select the "New Conversation" option. After that, you can send a message or click on the "Help" tab on this platform. However, it is essential to note that this option is only available for Investors and Expert plan holders.
Mobile Application
Sharesight has an excellent mobile application designed to offer a quick portfolio inside without needing a desktop version all the time. Sometimes a desktop version can be too much because you have to go through endless different menu screens, and then you can see the inside that you want to see.
You will not have to face this problem anymore because once you open the app, you will see a summary of all the accounts linked to your account and the current values. You can also quickly check the data from the last time the count was updated and the estimated percentage of all your profits and losses.
It is effortless to open your account in the mobile application with a few taps on your phone, and after that, you can check your balance quickly.
Free Portfolio Tracker
Sharesight is a web-based software that allows you to track all the investments you have made easily. It is elementary to create a free account, and after that, you can log in and enter all your details. It also provides automated features that will calculate the cash account balance and the dividend payments and display it on your screen.
If you have less than ten holdings, you can get benefit from the free tracking option. You will never have to pay a penny for tracking, and it will be free for you.
Tracking Property Data
Sharesight enables you to track your property investments into your account very quickly. All you have to do is to add them as custom investments or property funds. After that, you can quickly enter the original paid price, including the transaction cost.
It also enables you to enter an updated house valuation whenever you are thinking about getting it revalued. It is also possible to utilize a service like RP data, and then you can get an estimate depending upon the nearby property transactions which are taking place.
Sharesight Pricing and Commissions
Sharesight gives you an option of multiple account types and enables you to customize the monthly payment depending upon the features you are looking for. It enables to track multiple portfolios and recording dividends that offer the right portfolio management and investment returns to help financial markets benefit a lot. You can choose from the four account levels is mentioned below:
Free Plan: By using the free plan, you can quickly test out the platform and the reporting features available to use. The users can have a maximum of one portfolio and ten holdings to keep using the free plan. You can access the automatic dividend reporting and price reports also.
Starter Plan: Sharesight has started to plan that can give you access to all the features that you can get in a free plan, but the only difference is that you will have access to track and monitor at least 20 holdings simultaneously time. This plan will cost you $15 per month and the discount available for per-year contracts.
Investor Plan: Sharesight also has an investor plan available which is one of the popular options because it includes everything you can get in a starter plan. It will give you the capability to track an unlimited number of holdings and three portfolios simultaneously. Users will also get access to all the advanced reporting features like cash accounts and a lot more.
The price that you will have to pay to get the investor plan option is $24 per month, along with the annual discount available for the users of this platform.
Expert Plan: Sharesight also has the plan available for the experts, and it is the most comprehensive offering by the platform, which offers a lot of features at the same time. This plan includes everything that you can get in the investor plan, but you will also have the capability to track up to 5 portfolios simultaneously.
Users also get access to advanced reporting features, including contribution analysis reports, and it can be done from five different groups, which are custom. This plan for others offers you a lot of customer support, and the price that you will have to pay to get this plan is $31 per month. It is important to note that its price comes with the available annual accounts.
Who is Sharesight best for?
ShareSight is a great platform that allows you to monitor all the information to stay updated about all your investments in a single place. You can not only manage your taxes, but it also provides you an unbiased review of all the investment performance, which will help you make better decisions regarding your investments.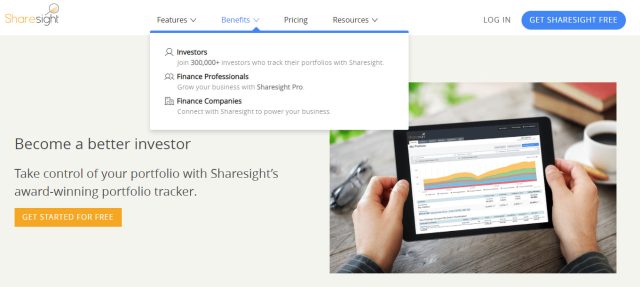 It is a reliable platform, and it is being used by more than two 250,000 investors worldwide. It is effortless to integrate with your share trading platform securely. You can also be automated, so you do not have to do anything manually to add the information whenever you are looking forward to making an investment decision.
So many investors need track holdings can dividend tracking of the entire portfolio where the invest data and online program offer tac return and all the best features. Sharesight personally has contract notes, sell dates, investment data, portfolio management, tax return, stock market, diversity report, portfolio value, save reports and calculate capital gains to help investors know what's happening.
A portfolio tracker option is an excellent tool for all investors looking forward to trading in more than one asset class. This platform makes it easy to track cryptocurrencies and stocks. You can easily manage your funds by using Sharesight, and it gives you a combined view of all the investments in a single spot that you do not need to connect your data by using a cryptocurrency exchange or a wallet.
Sharsight Pros and Cons
Whether you have access to a free sharesight tool or just open positions, the investment strategy will provide all my data protection for managed funds. Let's take a look at the pros and cons of this platform in detail below.
Pros
You can manage all your investments in a single spot
It is cloud-based, which means you can access it any time
Advanced performance and taxation management reporting is available
Easy to use and straightforward
Cons
Mobile application is basic and could have been better.
Sharesight User Experience
The sharesight platform is very easy to use and straightforward. A detailed user guide is available. It is essential to make sure that you do not keep your account logged in all the time. It will make you a patient if you keep looking at the stock performance all the time.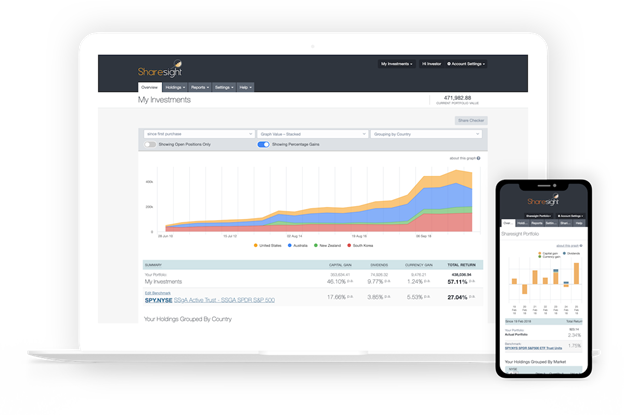 It provides automated features, so you should trust it and let it do its work. There is no reason to keep staring at all your stocks all the time. All you need to do is to relax and take a deep breath. The platform will do its thing in the background while you are chilling.
It would help if you kept in mind that it is a super easy-to-use platform that gives your detailed performance regarding your portfolio and helps you forecast your future income, which is very beneficial.
Sharesight automatically keeps track of all these actions for your portfolio, which means you will get a real-time answer for all your assets. The portfolio performance offers unlimited holdings and financial advice with a tracking platform with historical data with just a quick click.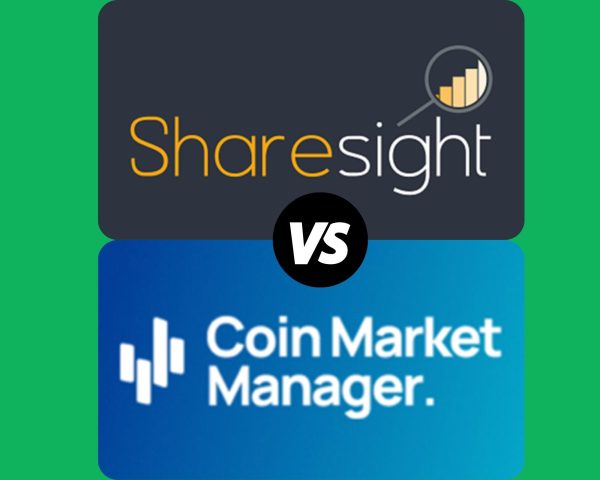 Firstly, here is the comparison of ShareSight to coin market manager. If you get investment accounts, it helps people get a track of investments whereas Coin Market manager Coin market manager is an automated journaling tool for traders with actionable analytics to help enhance decision-making.
ShareSight offers comprehensive portfolio tracking options allowing you to keep tabs on investments. However, coin market manager allows real-time market stats and different values. Besides this, Sharesight offers a contribution analysis report than Coin market manager that's effective for professional traders looking for efficient platforms with multiple exchanges available.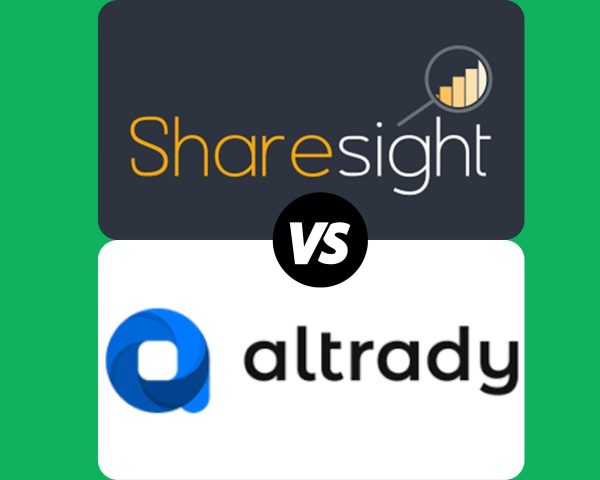 ShareSight is an easy-to-use platform with increased performance allowing you to track cryptocurrencies, managed funds, premium, and portfolio performance whereas Altrady is an effortless choice for someone looking for an all-in-one platform to help traders, monitor and trader markets while managing access to different exchanges.
It is an innovative tool with the premium plan and investment portfolio features compared to Altrady that features a trading terminal allowing the traders to sell and buy multiple currencies.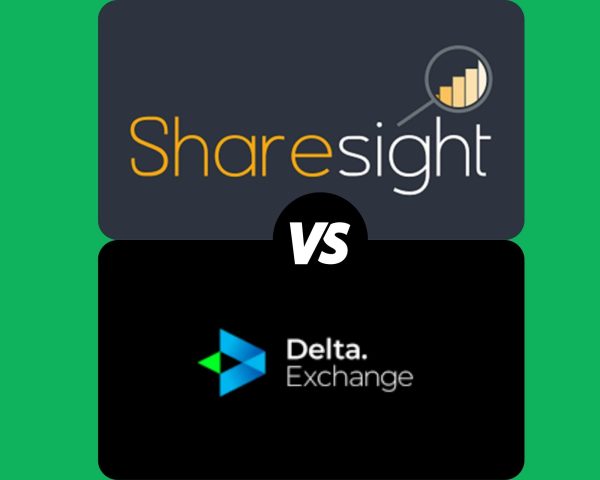 Let's compare ShareSight to Delta exchange! Sharesight offers an online portfolio tracking feature that helps tracks tax, dividends, prices and other features whereas Delta exchange is a cryptocurrency management tool.
Besides this, Sharesight offers exclusive dividend reinvestment features compared to Delta Exchange provide users a trading wallet with a particular wallet address to support the investors.
Choose Asia Forex Mentor for Your Forex and Crypto Trading Success
If you have a keen interest in establishing a successful career in forex trading and aspire to achieve substantial financial gains, Asia Forex Mentor stands as the optimal choice for the best forex, stock, and crypto trading course. Ezekiel Chew, renowned as the visionary behind trading institutions and banks, is the driving force behind Asia Forex Mentor. On a personal note, Ezekiel consistently achieves seven-figure trades, a distinction that truly sets him apart from other educators in the field. Here are the compelling reasons that underpin our recommendation:

Comprehensive Curriculum: Asia Forex Mentor offers an all-encompassing educational program that covers stock, crypto, and forex trading. This well-structured curriculum equips aspiring traders with the knowledge and skills necessary to excel in these diverse markets.

Proven Track Record: The credibility of Asia Forex Mentor is firmly established through its impressive track record of producing consistently profitable traders across various market sectors. This achievement serves as a testament to the effectiveness of their training methodologies and mentorship.

Expert Mentors: At Asia Forex Mentor, students benefit from the guidance and insights of experienced mentors who have demonstrated remarkable success in stock, crypto, and forex trading. These mentors provide personalized support, enabling students to navigate the intricacies of each market with confidence.

Supportive Community: Joining Asia Forex Mentor brings access to a supportive community of like-minded traders pursuing success in the stock, crypto, and forex markets. This community fosters collaboration, idea-sharing, and peer learning, enhancing the overall learning experience.

Emphasis on Discipline and Psychology: Success in trading necessitates a strong mindset and disciplined approach. Asia Forex Mentor provides crucial psychological training to help traders manage emotions, handle stress, and make rational decisions during trading.

Constant Updates and Resources: The financial markets are dynamic, and Asia Forex Mentor ensures that students remain up-to-date with the latest trends, strategies, and market insights. Continuous access to valuable resources keeps traders ahead of the curve.

Success Stories: Asia Forex Mentor takes pride in a multitude of success stories where students have transformed their trading careers and achieved financial independence through their comprehensive forex, stock, and crypto trading education.

In summary, Asia Forex Mentor emerges as the premier choice for those seeking the best forex, stock, and crypto trading course to carve a rewarding career and achieve financial prosperity. Through its comprehensive curriculum, experienced mentors, practical approach, and supportive community, Asia Forex Mentor provides the necessary tools and guidance to mold aspiring traders into accomplished professionals across diverse financial markets.
Conclusion: Is Sharesight really the Best for Intraday Updates?
With an easy-to-use platform and plenty of data and analysis tools, ShareSight is an excellent portfolio tracker for both long-term investors and day traders alike. Some of the features that we love include Sharesight's simplified tax reporting features, advanced reporting options and easy importing options.
While ShareSight doesn't support direct links from some of America's most popular brokers, you can still add these and other nonsupported assets using the platform's custom investment feature.  Sharesight is also one of the only portfolio trackers we've seen that supports cryptocurrency investments as a native feature.
ShareSight is a solid choice for investors who have multiple brokerage accounts and who need a simple solution to track their profits. Sharesight's advanced data and tax reporting feature also make it an exceptionally powerful tool when it comes time to file and track dividend income.
ShareSight expands its customer service options to include specific contact methods for people with hearing limitations and add more options for free account holders. We also can't wait to see how Sharesight continues to expand its supported brokers for American investors in the future.
Sharesight FAQs
Is Sharesight Safe and Legit?
Is Sharesight account safe? The dividend tracking and personal data make Sharesight secure to help users manage seven-figure with highly secure features to different family members with their own funds.
What are examples of capital gains?
Generally, the best example of capital gains is the equity shares for an organization that's particularly recognized. Moreover, securities such as bonds UTI units are highly innovative with dividend reinvestment options with the tax return options. The zero-coupon bonds are also an example.
What is Sharesight portfolio?
Undoubtedly, Sharesight allows portfolio tracking and a highly versatile reporting tool for people who want investments with an option to get those performing investments while producing tax reports. We offer plans for different finance companies and investors.
What is Sharesight app?
Generally, the mobile app offers work to the main Sharesight website. Moreover, it also promotes access to the holdings and portfolio performance showing the currency gains, and other dividend options while using the Sharesight app.