Altrady Review: Is it the Most Powerful Multi-Exchange Crypto Trading in 2023?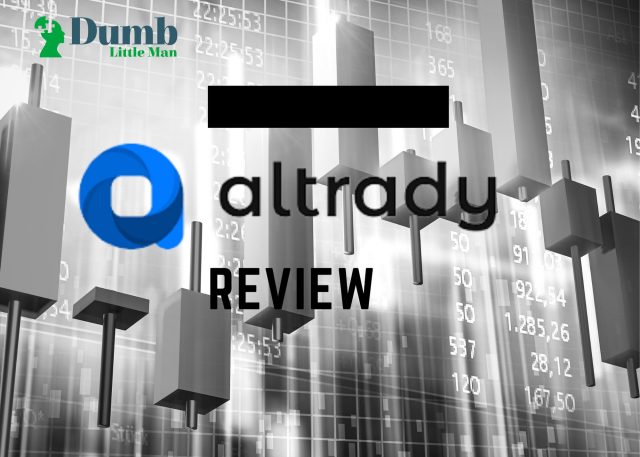 Want to jump straight to the answer? The best cryptocurrency brokers for traders are Coinbase and Gemini
The #1 Forex Trading Course is Asia Forex Mentor
Undoubtedly, Altrady is the exclusive trading terminal allowing investors to get access to multiple exchanges using this high-tech platform. It's a premium advantage for crypto investors looking for an effective option to diversify their portfolios easily.
The platform offers real-time market data options with a wide range of customization features to help make a personalized platform. It's particularly designed for beginners who desire to get educational resources with complete investment details to get the best-in-class trading experience. Therefore, it will help investors a lot with its Dev and support team.
Do you know there are multiple crypto exchanges available on the market? Isn't it difficult to choose which one will suit you the best? Some coins might include listing at specific exchanges to build an effective crypto asset for you. That's where Altrady comes in!
What does it offer? The platform gathers the entire trading activity within different exchanges to conclude into a single platform. It's for people who are trading enthusiasts and want to operate things seriously. Altrady offers innovative and reliable tools, thereby making the process affordable and accessible for traders.
Altrady Review: What Is Altrady?
Let's take a detailed look at what do we mean by Altrady! It was established in 2017 after being a part of the community for years. The manufacturer focused on what traders desired and needed in a comprehensive trading terminal with a basic scanner and various functions. The platform works best for traders looking for useful tools and helps you get the maximum advantage.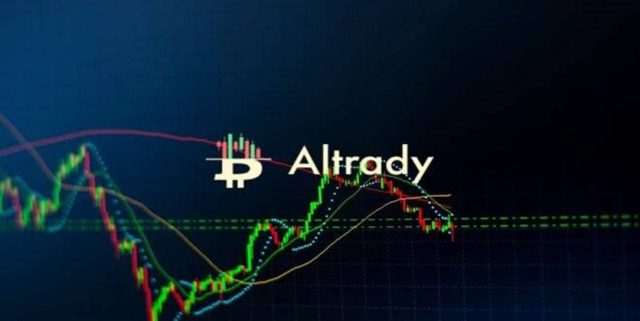 Besides this, Altrady is one of the exclusive trading platforms for different cryptocurrencies. The traders can easily link the cryptocurrencies accounts to this platform to get access to the experience for convenient selling and buying of currencies within one platform.
It's no doubt an overwhelming option for traders. Moreover, it is a cost-effective option and can do much more for the traders looking on multiple exchanges. It also includes innovative order types for different traders searching for exchange-based crypto assets with a base scanner looking for a wonderful thing. The trading bots add more to the convenience.
How does Altrady work?
Isn't it an all-in-one trading platform? YES! You heard that right. The platform allows investors to manage crypto portfolios and trades that are effective than many crypto exchanges globally. The tool features multiple options for retail traders and one-off sellers, making the platform an accessible option for beginner crypto traders.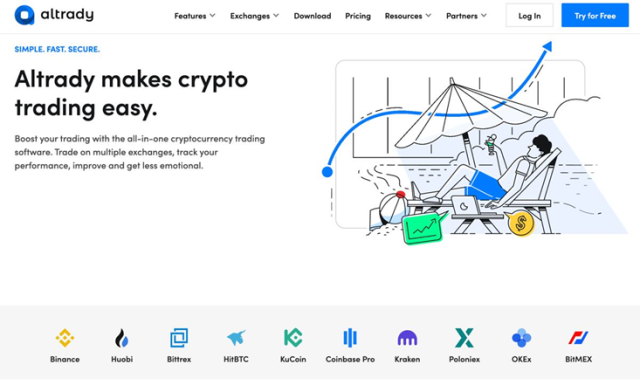 Do you know the requirement for specialized software is essential across the community? Therefore, the traders familiar with these services created this specialized software. In addition to this, Altrady includes a powerful trading mechanism designed to offer increased insight within the market and real-time analytical data with a trove for functionality.
The market updates with all essential alerts ensure effective scanning procedures to make it an effortless process for many traders. Sounds good, right? The powerful trading tools offer increased performance with a base scanner for increased assistance.
The Altrady trading platform offers users a single trading atmosphere that helps them to connect with the most significant crypto exchanges in the world, consisting of Binance, Coinbase, and more. It also provides you access to different cryptocurrencies within a few seconds, making it a beneficial option.
Click Here to Open an Account with Altrady (Official Page)
What are the Features of Altrady platform?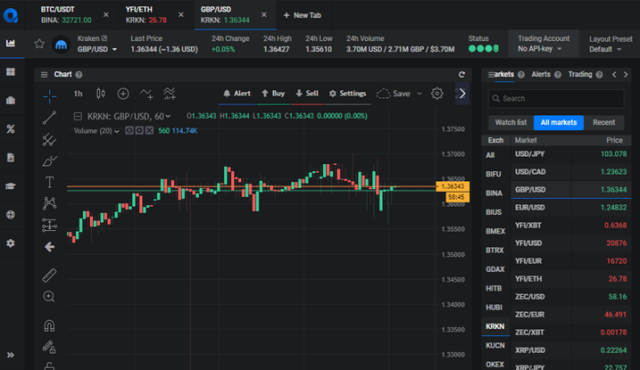 Let's consider the features in detail!
Smart Trading
It's essential to pay attention when day-trading as that's an exciting method to trade. But you know what? Things can change within a second on a crypto trading platform. YES! You have to take essential profits at the right moments to get the supported benefits with Altrady crypto trading.
Moreover, timing is everything when we talk about smart trading. You have to follow the best qfl trading strategy; all the entries and exits must execute to extract the possible trade values. Are you getting it? Let's take a closer look!
Altrady also includes a smart trading feature that can take profit orders and provide you with the best investment advice while making trading easier and effective within the crypto markets. It will let you configure the orders and make profits within a pre-defined trade portion while moving the stop loss to protect the gains and trade crypto.
Real-Time Market Data and Alerts
Isn't it essential to have real-time data for the entire trades? That's because the trading software can move instantly, and the prices vary greatly. Altrady offers advanced trading features with all real-time data displayed to help users make effective decisions. You can also get alerts on mobile, desktop, and emails to offer automated trading features.
Quick Scan
It also includes advanced trading strategies with a quick scan feature that will aid you in identifying markets for a price change, whether it's' dropping or increasing. This crypto base scanner feature helps crypto traders a lot.
Moreover, with this crypto trading software, you can set the filter-based time frame, supported exchanges, and certain market features associated with Altrady crypto trading. You can effortlessly save the filters while enabling or disabling them accordingly with the crypto exchanges.
Web Trading
Have you seen the option for web trading? It's the best crypto trading tool that offers Altrady users advanced features and trades cryptocurrencies with different trading pairs and portfolio managers to trade automatically.
You can download the web app and use the software easily by logging into the account to manage the portfolio manager from different internet-connected devices. Ensure to protect the login details and don't save the password or email on any shared device.
Trading Analytics
Let's talk about trading analytics! The trading crypto option offers automatic trading features to provide users exclusive trading experience with handy tools and portfolio management features. This crypto trading platform will enhance the effectiveness whenever you want to consider the performance data.
Do you know raw data includes no room for doubt? That's the only perfect way to access the trading performance. This complete crypto trading platform offers basic analytics and tells you about loss and profits, helping you to assess the strategies within the real market. It's no more an exception to offer excellent market price for people who started trading crypto.
Altrady Customer Support
Let's talk about customer support! Does Altrady is user-friendly? Generally, it offers two different methods to help the customers. You can contact on the trading app or email Altrady through the details to ask anything about your exchange account.
The support team also offers live chat options to help customers deal with any problem within the crypto trading software. Here in this Altrady review, we have explained in detail.
Altrady Mobile App
The Altrady mobile app is one of the exclusive trading platforms that mimic desktop functionality, ensuring a crypto trader a single trading place. Furthermore, they can monitor the crypto exchanges and manage the overall investments.
What else the mobile platform offers? It enables users to set and control the entire alerts depending on movement and price. Therefore, the cryptocurrency trading software is an ideal option for investors who desire trading crypto within specific circumstances. YES! There is no need to monitor the market analysis the whole day.
Within the crypto world, Altrady is the best crypto trading tool for professional traders as it includes exclusive cryptocurrency trading software. You can easily view different price changes and data within the app and track the holding even without using the trading app.
If you want to update the account information when traveling, this mobile platform is no more an exception. The app provides customers with different seamless integration options within the company's platform.
Positions
Lastly, another exclusive feature is the positions. Altrady portfolio manager offers a new position to help people trade the profit along with the current price. Let us tell you how it works! The more you will purchase, the higher position it will hike while adjusting the break-even point accordingly.
It also applies the same when you begin to sell a coin. Moreover, the tool will update the point and will help you completely recover and sell the remaining asset.
You can determine the positions with a break-even calculator as it will help you know whether you are getting profit or losing. You cannot manually calculate the trades anymore.
Altrady Pricing and Commissions?
What about the pricing schemes? Generally, Altrady includes three different account levels, and every account you choose will depend on the multi-exchange Altrady features you can get. The three basic plans are discussed below with preferable entry points.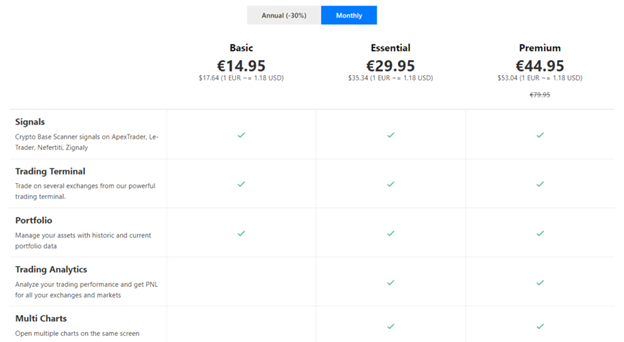 Let's consider the basic plan! This crypto trading platform includes a basic plan that will provide access to signals, charting tools, brokers, terminals, etc. It also depends on the monthly and annual pricing features enabling you to pay almost €10.46 to €14.95 every month.
Furthermore, the essential plan offers the entire trading features found in the basic plan while providing you access to advanced and premium charting options and trading analytics.
It also includes market order types, multi-charting options, and other trading features. It all depends on the monthly and annual pricing feature you will choose, ranging from €20.96 and €29.95 per month.
Lastly, consider the premium plan features. Well, a premium plan is a blend of basic and essential plans to offer exclusive crypto screening services. It's the best crypto trading platform designed to offer different crypto base scanner services to get effective portfolio growth. You have to pay €31.46 and €44.95 per month to get a premium plan.
Click Here to Open an Account with Altrady (Official Page)
Who is Altrady Best For?
Do you want to trade different cryptocurrencies? Well, Altrady has got you covered. It will help you find a single brokerage platform to get the maximum advantage. The platform also includes single-point access to large exchanges available while allowing hundreds of professional-level analyses, projects, and screener tools.
It is an ideal choice for investors who have experience in trading different cryptocurrencies worldwide. People who want to get a single terminal to hold their investments will find Altrady as the best choice for them. Moreover, it suits traders who mainly value cross-platform and want to invest using their desktop.
Altrady Pros and Cons
Let's talk about the pros and cons!
Pros
A broad variety of customization tools
Different journaling features for progressive trading
Investors can make notes on different trades
The education system includes different wealth videos with popular features
Cons
Some monthly pricing features include standard fees
Beginners might find it a bit difficult to use
Altrady User Experience
Have you ever heard about Altrady before? It's a cryptocurrency platform that ensures all-inclusive trading services for investors. It's a user-friendly platform with mainly intuitive features to ensure reliability and performance while trading with this cryptocurrency trading platform.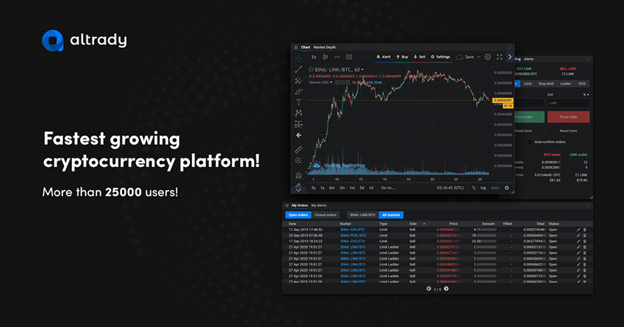 Altrady is an effective trading terminal that enables different account holders to access various markets using a single trading platform. Besides this, it is truly user-friendly and offers reliable features to traders while enhancing their trading experience.
The Altrady aims to simplify the process allowing the users to access different markets with ease. The examples include Coinbase, Poloniex, Binance, and more to help customers get the maximum advantage. It also provides you with effortless access to different cryptocurrencies units for reliability as it helps you trade on markets partnered with Altrady.
You only have to choose the crypto exchange and start viewing different tokens for trade. You can also track the market moving and examine the overall investment progress through the platform. Sounds impressive, right?
The traders will help view different trading platforms to examine orders before committing to open an account. Altrady doesn't allow users to view the platform until they have opened the account.
Moreover, you can access to 24-hour demo without verifying the mail. You can also explore supported tokens while placing a sample alert to know about multiple supported orders and choose Altrady as your top choice.
You can now examine the market movements and different cryptocurrencies without using a phone or computer. That's because Altrady enables users to set different customization alerts for different price targets and additional factors. That's no more an exception, no doubt. It aids you in receiving notices through email while pushing notifications through direct desktop options.
Altrady vs. Competitors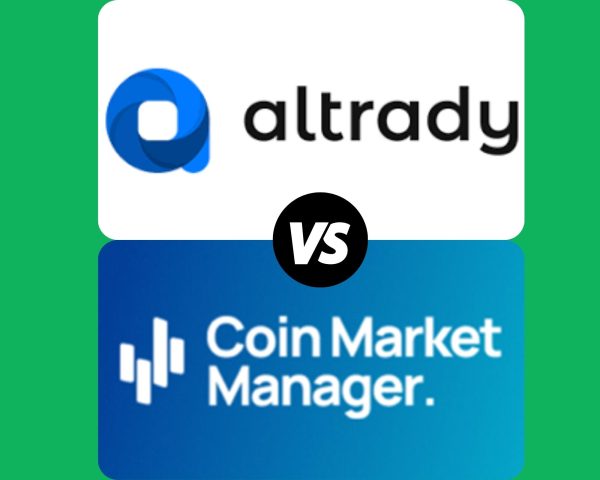 Let's compare Altrady to Coin Market Manager! Altrady is an effortless choice for someone looking for an all-in-one platform to help traders monitor and trader markets while managing access to different exchanges. However, coin market manager is undoubtedly an automated journaling tool for crypto traders with actionable analytics to help enhance decision-making.
Altrady is a high-grade trading terminal allowing the traders to sell and buy multiple currencies, whereas coin market manager allows real-time market stats and different values. Besides this, Altrady includes a broad range of customization tools compared to coin market manager that helps you view the latest trade history.
Altrady can connect 20,000 cryptocurrencies within the world than Coin market manager, which offers journaling tools and effectiveness. It's effective for professional traders looking for efficient platforms with multiple exchanges available.
Click Here to Open an Account with Altrady (Official Page)
>>Read more About Coin Market Manager: Is it the Best for Actionable Insights?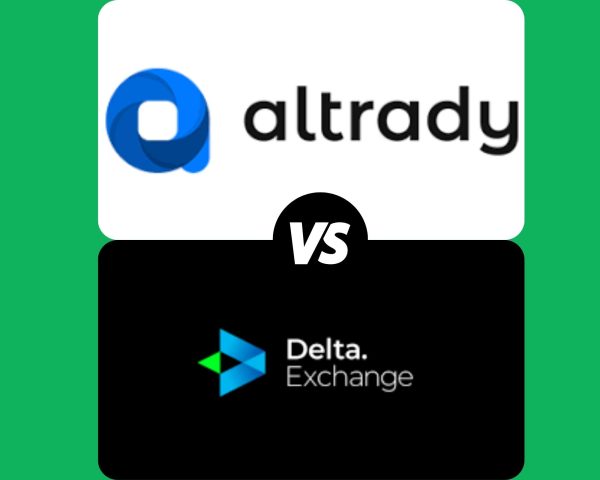 Another comparison is between Altrady and Delta Exchange, designed to offer exclusive services. Altrady is a perfect choice for enthusiasts who want to buy and sell multiple exchanges with the app. You can utilize the portfolio manager to take a look at the assets growth with multiple exchange wallets. In contrast, Delta exchange is a platform that specializes in Altcoin futures and different contracts.
It's an innovative platform designed to offer a simplified way mainly for trading derivatives. Moreover, Altrady provides customers with different customization tools, whereas Delta exchanges offer different markets to invest in. The Altrady is for investors searching for a single platform to manage their investments. However, Delta exchanges provide users a trading wallet with a particular wallet address to support the investors.
Click Here to Open an Account with Altrady (Official Page)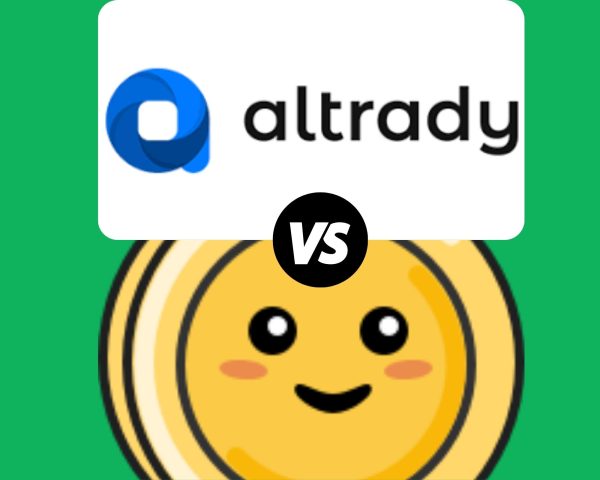 Lastly, let us compare Altrady with Lunch money. Altrady is ideal for advanced traders with highly diversified holders and options, whereas Lunch money is both for fiat and crypto money with different options to get the maximum advantage.
Altrady enables traders to manage different cryptocurrency assets throughout Binance, Coinbase, and other exchanges than Lunch money that offers services to track and manage the cryptocurrencies in the form of cash and investment accounts. Furthermore, Altrady features interactive trading order types, charting tools, and a heavy-duty portfolio for real-time alerts.
However, Lunch money is only a web-based option that doesn't support iOS or Android. It only supports the major cryptocurrencies worldwide.
Click Here to Open an Account with Altrady (Official Page)
Conclusion: Is Altrady really the Most Powerful Multi-Exchange Crypto Trading?
Altrady is one of our latest all-in-one trading tools. This one is mainly focused on cryptocurrencies. Altrady offers brief solutions to all your worries, such as monitoring your performance, trading across several exchanges, or finding methods to better your trading strategies.
The people familiar with the cryptocurrency trading arena may already know about the Crypto Base Scanner's first venture. The application monitors the coin market and has obtained motivating feedbacks from the trading community. Altrady, in several ways, is an advanced option to this scanning tool. The end product consists of many latest features to give an overall good experience to consumers.
Cryptocurrency trading increases rapidly. When trading through Altrady you can enjoy constant updates in charts, making it convenient to track the crypto movements and choose when to step into the market.
Altrady was itself manufactured by traders to make cryptocurrency available to everyone. This platform will help you upgrade your trading skills and techniques while adopting the demands when climbing the investment ladder.
Altrady FAQs
Is Altrady Safe and Legit?
Yes, API keys connect the exchange to Altrady, which is considered a safe option. API does not permit withdrawing funds; it just allows to place orders. However, granted permissions can still be edited through an API key on your exchange.
Altrady is a fabulous product that attracts more cryptocurrency traders. The only drawback is that if you want to use all the features, you have to go for the advanced package.
What are the best trading strategies?
Several different methods are used to get an active trading strategy with the right market environments and the risks inherent in the plan. Here are the four most used strategies for active trading and the cost of every strategy.
The acting trading strategy involves beating the market via timing and identifying profitable trades that are often used for short holding durations.
Numerous general strategies can be applied within active trading
the four most famous acting trading methodologies are position trading, swing trading, day trading, and scalping.
What is crypto trading?
A cryptocurrency is a payment form that can be converted online for services and goods. Most of the companies have made their own currencies known as tokens, which can be traded in exchange for goods or services that the company offers. They are the same as casino chips or arcade tokens. You will have to convert the real currency in cryptocurrency to use the goods or services.
Most investors see cryptocurrencies as just mere speculations, not actual investments. The reason is that just like the actual currencies, cryptocurrencies do not generate any cash flow, so for profit, someone else has to pay a higher rate for the currency than you did.