Score Priority Review: Is it the Best for Options Trading?
Options trading has been amongst the news for a while now; new investors are often confused with what options are, and whether they make a profitable investment or not. In simpler words, options aren't a direct commodity or certificate, as in the case of stocks. It is a financial contract that provides the buyer the right to purchase or sell a security to earn profit. If the share hits a high, you can transfer the right for the process, and In case of a fall, you can buy it for a bearish future profit.
The certainty of profit in the options market is complex; the complexity doesn't come from its infrastructure or reliability; it's due to the lack of predictability. Unlike stock prices, option prices don't always follow the market trend. Although you can establish a relationship between the securities and their options, they aren't always reacting the same way. Nevertheless, options are quicker in returning your investment than any shares. The rise and fall of options are short and rapid, so intelligent people are always able to generate a decent profit.
However, due to the uncertainty of the market, there have been several failure stories over time that are marked by hasty or slow decisions. You need to be quick in making the right decision; otherwise, your profit will take a hit. In the dilemma of deciding whether options trading would be profitable or not, the role of options brokerage firms arises. There are several renowned option trading platforms that have helped their investors make significant profits and move a step ahead in their investment objectives.
Today, we will ease your search by reviewing a famous brokerage firm. Score priority has been in the US market for several years now; their trading services and benefits have earned them loyal customers over the years. A score priority account offers numerous trading choices, including mutual funds, options, stocks, securities, and bonds. In this review, we will take you through a comprehensive review of the score priority trading platform, its offers, the customers, Pros & cons, and finally, the pricing. So, let's go!
Score Priority Review: What Is Score Priority?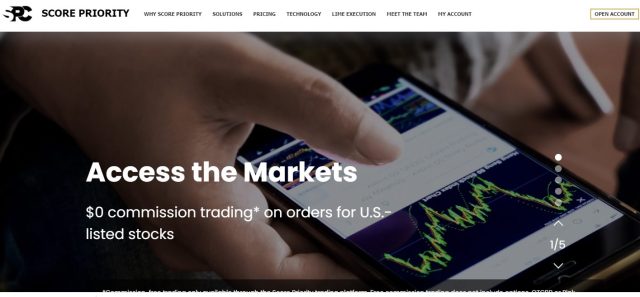 Score priority started its operation in 2007 as a discount broker that targeted high-volume traders only. Its initial name was Just2Trade; however, with its rising customer base and offerings, the company decided to change the name to 'Score Priority' in 2020. In the same year, Score priority integrated another finance-related business into its portfolio. Lightspeed Financial Services Group's HFT executive division allowed score priority to make quicker executions that would help active traders make better profits.
The focus of score priority has always been on active and institutional traders that would have higher expectations from a brokerage firm and would also come with higher investment capital. The brokerage firm has focused on ensuring commission-free trading for some securities while others are traded at a reasonably low price.
Like other active trader brokerages in the United States, Score priority focuses on different pricing strategies to attract more customers. The latest app integrations have enhanced the execution speed, and score priority customers are able to enjoy better profits.
A bit about the company's reliability, It is listed with the Securities Investor Protection Corporation in the United States and Canada, making it a reliable hub for your investments. The team behind the project has commendable experience of working in top-investment firms before joining score priority.
As described on its website, the objective of Score priority is efficiency in helping customers get the best results. The brokerage firm emphasizes the integrity of its operations and accuracy of its data to enhance the understanding and trust of its users, so they are benefited in the long run.
How does Score Priority work?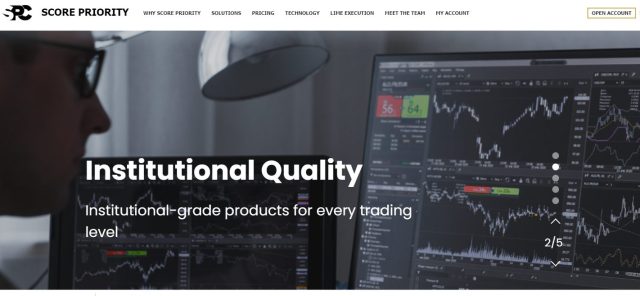 The score priority offers twelve different account options to suffice the needs of its users. As the main spotlight for Score priority is active traders, they have four different individual and joint account options. Nevertheless, Score priority offers a wide range of accounts for financial and corporate institutions as well.
Most users prefer to have individual accounts due to the lack of complexities and document requirements; nevertheless, score priority has also seen a rise in its corporate account since commission-free trading was introduced. Let's learn the popular accounts in some detail.
Individual account- It is a popular account type amongst single owners. It comes with all the required facilities of the trading platform; the only difference between other joint accounts is the transfer of ownership if the owner dies.
Traditional IRA account- It is a tax deferral and rebate account made for investors that are able to present several required certificates confirming their situation. It allows users, aging close to retirement, for tax exemptions and returns.
Corporate Account- it is a premium services account that has higher fees for more services. The account is registered in the name of a corporation. The brokerage requires the corporate to present multiple registration and legal documents to initiate the account.
Opening an account on score priority is as simple as any other brokerage. You can directly head to the main website and tap on the 'open account' button. You will be asked to enter the login details to help you access the application if you wish to complete it in multiple stages.
The detailed requirements for an individual account are easy to arrange. Once everything checks, it would take about 7-10 working days for your account to have direct market access.
What are the Features of the Score Priority?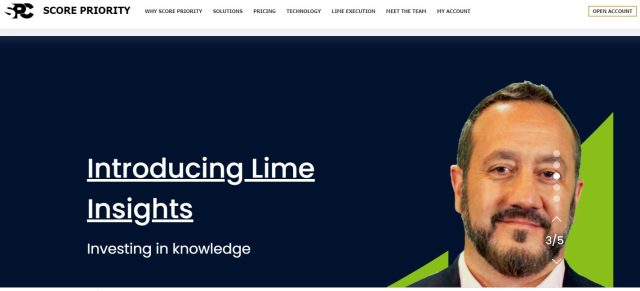 Advanced trading platform: Score priority was created with keeping an active trader in mind; hence the trading tools and research options are all designed to assist in faster and more accurate research. Traditionally, Just4 Trade had two web and mobile trading platforms.
Nevertheless, the rising competition in the market has pursued Score Priority to launch a more effective platform. It allows you to access your favorite research and news tools from your main dashboard. Although the tools have been increased, the cluster has reasonably decreased to avoid confusion.
Unrestricted trading: A highlighted feature of score priority is unlimited commission-free trading for US-listed stocks. It is a unique feature that most brokers in the US haven't offered. It also provides a wide range of foreign markets that can be accessed from the same application.
The commission and administration cost for foreign trading are relatively low, giving score priority users an edge against their counterparts. The company claims to have a sophisticated pricing method that doesn't charge any hidden prices.
SIPC insurance: it is important to understand that internet markets are prone to a lack of trust. Users aren't readily accepting online investments as a legit move. The US government has collaborated with financial institutions to drive the SIPC- securities investor protection- to ease the investment procedure.
The organization's role is to regulate the brokerage and safeguard the investor's investment. Score priority is registered with the SIPC, making it trustable for other investors.
Customer Service: The website of Score Priority has paid particular focus on their relationship with their customers. They claim that the website is designed with immense precision to ensure that the needs of all users are fulfilled.
The broader range of platform options also allows multiple users to trade stocks and options in a preferred environment. Past users have commended that Score priority customer service is easy to reach and solves the problem within the allocated time frame.
Score Priority Pricing and Plan.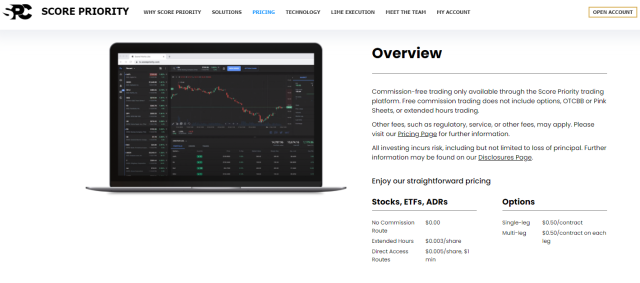 The pricing strategy of score priority is pretty similar to other brokerages oriented toward active traders. It comes with multiple pricing and planning schemes to suffice the needs of all users. It offers commission-free trading zones in the US stock markets and low-cost pricing in the foreign regions, allowing higher profits for traders.
Unlike famous US market makers, Score priority doesn't charge on a spread basis; instead, it has multiple pricing policies for mutual funds, stocks, exchange-traded funds (ETFs), and options.
For stocks, ETFs and ADRs, the trading fee is charged per share traded for the direct access route; the fee is 0.005 per share with a minimum of $1. The cost can be increased if you are trading during extended hours. The fee for extended hour trade is an additional $0.003 per share. Nevertheless, Score priority offers commission-free trading zones for US markets with a $0 commission charged.
For options, there are two different commission prices for platforms multi-leg options and single-leg options. Trading single-leg options would cost you $0.5 per contract, while the former would cost you $1 per contract.
Score priority also has a required minimum balance, different for the US and foreign traders. For traders based in the US, the minimum balance to always maintain in the account is $1000. The foreign accounts would require $2500 to begin trading on their accounts.
The inactivity fee is $15, which is charged on accounts that have a balance lower than $50000 and haven't made more than five trades in the entire quarter. Overall, the pricing structure of Score priority is reasonable; however, there are some high minimum deposit requirements that may disturb short-term investors but would not be a problem for high-volume traders.
Who is the Best Score Priority For?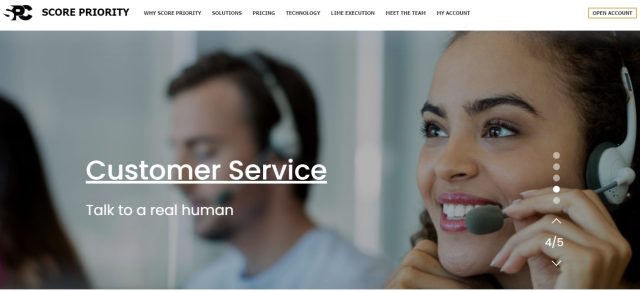 Since its inception as Just4 Trade, Score priority has only focused on high-volume active traders that can switch between multiple markets and commodities. The trading fees and other requirements for individual active traders are easily fulfillable, and setting up an account is as easy as you like. Another factor that benefits active traders is the range of trading platforms made for different types of investors.
The newer advanced trading platform allows multiple research and technical tools that can help active traders analyze different securities. The platforms are designed with precision to avoid clusters, and the financial advisor section can come in handy for making good deals.
Another segment that the offerings of Score priority would attract is financial institutions. The commission-free trading in the US stock exchange allows fair leverage to make good deals. Lesser trading fees ensure that the losses are minimized, and investors retain profits.
Another factor that benefits active traders and financial institutions is getting past minimum deposit requirements and inactivity fees. Of course, active traders start with more considerable capital; thus, they won't encounter any minimum fee problems.
Similarly, at least five trades requirement is easy to cross; therefore, the minimum fee can also be avoided. Nevertheless, Score priority won't be a good choice for casual and short-term investors for the two additional costs. If you're one of them, you can look for other alternatives to find a suited broker.
Score Priority Pros and Cons
Pros
Multiple trading platforms
Commission-free trading
Access to international markets at a low price
Easy options and futures trading
A comfortable platform for mobile trading
Free demo account
Cons
High minimum deposit requirements for casual traders
Per-share pricing plan may hurt high volume traders
The mobile trading platform lacks technical tools
Score Priority User Experience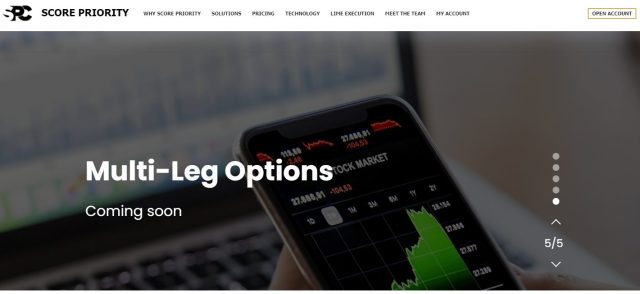 Score priority has been a trustable broker for active investors. The investors have commended the broker's execution rate and low pricing policies. The commission-free trading has helped high-volume investors make the best deals and keep most of the profits. The free access to the US stock exchange is also popular amongst new financial institutions who enjoy the relaxation of staying in for a trade.
However, some novice investors have highlighted that the brokerage firm offers restricted educational support. The website contains limited information about trading on the platform and utilizing it to its full extent. Another highlighted issue is the missing portfolio analysis. Most brokers in the United States offer a portfolio tracker that helps investors understand the diversification of their investments and the deal they should make.
Nevertheless, the problems highlighted are understandable because score priority has clearly described its focus on active traders and financial institutions. Such users are in good care of their portfolio through a more advanced version of portfolio trackers such as Kubera. Similarly, these investors don't require educational resources to get started in the investing world. Their preliminary information allows them to make the best deals without the educational materials.
Score Priority vs. Competitors
The score priority is some difference from other trading platforms. Some of the platforms include the following;
Score Priority vs. Avatrade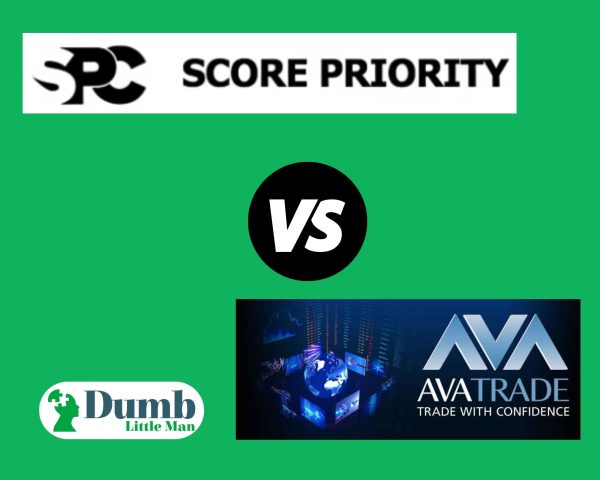 Avatrade is amongst the oldest American brokers, and it has earned a high reputation for the quantity and quality of its offerings. It is a heavily regulated broker, ensuring that your money is in safe hands. The range of offerings is a great perk for the investors as they can purchase in more than 130 markets from 33 different countries.
However, the only thing that doesn't attract active options traders to Avatrade is its pricing strategy. Not only is the spread complex to understand, but it often cumulates to a higher overall charge than that offered by other brokers in the region. On the other hand, Score priority has a lenient pricing strategy that allows investors to retain most of their profits.
Score Priority vs. Tradier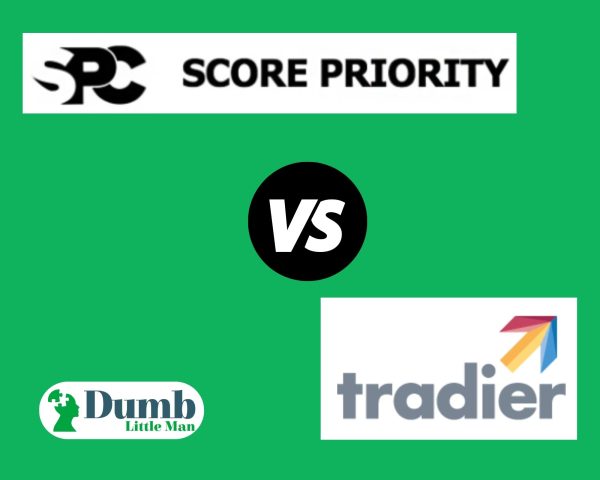 Tradier is another popular brokerage in the American region. It has been operating in the continent for more than a decade now. During this time, it has established an appreciating audience that commends the services provided and the pricing. It is aimed at active traders; the trading platforms from the brokerage have the required set of tools to get you started, and integrated research and news options also come in handy for making the perfect deals.
However, it is for a small segment of active traders, as it doesn't allow you the leverage to build a portfolio. The brand specializes in stocks and ETFs, but it doesn't offer other securities, such as options and futures.
Hence, investors have a restricted chance of earning profit elsewhere if the stock market crashes. On the other hand, Score Priority offers a wide range of offerings from both national and international markets that allow users to make good profits.
Score Priority vs. HYCM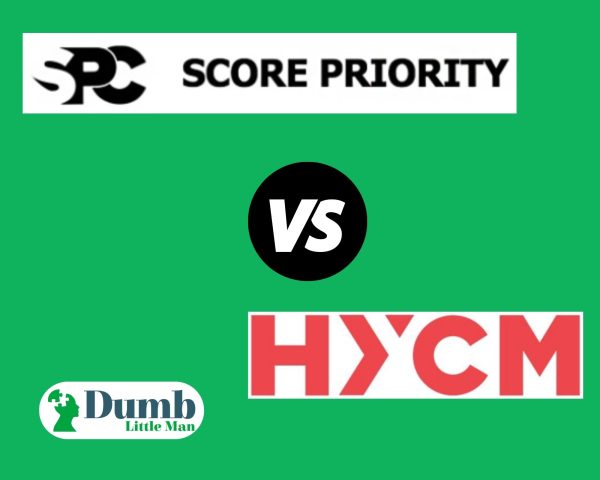 HYCM is one of the oldest brokers currently operating in the American market. It was founded in 1977, but it isn't publicly traded as of now. HYCM is a wholly-owned bank subsidiary, which provides it the liquidity cover and leverage to operate multiple accounts at once.
It isn't pretty much regulated in the American markets; however, it still has three-tier 1 safety certificates for its reliability. Since it announced its new pricing strategy, the broker has been in the public eye. The latest updates have allowed commission-free trades with different spreads.
However, there are concerns over its legitimacy and reliability. Previous users have claimed that they have had to face several complications in withdrawing their payments. However, the brokerage has assured that these problems were now addressed and things were in control.
Nevertheless, as the brokerage isn't publicly listed, there are no official records with the designated authorities. Contrastly, Score priority has earned a reliable reputation amongst its customers, and there have been no reports of any public or social breach.
Score Priority vs. IFC Market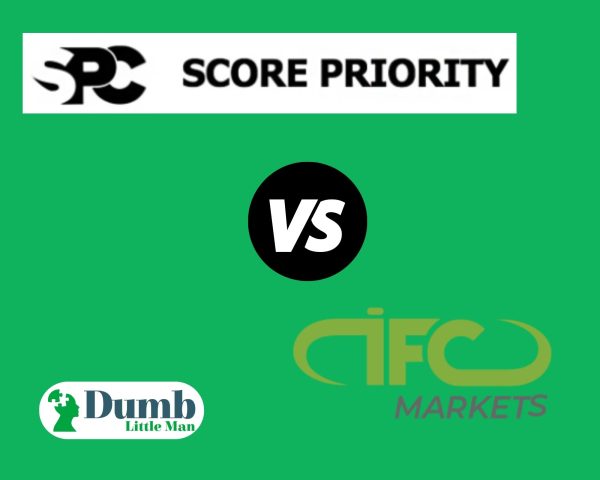 The IFC market is another brokerage initiated in Cyprus and then reached America. IT was a merger between IFC markets in Cyprus and Virgin Islands UK. It is a reasonably new brokerage for Americans, but its range of services has impressed the investors who are looking to make a quick profit.
It is regulated by different regional organizations, which makes it a safe spot for your investment. The range of offerings by the IFC market is an attractive perk for active traders.
However, users have reported multiple complexities while signing up for the brokerage from America. Numerous exchange fees are charged, resulting in lower profits and worse losses. Similarly, the spread of charging bases for American users is pretty unfair and should be changed to capture the market.
On the other hand, Score priority offers a smooth procedure for setting up an account and making your trades without worrying about any troubles.
Score Priority vs FXTM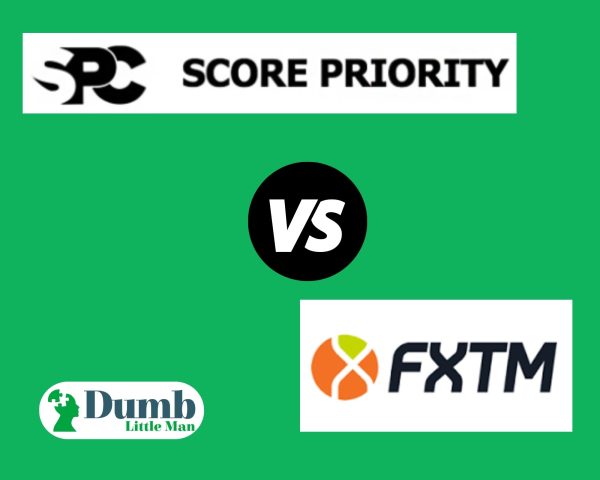 FXTM was rated as the highest growing broker for 2018 after its remarkable growth in the European region. The brokerage firm was founded in 2011 in Cyprus; however, the majority of its early years were spent establishing in the same region. By the end of 2013, it was visible in the American and European markets. Today, it has established a solid customer base thanks to its educational resources and remarkable customer service.
FXTM follows a famous pricing structure based on spreads of commodities. The pricing strategy allows FXTM to earn without charging a designated trading fee. Although the process initially attracted investors, the spread cost more than the regular commission fee.
The complexity of understanding the spread is another hindrance. On the other hand, score priority's trading platform describes the pricing structure in a non-complex way to ensure all investors are on-board.
Conclusion: Is Score Priority the Best for Options Trader?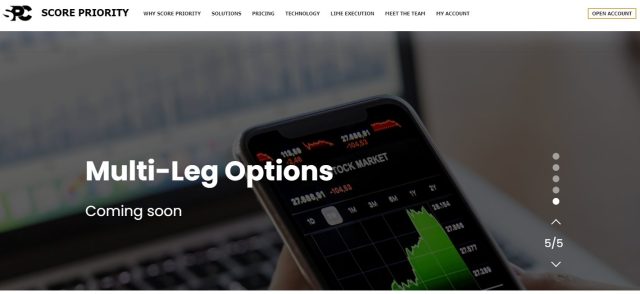 After discussing Score Priority in detail, it is pretty easy to say that it is a strong brokerage firm that can help you succeed in the investing journey. The easy accessibility of your account from both the web and score priority's mobile app is a great way to stay updated about your portfolio at all times. Simple pricing strategy and commendable customer research are substantial benefits to attract advanced traders to the firm.
Nevertheless, the problems associated with short-term and casual investors aren't negligible and should be paid heed to ensure all investor segments are benefitted. Precisely, Score priority can be the best options trading platform for active traders and institutions, but it won't apply to the entire investing world. It is upon you to decide which category you fall under; if you think the minimum deposit requirements and inactivity fee are avoidable, Score priority is worth trying.
Score Priority FAQs
Is Score Priority Safe and Legit?
Score Priority has had an excellent reputation amongst its users. It has been acclaimed as reliable and safe. The brokerage website mainly focuses on ensuring the integrity of customers' data and investment. As the brokerage is listed with SIPC, it is safe and reliable for your investment. The SIPC serves as insurance for your assets.
Active traders can trade in mutual funds, options, corporate and municipal bonds, ETFs, and futures. The trading platform allows a detailed review of each commodity so that you can make an updated decision. The latest integrations have fastened the execution process so that all trades are made with efficiency and investors are able to earn decent profits.
What is the Score Priority club?
A score priority club is a financial industry regulatory authority website that offers global social advanced trading tools with detailed financial analysis, contents, and comments from fellow score priority corp. It is widely used for the destination of vital real-time news, investing strategies, substantial risk, and technical analysis capability.
Score priority claims the club to be a valuable tool for networking with your peers and analyzing how more mature investors invest. The forum has detailed financial analyses, stories, and trends to help regular investors make the most of their investments.
What is a prop account?
A prop account is different from the traditional retail investor accounts. Unlike a commercial brokerage, a prop account broker doesn't use the client's money to make trades. The capital is of the brokerage firm itself, and the client can make the deal on behalf of the firm. Any profit earned on the contracts is distributed amongst the brokerage and the client.
It offers access to stocks, exchange-traded funds, ETFs, real-time market data, and futures options. The traders either start trading their accounts or copy experienced traders. The trading options are mainly speculative and would involve derivative investment products.
In simpler terms, derivative investments aren't a commodity on their own. Their highs and lows are dependent on the changes in other factors that may affect the significant item.
For instance, options are a derivative product for stocks. The contracts are the right to buy or sell the stock if a profitable situation arises.