Best Forex Training Course: 7 Top Ones Tested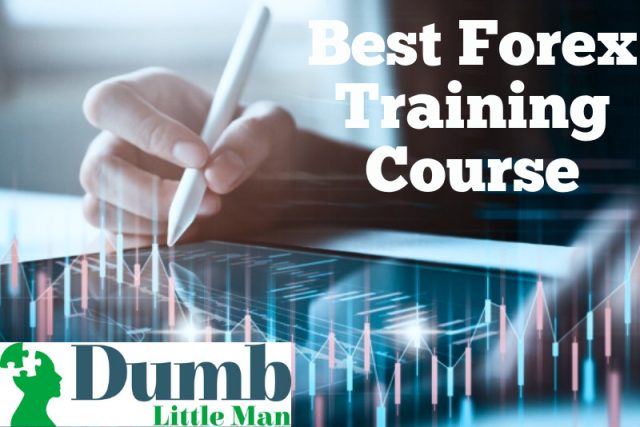 The world has become interconnected and countries are becoming more interdependent through exports and imports. One of the effects of these interactions is the rise of forex trading.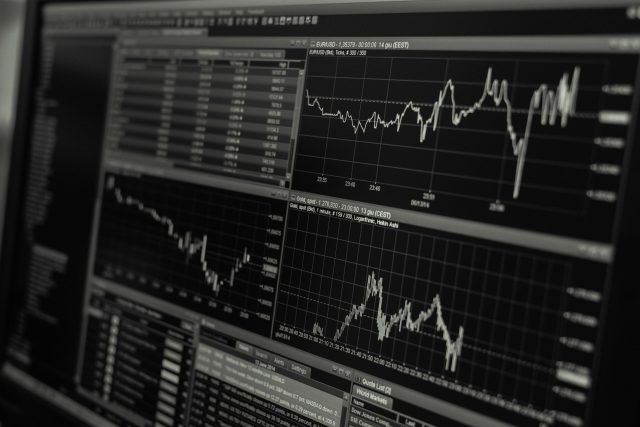 It's become very popular, with thousands of people becoming millionaires within a short period. How did forex exchange start? By learning from various channels. The best place to start is through online forex courses.
But why an online course when I can research from the internet and get all the information I need to trade?
To avoid costly mistakes beginner traders make, you need to understand the forex market better. You need a firm foundation before risking your hard-earned money because
Forex trading is fast-paced and risky
Forex market is volatile
Having said that, you need to understand how to set up a forex risk management strategy. You also need to understand investing strategies, brokers and trading platforms, leverage spreads, transaction costs and forecasting currency movements.
The best place to start is through online forex classes. They can be either video lessons, mentorship programs, or live classes. The content and prices vary too.
When looking for an online course, it can be tough to know where to begin, especially if you are unfamiliar with the subject. This article covers the 7 best online forex training courses available. Keep reading.
Best Forex Trading Courses
Best Overall: Asia Forex Mentor
Best for Funding: TopStep Forex
Best for Personalized Mentorship: Forex Signal
Most Comprehensive: Benzinga Forex 101
Best for Advanced Strategies:Market Traders Institute
Best Value for Money: Traders Academy Club
Best for Newbies: Udemy Forex A-Z
| RECOMMENDED TRADING COURSE | REVIEW | VISIT |
| --- | --- | --- |
| | #1 Forex, Crypto and Stocks trading course. Ranked most comprehensive by Investopedia and Best by Benzinga. Free to Try! | |
Find Out More About Best Forex Training Course
1.Asia Forex Mentor
Founded in 2008, Asia Forex Mentor is a top forex training course. Its founder, Ezekiel Chow, specializes in teaching forex trading. His program's main goal is to teach how to trade in a methodical manner.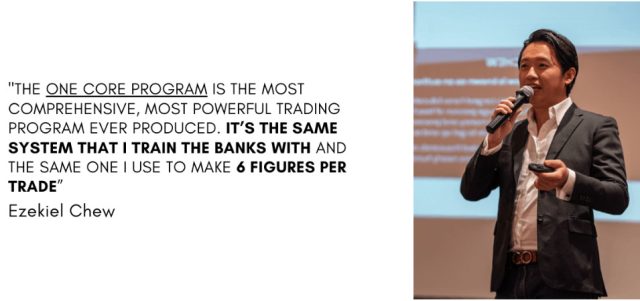 Ezekiel, who is one of the most successful forex traders, also works with banks and fund management firms as a trader. He believes in giving back to society through education.
Having said that, his trading skills are highly sought. He has been invited to speak at various financial events.
His main courses are the Golden Eye Mentor and the One Core Program. In both these courses, he teaches trading skills applicable to stock trading, and other markets.
The one core program covers
How to read charts while incorporating indicators and price action.
The popular road to millions technique
High win rate techniques can be applied to any market move.
Risk management and other trading management techniques.
Pricing
Asia forex mentor costs $997. This is a one-time fee that guarantees you lifetime access to forex trading learning materials.
Best for
The course content suits both new traders and advanced traders.
CLICK HERE TO READ MORE ABOUT ASIA FOREX MENTOR
2.Topstep Forex
Do you think you are talented enough but lack money to trade? Topstep is the right place to start. It's quite different from other forex training providers because it provides you with the funds to trade. However, you have to go through a screening process.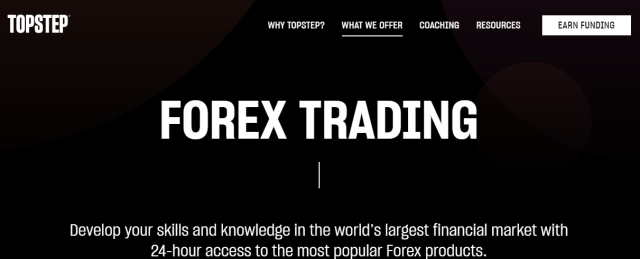 Because of this, Topstep Forex is an excellent choice for beginning traders. Topstep features all of the tools you'll need to get started trading foreign exchange right away.
You begin in a simulated environment with the trade combine. The low monthly charge includes fx market data, education, and trading platform access. You do not need a forex trading account to participate.
As a forex trader, you'll keep the first $5,000 and 80%of any gains after they have funded you. From the topstep website, you can notice a few statistics about their funded accounts.
6033 traders were funded in 2020
Over $2.1 million was withdrawn in 2021
What does topstep forex offer?
Swap money with other traders
Acquire forex trading knowledge in a risk-free environment.
Learn how to avoid risk and conduct market analysis
Pricing
You have to select an account size and pay the monthly subscription fee.
$200k at $125
$300k at $165
$500k at $275
Best for
It's best for new traders looking to learn trading without investing much money.
CLICK HERE TO READ MORE ABOUT TOPSTEP FOREX
Established in 2012 by Nick McDonald, a forex trading coach, forex signal is a Website that provides forex trading classes as well as a trading room. With over 500000 registered students, thousands of 5-star reviews, forex signal has become one of the popular online forex training courses.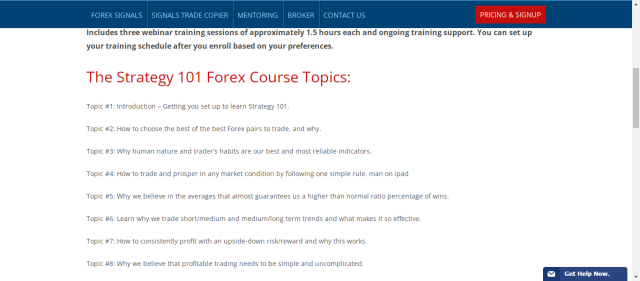 To teach forex trading strategies, forex signal employs four expert trading mentors. They teach through live trading sessions every day of the week. They discuss forex markets, their trades, and positions. You can learn how to read, comprehend, and trade the financial markets.
With a collection of over 400 forex trading training videos, you can learn anything- from fundamentals to advanced trading strategies and tactics.
The course is divided into 8 topics. Navigation through the course is self-explanatory. Each mentor specializes in a different aspect of forex trading education. The video library is regularly updated with new content.
The trading room is the hub for interacting with mentors and other traders. Throughout the day, the conversation stream is updated with trade ideas and market opinions.
Pricing
The course is available at a promotional price of $995 and comes with a one-month free Standard package that costs $29 a month. You also get 30- day access to the trading room and charting software used by pro traders.
Best for
Forex signal is best for new traders. It's suitable for anyone looking to learn forex trading.
CLICK HERE TO READ MORE ABOUT FOREX SIGNALS
If you are looking for the most versatile and comprehensive forex trading class online, then forex 101 by Benzinga is the right place.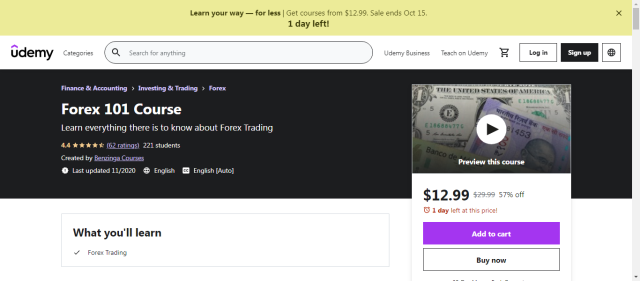 This forex trading course covers
Fundamental pairings
Short selling
Pips
Fundamental analysis
Technical analysis
Points
Forex chart patterns and indicators
Support and resistance levels
Fibonacci retracements
You'll also receive real-life forex exchange examples: AUD/USD sell transactions are used as examples in Benzinga's forex course.
Pricing
With the course hosted at udemy, you can get it for the regular price of $29.99 or at a discounted price. It comes with a 30-day money-back guarantee, lifetime access and is accessible on mobile.
Best for
Benzinga forex 101 is suitable for beginners. Advanced traders can also learn forex trading tactics and strategies.
CLICK HERE TO READ MORE ABOUT BENZINGA FOREX 101
5.Market Traders Institute
Based in Orlando, Florida, Market Traders Institute has some of the best forex trading courses. Its main focus is to provide foes trading education, trading tools and live trading.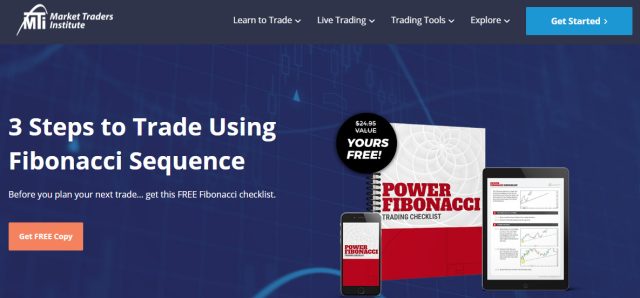 The course is divided into 16 interactive training lessons and online courses. The forex trading courses are divided into 3 categories; Advanced, intermediate, and beginner. This is to enable you to select the right forex courses to begin with.
Apart from the online classes, you can also attend a two-day live class at their headquarters.
Pricing
Market Traders Institute materials start at $199 and advanced traders price way up to $4,995 for the Ultimate Traders Package On Demand.
Best for
Its online forex trading courses are best for all since they are divided into categories.
CLICK HERE TO READ MORE ABOUT MARKET TRADERS INSTITUTE
6.Traders Academy Club
Founded by Vladimir Ribakov, a forex trading coach, this FX academy club instructs on all aspects of forex trading. From fundamental basics to advanced trading, this course has everything you need. Its founder has over 10 years of experience trading currencies.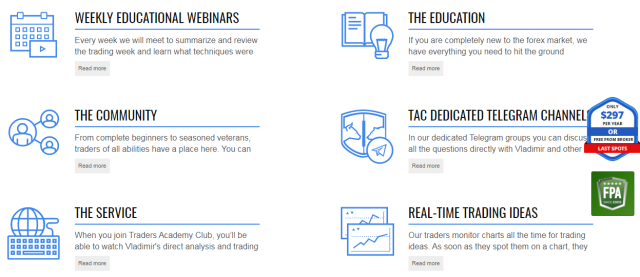 As an FX Academy Club member, you will get access to;
Trade reports with insightful descriptions of trade ideas.
Trading tools
Forex trading Ebook
Live commentary from Ribakov and his guest
Live chat to interact with Ribakov and other active forex traders. You can share ideas as well as trading strategies and tactics.
Live trading sessions
Hundreds of webinars both for advanced and beginners
Pricing
Traders Academy Club costs a lifetime fee of $297. This includes a MetaTrader 4 demo and a paper trading account.
Best for
While the course has materials for all levels, it's best suited for beginner forex traders who need to master the fundamentals of the forex market whilst avoiding mistakes. The trading simulators are good for practice.
CLICK HERE TO READ MORE ABOUT TRADERS ACADEMY CLUB
7.Udemy Forex A-Z
Just like Forex 101 by Benzinga, this course is hosted on udemy. This forex trading course is very comprehensive,cheap, and has some of the best forex trading classes online.

Forex trading A-Z covers almost everything a beginner would need to know about the forex market and trading. Its Taught by Kirill Eremenko, who is experienced in both forex and stock trading.
Some of the things you'll learn include
How the forex market works
How to select a broker
learn forex trading terminologies such as spread, pip, point, spread, and much more
Understand what leverage is and how it affects markets
The three types of analysis, technical, fundamental and sentimental
How to use all types of orders
How to calculate and manage risk while trading and so much more
The course is well organized, and mobile-friendly, thus you can learn on the go. Tutoring is also available to students at any time during their studies.
While the forex trading A-Z course is comprehensive, it misses the most important part any best forex trading course should have. It doesn't offer live trading sessions.
This is a drawback and experienced forex traders, who need to learn how to implement trading strategies might find this wanting.
Kirill also has other forex courses. For example, the algorithmic trading course, where he teaches how to trade forex using a forex robot.
Pricing
Beginner and advanced traders price is $12.99. The forex course also comes with a 30-day money-back guarantee and lifetime access.
Best for
This course is suitable for beginner traders. However, experienced traders who need tailored learning such as fundamental analysis, technical analysis, or brush any concept he might have forgotten.
CLICK HERE TO READ MORE ABOUT UDEMY FOREX A-Z
Characteristics of top forex trading classes
The most valuable things in life are time and money. As an investor, you have to evaluate how you spend each of them. With so many best online forex trading courses available to choose from, it's essential you evaluate them thoroughly.
What should you look for in an online forex trading course?
What Methods Does the Course Use to Deliver Learning?
Everyone has a preferred way of learning. Either through audio, a theoretical approach, visuals or via hands-on experience.
Some forex trading courses are delivered as practical demonstrations with video lessons. Others use textual explanations or a combination of theoretical and practical assignments to complete.
Some courses have social platforms such as Facebook groups or forums for the students to share information and assist each other.
Don't expect the online instructional resources to be similar to each other. You should choose a course that suits your learning style.
The course should be engaging. A course that helps you maintain focus while presenting knowledge in an enjoyable way.
Who is in charge of instructing the course?
Nowadays, anyone can start teaching online. The emergence of course hosting platforms means even a quack can start his own course, and attract students.
As you invest your money in an online forex course, be sure its form a trustworthy service and is taught by experienced forex traders. A tutor with enormous success trading forex.
So what should you check?
The first thing is to double-check his credentials. After that, the dependability and the quality of the content taught. You should be sure that the course is real.
Secondly, check for customer reviews on several websites. This is a smart technique to know whether the course is good for you, or if it's just a waste of resources. It's an excellent way to ascertain the course's legitimacy and quality.
Thirdly, if the course offers a money-back guarantee, you can sign up and check the aesthetics of the course website. Odd formatting, poor design, illogical structuring, grammatical and spelling errors, are excellent indicators of professionalism.
Finally, carry out background research on the tutor and provider to ensure your money, time and learning experience will be worth it.
What Is Included in the Content?
As a learner, evaluating the content to see if it meets your requirements is critical. As previously said, if the course offers a money-back guarantee or free trial, sign up and evaluate it. If it doesn't, you can find out if its course outline is available before enrolling.
What else should you look for?
The world is changing rapidly; so does everything. You need to check if the course is current. To keep up with these advances, the course should be updated regularly. You should also know whether access to updated content is guaranteed or not.
Every course has its targeted audience. Some are for beginners; some are for advanced traders. It's essential to know where you are to enroll in the best forex trading classes.
If you have so many things to do and love learning on the go, you should check if the course is available for download. Don't forget to ascertain if the course material is mobile-friendly.
One characteristic of best forex trading courses is, they give you an opportunity to ask questions. As an investor and learner, having all your questions ready before time can't be ignored. It's the only way you can know if the experience will help you become a better forex trader in the future.
It's also a good idea to know the topics you want to learn. Is it indicators, is it trading psychology, or is it how to read a chart, or maybe you need to improve a certain facet of your trade and need customized content? The course material should meet your expectations.
What Is Included in the Support Package?
A collaborative and active learning environment is essential for any forex school online.
The best way to achieve this is through online chat rooms or a system that provides a conducive environment for students to air their issues. It's also a fantastic opportunity for people to connect, share and learn from each other.
The best way to know all this is to examine the course agreement contract.
As stated previously, they need to be updated regularly, and the best course should provide you with access to all updates. It's also a good way to refresh whatever you have learned.
As a forex trading learner, live trading lessons are essential. Some courses go ahead and provide you with a trading program or simulators, while others will let you find your own choice. You need to ascertain if the trading platform meets your needs.
Finally, do they have one-on-one coaching? Are there assignments? Having interactions and personal feedback is important. All this will help you know if to sign up or not.
| RECOMMENDED TRADING COURSE | REVIEW | VISIT |
| --- | --- | --- |
| | #1 Forex, Crypto and Stocks trading course. Ranked most comprehensive by Investopedia and Best by Benzinga. Free to Try! | |
Conclusion
Online trading courses are a great way to start learning anything. This also applies to forex markets. Online forex courses are great mines to acquire relevant forex knowledge and trading skills.
As a student, you will greatly benefit from the knowledge offered by professional forex traders, who give you access to live trading demonstrations, course content that is well organized and easy to follow, and support you in coming up with trading strategies.
This can't be compared to independent forex research, which you can do by scouring different web pages and YouTube channels. Online courses save a lot of time and resources.
To select online forex trading classes, reviews are important. A membership-styled platform is best. An online trading community provides regularly updated information and an ever-changing learning process that ensures you can learn even outside the course.
Besides, lifetime access to online courses is quite helpful. It allows you to go back and review course resources anytime.
One-on-one sessions with the course tutor during the course or post the course is important. If well utilized, you can become a successful trader within a short time by learning proven trading strategies.
However, choosing the best forex trading course depends entirely on you. Your requirements and learning style should guide you.
So, which course do we recommend?
Whether a beginner, intermediate or advanced trader, it's good to learn from a tutor with a proven track record of success. Ezekiel chew, through his Asian forex mentor; one core program offers the best online forex trading classes.
However, take note that taking online forex trading classes is just the start. You need to be consistent in your learning. You also need to keep yourself updated with economic news because they shape the markets.
How to get the best from an online forex trading course
You have found your ideal course, verified that it's taught by a certified tutor with lots of experience, what's next?
Enrolling in an online trading course is just the start. Going through all the lessons, watching all the live trading sessions and mastering all the forex trading jargon does not make successful traders.
You need to have a strategy on how to improve your trading. Below are the five steps you need to follow while taking online forex trading classes for you to become a successful trader.
Step 1: Find a good operating system to install the trading software
As you start trading with an online forex broker, you need a device to access the online trading platform.
Your device should have an excellent operating system to ensure it does not fail you. It can either be a desktop, laptop or mobile device.
Make sure to install the latest and most suitable version of the operating system. The best ones are Android and Windows. However, macOS and iOS work on some devices too.
Step 2: Find an online Forex broker and sign up for an account
As stated, a lot of online forex schools have their own trading platforms and preferred forex brokers. You need to find the best suited for your needs and then open an account.
A good forex training course will help you locate the best broker. Be sure to do due diligence before signing up.
Step 3: Deposit into your account
The next step is to fund your account. As you fund, you should know how much to leverage. Any questions you have prepared for the mentor should be asked at this time to avoid huge losses. Questions can include:
What is the ratio?
How much should you leverage?
As a beginner, the trading course should teach you the most important things. For example, how to deal with margin correctly.
Step 4: Decide on a platform
A trading platform is very important for a beginner. The course instructor should help you select the best ones. MetaTrader is the most popular trading platform. However, some brokers have their own trading platforms available for use.
Step 5: Start Forex trading
before you start to trade forex, you want to be well-prepared, and your forex training course can help you with that.
You should be able to place and exit trades. A simulated trading account is a good way to practice forex trading.
F.A.Q.
Do Forex Trading Courses Worth It?
Yes. Forex trading classes pay off well. First, you need to evaluate your needs and circumstances before enrolling in any course. Using your own strategies, find something that works for you regarding the forex market you trade, professional trading tools you use, the time spent trading and the analysis you use to decide. If well utilized, you can choose the right stock markets or forex pairs suited to your investment strategy.
Is It Possible to Learn Forex on Your Own?
Yes. You don't need online forex education to trade. You can learn everything on your own. However, this needs a lot of patience and time.
However, to be successful, you need to utilize other people's tactics. The easiest way is to enroll for a paid course or an fx academy. This way, you'll be able to make money using other people's systems and approaches.
Can You Make Someone Else's Trading Strategy Work For You?
Yes. As long as you fully comprehend it and what you must do to succeed
How Much Money Do I Need To Start Trading?
You may start forex trading with as little as $1 with several Forex firms. The minimum amount usually ranges from $100 to $10,000.
Which Is The Best Swing Trading Strategy?
There isn't any. If you want to make money, you should continually build your own methods per each potential market condition. Specific Forex methods are only effective for a short time for a restricted number of forex pairs.
What Is MetaTrader 4 and How Does It Work?
MetaTrader 4 is the most popular forex trading platform from Metaquotes Software Corp. Real-time currency exchange rates, charting tools, and trading system integration are all available. Most FX brokers support MT4 and MT5. They have experienced consultants for both algorithmic trading and technical analysis.
When do I trade forex?
Forex markets open from 22:00 hrs GMT Sunday to 22:00hrs GMT Friday. Within this time, you can trade as much as you want.
What Is A Contract For Difference?
A Contract for Difference, or CFD, is a contract to trade the difference between a contract's opening and closing prices. CFDs are derivatives that allow you to trade on live market price fluctuations without holding the underlying asset on which your contract is based.
CFDs allow you to speculate on future market price movements regardless of whether the underlying markets are increasing or dropping. They give merchants access to marketplaces where they otherwise wouldn't be able to invest.
Is It Possible To Open An EUR/USD Buy Transaction And Then Withdraw The Purchased Euros?
No. Within the instant Forex market, there is no delivery. A contract, not an actual act of exchange, governs such transactions. Simultaneously, some brokers allow foreign exchange at favourable rates within a single multi-currency account.
Is Forex Trading Really Profitable?
Dealing with the forex market is profitable thanks to top forex traders with expertise. Most investment firms use the forex market to hedge currency bets in currency exchange accounts. A successful forex trader has an optimistic perspective and excellent risk management and market analysis skills.
What Is The Ownership Of Forex And Where Is It Located?
It does not belong to anybody in particular. Forex is an interbank market, which means that all transactions take place between only two parties: the supplier and the buyer. As a result, Forex will continue to exist as long as the new financial system does. It has no ties to any one country or government agency.