5 Best Crypto Trading Bots of 2023 In Depth Review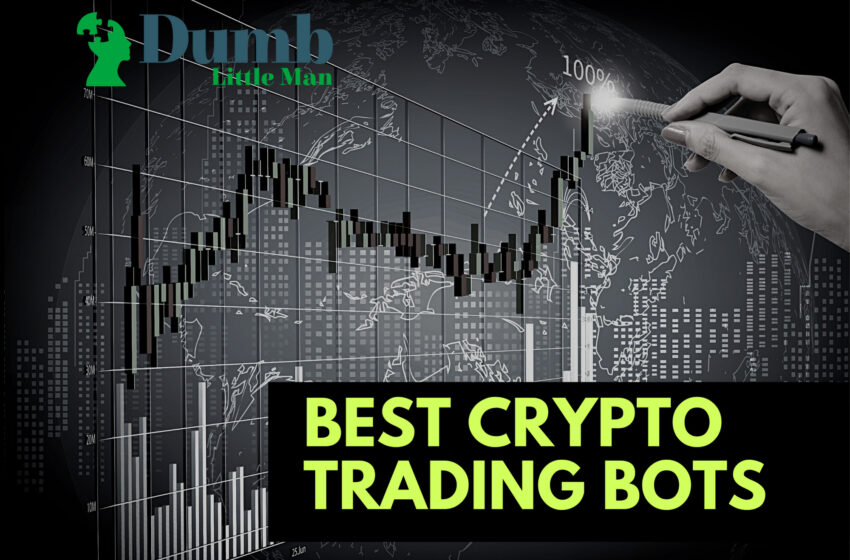 Want to jump straight to the answer? The best cryptocurrency brokers for traders are Coinbase and Gemini
The #1 Forex Trading Course is Asia Forex Mentor
Automated trading strategies are very popular in volatile markets. Crypto is not any different. As you well know, price action in the crypto world can be very volatile and as such, finding the right opportunity to enter and exit a trade is always hard. But trading bots are here to solve this issue.
As opposed to manual trading where professional traders have to watch markets like hawks, an automated trading platform simply executes trades when certain conditions are met. This is one of the easiest ways to trade volatile assets like crypto and over the last few years, the use of these bots has become central in any crypto trading strategy.
Nonetheless, there are a lot of bots, each with unique features and something to offer. We researched various solutions and came up with a list of the top 5 here below. Check it out!
Best Crypto Trading Bots
Broker
Best For
More Details

Preset Strategies


Read Review



securely through Coinrule website


High-Volume Traders
Read Review




securely through Pionex website




All Around
Read Review




securely through Cryptohopper website




Mobile Platform
Read Review




securely through Cryptohero website




Non-Techy Types


Read Review





securely through Botsfolio website



5 Best Crypto Trading Bots
#1. Top Overall Online Broker Choice: Coinrule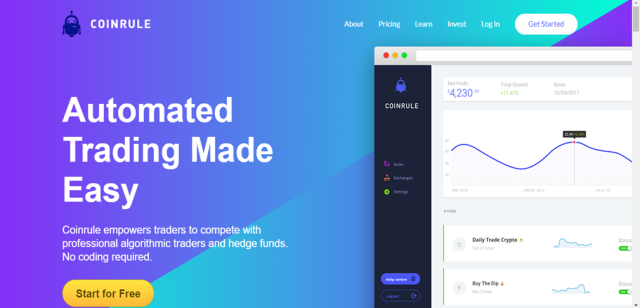 CoinRule is one of the leading automated trading bots made especially for Binance. The tool can however be connected to other major exchanges and comes with professionally created algorithms designed to execute profitable trades all day long.
The bot offers up to 150 different rules that you can use to develop a cryptocurrency trading strategy that works for you. The tool also allows you to bring in your technical indicators and feed them into the AI for a more customized trading style.
Coinrule is free to start as well and is rated the most reliable automated trading solution out there. You also get superior trading technology, fast trade execution, reliable customer support, and easy and quick account setup.
How does it work?
Coinrule is an automated trading terminal that has its own in-built trading rules. It can also be customized to suit your strategy. So, to take advantage of the bot, you will need to sign up for an account. Select the subscription method you want and pay. Once you have full access to the bot, you can now start fine-tuning your automated trading strategies.
As noted above, Coinrule has over 150 inbuilt rules that can help you maximize profits. For example, in case you want to base your trading on a trading price trend in a given asset, you can set the bot to follow and execute trades based on that. Besides, in case you don't see something you like in the inbuilt trading rules, Coinrule will allow you to set up your trading rules and customize the bot through your own technical analysis.
This gives you more power to control how you trade. Nonetheless, once you are happy with the trading approach, you can now link the bot to your exchange account and get started. Coinrule is compatible with all the major exchanges out there.
Pros
Offers up to 150 inbuilt trading rules to help you customize the bot
You can add your own trading rules as well for more personalization
Superior trading technology with fast execution and reliability
Dedicated customer support
Compatible with some of the leading exchanges in the world
Cons
Can be a bit intimidating for folks to use
Requires a bit of time to learn how to set up trades
Price
CoinRule offers two pricing options. The first one is actually free but it's a bit limited. You only get access to just 2 live trading rules and only 7 template strategies. You can also only connect the bot to a single exchange and trade volumes are capped at $3k a month.
The pro version on the other hand gives you access to the full bot, including 40 template strategies and monthly trade volumes of up to $300, 000. You will however pay $29.99 a month for this. The subscription is billed yearly at $359 per year.
Broker
Best For
More Details


Preset Strategies
Read Review




securely through Coinrule website
#2. Best for High-Volume Traders: Pionex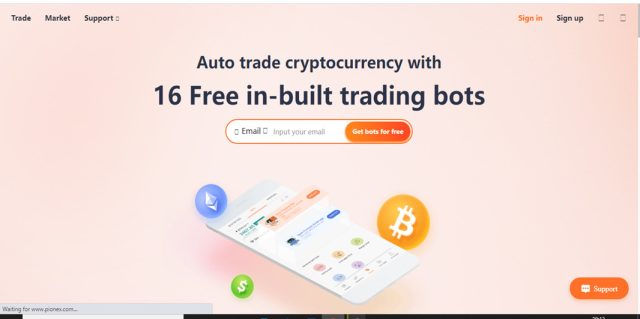 Pionex is the best trading bot for people who trade in high volumes. It literally has not limits when it comes to automated crypto trading. The platform offers 12 inbuilt trading bots, each designed to meet the needs of different users. Whether you want a grid trading bot, an arbitrage trading bot, or anything else to suit your trading strategies, Pionex will deliver.
Also, the crypto bots offered here are very beginner-friendly. They are so easy to set up and you don't need any coding experience or background to use them. You also get fast and efficient trade execution, intuitive and interactive user interfaces, and regular system upgrades to ensure you get the best out of your automated crypto trading plan.
How does it work?
Getting started with Pionex is actually quite simple. The trading bot offers a no-fuss account opening option. In essence, you don't need to key in too many details to get approved. Once your account is live, you will be required to link with an exchange or crypto wallet. Don't worry about security. Pionex is one of the most secure crypto trading bots out there.
The final step is to select the trading bots you would like to use. As noted above, there is a choice of 12 here so there should enough options for everyone. Nonetheless, if you are not sure which crypto trading bot is the most ideal for you, take some time and try out different options before you settle for one or two.
Pros
The best crypto trading bot for high-volume cryptocurrency traders out there.
Comes with up to 12 different cryptocurrency trading bots to cater to all your needs
Offers state of the art security for your data and crypto assets
Excellent customer reviews among previous users
Cons
You need some background in crypto trading before using this crypto bot
The educational materials provided to help you start are not adequate
Price
Pionex does not have a standard fee for its service. How much you pay is largely determined by the type of assets you want to buy and the volume. Nonetheless, since the platform also doubles up as a decentralized crypto exchange, you will be charged a taker and maker fee every time the trading bot executes a transaction. Both the Maker and taker fees are capped at 0.05% of the total transaction. There are also fixed withdrawal fees for various crypto assets.
Broker
Best For
More Details


Low-Cost Access
Read Review




securely through Pionex website
#3. Best for All-Around: Cryptohopper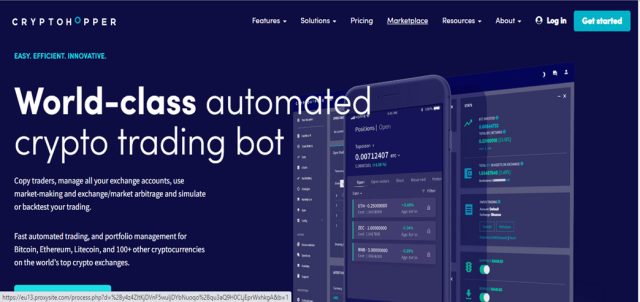 For beginners out there looking for a simple and efficient crypto trading bot, then you must try Cryptohopper. The platform is designed to bring the superior-tech execution of advanced bitcoin trading bots while making it so easy for average traders to use the platform.
The crypto bot is also compatible with a huge variety of exchanges. You also get unlimited free and paid signals for your trades and up to 30 indicators to help you set up your algorithmic trading strategies. There is also a good variety of trading tools to help you manage and track your crypto assets on the go.
How does it work?
As with all the other crypto trading bots on our list, you must set up an account before you start trading. The good news is that Cryptohopper just makes it so easy for you to do this. These crypto bots simply offer an account setup wizard where you can follow a series of simple steps to open and set up the crypto trading account.
After that, you will need to access the signals marketplace within the account. Although the crypto trading bots profitable approaches are sometimes coded within the system, you may need additional signals and indicators to enhance the success of your trade. The Cryptohopper bot gives you a semi-automated approach that ensures you still have a bit of control over your trading.
Pros
The best crypto trading bot for beginners
Its semi-automated, giving you more control over your trading strategy
You get access to a marketplace of trading signals to help you make good investment decisions
Easy to set up an account and start trading
Cons
The fact that the crypto trading bot is not fully automated can be a turn off for some people
The pricing is a bit high compared to other cryptocurrency trading bots
Price
Cryptohopper has two pricing plans for users. The first one is the Explorer package that goes for $19 a month. This simply allows you to open a maximum of 80 positions and trade only 15 currencies with the crypto trading bot.
But in case you want more from the service, you can choose the more advanced Pioneer package. It goes for $49 a month but you get to open up to 200 positions and trade over 50 currencies with it.
Broker
Best For
More Details


All-Around
Read Review




securely through Cryptohopper website
#4. Best Mobile Platform: Cryptohero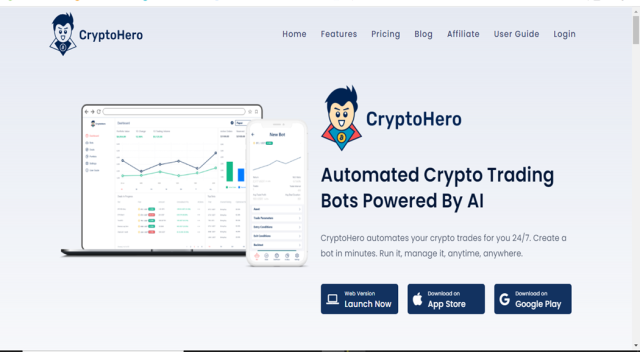 Cryptohero is an AI-powered automated bot designed to provide advanced Algo trading for crypto assets. The platform also offers a series of tools designed to help traders fine-tune and back-test trading strategies using historical and live data. Cryptohero also offers integration with multiple exchanges, offers innovative portfolio management tools, and has a list of reliable technical indicators to make you an avid investor.
You also get a paper trading account to help you familiarize yourself with the platform and how it works. Although the bot is known mostly for its seamless mobile compatibility, it also offers a web and desktop version for users. There is also a dedicated Telegram group for proprietary trading signals and other social trading ideas.
How does it work?
Getting started with Cryptohero takes three simple steps. First, head to the main website online and get your account opened. You will be required to fill in some personal info after which your account will be approved. The second step is to pick a pricing plan or a subscription package. There are three packages here to choose from including a free version.
Once you have paid for your package, you will have access to the bot. Crypto Hero has done well to offer a series of guides that help you learn how the bot works and how you can use it in the crypto market. When you are fully comfortable with the tools, link your exchange account right away and start trading.
Pros
Offers an intuitive and interactive user interface that is so easy to use
A lot of positive reviews from previous users
Advanced platform features including portfolio management across multiple exchanges
Compatible with some of the best exchanges in the crypto market
Offers a free starter package for new users
Cons
It can be confusing to use for a beginner
You will need a paid package to get the most out of this bot
Price
CryptoHero has three pricing plans. The first one is the more basic package that is free of charge. Although it is a bit limited compared to the paid versions, it still has so much to offer. There is also an intermediate premium package that goes for $13.99 a month.
If you opt to pay yearly, you will pay roughly $11.99 a month. The advanced professional package on the other hand goes for $29.00 a month and it gives you full-blown access to the platform.
Broker
Best For
More Details


Mobile Platform
Read Review




securely through Cryptohero website
#5. Best for Non-Techy Types: Botsfolio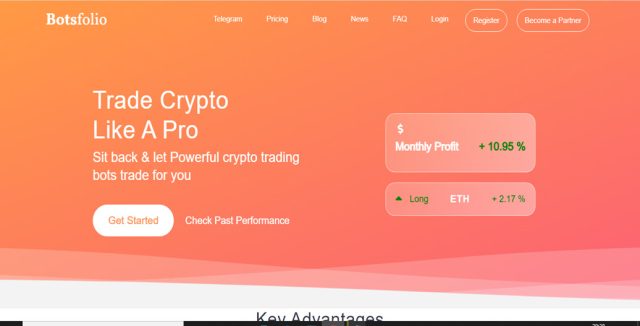 Botsfolio is one of the most successful automated crypto bots. In fact, it has a track record of offering average monthly returns of roughly 11% according to the creators. If you are wondering what makes crypto trading bots profitable, then Botsfolio is a shining example of exactly how things are done.
The platform delivers easy-to-use technology as well, making it a superb choice for non-techy beginners. You don't need any deep knowledge of the crypto market or coding to start. It's simply crypto trading on autopilot. Botsfolio also offers compatibility with top exchanges and gives customers regular product updates to ensure you get the best results.
How does it work?
To get started with Botsfolio, head over to their site and click the sign-up button. The sign-up wizard will take you through a series of processes to set up your account. Once this is done, you will need to decide your investment goals.
But it's really not as hard as you think. The bot asks you a few questions and based on your answers, it will find a customized auto trading solution for you. Now that your investment goals are clear, go ahead and link to your favorite exchanges and start trading.
Pros
You don't need any prior trading or coding experience to use this bot
Relatively low fees compared to other bots out there
Can be easily customized to meet your specific trading goals
Compatible with multiple exchanges
Cons
Charges a 15% performance fee on all profits made each quarter
A limited number of tradable crypto assets
Price
Botsfolio does not have a fixed fee for services. Instead, how much you pay is determined by the size of your portfolio. For folks with a portfolio value of between $1k and $3k, the fee is USD 5 a month.
A portfolio of between $3k and $10 will be charged USD 10 a month while that ranging from $10k and $50k attracts a fee of $15 a month. The final package targets big portfolios of between $50k and $100k. here, you pay USD 20 a month.
Broker
Best For
More Details


Non-Techy Types
Read Review




securely through Botsfolio website
How we rank the Best Crypto Trading Bots?
Our review of the best crypto trading bots focused on three main factors. The first thing we looked at is trading fees or pricing. As you know, crypto trading can sometimes be a very low-margin investment. The last thing you need is an expensive crypto trading bot that cuts into your profits.
Secondly, the team also looked at the usability of these platforms. After all, there is no point in investing your money in high-end trading bots if you cannot actually use them. We also looked at the track record of these bots as far as profitability goes.
Crypto trading bots that had a proven record of making profits for their users were ranked higher. There were also considerations for customer support, ease of account opening, and also general ease of trading and portfolio management.
How to choose the Best Crypto Trading Bots?
Choosing the best crypto trading bot is not always an easy job. There are so many options to consider and not all will always work for you. But despite this, there are a few things every crypto trader looks for when selecting paid or free cryptocurrency trading bots.
The first thing is usability. Although the technology driving trading bots is a bit more advanced, these tools still need to be as easy to use as possible. That way, you can easily enter the crypto market, open and close trade positions, and earn profits.
Check the pricing on each bot as well. In most cases, trading bots charge a monthly fee for their service. However, the dollar-cost averaging less than $20 a month for the basic packages is often ideal. Advanced packages on the other hand can cost well over $50 but they are most suited for advanced traders.
Finally, it is also important to look at the reviews of other users. This can help you understand what to expect from your trading bot. You will also know from reviews if indeed the bot is profitable or suited for your cryptocurrency trading strategies.
Choose Asia Forex Mentor for Your Forex and Crypto Trading Success
If you have a keen interest in establishing a successful career in forex trading and aspire to achieve substantial financial gains, Asia Forex Mentor stands as the optimal choice for the best forex, stock, and crypto trading course. Ezekiel Chew, renowned as the visionary behind trading institutions and banks, is the driving force behind Asia Forex Mentor. On a personal note, Ezekiel consistently achieves seven-figure trades, a distinction that truly sets him apart from other educators in the field. Here are the compelling reasons that underpin our recommendation:

Comprehensive Curriculum: Asia Forex Mentor offers an all-encompassing educational program that covers stock, crypto, and forex trading. This well-structured curriculum equips aspiring traders with the knowledge and skills necessary to excel in these diverse markets.

Proven Track Record: The credibility of Asia Forex Mentor is firmly established through its impressive track record of producing consistently profitable traders across various market sectors. This achievement serves as a testament to the effectiveness of their training methodologies and mentorship.

Expert Mentors: At Asia Forex Mentor, students benefit from the guidance and insights of experienced mentors who have demonstrated remarkable success in stock, crypto, and forex trading. These mentors provide personalized support, enabling students to navigate the intricacies of each market with confidence.

Supportive Community: Joining Asia Forex Mentor brings access to a supportive community of like-minded traders pursuing success in the stock, crypto, and forex markets. This community fosters collaboration, idea-sharing, and peer learning, enhancing the overall learning experience.

Emphasis on Discipline and Psychology: Success in trading necessitates a strong mindset and disciplined approach. Asia Forex Mentor provides crucial psychological training to help traders manage emotions, handle stress, and make rational decisions during trading.

Constant Updates and Resources: The financial markets are dynamic, and Asia Forex Mentor ensures that students remain up-to-date with the latest trends, strategies, and market insights. Continuous access to valuable resources keeps traders ahead of the curve.

Success Stories: Asia Forex Mentor takes pride in a multitude of success stories where students have transformed their trading careers and achieved financial independence through their comprehensive forex, stock, and crypto trading education.

In summary, Asia Forex Mentor emerges as the premier choice for those seeking the best forex, stock, and crypto trading course to carve a rewarding career and achieve financial prosperity. Through its comprehensive curriculum, experienced mentors, practical approach, and supportive community, Asia Forex Mentor provides the necessary tools and guidance to mold aspiring traders into accomplished professionals across diverse financial markets.
Conclusion: Best Crypto Trading Bots
Although the five trading bots above are all perfect for advanced and beginner traders, Coinrule does stand out for various reasons. The first is based on ease of use. It just takes a few minutes to sign up for an account here and commence your trading. Besides, you don't need any coding experience to use Coinrule.
You will also be happy to know that the bot is compatible with multiple exchanges in the crypto market. This gives you a bit more flexibility when trading. Coinrule has also invested in state-of-the-art technology for excellent trade execution and reliability. You also get up to 150 trading rules to help you take advantage of crypto trading.
Despite this, Coinrule requires getting used to. It's not a plug-and-play trading bot. Some folks take a few days or weeks before they fully master how everything works. But once you are there, you will enjoy your experience with this machine.
Best Crypto Trading Bots FAQs
Do Crypto trading bots actually work?
Yes, crypto bots actually work but it often depends on which bot you are using. In case you choose top-rated bots with a proven track record of results, then you are likely going to see amazing results. But there are so many fake bots out there that have nothing to offer. Be careful before choosing a trading bot and avoid these scams.
Can a Crypto trading bot really generate money?
Yes, it will generate money but again it comes down to what you are using. A good rule would be to simply focus on a trading bot that has been there and done that. In essence, these would be crypto bots that have a history of making money for clients. You won't be disappointed.
What is the most successful trading bot?
It's really hard to say since many trading bots don't always disclose the financial data of users. But based on the experiences of crypto investors out there, it seems Coinrule is quite popular. This could suggest that many traders have had some success. Nonetheless, if you are new to crypto, start with paper trading first before getting a real account. You can also try social trading too.
| RECOMMENDED TRADING COURSE | REVIEW | VISIT |
| --- | --- | --- |
| | #1 Forex, Crypto and Stocks trading course. Ranked most comprehensive by Investopedia and Best by Benzinga. Free to Try! | |
Like this Article? Subscribe to Our Feed!
Wilbert is an avid researcher and is deeply passionate about finance and health. When he's not working, he writes research and review articles by doing a thorough analysis on the products based on personal experience, user reviews and feedbacks from forums, quora, reddit, trustpilot amongst others.