Tradersync Review: Will it really Improve your Trading Skills?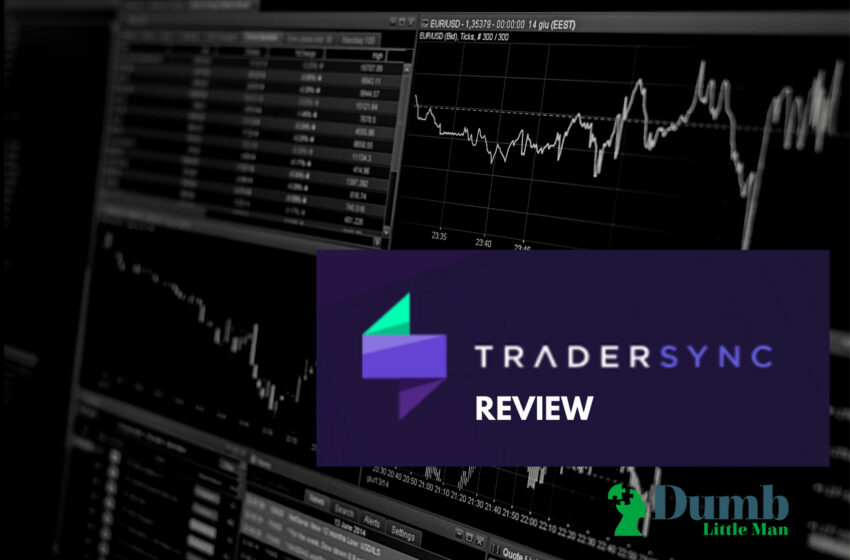 Want to jump straight to the answer? The best Stock Brokers are Tradestation and Tradier
The #1 Stocks and Forex Trading Course is Asia Forex Mentor
Tradersync is a trade journaling tool with many features to aid the investor in investing right and learning from past mistakes. It helps to document trading history, past strategies, past results, past mistakes and makes reports on trades already taken. This helps investors see where they missed it previously and work to improve their strategies and avoid their mistakes.
Having a tool that serves well in the retrospection of many of your moves in the trading game makes investors conversant with their trading style and how to improve their trading skills. People who see a similar setup to one where they have made mistakes previously would avoid such mistakes and advance in their trading careers. However, they cannot improve their trading skills if they do not learn or have the means to discover where they got their trading plan wrong.
Tradersync, overall, is one of the platforms that helps the beginner investor and the active investor get better in their trading game, learn from their mistakes, predict the financial markets by looking at past trades, have many tools at their disposal to aid the analysis of trades, have opportunity to share their plans with other investors for brainstorming and having different perspectives, and so on. It helps in improving your Trading skills.
Tradersync Review: What Is Tradersync?
Tradersync is a trading journal software that allows you to analyze your past trades, make notes, see different trade setups, assess your past mistakes, see different timeframes of your past tradings, and so much more.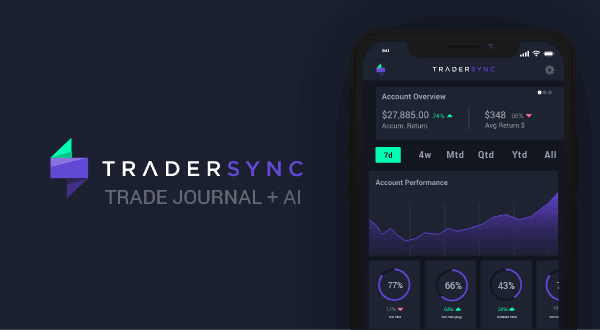 In 2014, a group of persons with tech skills was trading in the market. They made some profits but discovered no tool available to assess and learn from trade mistakes when they lost trades. They went to work and came out with Tradersync.
Over the years, Tradersync has improved its user experience by integrating over 100 trading platforms and importing data from them, having the web and mobile platforms, having different pricing plans, and integrating more useful tools.
How does Tradersync work?
Tradersync is not a trading platform as it does not have its proprietary platform for trades. Still, it integrates several trading sites to provide technical analysis for its users using analysis tools. The number of tools available for a Tradersync user depends on the pricing plan the user is engaged in.
The trade journal integrates your preferred platform and allows you to use its tools to develop trading skills. Integrating or importing your trades and trading site is quite easy as the 'Import Trades' button on the dashboard allows such function. There is the trading journal with which you can write notes on a particular trade and to which you can attach pictures of the charts to understand easily and have a good grasp of your trading habits.
When trading, many active traders forget where they entered the trades because of the many trades they are in at the same time. Still, with this trading journal, you can assess when you entered a trade, what your target price was when you entered, and the mistakes you made in that particular setup. This allows for more retrospection and more knowledge when trading in the future.
Click Here to Open an Account with Tradersync (Official Page)
What are the Features of the Tradersync platform?
This online trading journal offers several features that make it one of the best trade journals out there. It is one of the most complete trading journal software out there. Some of these features will be discussed below: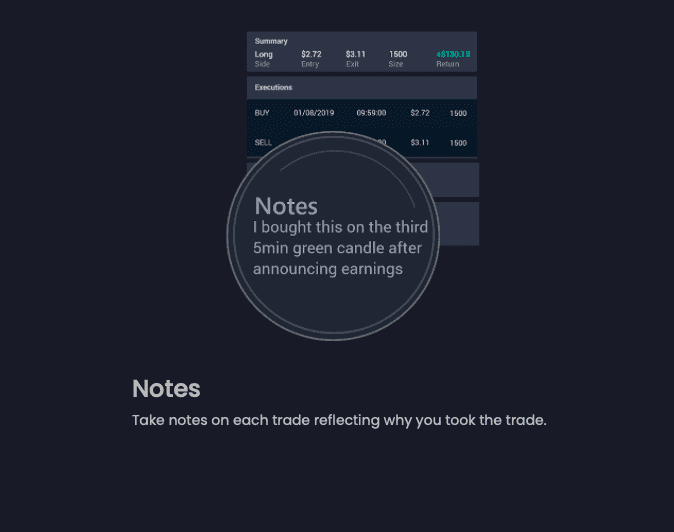 Trading Journal
Tradersync trading journal is among the key features of this platform. It functions as a note and information pad for the trader. It contains features to annotate trades with reasons of buying, trading strategies, when to sell, reasons to sell, reasons to hold, etc., and also can screenshot price charts or add media to its annotations. This is great for advanced traders who have so many trading setups. It is a tool that contributes to a trader's trading success.
Setup and Mistake Tagging
The tagging feature is another great addition to Tradersync as it helps the traders watch their trades without forgetting when they enter the trades, where they are with the trades, the mistakes they have made, etc.
The Setup tagging helps the traders indicate where they entered the particular trade and other information they would love to tag on the trade.
The Mistake tagging helps in reviewing trades. It helps outline where the trade went contrary to your trading strategies, depicting lessons for future trades.
Reporting Tools
The reporting features of Tradersync comes with 13 reports. These include the overview, hourly, weekday, monthly, price, volume, setups, mistakes, sector, Marketcap, change percent, volume change, and HoldTime. These different reports are used to examine the trade in different lights.
The duration reports determine how the trade is performing hourly, daily, weekly, monthly and yearly. This helps traders consider when they make profits and when they always seem to make losses.
The overview report gives a wide view of the trading performance in a tabulated and charted form. You can access this report through the trading performance metrics, trade-specific elements and symbols.
The setups report is another important report that shows traders the trading patterns that have worked well and those that have failed in a tabular or bar chart format.
Evaluator and Simulator
Evaluators and simulators allow you to access all your trade data at once and to have tools to simulate some trading patterns into the data.
It helps access all the trade data and use the required tools to determine the overall performance instead of the individual variable analysis tools. The tools used include Volume, Entry Price, Setup, Mistakes, Day, Month, Hour, etc. The trade data is mostly shown using graphs to depict the movement of the trades and the strategies used.
The simulator allows for a filter where data can be added or removed from the overall trading data. The simulator creates various trading scenarios based on the information on your trading journal and setups. It helps to examine the response of the market to trading movements or strategies and helps eliminate mistakes.
Trade Management Module
Trade Management involves using the available tools to make personalized rules you wish to follow in your trading and examine how well you adhere to those rules. This is one of the advanced features available to the Elite Plan only.
Here, you get to add new rules you wish to follow and select the portfolio you wish to adhere those rules to. Also, you get to choose other variables like timeframes, volume, etc. This feature is available for both past trades and future trades. The feature will plot your trades on a profit and loss chart and use the colors green and red to depict when you stuck or didn't stick with the rules. The Green dots show where the rules were adhered to, while the red dots are where the trader failed to adhere to those rules. This helps to ensure mistakes are kept to the barest minimum; emotions do not dictate trading, and a trader can optimize his/her trading strategy tracking.
Customer Service
The customer service is available on the web and mobile platforms. You can contact the customer service through email, chat or a support application on the website; however, it does not have phone call support. The customer service is only available weekdays between the hours of 9 am to 5 pm EST. However, there are video tutorials on the website that show the process of resolving issues without contacting customer service.
Security
The trading journal is relatively safe as it stores all the information on Amazon Cloud services using encryption technology. It also provides some authenticating processes before login into any of its accounts.
| RECOMMENDED TRADING COURSE | REVIEW | VISIT |
| --- | --- | --- |
| | #1 Forex, Crypto and Stocks trading course. Ranked most comprehensive by Investopedia and Best by Benzinga. Free to Try! | |
Tradersync Pricing?
Tradersync is not a trading site, but it has several pricing plans to access its many tools. There are Basic, Pro, Premium and Elite plans. These plans are different on the number of features they have available for the user, which becomes larger depending on the price of each Plan. All the plans, except the Basic Plan, come with a 7 day free trial use. These plans are great for a day or swing trader.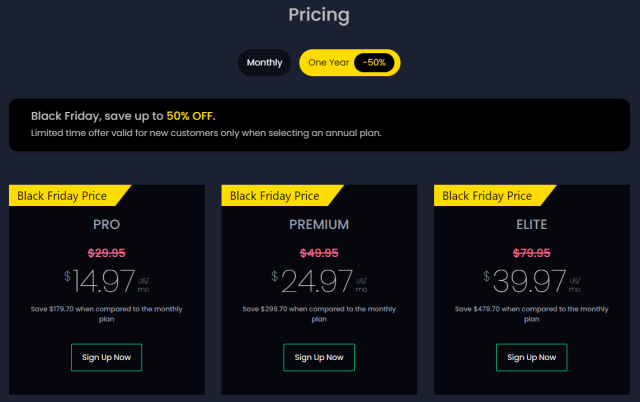 Basic Plan is relatively free without paying any dime for a subscription. You have access to the platform's basic features such as intuitive user interface, device integration, trade journal (only manual entries), and setups and mistakes without the 'Add plan' function. However, this free account is free in terms of fees but not necessarily free in terms of responsibilities. To enjoy this free account, you need an active Twitter plan which you would periodically post news and updates by the platform on your page. Where the platform discovers that you deleted or stopped posting its updates, it can cancel your Plan.
The Pro Plan has all the Free Plan features with trading performance and reports such as Data and Performance Reports, Importation of trading brokerage data and portfolios, Trade Charting and Calendar View. The Data and Performance Reports include data analytics reports on pricing, weekly, hourly, setup, mistake and volume, excluding market cap, holding time, etc. The Pro Plan cost $29.95 per month after the 7 day free trial.
The Premium Plan has all the Pro Plan features with access to the excluded reports in Pro Plan, performance data and simulation. This includes the Evaluator and Simulator and the Commissions and Fees Tracking features, and it costs $49.95 per month.
The Elite Plan has access to all the features available on the trading journal, including the Auto Stop Losses/ Target Tracking, Trade Management, and Artificial Intelligence (AI) insights features. This Plan cost $79.95 per month.
Click Here to Open an Account with Tradersync (Official Page)
Who is Tradersync Best For?
Tradersync is best for everyone, especially day and swing traders. This is because it has tools useful to any level of trader. It is mostly used for stock, futures, forex, and options traders, whether beginner or experienced traders.
Beginner traders would learn from the onset the mistakes they are making from their trades. This is because they have no market experience and cannot state where they got their analysis wrong. So, Tradersync will help with that through its setups and mistake features. The other features will also help beginner trade improve their trading skills.
Advanced traders understand that there are no ways losses will not come in trades, but they aim to ensure they gain more than they lose. One way of doing this is learning from past trades to see mistakes that have caused losses, trading strategies that have gained more funds, tools to help increase their winning rate, etc. Tradersync can do this and more for advanced traders.
Tradersync Pros and Cons
Pros
Several tools like trading journals, tagging, simulator, etc.
Different pricing plans from Basic to Elite
Customization Tools
Intuitive designed dashboard and reports.
Cons
No phone support for customer service and limited online support.
Lack of high-level performance data analytics for the basic plans.
Tradersync User Experience
Overall, the trading journal platform is easy to use and only get complicated according to the movement of the pricing plan. The users would have interesting features that would aid their experience of the web or mobile platform.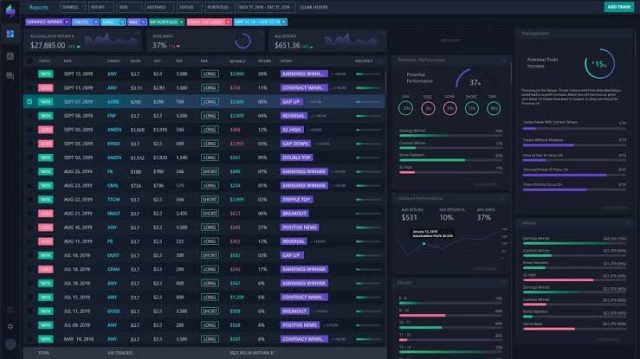 Customization
The platform allows the users to customize it as they wish by adding many of the features and widgets they feel necessary for accessing their trading strategies and removing those widgets and features they feel are not needed. You can also customize the display and choose what you want to be shown in all the features of Tradersync.
Dashboard
When you log into your account, you would first see a data overview in the main dashboard. Here, you can sort and categorize your trades into data categories and add filters to the dashboard. The dashboard is not too busy but right for anyone who knows about analytics and accessing trading setups and data categories.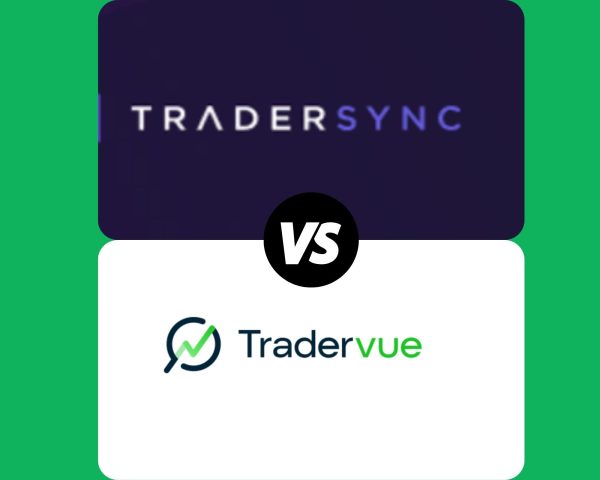 Tradervue is another online trading journal used to make annotations by traders of their trading plans and decisions. It also contains sharing and analytics features like Tradersync. However, has the mentorship and coaching feature, which is absent in the Tradersync platform. It is also used as a social media where traders can interact.
Tradersync is better than Tradervue because it has more features such as the performance features of setups and mistakes, trade management, evaluator and simulator, commission and fees tracker, etc. Also, its trading journal has more widgets and features than Tradervue. It is also available on mobile and web platforms.
Click Here to Open an Account with Tradersync (Official Page)
>>Read more About Tradervue Review: Will it really improve Trading Performance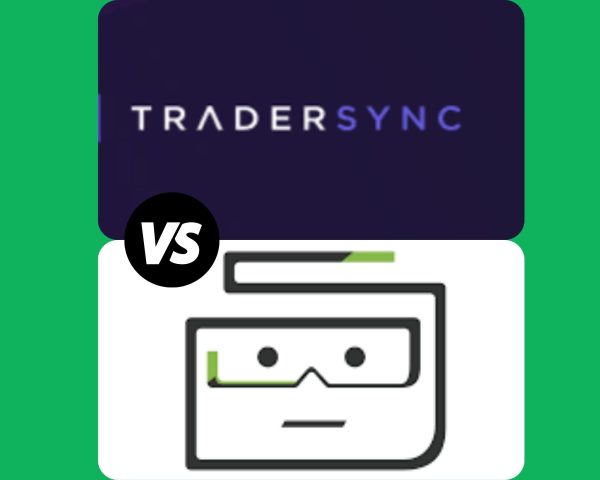 Edgework is a recently established online trading journal that provides tools for traders to assess and simulate their trading plans and view simulations on it, which is similar to Tradersync. However, it has an affordable one-time payment with one pricing plan only.
Tradersync is available as mobile apps on android and IOS play stores. Tradersync does provide not only the simulator feature but also the evaluator feature and reports. It also has charts indicating entry and exit points, has a trade management tool and is customizable.
Click Here to Open an Account with Tradersync (Official Page)
>>Read more About Edgewonk Review: Will it really improve your Trading Mindset?
Choose Asia Forex Mentor for Your Forex and Stocks Trading Success
If you have a keen interest in establishing a successful career in forex trading and aspire to achieve substantial financial gains, Asia Forex Mentor stands as the optimal choice for the best forex, stock, and crypto trading course. Ezekiel Chew, renowned as the visionary behind trading institutions and banks, is the driving force behind Asia Forex Mentor. On a personal note, Ezekiel consistently achieves seven-figure trades, a distinction that truly sets him apart from other educators in the field. Here are the compelling reasons that underpin our recommendation:

Comprehensive Curriculum: Asia Forex Mentor offers an all-encompassing educational program that covers stock, crypto, and forex trading. This well-structured curriculum equips aspiring traders with the knowledge and skills necessary to excel in these diverse markets.

Proven Track Record: The credibility of Asia Forex Mentor is firmly established through its impressive track record of producing consistently profitable traders across various market sectors. This achievement serves as a testament to the effectiveness of their training methodologies and mentorship.

Expert Mentors: At Asia Forex Mentor, students benefit from the guidance and insights of experienced mentors who have demonstrated remarkable success in stock, crypto, and forex trading. These mentors provide personalized support, enabling students to navigate the intricacies of each market with confidence.

Supportive Community: Joining Asia Forex Mentor brings access to a supportive community of like-minded traders pursuing success in the stock, crypto, and forex markets. This community fosters collaboration, idea-sharing, and peer learning, enhancing the overall learning experience.

Emphasis on Discipline and Psychology: Success in trading necessitates a strong mindset and disciplined approach. Asia Forex Mentor provides crucial psychological training to help traders manage emotions, handle stress, and make rational decisions during trading.

Constant Updates and Resources: The financial markets are dynamic, and Asia Forex Mentor ensures that students remain up-to-date with the latest trends, strategies, and market insights. Continuous access to valuable resources keeps traders ahead of the curve.

Success Stories: Asia Forex Mentor takes pride in a multitude of success stories where students have transformed their trading careers and achieved financial independence through their comprehensive forex, stock, and crypto trading education.

In summary, Asia Forex Mentor emerges as the premier choice for those seeking the best forex, stock, and crypto trading course to carve a rewarding career and achieve financial prosperity. Through its comprehensive curriculum, experienced mentors, practical approach, and supportive community, Asia Forex Mentor provides the necessary tools and guidance to mold aspiring traders into accomplished professionals across diverse financial markets.
Conclusion: Is Tradersync really helping to improve your Trading Skills?
Tradersync helps to improve your trading skills because of the many important features and widgets available on its platform. The setup and mistake feature, the evaluator and simulator feature, trade management feature, etc., have helped traders make informed and rational decisions regarding their trades.
Many traders use emotions and 'Fear of Missing Out' to trade by throwing away their pre-planned trading plans. However, with the help of Tradersync, these traders can see what such emotions could result in its total effects on their portfolio. It would make them better and learn to be rational rather than emotional with trades.
The features and tools that are important in making the trader's job are to analyze trades over a period or market size. The option to share the reports helps the traders gain different perspectives on their strategies and opinions on how to improve them.
| RECOMMENDED TRADING COURSE | REVIEW | VISIT |
| --- | --- | --- |
| | #1 Forex, Crypto and Stocks trading course. Ranked most comprehensive by Investopedia and Best by Benzinga. Free to Try! | |
Tradersync FAQs
Is Tradersync Safe and Legit?
Tradersync is safe as it is encrypted and stores all its information on the Amazon cloud services. It is also legit as it has access to and has integrated over a hundred trading platforms.
What is a trading journal?
A trading journal refers to a material or location where traders can annotate their trading strategies, plans, and other information they wish to remember about a trade.
What are trading data points?
These are points that you consider when you intend to take a trade, such as the basic information and market conditions. Traders also include them in their trading journals.
How do you improve your trading behavior?
You can improve your trading behavior by assessing your mistakes in other trades and making rules to avoid those mistakes. It would be best to manage your trade to ensure you are following your rules, using data, and not trading with emotions.
| RECOMMENDED TRADING COURSE | REVIEW | VISIT |
| --- | --- | --- |
| | #1 Forex, Crypto and Stocks trading course. Ranked most comprehensive by Investopedia and Best by Benzinga. Free to Try! | |
Like this Article? Subscribe to Our Feed!
Wilbert is an avid researcher and is deeply passionate about finance and health. When he's not working, he writes research and review articles by doing a thorough analysis on the products based on personal experience, user reviews and feedbacks from forums, quora, reddit, trustpilot amongst others.