M1 Finance Review: Is it Best for Customizable Robo Investing?
Over the last few years, investment has become much more accessible to many people.  Whether it's an app or a robot advisor, things seem to be getting a lot easier, and the platforms provide more and more to people with very little investment experience.
This is the best platform for those who have no investment in the start and want to scroll well without charge for investment management or trading, which costs you extra dollars to get to work. This M1 finance review guide to help you decide if it fits your portfolio needs, we'll take a closer look at M1 Finance's Robo Advisory. So, in the end, you will be able to make the perfect decision according to your investment budget.
This article will talk about Robo Advisors, and in the end, we will share some slightly different strategies with other competitors.  First, we will unpack M1 Finance in detail with advantages and disadvantages.
M1 Finance Review: What Is M1 Finance?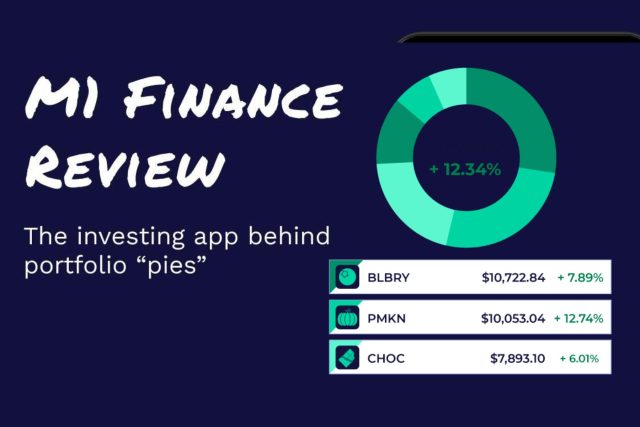 M1 Finance offers an interesting combination of automated investing with extensive portfolio customization as well as borrowing and spending features.  You can create your investment strategies and be able to choose from over 80 pre-created portfolios called "pies". This platform is specially designed for those investors who want to customize their portfolios according to personal preferences, risk tolerance, and diversity goals.
M1 Finance is an online brokerage.  It falls into the category of Robo Advisor.  It is safe to use and you choose a specific set of investments according to your preference. M1 Finance offers near about 100 pre-made investment portfolios. Hedge Fund Followers portfolios are designed to mimic the investment strategies of large hedge funds without high costs.
M1 Finance is the personal finance solution of choice for everyone from beginners to seasoned investors. With M1 Finance's tips and methods, you can improve all elements of your personal finance. M1's simple tools let you create an investment strategy that's perfect for you.
How does M1 Finance work?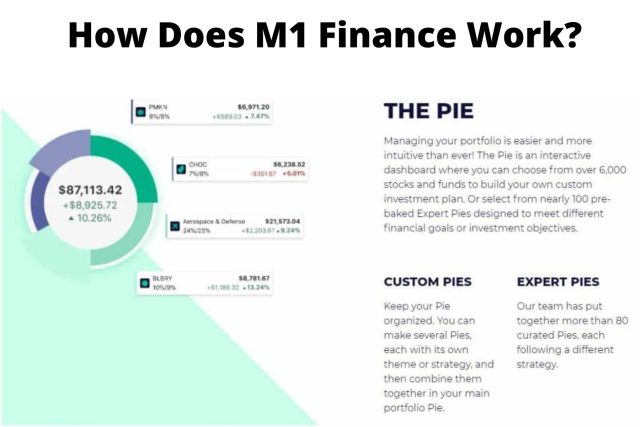 M1 Finance provides an exclusive platform that combines elements of both a Robo-advisor and an online brokerage. you can choose your investments in the same way as you would with a brokerage account. This trading platform allows you to choose and pick your investments for your brokerage account types, which you can then use to make pies. It provides individual equities and exchange-traded funds (ETFs) that you can be used to build a personalized portfolio line.
M1 allows you to use fractional investing to invest in specific equities. As a result, if you don't even have enough money to purchase a complete share of a corporation, fractional shares can be purchased and added to your portfolio. when you select one or more desire portfolios, M1 acquires the securities plus maintains your desired asset allocations via automatic rebalancing.
The platform's most significant benefit is that it eliminates the requirement to buy and sell properties to sustain your desired asset mix. M1 platform makes all trades at 9 AM Central Time each day that the New York Stock Exchange is open. No trading can take place outside the trade window. Lincoln Savings Bank offers an FDIC-insured checking account. This includes a debit card and a refund for ATM fees. M1 will immediately shield you from paying the short-term tax liability.
What are the Features of the M1 Finance platform?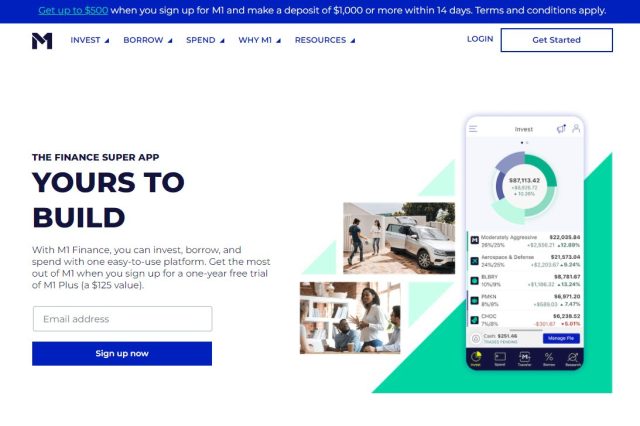 These automated investment platforms offer the following top features.
Pie-Based Interface
M1 Finance's use of "pies" is its most well-known and distinctive feature. The portfolio's basis is the pie. It's easy to make pies. The pie-based interface is simple to use and navigate, making it especially appealing to new investors. It also shows you each slice of your portfolio in a nice graphic depiction.
Dynamic Rebalancing
One of the most essential elements of the M1 platform is dynamic rebalancing. M1's dynamic rebalancing refers to how fresh deposits are assigned to buy orders based on the goal allocations you specify. Underweight assets, on the other hand, are automatically purchased with additional funds to bring them back to your allocated target. This implies that your fresh deposits will rebalance your account for you. This is particularly important in a taxable brokerage account because it allows you to rebalance without actually selling your shares, preventing capital gains taxes.
Customer Service
From 9 a.m. to 4 p.m., the firm provides chat, email, as well as phone support. The company, like its competitors, provides a FAQ section with common inquiries which are further divided into sections including getting started, tax, linking to an account, your portfolio, and more. A drawback for the company is the limitation of evening weekday calling hours and weekend contact. Merrill Edge and Fidelity, for example, provide phone support 24 hours a day, seven days a week.
Security
M1 Finance is safe and secures thanks to two-factor authentication and military-grade 4096-bit encryption. M1 purchases FDIC insured checking account and SIPC insurance coverage to secure your mutual funds. These coverages are purchased by all banking and brokerage organizations to offer customers peace of mind.
Education
It has several educational resources that you may make use of. You'll discover a wide selection of articles on the blog concentrating on general socially responsible investing methods and best financial practices. Additional ways to get this information include M1's social media sites, videos, and "The Investors Mindset" newsletter.
M1 Finance Pricing and Plan?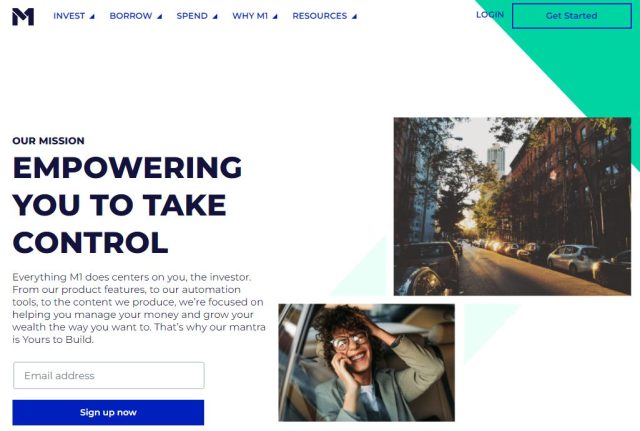 Portfolio cash management and trading fees are not charged by M1 Finance. This is a unique feature of this platform that allows you to put more money to work for you. M1 makes money instead by charging interest, lending securities, offering a Plus membership, and pricing for trading. Members of the M1 Plus tier pay a $125 annual subscription fee. For other account transactions, there is additionally a miscellaneous charge structure.
It does not store any of your holdings in cash. if your account has a balance of moreover $2,000, it is designated as a margin account. Each retirement account allows you to choose your assets, professional portfolios, fractional shares, and dividend yields that are automatically reinvested.
To start a retirement account, you'll need at least $500. If you want to open a trust account, you should have at least $5,000 to get started. To invest in a custodial account, you had to pay $125 per year. Taxable brokerage accounts are also accessible for individuals and couples. To get started, you'll need to put down a minimum investment of $100. M1 members receive one ATM fee reimbursement monthly, while M1 Plus members receive four. On qualified debit card purchases, M1 Plus members receive 1% cashback.
Who is M1 Finance Best For?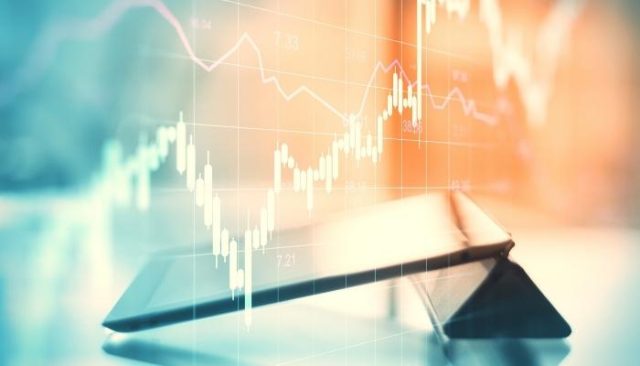 M1 Finance is perhaps the greatest option for someone who wants to manage their money completely by using an investment portfolio. M1 may be a good option for people looking for a fee-free investment portfolio. You can obtain a line of credit plus a savings account product in addition to managing your portfolio. It could also be useful for someone who prefers to manage their retirement accounts independently. Self-employed persons may choose to form a SEP IRA, and those with workplace retirement plans might also want to create a Roth IRA to supplement their retirement savings.
M1 Plus is a good option for those who wish to use their portfolio to get a cheaper rate on a line of credit. When using the debit card, users can receive a yield on their checking account balance as well as cash accounts back. This platform, on the other hand, is unlikely to function effectively for a trader who trades frequently. Although you can invest in specific stocks, the second-afternoon trading window for the day is restricted, so you won't be able to make many deals in a single day. M1 is unlikely to appeal to people interested in day trading.
M1 Finance Pros and Cons
Pros
Outstanding portfolios management with wide customization choices
No fees are required for investment accounts.
The desired loan is provided at low-interest rates with a $5K investment
No charges are required for trading or account management
Cons
Doesn't offer advisors and financial planning and no tax-loss harvesting
Limited tools and goals & plans availability
No aggregating of outer accounts for investment allocation goals
M1 Finance User Experience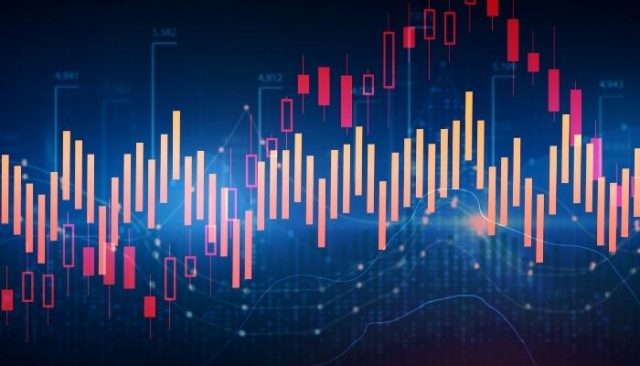 Its website is simple to navigate and easy to sign up, with clear past performance data and easy sign-up instructions. This features tabs for your portfolio activity and holdings, buy, sell, and rebalance buttons, and graphs that detail your allocation. Many Robo Advisors strive to provide better user experiences than traditional financial sites, and M1 Finance excels in this area.
Its app, like the desktop version, is praised for its ease of use. The website and app both have nearly identical user interfaces. You'll discover that you can do almost everything on the app that you can on the website, so it's just a matter of preference.
M1 Finance vs Competitors
1. M1 Finance vs Avatrade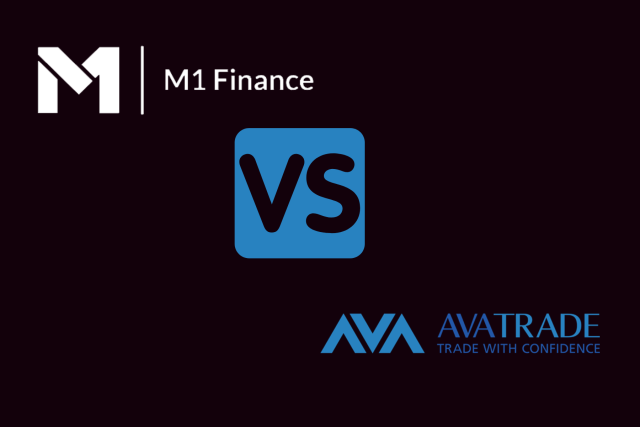 Traders from all over the world can use the M1 Finance online trading platform to access over 163 financial instruments, with over 1,250 of them available. The M1 platform has been used by over 10,000 customers. M1 Finance requires a 0 minimum deposit, but AvaTrade requires a 100 minimum.
M1 Finance offers people to trade up to 163 financial items, whereas AvaTrade's trading platform has over 1,250. There are no stocks listed on the M1 Finance trading platform, but AvaTrade has 1,000 equities listed. M1 Finance provides live chat assistance, however, AvaTrade does not. AvaTrade is not publicly traded and does not publish its annual report on its website. M1 is a respectable broker because it is a publicly-traded corporation.
2. M1 Finance vs Robinhood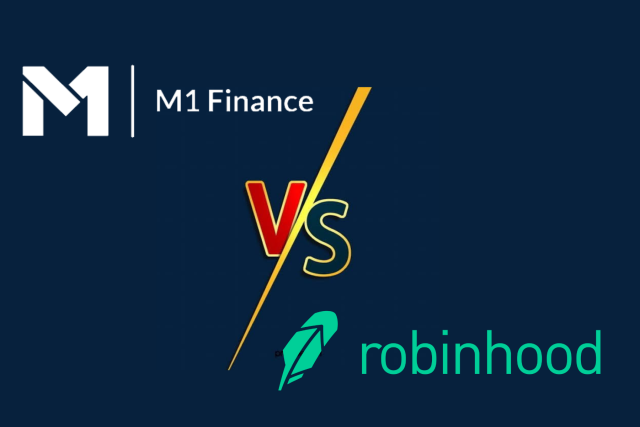 M1 Finance and Robinhood have become two of the most popular fee-free investing services. There are no account fees or trading commissions. M1 Finance also offers a $125/year M1 Plus membership that includes a lower margin loan rate and, if desired, a second trading window. Most ETFs and individual stocks traded on major exchanges are available through M1 Finance. Stocks and ETFs, as well as options and crypto trading, are all available through Robinhood.
M1 Finance is ideal for both new and experienced long-term investors who desire complete portfolio control, no fees, and low margin access. Unlike Robinhood, M1 is not intended for day traders and would be a poor pick. M1 provides a user-friendly, straightforward interface that is suitable for both novice and experienced investors.
Robinhood has a little less intuitive design due to its more technical analysis plus research tools, but not by much. M1 Finance and Robinhood both provide fractional shares, however, M1 is the only one that enables automatic rebalancing.
3. M1 Finance vs Scotia iTrade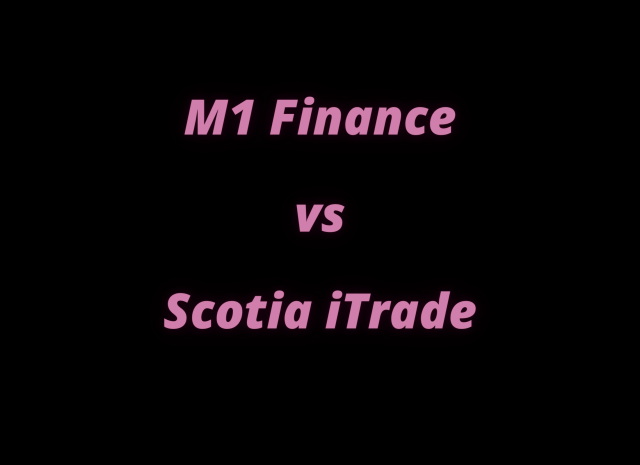 Scotia iTRADE arose from Scotiabank's 2008 acquisition of E*TRADE Canada, which increased the bank's online trading client base. Since then, Scotia iTRADE has received multiple honors and is considered one of Canada's best bank-owned brokerages. While M1 Finance is a corporation based in the United States. To start an account with M1 finance or scotia trade, there is no minimum deposit money or balance requirement.
For new customers, Scotia Trade offers a demo account.  Scotia iTrade's customer service system is superior to M1 Finance's. Because you may link your Scotiabank accounts to your iTrade brokerage account, iTRADE is a fantastic alternative for busy traders and investors who require linked financial accounts. M1 Finance is the greatest solution for you as a beginner. Because Scotia iTrade does not offer Robo advisors, you will be thrown into the deep end of developing your investment accounts portfolio as soon as you join up.
4. M1 Finance vs TD Ameritrade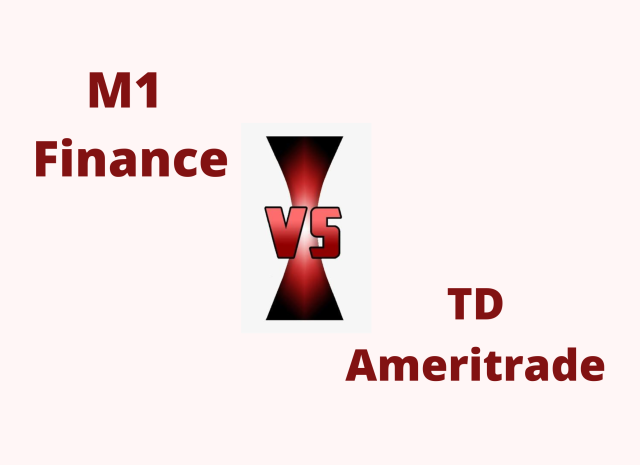 Both M1 Finance and TD Ameritrade offer commission-free stock and ETF trading as well as no account fees. Both of the broker-dealers in our survey provide portfolios management, but their approaches are somewhat different. Pies are broker-constructed baskets of securities with certain themes, such as finance or energy, that M1 Finance offers. TD Ameritrade has several cash management account options.
The first is a Robo advisor that charges a tiny management fee for buying and selling low-cost ETFs. M1 Finance does not charge any fees, however, TD Ameritrade takes a percentage of your portfolio as a fee every year. M1 comes out on top. M1 Finance offers a lower margin loans rate than TD Ameritrade. M1 Finance is a company that sells fractional shares. TD Ameritrade does not allow you to buy fractional shares expressly.
5. M1 Finance vs Etrade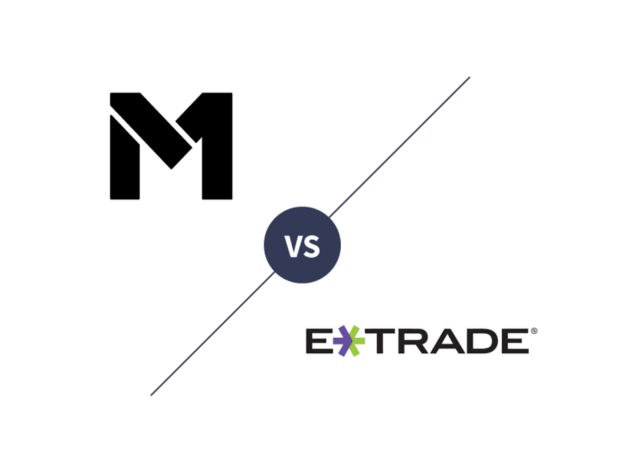 ETRADE is one of the most established and well-known online stockk brokers. To compete with modern platforms like M1 Finance, they recently reduced costs and commissions. Both M1 Finance and ETRADE offer commission-free stock and ETF trades as well as no account fees. On margin rates, M1 Finance comes out on top. When compared to eTrade, it has a low margining rate.
Conclusion: Is M1 Finance the Best for Customizable Robo Investing?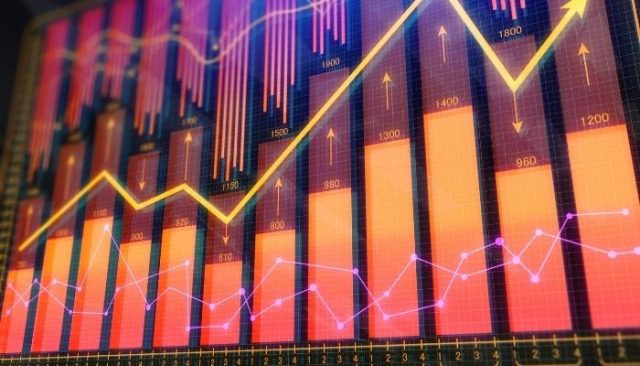 M1 is a superb Robo advisor that combines a free account, no commissions or trading fees, simple defaults. This great Robo-advisor requires no minimum balance. You'll be ready to invest in virtually no time if you use M1's simple portfolio allocations (which include some fantastic default selections).
Advanced users can borrow money for a low rate by pledging their portfolio as security, or they can use M1's bank account or other premium features. M1 platform is an excellent choice for seasoned investors who enjoy a wide range of customizing possibilities.
The M1 platform's customizability is a significant strength that sets it apart in the Robo Advisor field. If you anticipate a Robo-advisor to simply match you up with an optimum allocation, choosing from 80 possibilities or designing your portfolios from start is a different experience.
Although M1 is closer to self-directed investing than other Robo-advisors, it does offer portfolio management automation. Individual investors who are proficient with screeners and strategies can skip some of the more tedious activities, such as rebalancing, as a result of this.
M1 Finance FAQs
Is M1 Finance Safe and Legit?
This platform is a well-established corporation with approximately $4 billion in assets under management. It has received honors from a number of well-known financial sector figures, and it continues to raise funds from outside investors who believe in the company's potential.
Investors give the firm high scores in terms of ratings and reviews, and it continues to expand its feature set, assets under management, and user base. If you decide that it is the perfect solution for your financial needs, it has shown to be trustworthy and worth your money. M1 Finance is, in a nutshell, secure, legitimate, and dependable.
Can you make money with M1 Finance?
M1 Finance is similar to investing in stocks in that it allows you to make money. There are no transaction costs or commissions, and the brokerage offers a wide range of investment instruments and options. You may easily diversify your portfolio using the app's user-friendly design.
The app includes stock news, stock tracking, and the option to contribute money to your investments over time. Index funds, pre-designed portfolios, and individual stocks are all options. You can utilize stock picking services to give stock advice on how to diversify your portfolio and potentially generate alpha.
Is M1 Finance good for beginners?
M1 Finance is a great passive investing tool for beginners who want to automate their investments and have them operate in the background according to their preferences. It may take some time to learn how to use the service, but it provides a lot of flexibility in terms of putting your funds on autopilot, but in a good way.
You can open custodial accounts if you acquire the M1 Plus membership. This enables you to invest for children, including researching the best investments for teenagers, as well as young people who are just starting to invest. M1 is a Robo-advisor and banking solution that I suggest since it combines a lot of features with ease of use. For novices, this is the ideal match.