HSBC InvestDirect Review: Is it Best for Simplicity?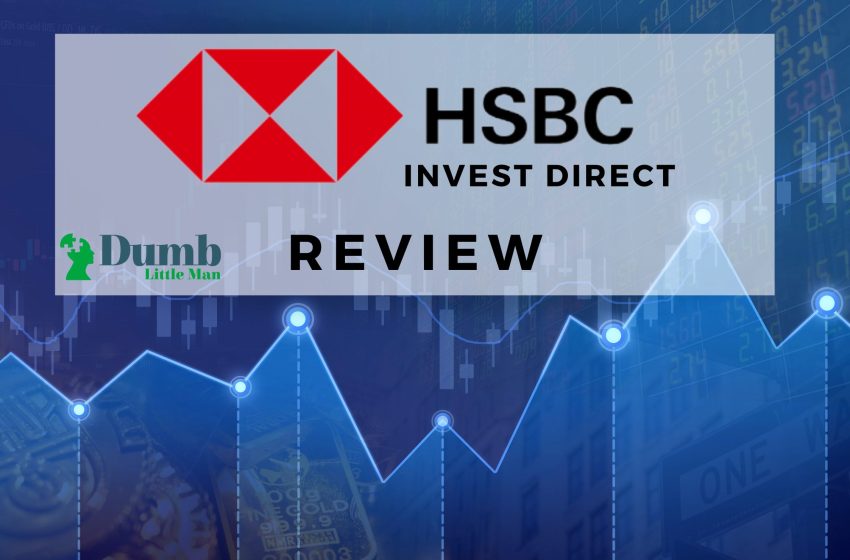 Want to jump straight to the answer? The best Stock Brokers are Tradestation and Tradier
The #1 Stocks and Forex Trading Course is Asia Forex Mentor
Finding a good investment platform is crucial in your investment journey. With the rise in the number of investment firms, we have seen a growth in trading platform options available for different users. However, most of them are either too complex or unnecessarily basic, which restricts your profit growth.
Although many technical analysis tools integrated into a platform are helpful, they can often confuse you by pitching different perspectives. Similarly, we aren't short of basic platforms containing limited research options for traders, resulting in slow growth. At this moment, investors look for a platform that isn't complex to understand but provides the required research options.
In the hope of finding the best investment platform for international markets, investors look for something simpler with an excellent track record amongst past users- a definition that fits the claim of HSBC bank Canada. Recently, the famous mutual funds and investment bank came with an advanced trading platform to ensure that its users can enjoy investing in a controlled environment.
HSBC InvestDirect came into the limelight in 2019, when it got the authorization to trade in the Hong Kong stock exchange- a rare market for US investors. Are you looking to open an investment account in HSBC's InvestDirect? Then, this blog has all the information you would need. We shall be talking all about HSBC InvestDirect's services and registered accounts, so you are ready to start investing.
HSBC InvestDirect Review: What Is HSBC InvestDirect?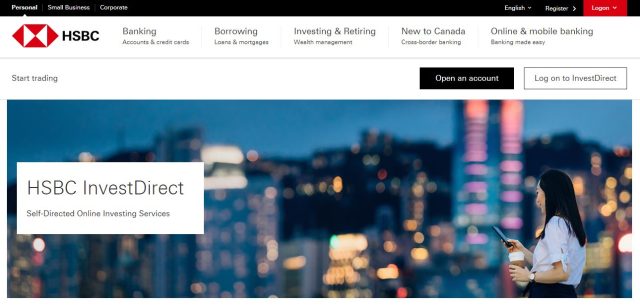 HSBC InvestDirect is a sophisticated online discount brokerage platform launched by HSBC (Hongkong and Shanghai Banking Corporation) bank. HSBC is the 7th largest bank in Canada in terms of its asset reserves; hence, the online platform has solid reliability in the investment markets. It gives you access to 30 different markets worldwide that can help active traders make the best deals at the best price.
The platform offers three types of accounts- registered, non-registered and personal. We will talk more about this later on. HSBC InvestDirect is popular for its wide range of product offerings to investors. The platform allows you to trade in equities, ETFs, options, and foreign currency. The recent upgrades have come with adjustments for mutual funds investments and fixed income products.
A popular offering by HSBC InvestDirect is the investment option in new issues– the platform lets you invest in any capital bonds and securities as soon as they are launched, so you can boost your profits. The official website emphasizes providing control to an investor on their portfolio.
The platform offers a portfolio tracker that allows you to research, analyze, buy and sell your mutual funds,  HSBC securities, and stocks.
| RECOMMENDED TRADING COURSE | REVIEW | VISIT |
| --- | --- | --- |
| | #1 Forex, Crypto and Stocks trading course. Ranked most comprehensive by Investopedia and Best by Benzinga. Free to Try! | |
How does HSBC InvestDirect work?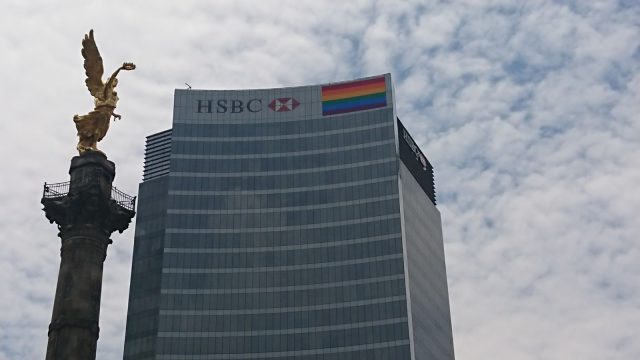 HSBC securities- a Canadian investor protection fund member- is the mother company behind InvestDirect( a wholly-owned subsidiary). It allows three account types for active traders using the platform.
Registered accounts: each registered account can hold a wide range of investment products. The account type standout mainly due to the tax-free savings account that allows investors to get tax deferral in various proportions based on their circumstances
Non-registered accounts: The account type is flexible for investing in multiple international markets and investment products. However, the non-registered accounts are taxable and may require a tax proportion of trade online.
Non-personal accounts: HSBC offers accounts for non-personal finance to businesses and trusts. A regular trader can sign up for their business to expand their portfolio and increase the worth of savings.
Signing up for an HSBC InvestDirect account is relatively simple. All you need to do is head to their official page and select the 'open account' button at the top. Select the desired account type and proceed with the form procedures.
It takes about ten working days for a regular account to be operational.
What are the Features of the HSBC InvestDirect platform?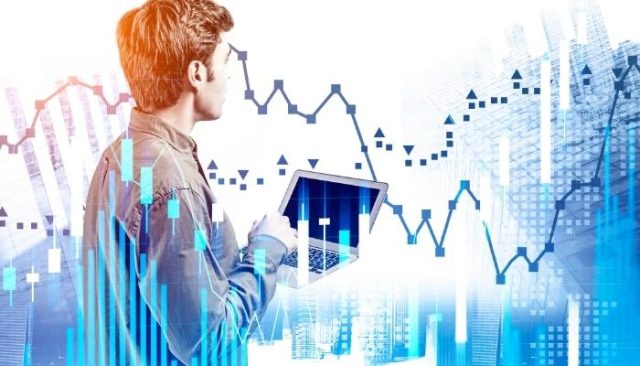 Wide range of investment products: For Canadian and US-based investors, InvestDirect has probably the most extensive range of investment products. The platform allows you to trade in foreign currency, mutual funds, stocks, bonds, ETFs, and securities. It provides access to 30 different markets.
Multiple trading tools: Although InvestDirect isn't amongst the most loaded platforms in terms of technical frails, it has a range of trading tools to help you make the best deals. It allows you to monitor real-time prices, set up alerts for your wishlist, and receive the latest and updated news and research about preferred investment products.
Customer Service: HSBC InvestDirect customer support has earned a reputation for being responsive and quick. Unlike its competitors, HSBC InvestDirect allows its users to communicate with the service provider using multiple social media chat options.
HSBC InvestDirect Pricing and Plan?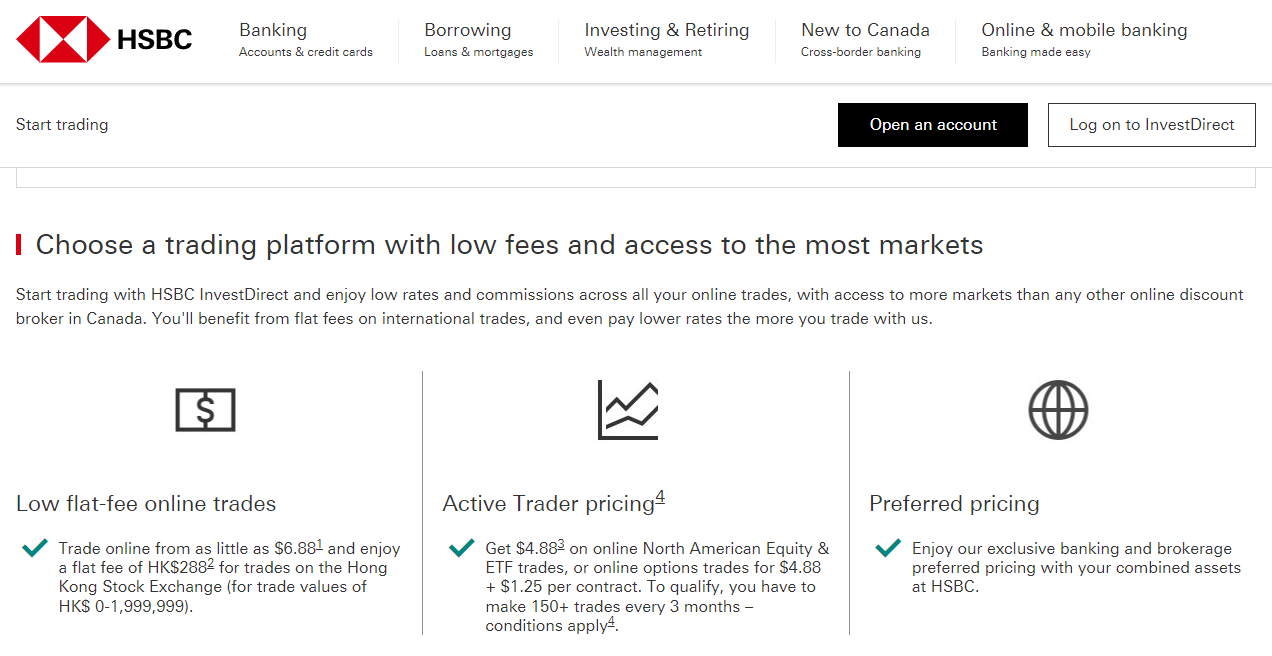 HSBC InvestDirect trading fees vary based on your account type. Generally, its trading costs aren't the lowest for active traders; however, if you have accounts at both the HSBC bank and Investdirect, the brokerage preferred pricing reduces the general trading fee.
HSBC's InvestDirect trading fees are dependent on your daily activity. The company charges as low as $6.88 for HSBC premier users in the North American markets; the pricing is slightly higher for general users. It provides more than 4000 commission-free mutual funds to attract portfolio investors.
HSBC also charges administration fees based on your trading activity and account type. $100 is charged annually for registered accounts, with a $25 inactivity fee.
Who is HSBC InvestDirect Best For?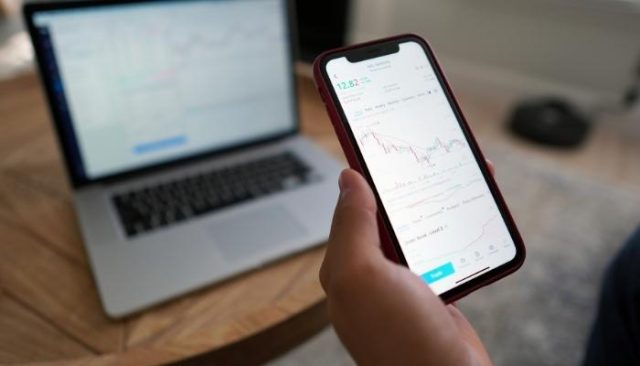 You might have noticed that HSBC InvestDirect's trading fees are significantly expensive compared to its alternatives; however, it is still an excellent choice for novice investors. InvestDirect is a sophisticated platform with integrated research and alert options that can help young investors in their journey.
Excellent customer service is another major perk that makes it great for new investors. Any time an investor feels quizzed by the complexity of the platform or the dilemma of missing out on a deal, easy communication can help them get rid of the weary head without doing much.
HSBC InvestDirect is also an excellent option for casual traders due to its better range of research options and comparatively lower administration fees. It can help you make the best purchases and sell at the right time through its alert options. The research flexibility is also a commendable feature that would come in handy for casual investors.
HSBC InvestDirect Pros and Cons
Pros
Remarkable Customer Service
Reliable hub for your precious investment
Wide range of tradable commodities
Advanced Platform with multiple tools
Tax-free and deferrals for registered accounts
Discounts on selected account types
Cons
The high price point for day to day traders
No mobile app is available for trading purposes.
HSBC InvestDirect User Experience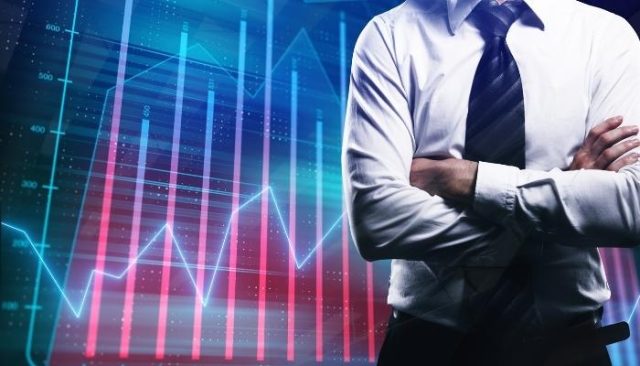 HSBC InvestDirect review amongst existing users is mixed. A fair share of users has appreciated their wide range of research tools in helping them begin their trading journey. Another highlighted feature is the registered retirement savings plan offered for selected account types. It has helped multiple users enjoy better profits and lesser deductions in tax.
Similarly, users also commend the access to numerous markets, as they are able to make the best deals and enjoy better profits. HSBC InvestDirect allows you to invest using ten different currencies, which is helpful for traders building a forex portfolio.
Nevertheless, some users have described InvestDirect as an expensive discount broker due to its high pricing strategy. Although the users are willing to take the bitter bite of the $100 annual fee, the trading fee of $4.88 leaves little profit to enjoy for the active traders.
HSBC InvestDirect vs Competitors
HSBC InvestDirect vs Questrade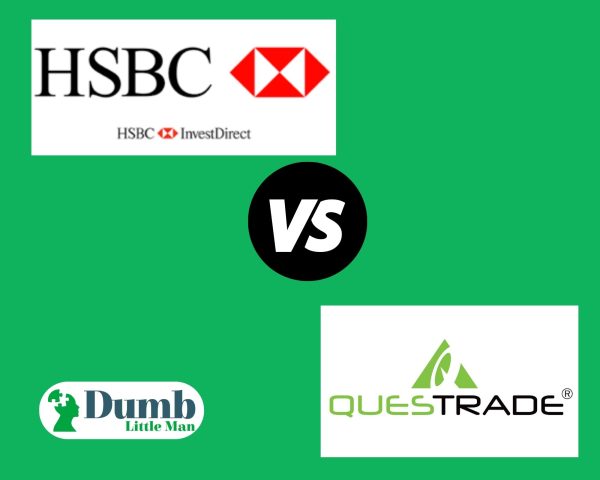 Questrade is a popular alternative to HSBC InvestDirect for Canadian users. It was founded in 1999 and has built an audience base of several million over time. Questrade allows users to transfer their registered accounts from other banks and brokers. The discount broker has a user-intuitive website and mobile app that simplifies trading.
However, HSBC InvestDirect takes over Questrade due to two reasons. Firstly, Questrade allows transactions using only two currencies, while the former allows as many as ten. Secondly, InvestDirect gives free access to its research and analytical tool, unlike Questrade that requires up to $90 for resource streaming.
Broker
Best For
More Details


Canadian Investors
Read Review

 




securely through Questrade website
HSBC InvestDirect vs. Interactive brokers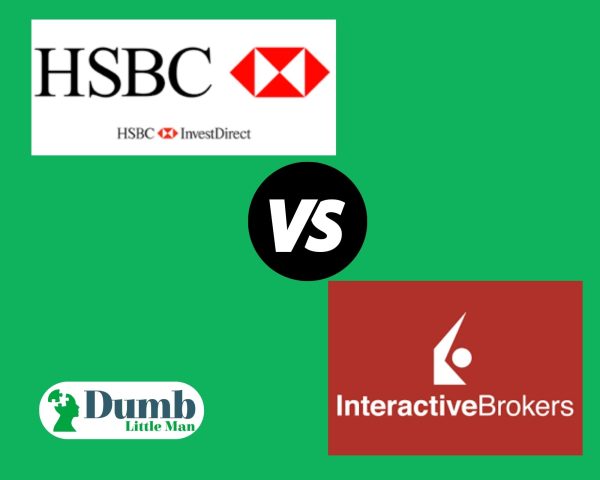 Interactive brokers are a popular name in the investing industry in European and American markets. The brokerage allows a wide range of tradable commodities in more than 130 markets worldwide. With multiple trading platforms, the brokerage is able to suffice the needs of various users.
However, unlike HSBC InvestDirect, interactive brokers have different trading fees for their trading platforms available to selected account types. Similarly, the basic platforms aren't equipped with portfolio tracking that may lead you to miss out on a deal.
Broker
Best For
More Details


Lowest Cost Online Stock Platform
Read Review




securely through Interactive Brokers website
HSBC InvestDirect vs Tradestation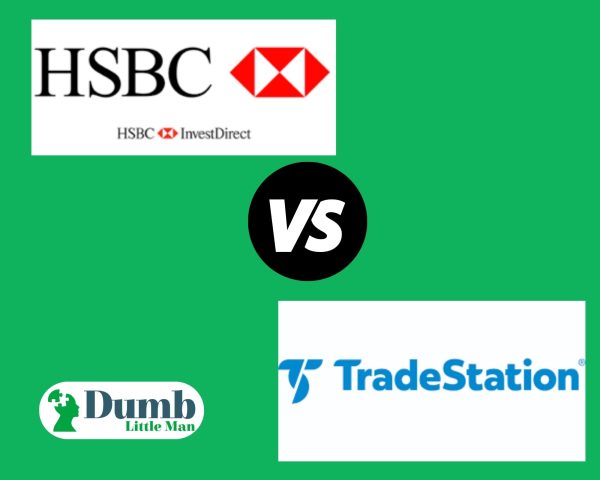 Tradestation has been in commodity trading for years, and with time, it has earned a reputation for its reliability and efficiency. The trading platform for Tradestation is unique and modern that allows special benefits to the users.
Despite the efficacy of its platform, Tradestation isn't highly appreciated by casual investors who have to pay a regular fee for the platform despite low usage. HSBC InvestDirect doesn't have an irregular fee for casual investors and is a preferred choice amongst the segment.
Broker
Best For
More Details


Range Platform
Read Review




securely through TradeStation website
HSBC InvestDirect vs CIBC Investors Edge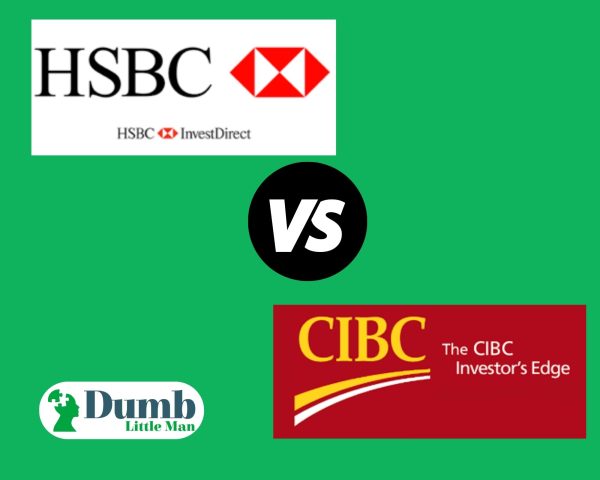 CIBC is one of the largest banks in Canada and was founded in 1867. CIBC Investors Edge is a subsidiary of CIBC securities. It has about 45000 employees around the country and serves over 10 million customers. The brokerage comes with a user-friendly interface for its website and mobile app.
The CIBC Investors Edge charges about $7 as a trading fee and is generally expensive for its day-to-day usage. Unlike InvestDirect that allows relaxation for different account types, there are little to no such leeways for investors of CIBC Investors Edge.
Broker
Best For
More Details


Canadian Investors
Read Review

 




securely through CIBC Investors Edge website
Conclusion: Is HSBC InvestDirect the Best for Simplicity?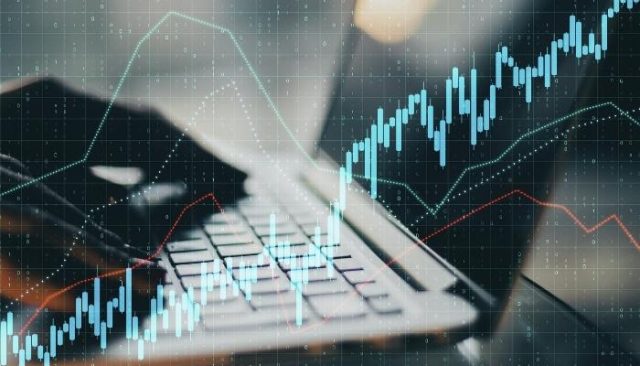 We have finally come to the end of the blog. I hope it has helped you learn about HSBC InvestDirect. For casual and novice investors, HSBC InvestDirect is the best option in the trading market. It provides free access to a wide range of educational resources that can help you make the right decisions.
The platform has a sophisticated interface that lets you make your trading decisions at ease. The main screen is precise and free from clusters that ensures simplicity for users. Nevertheless, the high trading fee is a demotivating factor for day-to-day traders who choose other alternatives such as interactive brokers.
| RECOMMENDED TRADING COURSE | REVIEW | VISIT |
| --- | --- | --- |
| | #1 Forex, Crypto and Stocks trading course. Ranked most comprehensive by Investopedia and Best by Benzinga. Free to Try! | |
HSBC InvestDirect FAQs
Is HSBC InvestDirect Safe and Legit?
HSBC InvestDirect is a subsidiary platform wholly owned by HSBC bank. Although InvestDirect was launched a few years back, being a subsidiary of the 7th largest Canadian bank makes it reliable and safe. The user reviews have supported its efficiency and execution rate, thus making it a legit option for your investment.
What is HSBC InvestDirect plus?
InvestDirect plus has similar features to InvestDirect alongside several additional perks. The website suggests that InvestDirect plus accounts can trade in US shares and securities listed on the New York stock exchange and enjoy a reduced trading fee after their 9th trade of the calendar year.
What is the difference between HSBC InvestDirect and InvestDirect Plus?
The major difference between the two trading accounts is the trade funds. In InvestDirect, your account is connected to your HSBC bank account that can be used to purchase and sell the commodity. In InvestDirect plus, a cash account is set up to fund the transactions.
Your trade amount will be adjusted in your cash account to settle transactions. InvestDirect plus users enjoy several additional benefits alongside the regular ones.
| RECOMMENDED TRADING COURSE | REVIEW | VISIT |
| --- | --- | --- |
| | #1 Forex, Crypto and Stocks trading course. Ranked most comprehensive by Investopedia and Best by Benzinga. Free to Try! | |
Like this Article? Subscribe to Our Feed!
Wilbert is an avid researcher and is deeply passionate about finance and health. When he's not working, he writes research and review articles by doing a thorough analysis on the products based on personal experience, user reviews and feedbacks from forums, quora, reddit, trustpilot amongst others.