Forex vs Options – See the Difference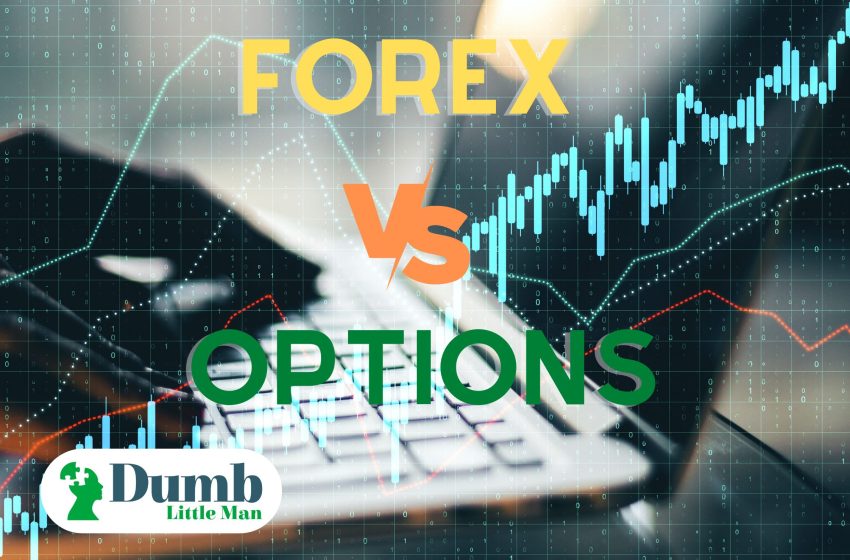 Want to jump straight to the answer? The best forex brokers for traders are Avatrade and FXCC
The main difference between Forex and Options is the nature of the asset being traded. When trading options, traders trade a contract on an asset (forex, crypto, futures, commodities, indices) based on a belief about price movement over a specified time period. Forex trading involves trading currency pairs by buying strong currencies and selling weak ones with the aim of making profits.
Options trading allows traders to trade several assets and asset classes and make profits based on their speculation about price movement to a specific price level or otherwise. Foreign exchange trading involves profiting from currency pairs specifically, based on fluctuations in the exchange rate.
In this review, we would discuss the similarities and differences between Forex trading and Options trading, as well as their Pros and Cons.
Forex vs Options: Similarities Between Forex Trading and Options Trading

#1. Regulation
Both Forex and Options trading is regulated by regulatory agencies and authorities in different countries and regions. Regulations are guidelines that traders, investors, and brokers have to follow. They specify the assets or currencies that can be traded, how they can be traded, the trading strategies that can be used, and some other criteria that have to be met by Forex or options brokers.
These regulations are often unique to a specific region, depending on the specifications of the regulatory authority. For example, forex traders in the US are banned from hedging trades while trading a currency pair in the forex market. Before trading forex or options, make sure you understand the regulatory guidelines and requirements in your country or region.
Why Are Regulations Important?
They help to keep brokers in check and ensure they maintain the best trading practices.
They protect the interest of traders and secure their trades and capital.
Regulations generally maintain stability and order in the financial markets.
#2. Leverage
Leverage is provided by both forex brokers and options brokers. Having an account with leverage ensures that you can purchase or control more assets than your deposited funds would ordinarily permit. The leverage increases the buying power of your deposited funds and this buying power increases as the leverage increases.
Forex traders who trade forex on leverage can purchase forex currency pairs that are up to 1000 times their own capital. Options brokers usually have lower leverages compared to forex brokers, but the leverage is nonetheless sufficient for traders to make massive gains on their retail investor accounts.
Trading with high leverage on a Forex or options broker is a double-edged sword. It presents a lot of profit potential but in the wrong hands, it can lead to poor risk management and loss of deposited funds due to greed.
#3. Accessibility
Trading Forex or options is quite accessible because trading platforms and brokers have made it easy for traders to open trading accounts and execute trades. These accounts can be opened and verified in minutes, after which a deposit is made and trades can be executed.
These accounts mostly have age restrictions specified by the regulatory authority. Besides this, there aren't any regulations that specifically prevent people from trading the options and forex markets (except in countries where certain instruments or financial market trading itself is banned).
But, access to trading platforms and services shouldn't be a reason to trade without a plan. Before trading the financial markets, ensure you understand the asset to be traded, learn a trading strategy and create a trading plan.
| RECOMMENDED TRADING COURSE | REVIEW | VISIT |
| --- | --- | --- |
| | #1 Forex, Crypto and Stocks trading course. Ranked most comprehensive by Investopedia and Best by Benzinga. Free to Try! | |
Differences Between Forex Trading and Options Trading

#1. Volatility/Liquidity
The forex market is an extremely liquid market. This means that it's easy for buyers of currency pairs to be paired with sellers of the same currency pair while trading on a brokerage platform. The high liquidity of the forex market ensures that price movements are less erratic and random. Hence, the forex market is usually moderately volatile.
Unlike forex trading, the Options market is less liquid because there are lesser market participants. This can lead to high volatility or random price fluctuations.
The forex market is the most liquid market and this implies that forex trades are executed or fulfilled easily compared to options trades. The benefit of this is that forex traders are able to execute trades quickly and easily.
#2. Asset Type
The assets traded by forex traders are forex currency pairs, while options traders trade options contracts which are simply asset derivatives.
Forex traders trade national currencies in form of currency pairs. They buy strong currencies and sell weak ones. To forecast the potential strength or weakness of a currency, traders use trading tools, systems, and technical indicators. These help to analyze the currency market and forecast the movement of the underlying currency pair.
In options trading, the options contracts are the assets being traded. Since they are asset derivatives, you can trade forex options, stock options, or any options contract for any given asset class. Unlike currency trading, options trading provides multiple tradeable assets in form of asset derivatives for traders to trade.
#3. 24-Hour Trading
The options market can be traded from Monday to Friday from 9:30 a.m. to 4 p.m. EST. The forex market is open 24 hours per day. However, the volatility of the foreign exchange market can reduce drastically at certain hours of the day – at the beginning and end of a new day.
At the beginning of the forex trading day, it is possible to experience a price gap. A price gap is a jump in price as the market responds to new data such as news or economic data. This can sometimes occur at the beginning of a new trading week because most brokers close on the weekends.
What is Forex Trading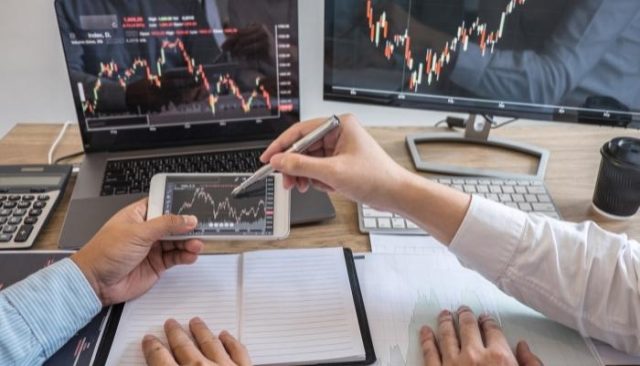 Forex trading simply means buying and selling currencies for profits. The currencies are traded in pairs and forex trades require you to buy one currency while selling the other currency that makes up the pair. The weaker currency is sold while the stronger of the pair is bought simultaneously.
Therefore, forecasting price movement is obviously critical to successful currency trading. Traders try to avoid losing money rapidly by using technical indicators and systems of analysis to forecast price movement. As a forex trader, you need to gain trading expertise using a specific trading strategy, before executing trades on a forex account.
As a retail trader, trading forex requires you to open an account on a brokerage platform and deposit your capital. This allows you to execute and manage trades in line with your speculation.
The foreign currency exchange market is the largest and most liquid of all financial markets. It provides infinite opportunities and limitless profit potentials.
Broker
Best For
More Details


Advanced for Non US Traders
Read Review




securely through Avatrade website
Broker
Best For
More Details


Intermediate for Non US Traders
Read Review




securely through FXCC website
What is Options Trading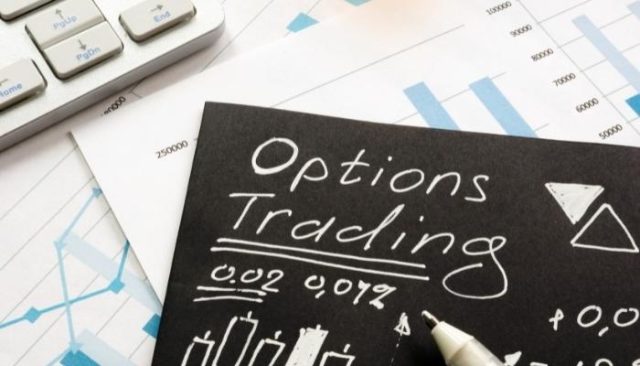 Options trading allows traders to trade options contracts which are simply asset derivatives. This means that options trading provides access to contracts from different asset classes. Options traders trade based on speculation about price movement during or after a specified time period.
Call trades are executed when a trader has a bullish bias. If the price of an asset trades above the strike price after the specified time elapses, then the call trade would turn out profitable. When a trader has a bearish bias, a put option is selected. This allows the trader to make profits if the price of the chosen asset trades below the strike price after the specified time elapses.
Broker
Best For
More Details


Range Platform
Read Review




securely through TradeStation website
Broker
Best For
More Details

Beginners
Read Review

 




securely through Tradezero Strategies website
Pros and Cons of Forex Trading
Pros
High liquidity allows for quick trade executions.
High leverage helps traders make huge profits with comparatively small capital.
The high liquidity helps to stabilize the forex markets
No middleman fees
Cons
High liquidity can reduce the volatility
High leverage can easily lead to loss of deposited funds
Pros and Cons of Options Trading
Pros
Trading asset derivatives can yield significantly higher profits than trading the underlying assets.
Lower barrier to entry
High risk to reward potential
Saves time and allows traders to earn quickly
Cons
Options trading can be complicated and difficult to understand
Low liquidity compared to forex trading
Best Forex Brokers for Trading
Broker
Best For
More Details

Advanced Non US Traders
Read Review




securely through Avatrade website




Intermediate Non-US Traders


Read Review





securely through FXCC website






Overall Broker
Read Review





securely through Forex.com website




Professional Forex Traders

Read Review




securely through Interactive Brokers website



Best Options Brokers for Trading
Broker
Best For
More Details

Advanced Traders
Read Review




securely through Tradestation website




Powerful Services at a Low Cost
Read Review





securely through Tradezero website




Web Platforms


Read Review





securely through eTrade website




Professional Forex Traders

Read Review




securely through Interactive Brokers website