IG Broker Review: Is it the Best for Execution Forex Broker in 2023?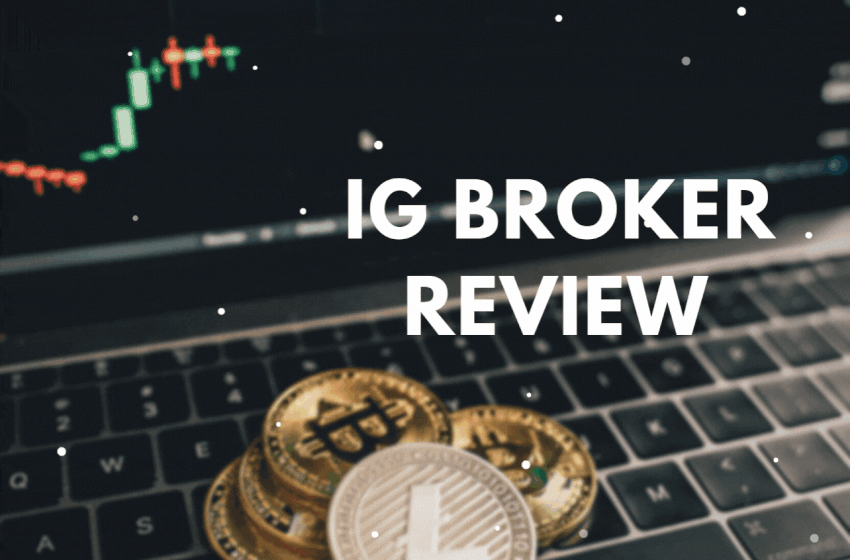 Want to jump straight to the answer? The best forex broker for traders is Avatrade
The #1 Forex Trading Course is Asia Forex Mentor
The forex exchange is the world's biggest financial market with daily trade volumes of nearly $6.6 trillion. It is also a very popular market for retail investors looking to make returns on small or big market movements.
Success in forex depends on many factors. However, the ability to execute trades quickly and take advantage of small movements in the market matters a lot. This is where the idea of getting a good broker comes in and IG should be top of the list.
Founded in 1974 in the UK, IG Markets is one of the biggest CFD (Contract for Difference) brokers in the world. The company gives customers access to a wide variety of assets including the forex market, stocks, indices, commodities, and so much more.
But is IG market really worth the hype? How does it compare to other brokers in the forex market? Well, in this IG broker review, we give you more details about IG, what it has to offer in forex trading, how it works, and more.
IG Broker Review: What Is IG Broker?
IG Markets or simply IG is an Award-winning UK-based online trading broker. The company provides users direct market access to thousands of global financial markets through CFDs or Contracts for Difference.
As noted above, IG was established in 1974 in London. Ever since it has expanded its global presence to over 17 countries across five different continents. The broker is licensed to do conduct investments by the Bermuda Monetary Authority but it is also regulated by top-tier regulators in Europe.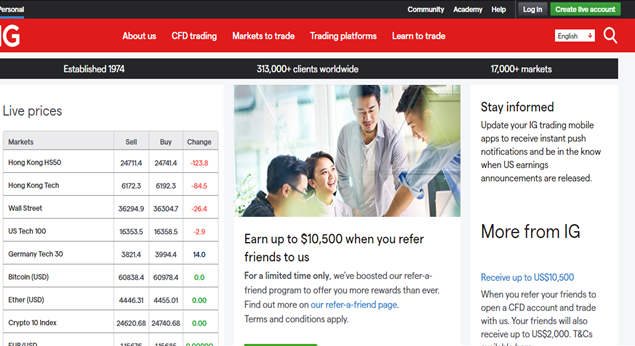 They include the UK's Financial Sector Conduct Authority or FCA and also the German Federal Financial Supervisory Authority. For these reasons, IG is considered one of the safest and legit forex brokers in the world.
In addition to this, IG Markets is a listed company on the London Stock Exchange. This puts extra pressure on the broker to enhance transparency and openness in its operations.
So, what exactly makes IG tick? What are the benefits to expect if you decide to trade with this broker? Well, first, IG Markets is a global broker. This is actually not an understatement. Very few forex brokers have the kind of global reach IG has.
IG has over 300, 000 clients and gives users direct market access to over 17, 000+ markets. IG also offers fast trade execution. Most trades are filled almost instantly and this helps to reduce the risk of slippage substantially.
Even though trading on a demo account is not the same as trading on a real account, at least you get to explore how the platform works and how to place trades. Training is also offered for beginners through the IG academy. Here, you get an introduction to trading CFDs on currency pairs, commodities, and a wide range of asset classes.
How does IG Broker work?
IG Markets has a simple and interactive trade platform that is so easy to use. In case you would like to start forex trading using retail investor accounts, then there are three steps to follow. First, you will need to open an account for forex and CFDs trading on the IG website.
IG will ask for some personal information, including your residential address. Secondly, you will be required to fill in financial information. This basically allows the broker to assess whether you meet the minimum financial regulatory requirements for forex and CFD trading.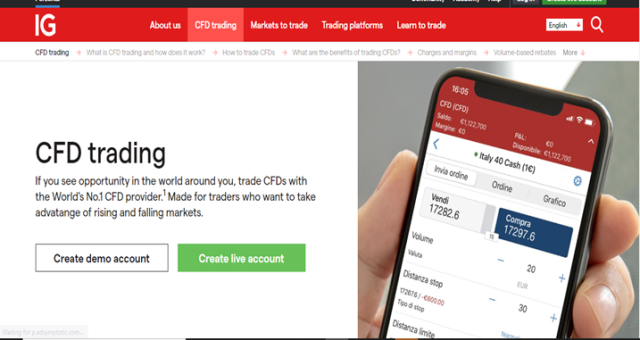 Finally, the broker will ask you questions about trading experience and overall, your knowledge about financial markets. Once you fill in these details, the second step would be to verify your account and activate it to start trading on currency pairs.
There are two levels of verifications on IG. First, you will need to verify your identity. To this effect, IG requires that you submit a scanned copy of your national ID or passport.
Secondly, the broker will also require proof of address. Here, you can submit a government-issued address certificate, a utility bill, or a bank statement.
If these documents are satisfactory, then your account will be activated. It takes about 3 business days to complete this process. If the documents were insufficient, IG will send you details on how to fix this through your email address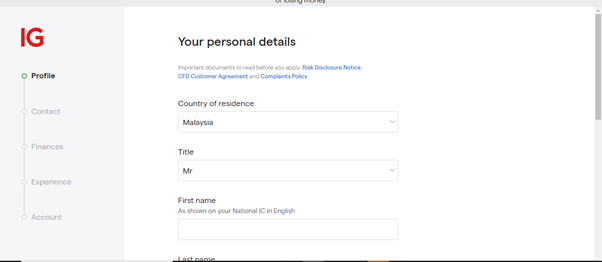 The third step is to make your first deposit. IG does not have a minimum deposit for its retail investor accounts. You also get several deposit options as well. While most people do it through bank transfers, IG group also allows you to deposit via PayPal in certain jurisdictions.
You can also use your credit card in fact, credit card deposit reflects instantly on the trading platform. As for bank transfers, it may take up to two business days.
In some cases, you may be required to verify a funding account before making a deposit. In essence, IG simply wants to be sure you are the owner of the account before any transactions go through. Once the balance is active, you can now trade currency pairs, stocks, and others.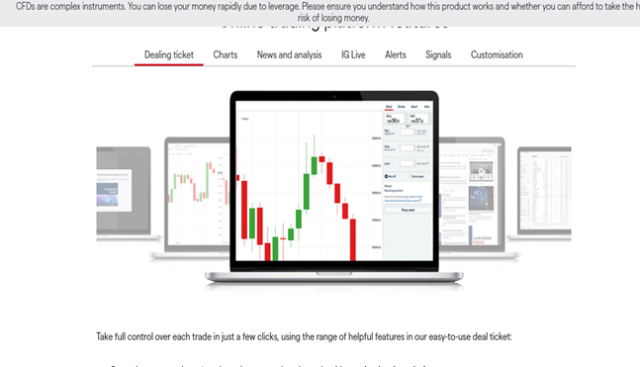 Trading foreign exchange on IG is incredibly satisfying. You get access to top quality charting tools, a Twitter feed on the platform showing you all the latest market news, and market indicators on a real-time basis. IG Group also allows you to customize your trading area through workspaces and themes.
You should also know that opening trades is so easy and fast. To open a trade, simply select the currency pairs you intend to trade. After that, choose the number of contracts you want to open. Since IG is geared for retail investors, you can buy as low as 0.5 contracts.
Finally, set your stop loss or take profit limits and open. You can then monitor how your trades are doing by checking open positions on the platform. You can also manually close the trades from this section if you wish.
Click Here to Open an Account with IG Broker (Official Page)
What are the Features of IG Broker platform?
As one of the leading trading platforms in the world for beginner and advanced traders, IG Group has so much to offer. First, the broker offers both a web and mobile trading platform. The IG trading app is available for both Android and iOS. This gives you a lot of flexibility since you can execute trades wherever you are.
IG also has a very rigorous training program inside the platform. The training is called IG Academy. If you are a beginner, IG trading through the IG academy will give you a lot of materials that should help you learn the ropes quite fast.
Remember CFDs are complex instruments and the risk of losing money rapidly is very high. So, take your time and learn as much as you can.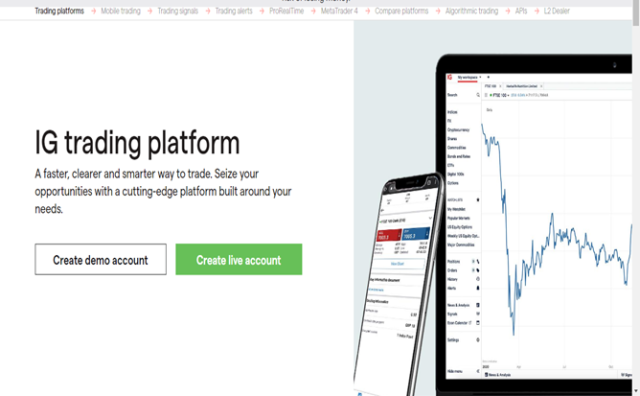 Security is also another key area where this broker excels. Your account is secured through state-of-the-art security measures, including a biometric login feature on the mobile trading platform. However, this will depend on whether your smartphone has biometrics enabled. If you are using a normal phone, then you will need to use the password as usual.
Additionally, the money in your IG account is held in segregated accounts in regulated banks. IG does not use customer deposits on any financial ventures, including in the provision of leverage for traders and investors.
Besides, the deposits are also ring-fenced by top global creditors. This ensures that you can withdraw money anytime.
The IG platform and its subsidiaries, including IG Australia, offer quick trade executions. Orders are filled almost instantly and platform downtimes are very rare.
This gives you a seamless online trading experience that allows you to take advantage of changes in the market wherever you are. The IG trading platform is also very interactive. It comes with advanced charting tools and forex signals too which are offered on a day-to-day basis.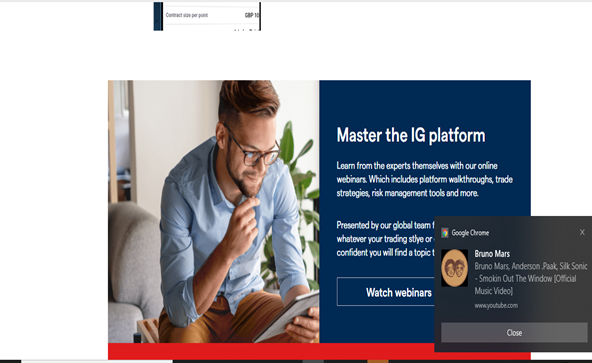 Although these signals do not technically qualify as investment advice, they can help you predict the direction of the market. IG also offers forex trading in six major base currencies including the US dollar. There is a reasonable variety of products to trade here.
In addition to the forex market, you can also trade major global indices, commodities, ETFs, stocks, and even IPOs in selected countries. IG also offers options trading and spread betting for selected customers in certain countries.
You will also love the quick account opening. On average, it takes between 1-3 days to open and activate your forex trading account. This however depends entirely on the quality of veridiction documents submitted during the application process.
Finally, IG also offers new users a demo account for trading spread bets. Financial spread betting is of course complex and a demo trading account helps you to test your skills before jumping into the real market.
How much are IG Broker Commissions, Account Minimums and Fees?
As a leading forex broker, fees on IG are charged a bit differently compared to the way a traditional stockbroker would. In essence, IG uses a spread pricing model to determine payable fees by customers. This means that you won't be paying a flat rate per transaction.
So, how does this work? Well, as you know, currency pairs come with a bid and an ask price. The bid price is the highest amount of money a buyer is willing to pay for an asset. The ask price is the lowest amount of money a seller is willing to accept. The difference between the bid and the ask price is called the spread.
| 1 | 2 | 3 | 4 | 5 |
| --- | --- | --- | --- | --- |
| Market Name | Value per pip | Min Spread | Average Spread | Margin Req |
| EUR/USD | $10 | 0.8 | 0.9 | 2% |
| AUD/USD | $10 | 1 | 1.2 | 3% |
| EUR/GBP | £10 | 1 | 1.4 | 5% |
| GBP/USD | $10 | 1 | 1.4 | 5% |
The spread is the fee that IG will pocket when a trade is executed. Spreads are very dynamic and can change anytime. This is because asset prices, especially in the highly volatile forex exchange market, change very fast.
Additionally, the spreads will also be determined by the base currency you are about trade. But as a rule of thumb, always pick pairs that offer the lowest spreads possible. This allows you to reduce brokerage fees, something that should add up your revenue excluding fx.
The spreads may also be affected by the type of asset you are buying. For example, spreads are typically lower on currency pairs compared to indices, ETFs, and stocks. You can look at the education IG offers on its platform to learn more about spreads and how they work. It is also important to note that IG offers leveraged CFD trading.
This means that the broker will temporarily lend you money to enter large financial positions using a small amount. This allows you to maximize returns. On the flip side, there is a high risk of losing money when you trade using leverage. However, since leveraged positions are financed by the broker, they will attract a small interest fee.
There is also an overnight charge in case your positions remain open for more than 24 hours. The good thing about IG is that all fees are calculated and charged beforehand. This simply means that you don't incur any cost for closing a trade. IG does not also charge deposit or withdrawal fees. However, pay attention to the inactivity fee.
If you don't make a single trade in 2 years, you will be charged $18 per month thereafter. IG also charges for access to its live charts. Right now, the fee is about $40 a month. However, if you place at least 4 trades during that period, the fee will be refunded. The sad part is that these fees are not explicitly declared and would easily be considered hidden charges.
Click Here to Open an Account with IG Brokers (Official Page)
Who is IG Broker Best For?
IG is a versatile broker that offers a mobile app and desktop trading platform for all. So, whether you are a beginner forex trade, an intermediate trader in spread betting and CFDs, or a highly skilled investor, there is something for everyone on IG. For beginners, in particular, IG Markets does really well for several reasons.
First, you get comprehensive online trading courses including some on how spread bets work. This is done through the IG Academy, a comprehensive online tutorial that can be accessed through your CFD account.
As for intermediate and advanced forex traders, you will also love IG. In addition to the gallery IG education, the broker offers advanced charting tools that should help with technical analysis.
However, as we have noted many times in this post, CFDs are complex financial instruments and there is a high risk of losing money. In fact, a huge percentage of accounts lose money when trading these forex CFDs. Take your time and make sure you know what you are doing. Besides, trading and the temperament it requires often develop over time. But having the right foundation is very important. Do not gamble with your money.
IG Broker Pros and Cons
Just like many brokers for forex traders out there, IG offers a list of pros and cons that you should be aware of. Here they are:
Pros
Legit brokerage firm regulated by top-tier regulators with financial markets authority
IG offers fast trade executions for CFD forex traders
Allows users to open leveraged positions to help maximize returns even on small market movements
Comprehensive beginner training through the IG training academy
Excellent security features including biometric sign in and a rigorous data validation process
Cons
Relatively higher fees compared to other online brokers
The risk of losing money when trading is very high since you are trading on a highly leveraged account
IG Broker User Experience
The overall user experience that IG offers is quite good. Of course, there are some areas the company can improve. But one thing to note about the IG web trading platform is just how interactive it is. The user interface is also so easy to use. You can quite literally find and execute trades in a matter of minutes.
IG also allows you to customize the trading platform, including the IG trading mobile app. This means that you can choose the themes and charting styles that you love. There is also a lot of positive customer reviews on account opening.
Although IG is required to meet numerous regulations as a CFD provider, opening accounts is quite fast here. In fact, you can easily get IG smart portfolio accounts in less than a day.
You just need to provide the required verification documents and the company will respond within 24 hours. We also noted that most users love the trade execution. The IG web trading platform is super-fast and trades are filled almost instantly. We did note though that the platform has experienced some downtime in several cases.
IG also does very poorly on phone support. If you have any issues, you will have to rely on email and this can take up to 24 hours. But other than that, overall the user experience for most IG users is satisfactory and relatively better compared to most online brokers. Nonetheless, most accounts lose money with IG so be cautious when trading.
IG Broker vs Competitors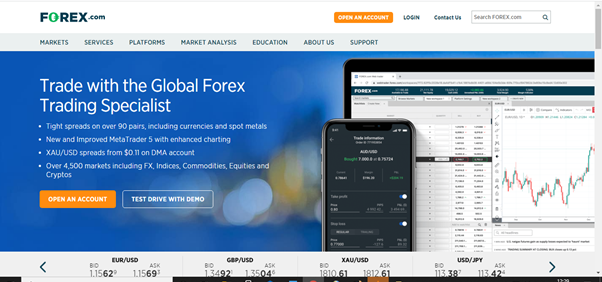 IG is a global leader when it comes to forex trading. But it faces quite some competition from other major online brokers. One of the key competitors for IG is Forex.com. Regulated by the Commodity Futures Trading Commission, Forex.com allows you to invest in a massive variety of currency pairs.
The broker is also global, meaning that it provides its services to clients in different countries. Forex.com also gives users access to spot metals with low cost and fast trade execution.
However, unlike IG, Forex.com has a limited variety of assets to invest in. Although you can get any currency pair with the broker, you cannot buy stocks, ETFs, and some indices with Forex.com. But on the flip side, trading fees are relatively low and you also don't need a minimum deposit.
Click Here to Open an Account with IG Broker (Official Page)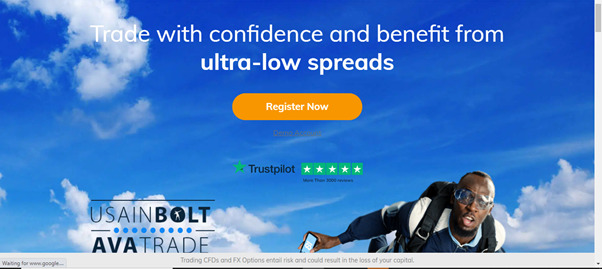 It is also important to compare IG with AvaTrade, another global forex broker based in Ireland. AvaTrade is rated very high when it comes to retail forex trading. It has an easy-to-use platform and is also highly regulated. In fact, AvaTrade is regulated in literally all regions in the world including Europe.
It is also regulated by the Japanese financial services authority, the Dubai financial services authority as well as regulators in South Africa, the British Virgin Islands, and others. So, just like IG, AvaTrade is legit and gives customers confidence thanks to its transparency.
But AvaTrade beats IG when it comes to trading fees, especially for forex. The online broker also has better customer support. But sadly, AvaTrade has a limited variety of instruments. In fact, whilst IG offers access to over 17, 000 markets, AvaTrade only has around 1200+.
So, looking at these two major competitors, it's easy to see that IG has more to offer. But it still needs to work on its trading fees. After all, as the forex market becomes more open to retail investors, small trading fees have become a huge determinant when choosing a broker.
Nonetheless, when it comes to gallery IG research, the education that Ig offers, trade execution, and the variety of investable assets, IG competitors don't match up. But as a rule, always compare IG competitors select with a bit of background info on how the platform works and what it offers.
Click Here to Open an Account with Avatrade (Official Page)
>>Read more About AvaTrade Review: Is it the Best for Advanced Non-US Traders?
Choose Asia Forex Mentor for Your Forex Trading Success
If you have a keen interest in establishing a successful career in forex trading and aspire to achieve substantial financial gains, Asia Forex Mentor stands as the optimal choice for the best forex, stock, and crypto trading course. Ezekiel Chew, renowned as the visionary behind trading institutions and banks, is the driving force behind Asia Forex Mentor. On a personal note, Ezekiel consistently achieves seven-figure trades, a distinction that truly sets him apart from other educators in the field. Here are the compelling reasons that underpin our recommendation:

Comprehensive Curriculum: Asia Forex Mentor offers an all-encompassing educational program that covers stock, crypto, and forex trading. This well-structured curriculum equips aspiring traders with the knowledge and skills necessary to excel in these diverse markets.

Proven Track Record: The credibility of Asia Forex Mentor is firmly established through its impressive track record of producing consistently profitable traders across various market sectors. This achievement serves as a testament to the effectiveness of their training methodologies and mentorship.

Expert Mentors: At Asia Forex Mentor, students benefit from the guidance and insights of experienced mentors who have demonstrated remarkable success in stock, crypto, and forex trading. These mentors provide personalized support, enabling students to navigate the intricacies of each market with confidence.

Supportive Community: Joining Asia Forex Mentor brings access to a supportive community of like-minded traders pursuing success in the stock, crypto, and forex markets. This community fosters collaboration, idea-sharing, and peer learning, enhancing the overall learning experience.

Emphasis on Discipline and Psychology: Success in trading necessitates a strong mindset and disciplined approach. Asia Forex Mentor provides crucial psychological training to help traders manage emotions, handle stress, and make rational decisions during trading.

Constant Updates and Resources: The financial markets are dynamic, and Asia Forex Mentor ensures that students remain up-to-date with the latest trends, strategies, and market insights. Continuous access to valuable resources keeps traders ahead of the curve.

Success Stories: Asia Forex Mentor takes pride in a multitude of success stories where students have transformed their trading careers and achieved financial independence through their comprehensive forex, stock, and crypto trading education.

In summary, Asia Forex Mentor emerges as the premier choice for those seeking the best forex, stock, and crypto trading course to carve a rewarding career and achieve financial prosperity. Through its comprehensive curriculum, experienced mentors, practical approach, and supportive community, Asia Forex Mentor provides the necessary tools and guidance to mold aspiring traders into accomplished professionals across diverse financial markets.
Conclusion: Is IG Broker a Good Platform for investors and traders?
With everything said and done, there is no doubt that IG ranks very high as a forex broker. On a scale of 1 – 5, we would gladly give it a 4 for four main reasons. First, the web, and mobile trading platforms are quite fast, highly interactive, and so easy to use.
Secondly, IG does pretty well in offering training materials. Yes, it's not one of the best online courses for forex traders. But you still get a lot of information on CFDs, spread betting, and trading with the education IG offers.
Thirdly. IG also offers a huge variety of assets. Although it's a leader in forex, you also get to invest in crypto, ETFs, indices, commodities, and individual stocks. Finally, IG is highly regulated and is listed on the London Stock Exchange. It's backed by IG bank too, another highly regulated entity. This should give you the confidence to trade with this broker.
Despite these positives, there are two areas IG must improve. The IG forex benchmark fees are relatively high compared to other online brokers. This can be a huge drawback for small-ticket retail investors. In addition to IG fees, customer support also needs some improvement. It's not nearly as responsive and fast as we expected. But overall, you should have good experience trading forex with this broker.
IG Broker FAQs
Is IG Broker Reliable?
Yes, IG is one of the most reliable forex brokers in the world. The broker is regulated by the national futures association in most of the countries that it operates in. IG also has a super-fast and reliable trading platform available on desktop, mobile, and tablet. Trades are executed fast and orders are filled almost instantly.
You also get advanced live market data, a Twitter feed on your workspace with all the latest information, and trading signals to follow. All customer deposits are processed securely too and you can withdraw your money anytime you want.
What is forex trading?
Forex trading simply refers to the exchange of currency between individuals. This exchange is done through the foreign exchange market, where individuals, organizations, and even central banks convert different currencies at an agreed price. But how do you may money in forex? First, you will notice that currencies are quoted in pairs. For example, EUR/USD is a currency pair pitting the Euro against the dollar.
As you know, the value of a currency against another will fluctuate depending on monetary conditions and economic factors. So, if for example, you decide to buy the EUR/USD pair, it means you are betting the Euro will strengthen against the dollar. If that happens, you will make a return. If you think the Euro will weaken, you can sell the pair. The forex market is the most liquid financial market in the world. It is open 24 hours a day too.
Could a Retail Investor Accounts Lose money when trading?
Before you get into forex CFDs, it is important to know that retail investor accounts lose money. If you are trading on leverage, there is actually a very high risk of losing money very fast. So, it is important to be well-educated in how these markets work.
First, give Yousef time to learn about the forex market. There are numerous free and paid courses that you can use to get the basics right. Secondly, try and start with a demo account. In fact, when researching online brokers, always make sure you pick providers who allow you to trade on demo accounts. This will give you the chance to hone your skills as a forex trader or investor.
Click Here to Open an Account with IG Broker (Official Page)
Like this Article? Subscribe to Our Feed!
Wilbert is an avid researcher and is deeply passionate about finance and health. When he's not working, he writes research and review articles by doing a thorough analysis on the products based on personal experience, user reviews and feedbacks from forums, quora, reddit, trustpilot amongst others.