10 Best Websites to Learn Forex Trading 2023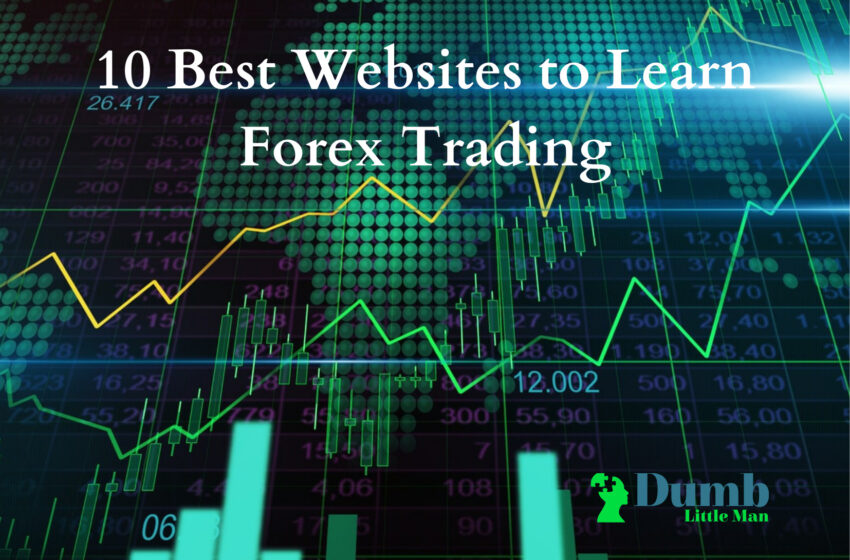 When it comes to trading on the foreign exchange market, you need to have a considerable amount of skill and knowledge. As a beginner, there's so much to learn, from fundamental concepts to trading policies, risk management, and then adapting to trading platforms. The list goes on.
However, as you grow and build the self-confidence to begin trading, you realize that certain things are inevitable. And the need to follow up on market trends, regular updates of the economy, and events that may impact the market.
You have to continually up-skill and broaden your knowledge, learning how to implement profitable trades successfully. The best websites to learn forex trading must have certain qualities. They must be a trusted brand that offers a strong variety of educational resources and values. They must provide a regulated, user-friendly web-based platform.
They should be masters of the market and provide access to fresh, quality market research. While there is money to be made when you start trading on the foreign exchange market, you will need specialized knowledge and skill to achieve success and gain mastery in the market.
10 Best Websites for the Forex Market
The following websites stand out when it comes to forex trading. They help you develop your forex trading skills with amazingly fresh content. They also provide a safe and trusted platform to learn and trade.
To help you start trading, here is a list of the best websites you should go for whenever you want to learn forex trading.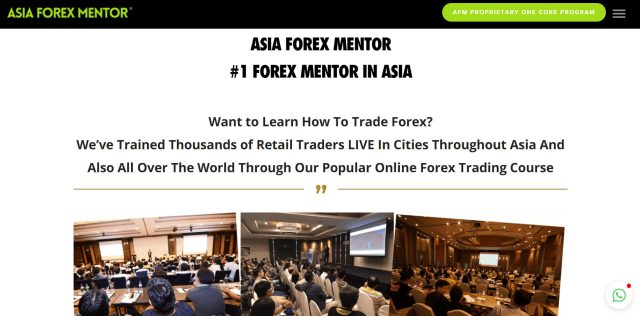 The One Core Program is commonly regarded as the most concise and comprehensive applied forex course. The course teaches how to trade forex, stock, commodities, and crypto. The One Core Program includes lots of practical price action and technical trading strategies that are valuable.
It is a well-structured program with a combo of many several forex strategies that would earn good profits. The One Core Program includes 26 full-scale lessons with over 60 topics, each with a recorded video included.
Asia forex mentor and Ezekiel Chew has an excellent reputation for being trusted and knowledgeable. Asia forex mentor includes the one core program and Golden Eye group.
In addition, for $118, members can now access the Golden Eye Group. This is another valuable exclusive program at an advanced traders price that gives members access to the inner study of Ezekiel's mind through live streams of weekly market analysis, where he offers explanations and interpretations of trading setup and how he models his forex trades.
Ezekiel Chew
Ezekiel Chew, the founder of Asia Forex Mentor is considered one of the top forex traders in the world with over 20 years of experience. The company was founded in 2008 using a strategy that focuses on leverage, compounding, and ROI, instead of profit versus loss.
He is well known for training traders in banks, prop trading firms, and fund management companies with his most popular system of turning 1$ into 3$. Ezekiel is a leading expert advisor. He is also a keynote speaker at several Webinars and travels around the world to speak at conferences and events.
2. ForexSignals.com- Trading Room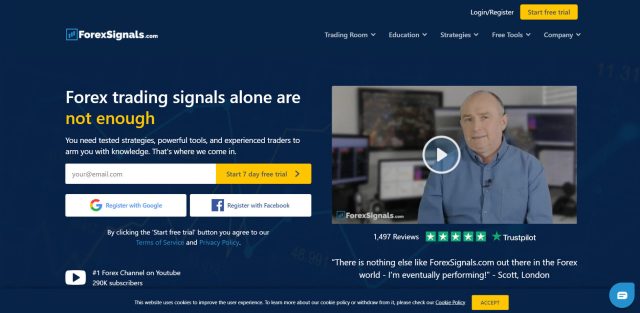 ForexSignals is a reputable company that offers education and the superfluity of tools to traders. They are one of the oldest and most reputable trading educational platforms.
They teach new forex traders the basics and everything about finances using simple language to help them understand. The teachings are structured and in-depth, with the lectures arranged in modules. There's also an opportunity to ask questions frequently from the mentors through a live chat.
The experienced mentors in ForexSignals provide market commentaries, guidance, and education. Their focus is on forex, crypto, futures, commodities, options, penny stocks, and more. This website provides forex courses that highlight some key things, including knowing your basics, risk management, and identifying the trend.
ForexSignals presents traders with fundamental knowledge that aligns with key trading strategies. A forex trader will learn how high-impact news, central bank rates, and global economic events affect the demand and supply of a currency pair.
As a trader, you will learn how to read the charts and examine technical market research. They provide you with an effective trading style and economic news that can help any active investor.
The live trading room is an additional feature ForexSignals offer their users. It is a great tool for beginners who are having difficulties with implementing trades by straightforwardly looking at the market charts. They provide you with endless traders trends and effective traders style. ForexSignals is the go-to place for education and real-time market opportunities.
The live trading room hosts thousands of members daily who share ideas without bias. It also includes exclusive tools that are useful to members irrespective of the level of experience.
3. Forex FX Academy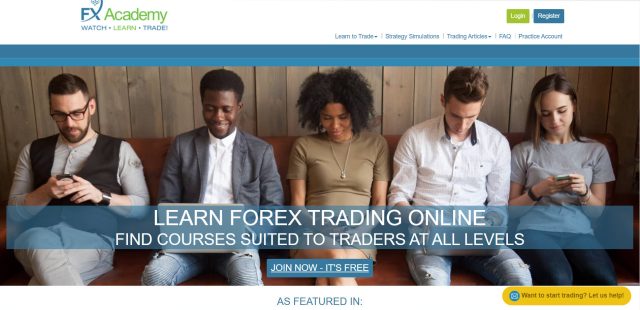 Founded by experts at DailyForex.com, FX Academy is designed to cater to traders at all levels and with different interests in the market. FX Academy is a brand that helps you master the market and secure your trade successfully under all market conditions.
FX Academy uses its unique tool, known as the Forex Strategy Simulation as a tool for users to assist them in defining their strategies when trading later in the future.
A significant advantage of FX Academy is that it is entirely free of charge. This is an option for traders who want to invest their money into the forex market and not into education. There are seven courses available at the FX Academy.
Each course is fully packed with Videos (animated videos included), quizzes, and suggestions for additional reading to help traders focus on the various aspects of their forex. FX Academy has an added feature that helps its users move along the course at their own pace and within a structured educational environment.
Rather than being stuck in the cycle of schedule or curriculum of a typical academic setting, students of the forex course can return to a past lesson, review it, and take a break from the course for any length of time. Students can also ask questions and get answers online on the FAQ page.
4. eToro Trading School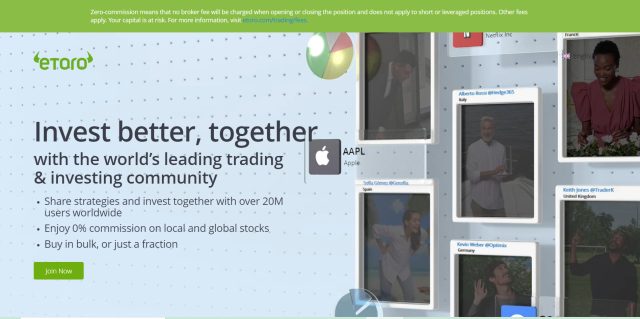 eToro is a multi-trading platform that provides both investing in stocks and crypto-assets as well as trading CFDs (contract for differences assets). CFDs come with a high risk of losing money rapidly to leverage, making them complex instruments.
This website is well suited to new traders looking to learn forex trading before going straight to currency trading. Founded in 2007 by Henry Ward, eToro is known as a safe broker (low-risk) for trading forex and CFDs. This is largely due to its method of regulation using two tier-1 jurisdictions and one tier-2 jurisdiction.
Trading forex
This platform is excellent for social copy trading, cryptocurrency, and forex trading. Its easy-to-use copy-trading tools enable traders to duplicate the trades of investors across over 2300 instruments including forex, CFDs, and popular cryptocurrencies. eToro uses technology to duplicate the real-time forex signals from chartered market technician signals and from other forex providers.
New Traders tend to start forex without ground knowledge of interest rates, asset classes, and price movement. They also make a common mistake of not studying economic news before they start forex.
Whether you're a beginner or expert investor, you'll find free tutorials, courses, podcasts, and more resources to help you gain a productive forex trading journey on the platform. New traders can learn forex trading with this free forex trading course.
The main innovation of this platform is integrating self-directed trading and copy trading under a combined experience. This has proven to be a winning combination. eToro's network consists entirely of manual trading.
As all traders trade manually, it makes it easier when you copy another trader on the platform. This quality helps to know as many other social trading platforms that accumulate the performance of traders that normally permit both manual trading and automated strategies.
5. Admiral Markets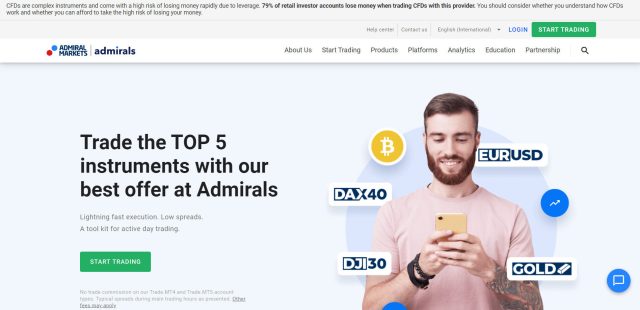 Admiral Markets is a well-regulated Forex trading platform CFDs and foreign exchange transactions across various financial services. Rebranding to 'Admirals' in 2021, Admiral Markets describes itself as a full-scope financial hub.
The company was founded in 2001 and is currently controlled by FCA, JSC, EFSA, and CySEC. It presents traders the access to upgrade to both MetaTrader 4 and 5 and to have numerous active accounts with various base currencies to maximize price inability.
Admiral markets enable traders to choose over 8000 CFD Instruments from forex, commodities, shares, and bonds. They have earned a solid reputation as a trustworthy, transparent brokerage. Admirals ensure a competitive trading environment for all manual traders.
Admiral market features various tools that make the platform stand out amongst its pairs. One of those tools includes the trading central feed and news. This feature helps the beginner trader gain access to quality content as they're released. Market research and predictions to enhance profits are also gained when traders study these feeds and apply them. There's also the enhanced trading terminals feature for retail investor accounts.
Additional tools in the Admiral Market platform include the VPS service, stereo trader for MetaTrader, and the parallels license for mac. Admirals Markets are considered average risk. Through the Volatility protection set, enhanced order types are available. A cash-back program is available but unfortunately only to professional micro forex trading account holders at an advanced traders price.
The Forex 101 course is a recommended first step for beginner traders. Free webinars are hosted weekly by the company. A wide range of topic-specific educational content can be accessed easily on the platform. The research and analysis on this course are extensive, with technical and fundamental analysis alongside market news. Risk management was assigned a unique section stressing the importance of the topic in the forex trading market.
6. Trading Academy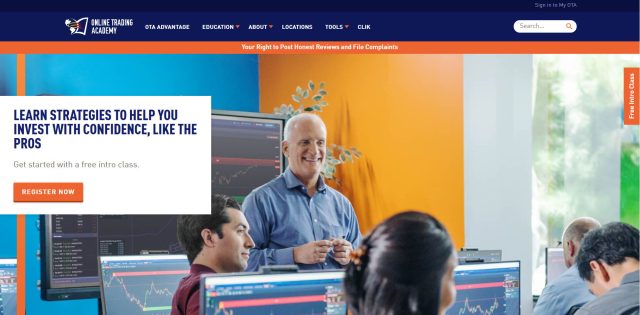 This platform provides numerous options to different types of users. Whether you're a self-investor, an experienced trader or you're just starting, Trading Academy is packed with resources for all and all you just need to do is to explore the various courses.
This platform has been able to attain increased success with its users by equipping them with enough skill development and not just knowledge acquisition.
Strong Educational Resource
Studying alone won't get you mastery. Trading is a skill and it will require development for you to be an expert. Over the last 4years, Trading Academy has garnered industry awards and various nominations that identify their commitment to the financial future of students.
Trading Academy provides students with extensive online education resources and also the opportunity to learn under the supervision of expert traders in an interactive classroom setting.
Trading Academy was founded by Eyal Shahar with the sole purpose of helping people achieve financial success and gain financial independence. They have also designed a free online course for everyday investors looking to better understand the world of Forex Trading and cryptocurrency. This is an introductory course, and it is fully packed with six (6) video lessons.
Trading Academy's course, Professional Forex Trader is designed for traders at all experience levels who are willing to improve their Forex trading performance. Practicing with a demo account, you can apply your skills to the bull market as you receive signals on interest rates and price movements.
The more advanced XLT-Forex Trading course focuses on how to implement a forex trading strategy, how to recognize market turning points and understand forex futures. This course is strongly recommended for anyone looking to become a technical analyst. Not just technical analysts but swing traders need to also learn and be able to recognize economic developments on currency movements.
7. Forex Mentor Pro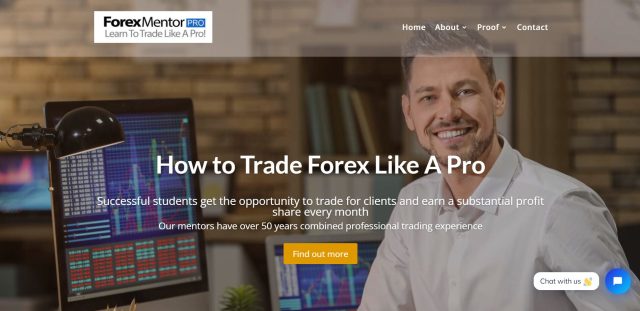 Forex Mentor Pro can be likened to a personal mentor. A mentor to traders who desire to get ahead in the forex market. Beginners with no idea of forest trading will benefit extensively from this program because it is centered on productive strategies that you can simply develop.
Professional traders find this program to be extremely useful as well. They have built a team of expert traders who are experienced in training others. Founded in 2008, Mark Walton and his team at forex mentor pro are geniuses in forex trading.
Their program has remained useful to thousands of forex traders. Either as a novice trader or intermediate trader, you get to learn systematic ways to address complex trades and keep your profits.
Academy Resources
The content of the course includes over 40 premium videos. All of these videos contain instructions, exclusive information, and tasks that will help build your mind to analyze the forex market like an expert. Additionally, this course grants you access to their PDF instructional library. You will also receive daily alerts about the forex market. Users are also given the freedom to download any necessary indicators to help them net winning trades in their micro forex account.
As traders, widening the scope of our ideas, developing our strategies, and seeking better means of generating income and improving our trade is essential to our growth. All these and more are easy with Forex mentor pro. All you need to do is watch the instructional videos given and put them to practice. You can also ask questions from fellow traders and the support team when faced with challenges.
8. Six-Figure Capital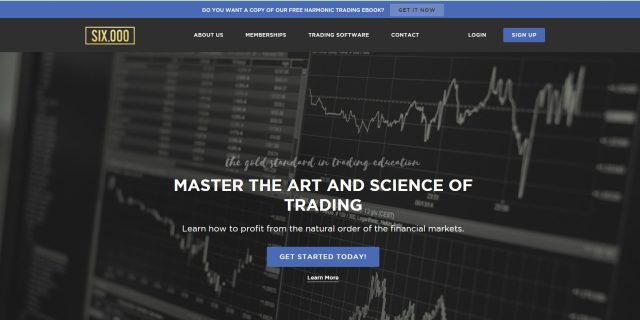 If you have little or no experience in forex trading, Six Figure Capital is a great place to learn. Whether you want to make a couple of extra bucks in the forex markets part-time or you aim to become a full-time forex trader, this website has proven to be a trusted platform that can help you reach your professional financial goals.
Six-Figure Capital's 14-day forex-based course teaches you how to make profits from the natural order of currency markets. The course is created for all traders regardless of their experience level, and it teaches practical expertise to rescue beginner/intermediate traders from losing both time and money. Rather, time is spent learning the forex market and performing practical technical analysis on the demo account.
The course teaches how to identify opportunities based on price action. The course content is delivered excellently across 19 videos. This model aims to hold attention and maintain enthusiasm without becoming overwhelming.
However, the trading strategy learned in the Six Figure Capital course can be applied to commodities, currencies, stocks, and various other financial markets with slight changes in approach.
It features weekly live trading sessions, daily trading suggestions, and market analysis, allowing you to gain real-time forex trading experience. As a Membership platform, Six Figure Capital provides access to a forex trading community and the support that this structure brings.
9. BabyPips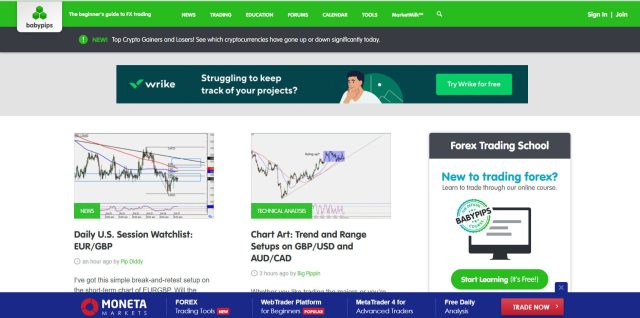 BabyPips focuses on all the standard tricks and systems that are fundamental to practically every trader out there. They are one of the best sites, where you can learn by yourself. They provide holistic and fundamental knowledge to traders.
Fundamentals like demand and supply are essential, and with technical indicators, would be able to increase your success rate in the market. Babypips is highly recommended for novice traders and retail traders when they ever need to acquire robust trading knowledge.
Easy-to-use
The language used in BabyPips is simple and the entire course is designed to give complete basic education for an absolute newbie in forex. They designed a complete beginner course that fully explains all the terms and concepts related to forex trading.
This course is packed and aimed to guide the beginner trader through his early journey in the forex market. More like guiding him as he takes the baby steps, BabyPips is a reliable resource for any trader looking to gain knowledge of forex trades.
Credible Source for Information
BabyPips was founded in 2005 with the sole purpose of helping beginner traders find helpful information on the trading market and answer any questions they might have. They stepped in after they identified that there is a large gap between the expert traders who had the experience and the beginner traders.
They discovered that advice for beginner traders was lacking and that the most educational content only covered a small number of forex-related topics, mostly for advanced traders. BabyPips have now grown to be incredibly useful to all categories of traders.
BabyPips offers free tools like its Gain and loss percentage calculator, position size calculator designed to help traders minimize risk and access higher chances of profits on their forex trades.
10. Forex.com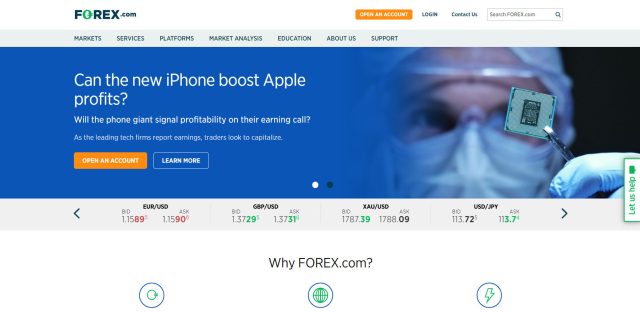 Forex.com is a leading forex broker that procures trades for individuals looking to specialize in the retail Fx and CFD market. They offer a comprehensive library of educational content. Educational materials on Forex.com are free. So, you don't have to pay a dime to access them. You can also access them without an account.
Standing its ground as the #1 FX Broker in the US and UK, Forex.com is the leading broker in terms of customer funds. Forex.com emphasizes its fast and reliable execution. They offer their clients a wide range of product offerings and this makes it a good fit for high volume traders who can earn rebates that will lower their trading costs.
Clients have access to forex, equities, stock trading, and cryptocurrencies. Clients have additional assets control as this platform is registered and authorized by the FCA (Financial Conduct Authority), CFTC, and is also a member of the NFA (National futures association).
Unique Resource Library
Resources on Forex.com are separated into the three categories of forex traders, beginner, intermediate and advanced. The library contains resources covering numerous topics, including technical analysis, trading strategies, and risk management. Clients can access these resources according to their experience levels. This will help beginner and intermediate traders track their growth process as they consume the resource for their current level and eventually outgrow it over some time.
Customer service for this platform is available and adequate. The broker provides access to various financial instruments with commission cost, which levels with the industry, multiple user interfaces, and research materials.
Conclusion
Just like any other market, the forex trading field is evolving on a day-to-day basis. The best forex courses teach the essentials of how to navigate the market and choose which currencies are worth investing in. They offer you facts and trustworthy sources for the information and details you need to understand why the global economy is moving the way it is.
It is critical to pick the best trading partner as you engage the forex market. Pricing, execution, and the quality of customer service can all make a difference in your trading experience. Keeping tabs on one or more of these forex websites will help you stay updated on what happens in the markets so you can avoid all forms of trading mistakes.
You can become a professional by working on your own trading. However, following news and other people's opinions rarely help you become a successful trader. Therefore, the most vital strategy is to manage risk, stay updated on proven forex trading analysis and learn from traders who have already succeeded.
Overall, we recommend Asia Forex Mentor as the forex trading academy to learn from if you want to leap bound your learning curve and get your foundations and system on the right track from the very beginning to the advanced stages.
FAQs
Q1. What Makes The Forex Market Different?
Since its inception, forex has been compared to other exchange markets. But unlike Stocks, futures, or options trading, forex is not regulated by any central governing body and does not take place on any regulated exchange. All trades are made based on Credit Agreements.
The fx market is distinct from other markets in many ways. It is a 24-hour marketplace with a narrow focus and high liquidity. It handles trades in high volumes providing traders the access to get their orders executed easily and with more concise precision.
Q2. What are you really trading in?
Forex trading is simply trading currencies in pairs. Seven currencies that make up 80% of global forex trading include EUR/USD, USD/CAD, USD/JPY, GBP/USD, AUD/USD, USD/CHF. A forex trader simultaneously buys one currency while selling another. That is how trade is made in the currency market.
Individual traders can trade currency pairs to speculate on exchange rate moves. On the other hand, financial institutions use the forex markets to hedge points and secure sure bets on currency pairs (e.g. Japanese Yen-US Dollar) based on technical analysis.
Trading forex pairs will require you to learn about forex, study winning trades, and understand how currencies are traded worldwide. The forex market is a global marketplace where you buy and sell currencies. You can learn about forex this via online courses and practice using a demo account.
Q3. What is a forex commission?
Commission in forex is paid in relation to what brokers and dealers refer to as "The Spread." Unlike other exchange markets, the forex market requires no exchange fees, no data fees, and no commission. But these commissions are charged by an FX broker.
It is part of the cost of executing foreign currency transactions whenever a broker tries to match the buy and sell orders between 2 clients. These brokers charge this commission to compensate for their tight spread.
Q4. What are the best trading strategies?
Forex trading strategies at the starting point are usually simple strategies. But as traders gain experience in the market, they begin to add other elements that improve the accuracy of these signals.
Traders should consider developing systems like MetaTrader that support automated guides. Specific forex strategies can only be good for a limited period and specific currency pairs
Q5. What is spread in forex?
The spread is the difference between the bid (sell) and ask (buy) price of a currency pair. Whenever a trader initiates a sell trade or a buy trade with a broker, the bid and ask price will be quoted respectively.
The bid is the price the broker is willing to buy the base currency in exchange for a counter currency. Likewise, the ask price is the price the forex broker is willing to sell the base currency for the counter currency. The currency involved determines how narrow or wide the spread will be. However, the spread can vary and change at any instant notice of the market changes.
Like this Article? Subscribe to Our Feed!
At Dumb Little Man, we strive to provide quality content with accuracy for our readers. We bring you the most up-to-date news and our articles are fact-checked before publishing.