3 Best Budget Calendars In 2023
The #1 Forex Trading Course is Asia Forex Mentor
Keeping up on all the bills is often tricky when the accounts are due each month. Sadly, missed payments often have negative consequences, including late fees, restitution charges, and unfavorable credit ratings. Just one bill could reduce your credit scores by up to 200 points!
Even though automation can reduce the number of missed payments, you must know if the funds have left the system and when. Budget calendars act as reminders that you pay your bills in due time. This blog post will dwell extensively on why you need a budget calendar and the best calendar available to make your financial life, planning, and budgeting easier.
3 Best Budget Calendars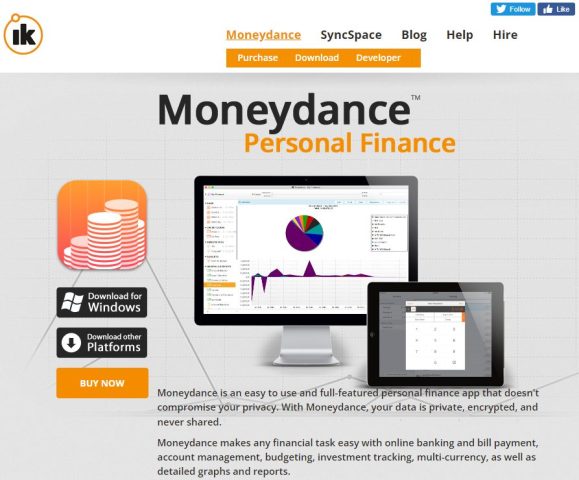 With the introduction of online banking and bill payment, account management, budgeting, investment tracking, multi-currency, and extensive graphs and reports, Moneydance makes any financial chore simple. Moneydance can download transactions and send payments from hundreds of banking institutions automatically. It categorizes and tidies up downloaded transactions automatically.
You can create a visual report of your income and expenses using the graphing tool. Set the graph type, date range, and any other preferences for the graph you want. As you hover over different screen sections, pop-up balloons provide more information about graphed data. You can print and save charts as PNG image files.
You can create a payment plan for one-time or regular transactions to ensure that you never miss a payment. You can use the Moneydance mobile app to enter or change transactions and view balances while on the go. Changes are synced with your desktop promptly and securely.
With support for stocks, bonds, CDs, mutual funds, and more, you can keep track of your investments and bring your portfolio into focus.
These great features come with a one-time purchase of $49.99 without a subscription fee.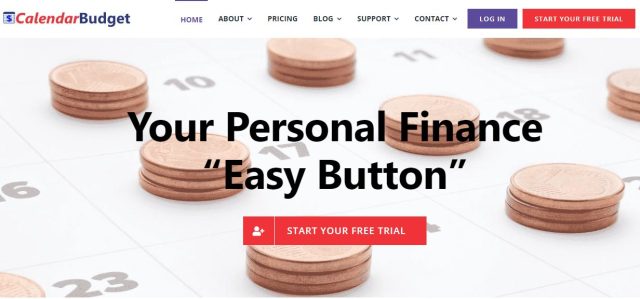 Financial advisors recommend using a monthly calendar budget to organize and arrange your money.
CalendarBudget is a personal financial tool that is simple to use and allows you to track, plan and manage your money in the past and future. It's a simple, user-friendly money planner that doesn't require weeks of training before mastery. After a 30-day free trial, the price is $3.99 per month or $40 per year.
What you get using Calendar Budget
With calendared reminders, you'll never forget a bill again
Keep track of your earnings, expenses, and routine spending
View your account balance on any future date
Budget for impending significant expenses
Set up money for the future
The mobile and browser versions are always in sync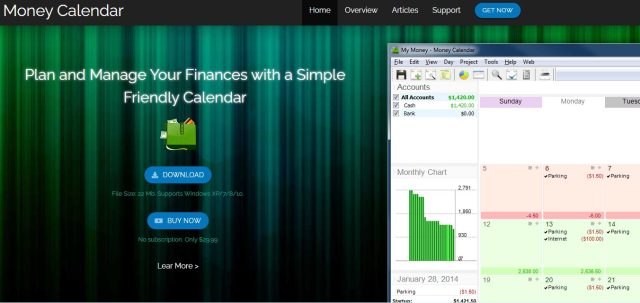 Money Calendar is an excellent tool for keeping track of personal finances.
What could be easier than looking at the calendar to see what we have planned? Why not apply the same logic to our financial management?
You may readily assess your present financial situation, review your previous month's expenses, and, most importantly, appropriately plan your next income and expenses with calendar accounting. The price of using a money calendar is a $29.99 one-off payment with no subscription fee.
What is a Budget Calendar?
A budget calendar is similar to a regular calendar, and the only difference is that it's used for tracking bills, paychecks, due dates, and any other important date you've got. It's a suitable way to track your spending and manage your expenses.
You can use a budget calendar to set reminders for timely bill payments or purchase a gift for an upcoming celebration. A typical budget calendar includes your income, current expenses, and savings; these three help you better in your budgeting journey.
Featured Investing Broker of 2023
Broker
Best For
More Details

Advanced Non US Traders
Read Review




securely through Avatrade website




Intermediate Non-US Traders


Read Review





securely through FXCC website






Overall Broker
Read Review





securely through Forex.com website




Professional Forex Traders

Read Review




securely through Interactive Brokers website



Broker
Best For
More Details

Advanced Traders
Read Review




securely through Tradestation website




Intuitive Platforms


Read Review





securely through Tradier website




Powerful Services at a Low Cost
Read Review





securely through Tradezero website




Professional Forex Traders

Read Review




securely through Interactive Brokers website



Best Forex Training Course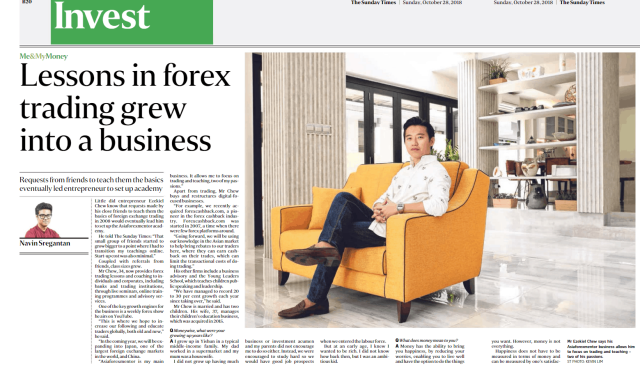 From our research and vast experience, we can authoritatively state that the best forex trading course is the 'one core program' which is available on the Asia Forex Mentor (AFM) website. The course is prepared and presented by 'Ezekiel Chew' who is a well-known forex trader, trainer, and mentor. One core program is self-paced and it is made up of over 60 videos.
Over the years, Ezekiel Chew has taught several financial institution traders, forex managers, as well as individual traders from all over the world. He created the one core program which deploys strategies backed by mathematical probability. So far, students that have taken the program have generated millions of dollars in profits solely from the strategies learned from the program.
There are no prerequisites because the trainer has simplified the course to accommodate newbies who have no knowledge or experience of trading at all. If you desire financial success through forex trading, then the one core program is for you. It is highly effective and already has numerous testimonials from the program beneficiaries.
| RECOMMENDED TRADING COURSE | REVIEW | VISIT |
| --- | --- | --- |
| | #1 Forex, Crypto and Stocks trading course. Ranked most comprehensive by Investopedia and Best by Benzinga. Free to Try! | |
Conclusion: Budget Calendar
Most people use calendars to keep track of important dates in their lives, but they can also be an excellent tool for creating a budget. With budgeting, you will be able to know your net worth, and you will start making financial decisions based on that.
A budget planner works against impulse spending: When you work with a budget, the impulsive urge to spend money reduces. When you constantly check on your financial goals, and you prioritize your savings, the need to continually splurge on unplanned expenses will decrease.
Budget planning and preparation are vital tools for managing incoming and outgoing cash. Planning will provide direction on where and how money is dispersed and spent. Budget planning is a beautiful approach to looking back to past documented transactions when there is any question about where and how money was spent.
The plan will also help you evaluate if the quantity of money disbursed in one area needs to be adjusted to cater to a business better.
Keep in mind that to design and manage a plan properly, one must be knowledgeable in budgeting preparation. Without this expertise, it is impossible to understand how to review data, let alone submit it for tracking purposes.
Budget Calendar FAQs
Which budget planner is best?
There is no such thing as a one-size-fits-all solution when it comes to budget planners. Everyone budgets differently, and what one person enjoys may not be appreciated by another. Before choosing the one that will work for you, I recommend reading reviews and looking at different budget binders.
A budget planner should contain certain essentials, such as a space to keep track of your income and expenses. If you can't track your inflow and outflow, your budget won't work. The budget planner should have a spot where you can record money coming in and going out.
It should also have a space where you can register your debt and savings. Then lastly, a monthly calendar keeps track of the due dates, upcoming events, and bills. Additional features include; a 4-5 star review rating and an undated planner so you can start using it at any time.
Is a budget planner worth it?
Creating a budget planner can help you save money by controlling your expenses and stopping unnecessary spending habits. There are different ways in which budget planners help save money; read below
It keeps you organized: Budgeting will help you manage your financial life. For example, if you don't know the exact amount you spend in a month, how would you decide on a savings amount? It helps to prioritize savings: if you organize your expenses, you will know how much you would be putting into savings.
Using your budget plan, you can plan your expenses to the last penny and live a lifestyle in line with your income. Without a budget, you are more likely to overspend and even dip into your savings. If your budget regularly, you will be able to take your savings more seriously.
It keeps you focused on your financial goals: We often set financial goals without plans to achieve them. A budget planner helps with this and also tracks the progress every month. If you already know how much you need to save to meet your goals, all you have to do is to plan your budget to achieve it. Also, anytime you check your expenses against your budget, you remind yourself to stay focused on your goals.
| RECOMMENDED TRADING COURSE | REVIEW | VISIT |
| --- | --- | --- |
| | #1 Forex, Crypto and Stocks trading course. Ranked most comprehensive by Investopedia and Best by Benzinga. Free to Try! | |
Like this Article? Subscribe to Our Feed!
Wilbert is an avid researcher and is deeply passionate about finance and health. When he's not working, he writes research and review articles by doing a thorough analysis on the products based on personal experience, user reviews and feedbacks from forums, quora, reddit, trustpilot amongst others.