Interracial Dating Central Review in 2022: Features, Pros, Cons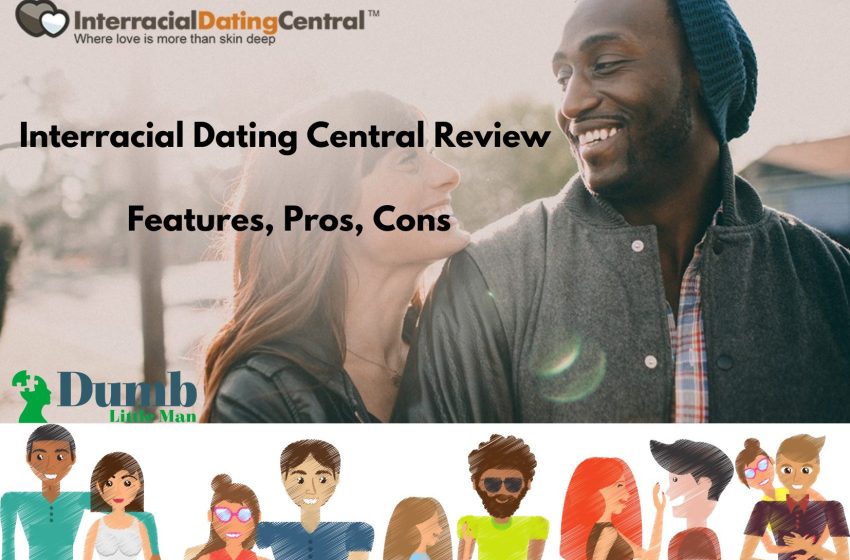 Interracial Dating Central is an exciting niche dating site that offers an opportunity for people with different racial and ethnic backgrounds to meet and form relationships. However, this site aims to be more than just a dating site. If interracial dating doesn't bother you, this is a great place to meet fantastic people. The site offers a haven for all racial groups to find love while avoiding the seedy, racist aspects.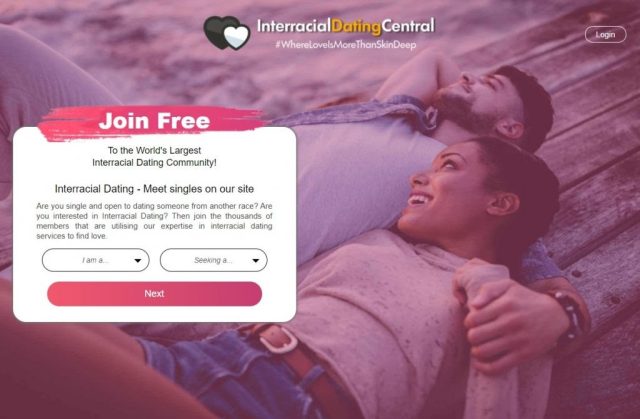 People from all cultural backgrounds can use Interracial Dating Central to find their significant other. A community of almost 2 million people worldwide has already joined this one. The number of users is increasing daily, and about 3,000 log in every day.  So, if you are familiar with the Interracial dating site and want to explore more how this online dating site works, read more!
After reading our Interracial Dating Central review, you will know if it's worth your time if you've been considering ethnic dating sites. Are you getting the best results out of your dating app? If not, let's read about this Interracial and find out by the end of this review.
People who want to date other ethnicities or want interracial relationships can find it on the Interracial Dating Central website. It offers several features to make this possible. Interracial Dating Central has primarily grown through word of mouth with more than seventeen years in business. Individuals can connect with people they wouldn't meet in their daily lives in a safe environment.
Many singles join either to date only people from other cultures or mixed race or simply to find new friends or romantic partners. Whether you are looking for casual relationships or something serious, you can use this interracial match website.
| RECOMMENDED DATING SITE | REVIEW | VISIT |
| --- | --- | --- |
| | To the World's Largest Interracial Dating Community! Free to Try! | |
Signing Up
The process of account setup is very straightforward, and it costs nothing. It only takes three steps for the user to set up a free basic account, which requires only basic information such as your city and country. Users can also log in with their Facebook accounts. Once a user registers, they are required to complete their profile, which takes about 15-20 minutes.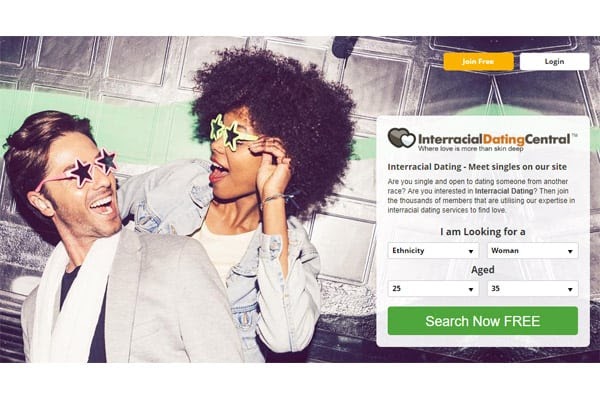 As part of the signup process, you will be asked to provide your race and your potential partner's race preference. It will be up to you to choose whether the option is "exclusive" or "preferred." The free version allows users to upload five photos; the paid version allows 15.
Cost of Joining
Interracial dating app offers a free membership option as well as paid memberships. There are, of course, more features with the paid membership. You will be able to search for interesting singles, flirt with them, and view their detailed profile for free by joining free. However, the best option is to upgrade your membership if you want to take advantage of additional features. Prices are as follows:
Membership for six months costs $38.94
Membership for three months costs $26.97
It will cost you $13.99 for one month of membership
If you choose a more extended membership, the cost will be lower. However, the decision to use the free or paid one will always be up to the user. If you want an interracial relationship, this mixed-race dating site is the perfect platform.
Once you pay the membership fees, you will have access to the website's exclusive online content anytime and anywhere for a particular time period.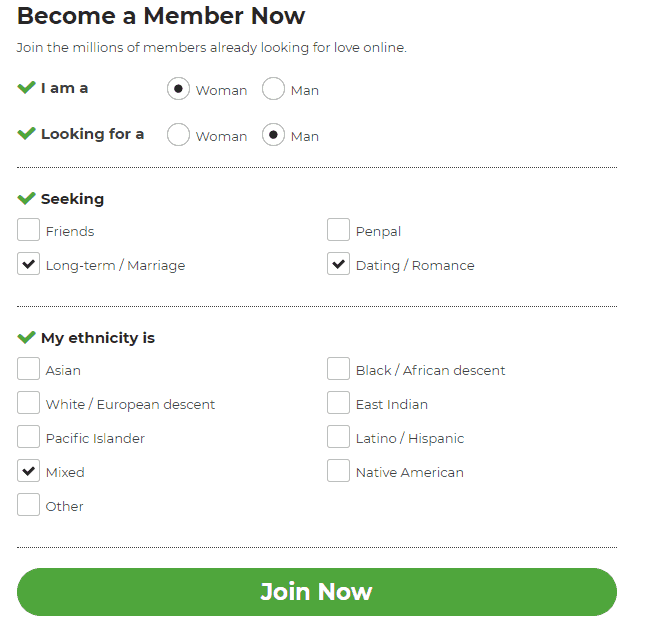 Features
If you're looking for a platform to communicate via your computer, Interracial Dating Central provides an excellent desktop version that makes it easy for you to communicate with other members. The user interface is intuitive and easy to use. Therefore, you don't need to have experience with online dating to use it. Navigate through the menu on the right-hand side of the screen. It contains all the important features, including:
Search
Inbox
Favorites
Views
My profile
In addition to these categories, there is also a toolbox above that contains My Account and Help. You can also upgrade your paid membership by clicking the "Upgrade to VIP" button.
There is no app available for Interracial Dating Central. Nevertheless, it is expected to be released soon. Therefore, simply open the site in your smartphone browser to continue interacting while on the go.
All members can flirt, regardless of whether they have paid or free membership. It's an easy way to show that you're interested in others and try to get them to initiate a message. If you are a free member and cannot initiate messages on your own, this is a great feature.
Most dating sites allow anonymous searching. You will be able to browse profiles without your activities being seen by others. Those who are hesitant to use a dating platform should take advantage of this feature.
Information Review on Flirting and Additional Viewing
You can get a detailed report on who flirts with you, views your page, or adds you to a favorites list with a premium membership. The profile and interest of users give you a good idea of which users you should consider.
Special Features:
It is an interracial dating site that respects every ethnicity. Although it is one of its best features, it is not its only attribute. There are many unique features on this website, and some of them are free. However, if you want to have full access to the features, you need a premium membership. Here are a few of them:
FYOOZYou can find many articles about online dating in this site's magazine called Fyooz. In addition, you will learn how to use this service for having conversations. If you want to improve the quality of your communication, then FYOOZ is the perfect choice for you.
The Date of WhisperIf you are curious to know more about online dating, this feature is also helpful. The Carson Simons channel provides some tutorials. His expertise and knowledge are impressive.
CoachingThis feature will enhance your profile and make it more appealing. Click on the "Start Coaching Lesson" button, and you can access the tips.
What Makes Interracial Online Dating Central Site Different From Others?
Many people prefer dating outside their own race or culture because they feel more at ease with the attitudes and culture of a different race. It is in our gene structure to search for mates outside our gene pool. The physical appearances of people from a different culture are generally more appealing than those of people of the same race. Diversity is part of mother nature.
Many dating sites are reluctant to acknowledge the idea of dating people from multiple races and cultures, so members are never quite sure if their approach is accepted or ignored because of the racial divide. By eliminating that uncertainty, Interracial Dating Central removes all doubt.
It doesn't matter what race or culture you are, the members on their site are comfortable with your approach, so it is not because you are a minority or white women or black women that they aren't engaging with you.
This is the best interracial dating site that allows people from different races, backgrounds, cultures, and ethnic groups to come together and become success stories. Find your compatible match with this dating
How Does This Interracial Dating Site Works?
People from different ethnicities interacting, bonding, and establishing biracial relationships can find peace and comfort on Interracial Dating Central. You can utilize the provided features to find your perfect match on this biracial dating website, as it is available globally.
You can join for free or pay to use the services and benefits. However, users must upgrade from a basic account to a premium account to take advantage of all the site offers. You can read about every user's profile, see what they stand for and see if they are the right person for you.
Users cannot ask people for personal information, money, make job offers, or business proposals. Encryptions and firewalls protect the data of all the members. This site uses Behavioral Matching Technology to enable interracial singles to understand who they are as a person and what kind of partner they are seeking.
How Can You Message Someone Through Interracial Dating Website?
You can send messages by tapping on the text bubble icon on a user's profile. However, only premium users have access to this feature. A basic account allows users to reply to incoming mail.
Does sending messages cost anything?
No, not at all. The messaging feature is only available for exclusive members. An individual with a standard account can nevertheless reply to texts without upgrading.
What Is the Best Way to Start Messaging Someone on Interracial Dating Central?
Activate the text service by upgrading your profile. You can initiate a chat with an account you're interested in by tapping the message bubble icon once you've located it.
| RECOMMENDED DATING SITE | REVIEW | VISIT |
| --- | --- | --- |
| | Top dating site with over 16 million active members. Free to Try! | |
Why Can't I Access Interracial Dating Central?
Several reasons may be at fault for the inability to access your account. A browser can be outdated, and the version isn't compatible with the website. Make sure your browser is up to date.
Your log-in identification could be another reason. Verify the information you're typing and request a new password if you can't remember your current password. Ensure that you are logged in to Facebook on the device if you sign in via Facebook.
Also, if your account is suspended or deleted, you might be unable to use some of the website's features. You cannot access your account if a policy violation is reported against your profile.
Interracial dating bans last how long?
When your handle is under review by the administrators, you won't be able to access it. Customer care can be reached via their contact page if you have any questions or concerns.
Pros of Online Interracial Dating Site
There is no barrier to dating across racial and cultural divides among its members.
Almost all active members are United States-based and involved in a variety of activities. Users have many potential dates as a result.
The online dating experience can be enhanced through information, videos, online magazines, and date coaching.
Signup is quick and free, and filling out the profile only takes a few minutes.
You can search through all profiles with the free service. By evaluating your benefits before you subscribe, you can make an informed decision.
Ninety days of risk-free use of the services are included in the money-back guarantee.
Cons of Online Interracial Dating Site
Without a paid membership, you cannot view pictures of matches
Users must pay in order to take full advantage of the site
Members who are online cannot be seen
Suggestions for contacts rarely update
Is Interracial Dating Central Safe to Use?
Obviously, it is safe. The government-mandated Discretion Guidelines are strictly followed here. The administrators ensure that all the Terms and Conditions are adhered to. On top of that, the platform rarely has false handles.
It is still crucial to follow safe practices and take reasonable precautions to protect yourself.
Verdict
For unconventional types of relationships, mutual understanding forms the basis of many connections on the dating app. Interracial Dating Central is a smart choice for people who are seeking interracial relationships with someone who respects their ethnicity.
Many of the features of this website are free. However, you have to become premium members to use Interracial Dating Central without limitations. The premium membership is affordable, and it will make your experience even more enjoyable!
| RECOMMENDED HOOKUP SITE | REVIEW | VISIT |
| --- | --- | --- |
| | #1 hookup site with large member base! In business for 20 years! Free to Try! | |
Like this Article? Subscribe to Our Feed!
Ruth is a life coach who specialises in finance, relationships and career development. Outside work, she loves writing novels and guides for personal development.