32 Tips On How To Be A Good Girlfriend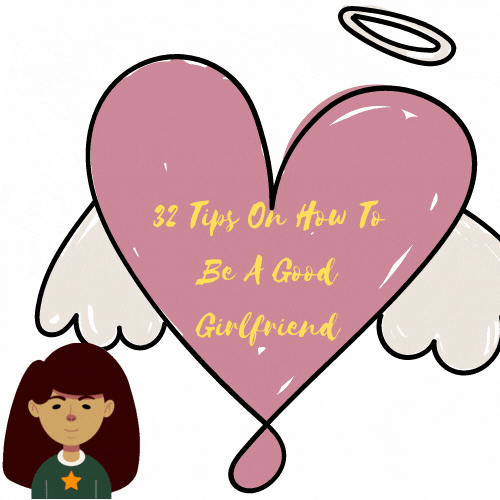 Sitting on the couch on your usual Saturday night, you notice that your boyfriend feels distant.
You suggest a few ways to keep the night fun and young, but he turns down all the options. And you feel that this relationship is slipping out of hands. If you find yourself in a pickle like this, you have come to the right place.
Undoubtedly, relationships are like steam engines that must be fanned and fed to keep going at a good speed and tempo. But, whether it's a new or existing relationship, there are many things for you to do that will enhance your participation and importance in a relationship.
While concrete rules identify what strengthens or damages a relationship, it's crucial to note that both partners must strengthen the connection.
As the life-giving, feminine energy, you have the power to weave magic into your relationship. And we will help you with that.
Continue reading to find out the qualities of a good girlfriend and tips on being the best girlfriend.
✨ You should know these 32 Tips On How To Be A Good Girlfriend And Have A Healthy Relationship ✨
Now that you know all the qualities you should possess, here are a few tips that you need to add to your recipe for a good girlfriend.
1) Don't Be A Detective
Trust is very important in a relationship. It's particularly crucial in the early stages.
Being over-inquisitive about your man's calls or texts, snooping behind him, and keeping a record of all his activities can have a damaging effect. Don't overdo stuffy and make it a major turn-off for him.
You need to trust him. Simultaneously draw boundaries to let him be himself and let him live life on his own terms.
2) Express Your Concerns 
If you are not comfortable with something your boyfriend is saying, take time to have a thorough discussion.
Don't just go around assuming stuff. Communication is the key, and it results in a successful relationship.
When you show your concerns, do it in a non-accusing way. Be considerate and outspoken towards your boyfriend's feelings. Be a loving partner who understands and works towards making your relationship successful.
3) Be Friendly With Your Boyfriend's Friends 
You need to understand that your man has his own friends. There are people out there he cares about. These people have been with him before you came into his life. You can't just go and throw them out of his life.
So respect that bond and don't try to stir up a storm among them. Be an amazing girlfriend. He will respect you for that.
Get along with all your friends and show them that you have fun when they are around. But don't get all worked up just to impress them.
4) Push Your Clingy Side Away 
When any one of the partners is not willing to give space, it turns into total claustrophobia for the other. So instead, build a relationship on trust. If you do, that distance won't matter to you.
It is not at all cool to intrude into your boyfriend's space. If you feel that you are doing this or will do this, keep yourself busy with your gal pals, go to musicals or trips, and let him make his own plans.
Later you two can sit together and share stories. Turn it into a fun night. He'll respect that.
5) Support Him 
Support your partner's decisions and choices. Make an attempt to understand his dislikes and likes.
Also, accept his eccentricities and don't ignore them at all. If you see your boyfriend going through a difficult patch, lend an ear with an active mind. Support will do wonders for his confidence. And with time, you will become his strength.
6) Be Patient 
Growth is related to spending time. So don't try to classify your relations in their early phases. Also, if you rush, it can scare your boyfriend away. And this rush can also put a premature end to a relationship that could have blossomed.
So be patient. An ideal girlfriend will not rush into being labeled 'girlfriend' after a few dates. Once the compatibility is established, the relationship will get all the water to mature into a beautiful plant.
7) Let the Decision Be Mutual 
Marriage is a successful result of a beautiful and steady relationship. But if your boyfriend is also drooping hints to take the next step, don't broach the topic. Getting married or starting a new family in a young relationship can result in unnecessary stress.
So, make the decision mutually rather than letting it be one-sided.
8) Shower Compliments 
Came as a surprise?
It's true. Although many other girls don't realize it, men like compliments just like women do. So don't back away from staring at your boyfriend when he looks smoking hot, and appreciate his effort if he cooks you anything.
If your boyfriend has achieved something after putting in a lot of effort, applaud him. Appreciate all his small gestures. Because love is not looking for a perfect another person, it's learning to look at imperfection as perfection.
9) Offer Constructive Criticism 
You may not like a few of his habits and feel like disciplining his messy hairstyle. But, no matter how great the temptation is, don't take out your anger and become a prominent critic.
Also, never ever nag in a relationship. There are way better ways to suggest a few changes in his habits. For example, if every word that comes out of your mouth seems like a verbal attack, he will start avoiding you. So instead, sweet talk him it making changes in his habits.
10) Show That You Are The Best Girlfriend
Don't get something costly to show your affection. Couples frequently compete with one another by purchasing gifts as a means of impressing each other. Simple acts of kindness that demonstrate 'you care' go a long way in reinforcing your sentiments.
Instead, give him a surprise with a late-night delivery of something that he really likes. Or you can have a date night under the dates with a glass of wine. You can even plan a workout session or give him a spa treatment at home.
It can be anything that makes him realize "you care."
11) Don't Have Pretensions
Don't be fooled into believing that your partner will be pleased if you go to the match with him when you wish to binge-watch your favorite TV program.
You don't have to fake like and appreciate your partner's hobbies because it might harm you in the long run. So, don't try to make a false first impression.
12) Work As A Team
Every partnership has its share of problem areas and conflicts. However, working together may help you overcome any difficulties that arise. A relationship should be synergistic rather than parasitic in nature.
There must be an equal balance of giving and taking. This way, both of you will have the same duty to solve issues.
13) Display Your Feelings
Love and affection must be shown; your choice depends on your level of comfort. Giving him light kisses, running your hand through his hair, hugging him, offering quick hugs, or saying endearing words are just a few ways to do it.
However, be careful. In public, your lover may not like being smothered with kisses.
14)Ensure Equal Status
Understand that you are both two ends of a relationship, and each has an equal part to play. Make sure your boyfriend treats you well if you want to be a good girlfriend.
But, more importantly, you should look out for yourself in addition to making him happy and satisfied. If not, you will get irritated with the relationship.
15) Be Independent
Independent women with strong personalities attract men. To earn your man's respect, show off your skills and abilities.
He will then begin to listen to you and value your ideas.
16) Reach A Consensus
You can't have the last word in everything and get upset when you don't get your way. You may be required to make compromises at times. Seek your partner's view and have a well-defined discussion about a tough issue if necessary.
As a good girlfriend, you would not want your partner to give in to your demands. Learn how to balance defending yourself and compromising.
Many have found the one they Love through these popular dating sites! Create an account with the one that best fits you Today! (Don't leave your love life for tomorrow)
Website
Dating Site(s)
Description
eHarmony
A Trusted Online dating site for singles.
Sugardaddie
A dating site for attractive single women and successful men who have financial security and confidence.
be2 is one of the leading names in the online dating space with extreme brand recognition and a high quality user base of singles looking for that special someone. Promote through superb demographically targeted and themed landing pages.
C-Date is the leading casual dating site for those who beside their career want to live their passionate fantasies with someone who shares the same spirit. It is a fantastic and well-established casual dating offer, which works on both male and female audiences.
Singles50 is one of the world's leading dating agencies for single women and men over the age of 50. We help you find the right partner for a fulfilling, long-term relationship. Our objective is to show that love can happen at any age!
Academic Singles (Mobile)

Academic Singles (Desktop)


Academic Singles is one of the leading platforms for singles with higher education in the search for love. We are specialized in connecting single men and women, taking their affinity into account. Our objective is to help you find your perfect match!
17) Avoid Comparisons
Imperfections are as natural as the elements. Certain talents may be more apparent in one person, while others might help another individual get ahead. If you're in a long-term relationship, don't compare your guy to your ex-boyfriend. It could lead to pointless bickering.
Would you like it if your boyfriend compared you to his ex-girlfriend? Yeah… We guessed so.
18) Unleash Your Charm
It's difficult to resist a charming, confident, and attractive partner. Seduction is your weapon of choice. Your self-assurance will rise dramatically if you are more comfortable with what lies beneath your skin.
If it's the excitement that earns you acclaim, don't hide it. Your spouse will undoubtedly appreciate the enthusiasm you bring into his own life. Spend time with him to be successful.
19) Do It Yourself
Don't wait for someone to tell you that they love you. Make your sentiments known whenever you like. If you don't want to offer them something in return for their affection, give them something with your own personal touch instead.
A handmade card, a flower arrangement, or some other creative expression of your personality would brighten your boyfriend's day.
20) Be Attentive To His Family
When you're in a serious and steady relationship and wish to go further, you must first respect his family. Second, you must realize that he has people he cares about in his own life.
Give his family the attention they deserve. But, also, make sure he honors your family in return.
21) Overpower The Green Monster
Intimacy is something that frightens many people. The key to a successful relationship is kindness but don't become overly possessive. It will be a mistake to doubt your significant other every time he talks with or mentions his too many women.
Nobody wants to be around someone so insecure. So instead of making fun of his female friends, try to be polite towards them. Your maturity will make your partner respect you more.
22)Win His Faith
You may be blessed with exceptional intellect and physical attractiveness. Still, you don't have to give your guy stressful times or fan his jealousy.
A wonderful girlfriend does not flirt with other men and gives her complete attention to her man. Make him understand he's the only one for you, and be sure of his devotion.
23) Give That Adrenalin Some Rush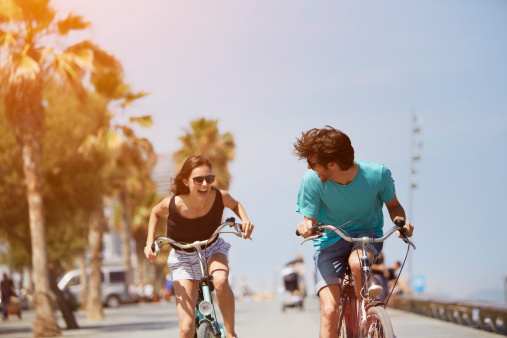 While most other guys want their girlfriends to be sweet, caring, and loving, your man will appreciate it, even more, when you participate in his fun and 'boy' hobbies. It's one of the greatest gift ideas.
First, spend time with him and his pals for a good time. Then, make him compete with you in a game to get the adrenaline flowing in your relationship.
24) Reach His Heart Through His Stomach
It's an indisputable truth that fine cuisine is the key to everyone's affection. If your busy work schedule doesn't allow you to prepare elaborate meals, try making something delectable for your partner on occasion.
It might be as easy as a smoothie or as complicated as a Mocha-baked Alaska. Still, it's essential to make an attempt. What matters is that you put in the effort to prepare something for him.
25) Shine In Your Own Skin
The senses are attracted to a pleasant personality, and bad vibes might repel the people around you. So be a person who is easy to be with and radiates optimism.
It will provide you with two benefits. First, it will give your personality a boost and make you more attractive to your partner.
26) Choose What You Fight For
Learn to point the difference between essential and minor things. Do not overextend minor disputes. It's not worth breaking a solid relationship over a petty disagreement.
Bring some maturity to your relationship by avoiding petty squabbles. Even if you have to express a vital viewpoint, do it softly.
27) Flaunt Your Naughty Side
To make your relationship sunny side up, sexual chemistry is required. You may hear him all day and surprise him with a few sexy moves and seductive charisma.
Experimentation might help you feel more included in the transition. Be honest about your needs and desires so that he understands them.
28) Tweak The Witty Antenna
Tickle his funny side with your witty banter. A smart partner can keep a conversation going. Suppose you can balance your sense of humor with your intellect.
In that case, it will be an intriguing mix to talk about various subjects.
29) Indulge Yourself
Improve your appearance and play around with various personalities and appearances. Pamper yourself, exercise regularly, and dress nicely. The moment you enter a room, your guy will be taken aback by how much brighter it is.
30)Avoid Excessive Competition
It's effortless to get into a competition with your loved one when you've been dating for a long time. It's natural to compete sometimes, but make sure it doesn't involve money, the types of presents you give and receive, or intelligence. Instead, take it easy and have fun together.
31) Motivate Him
Motivation is an important quality to cultivate in yourself. The best girlfriend always encourages her partner to improve. He might be the ideal guy, but help him improve on his excellent characteristics. Encourage him to pursue his ambitions.
32) Don't Mix Up Anger And Decisions
Decisions made in a fit of temper may harm the most solid of relationships. So take some time out if you're upset or angry with your partner for any reason.
When your heart and mind agree, don't hesitate to make a decision. Otherwise, you may later regret it.
✿ 20 Traits Of A Great Girlfriend ✿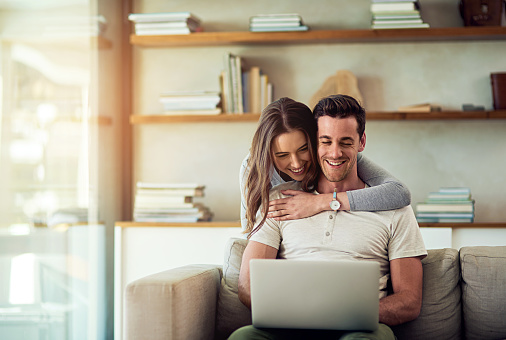 Why is it essential for a young guy to find a girlfriend with positive qualities?
Simply because he intends to marry her someday and spend the rest of their life together. As a result, you must go beyond merely being a beautiful face.
If you're still unclear about what qualities you should have as a girlfriend, consider these characteristics that every guy wants in their girlfriend.
➤ Be God-Fearing.
You should have a fear of God and reflect His will in each and everything you do. It's a trait that will make you worth keeping.
And you will be showcased as a trustworthy person because you are hesitant to do something that is bad. For example, you won't cheat because of the fear of God.
And who doesn't like a girl who doesn't cheat?
➤ Be Trustworthy 
You should not only be faithful in your current relationship. But, you should also be trusted in almost all aspects of life. So always be honest and never divulge the secrets of your man to anyone else.
Even if you have a fight with him, don't go around telling people all his secrets.
➤ Be Respectful 
Never ever humiliate your man in public by calling him "lame" or "stupid" whenever he fails at something.
Don't do it even if he undermines your decisions. Instead, be respectful of all the principles and values of your man, even if you don't agree with them.
➤ Get Along With Your Boyfriend's Friends And Family
Don't just be nice to your boyfriend but also be kind to his family or friends. They are a part of his world just as much as you are.
So, it's only fair to make him feel like you get along with all the parts of his life. Whether it's work, family, or friends, you can happily get along with anyone!
Proven Dating Courses that works like a charm:
| Website | Dating Courses | Description |
| --- | --- | --- |
| | The Tao of Badass | 7 Simple scientific tricks to have any woman you want |
| | How To Find The Man Of Your Dreams | Attract the Man of Your Dreams -- and Receive a Marriage Proposal in 12 Months or Less |
| | Text Chemistry | Learn a special kind of text message that you can send a man right now that will unlock a hidden, ravenous desire for you. |
| | The Devotion System | Learn how to avoid making these attraction-killing errors and reveal a powerful set of words I call a "Devotion Sequence" that make a man lust uncontrollably for you (even if he says he's not interested). |
➤ Don't Be Insecure
Do you know someone boys avoid all the time? An Insecure Girlfriend!
Be secure. And a girl who is secure in confidence in her own skin. So know your worth and don't be threatened or envious of other people's achievements.
➤ Be Independent And Strong 
Learn how to handle yourself. Don't depend on someone for protection or for anything else.
A strong and independent woman lives life on her own terms and doesn't depend on people for anything.
➤ Be Loyal 
Even if you meet someone more handsome and more successful than your boyfriend, don't entertain him. That will show your commitment to your relationship.
This is the key that you need to know while searching for how to be a good girlfriend.
➤ Know-How to Say "Sorry"
We know saying sorry at times can be the hardest thing that you have to do. Especially when it's not your fault.
But to keep a relationship strong, you need to make your man happy. So whenever you realize that you are at fault, be humble enough to admit it and say sorry. It will give you a bigger status in the eyes of your man.
➤ Be Honest About How You Feel And What You Think 
If you be straightforward about what you are thinking and feeling, it shows that you value yourself. So, show that to your boyfriend. It will help him understand you better. In return, he will be able to avoid hurting your feelings.
Understanding each other is the recipe for a successful relationship. Make sure you are following the recipe word by word.
➤ Be Yourself When You Are Around Him 
Always be true to yourself. Mainly when you are with him. Don't pretend to be someone you are not. It will just portray that you are fake.
Other guys fall for girls who are true to themselves and don't act fake. So decide which end of the bargain do you want to maintain?
➤ Be A Woman With Whom Your Boyfriend Can Be Himself 
Just like you have to be yourself around him. Similarly, your boyfriend should be able to be himself around you.
He should not have to pretend to be someone he is not just to please you. So, accept him for who he truly is.
➤ Be Smart 
Men usually want an intelligent girl over someone to whom they are physically attracted too. Why?
Because physical attraction only lasts a few years. It's the mental compatibility that makes a relationship last a lifetime. If you two are the same, you will be saved from dull and nonsense conversations. Together you two will be able to make more informed decisions.
But keep in mind, don't be over-smart. Nobody likes a know-it-all! You need to be on the same page with him.
➤Make Him Laugh 
Be a girl with the correct sense of humor. You should know how to make your man have laughter fits. Also, find out a way to cheer him up when he is down.
Be the source that lights up his entire world.
➤ Don't Tolerate His Mistakes And Bad Habits 
Another tip on being a good girlfriend is not to let your boyfriend be corrupt or develop bad habits. Instead, correct him whenever necessary and stop him from doing drugs, gambling, and other such habits.
You have to support him through thick and thin.
➤ Love Him Unconditionally 
Nobody is perfect. You need to understand this and accept your man wholeheartedly. Don't leave him because he doesn't have a car or your salary is more than his.
Be his person despite knowing all his flaws. Rather embrace all his flaws just like you embrace yours.
➤ Be Proud Of Your Man
A good girlfriend who truly loves her man proudly introduces him to her family and friends. Find a suitable time and plan a get-together so that everyone can meet your boyfriend.
Don't keep him hidden on social media. Because if you do, it will mean that you are not comfortable with him meeting your friends and family. Ultimately it will have a wrong impact on your relationship.
➤ Don't Keep Records Of All The Things That He Has Done Wrong
Once a problem has been resolved, don't bring it up again and again in your future arguments. Just forgive and forget. It's very important for a successful relationship.
➤ Believe That He Can Do It 
A good girlfriend cheers and supports her boyfriend so that he can reach his full potential. Believe in his potentials and never question his capacity to fulfill his dreams.
➤ Don't Be Demanding 
Other than making him happy with all your offerings, a good girlfriend knows that her man can't give her everything. You can't have his attention and time 24/7 because both of you have priorities.
So, don't demand something that is not possible realistically. Instead, learn to adjust to his routine and find out suitable slots both of you can enjoy together.
➤ Take Care Of Him 
Be a girl who brings nutritious meals and encourages him to exercise regularly. Also, make sure that he takes his medicines on time whenever he is sick.
Take care of him in every possible way. Of course, because that's the cutest and most thoughtful thing a good girlfriend does.
🧐 Conclusion 🧐
Now that you know all the traits of a good girlfriend and tips on how to be a good girlfriend, you will be able to turn your relationship into a happy one.
Wish you all the luck in your future!