9 Best Bank for Small Business • Top Business Checking Accounts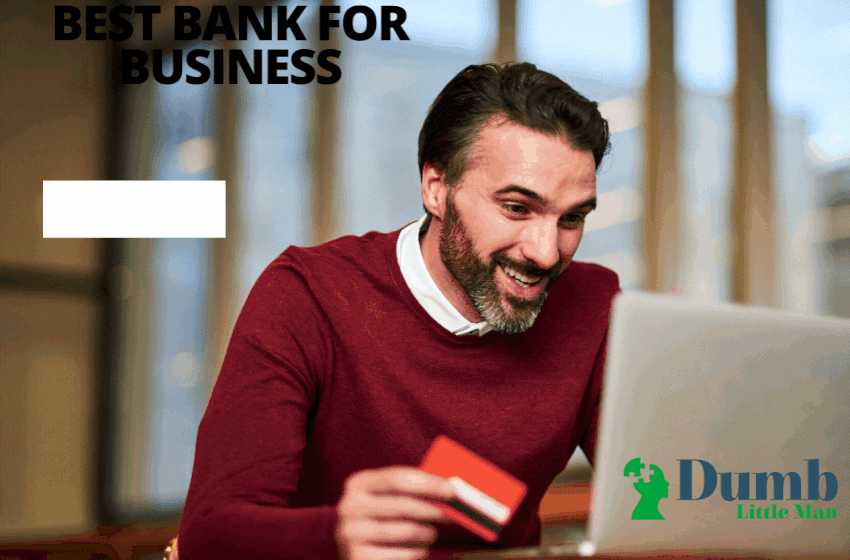 While running a small business, the first concern is a checking account or a business checking account. Having a checking account allows you to pay invoices, bills, and employees, receive payments, and do other banking activities that help you regulate your business.
Whether you're a sole proprietor or small business owner or entrepreneur, it's necessary to separate business finance from personal finance. Thus, you may come into a hurdle while choosing the bank that can extend your banking relationship and regulate your financial activities.
In the US, there are more than 4,500 commercial banks offering thousands of checking as well as saving accounts. So, we have selected the 9 best banks for small businesses based on the checking account features.
Best Small Business Bank Account in 2023
9 Best Banks for Small Business: Detailed Insight
#1. Top Consumer's Choice: Chase Bank

Chase grows on top for small businesses with its banking services, especially business credit card facilities having 4,700 branches and 16,000 ATMs nationwide. The bank is one of the top five most active SBA lenders in the US which can be a leverage point for entrepreneurs and small business owners.
Besides saving accounts, Chase offers multiple checking accounts that can fit both personal and business needs. Business Complete Banking, Performance Business Checking and Platinum Business Checking are three checking accounts for small businesses, and Chase Business Complete Banking account can be one of the top priorities.
Besides, the bank also offers multiple cards and several co-branded cards including Ink Business Preferred Credit Card, which can help small businesses in receiving cashback and reward points. Though Chase doesn't have physical branches and ATMs in each state in the country, you can make transactions through online or mobile app from anywhere.
Best Feature?

Chase has several striking features such as a low monthly service fee (there are several ways to waive it) and up to 20 fee-free non-electronic deposits per month. Account-holders can also make up to $5,000 in fee-free cash deposits each month.
Besides, access to online and mobile banking, and free business debit card are other plus points for small businesses. At Chase, you can have several types of business loans including SBA loans, Chase business credit cards, and three Chase business savings accounts.
Who is it Best For?
Chase can be best for those who need a variety of deposit, investment, and lending options and maintain the minimum daily balance to waive the monthly fee. It can also be a perfect bank for receiving rewards or cashback features.
Thus, Chase Bank is best for residents from New York, California, Florida, and Illinois, students, and existing Chase customers.
How much are the Bank Fees?
Chase Bank has $12, $25, and $25 as monthly fees on Chase Total Checking, Chase Premier Plus Checking, and Chase Sapphire Checking respectively. They also charge a $2.50 fee at non-Chase ATMs in the US and $34 per overdraft, charged up to 3 times per day.
>> Read More About Chase Bank Reviews: Is Chase a Good Bank?
#2. Best Online-Only Bank with High APY: Axos Bank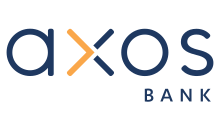 Axos Bank is an online bank that provides several facilities for small businesses including financing, savings accounts, checking accounts, loans, and others. For a small business, the bank offers two checking accounts; a Basic Business Checking account and Business Interest Checking account.
Planned for small businesses with average account activity, Axos bank is also called Bank of Internet USA. With no monthly service fees and unlimited domestic ATM fee reimbursements can help the small business owner cut the banking fees.
The first set of 50 checks free, 200 free monthly transactions, QuickBooks compatibility, and free bill pay are the encouraging bonus for sole proprietors or business owners.
Best Feature?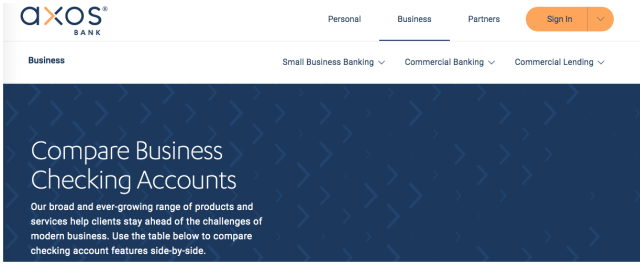 Axos includes the lower monthly fee ($10) which can be waived with a minimum average daily balance of $5,000. The bank also features free online bill pay, free image statements, and unlimited domestic ATM fee reimbursements.
The bank has several commercial lending plans including rows of credit, equipment financing, term loans, and factoring. You can make up to 50 free transactions and up to 60 remote deposits per month at Axos.
Who is it Best For?
Axos bank is the perfect option for those who are looking for complete online banking services and small businesses. The perfectly fits the customers who want to earn interest or rewards with a checking account.
Also, the customers who want to open a checking or savings account and earn a competitive rate on savings. Besides, business and adult finance, children can also leverage the online checking accounts at Axos.
 How much are the Bank Fees?
Axos is much generous to offer the banking service at zero service fee and even customers don't need minimum balance requirement for the free service. Only you need $50 for opening the required balance to start banking with Axos. You can enjoy fee-free overdraft or NSF, unlimited domestic ATM, and online debit card management banking services.
>> Read More About Axos Bank Reviews: Is Axos a Good Bank?
#3. Best Bank for Branch and ATM Accessibility: Wells Fargo Bank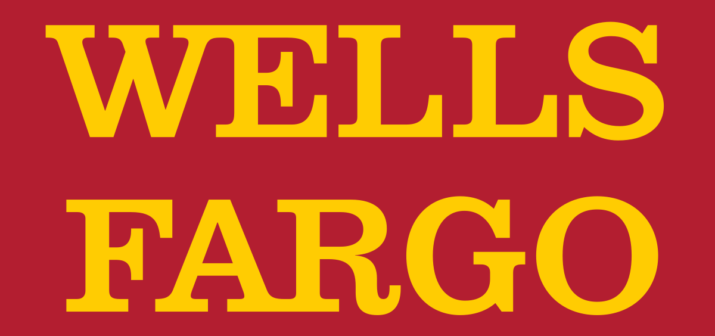 Wells Fargo bank can be the best option for those who started a business and looking for a brick-and-mortar bank. The bank includes 4,900 physical branches throughout 37 states, making it helpful for small businesses to have nationwide access.
Wells Fargo has three options for business checking account options including Initiate Business Checking, Navigate Business Checking, and Optimize Business Checking. Being rated as the highest-rated bank for small businesses, Wells Fargo also has been one of the most active SBA lenders in the nation.
Facilities for credit, various loans available in the bank add as the plus benefit in the point of business. The bank doesn't only useful in sale programs and merchant service but is also beneficial in employee payroll, HR needs, and business taxes.
Best Feature?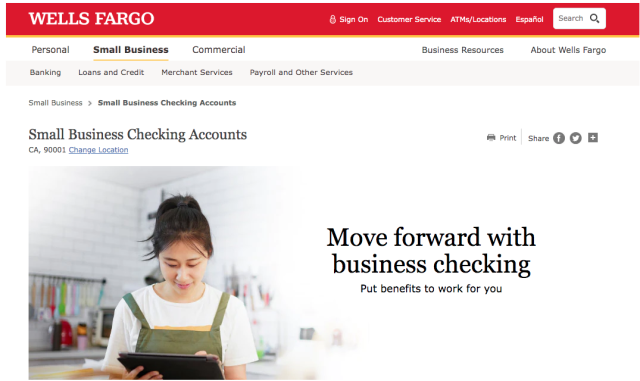 The account holders at Wells Fargo can make 100 transactions and $5,000 in fee-free cash deposits per month. They can also have online and mobile banking access and receive additional monthly cash deposits and transactions on Navigate and Optimize accounts.
The business credit cards and business insurance coverage included in the features help grow and protect the business. Besides, full-service payroll solutions, merchant services, tax programs, employee benefits, and human resources are additional features. at Wells Fargo.
Who is it Best For?
Wells Fargo Bank can be the perfect choice for those who need both local branch access and one banking service. Also, small business owners also can leverage the bank as a leading financial services company.
How much are the Bank Fees?
Wells Fargo has a $10 fee on Wells Fargo Everyday Checking, $0 on Wells Fargo Opportunity Checking, and $15 on Wells Fargo Preferred Checking account. The bank also charges $35 as an overdraft fee, with a maximum of three fees per day.
>> Read More About Wells Fargo Banking Reviews: Is Wells Fargo a Good Bank?
#4. Best Bank for Throughout US Availability: US Bank

Another bank for small business needs is US Bank that also stands on the list with its outstanding banking products and 3,067 branch locations and 4,771 ATM worldwide. The bank offers checking accounts, saving accounts, various types of loans, and lines of cards.
US Bank has three checking accounts; Silver Business Checking, Gold Business Checking, and Platinum Business Checking Package. So, if anyone has a plan for start-ups, the Silver Business Checking Package is the best to begin.
Best Feature?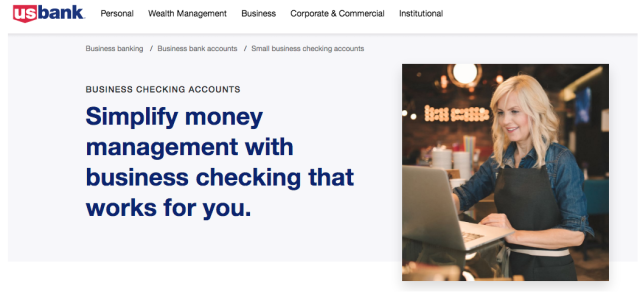 US Bank has several striking features including a waivable monthly maintenance fee, online and mobile banking with bill pay. The customers can make 500 free monthly transactions and a lower fee for each additional transaction.
The bank also supports card payment processing, check fraud prevention, mobile check deposits, overdraft protection, and access to the business EZ Switch Kit.
Who is it Best For?
U.S. Bank is a reputable and long-standing bank with a wide range of financial services that can fit personal as well as business needs. It can be suitable for those who want multiple options to park their money in CD accounts.
People living in the West or Midwest can make a wise choice by having an account at US Bank for their business. Also, the bank is the perfect fit for those who are searching for deposit accounts and financial solutions in a single bank.
How much are the Bank Fees?
The US Bank charges $0, $20, $30 monthly maintenance fees on Silver Business Checking, Gold Business Checking, and Platinum Business Checking Account respectively. These checking accounts have fixed monthly transactions for a fee and then, charge $0.50,$0.45, $0.45 fees for each additional transaction.
The bank also charges $36 as overdraft fees if the transaction is more than $5.
>> Read More About US Bank Reviews: Is US a Good Bank?
#5.Best Bank for High Volume Deposits and Monthly Transactions: Capital One Bank

Brick and mortar bank rarely includes higher or unlimited transactions and a high number of free cash deposits at business checking accounts. But Capital One Bank is a financial institution that offers a high number of transactions per month and cash deposits.
The bank has three business checking accounts including Spark Business Basic Checking and Spark Business Unlimited Checking. Besides, it also includes banking products savings accounts, lines of credit, loans, and other lending options.
Best Feature?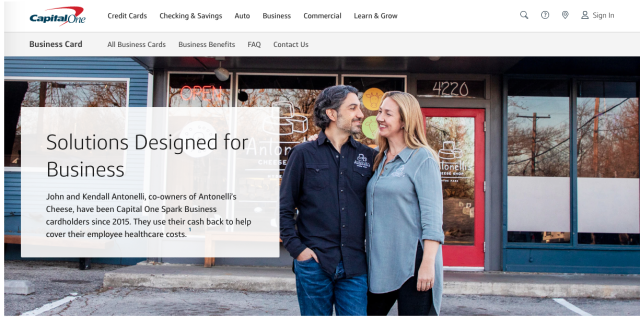 The notable features of Capital One include unlimited monthly transactions, online and mobile banking, online bill pay, and free business debit card. The customers can deposit up to $5,000 in cash each month for a fee.
The bank has also Merchant services, Escrow Express program to regulate small businesses. Besides, various business loans including real estate term loans, SBA loans, installment loans, and six credit card options are additional features.
Who is it Best For?
Those who need physical, as well as online banking access, can open an account at Capital One. Also, Customers who want to earn a competitive interest rate through an online savings account and need not have the burden of monthly maintenance fees can join this bank.
 How much are the Bank Fees?
Capital One has a monthly service fee of $15 on Spark Business Basic Checking but it can be waived if you can maintain a prior 30 or 90-day account balance of $2,000 or more.
The bank also charges $35 on Spark Business Unlimited Checking as a service fee. However, you can skip it if you can maintain a 30- or 90-day average account balance of $25,000.
>> Read More About Capital One Bank Review: Is Capital One a Good Bank?
#6. Best Banks for Sign Up Bonus: Bank of America

Bank of America is also an excellent choice for a small business with 4,300 branch locations across 37 states and 17,000 Bank of America ATMs. The bank offers two business checking accounts; Business Advantage Fundamentals Banking and Business Advantage Relationship Banking.
These checking business accounts from Bank of America are digital-friendly and also provide access to in-person banking to small-business owners. Bank of America's business checking accounts remains on top among national and regional competitors by offering outstanding banking services.
They offer ways to open an account, fee-free electronic transactions, high cash deposit limits, and more.
Best Feature?

You can open a bank account at Bank of America in three different ways; online, over the phone, and visiting at a branch location. The bank offers unlimited fee-free electronic transactions and several online banking facilities.
You can get a high cash deposit of up to fee-free $7,500 monthly deposit in Business Advantage Fundamentals and up to a $20,000 fee-free monthly deposit for Business Advantage Relationship. The bank also offers online services like mobile banking, mobile check deposit, bill pay, and integrated cash-flow monitoring tools.
Who is it Best For?
Bank of America is the best bank for those who want to have in-person business banking. Customers who can pay a small amount of monthly fee can open an account at Bank of America and also they can waive it after qualifying.
Business owners who operate cash-heavy businesses can leverage this bank. Also, the bank is the perfect choice for those who want to take additional banking facilities from the bank in the near future after strengthening the relationship.
 How much are the Bank Fees?
Both the business checking accounts from Bank of America includes $16 and $29.95 as monthly fee in the Business Advantage Fundamentals and the Business Advantage Relationship accounts respectively. Besides, the bank has a $35 overdraft fee, limited to four transactions per day.
Bank of America has also some withdrawal fees for at non-Bank of America ATMs. They charge $2.50 for US ATMs and $5 for international ATMs.
>> Read More About Bank of America Reviews: Is it a Good Bank?
#7. Best Simple Online Bank with Mobile App: Novo Bank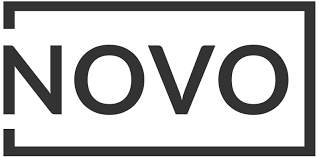 Unlike traditional banks, Novo Bank is a digital-era financial institute that provides banking services online. The bank is the first choice for freelancers, digital entrepreneurs, and small business owners.
Novo bank has a gift for small business checking account by offering free business checking account. Though the bank has zero monthly fees, it has outstanding banking facilities.
Best Feature?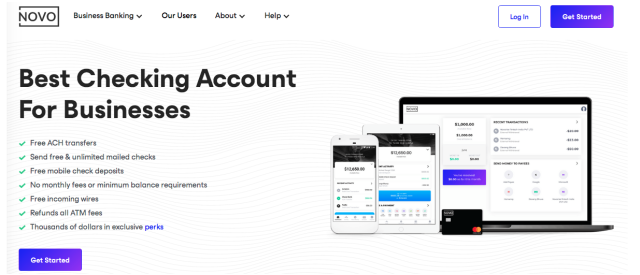 Novo is a feature-loaded bank that offers unlimited fee-free transactions and even doesn't include ACH transfer fees, and incoming wire fees. You need not be panic about the monthly fees or keep the minimum balance.
Besides offering refunds on all ATM fees, the bank also provides online banking facilities including unlimited invoicing as well as bill payment. Novo also offers top business tools including QuickBooks, Stripe, Xero, and Shopify.
Who is it Best For?
If you're looking for a that has a free business checking account having no minimum balance stress, Novo is just for you. Novo is also the best matching bank for those who like managing their finance online without depositing cash on a regular basis.
Novo bank doesn't charge ATM fees in the US and outside so customers who enjoy fee-free ATM withdrawal can join this bank. The bank also facilitates customers to link a business checking account to the available financial tools.
 How much are the Bank Fees?
Novo Bank doesn't include any fee; no monthly fees, no transaction fees, no minimum balance requirements, and no incoming wire fees. Besides, you'll not be charged for incoming and outgoing ACH transfers, debit card replacements, stop payments, and paper statements.
The bank has also free mobile check deposits, chargeless bill pay with physical checks, and free bank checks.
>> Read More About Novo Bank Reviews: Is Novo a Good Bank?
#8. Best Digital Bank for Free Checking Account: BlueVine

BlueVine is known for offering small business loans and a competitive online business checking account option. Besides, the bank has FDIC-insured facilities to ensure customers' money is safe and secured.
Lavished with digital facilities, the BlueVine Business Checking account is completely free and offers competitive interest. The bank has a single checking account that includes all these facilities.
Best Feature?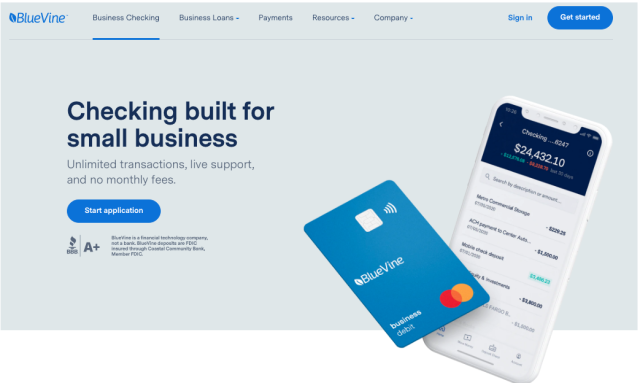 BlueVine is generous enough to offer 0.6% APY on balances up to $100,000 so that you can grow your money faster. The bank has no incoming wire, NSF, or ACH payment fees that can save your money a lot.
BlueVine bank also offers free debit cards and offers ATM service without any ATM withdrawal fee at MoneyPass ATMs and customers can deposit cash easily at Green Dot locations. Mobile check deposit, online banking, credit card, and invoice facilities are some of the notable features at BlueVine.
Who is it Best For?
BlueVine bank offers a free business checking account that has a moderate interest rate so those who need this can open an account at this bank. If you prefer managing your finance online, BlueVine is a perfect bank for you.
Those customers who don't need to visit a physical branch and one business debit card only can join this bank. Also, the bank is sufficient for those who deposit less than $7,500 in cash on a monthly basis.
 How much are the Bank Fees?
You need not worry about monthly fees, daily or monthly minimum balance requirements, or minimum opening deposit at BlueVine. Also, the bank doesn't charge ACH payment fees and offers unlimited fee-free transactions.
Customers can enjoy fee-free ATM withdrawals at any MoneyPass location across the US.
#9. Best Bank with Long History for Banking: CIT Bank

Citibank has more than 200 years of history offering banking services and resources. With 1,000+ branches and 34,000 ATMs, Citibank stands on top offering a high-interest rate on saving accounts.
Besides, Citibank also has some relief for small business owners with some excellent services and one of them is a business checking account. The bank has multiple options of business bank accounts to assist the business owners.
The bank has four business checking accounts including CitiBusiness Streamlined Checking, CitiBusiness Flexible Checking, CitiBusiness Checking, and CitiBusiness Interest Checking. Like other national banks, Citibank also has online banking services that provide instant access to your account from anywhere.
Best Feature?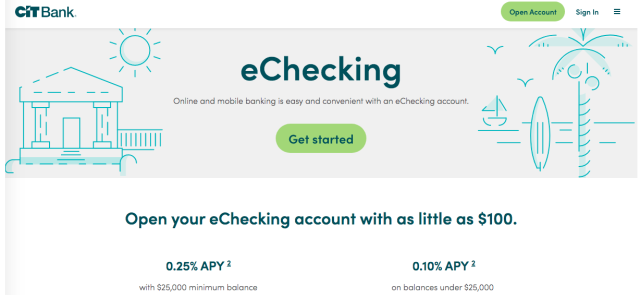 Citibank has multiple checking account options to tailor many business needs. Besides, the bank also offers Overdraft Protection, CitiBusiness Safety Check, and online banking facilities including user-friendly mobile app and online