Novo Bank Reviews: Is Novo a Good Bank?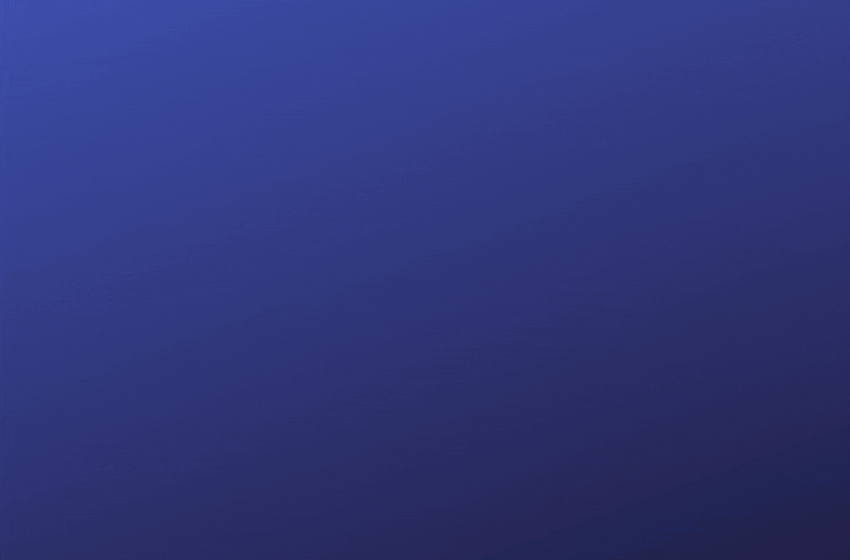 It's critical to keep your personal and company bank accounts separate if you're self-employed or own a small business. However, not all personal checking accounts allow accepting company income.
As a result, even freelancing individuals and aspiring businesses should consider opening business bank accounts, which will enable them to take payments from customers and clients while clearly separating business and W2 revenue.
Bank Novo offers a no-fee business checking account with no minimum monthly balance requirements. Moreover, there is connectivity with everyday business applications such as Stripe, Slack, Shopify, and Quickbooks. It makes the account an excellent choice for all kinds of businesses, whether you're just getting started and require a place to save your part-time income or depend on your business for a regular paycheck.
Let us understand this bank account better through our bank Novo review.
Novo Bank Reviews: Topic Overview
Understanding how bank accounts work can be overwhelming at first glance but we're here to help break it down so that anyone can understand it!
Check out our comprehensive review of Novo Bank's services below: -What are the benefits? -How does it compare against other banks? -What are the Pros and Cons -Who is it best for?
Everything you need to know about Novo Bank in one place. We've got the details for you.
What is Novo Bank?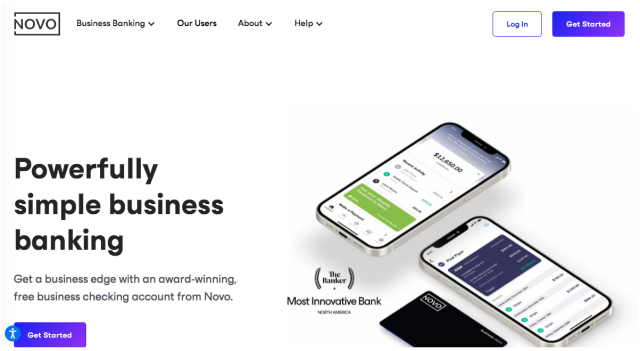 Novo is an online business banking app that lets you open a company checking account and monitor your accounts from anywhere. Novo Bank is a fully digital bank with no physical branches; Middlesex Federal Savings Bank, Novo's partner bank, handles its deposit accounts. Through Middlesex Federal Savings, each account is protected up to $250,000 by the Federal Deposit Insurance Corporation.
"Powerfully simple business banking" is how bank Novo characterizes their business checking account with almost no cost.
Several other bank accounts provide numerous tiers of business checking account alternatives but with varying amounts of monthly fees.
However, Novo business checking account is reasonably affordable and uncomplicated. There are no monthly fees, and it has only a few minor other requirements.
Click Here to Know More About Novo Business Banking.
How does Novo business checking account work?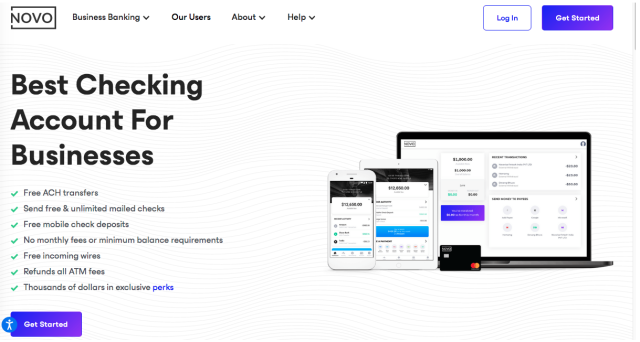 The business account from Bank Novo is a no-fee account for small company owners, entrepreneurs, and freelancers. In about 10 minutes, you may signup for an account, and the complete account can be maintained entirely online.
This account is a fantastic option for any company owner who wants to segregate business and personal revenue. It is also beneficial for companies that want to save money on fees and link with popular online business tools.
Novo also has a tool called "Novo Reserves" that helps business account customers manage their funds.
Steps to Open Novo Business Checking Account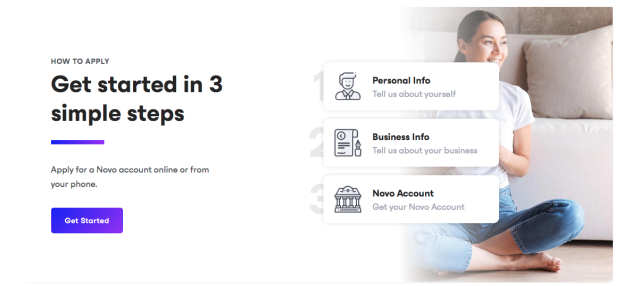 Signing up for a Bank Novo account is simple and quick. Simply go to their website's home page and select the "Get Started" link.
To register for an account, you will be required to give a business email address and a secure password.
Please remember that certain businesses are not served by Bank Novo. These include cryptocurrency and money-transfer businesses, as well as privately held ATMs, weed, and gambling. Before applying, double-check that your company does not fall into any of the categories mentioned above.
The next step is to enter certain personal and business information, such as your name, birthday, social security number and, address. You will also need to specify the type of business you are running.
Bank Novo will inquire about the type of employment you have, as well as approximate financial details for your company, such as monthly income, outbound electronic payments, incoming bank transfers, and outgoing wire transfers, as well as worldwide business dealings.
You will need to upload a photo of your or passport or driver's license to validate your identification.
After that, you need to double-check all of your details before submitting your application to Bank Novo. They will look through your information and get back to you in one or two business days with their verdict.
What are the Features of Novo Banking?

Business checking accounts from Bank Novo is a no-monthly fees account and no minimum balance requirements for small business owners, freelancers, and entrepreneurs. In about 10 minutes, you may apply for an account, and the entire account can be maintained entirely online.
This account is a fantastic option for any small business owner who wants to segregate business and personal revenue. Still, it's especially useful for companies that want to save money on fees and link with leading business tools.
Bank Novo has a number of features that are geared up to assist small business owners and freelancers in better managing their finances.
Let us go through some of them.
Swift Application

Applying for an account takes less than 10 minutes. Simply answer a few short questions about yourself and your company, and then submit your application for evaluation. Bank Novo will assess your application and decide whether or not to open your account in a couple of business days.
Invoices Must Be Sent, and Payments Must Be Received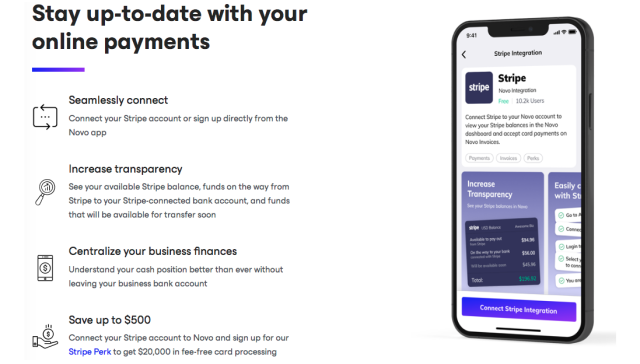 You may need to send regular bills and invoices to clients and consumers, depending on your business. Bank Novo makes it simple to submit and track bills, and it offers a variety of payment alternatives. Stripe allows you to accept business debit card and credit card payments for bills, and Square will enable you to receive billing.
Bank Novo's Online Mobile Banking
It makes it easier to manage your accounts on the road with just one online app. You may send and receive payments, as well as a link to business tools such as Stripe and Quickbooks.
You can also check your checking account balance, recent activity, and main spending areas on the smartphone.
Plan ahead for taxes and expenditures.
While there are several advantages to owning and managing your own business, But keeping aside additional funds for taxes is a drain.
You might either need a savings bucket for quarterly projected payments or just want to keep some cash in the backup. However, bank Novo keeps it simple to set money away in Novo Reserves for both these requirements.
You can shift money into and out of reserves at any time. While it isn't yet accessible, Bank Novo is working on a function that would autonomously assign revenue to certain reserves, making it simple to save for large expenditures or set money away for tax day.
Transfers are free and simple.
Whether you are moving earnings to your Novo checking account or need to make a transfer to another account, for any in and out of the account transactions, there is no requirement for a minimum balance, and you may even link your bank accounts for quick and easy transfers.
Checks to be deposited
You may deposit a check immediately from your phone, eliminating the need to go to the closest branch or ATM. Bank Novo provides limitless free check deposits, and you may deposit a check by uploading a picture on the app in a jiffy.
Make a direct payment.
Do you have to transfer payments on a regular basis for your company? It's simple with Bank Novo. The wise app allows you to send physical checks and ACH transfers at no charge, as well as overseas payments. Within the United States, transfers are completely free.
Stripe has been integrated.

If you often use the Stripe app for your company, Novo is a great option. Since the bank Novo is a Stripe Verified Provider. After you join Stripe, you can check your Stripe funds immediately in your account, get Stripe payments promptly, and even get $20,000 in fee-free processing.
Accepted around the world
Bank Novo is recognized all across the world, whether you do business overseas or simply like traveling. Its card is EMV chip secure, and you may withdraw funds from any ATM and receive your ATM costs reimbursed.
Integrations with other apps

Many prominent business tools and applications are integrated with Bank Novo. Shopify, Quickbooks, Slack, Xero, Wise, and Zapier are just a few examples. Moreover, Stripe account users can also benefit from perks and incentives provided by partners like HubSpot, Google Ads, and Booking.com.
How much does Novo Cost?
| Novo Bank Accounts Types | Monthly Fees | Waiver Criteria | Minimum Deposit Amount |
| --- | --- | --- | --- |
| Novo Business Checking Account | $0 | N/A | $50 |
When you choose Bank Novo, you will not be charged monthly maintenance fees, minimum balance requirement, fees on incoming or outgoing ACH transfers, or incoming domestic or international wire fees. You must, however, deposit a minimum of $50 to open an account. They also charge a $27 fee for insufficient funds and a $27 fee for returned payments.
Click Here to Know More About Novo Business Banking.
Who is Novo Best For?
Bank Novo is an excellent option for a wide range of business entities.
Freelancers
Setting up a separate business bank account, even if you are freelancing full-time or as a side gig, might not cross your mind. However, it's a vital step to avoid confusion between your company and personal funds. For this, bank Novo is a free, simple-to-use app with a slew of added features.
Owners of small businesses
Bank Novo's connections with major business apps like Stripe and Quickbooks might save you time and expenses if you manage a small business entity. It is also simple to send bills/invoices and accept payments from customers and clients, all thanks to the bank Novo.
Entrepreneurs
Bank Novo is a terrific alternative for a business bank account, even though you are a seasoned entrepreneur or just getting started. The bank also offers free benefits and savings from partners like Google Ads and GoDaddy to assist your business initiatives.
Consumers Who Are Tech-savvy
Banking with an online-only platform necessitates familiarity with the applications that have become an integral element of most lenders' banking experiences. Though, a traditional bank, along with these applications and tools, will provide you with a local branch that you may contact or visit anytime you require a more personalized experience.
However, it's vital that you feel comfortable accessing apps for all of your banking. If you need assistance, Novo offers human-backed customer care, but all of your transactions will be done via the Novo mobile app.
Who Wouldn't Want To Use Bank Novo?
While Bank Novo is a fantastic match for a lot of company owners, it isn't for everyone.
Individuals Who Do Not Own a Company
People who have a side hustle, freelance, work as contractors, or are self-employed are all examples of business owners. However, if you don't run a business, a Bank Novo checking account is certainly not for you.
People Looking for a Physical Bank
There is no way to visit a real bank branch because Bank Novo operates online. For those who prefer to perform their banking in person, this might be a major drawback.
Businessmen Who Want To Write Paper Checks
Novo is designed to have an electronic checkbook; therefore, it's not perfect for folks who still use paper checks. If you need to write a check and hand it over to a vendor, you must go through the Novo app to do so. Although having Novo handle such transactions for you might be easy, it can be inconvenient for regular check writers.
Novo Bank Pros and Cons
✅ PROS
▶ There is no monthly fees or minimum balance requirement. You can also make unlimited fee-free transactions.

▶ Moreover, there are no ACH transfer fees and no incoming wire fees as well. All the ATM fees worldwide are also refunded. You can have access to online banking with unlimited invoicing and bill pay, which includes the option to send paper checks for free.


▶ Your account will be integrated with top business tools like QuickBooks, Xero, Stripe, and Shopify. You are also eligible for access to discounts on business software and services through your account.
🚫 CONS
✖ There are no personal accounts available at this moment; Bank Novo solely offers business checking accounts.

✖ You can not make a cash deposit into your Bank Novo account. Another drawback is that no interest is earned.


✖ Then wires cannot be sent domestically or internationally ( however, international wires can be transmitted through TransferWise integration). Last but not least, overdraft fees is $27 for insufficient funds
Novo Compared to other Banks
| Bank | Minimum Deposit | Monthly Fee | Overdraft | Number of Branches |
| --- | --- | --- | --- | --- |
| Novo | $0 | $0 | $27 | N/A |
| BlueVine | $0 | $0 | $0 | N/A |
| CITI | $100 | $4.50 | $34 | 2,649 worldwide |
| Chime | $0 | $0 | $0 | N/A |
Click Here to Know More About Novo Business Banking.
Novo vs. BlueVine
Both Novo and BlueVine are online banks that provide a single checking account with a range of features designed specifically for small businesses. These features will meet the majority of your money management requirements. However, Novo clearly beats BlueVine in some aspects.
Novo provides free ATM access and unlimited free monthly transactions. They will refund you if you use ATMs that are not part of their network. This also applies to overseas ATMs.
On the other hand, BlueVine extends free access to ATMs that are part of their 38,000-strong network. Other ATMs will continue to charge fees, which BlueVine will not cover.
Novo integrates with apps such as Stripe, Shopify, Xero, QuickBooks, Zapier, Slack, and TransferWise. You may also take advantage of a variety of rewards and deals from all of the businesses with whom they collaborate. Also, Novo is available in all domestic and foreign locations within the United States.
BlueVine, on the other hand, has a considerably more restricted integration. However, several domestic regions, such as North and South Dakota, as well as US territories, do not have BlueVine.
Novo vs. CITI Bank
Novo bank is an online banking app that primarily supports small business owners, entrepreneurs, and freelancers. There is no minimum balance requirement or any monthly fees needed. You can access it online from anywhere around the world.
Though it does not have any physical branches, it is insured by FDIC for up to $250.000, like any other brick and mortar bank. However, you do have a good customer care unit with a human interface with Nova bank too.
On the other hand, Citibank is one of the significant conventional banks that gives more benefits to its privileged account holders. You also need to maintain a monthly average balance of $5,000 in CITI's checking account.
It does have over 700 branches in the U.S and can give assurance to those who feel comfortable with traditional banking.
>>Read More About Citi Bank Reviews: Is Citi a Good Bank?
Novo vs. Chime
Chime offers a lot of great features; however, when compared to Novo, they fall short in a few key areas.
Bank Novo was founded with the interests of small business owners in mind. It is a profitable solution for any small enterprise due to technological integrations and low-cost maintenance. It is majorly helpful with the integration of a variety of online business apps.
Chime takes care of all of your financial requirements. With well-developed software, it provides user-friendly solutions for your financial needs.
However, it does not provide all of the financial services that a company owner could demand, like integration with various business tools.
Despite the fact that both banks have excellent qualities, Novo has an edge in this bank comparison. Novo is the ideal solution for any small business owner since it offers so many advantages for business owners, as well as a reasonable cost of account maintenance and a superb digital banking experience.
>>Read More About Chime Banking Reviews: Is Chime a Good Bank?
Conclusion: Is Novo a Good Bank?
Bank Novo is an excellent alternative for a business bank account, whether you're a small business owner, freelancer, or entrepreneur. Opening an account is entirely free, and the application procedure takes only a few minutes.
There are no monthly maintenance fees, ATM fees, or deposit minimums to worry about. With one simple mobile app, you can access your balance, send and receive money, and manage your payments.
Bank Novo also has a lot of connections with business tools and apps, which saves you time and money. Stripe, Quickbooks, Shopify, Slack, Wise, and others are among them. Customers and clients may effortlessly send invoices and make payments to you.
Bank Novo even allows you to stash money away throughout the year for taxes and other large bills. Overall, whether you have an established firm or are just getting started, it's a terrific pick for a business bank account.
Novo Bank FAQs
Is Novo fit for small business owners?
Novo business checking account is ideal for small company owners who want a free business checking account with no minimum balance restriction. Bank Novo's interface with major business tools like Stripe and Quickbooks might save you time and money for small businesses. Thankfully, it's also effortless to send invoices and accept payments from clients and customers.
In addition to that, it is perfect for those small business owners who do not need to deposit cash regularly and prefer to handle their affairs online. Although, they can freely use any ATM in the United States or abroad without incurring fees.
Who is Novo bank owned by?
Novo is supported by a network of community banks that are FDIC-insured. The firm is a technology firm that provides a payment system for its insurer i.e, Middlesex Federal Savings. Users that use Novo gain from no minimum balances, no hidden fees, and the fact that it is free to use and accepted all across the globe.
Xero, a small business accounting software supplier, is also a partner of the organization. In each U.S. state, the two entities have customers ranging from high-profile startups to modest single proprietors.
Is Novo bank insured?
Yes, Bank Novo's business checking accounts are insured by the Federal Deposit Insurance Corporation (FDIC). Moreover, its partner Middlesex Federal Savings, F. A., Member FDIC, provides deposit account services.
In the case of a bank collapse, you are covered up to $250,000 per account holder for each account ownership type because you are an account holder at an FDIC-insured bank.
How much does Novo banking cost?
With Novo banking, there are no monthly maintenance fees, minimum balance fees, incoming or outgoing ACH fees, or incoming domestic or international wiring fees when you use Bank Novo. However, to start an account, you must deposit a minimum of $50. They also impose a $27 fee for inadequate money and the same amount for uncollected payments back.
What if I Misplace My Phone?
If you don't have access to your phone, you can get a code sent to your email address instead. Before obtaining the code, the bank will need you to answer a few security questions. If you have changed your phone number, kindly update your contact details in the Novo app's Account menu as soon as possible.
Create a Novo Business Banking Account? Click Here.
Like this Article? Subscribe to Our Feed!
John is an avid researcher and is deeply passionate about health and finance. When he's not working, he writes research and review articles by doing a thorough analysis on the products based on personal experience, user reviews and feedbacks from forums, quora, reddit, trustpilot amongst others.