12 Best Investment Newsletters – Best Value in [2023]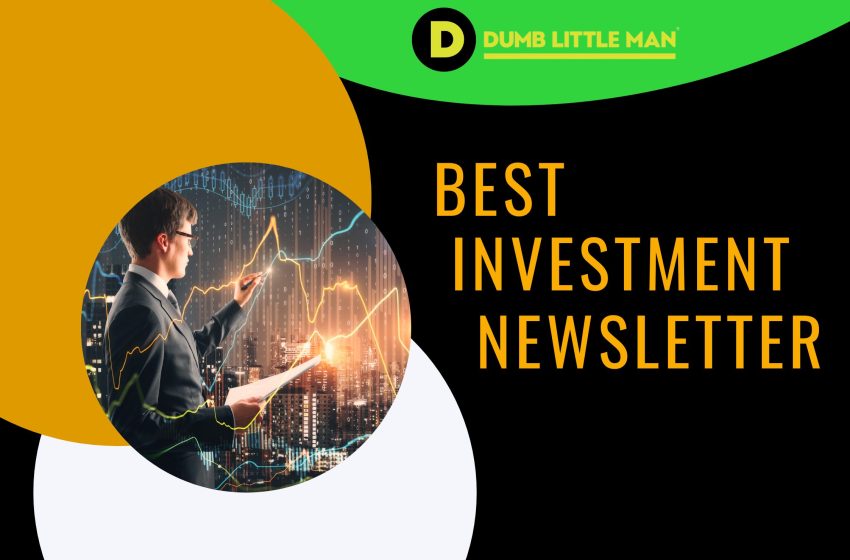 Are you just getting started with investing? Or are you a veteran with years of experience in the field?
Either way, you may benefit from reading the thorough investment advice and technical analysis from stock newsletters. In order to conveniently learn about stock market trends and see existing and reliable stock research, an investment newsletter is a brilliant option.
To give you brilliant insight into the financial markets, well-known investment strategies, and investing advice, in this article we will review and analyse several newsletters in order to find the best investment newsletter available on the market.
Here Are Best Investment Newsletters
Investment newsletters can be great resources for even experienced investors. Below is a detailed list on some of the best newsletters for investment-related topics and news.
Stock Market Basics
Investment newsletters can also help you to understand the foundations of the stock exchange. This can be especially useful for new investors who are likely to be overwhelmed with the amount of information available.
What Is A Stock Advisor?
Investment recommendations and information on useful strategies are sure to change if you intend to partake in either short or long-term investing. A stock recommendation for day trading is also likely to differ from a recommendation for long-term trades. That is why there are several stock advisors available to help give you relevant information on different stocks.
It's incredibly important that you make a good decision on which stock advisor to choose. As such, below is a list of the most effective and efficient stock advisors available.
| RECOMMENDED TRADING COURSE | REVIEW | VISIT |
| --- | --- | --- |
| | #1 Forex, Crypto and Stocks trading course. Ranked most comprehensive by Investopedia and Best by Benzinga. Free to Try! | |
Rankings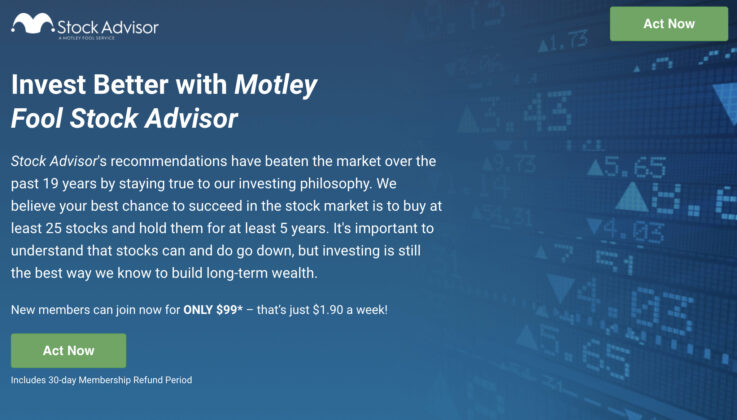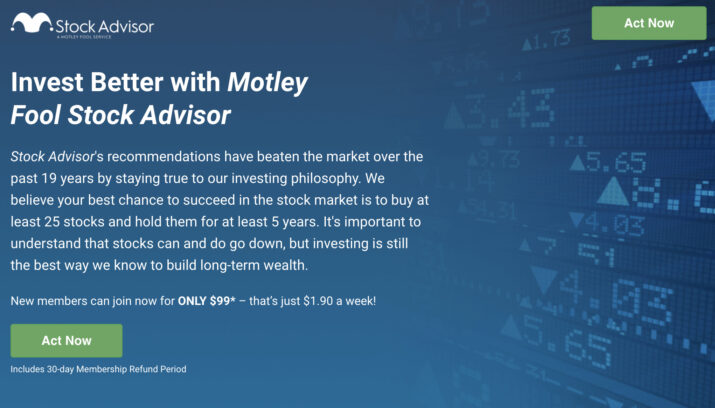 Summary
The Motley Fool Stock Advisor is a well-regarded advice platform for financial information. This stock advisor service contains plenty of stock ideas and stock recommendations that are intended to be held in the long term (e.g., growth stocks).
Through the Motley Fool Stock Advisor, you can gain access to plenty of lucrative investment opportunities and potentially find the best investment in your portfolio. As an investment newsletter, it has been described by subscribers as very easy to read, user-friendly, and thorough in their findings.
Furthermore, Motley Fool's Stock Advisor stock recommendations can also be suitable for those who smaller budgets. Unlikely many other financial advice investment newsletters, with Motley Fool you can ensure that your starter stocks are within your budget.
Whilst buying and holding stocks may not seem to be as interesting as, for example, day trading, it can yield incredible results in the long term and help you become financially free. It can also help you with money management as often, long term investing requires frequent and consistent levels of investment.
Motley Fool's Stock Advisor is also included in The Motley Fool Epic Bundle. This bundle combines four premier services: Stock Advisor, Rule Breakers, Everlasting Stocks, and Millionacres: Real Estate Winners, offering over 300 stock picks and exclusive reports. Previously priced at $499/year, the bundle is now available for a promotional rate of $198 for the first year, saving subscribers over $300. However, this special rate is applicable only for the initial year, with automatic renewal at the standard price thereafter, providing a cost-effective way to access multiple Motley Fool insights.
Features
Motley Fool's Stock Advisor features stock recommendations alongside their detailed investment thesis. Their stock picks are clear and have been heavily analysed. With their award-winning team of well-educated and brilliant analysts, they bring their users an investment newsletter with information that could very well yield the most profitable returns.
The Motley Fool Stock Advisor comes with a useful 30-day membership refund period. This is to help you make a more informed decision on whether you would like to continue receiving investing ideas and advice from Motley Fool Stock Advisor.
Stock Advisor features two stock picks per month (all new), and as mentioned in the summary, they also have stock recommendations of starter stocks for investors who are just beginning to participate in the market. However, it has also proven to be useful to even experienced advisors.
A brilliant feature that sets the Motley Fool Stock Advisor apart from other investment newsletters is their active and buzzing community of investors and experts who can provide much-needed answers to your burning questions. Their historical stock picks are also easily accessible for all subscribers.
CLICK HERE TO READ MORE ABOUT THE MOTLEY FOOL STOCK ADVISOR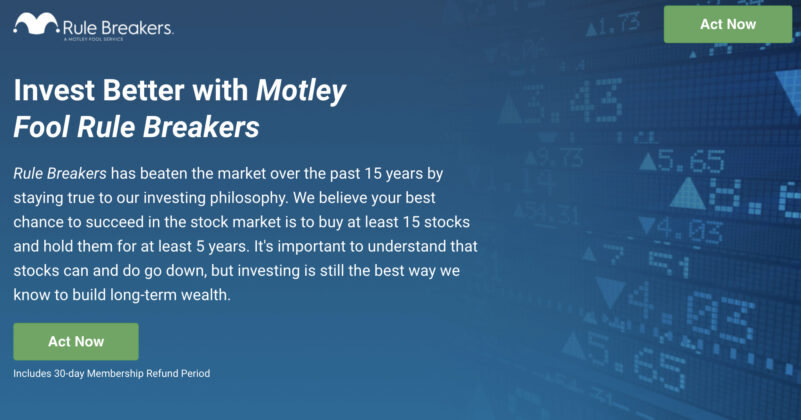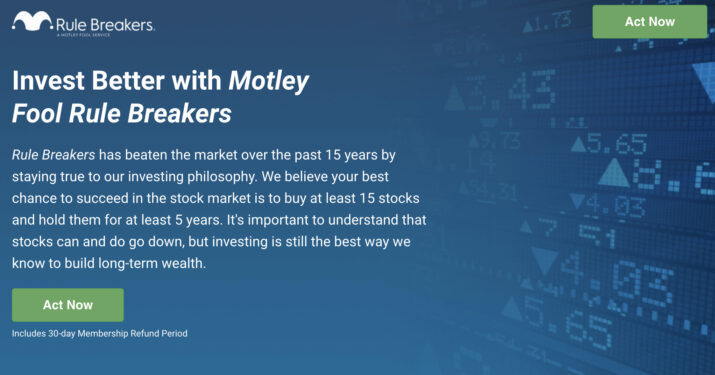 Summary
The Motley Fool Rule Breakers continuously brings out useful information and analytics to help their users make more informed decisions through their stock picks. Each stock pick is thoroughly analysed and they regularly release two stock picks monthly.
In order to beat the market and invest in the best stock within your budget, Rule Breakers have stock recommendation of high-growth companies. Through Motley Fool Rule Breakers there are also safe yet high-yield stock picks for beginner investors.
In general, Rule Breakers is a brilliant newsletter for helping you to make the best stock picks for higher average gain.
Just like the Motley Fool Stock Advisor, the Motley Fool Epic Bundle also features Rule Breakers and two additional premium services, providing more than 300 stock recommendations and exclusive reports. Once priced at $499/year, it's currently available for just $198 for the inaugural year, translating to a savings of over $300. Note that this offer is valid for the first year, with renewals billed at the regular rate, thereafter, presenting a cost-effective method to tap into diverse Motley Fool perspectives.
Features
With the Motley Fool Rule Breakers, you get instant access to their currently listed and most recommended stock picks (in total they list five).
As a stock newsletter, Rule Breakers also has a brilliant and active community of investors both new and experienced. They can help you to better understand the stock market, better understand how to utilise certain financial services, and answer any questions you may have.
CLICK HERE TO READ MORE ABOUT THE MOTLEY FOOL RULE BREAKERS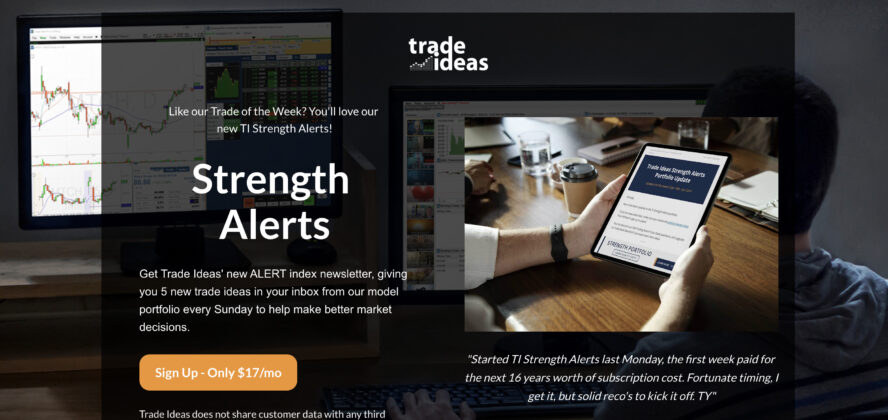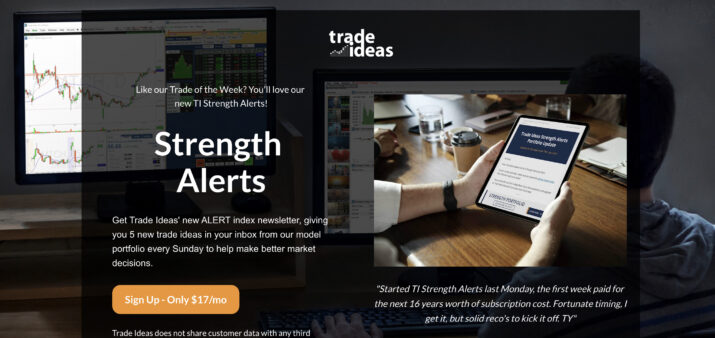 Summary
Trade Ideas Strength Alerts is well-established and considered as one of the best investment newsletters available. To gain access to profitable investment recommendations, this newsletter has been put together to.
When it comes to helping you make crucial investment decisions and develop a concrete investment strategy, Trade Ideas can give you the confidence and analysis required to optimise your chances of choosing the best stock and developing a healthy and lucrative investment portfolio.
Features
The Trade Ideas Strength Alerts newsletter features five new stock picks from their portfolio of carefully selected investment opportunities. Each stock pick has been thoroughly vetted and in addition to that, they list their stock picks every single week (more specifically every Sunday).
Furthermore, Trade Ideas Strength Alerts also focuses on what's called 'relative strength'. They are able to select the most interesting stocks that regularly outperform the other companies in the market they compete within.
In order to help their users choose stocks that are likely to experience significant growth through constant improvement, they use high-quality technical analysis.
In order to help you make more informed decisions, they evaluate every single stock available in the market using their advanced algorithms to rank them and figure out which ones have the most relative strength.
CLICK HERE TO READ MORE ABOUT TRADE IDEAS
4. Seeking Alpha
Summary
Seeking Alpha is not than just an investing research platform but it is an investing community which fosters lucrative investing ideas. As the word "Alpha" in the financial world means "excessive returns" everyone is Seeking Alpha in trading which is the concept behind this platform. At Seeking Alpha investors have the options to read expert analysis on stocks and also follow certain investors and expert writers to seek their investment expertise.
The pool of investment information on the Seeking Alpha platform is from 7000 authors which generate more than 10,000 investing commentaries, ideas and analysis on monthly basis for investors to follow. Another benefit of subscribing at Seeking Alpha is that users can get access to the advance quantitative algorithm also known as the "Quant rating" which the platform has developed to show the rankings of the best stocks in the market.
As Seeking Alpha fundamentally promotes investment networking, all registered investors can share their trading experiences on the platform which is also known as crowdsoursing. Another benefit of this platform is that it is affordable for all types of investors and also easy-to-use even for beginners. So, Seeking Alpha has all the checks in place when it comes to an effective investing platform.
Features
Seeking Alpha offers types of subscrition plans for investors including the free, premium and Alpha Picks. Each type has different features which helps users in maximizing their returns. Other than providing expert analysis and stock rating there are also other features that this platform offers for instance Top Rated Stock Screeners, proprietary Dividend Grades, data visualizations, peer comparisons, financial statements, earnings call, and different types of ratings including Stock ratings, Quant ratings and Wall street ratings.
It should be noted that most of the advanced features which can lead to significant profits are only accessible through the Premium package. The basic subscription is good enough only to give general stock commentaries and analysis which may not be specifically targeted for certain investors. Moreover, the basic plan also do not provide access to the Quant and Alpha Stock ratings which is the main feature towards earning excessive returns.
The best and easily accessible feature which the Seeking Alpha platform suggest is for investors to create a watchlist where they can create a list of all the financial experts, top rated stocks and effective strategies and commentaries.This list could be customized and monitored consistently to gain the expected returns.
CLICK HERE TO READ MORE ABOUT SEEKING ALPHA
5. Zacks Premium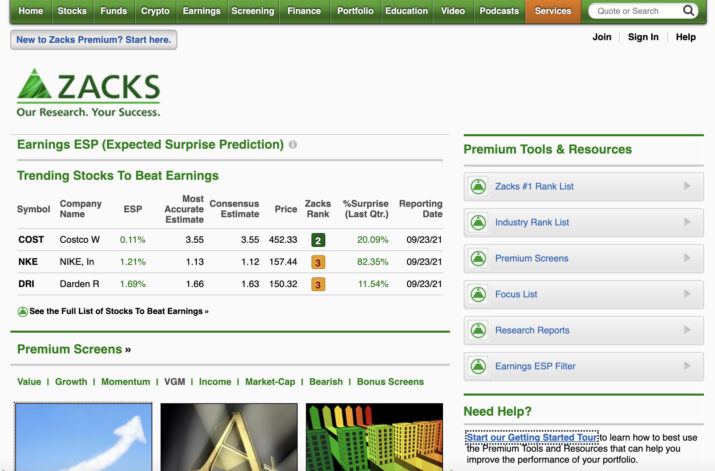 Summary
Individual investors may benefit from Zacks investor collection of the best stock recommendations and mutual fund picks. This service gives you Zacks carefully crafted list of number 1 stock picks. Zacks Premium provides a large and growing portfolio of stocks that are highly suitable for helping investors to develop a list of stocks that would yield profitable gains in the long term.
Furthermore, they also analyse all of the available stocks. Those stocks are then placed into different categories to give the user more freedom and flexibility in their investment decisions.
When it comes to choosing the best stocks for your individual portfolio, Zacks Premium subscription may be able to give you the guidance you need. As opposed to directly showing you their picks detailing the best stocks available according to their research, placing them into categories can help you feel much more in control.
As a supplementary service for helping you to better analyse your potential investment opportunities, Zacks would also be a highly suitable choice.
Features
At the time of writing, the Zacks Premium subscription costs just $249 per year for total and complete access to in-depth equity research reports, a portfolio of stocks to be held in the longer term as opposed to in the short term, and even more premium features.
It is also possible for you to gain complete access to all of their premium content for free for 30 days. This is incredibly useful when it comes to helping you make a decision on whether to officially purchase the subscription or not. Since it is a subscription that is paid annually, it is also much easier for you to keep track of this expense as opposed to other services that are paid on a monthly basis. Furthermore, in the long term, it works out to be much cheaper in comparison to many alternatives to investment newsletters.
CLICK HERE TO READ MORE ABOUT ZACKS PREMIUM
6. Bloomberg Businessweek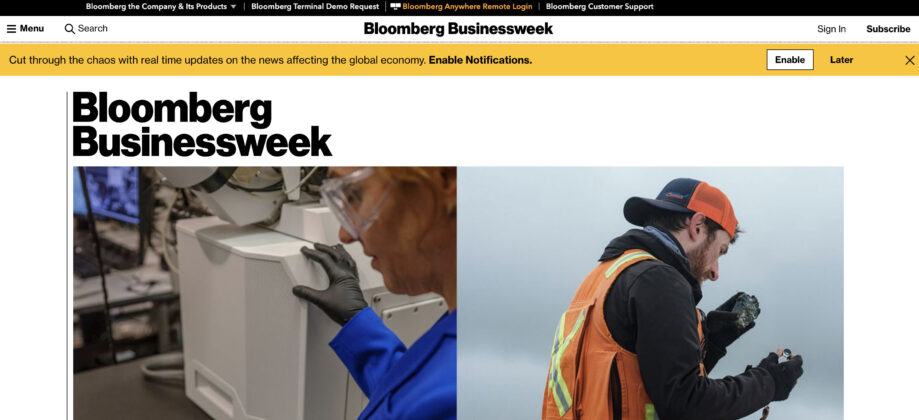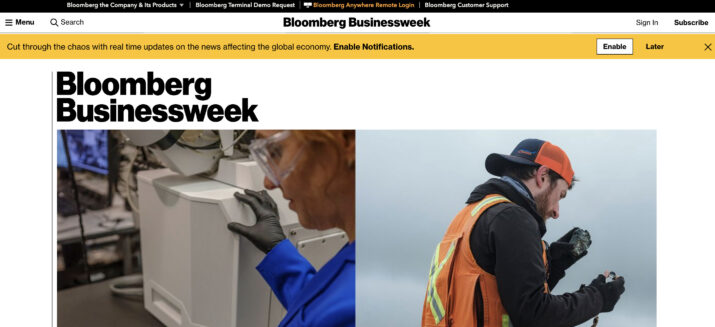 Summary
Bloomberg Businessweek is an established personal finance magazine that provides services relating to finance and financial data for long-term investors. The Bloomberg Businessweek subscription service directly provides some of the most high-quality speciality reports and lists of the best resources to read through in order to help improve your understanding of trade, markets, and many other topics. Topics such as wealth, tech, politics, and other categories are sure to affect the state of the financial world.
This newsletter gives you total, complete, and entirely unlimited access to their very wide array of news and other such content. Furthermore, you even have access to their app for convenient browsing of the latest financial news available.
Features
The Bloomberg Businessweek subscription service also enables you to have access to all of the relevant audio files for their well-researched and unbiased articles. For those who are better at retaining information through auditory means. This feature is highly convenient and enables you to learn even during times when you are doing chores such as cleaning, shopping, etc.
Purchasing this subscription also gives you access to their well-designed videos as well as their clear and considered podcast. Again, for authority learners and visual learners, this is the key to helping you to retain important financial information.
Being able to retain information puts you in a much better position to make good decisions on your investments. This can yield more lucrative results in both the short term and long term.
CLICK HERE TO READ MORE ABOUT BLOOMBERG BUSINESSWEEK
7. Kiplinger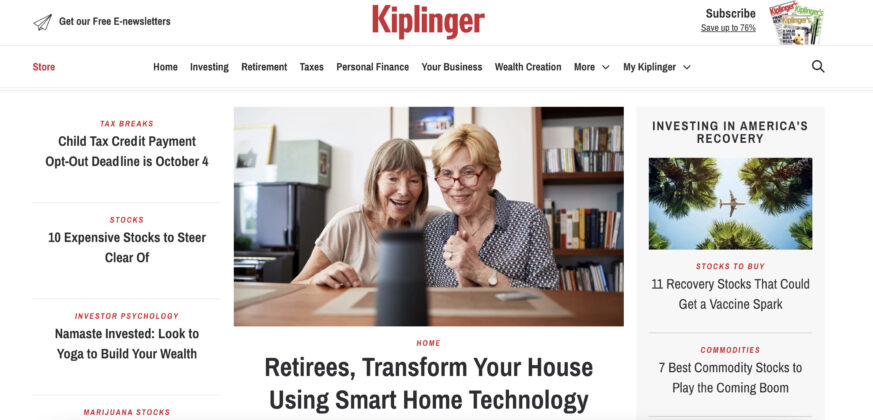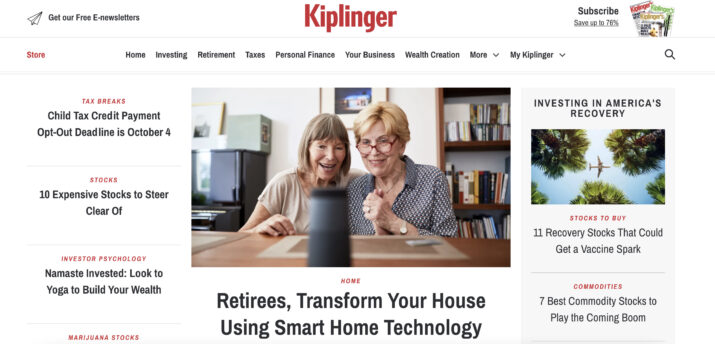 Summary
With Kiplinger, users can easily access both the print and digital versions of their premium resources. With both print and digital versions of their content available, you have the ability to read important analyses, reports, and information conveniently and in the best format for your particular circumstances.
Kiplinger has been designed to give you the necessary information needed in the form of monthly issues. Those issues contain fields discussing topics such as where you may wish to invest your money, the most suitable places for retirement, and methods in which you can help to build and grow your wealth and overall net worth.
Features
Kiplinger's Personal Finance is incredibly well-known and highly regarded by many investors both new and experienced. They contain a variety of finance-related topics that you are very likely to benefit from, regardless of your background.
It also comes at a very suitable cost, especially for the amount of content that they provide. For an entire year worth of content, you only need to pay around $29.95, and for two years it's only $39.90 (at the time of writing). Please note, however, that taxes will be applied. The reason why this is such a great price is due to the regular cost of monthly magazines. For an entire year, it would typically be $83.99.
New subscribers also gain access to special issues (four in total). Those issues are as follows: best values, retirement-related planning, mutual fund roundup, and last but definitely not least, the annual economic forecast. With the aforementioned issues alone, new users can easily get up to speed with some of the most important pieces of financial news available.
As an example of some of the insightful content they produce, a recent article 'Stock Market Today: Fed Fuels Second Day of Stout Stock Surge' contains a detailed and logical portrayal of certain sections of the stock market in a short and readable format. They also have bullet points to easily portray information neatly and succinctly for those who are busier.
CLICK HERE TO READ MORE ABOUT KIPLINGER
8. The Prudent Speculator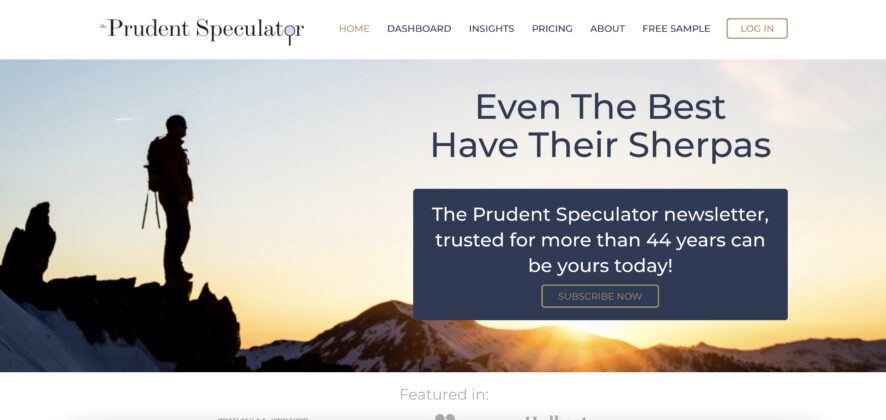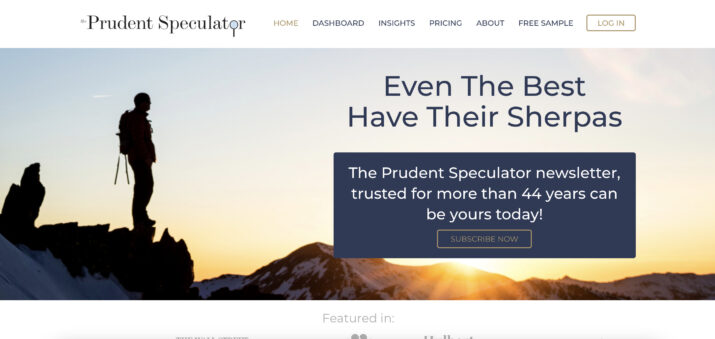 Summary
The Prudent Speculator is a trading service that essentially gives advice and insights into making smart and strategic investments. It has been giving useful and insightful content for almost half a century and all of its pricing packages give you access to a wide variety of content and a monthly newsletter.
This investment advice platform features a timely alert every single time they either buy or they sell a particular stock. This means that you get access to information timely and conveniently. With the Prudent Speculator, you also have access to a very large array of monthly recommendations on what they have researched to be the most profitable stocks on the market. Alongside their recommendations are also useful metrics to help you make better decisions on your investments.
Features
Through a subscription, you can have access to qualitative analysis on stocks alongside great metrics such as Debt/TE ratio, P/E ratio, and many others that are sure to be useful. With a weekly analysis on the most impactful market activity, you get in-date information that can help you to better build and maintain a suitable portfolio for your long term goals.
CLICK HERE TO READ MORE ABOUT THE PRUDENT SPECULATOR
9. Hammerstone Daily Reports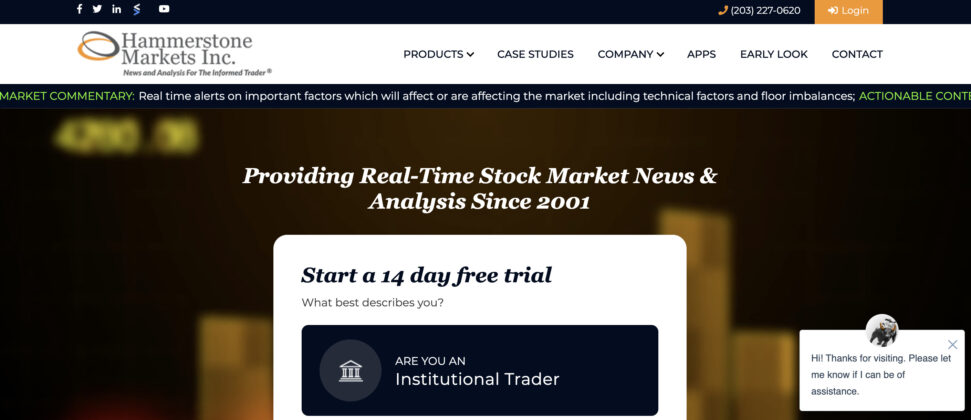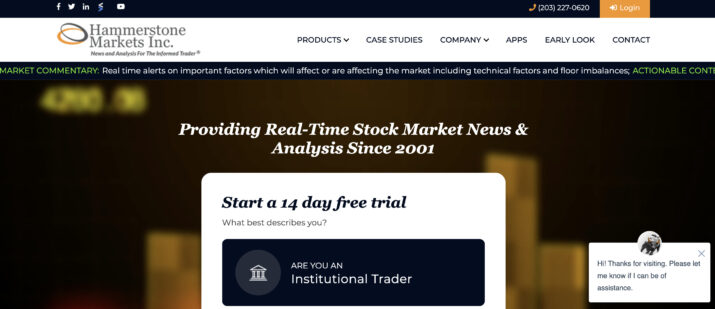 Summary
The Hammerstone Daily Reports are, as in the name, daily reports on real-time and important market and finance-related news. They are also very well-known for providing more than 1,600 pieces of up-to-date updates every single day.
Whilst the Hammerstone Daily Reports does publish a lot of information, they do so in such a way that makes their points easy to read as well as easy to retain. This can help you to make much better decisions on your investments and understand market trends.
Features
When it comes to the features that the Hammerstone Daily Reports provides, they have plenty of content for you to access daily. Unlike many other newsletters that only publish once or maybe twice a month/week, the Hammerstone Daily Reports gives you a total of four reports written by those who have both experience and expertise.
The reports have both a pre-market opening report as well as a market-closing report to tie all of the daily information together. With their chat forum, individual investors can receive a lot of useful advice and also give some useful advice on the stock exchange, trades, and any other such topic.
Their chat feature is especially significant for new investors as it allows them to become much more integrated into the community of investors and become more knowledgeable on important market information.
CLICK HERE TO READ MORE ABOUT HAMMERSTONE DAILY REPORTS
10. Nate's Notes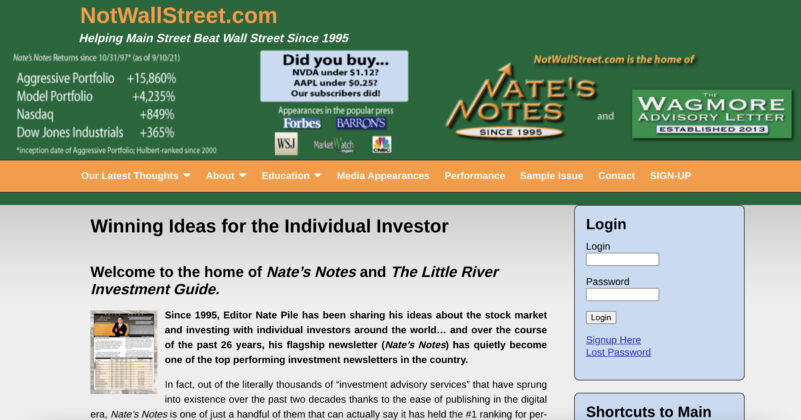 Summary
Nate's Notes is a brilliant investment newsletter that has been operating for two and a half decades. They are well-established amongst piers and have a continuously positive track record for their advice and guidelines. When it comes to learning about as well as building high-yield strategies, Nate's Notes has useful content for your benefit. This is true for beginner investors as well as experienced investors.
Since financial information can be quite complex to make sense of, Nate's Notes has been great at making sure that their information is readable for all users.
Features
Nate's Notes gives you a monthly newsletter with recommendations on high-yield and long-term investment ideas. As a subscriber, you have instant access to special reports and access to many sections of their platform locked by a subscription wall.
CLICK HERE TO READ MORE ABOUT NATE'S NOTES
11. Mindful Trader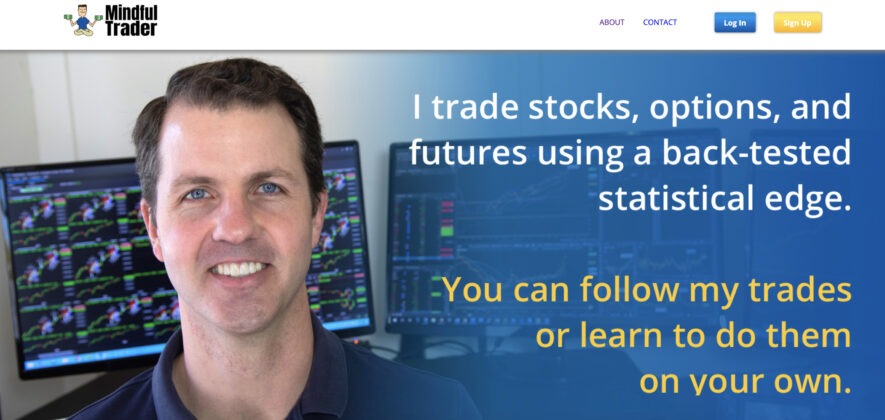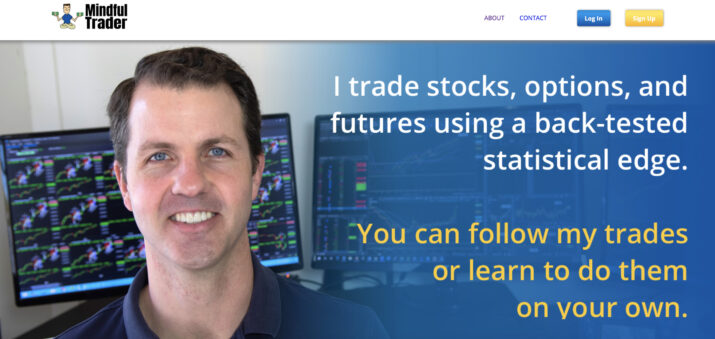 Summary
With Mindful Trader, investors (or potential investors) can see how to make data-driven stock investments and thus build wealth and financial freedom. This is achieved through an easy to read list of real-time trades and access to useful strategies that you could also implement in your trades.
It works by displaying all of the stock picks made by Eric who has conducted a lot of research and spent an equal parts amount of time on understanding how to trade more efficiently and effectively.
Features
Eric (the creator of the platform) is a Stanford graduate who excels at Mathematics and analysis. His research and reasoning have allowed many investors to benefit from understanding his portfolio and trading decisions.
Eric makes 'swing trades' that are all based on historical data to maximise the potential of his investments. The trades last for about a week on average and through the subscription, you could also learn more about swing trades with tactical advantages.
CLICK HERE TO READ MORE ABOUT MINDFUL TRADER
12. Morningstar Investor Newsletters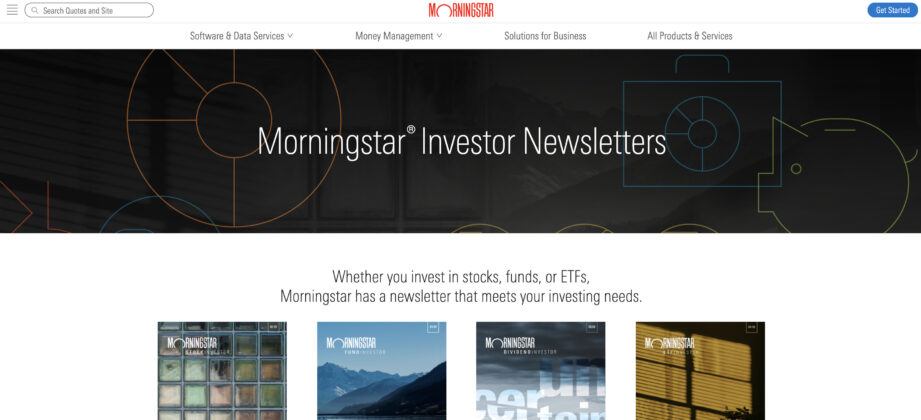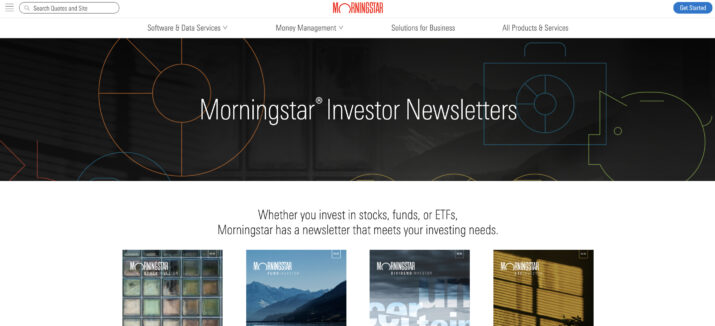 Summary
Through the Morningstar Investor Newsletters, subscribers have instant access to an entire platform sealed only for those who subscribe. Their stock strategies have been designed to stand the test of time and they have four different types of newsletters that you might consider to be useful.
The 'Stocks Investor' newsletter analyses which firms have the most advantage when it comes to trading at lower than their intrinsic value. The 'StockInvestor' newsletter also gives you useful information on impactful current effects that have significant effects on the stock exchange.
Features
Alongside the 'StockInvestor' newsletter, there are also three others: DividendInvestor, ETFInvestor, and FundInvestor. As in the names, these newsletters are suitable for different types of investors. For example, those who are partial to fund investments can read the FundInvestor.
All newsletters contain important information on current events that affect their category of investment. Furthermore, you also have access to well-written reports that help you to make better and more informed decisions.
CLICK HERE TO READ MORE ABOUT MORNINGSTAR INVESTOR NEWSLETTERS
Investment Risks
Investing comes with a large amount of risk. Potentially, you could lose all of the money you have invested. The stock exchange is highly volatile and can be difficult to predict.
Before making any sort of investment, it is crucial that you are completely aware of the worst-case scenario in any investment decision you choose to make.
| RECOMMENDED TRADING COURSE | REVIEW | VISIT |
| --- | --- | --- |
| | #1 Forex, Crypto and Stocks trading course. Ranked most comprehensive by Investopedia and Best by Benzinga. Free to Try! | |
Conclusion
Investment Newsletters are the best source of gaining insights of the market conditions and providing the right path towards profitable investments. This is not only important for new investors in the financial market but existing investors can also increase their profits by developing a high-growth portfolio.
For this reason, we have compiled the list of the best newsletter options that are available for both novice as well as seasoned investors. There are multiple choices available online all claiming to provide the most cost-effective investment advice however, the top three newsletters which are The Motley Fool Stock Advisor, The Motley Fool Rule Breakers and Trade Ideas (Strength Alerts) have an edge over other newsletters. This is due to their vast experience, lucrative expert advisors, strong investor's community and productive investment analysis.
Other options in our best investment newsletter list are also worthy of subscription such as Seeking Alpha, Mindful Trader, and Bloomberg Businessweek.The latest analysis and expert advice given on stocks and other investment options keeps investors up-to-date of the latest market trends and supports in building a remunerative investment portfolio.
As all investors have different investment preferences and trading styles therefore, it is also advisable to do one's own research along with relying on the newsletter's information. Moreover, firms that provide social networking of experienced investors and financial advisors present more diverse investment information than just the prescribed investment guide.
CLICK HERE TO GET TRADE IDEAS AT A DISCOUNTED PRICE
F.A.Q.
How What Investment Newsletters Generally Contain?
Typically, for those platforms, there is thorough research involved in looking at and analysing various trading strategies, stock prices, and other finance or trade-related content. Investing newsletters are usually
How Do You Get Started With Investment Newsletters?
When it comes to getting started with stock investing, you may wish to first get started with learning how to use equity research reports, learning about exchange-traded funds, index funds, mutual funds, etc.
In order to do this, subscribing to investment newsletters would be a brilliant move. In order to develop an aggressive portfolio in the long term, you can use a high growth investing service to conduced investing research. However, how do you get started with investment newsletters specifically?
It is a simple process to get started with investing newsletters. First, you must decide which one(s) is the most ideal for your particular situation. Then you can simply go on their platform, subscribe, and follow the instructions or guides set by the investing newsletter.
Is It A Good Idea To Follow The Advice Listed By Investment Newsletters Without Further Research?
Absolutely not. Whilst an investment newsletter would be a great source for helping you with income investing, dividend investing, etc., it is essential that you do your own research in order to actually understand and beat the market.
Whether you're interested in dividend stocks, penny stocks, or other types of individual stocks, it's incredibly important to strengthen your understanding of the particular investment you want to pursue. This is true for both new and experienced investors so that you are all able to make more informed investing decisions.
Even with low-cost investing, it is a good idea to conduct further research instead of simply reading a stock newsletter. Through further research, you could increase your average gain from each stock and better understand the intricacies of individual stocks.
It is also true that you are likely to become a lot more confident in your stock picks through understanding the reasoning behind them.
Are Investment Newsletters Worth The Time And Money?
A simple answer would be 'Yes'.
Whilst you should never use investment newsletters as the only source of information, they still provide a great deal of value and are also used by experienced Wall Street investors.
Stock newsletters can help you to learn more about, for example, growth stocks and starter stocks. They can also help you better understand financial markets and lucrative investment ideas.
Like this Article? Subscribe to Our Feed!
Wilbert is an avid researcher and is deeply passionate about finance and health. When he's not working, he writes research and review articles by doing a thorough analysis on the products based on personal experience, user reviews and feedbacks from forums, quora, reddit, trustpilot amongst others.