CIT Bank Reviews: Is CIT a Good Bank?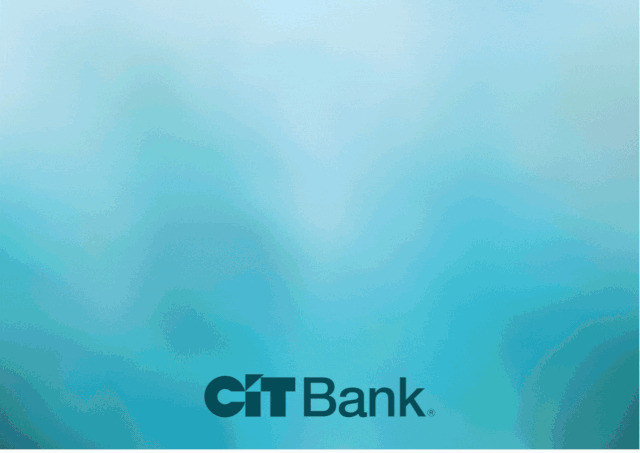 If you're looking for an online bank that is entirely digital and it's free of deposit fees, you've come to the right place. You can say goodbye to the long waiting lines at the traditional banks.
Now you can open and check all of your bank accounts and even transfer money to other banks. It is ideal if you want to have high-interest rates and low fees.
Online banks such as CIT will help you grow and manage your personal finance by just using your phone or laptop. You can open a CIT money market account, savings account, and savings connect the account with no monthly service fees.
This CIT Bank review will tell you everything you need to know about this digital financial institution and how to use it.
CIT Bank Reviews: Topic Overview
Understanding how bank accounts work can be overwhelming at first glance but we're here to help break it down so that anyone can understand it!
Check out our comprehensive review of CIT Bank's services below: -What are the benefits? -How does it compare against other banks? -What are the Pros and Cons -Who is it best for?
Everything you need to know about CIT Bank in one place. We've got the details for you.
What is CIT?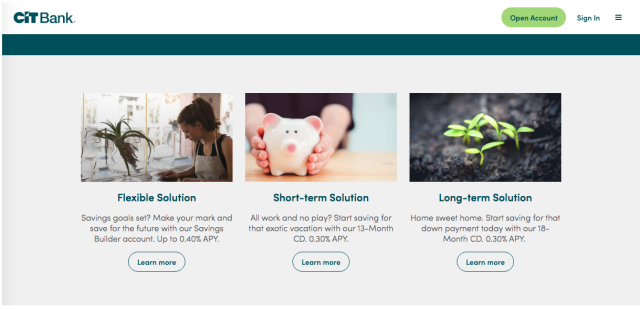 CIT Bank is an online banking solution that offers incredible benefits that traditional banks aren't able to. What makes this type of banking different from the rest is the fact that it doesn't have any branches, and everything is digitalized.
This bank provides a minimum opening deposit to open and maintain an account. The low minimum opening deposit is accompanied by high yield savings generated by simply having those accounts open.
For example, you can open a savings account with a minimum balance and still have high profits. You can simply deposit a minimum balance of $100 and open a CIT savings account.
CIT Bank compares to other banks by having the same, if not better, features than those standard ones. And, unlike other banks' ATM fees, here you don't have any.
You can withdraw your APY CIT Bank savings at any ATM, and you'll get up to $30 reimbursements. This bank is perfect if you struggle with student loans and other auto loans you typically can't pay off in traditional banking institutions.
How does CIT work?
CIT bank offers numerous products and services to its future clients. For starters, the clients have the option to check all of their subscribed banking products. The eChecking account service is designed to allow its users to check the checking account at any given time of day.
What's also great about this service is that users can simultaneously earn interest. For example, if they have a balance that exceeds $25,000, they can earn 0.25% APY. This goes up if the balance is much higher and opposite.
The second on the list is the savings account. The savings on the top are available in the form of a savings builder account. To obtain a savings builder account, you must fulfill these two criteria: have a balance of more than $25,000 and deposit $100 each month.
The money market account is another incredible service CIT Bank proposes. This option earns you around 0,45% APY interest. What's great about this money market account is the fact that no matter how much you deposit, you'll still earn this same rate.
For an online banking solution, CIT gives the highest competitive interest rates with a minimum opening deposit. You can access your money at any ATM network, and you'll still get a refund for the money the ATM has taken from you.
What are the Features of CIT Banking?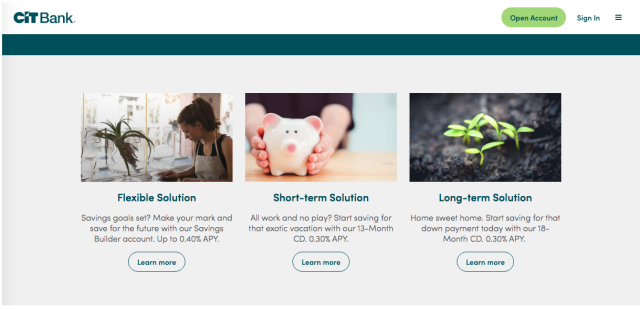 There are several benefits and features CIT Banks offers to its clients.
Savings builder account
Money market account
Checking accounts
CIT Bank CD rates
Savings accounts
Here the main goal is to offer a highly competitive yield. To get to the top-tier APY, you have to put each month a deposit of $100. And if that doesn't work for you, you can put $25,000 into your account and keep that money untouched.
What's great about this feature is that there are no fees you have to pay each month.
Money market accounts
The earnings you put in this type of investment are also very high and competitive. There are no requirements for these types of account balances. It is an excellent option if you want to open an external bank account where you can keep your savings safe.
These money market accounts come with no monthly fees, and you have to have a minimum balance of $100.
Checking accounts
This CIT Bank Echecking account offers you the ability to get to the high levels of APYs. And, just like the CIT money market account, all you need to do is have a minimum deposit of $100.
You can use an out-of-network ATM, and that comes with no external fees.
CIT Bank CD rates
This is an excellent new product that offers one of the highest interest rates. It comes in a variety of terms and has very competitive earnings. To open standard types of C.D.s, you have to have a minimum balance of $1000.
Aside from the most common features, CIT Bank grants multiple other elements that might not be familiar to you for an online bank.
CIT Bank Mortgage
There are several loans you can choose from in this mortgage package. You can search for the mortgage rates on the OneWest Bank website.
These mortgages include jumbos, although they might seem that they have pretty low rates (if compared to other lenders). However, this is due to the fact that the CID online bank offers discount points anyone can obtain to achieve those raters.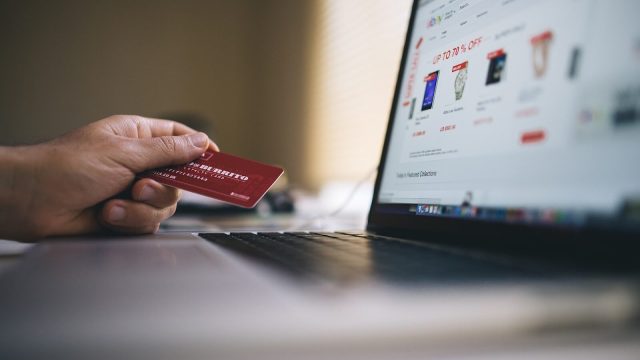 How much does CIT Cost?
| CIT Bank Accounts | Monthly Fees | Waiver Criteria | Minimum Deposit Amount |
| --- | --- | --- | --- |
| Savings builder account | $0 | N/A | $100 |
| Money market account | $0 | N/A | $100 |
| Checking account | $0 | N/A | $100 |
| CD Rates | $0 | N/A | $1000 |
Click Here to Open CIT Checking or Saving Accounts Today to Get Their Latest Deals!
Who is CIT Best For?
CIT Bank is designed for people who want to put an end to the long and excruciating waiting lines at traditional bank institutions.
It's made to help you check multiple bank accounts and even open such. And all that comes with absolutely no fees.
Once you set up your savings builder account and checking account, you can earn a highly competitive rate. You can even open a checking account that will monthly refund your ATM fees.
Another great product if you're this type of a digital person is the Certificate of Deposit. This product is designed to provide the customer with a premium interest rate if the customer agrees to leave some deposit.
And, unlike other banks, it keeps your bank account and personal loans safe and sound.
They are a great alternative to stocks if your primary interest is safety. What this means is that what you deposit can be safely returned to you with no complications.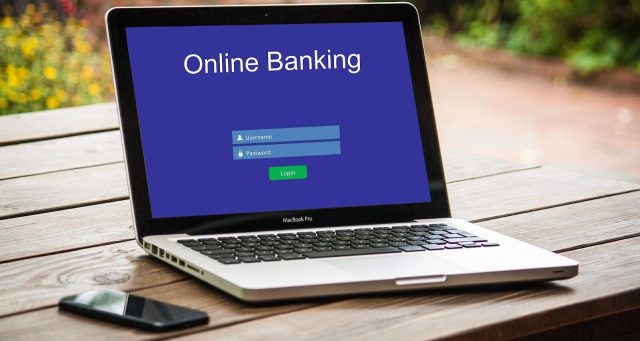 CIT Pros and Cons
✅ PROS
▶ Custodial Accounts
This is the type of account that you open up for your child. You start by opening the account in your child's name. Then, until the child turns eighteen, you control everything.
This type of account is beneficial because there are no limits on how much you can deposit.

▶ CD Accounts ( Certificates of Deposit)
This is the type of account that offers to maximize the growth of your savings. There are several types of C.D.s such as jumbo CDs, No-Penalty CDs,  Ramp Up C.D.s, and Term C.D.s.

▶ FDIC Insured
The deposit insurance of the CIT Bank is provided by the FDIC ( Federal Deposit Insurance Corporation). This helps in securing and checking accounts, cit bank savings, and online savings account.

▶ Competitive Rates
The APY rate in this bank is one of the highest among other traditional financial institutions. It has an interest rate of up to 0.55 %. When a person opens online savings accounts, they can earn a 0.548 percent annual percentage yield (APY) from the first day of evaluation.
🚫 CONS
✖ No ATMs
The CIT Bank is entirely based on online banking, which means that it has no branches. However, if you happen to have ATM fees, CIT refunds up to $30 each month.

✖ Limited Accounts
There is a small range of options they can choose to set up an account for each person. For example, they can set up only two savings accounts, one money market account, and one checking account.

CIT Compare to other Banks
| Bank | Minimum Deposit | Monthly Fee | Savings APY | Overdraft | Number of Branches |
| --- | --- | --- | --- | --- | --- |
| CIT Bank | $100 | $0 | 0.50% | $34 | N/A |
| CitiBank | $0 | $25 | 0.04%-0.15% | $34 | over 2,649 branches worldwide |
| Wells Fargo | $25 | $10 | 0.01% | $35 | 5,200 branches |
| Chime | $0 | $0 | 0.50%  | $34 | N/A |
CIT vs. CitiBank
Unlike CitiBank, CIT Bank offers far more benefits for their clients to use. For example, the best feature of CIT virtual bank has no fees when it comes to domestic and foreign ATM withdrawals. This means that it can return up to $30 your local ATM or bank takes from you.
When it comes to fees, CIT Bank has none. Because it is an entirely virtual bank, you get no charged fees as CitiBank does.
CIT Bank FDIC insurance is yet another feature Citibank does not have. Because CIT Bank has no credit cards, it is far more secure because it doesn't deal with these types of risky behaviors.
Not having credit cards sometimes might seem like a disadvantage for CIT Bank. However, this might be a better alternative as you can access all your accounts and personal finance by just using your phone or computer.
CIT Bank has no monthly maintenance fees, so you can freely create multiple types of accounts. On the other hand, CitiBank is known for charging you for just having an account in the first place.
CIT vs. Wells Fargo
What makes CIT better than Wells Fargo is the fact that it has far higher interest rates than Wells Fargo. It also has incredibly high CD rates, which come in several types.
Unlike Wells Fargo, CIT Bank has no monthly fees for opening and keeping an account. This means that you won't have to pay anything to maintain the accounts you open.
Wells Fargo has limited CD options available. It has four CD account types, and you can open them for $2,500. Wells Fargo even has regular monthly fees that vary from $10-$30.
The interests in Wells Fargo have very low competitiveness and don't pay up in the long run. You can open money market accounts, savings builder accounts for $25, and you might need to pay more money to earn a higher interest.
>>Read more About Wells Fargo Banking Reviews: Is Wells Fargo a Good Bank?
CIT vs. Chime
CIT, like Chime, is an online banking system that, although quite similar, offers multiple better features. The most prominent feature is ATM reimbursements.
When using ay ATM service, you will get up to $30 reimbursements from CIT itself. This means that no matter which ATM you use, you'll always get a refund, which Chime doesn't offer.
Both Chime and CIT Bank have very low fees and charges. However, CIT Bank is a much better option if you want to withdraw money both internationally and domestically, as it doesn't have a debit card. This cuts down on taxed and other financial charges.
What makes CIT Bank better than Chime is that it has much better customer service and provides you with opening and maintaining accounts with minimum balance even.
CIT is a high yield savings account that will make sure to keep your personal loans safe and easily accessible through a mobile app. You can view your transaction history with minimum service fees.
>>Read more About Chime Banking Reviews: Is Chime a Good Bank?
Conclusion: Is CIT a Good Bank?
CIT Bank is an online-only bank that offers incredible benefits to its customers, unlike other online banks.
What makes this bank incredible is the fact that it offers online banking with no ATM fees. This means that it doesn't charge out-of-network ATM money withdrawals.
It also provides you with zero fees if you happen not to have the minimum amount of deposit requirements. What this means is that if you don't meet the minimum account requirements each month, you don't have to pay any fees at all.
It is an excellent option if you want to access your bank record easily, withdraw funds and quickly transfer funds. Not only that but it's perfect if you struggle with student loans as well as other loans.
You can never go wrong with CIT banking! Your personal finance now can be easy, and you can save money in no time.
If you're not sure whether this bank is good for you, you can check another CIT bank review that will help you make up your mind.
CIT FAQs
What is CIT Bank Money Market Account?
You can easily access all your funds and investments without any monthly fees with the Money Market account.
Not only that, but you can also earn more than 5x on the national average and make fast transactions by using the mobile app.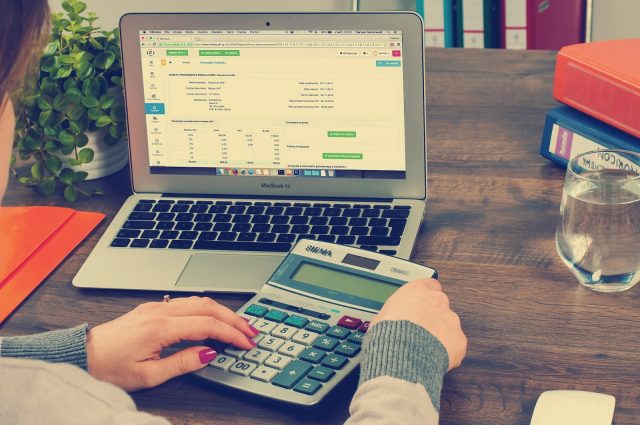 Who is CIT Bank owned by?
CIT Bank is an online banking system that is considered to be a part of CIT Bank, N.A., which is the main subdivision of the company CIT Group. The CIT Group Inc was formed in 1908, and later in 2009, CIT Bank branched out from the business.
Is CIT Bank same as Citibank?
The CIT bank is different from Citibank. These two banks are different because the CIT bank advances higher interest rates by doing only online business.
On the other hand, Citibank makes sure to give full-service banking products and simultaneously give access to ATMs that have no fees. You can open a CIT Bank account with no fees because it is automated telephone banking.
There are no physical branch locations, but you'll get reimbursement for using another ATM network to withdraw your money.
What type of bank is CIT Bank?
A CIT bank is the type of bank meant for people who want to access their savings account at any time of the day with a simple click on their phone.
An online bank offers high yield savings accounts by forcing you to deposit $100 monthly to get to the top APY.
Click Here to Open CIT Checking or Saving Accounts Today to Get Their Latest Deals!