The Forex Trading Coach Review 2023 By Dumb Little Man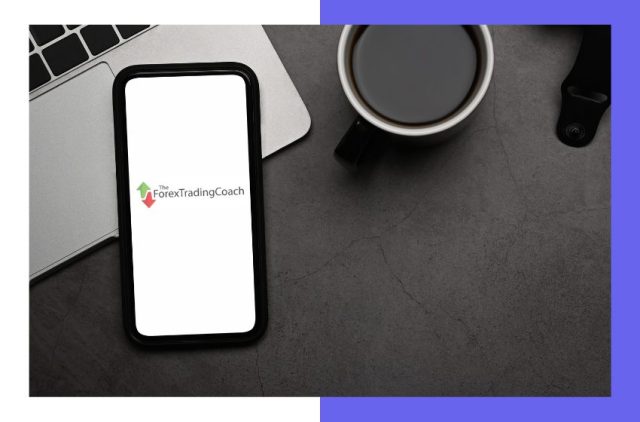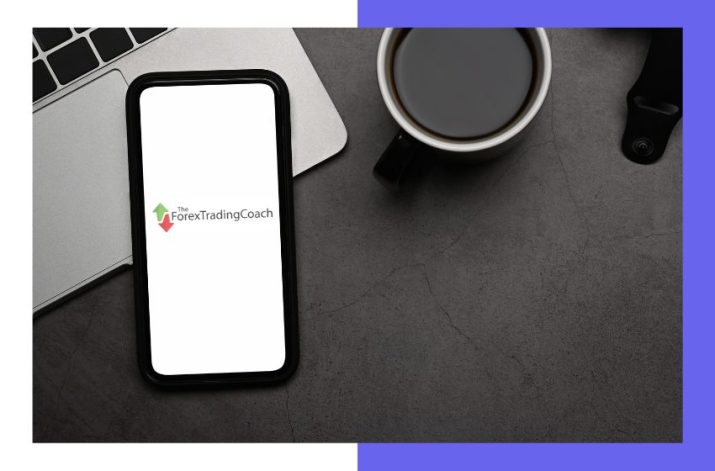 The landscape of financial markets, with its vast areas like Forex, cryptocurrency, and stocks, has drawn increasing interest over the years. As more individuals venture into trading, there's a growing demand for educational resources to guide them.
One platform addressing this need is The Forex Trading Coach, founded by Andrew Mitchem and headquartered in Nelson, New Zealand. This platform promises a distinct approach to financial trading education.
The Forex Trading Coach review by Dumb Little Man aims to illuminate this educational hub's offerings, strengths, and potential limitations. We will also touch upon pricing, user feedback, and other pivotal aspects.
We hope to provide you with a well-rounded understanding by merging expert assessments with authentic trader feedback. At the end of this review, you should be well-equipped to decide if The Forex Trading Coach aligns with your trading educational needs.
What is The Forex Trading Coach

The Forex Trading Coach is an online platform offering training for those eager to learn forex trading. Designed for novices and seasoned traders, it provides tools, resources, and support tailored to meet trading Forex objectives.
Steered by the expertise of Andrew Mitchem, this platform focuses on equipping a Forex trader with the requisite skills to become a successful trader. With a blend of foundational concepts and advanced strategies, it promises a holistic educational experience.
A standout claim of Andrew Mitchem's course is its efficient approach. The Forex Trading Coach website claims that by adhering to his strategy, traders can reportedly become consistently profitable trader, dedicating just 30 minutes to trading.
[wptb id="128928" not found ]
How Does The Forex Trading Coach Work?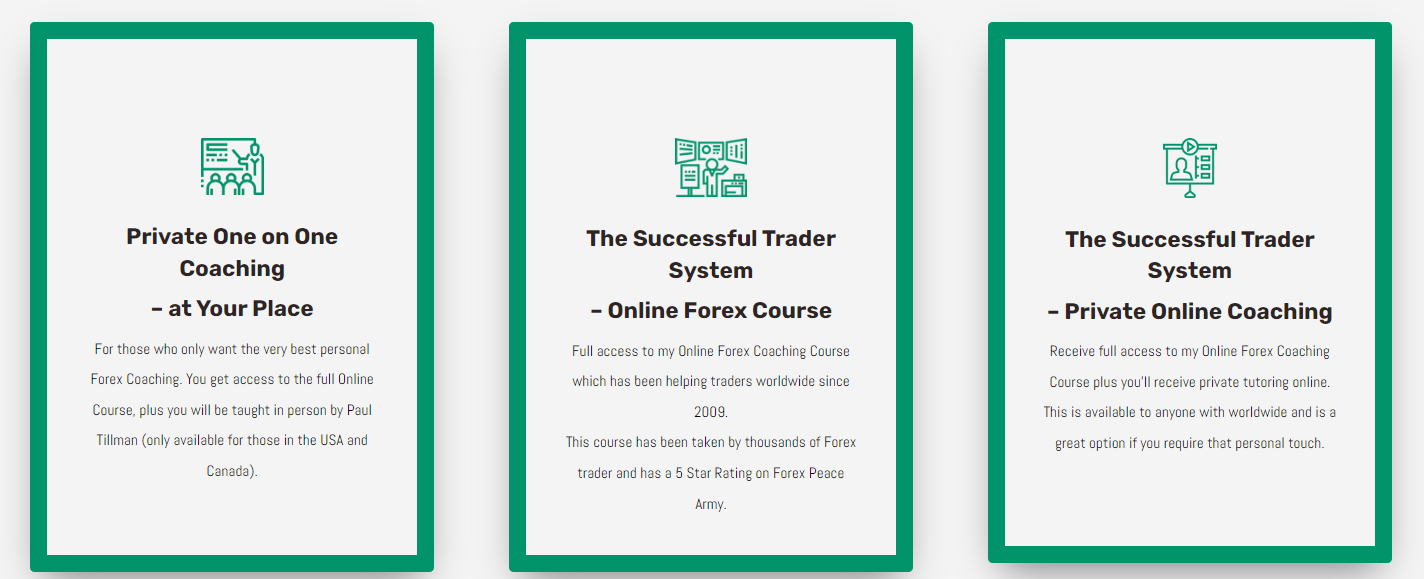 When the team at Dumb Little Man explored The Forex Trading Coach, they found two primary offerings: the Online Video Course and the One-on-One Coaching Program.
Mitchem structured the Online Video Course as a self-directed training featuring over 200 videos. These videos comprehensively tackle how to trade Forex, technical analysis, trading psychology, and risk management.
Contrastingly, the One-on-One Coaching Program offers a more personalized touch. Enrollees get a dedicated coach to guide them through their trading journey. This package encompasses 12 months of tailored coaching, weekly individualized sessions, access to the Online Video Course, and continued support from the platform's team.
The Forex Trading Coach Pros and Cons
Pros
Frequent live sessions with the platform's coach
Precise content emphasizing a specific trading approach
Trade copier service is available
Cons
Webinar timings may not favor all global participants
Price can be prohibitive to potential students
It does not guarantee success
Benefits of Learning with The Forex Trading Coach

Comprehensive Training Material
Dumb Little Man found that The Forex Trading Coach provides extensive educational content suitable for every trading proficiency level. With content touching upon areas from technical and fundamental analysis to risk management and trading psychology, Andrew Mitchem's straightforward and clear teaching ensures that even those new to trading can quickly grasp the concepts.
Live Trading Webinars and Forum
The platform offers members access to live trading webinars, with Andrew Mitchem sharing his screen and offering real-time analysis of potential trades. This direct peek into a pro's decision-making is invaluable. The addition of a forum enhances the community feeling, giving traders a space to discuss, question, and learn collectively.
Emphasis on Risk Management
Andrew's repeated stress on risk management in his teachings is noteworthy. He shares actionable strategies for setting stop-loss orders, managing trade sizes, and conserving capital. Such an approach not only encourages discipline but also reduces potential downsides.
Personalized Coaching and Support
What differentiates The Forex Trading Coach from other online forex educators is its one-on-one coaching sessions, helmed by Andrew Mitchem. Such personalized interactions allow learners to get feedback tailored to their unique trading strategies, enhancing their learning trajectory.
Trade Copier Service
An exciting feature is the trade copier service, which allows traders to mirror Andrew Mitchem's trades directly. Especially useful for beginners or those who'd like a passive trading experience, this tool, like all trading tools, does come with inherent risks, and users should proceed with awareness.
Availability and Accessibility
The online nature of The Forex Trading Coach ensures its accessibility around the clock, catering to the global audience. Whether video modules or webinars, traders can engage when it suits them best, fostering continuous learning and skill development.
Suitability for Various Trading Styles
Instead of pushing a single trading style, The Forex Trading Coach offers tools for various trading styles, from scalping to swing trading. This flexibility allows traders to find and hone a strategy that feels right for them.
How Much Does The Forex Trading Coach Cost?
The Online Video Course comes with a price tag of $2,497. With this, purchasers get lifelong access to instructional videos, a tailored trading plan, and continued assistance from The Forex Trading Coach's dedicated team.
Alternatively, the One-on-One Coaching Program costs $7,997. This package encompasses 12 months of specialized coaching, weekly individual sessions with a coach, access to the previously mentioned Online Video Course, and consistent platform team support.
Who is The Forex Trading Coach Best For?
The Forex Trading Coach is geared towards individuals keen on diving into forex trading, whether complete novices or seasoned traders. The platform's comprehensive materials, from basic concepts to advanced strategies, provide ample learning opportunities for those at different stages of their trading journey.
Moreover, those seeking personalized guidance will benefit from the one-on-one coaching sessions, ensuring tailored learning and feedback.
However, traders looking for consistently profitable trade signals may need to weigh the platform's offerings with its price point.
The Forex Trading Coach Customer Reviews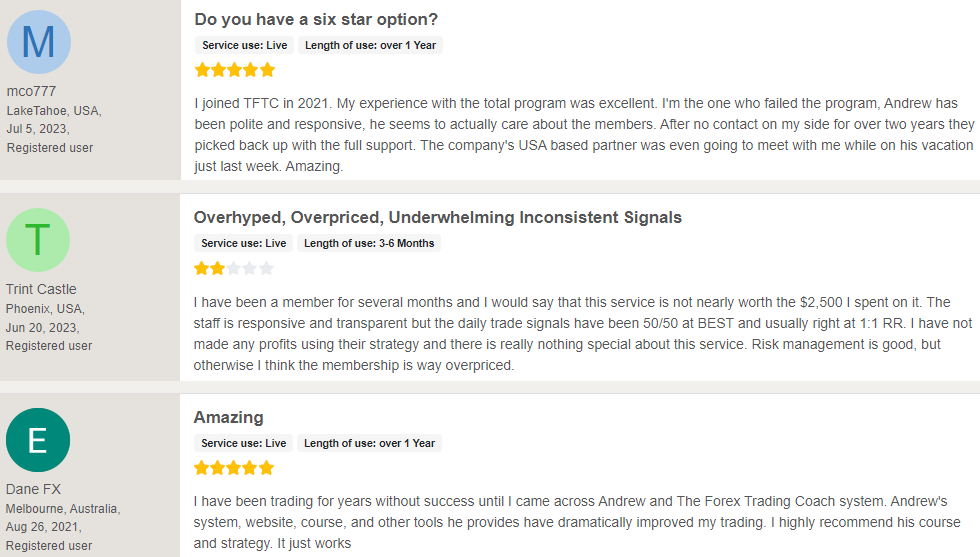 Customers' feedback on The Forex Trading Coach from Forex Peace Army presents a varied perspective. Some users who joined the platform in the past commend Andrew for his responsiveness and genuine concern for members, highlighting the outstanding support even after years of inactivity.
However, others feel the service might not justify its cost, mentioning that while the staff is responsive and risk management is solid, the daily trade signals could have been more consistent, leading to a lack of profitability.
Yet, some found immense value in Andrew's system and tools, stating that their trading significantly improved upon joining, and they wholeheartedly recommend the course.
What is a Good Alternative to The Forex Trading Coach?
Asia Forex Mentor – Rated Best Comprehensive Course Offering by Investopedia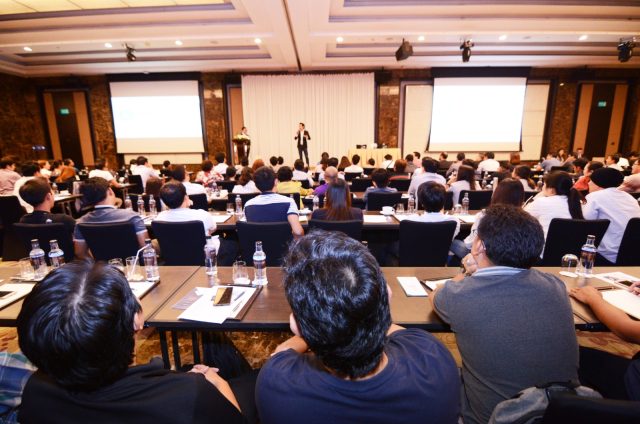 If you're set on mastering the nuances of trading across diverse markets like Forex, crypto, stocks, and beyond, Asia Forex Mentor is a standout choice, clearly outpacing competitors like the Forex Trading Coach.
From our perspective at Dumb Little Man, it's evident that Asia Forex Mentor provides a more holistic and encompassing training experience, extending its expertise beyond just Forex trading.
Ezekiel Chew, the brain behind Asia Forex Mentor, is not just any financial educator. He's a highly respected figure in the trading realm, having enriched thousands of individual traders and significant financial institutions with his expertise since 2008.
His carefully crafted 5-step program offers an in-depth exploration of the financial markets, harnessing technical and fundamental analysis. This program gives traders a powerful lens to enhance their trading acumen and significantly boost their earnings.
At the heart of Asia Forex Mentor is the One Core Program, a testament to Ezekiel's commitment to uplifting the trading community. This program doesn't cater to individual traders; it's also a resource for professionals from prop trading firms, fund management entities, and banks.
Crafted with over two decades of trading insights, the One Core Program is a holistic package, transcending just Forex to embrace stocks, indices, crypto, commodities, and essentially any instrument with a chart.
What sets this course apart is its grounding in mathematical probability, offering traders the unique ability to weigh risks and rewards precisely. You can check our full Asia Forex Mentor review if you want to learn more about their course offerings.
Asia Forex Mentor Members' Testimonials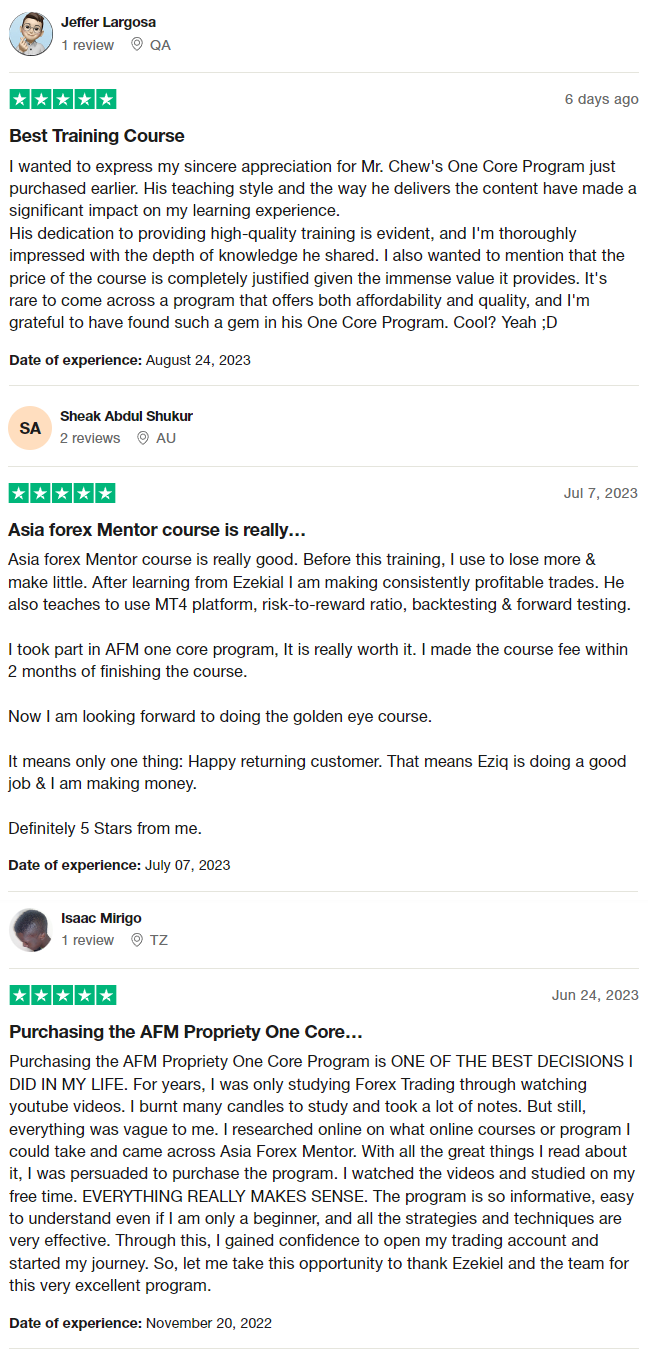 Members of the Asia Forex Mentor program have consistently showered it with praise, emphasizing its tangible impact on their trading journeys. Many students highlight Ezekiel's One Core Program for its blend of affordability and unparalleled quality, with many lauding Ezekiel's comprehensive teaching approach and the depth of knowledge he imparts.
Whether they started as novices losing money or were dabbling with fragmented learning from sources like YouTube, members have found clarity and effective strategies within this course.
Many have recouped their investment within months, further attesting to the program's real-world value. Across the board, the sentiment is clear: joining Asia Forex Mentor ranks among the best decisions they've made, and Ezekiel and his team are consistently thanked for offering such an invaluable resource.
Conclusion: The Forex Trading Coach Review
Our team concludes that The Forex Trading Coach is a decent trading course. It offers a range of resources, from video courses to one-on-one coaching sessions, aiming to cater to beginners and seasoned traders.
However, the price tag on its offerings can be a deterrent for many, especially considering the sheer volume of information that can sometimes feel overwhelming for newcomers.
Moreover, while The Forex Trading Coach certainly has its merits, alternatives like Asia Forex Mentor offer a more holistic and versatile approach to trading education.
By encompassing multiple trading vehicles beyond just Forex and integrating a math-backed strategy, Asia Forex Mentor is a potentially more valuable resource for those keen on diving deep into the trading world.
[wptb id="128927" not found ]
The Forex Trading Coach Review FAQs
How much does The Forex Trading Coach cost?
The Online Video Course costs $2,497, while the One-on-One Coaching Program is priced at $7,997, offering extensive coaching sessions and support.
Who leads The Forex Trading Coach program?
The program is spearheaded by Andrew Mitchem, who brings his expertise and strategies to the platform.
Are there any downsides to The Forex Trading Coach?
Yes, the program can be pricey, and the vast amount of information might be an overload for beginners.