13 Best Day Trading Courses in 2023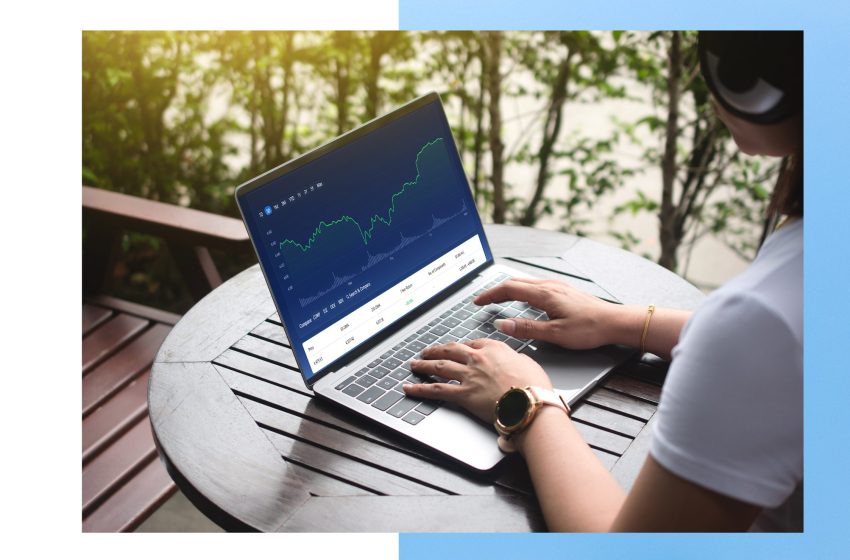 Whether you're a new or experienced trader, it's often best to arm yourself with a solid education before you try out day trading. Luckily, there are hundreds of resources online that can help start your day trading career on the right foot. Here, we've reviewed the 13 best day trading courses in 2023.
You benefit from learning directly from the pros when you enrol in a high-quality day trading course because you will be exposed to profitable trading strategies and techniques for risk management in your stock portfolio. Having access to mentors and a community of like-minded individuals also provides the additional knowledge and support that new traders require to keep moving forward.
In addition to furnishing you with essential trading information right from the comfort of your home, online day trading courses also provide important ongoing education to help keep you on top of changing market situations.
What Is Day Trading?
Day trading is a relatively common trading strategy of trading financial instruments within a single day, intending to make marginal profits from small price movements.
This strategy is very risky and used to be the sole preserve of professionals with cutting-edge tools. On the flip side, those small profits made from day trading can accumulate into something significant over an extended period.
Typically, day traders start and close a deal every day, never holding on to trade overnight. To make money, day traders rely heavily on stock or market fluctuations. They prefer stocks that fluctuate a lot throughout the day, regardless of the reason: a good or bad earnings report, positive or negative news, or simply market sentiment. They also prefer highly liquid stocks, which allow them to enter and exit positions without significantly affecting the stock's price.
When it comes to the choice of broker to trade with, day traders also need to be vigilant, as not all brokers can execute the high volume of trades typically made by day traders. However, some have been designed specifically to accommodate day trading.
Trading courses are beneficial if you can find someone who trades for a living and isn't simply looking for a quick buck. By investing in a reputable trading course, you may drastically shorten your learning curve and start making money much sooner. Here are the 13 best day trading courses for you:
Top 13 Best Day Trading Courses 
Asia Forex Mentor: One Core Program
Bear Bull Traders
Warrior Trading
The Trading Masterclass by 2nd skies
Bullish Bears
Investors Underground
Timothy Sikes Trading Platform
Market Rebellion
Zen Trading Strategies
Bulls on Wall Street
Thomas Kralow
eToro
Udemy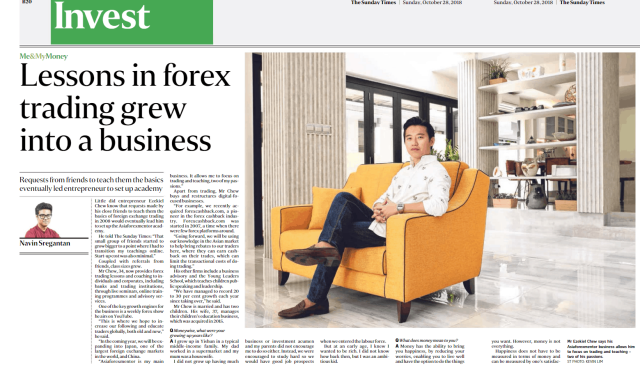 What makes this course so unique? For one thing, it's comprehensiveness.
Asia Forex Mentor's One Core Program is as comprehensive as they come, with over 26 courses filled with detailed examples and peppered with insights from Ezekiel Chew's personal experiences, making it ideal for newbies looking to get into the forex trading market. AFM's One Core Program is also appealing to gurus, financial and trading organizations, and others who want to use Chew's tactics to imitate his success.
Asia Forex Mentor's creator, Ezekiel Chew, is a well-known trading expert who is frequently invited to speak at conferences and panels throughout the world. "The man behind the gurus," as Ezekiel is commonly referred to, is as successful as he is resourceful. He is semi-retired and gets six figures on each transaction. He now focuses on giving back to the community by teaching what he knows through his One Core Program, which is now available in a digital learning format.
Ezekiel Chew teaches retail traders how to trade the forex market in this course, which is part of the One Core curriculum, an online training program. Trade management, chart reading, trading skill development, trading strategy formulation, risk-reward ratio components, and his MT4 setup are all covered.
The best part of his trading course is that it is based on mathematical probability. Students can clearly see that by applying his system, they will make money in trading. That is also the reason why the one core program is ranked as the best day trading course around.
The full program is available at $940. Considering the immense value provided in the program and the easy learn the way that is taught by Ezekiel. The One Core Program is undervalued in our opinion as we have seen people charging way more for things that probably don't work in the real world.
Apart from that, traders have the opportunity to first get the sense of how Ezekiel teaches and why his system is profitable through his free 5 part training series.
2. Bear Bull Traders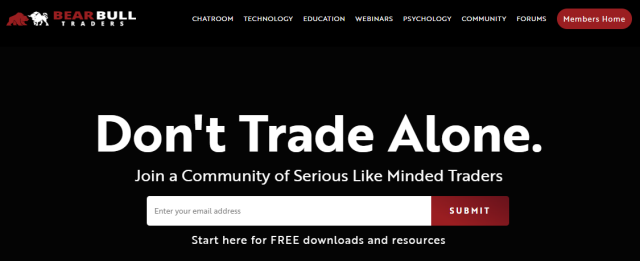 What's special about Bear Bull Traders? Apart from the fact that day traders of all levels of skill can become better by taking this course, there's also a psychological aspect to it, which is a win whichever way we look at it.
Taught by Andrew Aziz, who is a renowned, world-class trader in his own right, this course offers almost unlimited access to trading tools, mentoring from a master of the trade, a vibrant online community, and a comprehensive course outline, in one bite-sized package. Add in the fact that it's all offered at a price that won't leave a hole in your pocket and this course becomes more enticing.
Day traders of all skill and experience levels can track their progress and record noticeable improvements during the duration of this course and even beyond. The course's combination of multiple resources, guidance from a successful and accomplished trading expert, and access to a community of like-minded traders are winning, and it works particularly well in this instance.
Andrew Aziz, who is also a best-selling author, includes highly-rated strategies discussed in his books in this course. Aziz established Bear Bull Traders in 2016 and the course introduces strategy development to subscribers while also coaching them through all the aspects of the trading process.
The program offers weekly webinars, downloadable resources, a real-time trading simulator, and a prominent online community of active day traders in addition to its extensive video library. Traders can join chat rooms for day trading, swing trading, options trading, forex trading, and the psychology of trading. Andrew Aziz is also one of the experienced mentors available to members.
The course is available for $99 a month, or $1,999 for a lifetime subscription. The lifetime subscription fee can be spread over 12 months, and you can try out the course free for seven days before deciding to commit.
3. Warrior Trading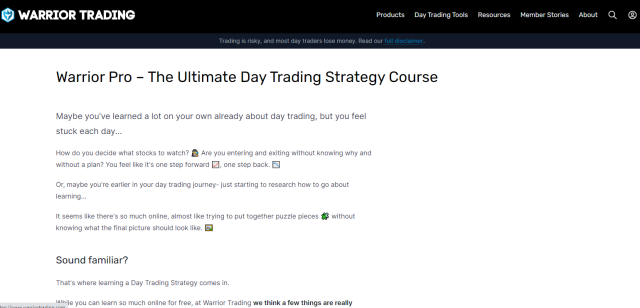 Warrior Trading is extremely highly rated and popular, with a committed group of dedicated followers, and it's easy to see why. The course offers comprehensive learning packages for traders of all skill and experience levels.
For day traders that are just starting, the Warrior Starter class provides core starter courses for a month, access to vibrant chat rooms, and real-time trading simulators. This choice is ideal for people on a tight budget who want to learn about financial markets, how to interpret trading accounts, a basic introduction to fundamental and technical analysis, and more.
Members who want to advance their skills get to move on to Warrior Pro. Students at this level unlock access to Warrior Trading's core trading system, which brings with it perks such as group mentoring six times every week, a real-time trading simulator, access to the Masterclass suite of courses, and access to the Warrior Trading chat room. Pro traders also get access to courses including the starter course, day trading course, advanced large-cap course, swing trading course, options course, and cryptocurrency course.
Ross Cameron, the creator of the Warrior Trading course, also has an exclusive Warrior Inner Circle, which members that are aspiring to take their skills a notch above can apply for. Apart from all the advantages offered in the other groups, members of this group also enjoy highly personal mentoring sessions for one hour each. The Warrior Starter course costs $997, while the Warrior Pro course, which lasts for a duration of 90 days, will set you back about $1497. Access to both courses can be renewed monthly after their culmination for a fixed price of $197 each.
4. The Trading Masterclass by 2nd Skies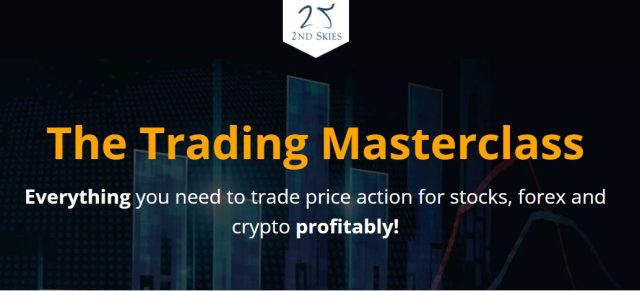 With The Trading Masterclass, Chris Capre and 2ndskiesforex stray from established models set down by other day trading courses. Rather than selling a magical trading approach, Capre's ultimate goal for this course, as revealed by him, is to encourage his clients to change their thinking.
The Trading Masterclass can be extremely beneficial to newcomers who wish to record an exponential increase in their trading skills, along with an improvement in their trading mentality. The course is broken down into three sections, and you will learn how to trade bonds, CFDs, equities, indices, FX, and stocks. But first, you'll get a thorough introduction to currency trading, replete with a comprehensive glossary of trading terms.
The day trading course is fairly thorough, and the assistance is excellent. Chris Capre and his assistant Sascha Gogolin are very approachable, and they go to great lengths to answer questions and help you out if you get stuck. Before you begin your trading day, Chris and Sascha provide weekly webinars in which they examine market trends and provide pre-market analysis. Members can also learn how to replicate Capre's trades and have access to unique video tutorials.
The majority of the course materials are video-based, and the videos and webinars are recorded so you may watch them at your leisure. Members can also take advantage of live, continuing mentoring. Non-members can watch over 50 free videos on the platform. Pre-market analysis, live trading with Chris, weekly market analysis, live continuous mentorship, day and swing trading channels, and special video training are all available to members.
The Advance Price course ($390), the Swing Day course ($449), the Advance Traders Mindset course ($399), and the Advanced Ichimoku course ($319) are available to members. You may also get all four courses for $1407 if you buy them all at once.
5. Bullish Bears

Bullish Bears' unique selling point is that it purports to make accomplished day traders of practically anyone interested in the trade. Ordinarily, this would be a bold claim, but with this course's range of offerings including multiple learning tools and resources, live-streaming trading rooms, a very active chat room, and several other trading tools, this course somehow makes it work. For such a highly-rated, comprehensive course, the price of the entire package is more than reasonable too.
The low membership price of this course is certainly one of the reasons for its popularity (which is immense, with over 50,000 subscribers to its YouTube channel and loads of positive online reviews), but members are also lured in in their numbers by the active chat rooms found on this platform. Members on this platform are part of a highly cooperative community of day traders who are always willing to share online trading insights, along with their day trade, penny stocks, and stock market experience to other members of the forum.
The trade rooms are a learning experience in and of themselves, with live streaming of trades prepared and performed by a team of professional traders. TD Ameritrade's paper money thinkorswim demo tool allows members to put what they've learned into practice.
Bullish Bears starts by offering free trading training. The courses provide a plethora of information on how to learn stock trading in a straightforward and enjoyable manner. Basic Stock Course, Day Trading Course, Swing Trading Course, Options Trading Course, Candlesticks Course, Advanced Candlesticks Course, Thinkorswim Course, and Interactive Brokers Course are among the instruction courses available. Everyone should start with the Bullish Bears' 14-day free trial, which includes all courses, daily watch lists, chat room, live-streaming trading room, trade alerts, and other trading tools that are included in the $49 monthly subscription.
6. Investors Underground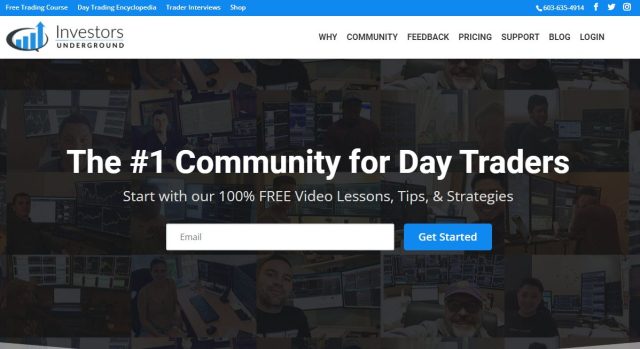 Investors Underground is a trading education platform managed by a highly successful and vastly experienced trader. It offers a myriad of trading materials for both new and established traders, but the most appealing quality of this course is its highly popular day trading chat rooms.
The platform was established by Nathan Michaud in 2008. Before that, Michaud was already an accomplished trader with a solid profile and portfolio, in part thanks to his long association with Profit.ly.
The main feature of the program when it first began was a chat room where traders could swap ideas all day long. Investors Underground has grown in popularity since then, and it now serves as an "all-in-one" trading education resource. Daily watch lists, video tutorials, day trading courses, webinars, chat rooms, and other resources are available to members. Students on the platform with questions on particular aspects of the course can reach out to the community of traders on the platform for assistance, or consult with one of the moderators in the chat room.
Members can choose between two subscription plans. With the Standard subscription plan, you get access to a wide range of education and research materials including webinars and stock trading videos. You also get access to chat rooms. This plan costs $197 per month. The second plan is the Elite subscription plan which offers a lot of advanced tools and comes at a price that beginners might struggle with. Members also get access to exclusive videos along with trading insights from experienced mentors and weekly trade recap videos. The Elite subscription plan is priced at $297 per month.
7. Timothy Sikes Trading Platform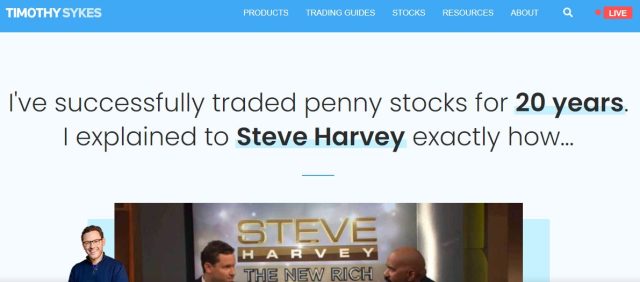 Timothy Sikes is definitely successful and he doesn't hesitate to show it. Boasting one of the most noticeable portfolios on Profit.ly, Sikes is an accomplished trader, and just as important, an excellent mentor.
Sikes' marketing strategy is a bit unique, to say the least. His show does not tell approach to his accomplishments might give off "get rich quick schemes'" vibes, but he's nothing if not a straight shooter. His track record is nearly impeccable and transparent, and he boasts a long list of successful mentees.
Timothy Sikes has made his name as a penny stocks trader, and you'll be hard-pressed to find someone better at it than him. His trading strategy, known as short selling, is more nuanced than traditional buy and sell trades. He also prefers to day trade his holdings, thus he mainly trades short-term stocks.
On his platform, Tim offers a multitude of products including DVDs, watchlist subscriptions, real-time alerts, and videos. Members can choose between two plans: Tim's Alert Plan ($900 per year or $74.95 per month), and the Pennystocking Silver Plan (1,799 per year or $149.95 per month).
Membership to the Tim's Alert Plan gets you perks such as real-time SMS, email and push trade alerts and notifications, Tim's daily watchlist, and access to the platform's active chat room. On the Pennystocking Silver Plan, you get access to all the above list d advantages, plus some others such as access to the platform's archive of over 5000 videos, with more added every week by Tim.
Day traders that want to move on to the next level can also apply for the Tim Sikes Millionaire Challenge. Not all applications are typically accepted, though, and members have to pay an upfront fee. In addition, students may find it tough to combine this program with their day jobs.
8. Market Rebellion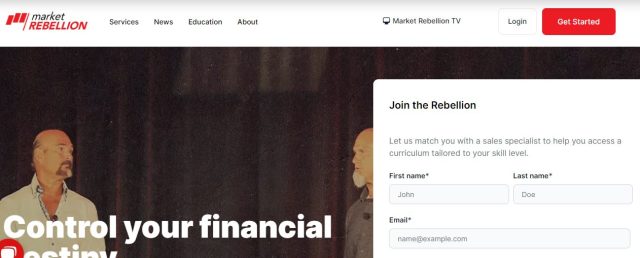 Founded in 2016 by experienced and knowledgeable options traders Jon and Pete Najarian, Market Rebellion offers in-depth trading education suitable for both beginner and experienced traders.
From novice to advanced traders, Market Rebellion provides in-depth trader education, coaching, and mentoring to help you develop the intellectual base and practical skills essential for market success. It's on par with the best training available to a professional floor trader.
Members on the platform have access to a wide range of educational products, to help traders make consistent profits on each of their trades. Beginners get access to several options courses including options theory and strategy, options application and trade adjustment, and mastering technical analysis. Advanced traders are offered courses such as unusual options activity masterclass and others. One-on-one mentoring is also available for all members.
Market Rebellion is beneficial to some option traders, particularly those who are still learning how to trade options. After completing Market Rebellion's initial courses, members can progress to the company's more advanced options trading programs.
Members on the platform also have access to innovative tools such as its Unusual Options Activity service, as well as financial news feeds and market research. The platform also offers highly personal coaching and other services suited to your specific requirements and interests.
Market Rebellion offers several products, with different price tags attached to each:
TNT Option Newsletters and Webinars- $495 per year
Time Bandits newsletters ad webinars – $495 per year
Enhanced Pro services – $1,995 per year
Unusual Options Activity service – $4,995 per year
1-on-1 trader coaching – $300 per hour
Market Rebels crypto service – $295 per year or $29.95 per month.
9. Zen Trading Strategies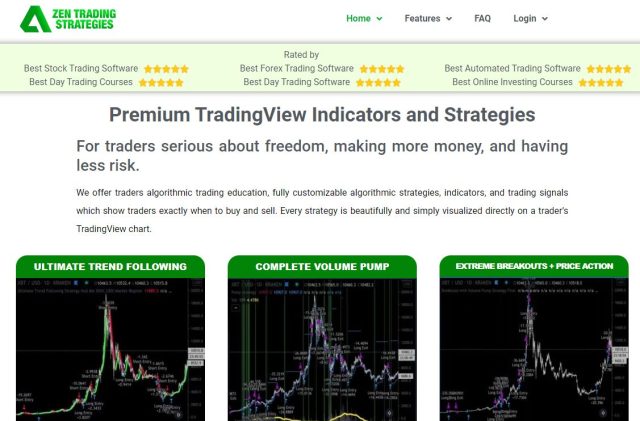 Designed for algorithmic day traders, scalpers, and even long-term investors, Zen Trading Strategies Masters Course in Automated Algorithmic Traders offers a proven method for high-frequency traders to minimize loss and maximize their chances of success while trading.
Investors can employ professionally established methods developed by a quantitative algorithmic fund that is effectively trading the markets with those same strategies with Zen Trading Strategies. Zen Trading Strategies conducts all of the grunts work for you, so all you have to do now is adapt it to your specific timeline and assets.
One unique thing about this course is that each of the four strategies outlined in this course can be tailored to individual trading styles or preferred financial markets.
For each option, you can choose between a strategy or an indicator subscription, or even both if you prefer. The strategy subscription lets you backtest and monitor the performance of your trading strategy. Then, the indicator subscription lets you build an Algo trading tool based on the strategy you developed by syncing indicators to a live exchange for automated trading.
A minor grouse with this platform is that it's only compatible with TradingView since this course's indicators and strategies have been designed as an add-on to TradingView's charts.
Apart from that, the platform is excellent. Members are offered unrestricted access to support whenever they need it, while the community's Telegram channel is another place where support and any kind of information are readily available.
Members can either pay a monthly or annual subscription fee to gain access to the strategies offered by this course, along with all the other features it boasts. The monthly charge is $67 every month, or per indicator or strategy. The annual charge is a lump sum of $599.
10. Bulls on Wall Street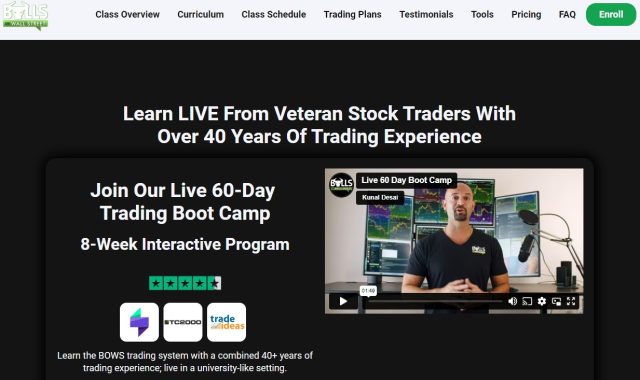 The bulls on wall street course by Kunal Desai is a platform designed to provide you with the assistance you need to start making sense of day trading. The program kicked off in 2009 as a two-fold learning platform that serves as a stepping stone for newbie traders and those struggling in their trading endeavors.
The training is categorized into two which include; "Boot Camp" and "CliqueFund". The Boot Camp is the initial stage that provides traders with the basic skills needed to embark on a profitable trading career. Whereas, the second fold, which is the CliqueFund is a broker-dealer platform that gives traders the chance to deposit into personal trading accounts. Deposit made is added to a pool of funds to create a mega trading account.
The essence of pulling funds together is to help accommodate people with trading capital less than $25,000. There is a strict regulation with account holders of less than $25,000 as you would be deprived of the chance to place more than 4-day trades per week. There are also restrictions on leverages. From our examination, bulls on wall street devise an astute procedure for bypassing those stiff requirements through the "CliqueFund" program.
The course entails; Live sessions (learning takes place live), mentorship, recaps (in case you miss any session), trading simulator, lifetime access and private student community (comprises of traders at different levels of experience which allows you to network with other traders).
Without glossing over it, the system is helpful, detailed and all-encompassing. Quite costly but it appears that the investment is worth it considering your exposure to a team of dedicated mentors working with you and a developing team of past and present students. This is considered an absolute necessity for traders who are focused on doing what it takes to succeed.
11. Thomas Kralow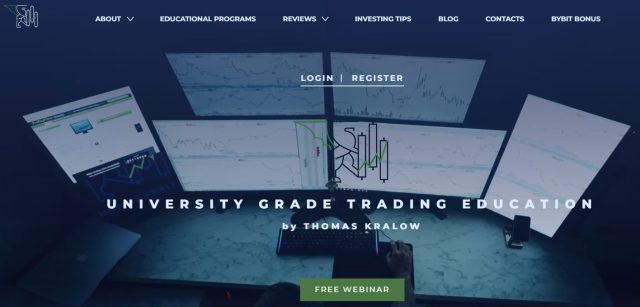 Kralow is an active day trader with more than 7 years of experience, 20K trades and $9M in trading profits. That is an average of 2.5K trades and $1.25M in profits per year. Based on his individual success, he decided to develop his own trading course to educate new traders on all that there is to know about becoming consistently successful.
The Thomas Kralow trading course is divided into two sections which is the "complete and shortened version". The complete version incorporates 14 fundamental chapters with the final exam inclusive. The shortened version is similar except for the exclusion of a chapter that covers fundamentals. The existing difference is that it is cheaper and excludes basic trading terminologies.
The 14 chapters with the final exam of the complete version include:
Effective trading
Trading psychology
Basic technical aspects of trading
Introduction to indicator trading
Important indicator trading rules
Indicator trading systems
Introduction to key level trading
Advanced aspects of key level trading
Risk and money management
Key level trading systems
Thomas Kralow personal trading strategy
Personal algorithm and Statistics
Choosing an approach
Recap
Final exam
In addition, you have 3 distinct options depending on the level of individual assistance you want. There are 3 options available – Standard, Assisted, or Assisted plus. The standard is 100% independent learning, Assisted is 60% independent learning with 40% assisted learning, while Assisted plus is 90% assisted learning with 10% independent learning which include personal support from Thomas Kralow. The price of each option increases depending on the degree of assistance delivered. By and large, the most common choice among students is the mid-level Assisted program.
Prices are categorized based on the levels of the program and choice of section. Price for standard 100% independent learning; Complete: $295/Month (for 4 Months), or $980 (One-Time Payment)/ Shortened: $270/Month (For 4 Months), or $880 (One-Time Payment). Assisted 60% Independent 40% Assisted; Complete; $695/Month (For 4 Months), or $2,480 (One-Time Payment)/ Shortened: $645/Month (For 4 Months), or $2,280 (One-Time Payment). Assisted Plus 10% Independent 90% Assisted; Complete: $4,995/Month (For 4 Months), or $16,480 (One-Time Payment)/ Shortened: $4,695/Month (For 4 Months), or $15,380 (One-Time Payment).
12. eToro

A day trading course that covers teaches various trading areas such as; forex, cryptocurrency, and stocks. the course is taught by Henry Ward who is a professional trader with 10 years of experience in trading. the is designed for traders across all levels of trading experience but with more emphasis on trading newbies.
The course delivers content on; Introduction to the financial markets and teaches you essential terms and what they represent as well as putting you through the fundamental principles of trading. The most significant attribute of the course is that it helps beginners to identify their trading personalities. introduction to trading personalities helps you to identify the kind of trader that you are and help you to determine a suitable trading style that compliments your trading personalities.
To complement the classroom-based lectures that take place in London's Canary Wharf, there is also a library of webinars and podcasts for those interested in distance learning.
13. Udemy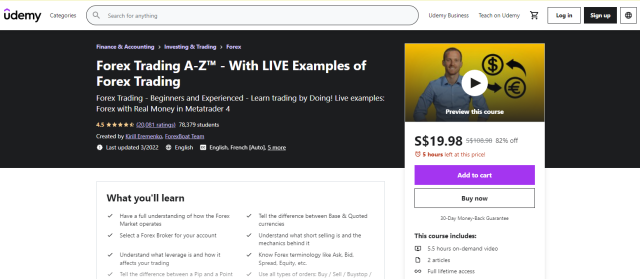 This day trading course provides you with charting tools, trading strategies, and profitable hacks needed to start your day trading career. the course would guide you on how to use technical analysis the right way for you to make a profit from your trades by simply buying low and selling high. in addition, you would learn how to trade over 16+ profitable chart patterns using the best indicators that would help you identify potential trend reversals as easy as possible.
The course package is a complete deliverable of 12 sections divided into 112 lectures and a total length of 10hrs 7mins in the time frame. course contents are as follow;
Course introduction
Day trading preparation
Technical analysis strategies for day trading
Profitable chart patterns for day trading
Conclusion
Bonus sections that come with the course are:
Day Trading and Swing Trading: Technical Analysis for Beginners
Chart Pattern Trading Fundamentals for Beginners
Candlesticks Trading Fundamentals for Beginners
Cryptocurrency Trading: Technical Analysis Basics for Beginners
Technical Analysis Fundamentals
Value Investment Fundamentals
3 FREE training Sessions for Passionate Investors
In addition, you would get 100% lifetime access to the course without restrictions and the course would be frequently updated with the latest learning resources. Also, you would be exposed to a support system involving the course instructors and the learning community as they would be available to you at any point in time that you need their services.
The course cost a sum of $109.99.
Conclusion
Determining the right day trading course from various courses available can be challenging. In the case of this writeup, we have identified the 13 best day trading courses based on factors that we deem important and should be present in a good course such as; expert mentorship, resources, support, and cost.
Overall, we rate Asia Forex Mentor as the overall winner by being the most comprehensive and practical trading program for traders who are serious to learn from one of the best in the field.  Price-wise, it may not be for everyone. But apart from the profits; if you look at the potential costs and losses it will save you, this course is definitely worth it.
FAQs
Q1: What finance course will get me familiar with day trading?
A: Just as the title of the article says, the courses discussed above are the best financial courses available in terms of day trading. All you need do is to go through them meticulously and pick whichever appeals to you most.
Q2: How much are day trading courses?
A: There is no fixed price for day trading courses as the prices vary in terms of contents, quality and duration of the lecture. judging from courses discussed in this article the least price is $74.59 and the most expensive is $2,500.
Q3: What college courses are for day trading?
A: College courses that complement day trading are; Finance/ Business Administration, Economics, Computer Science and Statistics, and Applied Mathematics, Engineering, Physics.
Q4: How much are the courses at the day trading academy?
A: There are about four courses delivered by the Day Trading Academy. the courses and their pricing includes; Stock market courses (part1 $5,000/part2 $2,000), Online stock market courses ($99 & $199 respectively), Options trading course ($129), Futures trading course ($2,997).
Q5: Who are the salespeople that sell online day trading courses?
A: Trading platforms, brokers, forex mentors, and online course platforms such as Udemy, Skillshare etc among others are people and platforms that provide sales of day trading courses.
Like this Article? Subscribe to Our Feed!
Ben is an avid analyst in the money and investment field. His expertise in the trading and investment field allows him to produce unbiased reviews based on either his personal experience or running in-depth tests on the product/services.