11 Paid Online Survey Sites To Earn Extra Money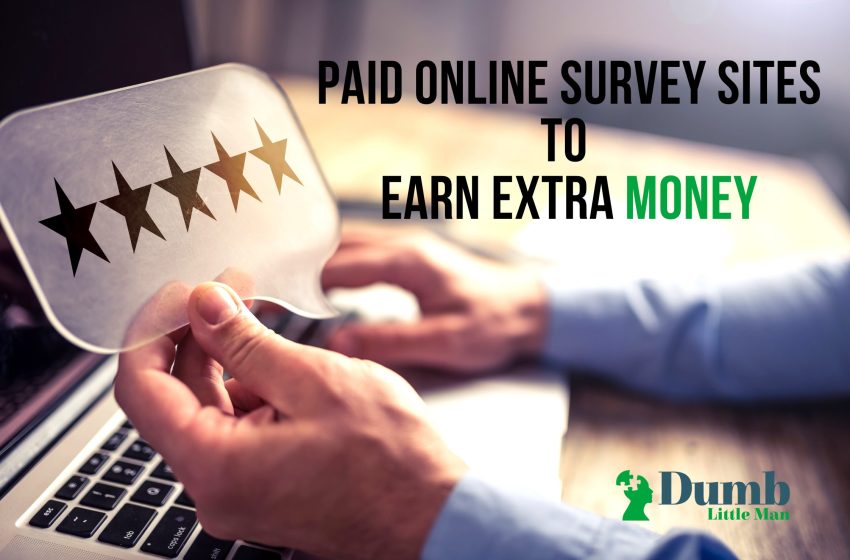 The #1 Forex Trading Course is Asia Forex Mentor
The idea of earning money online is quite trending these days and among these ideas earning money through online survey sites seems like the most straightforward task. However, it should be kept in mind that these paid online surveys may seem like a short 5-minute task, but some surveys can take as much as 15 to 20 minutes. These paid surveys can only be seen as work to earn extra cash and cannot be considered a full-time job to earn big money.
Moreover, another concern with these paid surveys is that with so many options available and numerous scammers around, it gets difficult to trust these paid survey sites and find the legit ones. In this regard, one needs to watch out for many fraudulent websites around.
Nevertheless, many reputed and legit sites offer opportunities to earn money, points, rewards, or gift cards in return for the time and valued opinions of the participants. This review will point out the highest-paying online surveys and the most legitimate survey sites to invest time on and earn some extra cash.
11 Paid Online Survey Sites To Earn Extra Money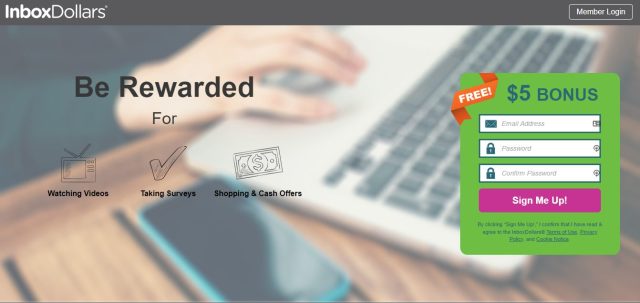 InboxDollars.com is among the legit survey sites owned by Prodege LLC, which holds a reputable position among consumer research companies. Another aspect that eliminates any concerns of this site being a scam is that the same parent company Prodege also owns many other paid survey websites like Swagbucks, credible and popular online survey sites.
One advantage of InboxDollars. Com is that it not only offers paid surveys but also features many other paid tasks such as watching videos, playing games, signing up for offers, surfing the web, etc. However, it should be noted that all these activities are not worth your time, and it is recommended that surveys are the best way to earn more money than other activities.
At any given time, ten surveys are recommended, and each survey takes 5 to 20 minutes according to its length. Moreover, with each survey, the participants earn points from 0.01 $ to 5 $ depending on the time and size of the questionnaire. Participants could redeem the reward point by shopping online or on PayPal once the member's account reaches a minimum 15 $ limit. Our verdict is that, without a doubt, inbox dollar.com is an excellent online survey website to earn some extra cash.
Broker
Best For
More Details


The Online Rewards Club That Pays!
Read Review

 




securely through InboxDollars website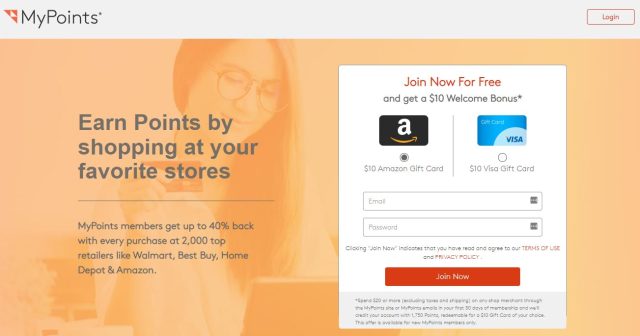 With more than 20 years of experience in consumer research, Mypoints.com is a genuine company offering rewards to its 10 million members in USA and Canada. The registration on the website to become a member is super easy, and with multiple features offered, earning points is simple, which can be later redeemed as rewards or cashback.
Mypoints.com is a popular survey website that offers points for completing surveys and other paid activities such as watching videos, playing games, referrals, reading emails, local deals, web searches, etc.
The minimum amount for cashback, PayPal, or gift card limit is 700 points, equivalent to $5. A survey on Mypoints.com usually takes up to 10 to 20 minutes and can help the member earn approximately 400 points. All in all, with lots of opportunities to earn points, Mypoints.com is undoubtedly among the best survey sites to invest your time in.
Broker
Best For
More Details


Earn Points By Shopping at Your Favorite Stores
Read Review

 




securely through MyPoints website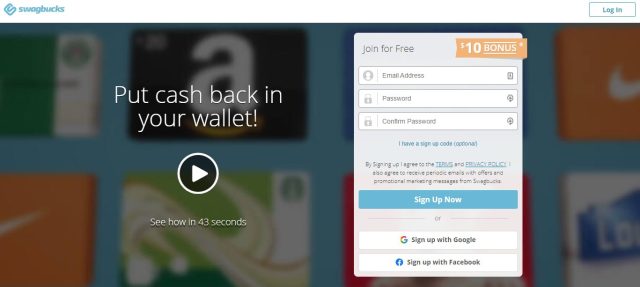 Among multiple survey sites, Swagbucks is a known name. In addition, there are tons of advertising effectiveness surveys available for participants, which help them earn money and support companies and brands in their market research.
Swagbucks so popular and widely used is its access to multiple countries worldwide. Participants from residents of the USA, UK, Canada, Germany, France, Spain, India, Australia, and Ireland can sign up to become a member for free.
The surveys offered on Swagbucks range from easy-qualifiable to most challenging. They can help you earn points from 40 – 200 SB points per survey (100 SB = $1), earning potential up to $50 (5000 SB) for more extended and complex qualify for surveys. The points earned could be redeemed through two main reward options: cash or free gift cards. To sum up, Swagbucks.com is a good-paying survey website to make some extra money.
Broker
Best For
More Details


Put Cash Back In Your Wallet
Read Review

 




securely through SwagBucks website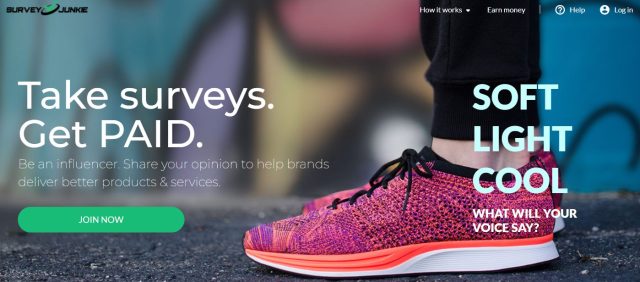 Without a doubt, Survey Junkie is the most popular and widely used online survey website, with over 11 million members in the USA, Canada, and Australia. However, what makes survey Junkie the most valued paying survey website is its accreditation with BBB (Better Business Bureau of Glendale, California).
This platform also has a Survey Junkie Pulse browser extension with a user-friendly interface and suggests surveys based on the participant's browsing history. Hence the surveys suggested to the participants became more relevant and interesting, and the chances of participant disqualification were also reduced.
The average survey duration on Survey Junkie is approximately 15 minutes with varying reward points. With only 5 $ worth of points, the participants can cash out through PayPal, gift coupons, or even bank transfers. Hence, Survey Junkie is a win-win situation for anyone looking to earn money through paid surveys.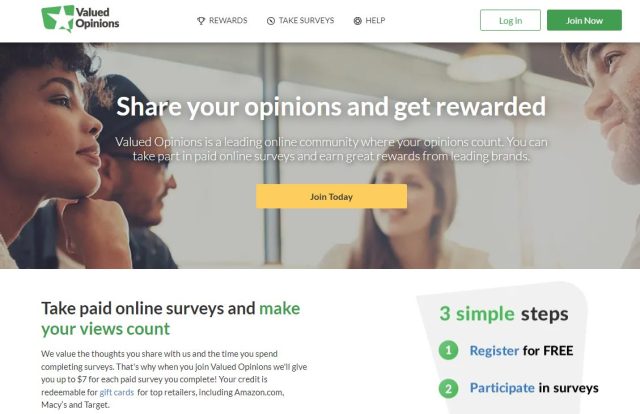 Valued Opinions is yet another company, like many other survey sites owned by Dynata, which offers a wide range of online paying survey panels available to 3 million members in 20 different countries worldwide. The global reach of this site makes it credible to other scam survey sites.
A significant difference between Valued Opinions and other paying surveys is the amount this site offer per survey, which is comparatively higher than most surveys platform. This is because the complete surveys are usually more detailed and require specific qualifications; however, participants get many reward points per survey (3 to 5 $).
Once a minimum of $10 is collected, the participants can redeem points via Visa promo codes, free gift cards, and online shopping vouchers. One drawback of this platform is that it does not offer any options for earning cash either through PayPal payments or bank transfers. However, Valued Opinions are recommended for those who prefer online shopping benefits.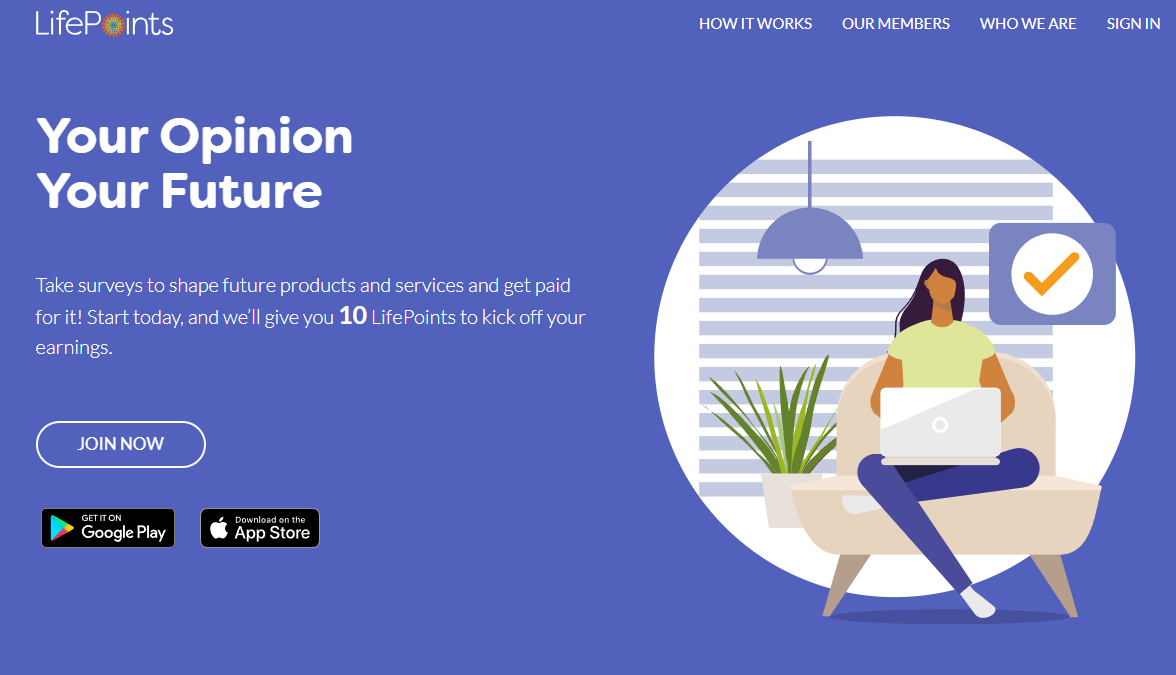 The first thing to look for while searching for a paid online survey is legitimacy. Lifepoints as a survey program is relatively new. However, it resulted from a merger between two companies, My Survey and Global Test Market, the two most reputable market research companies, for more than 15 years. Hence, Lifepoints is among the most legit survey websites with millions of members worldwide.
The surveys offered by Lifepoints are usually brand recognition surveys that require the participants to provide their views, opinions, and experiences regarding various big brands they use in their day-to-day lives. Other than surveys, there are also polls, product testing, and different types of data collected for brands in return for rewards for the participants.
The surveys in Lifepoints are straightforward questions and answers which require approximately 10 to 15 minutes to complete. Therefore, the reward points usually depend upon the length and time limit of the survey.
These reward points could be withdrawn as gift cards or PayPal payments when they reach the minimum of $5 in the participant's account. Overall, Lifepoints is an excellent choice to invest your time and earn money by taking surveys without worrying about its legitimacy.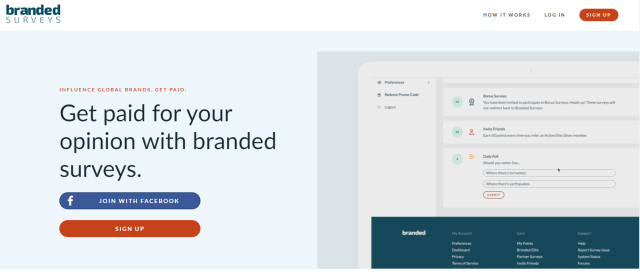 Branded Surveys is yet another survey site that has been in this business for a long time. Then, the company was known as Mintvine and was considered a reputable and credible research company. However, in 2017 the company reintroduced itself as branded surveys with a new user-friendly interface.
With Branded surveys, participants can earn rewards points for opinions and views after a quick account registration which is eligible for USA, UK, and Canadian citizens. Moreover, the average survey on this website usually takes around 10 minutes and offers many exciting surveys.
Similarly, the reward points are offered in various forms, from PayPal payments, bank transfers, and virtual prepaid cards to Amazon, eBay, and many other big brand gift coupons and online shopping vouchers.
Another benefit of branded surveys is that it offers fast transaction services where participants can withdraw cash or redeem points within 48 hours of reaching the minimum payout limit. Additionally, branded surveys pay 5 points if a participant is disqualified after answering a few survey questions, unlike many other sites. This also proves the company's authenticity. All in all, branded surveys are undoubtedly among the credible survey sites to invest time and earn some cash.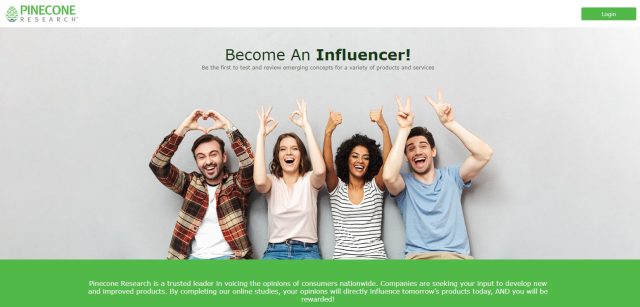 Pinecone Research is also the most reliable and trusted survey website in the consumer research industry. Moreover, it is backed by Nielsen's research company, which has been operating in data collection and research for more than a decade. Hence, one cannot question the legitimacy of Pinecone Research.
Pinecone Research is currently eligible only for USA, UK, and Canadian residents. Furthermore, it is available only through an invitation survey panel, which can only be accessed through an invitation link that other members send to join. Moreover, it offers quick customer service to the members for their queries or any other concerns.
Pinecone research offers paid surveys and provides paid product testing opportunities to its members. Each survey is paid with approximately 300 points which usually takes around 15 to 20 minutes. Moreover, the reward points could be redeemed as cash payments ($ 3 for 300 points) or through other options of gift cards or prepaid virtual payments. Overall, Pinecone research is also a genuine option among paid online surveys.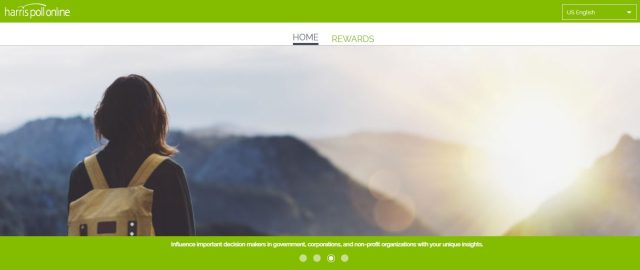 Harris Poll Online is among the popular survey sites known for its credibility and reputation. It is owned by the more legitimate research company Nielsen and has worked in this field for many decades. Moreover, another proof of its authenticity is that the surveys offered by Harris poll Online also include surveys from the government sector and various NGOs.
In Harris Poll Online, account registration is only available for USA and UK residents above 13 years. After signing in with the Harris Poll Online account, which is unrestricted, the members can fill out surveys that will be emailed to them. The estimated time of an average survey is between 5 to 25 minutes. After each survey, the site would pay reward points to the member's account.
The reward points could be redeemed through various gift cards available at major outlets like Amazon, Walmart, Starbucks, etc. However, there is no option for cash payments or PayPal withdrawals, which could setback some participants. Nevertheless, Harris poll Online also pays out some points for disqualified participants, which is an advantage of this survey website. Thus, Harris Poll Online is a relevant survey website to get hands-on with some gift cards.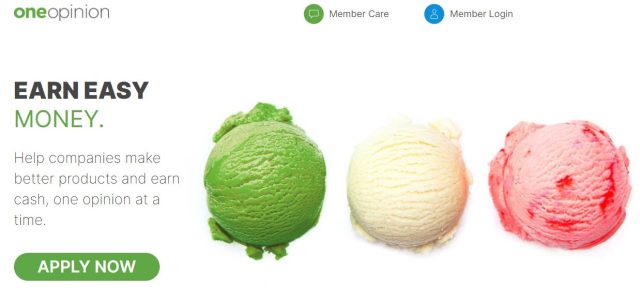 One Opinion is a platform operated by the most reputable research marketing company globally, Dynata. Therefore, anyone cannot question its legitimacy. Furthermore, One Opinion works for many brands looking for genuine opinions and feedback for the products and services. As a result, One Opinion offers numerous survey opportunities for its members.
The surveys on One Opinion vary in length and duration, so the points earned also vary accordingly. However, participants could earn 1000 to 5000 points (1000 points equals $ 1). Moreover, One Opinion also grants points for disqualification and screen-outs, which is a great plus. The rewards for the points could be redeemed when the participants reach the 25000 points threshold.
Furthermore, One Opinion offers a choice of either redeeming rewards through e-gift vouchers or via a PayPal account. Another added feature of One Opinion is that the accounts are protected from scammers and hackers through their 2 step verification process. Hence, we give a green signal for taking online surveys through the One Opinion platform.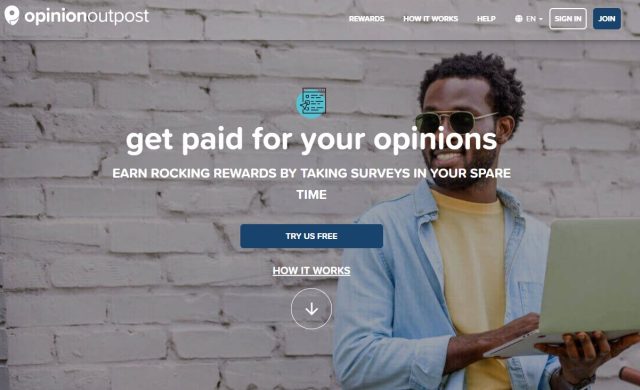 Opinion Outpost is another survey company owned by big market research companies like Dynata, a pioneer in this industry. This site allows participants to be a part of relevant paid surveys, which helps big brands and companies grow and perform better.
Participating in the survey club on this site is smooth sailing. With some basic personal information, individuals can open an account on this platform and answer surveys to earn points. There are various surveys available on the site, which takes about 10 to 20 minutes per survey. The points earned per survey are between 5 to 50 points (100 points equals 10 $)
There are numerous benefits of completing surveys on Opinion Outpost. The reward delivery is quick and offers multiple choices, from shopping online through e-vouchers to cash transfers to PayPal accounts after reaching the 10 $ threshold. To summarize, we can say that this site works just like any legit site work.
Featured Investing Brokers of 2023
Broker
Best For
More Details

Advanced Non US Traders
Read Review




securely through Avatrade website




Intermediate Non-US Traders


Read Review





securely through FXCC website






Overall Broker
Read Review





securely through Forex.com website




Professional Forex Traders

Read Review




securely through Interactive Brokers website



Broker
Best For
More Details

Advanced Traders
Read Review




securely through Tradestation website




Intuitive Platforms


Read Review





securely through Tradier website




Powerful Services at a Low Cost
Read Review





securely through Tradezero website




Professional Forex Traders

Read Review




securely through Interactive Brokers website



Best Forex Training Course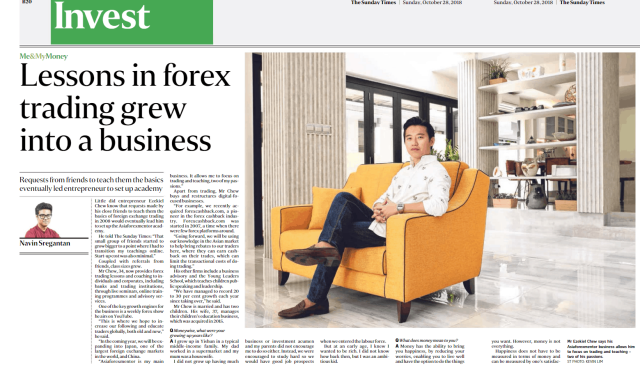 The world of investment and trading, be it forex, stocks, indexes, commodities, crypto, gold, silver, etc., is becoming competitive day by day. Consequently, each investor, be it a retail trader or a corporate investment company, is looking for opportunities to invest in assets and earn massive returns. Nevertheless, anyone who has stepped into the investment domain knows well how difficult it is to make six figures per trade without learning the method, strategies, and tactics involved in successful trading.
If you want to try your luck in investment and trading in any assets, the first step should be to look for a training course that can successfully guide you through this journey. The Asia Forex Mentor most efficiently provides the best forex training course. Through this amazing course based on mathematical probability, traders do not just make some profit. On the contrary, the pro-traders make massive profits making six figures per trade every time.
The One core program is designed by real traders who have hands-on experience working for banks and major investment institutions. Such expertise makes the proprietary system of the one core program more effective and gives immediate results. In addition, each level of the one core trading course, from beginner to advanced, is customized, keeping in mind the trader's learning potential, which would eventually help them earn unbelievable trade returns.
To sum up, anyone looking for a comprehensive trading course to earn massive profits in trading needs to take the One Core Program. It is not just a set of strategies backed by mathematical probability to learn from but a complete trading solution with expert advice tweaks and customized expert solutions for every individual client. Thus, the AFM Proprietary One Core Program is the ultimate solution to all your trading needs.
| RECOMMENDED TRADING COURSE | REVIEW | VISIT |
| --- | --- | --- |
| | #1 Forex, Crypto and Stocks trading course. Ranked most comprehensive by Investopedia and Best by Benzinga. Free to Try! | |
Conclusion: Paid Online Survey Sites To Earn Extra Money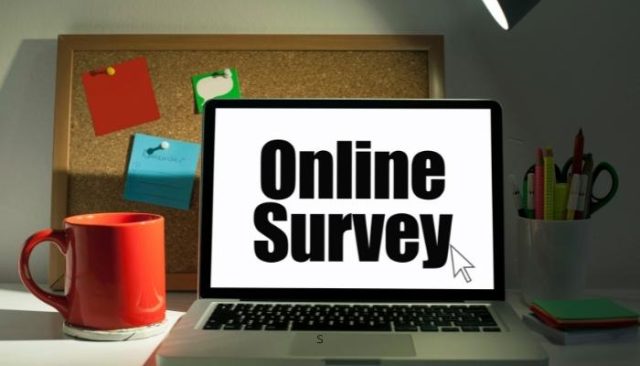 In today's day and age, everyone is looking for ways to earn some extra cash online. Every day we see pop-ups tempting the internet users to make massive cash by doing straightforward activities that sound too good to be true. Even though it's a fact that there are dozens of scammers at every corner, earning easy money online is not a fantasy but a reality.
Earning money through paying survey sites is the easiest way to earn extra cash. Many reputable and genuine market research companies are looking for customer opinions and reviews and want their product to get tested.
These companies create their websites or hire other sites for their market research through surveys, product testing, polls, etc. Consequently, any site from the 11 sites listed above could be an excellent choice to earn money through a legitimate survey site.
Consequently, many credible sites pay cash or other rewards in the form of e-gift cards, shopping vouchers, etc., to the participants who complete surveys on their platforms. For example, some popular websites site Survey Junkie and Swagbucks, offer good returns of up to 5 $ per survey to the members who could be redeemed through PayPal accounts or other options.
However, it should be kept in mind that even when earning money in just 10 to 15 minutes per survey sounds like an enticing way to make money, these are just side gigs and cannot be dependent on an income. Moreover, not all surveys take a few minutes. Some need time investment to earn a few bucks, or it can take months before you can cash out some money. Last but not least, beware of the scammers who can make you spend money rather than earn some.
Paid Online Survey Sites To Earn Extra Money FAQs
Can you make extra money doing online surveys?
Yes! Anyone can make extra cash doing online surveys. However, some points should be kept in mind before having high expectations from these earnings. Firstly, always look for a legit survey site that actually pays a considerable amount per survey.
Secondly, beware of the scammers who can rob you of money rather than help you make some. Thirdly, like any other job earning through paid online survey sites require time and patience, and one may not reach it as quickly and easily as imagined.
Lastly, one should be mindful that most money made out of paid online survey sites would not be enough to rely on as a monthly income. Therefore, it should always be a side gig to earn extra cash.
Do any survey sites actually pay?
Yes! Many genuine market research companies pay customers for completing surveys to get reviews and feedback to make their products and services better than before. Many sites actually pay a considerable amount to participants for completing the surveys.
Survey Junkie, Valued Opinion, and Swagbucks are some of the popular and legit websites which have paid millions of dollars to participants who complete surveys and are operating in multiple countries worldwide. Other than these, there are 11 other sites (mentioned above) that are paying survey participants in cash and other rewards.
However, it should also be noted that many fraudulent sites also present that should not be trusted. For example, any website asking you to pay them money for any reason to participate in the survey is undoubtedly a scam, and this is not how genuine paid survey sites work.
What apps pay you instantly for surveys?
Branded Surveys, Pinecone Research, and Survey Junkie are some of the survey sites and apps which pay instantly. However, it should be kept in mind that each site has its minimum cash-out threshold. Moreover, its site has different forms of payment options.
The sites mentioned above pay instantly when the participant completes the surveys; however, they can only cash out after they reach the required minimum amount.
Similarly, the participants can instantly redeem rewards in the form of vouchers and e-gift cards, but bank transfers and other cash-out options take the required time.
| RECOMMENDED TRADING COURSE | REVIEW | VISIT |
| --- | --- | --- |
| | #1 Forex, Crypto and Stocks trading course. Ranked most comprehensive by Investopedia and Best by Benzinga. Free to Try! | |
Like this Article? Subscribe to Our Feed!
Wilbert is an avid researcher and is deeply passionate about finance and health. When he's not working, he writes research and review articles by doing a thorough analysis on the products based on personal experience, user reviews and feedbacks from forums, quora, reddit, trustpilot amongst others.