Oanda Review: Is it Best for Forex Charts in 2022?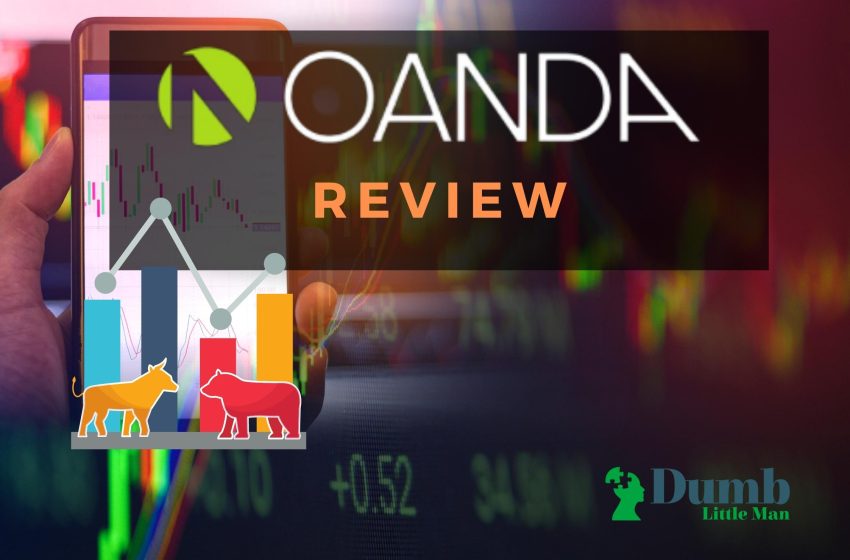 Oanda is a United States-based Forex broker that was established back in 1996. It is important to note that it is not a public company b a private one, and that is why it is not listed on any Stock Exchange. It does not mean that it is not a secure platform because it has a lot of users worldwide.
Besides this, Oanda performs its operation through different channels around the world. The best part is that this platform is regulated by the top authorities, which is why it is a trustable platform. The top authorities include the US commodity trading futures Commission and the United Kingdom financial conduct authority, also known as the FCA.
It is important to note that there is always a risk of losing money when trading CFDs. So keep that in your mind that there will be pretty high risk. This platform offers different types of services. Forex and CFD trading is the best trading tools under Oanda corporation.
This article will discuss Oanda review and whether it is the best option if you are looking forward to Forex trading. We will also discuss how it works, Oanda reviews the main features and the pricing plan. So without any further ADO, let's have a look below.
Oanda Review: What Is Oanda?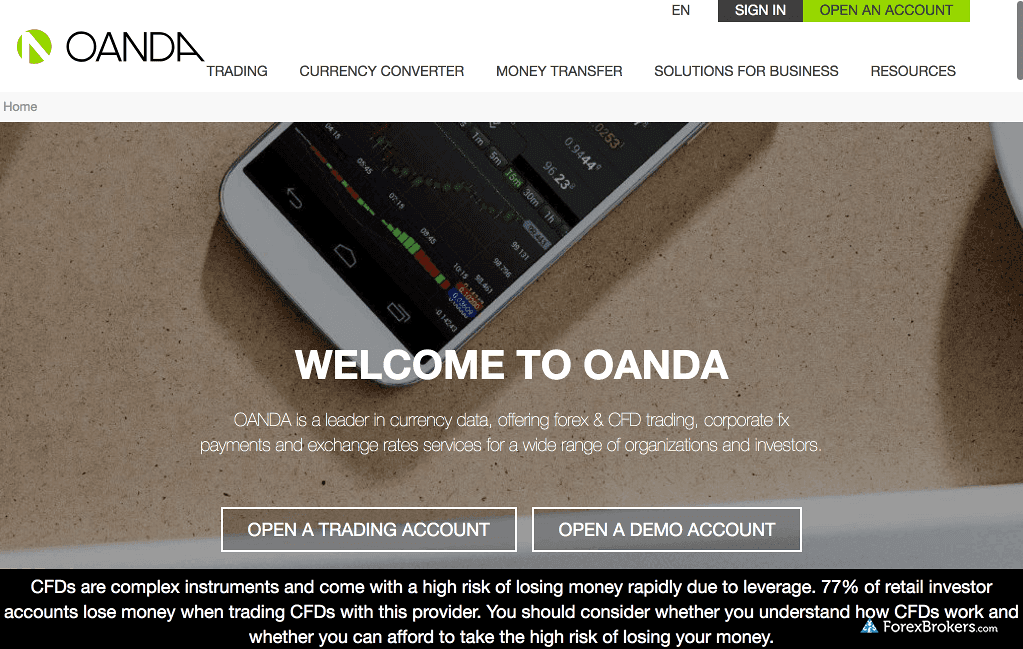 Oanda is an online trading platform that also allows the option of Forex trading along with CFD trading for its users. It is a top-rated and reliable platform currently being used worldwide. It is a trusted platform known for its good reputation.
The quality of market research is excellent, and overall it has a pretty strong track record for being a popular choice among the customers interested in trading online.
One of the most attractive features of this platform is that it provides support for third-party features, and that is why it is a more lucrative option for users.
The best part is that there is no minimum deposit you have to make can you can get started right away without any investment. It is the best platform for people looking to have a trading experience on the desktop and who do not want to perform all the activities on only a smartphone.
Furthermore, this platform provides a reliable Global online brokerage service to individuals interested in the forex market.
It will be a viable platform for your even if you are interested in the CFD market, and you can enter the industry quickly by using this platform for the first time. Different types of accounts are offered on this platform, depending on users' needs and requirements.
You can avail a lot of different opportunities in the financial market by using this platform and commodity futures trading commission in the forex market.
Account protection is not a problem when trading using this platform because it guarantees it. Negative balance protection is one of the best features that make this platform stand out from other traditional ones available online in the forex market.
| RECOMMENDED TRADING COURSE | REVIEW | VISIT |
| --- | --- | --- |
| | #1 Forex, Crypto and Stocks trading course. Ranked most comprehensive by Investopedia and Best by Benzinga. Free to Try! | |
How does Oanda work?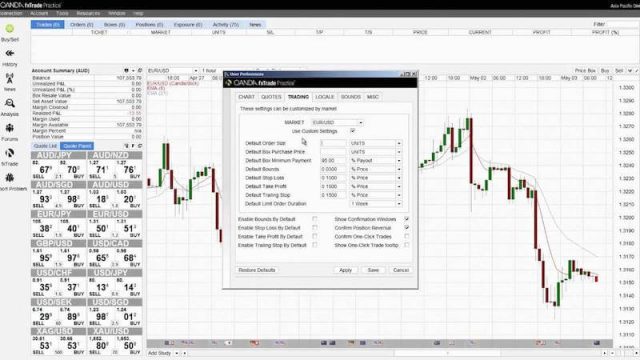 Oanda words in such a way that it performs all things currency and the activities related to currency conversion in the forex market. They also provide FX data services to different businesses. Overall, it is an excellent platform for people looking to trade in Forex.
Two different types of accounts are offered, including premium and a standard account. This platform works to bring forward a product catalog that incorporates all the CFD and spread betting offerings.
It is important to note that this is done across different asset classes and the Oanda account. All these features are not available in every place.
However, many different financial opportunities and trading opportunities are available through the channel of this platform. This platform is famous for offering clients different types of Oanda account protection depending upon the region they are residing in at the moment.
They have a unique negative balance protection feature for their users in Europe. But if you are residing in the Pacific, you will get access to stop-loss orders which is an excellent feature if you are looking forward to trading online. It is important to note that the clients from the United States are an exception because this platform is currently not offering their accounts any protection at all.
But it is a feature that we might see coming shortly from this platform, so there is no need to lose hope right now if you are from the United States. However, the good news is that this platform is among the top-rated platforms in the United States among the retail Forex obligation report for the Oanda account.
What are the Features of the Oanda platform?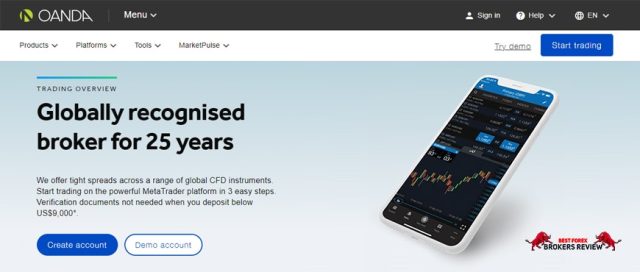 Oanda is a great trading platform that offers many features to its users like CFD trading on a desktop trading platform. Let's look at the most prominent features of the platform below.
Multiple countries
The first creature of this platform is that it is regulated in multiple countries. This way, it can be helpful for people from different countries, and they can trade online by using this platform. It is regulated by the United States, United Kingdom, Australia, Singapore, Canada, Malta, and the British Virgin Islands.
Are you from any of these countries? If yes, then you are good to go, and you can start trading online right now by making your account on the platform of Oanda with retail investor accounts.
Trading Fees
The following important feature worthy of attention is that it has low trading fees. Many major trading platforms are available online that charge a lot if someone wants to trade by using the platform. Having a low initial trading fee shows that the customers can trust the platform and trade easily without any stress in their minds.
When there is a low investment, there will not be any stress in customers' minds if they end up losing the money in any form of risk. That is why this platform offers a great feature, and more platforms should offer a low trading fee at the start! Accounts lose money but it is a great web trading platform for forex traders. Forex traders must have a bank account and learn trading strategies but they are still losing money rapidly.
  Withdrawal fee amount
The next great feature of this platform is that it does not have any withdrawal fee amount. It is $0 to withdraw any amount from your account. It is a very transparent and reliable platform that believes in injustice with the customers. Many online platforms charge you a lot of money to withdraw your own money from your account.
It does not make sense to charge the customers to withdraw money from their accounts. That is why is this platform has a great feature, and it does not charge any money at all if you are looking forward to withdrawing any specific amount from your account at any time.
Global financial markets are full of Oanda Asia pacific PTE users and forex brokers. Oanda operates a lot of financial instruments for forex brokers online. Do you want to do trading forex? Be careful because retail investor accounts lose money.
Inactive Accounts
The next great feature of this platform is that it does not charge you an inactivity fee for almost one entire year.
If you have been inactive on the platform for one year, then you will not be charged any amount for that. But you will be charged after one year has been completed and you are still in action on the platform.
 Quick Opening
Oanda offers a feature to their customers to open their accounts instantly without any hassle. If you are looking forward to trade by using this platform, you can open up your account quickly in a few simple steps without worrying about anything at all. Most online trading platforms have a highly complex procedure to open their account, and it takes a long time to do so.
However, if you decide to go with this platform, you will no longer worry about that. It will only take you around three days to open your account, and it will be a quick process for you. Even if you do not have any prior Forex trading experience, you can still do that easily with basic knowledge of using the website and the internet.
Beginner-friendly
Oanda is a beginner-friendly platform that is very easy to use. All the information is available straightforwardly, and everyone can understand it easily. Even if you are a beginner in Forex trading, you can still understand everything easily. This platform is easy to use for beginners and experts. It has all the right tools required for A grade trading platform online, so the experts are also interested in using it for trading online. It has a very user-friendly interface, allowing you to trade online and make better financial decisions.
Tools and Resources
The next best feature of this platform is that it is equipped with all the instruments and resources required to trade online. Many trading platforms online are viral, but they do not offer the required tools and resources.
Due to this reason, it can be tough to trade online and perform all the online transactions. But you don't have to worry about that animal once you choose the services of this platform. This platform will equip you with all the appropriate tools to make financial decisions and analyze the data thoroughly.
Customer Support
Oanda provides excellent customer support service to all of its customers globally. No matter what country you are residing in, you can get in touch with their customer support any time you want. If you have any questions in your mind, you can ask the question from them, and they will get in touch with you as early as possible.
They are available to answer every query that you have in your mind regarding online trading and Forex. The customer support of this platform is available 24 hours a day and five days a week. You can also email them, but it will be a slow process. That is why we recommend you give them a call straight up and tell them your issues so they can resolve them as early as possible on a priority basis.
Security
Oanda is a safe and secure platform for users around the world. You will not have to face any trust issues if you use this platform for trading online or for Forex trading. The good news for you is that you will get a negative balance protection program without any cost if you live in yours. Your account will be provided with the security feature and program if you are a resident of the Pacific.
Other than that, this platform is regulated by FCA and other top-rated regulatory bodies on an international level. So if you have any doubt in your mind about this platform, you don't need to worry anymore because we are sure that it is a secure platform, and you can trust it with your investment and money.
Oanda Pricing and Plan?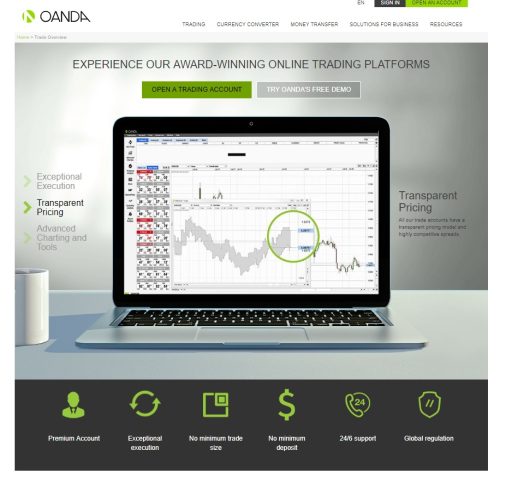 The trading cost of this platform is very steep. You will see increased effective spreads in the core pricing if you compare it with other brokers available in the market online. The most significant advantage of using this platform is that it provides you the option of automatic execution across the account offers.
It is a pretty great feature that is not available on other platforms nowadays online. Oanda spreads tough competition with forex.com. But it is essential to keep in mind that the minimum cost will be a little higher than the other competitors in the market. For instance, the noncore pricing of this platform used to be 1.2 pips on the USD and EUR pair.
Furthermore, you will get to see the lowest spreads when it comes to calling pricing features on this platform. However, you will experience an additional commission of Five Dollars for every $100000. It is a pretty great return on investment from your side, but this option will require a minimum deposit of at least 10,000 dollars. The all-in cost will be similar to the commission-free pricing.
More about costs
Mostly micro lot is the contract trading size. The platform under consideration has brought down the minimum size by three different orders of magnitude 0.001 micro lot. There is no minimum deposit required, and it is $0.
The average spread for Euro and United States dollars is 1.4. The all-in cost for the United States dollar and Euro is also 1.4. You can get access to different types of active trader discounts and VIP discounts. However, this platform does not offer an option of execution agency broker, but you will still get to see the execution market maker option.
Currency trading is not easy and there are automated trading systems. The retail trading industry is offering lots of advanced charting tools. These advanced charting tools on the FXTrade mobile trading platform are great. There is trade automation along with the right research and trading tools. Other forex brokers in the financial markets are not offering a low forex fee and an economic calendar.
If you want to be a CFD broker in forex markets, you need to learn trading functionality, complex instruments, market analysis, stock trading, margin trading, from your trading account.
Who is Oanda Best For?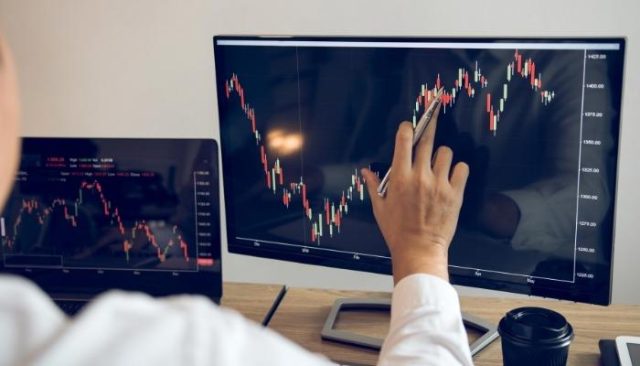 Oanda is a great platform that provides a lot of exposure to its customers online. They also provide access to different financial tools and instruments required for trading online. It is the perfect platform for those looking forward to performing Forex trading and CFD-related activities online. But it is always important to keep in mind that a risk factor is always involved.
And that is why it is a platform for those who are willing to join in with an open mind that they can end up losing some or all of their money. It is not the right platform for those who think that they can always win and that everything will always turn out perfectly for them.
The customer support experience is worth it, and they are available 24/5 for the users. You can quickly try out this platform without any complex thoughts in your mind because it is a safe platform overall for all the users around the world. It will give you peace of mind after discovering that the top-rated authority regulates it.
If you are a risk-taker and you believe in your skills, then it is the right platform for you, and you should try it out at least once. It also provides a pretty solid desktop trading experience, which is why it is the perfect option for people looking for a desktop option.
Many platforms only provide a mobile application, and it can be challenging for some people to perform online trading activities on their smartphones.
If you want to take things one step further and view the bigger picture, it is the right platform. However, it is essential to keep in mind that the products will be different and will depend upon the place you are living at the moment.
For example, if you are currently living in the United States, you will only trade FX.
Oanda Pros and Cons
Pros
Well designed platform
Superior research
Regulated by FCA
Regulated by NFA
Cons
No account protection for the US
Traders cannot access cryptocurrencies
Oanda User Experience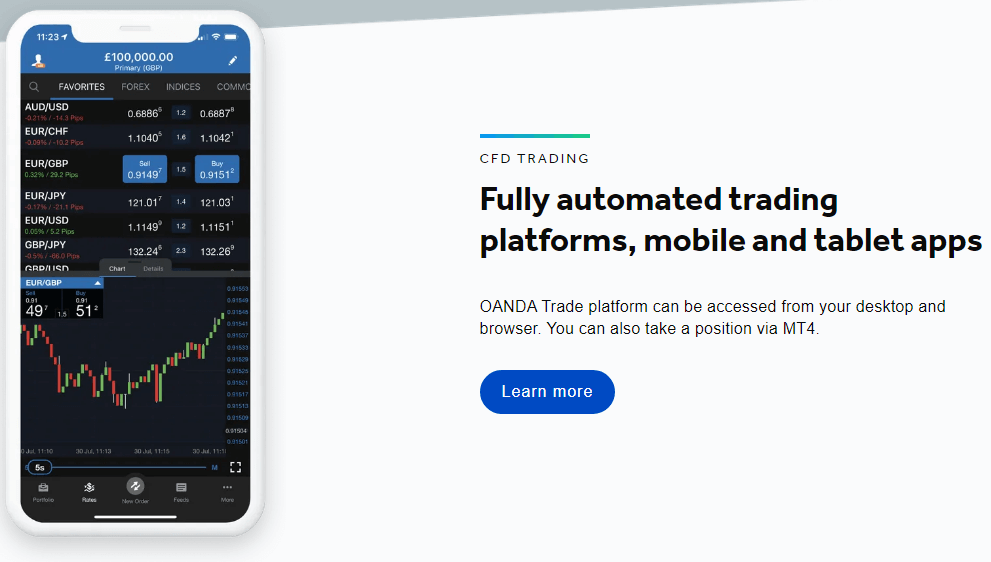 Oanda is a trading platform that is becoming popular in the brokerage industry. It is a platform that enables the users to create profit through the spread channel offered to the customers. The spread structure of this platform is incredible and simple at the same time.
However, you will see two different pricing options on this platform, including spread-only and commission options. You can easily find the pricing options on the platform's website, and you will be able to view all the information over there. Overall this platform provides a pretty solid experience because it does not have any withdrawal fee.
It is a great feature to be provided to the customers of an online trading platform because it is pretty rare in the industry. As common as it sounds, you will not get to see this option in this greedy world out there!
Most of the trading platforms out there are looking forward to making money and charging you money when trying to withdraw the amount from your account. However, this will not be the case for you if you choose this platform for Forex trading for financial transactions online. Because this platform believes in complete transparency, and customer is always a priority for them.
You will not be charged extra for withdrawing any money from your account, and you can have a pretty excellent trade experience. You will also get access to the account analytics, and a primary user interface you will love using on a long-term basis.
Other than that, the desktop version contains all the advanced charting options perfect for trading online. You will also get access to customizable watchlists and different types of research options which are a great addition to the better functionality of this platform.
Oanda vs Competitors
1. Oanda vs Avatrade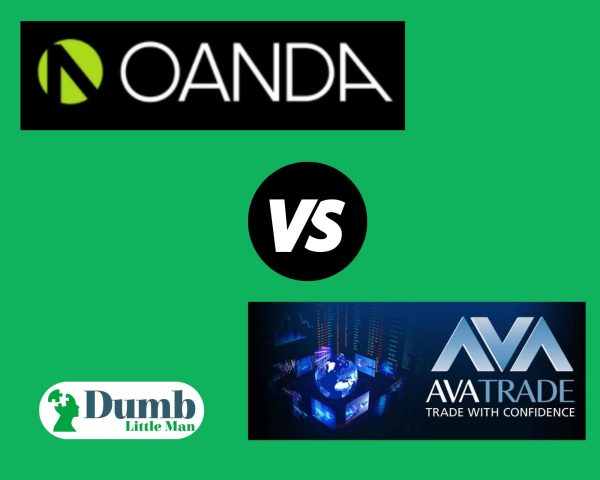 Both of these platforms are well-known online brokers. The similarity between them is that they are active in the retail sector at the same time. When it comes to experience, Oanda has more of it because it was established back in 1996.
On the other hand, have a trade came into being in 2006, which is why it does not have as much experience as the other platform. But both of them are leading platforms and an excellent option for beginners. The headquarter of trade is in Ireland, whereas the headquarter of Oanda is in the United States.
Broker
Best For
More Details


Advanced for Non US Traders
Read Review




securely through Avatrade website
2. Oanda vs IG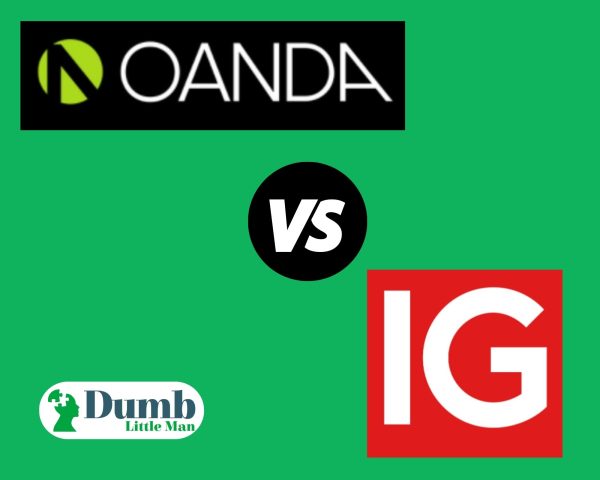 The best part about the Oanda platform is that it offers many research tools and instruments. Therefore, IG brokers are for users looking for trading within the US.
Anyone who desires to trade in the exchange markets will find IG brokers a top choice. Both of the platforms are great, but the overall trust score of Oanda is 89 out of 99.