Gatsby Trading Review: Is it the Best for Social Traders?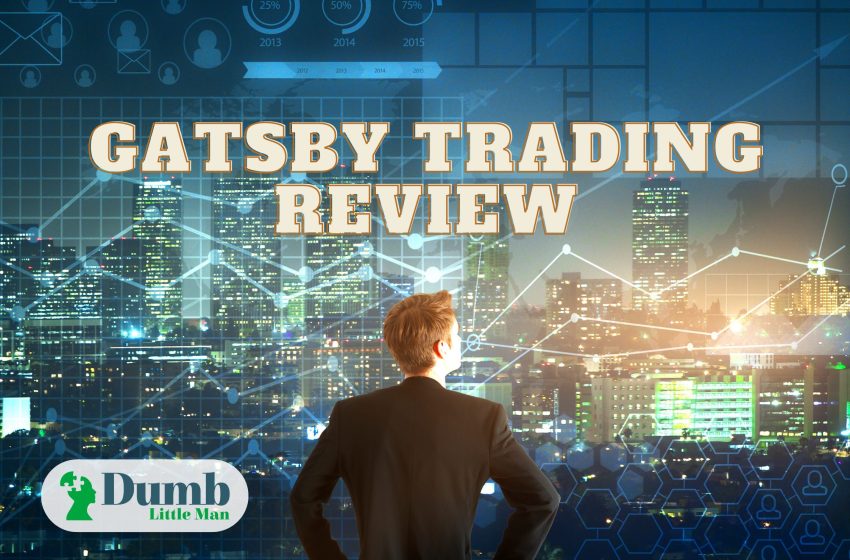 Want to jump straight to the answer? The best forex broker for traders is Avatrade
The #1 Forex Trading Course is Asia Forex Mentor
Gatsby is a trading app that offers customers a less daunting method to enter the options market that deals with commission-free trading. Gatsby Trading is one of the rare services that allows you to trade options fully for free.
Trading options often necessitate a great level of risk. Unlike index fund investment, options trading necessitates a prediction of the underlying security's short-term trend. Trading options might not be used for everyone. However, if you understand options and enjoy free trading, then Gatsby may be able to help you save money.
Gatsby can be a good alternative for mobile trading if you're a beginner investor looking for an easy method to get started. However, it lacks almost all of the learning and education features seen on other trading platforms.
Gatsby app may be a breath of fresh air in a highly saturated landscape for customers searching for the simplest way to trade without incurring costs. Trading unique rewards programs and social trading are two unique aspects that strengthen Gatsby's beginner-friendly style.
Customers may find Gatsby a faster and more natural way to trade options and stocks analysis tools and educational options offered by competitors.
Let's discuss Gatsby Trading in detail.
What Is Gatsby Trading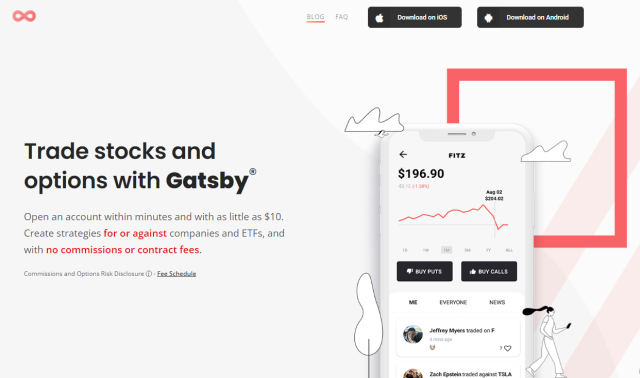 Gatsby is a trading app that makes it easy for anyone to get started with options trading. Gatsby is a simple options trading platform with social trading features that makes it easier for investors to trade options without paying high commissions. The Gatsby trading platform is ideal for inexperienced investors looking for risk-free trade options. It's also appropriate for investors who want to gain money when they trade.
Gatsby allows you to trade options on companies and ETF trading. Social trading is another feature of Gatsby, which allows you to acquire trading ideas from other options traders using the Gatsby mobile app.
Stocks and options can be purchased, and Gatsby makes stock trading spreads simple. Users can also earn reward points for each exchange with the Gatsby reward program, redeeming retail store gift cards.
How does Gatsby Trading work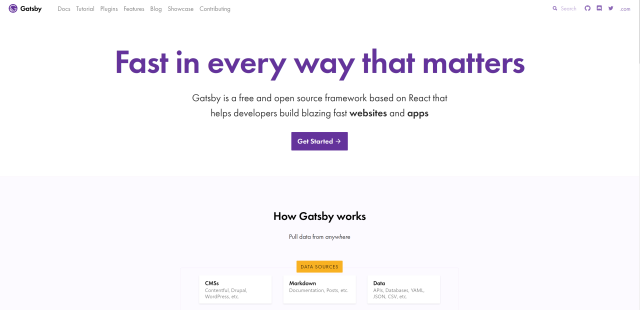 Gatsby simplifies and incentivizes option trading. Options trading is obvious, intelligible, and even social, thanks to its simple, appealing design. You may start an account in minutes and trade without commissions and contractual fees with as little as $10.
Gatsby streamlines the options trading by categorizing trades as "For" or "against" specific firms or trade ETFs. It's similar to buying a stock and hoping this goes up; the difference is that you forecast where it will go.
And, yes, Gatsby will pay you to swap. Every time you trade, you earn points that can be redeemed for gift cards from popular merchants through the Gatsby rewards program. You may view what your friends are trading and interact with the Gatsby community because it reacts to breaking news and business reports using Gatsby's social trading services. It's just like Robinhood meets Reddit in terms of simplicity and community.
Gatsby intends to develop a feature called "Gatsby Circles," in which traders may form groups of friends with whom they can watch and share options trades, as well as receive a notification when someone in their circle performs a trade option.
Gatsby also wants to release more advanced methods and research tools for more expert options traders. It also develops an adaptable user interface. This means the Gatsby algorithm will evaluate the options traders and change the set of features and layout customized to that user's degree of experience.
Gatsby Mobile App
Gatsby is just a mobile-only platform, which implies it does not offer PC trading at this time. Install Gatsby app, thankfully, included a lot of mobile features to make options trading quick and easy, which include:
Customized Alert
Don't you have time to start your phone for a buying and selling signal? Personalized trade alerts keep you informed about impending earnings reports and much more.
A trendy Platforms
New users will like the Gatsby web trading platform, which has an easy and beautiful design.
Tracking of Earnings
You don't simply invest your money if you trade with the Gatsby app; you can earn points that can be exchanged for gift cards. This mobile app makes it simple to keep track of your rewards and to claim them fast.
This Mobile app is presently accessible for both Apple and Android devices platforms as a free download.
What are the Features of the Gatsby Trading platform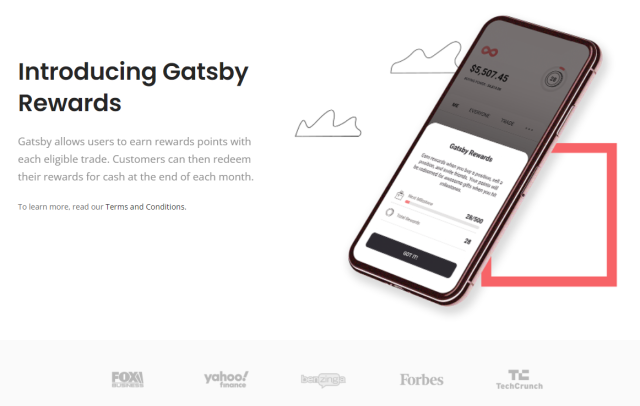 Gatsby's basic and easy commission-free options trading platform is a significant draw for new investors who have never traded before. Gatsby options platform has many features that make it simple to get started with the platform; including:
Gatsby Rewards Program
With each qualified trade, Gatsby offers users to earn reward points. Users can exchange their points for money at the end of each month.
Customer Support
Maintaining a positive relationship with your consumers through your support team is critical, especially with a new hack or security incident making the news almost every week. Gatsby currently only has one option for contacting customer support service:
Via Email
Sent an email to [email protected] to get in contact with Gatsby. Email assistance is provided 24 hours a day, seven days a week; for the fastest response, make sure to include precise details about the problem you're having.
We'd like to see Gatsby include a broader choice of customer care alternatives in the future, particularly a live chat option or a phone number for users.
Mobile App Experience
Gatsby platform is a smartphone game that can be played on both iOS and Android to earn rewards. The iOS app had a 4.2/5 rating from 50 users, while the Android app received a 4.4/5 rating from 92 users.
Social trading features
Connect easily to your social networks to trade with your friends and learn about new investment opportunities. After connecting your Gatsby accounts, you can utilize social trading tools with a quick swipe.
Gatsby Security Features
The broker-dealer for Gatsby securities is View-Trade securities, Inc., a Financial- Industry Regulatory Authority member and securitizes investor protection corporation. View trade securities have been licensed with the Security and Exchange Commission since 1999. And is authorized in 52 provinces and territories in the united state.
Gatsby Methods for keeping your money secure
Gatsby brokerage account investments are safeguarded up to $500,000 through its collaboration with the Viewtrade securities, including cash balances of up to $250,000.
Gatsby uses Hyper-Text Transfer Protocol Secure to secure client data and important information. It also gives investors the options of PIN codes, facial recognition, or fingerprints.
| RECOMMENDED TRADING COURSE | REVIEW | VISIT |
| --- | --- | --- |
| | #1 Forex, Crypto and Stocks trading course. Ranked most comprehensive by Investopedia and Best by Benzinga. Free to Try! | |
How much are Gatsby Commissions and Fees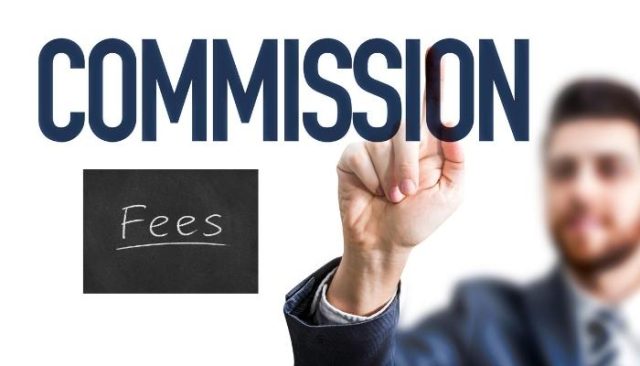 Gatsby does not charge commissions on US stocks and options transactions, but the securities and exchange commission (SEC) and the financial industry regulatory Authority impose standard costs. The lack of commissions on options contracts is uncommon in the industry but not unheard of Robinhood offers commission-free stock trades. Most providers add $0.65 per contract to your total, plus one-time fees if your option is exercised or transferred to you.
While commission-free trades is a nice bonus, you should be aware of the following administrative cost:
Minimum deposit to open:$10
Annual fee is $0
Free Stock trade fee: $0
Account Transfer fee:$0
Gatsby's other costs include wire transfer, printed and mailed statements, and paper checks, which may or may not be relevant to most traders. The complete fee schedule can be seen on Gatsby's website.
Who is Gatsby Trading Best For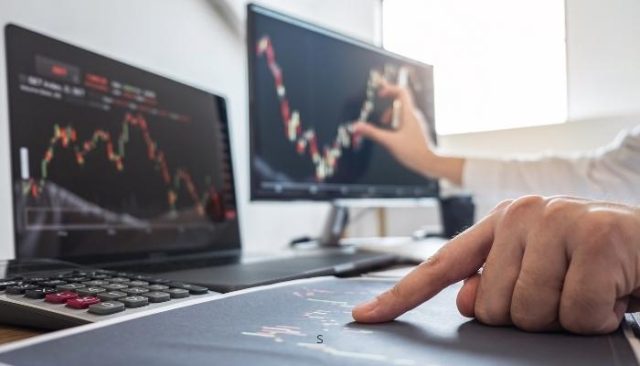 With option-focused investment and a mobile-only platform, Gatsby is suitable for experienced investors, options investors, and millennial investors. Let's discuss them:
Experienced Investors
Because Gatsby lacks market research resources, it is especially suitable for experienced investors, who understand how and where to perform external research.
Options Investor
Gatsby is best suited to people wishing to buy and sell options contracts because it is the only product accessible for trading on the platform.
Millennial Investor
Including its twitter-like social site, Gatsby aims to attract up-and-coming entrepreneurs from the millennial age.
Gatsby Trading Pros and Cons
Pros
It is commission-free trading.
A simple risk meter makes it easy for inexperienced investors to assess the likelihood of benefiting from their trade.
For new investors, an intuitive layout may be perfect.
Gatsby is easy to use, with no fees or commissions and a minimum of $10 to open an account.
Social feed
Cons
Limited investment options.
Limited research
Limited customer support
Gatsby Trading User Experience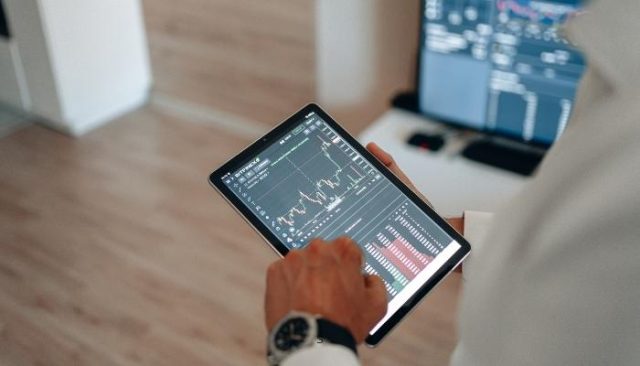 The Gatsby platform is ideal for beginner traders, sociable traders, and individuals wishing to supplement their income with an options-trading hobby. Experienced and professional traders will likely find Gatsby's features, and platform limited compared to more comprehensive mobile apps and desktop platforms.
Gatsby Trading vs Competitors
The feature sets of most brokerage systems are identical, making it difficult to choose one over the other. The quantity of commissions you'll pay is a decisive element in options trading. Some brokerages have a single fixed charge, while others offer volume trading at a discount.
#1. Gatsby vs TD Ameritrade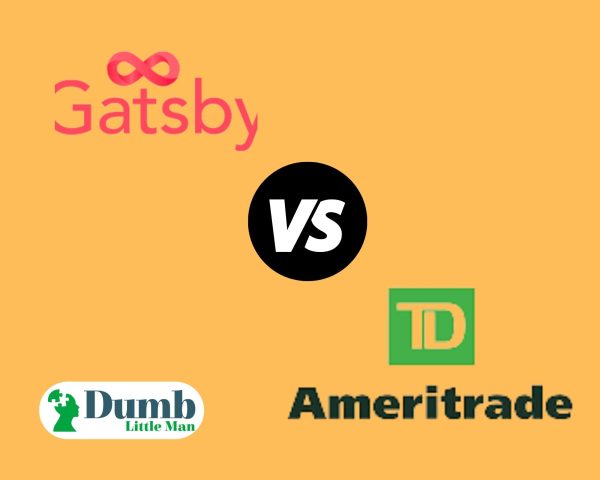 The stock trading platform, available as desktop and mobile apps, is owned by TD Ameritrade. This is one of the most comprehensive options trading platforms available, as well as one of my personal favorites. Although TD Ameritrade isn't the cheapest platform for investing, thinkorswim's capabilities make learning how to trade options relatively simple.
Broker
Best For
More Details


Social Traders
Read Review




securely through Gatsby website
Broker
Best For
More Details


Beginners
Read Review




securely through TD Ameritrade website
#2. Gatsby vs TradeStation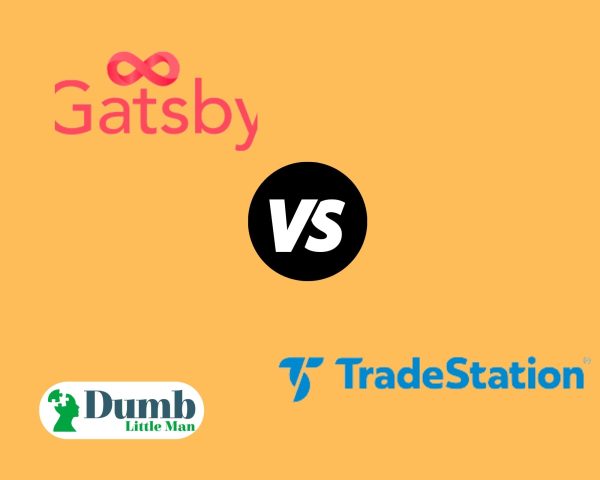 Trade-Station is one of the most customizable platforms on this list, and it's designed specifically for options traders (and other traders in general). For options traders, Trade-Station offers some of the finest entry-level pricing. The main disadvantage is that their platform can be a little confusing for inexperienced users. If you're trading options, however, you'll need to be a good investor.
Broker
Best For
More Details


Social Traders
Read Review




securely through Gatsby website
Broker
Best For
More Details


Range Platform
Read Review




securely through TradeStation website
Conclusion: Is Gatsby Trading a Good Platform for investors and traders?
Gatsby aims to make options trading accessible to everybody who has at least $10 to invest. Gatsby is likely to have what you're looking for in an online broker specializing in options trading. Its fees are incredibly low when compared to other online brokers who offer options trading.
Gatsby could be a wonderful alternative for you if you're specifically interested in trading options. You may want to look for another broker if you want to diversify into other financial assets such as stocks, ETFs, mutual funds, bonds, and so on.
Gatsby also allows investors to earn reward points on eligible options trades. For each contract, one reward point is usually given. Cash in your points for a gift card to a popular retailer once you've reached a certain number of points. However, the website does not identify which ones.
Best Online Broker for Options
Broker
Best For
More Details

Advanced Traders
Read Review




securely through Tradestation website




Powerful Services at a Low Cost
Read Review





securely through Tradezero website




Web Platforms


Read Review





securely through eTrade website




Professional Forex Traders

Read Review




securely through Interactive Brokers website



| RECOMMENDED TRADING COURSE | REVIEW | VISIT |
| --- | --- | --- |
| | #1 Forex, Crypto and Stocks trading course. Ranked most comprehensive by Investopedia and Best by Benzinga. Free to Try! | |
Gatsby Trading FAQs
Is Gatsby Trading legit?
Gatsby is a legitimate program that allows you to trade long calls, long puts, debit spreads and most publicly traded companies in the United States. Gatsby does not directly offer the opportunity to purchase and sell securities; consequently, the View-Trade Securities, Inc. platform is used to handle transactions.
How does Gatsby trading make money?
Gatsby free options trading helps to make money. Through Gatsby, you can earn reward points, and user can exchange their point for money.
What does Securities Investor Protection Corporation do?
View-Trade Securities, Inc. is a member of the Securities Investor Protection Corporation (SIPC), which provides up to $500,000 in protection if the broker goes out of business and the securities go
missing.
Is Trading Options better than stocks?
Stocks and options are both valid investment options, although they perform differently in different situations. If you don't want to monitor the market closely, stock trading is the ideal option because it is less volatile than options trading. When you want to keep your risk to a minimum, options trading may be a better option.
Are Options Trading a good idea?
When you're an experienced investor, options can be a valuable technique. Options allow you to grow your money at a much faster rate. Using options may allow you to make money.
| RECOMMENDED TRADING COURSE | REVIEW | VISIT |
| --- | --- | --- |
| | #1 Forex, Crypto and Stocks trading course. Ranked most comprehensive by Investopedia and Best by Benzinga. Free to Try! | |
Like this Article? Subscribe to Our Feed!
Wilbert is an avid researcher and is deeply passionate about finance and health. When he's not working, he writes research and review articles by doing a thorough analysis on the products based on personal experience, user reviews and feedbacks from forums, quora, reddit, trustpilot amongst others.