Coinsquare Review: Is it Best for New Cryptocurrency Investor?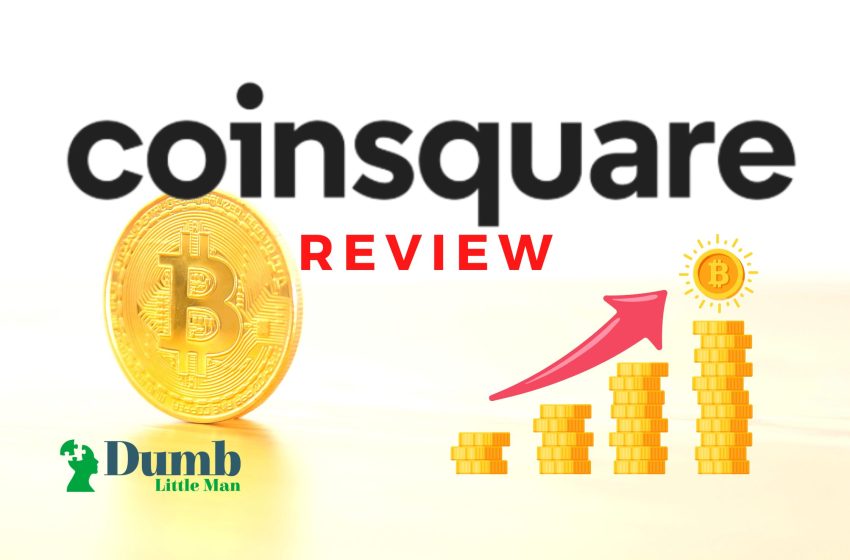 Crypto is an extremely fertile land. If anyone can see the potential of Crypto, they will definitely have a life-changing ticket in their hands. To get that ticket, you first need to learn about Crypto and find a suitable trading exchange to be able to secure your assets.
In the extremely volatile financial market like Crypto, in order to survive and develop, Coinsquare – a Canadian cryptocurrency exchange has constantly strived to bring value and optimize profits for investors. Because of features such as low trading fees, high security,… Coinsquare has always been trusted by investors.
In this article, we will learn together about the characteristics of Coinsquare, advantages, and disadvantages to make a decision whether Coinsquare is a platform we can trust?
Coinsquare Review: What Is Coinsquare?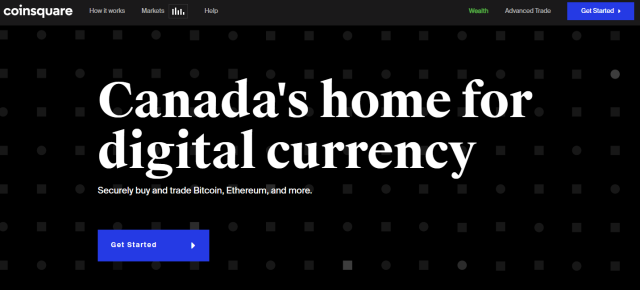 Coinsquare is a cryptocurrency trading platform built on the blockchain. Coinsquare, created in 2014, is one of the major crypto exchanges, with headquarters in Toronto, Canada. The platform provides for the trading of many currency pairings that trade various cryptocurrencies such as Bitcoin, Ethereum,… with great liquidity, low cost, and maximum safety.
FINTRAC regulates Coinsquare, which has an exclusive agreement with one of Canada's Big 5 banks. Coinsquare remains committed to transparency, risk minimization, and the creation of a regulated and safe environment for digital currencies. Its goal is to become a multi-sector financial services organization centered on blockchain technology.
Coinsquare has launched a mobile application. Coinsquare's mobile application is very convenient because you can trade very easily. Coinsquare provides an easy-to-use platform with a wealth of resources and tools for consumers new to cryptocurrency trading, allowing users to get a clear picture of the entire digital market.
To grow bigger, Coinsquare raised a total of $98.5 million in 7 rounds, their latest amount was raised on June 1, 2021. Mogo is the most recent investor, has funded several resources to ensure Coinsquare's success goes much further in the future Coinsquare also made an investment in Tetra Trust on the same day. In July 2021 Coinsquare also aCoinsquareuired 5 institutions, all of which JustCash was the most recent purchase on July 4, 2019.
| RECOMMENDED TRADING COURSE | REVIEW | VISIT |
| --- | --- | --- |
| | #1 Forex, Crypto and Stocks trading course. Ranked most comprehensive by Investopedia and Best by Benzinga. Free to Try! | |
How does Coinsquare work?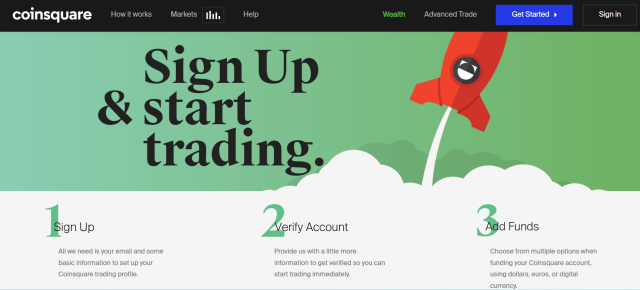 Coinsquare is very simple. To be able to trade on this platform, users need to register for an account. Signing up for a Coinsquare account is so simple that anyone can do it. All you need to do is access Coinsquare then enter your email address, phone for the system to save.
The next step is to KYC the account, which requires a government-issued ID, Utility Bill, or bank statement. Once done, you officially own a Coinsquare account. KYC is a legal requirement so Coinsquare will ask you to provide some identification, but rest assured that the information will be completely confidential.
Once the identity verification process is complete, you can transfer funds to your account using Interac E-Transfer, wire transfer and digital deposit to be able to trade cryptocurrencies.
Broker
Best For
More Details


New Cryptocurrency Investor
Read Review

 




securely through Coinsquare website
What are the Features of Coinsquare platform?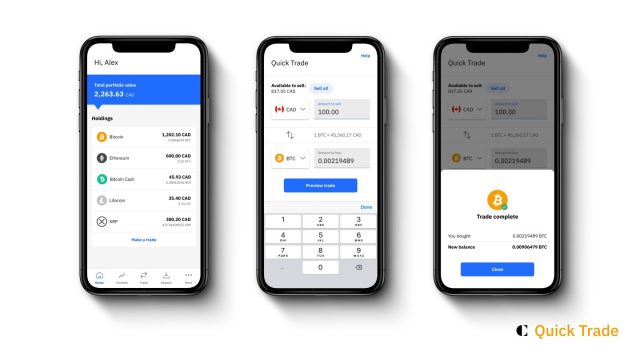 Quicktrade: is one of the most appreciated features of Quicktrade. This feature allows you to instantly convert between 2 currencies on the platform. QuickTrade allows you to make simple transactions – you choose some crypto coins you want to buy as well as the amount you want to spend and when you review your quote click the 'Make This Trade' button to complete the transaction. all transactions. This is the fastest and easiest way to convert your coins on Coinsquare.
Advance Trade: allows you to execute limit orders and view the real-time order book. For experienced investors, Coinsquare offers a wide range of tools specifically for advanced trading. Advanced features include "Tradingview Charts" that can run most of the technical analysis you will ever need, and more in-depth information about your complete order book and currency valuation, to give You get a better picture of the market. Advanced trading is for more advanced traders or those looking to convert larger amounts. Unlike Quick Trade where any pair can be traded, advanced trading trades all trading pairs based on BTC, so your trade has to be BTC related.
Over-The-Counter (OTC) Trading Desk: if you have Coinsquare Wealth worth at least $25,000 or equivalent in the digital currency then you can use Over-The-Counter. OTC is used to describe private transactions to buy or sell cryptocurrencies that are not conducted on regular exchanges, which do not have a public order book. OTC trading is still very popular today because of its privacy and low impact on market prices, making the market free from slippage. And COINSQUARE users also like to use this type of trading, with the minimum trading requirement being not too high ($25,000+) instead of the high requirements of other cryptocurrency exchanges ($50K-$1 million) that has made many people want to use Coinsquare.
High security: Security is one of the most important factors that make users choose Coinsquare. Coinsquare's platform has 100% proprietary technology, this exchange claims to store 95% of its tokens and coins on its servers in offline cold storage (Cold storage means they store their private keys, their tokens, coins are offline and not visible on the internet. These are some of the safest ways to keep hackers away from these coins). The company is also secured with SSL and you can use 2 authentications to ensure that only you have access to your investments. Coinsquare has been stress DDoS tested because they understand that DDoS has serious consequences for both the platform and the users. In addition, Coinsquare always adheres to the regulatory framework set forth by FINTRAC (Financial Transactions Analysis and Reporting Center of Canada). Coinsquare would probably come within the mission of the Canadian Investor Protection Fund if it were required to register as an IIROC dealer. It is this high security that makes investors feel secure with their assets.
Customer Service: If you have any questions about the product, or have trouble with the transaction, you will always receive enthusiastic support via:
Live chat: On Coinsquare, a small blue chatbox can be seen in the bottom right-hand corner of the screen. To speak with a customer support person, click the chatbox.
Email: To contact Coinsquare by email, send a message to their team directly.
Mobile applications: In a time when everything is happening so fast, keeping up to date with the market gives us an edge. Therefore, Coinsquare comes with its own applications that run on iOS and Android devices. This makes trading easier for investors, you can trade anytime, anywhere. Add to it Your Coinsquare dashboard is packed with robust charts and sophisticated features, so you can review the entire digital currency market and trade wisely. However, the Coinsquare mobile App sometimes crashes and loads slowly. In the future, we hope that Coinsquare will fix the bugs in the app and improve it so that users have the best experience.
Support for the most popular crypto assets: If you are a novice trader who is solely interested in trading the most popular crypto assets, Coinsquare can help you.
Coinsquare Referral Program: Coinsquare provides a referral program that pays you up to 45 percent of their fees as a reward. You may share your referral code or link with others by copying it from your account dashboard. When your referral (friend) deposits $200 into their account, they will get $20 in BTC.
Coinsquare Pricing and Plan?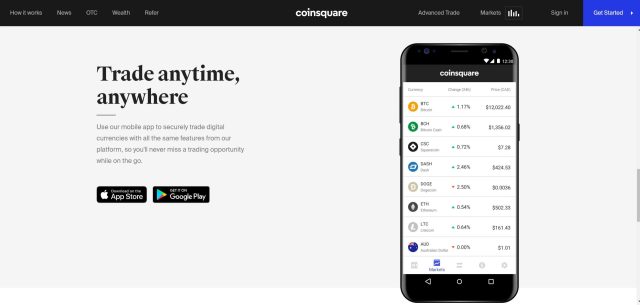 Coinsquare's trading costs are easy, transparent, and incredibly reasonable, coming in at half the price of some of its competitors. Coinsquare calculates what you'll pay when you place a deal using a maker-taker fee schedule:
Maker fees: when buying or selling, adding liquidity to the market. If you place an order and no one buys/sells it at that price then you have to pay the manufacturer fee
Taker fees: your order is immediately matched with an additional buy or sell order to close both orders and remove liquidity from the market.
Depending on your trading pair, the fees will vary:
Bit markets: maker fee – 0.1% of your trade value; taker fee – 0.2% (1 in trading pair with Bit)
Altcoins: 0.4% if both pair are altcoins. This fee schedule applies whether you are making or taking liquidity.
Sometimes your order price may seem different from what you entered because when you enter a price that is not on Coinsquare's price grid (Price grid is the term we use to refer to the set of all valid prices that where the order coin can be entered on our platform), it will be rounded to the nearest valid price on the Coinsquare price grid. Example: User wants to buy 1 BTC for $44,190 CAD. Since $44,190 CAD is not included in our price grid, our system automatically gives the closest valid price, which is $44,189.52 CAD.
Broker
Best For
More Details


New Cryptocurrency Investor
Read Review

 




securely through Coinsquare website
Who is Coinsquare Best For?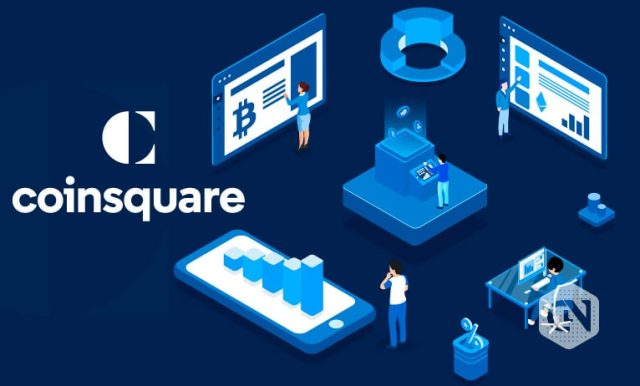 Its simplicity, with easy navigation choices and training offered on the site, attracts new crypto investors.
Canadian cryptocurrency traders benefit from cheap fees.
Investors are particularly concerned about transaction security, which is entirely secure due to Coinsquare's excellent security.
Crypto merchants in Canada are being targeted.
Coinsquare is aimed at traders that desire an OTC desk and a high degree of security and only invest in the largest and most established cryptocurrencies.
Coinsquare Pros and Cons
Pros
Simple, easy to understand registration process that anyone can do
Fast verification for new accounts.
Mobile application available for both iOS and Android platforms convenient for market monitoring
QuickTrade feature that allows you to instantly convert one crypto asset to another
High-level security and cold storage for tokens and coins for peace of mind
The Coinsquare Wealth service is attractive if you want to do larger OTC transactions.
It has a referral program where you can get paid up to 45% commission on its fees.
Competitive transaction fees and free deposits
Managed as a Money Services Business (MSB) with FINTRAC.
Provide chat and email support that makes communicating with customers easy
Cons
Because it is based in Canada, many foreign traders, including those in the United States, will be unable to access it.
A limited number of tradable coins and tokens
Sometimes get some errors on the app
Coinsquare User Experience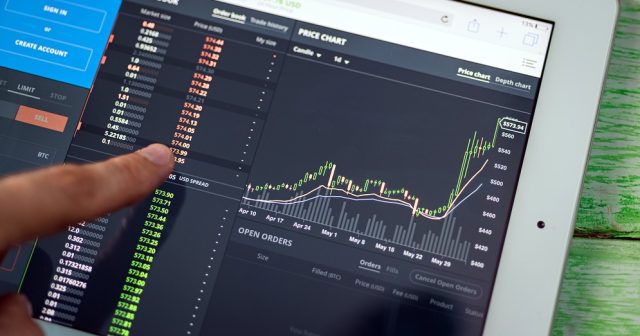 Unlike some of its competitors that focus on providing users with a variety of charting and analysis tools, Coinsquare is focused on providing new investors with a simple, pleasant platform to work with. Investor transactions become easier.
In addition, the platform's proprietary security software ensures that the exchange's asset keys are kept safe and undisclosed. Features such as low fees, transparency, high security… have shown that Coinsquare is very focused on user experience, they aim to help customers feel the most convenient and secure when service use. Also, they are very focused on customer care. Any customer has any questions or problems, just a call or an email will be fully supported.
However, the mobile application is still not very good, because sometimes the application is laggy and has some errors. Through user feedback, Coinsquare is in the process of improving its application.