Celsius Network Review: Is it Best for Crypto?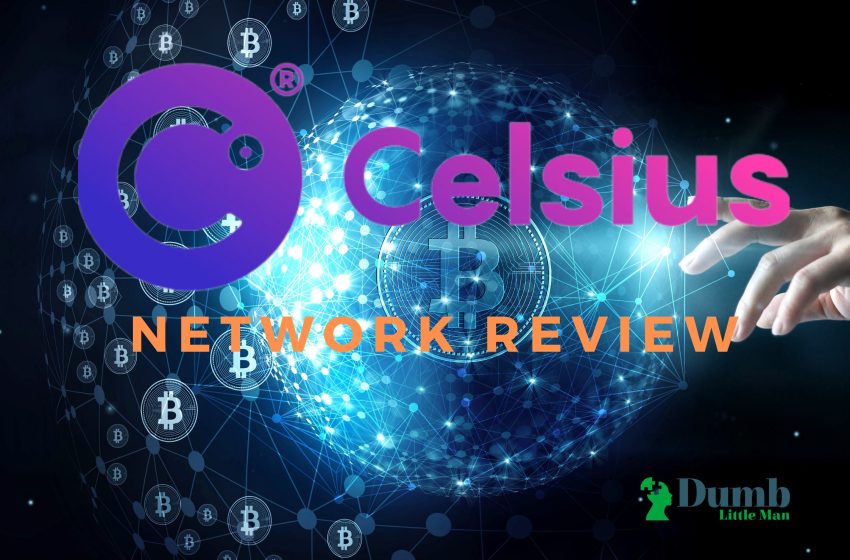 Recently, the market capitalization of Crypto market has skyrocketed to 3000 billion USD and is still on the rise in the future. Because money is constantly flowing into Crypto, this is an extremely attractive market for investors to participate in. With the growth of the whole market, the lending market also developed and there are many lending platforms, but the most prominent is Celsius Network.
Celsius Network understands that a long position is extremely important in determining your win or loss in the financial markets. Therefore, we have launched a lending platform so that whenever you need it, you can borrow money quickly and easily. Crypto loans are based on your collateral without having to sell those tokens, avoiding missing out on asset appreciation. In addition, if you want to make money, have passive money, CN has an earn mode with an attractive interest rate.
To understand more about this loan segment, in this article I will help you understand what Celsius Network is, how it works, and its characteristics. From there, everyone will decide to make it their useful platform or not.
Celsius Network Review: What Is Celsius Network?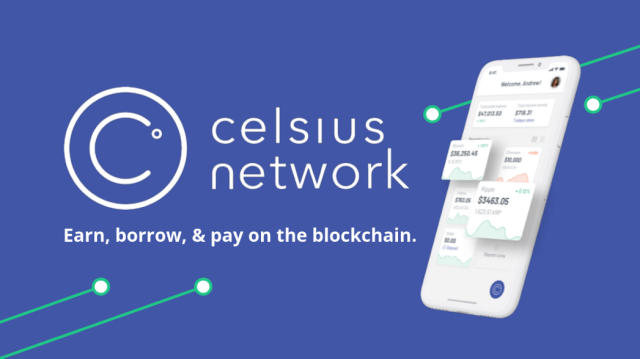 Celsius Network (CEL) is known as a decentralized personal cryptocurrency lending project (Person-to-Person) based on blockchain. The project was established in July 2017 in London (UK) by Alex Mashinsky. Celsius Network permits customers to receive interest from cryptocurrency loans such as Bitcoin (BTC), Ethereum (ETH)… and borrow at low-interest rates is a goal
And up to now, Celsius Network has confirmed its position in the market. With a market capitalization of CEL token of more than $1.3B (according to Coingecko), the number of Celsius users is 1.5M members, reaching 150+ countries worldwide, assets up to $22B (as of 14/1/ 2022), $8.20B in loans processed, Access to 40+ digital assets….. Celsius Network, a digital asset lending platform, was named "best cryptocurrency wallet" at the fifth-annual FinTech Breakthrough Awards, a biennial event that honors new firms at the interface of finance and technology.
To achieve success today, it is impossible not to mention the contributions of leaders: Alex-Mashinsky, S.Daniel Leon, Nuke Goldstein. With Celsius Network's Mission to provide a free financial platform, promote economic opportunity as well as unprecedented income equality for users up to 99%, Celsius Network has provided a P2P lending platform with many incentives attractive, easily overcome the shortcomings of traditional banks such as mortgage registration, cumbersome procedures, time-consuming, cumbersome identity verification, corruption, unethical …. provides many services diversified financial services and most especially lending with the best loan interest rates, while helping lenders benefit. This contributes to stimulating the development of the common market.
| RECOMMENDED TRADING COURSE | REVIEW | VISIT |
| --- | --- | --- |
| | #1 Forex, Crypto and Stocks trading course. Ranked most comprehensive by Investopedia and Best by Benzinga. Free to Try! | |
How does Celsius Network work?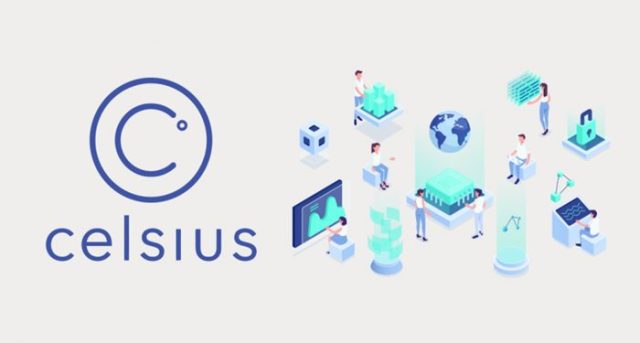 Celsius Network opens up a huge earning network, allowing users to stake their cryptocurrencies for profit. To do this, users need to participate in depositing crypto-assets into the platform and looking for rewards on several cryptocurrencies. For example Bitcoin, Ethereum, USDC. The Celsius system manages the funds deposited in the "Lending Stake Pool". Then, they will lend money to external crypto exchanges, and the profits will be distributed appropriately to each user. To determine the exact distribution of payments to borrowers, Celsius Network has applied the Proof of Stake (PoS) algorithm. In which, the interest paid to the lender is a function of the amount deposited, the number of days participating in the Celsius network consensus mechanism.
Celsius network allows participants to borrow USD and other assets based on crypto collateral. Loans on Celsius Network always have a higher acceptance alternative to the markets. This Celsius is an Authentication is intended to provide absolute protection to customers from failure clauses that may arise when the field changes. So you can borrow 25%, 33%, or 50% of the collateral value. You can start earning interest, with interest payments deposited will be straight into your account. The Celsius mobile app features a range of other financial solutions such as crypto-backed loans, zero withdrawal fees, and direct payments to family and friends.
What are the Features of Celsius Network platform?
1.EARN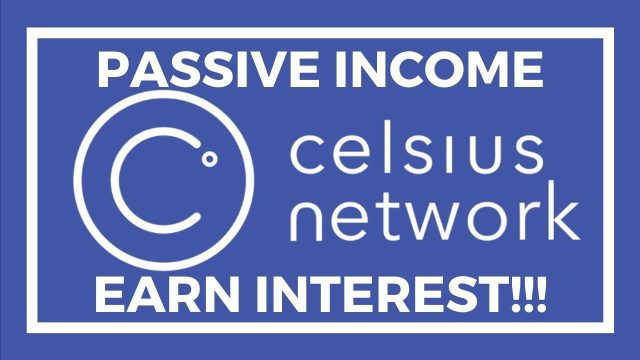 Every Friday, your incentives are computed and added to your wallet on Monday. Plus, the day you deposit is the day you start earning.
There are no fees associated with using the account.
Weekly rates:
Stablecoins – are digital assets pegged to fiat currencies, such as dollars, and have low volatility. Very high In-CEL (APY) reward ratio (at Platinum level): USDT, BUSD, TUSD, GUSD, PAX,… (10.73%)
Gold token: gold token is a type of digital asset tied to physical gold. The price of the token correlates with the price of gold. There are attractive In-cel bonuses: PAXG, XAUT, WDGLD (6.92%)
Cryptocurrencies: Celsius now supports the most popular crypto, including native blockchain money like Bitcoin and Ethereum, staking coins like DASH, and utility tokens like CEL. There are many big coins like BTC, BNB, ETH, 1INCH, UNI, SUSHI, etc. with extremely attractive In-cel bonus rates ranging from 0.63% -17.85%
– Contrary to banks, Celsius does not require a minimum crypto deposit to start earning interest. With fewer restrictions but more efficient in terms of profits, Celsius Network brings a breath of fresh air in the way you manage and hold your assets.
2.Borrow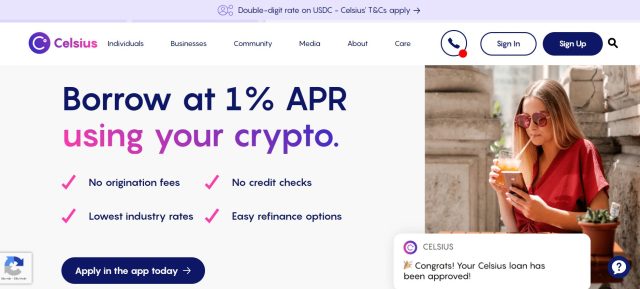 The main thing is that Celsius Network is very diverse in terms of crypto services on several platforms. Investors can lend and lend with stable coin, Bitcoin, lots of altcoins.
Borrowers can see low-interest rates with a 1% APR using your crypto, No origination fees, the Lowest industry rates, Easy refinance options. To access C-Network loans, simply select the type and amount of collateral you want to deploy, the loan term, and the desired USD loan amount through the Celsius mobile app. Compared to a typical loan process that takes days or weeks, Celsius loans happen in minutes or seconds. Since all loans are collateralized, there is no need for credit checks or alternative verification protocols.
Celsius is licensed by the California Department of Financial Innovation and Protection under California Financial Authorization Law License No. 60DBO-133776. The loan of the account will be created by Celsius Lending LLC under this license.
The loan can be paid off at any time. Don't worry if you close early, you will be penalized, you can completely pay off the loan at any time. But it's just a loan, and if you want to earn, you have to wait until the day the money in your account is secured.
3.Token Celsius (CEL)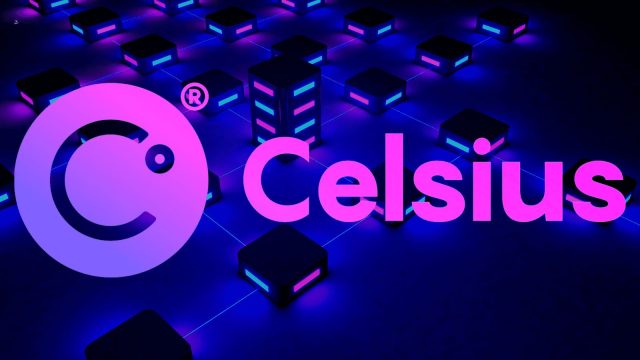 Celsius (CEL) is a token of the Celsius Network decentralized lending platform that was released ICO in March 2018. Celsius (CEL) is built and developed on the platform of Ethereum under ERC-20 standard. Priority when using CEL token on CEL network:
Bypass the queue: When the ability to lend USD is limited due to increased demand, those who HODL many CELs will be given priority to lend first.
Lower Loan Interest: Borrowing user accounts will receive a 25% discount when paying with CEL tokens.
Higher Earning: Users will be paid 20% more if they accept payment in CEL tokens.
CelPay: Users will be refunded with CEL tokens when using CelPay. Rate 1% when trading with BTC or ETH and 2% when trading crypto with CEL tokens.
Premium service, support, and events: The 100 Hodlers holding the most tokens will be given priority to use a variety of services, support, and participate in events organized by C.
4.CelPay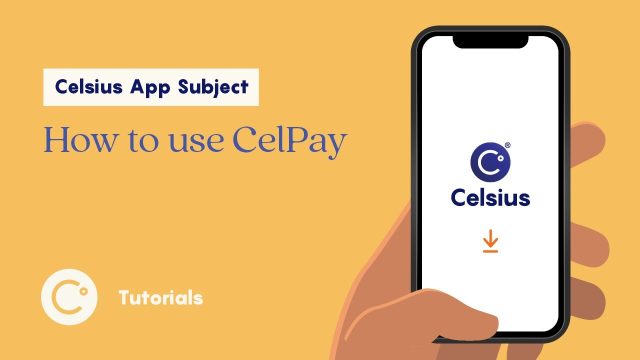 CelPay lets you receive crypto right from the Celsius app, allowing you to pay friends and family with crypto at the same high speed as any other payment app, and the person you are sending crypto to does not need a Celsius wallet.
With 3 easy steps you can transfer cryptocurrency: select recipient, select coin and amount, add a note, and send. Unlike cryptocurrency transfer networks that calculate a percentage per transaction, Celsius Network's money transfer is free and compatible with all cryptocurrencies listed on the app.
| RECOMMENDED TRADING COURSE | REVIEW | VISIT |
| --- | --- | --- |
| | #1 Forex, Crypto and Stocks trading course. Ranked most comprehensive by Investopedia and Best by Benzinga. Free to Try! | |
Celsius Network Pricing and Plan?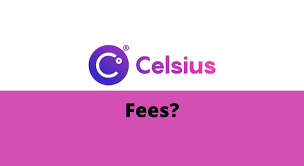 The reason Celsius Network has the success it is today is that Celsius Network provides many "no charge" services:
Minimum deposit amount, withdrawal fees, loan origin, early termination fee, a deposit fee of $0
You can enter cryptocurrencies with the capital you have without paying high transaction fees.
No hidden fees, and no complications when you're ready to withdraw your funds.
Celsius can do this because they generate profits through lending and lending services.
In the Celsius app, you can buy coins that Celsius coins offer including DAI, BTC, Eth, Polkadot,… (all coins with large market cap and long term upside potential) by:
ACH transfer (via Wyre)
Bank transfer
Buy a debit card
Purchase with a credit card
Transfer SEPA
Who is Celsius Network Best For?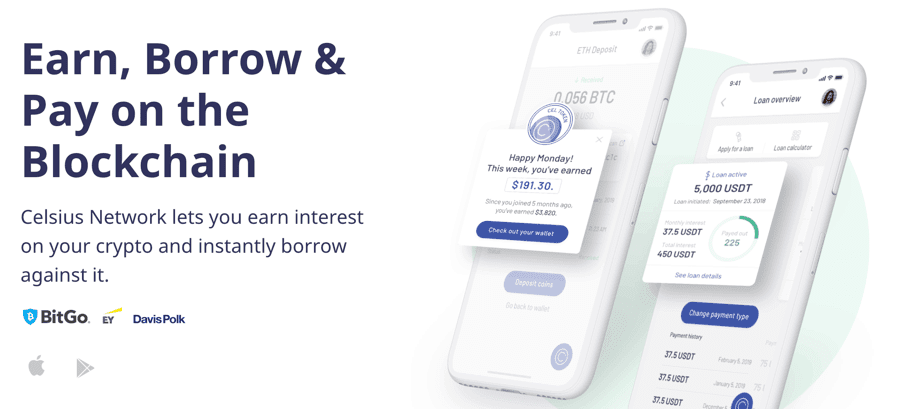 For beginners because the process is easy to follow
Suitable for investors who are looking for passive income on their properties
Cryptocurrency trading is less significant to you.
You don't mind having more centralized control than other crypto platforms.
You live outside of the United States, so you can obtain the best loan interest rates and benefits.
You enjoy the notion of being able to transfer and receive Cryptocurrency funds straight from the Celsius wallet app.
Celsius Network Pros and Cons
Pros
Robust DeFi Service
The privilege of using its native CEL token
CelPay is an easy to use money transfer system
Have $30 million in insurance for assets stored in the Celsius wallet app
Residents from 150 countries can trade via desktop app, iOS, or Android
No fees for minimum balance, loan origin, or transfer
Rewards up to 17.78% APY paid weekly
The platform is simple to use and operate
Loyalty program
Cons
Highly centralized control
Only a handful of coins and tokens are available for purchase
No cryptocurrency exchange of its own, very limited trading through third-party providers
Celsius Network User Experience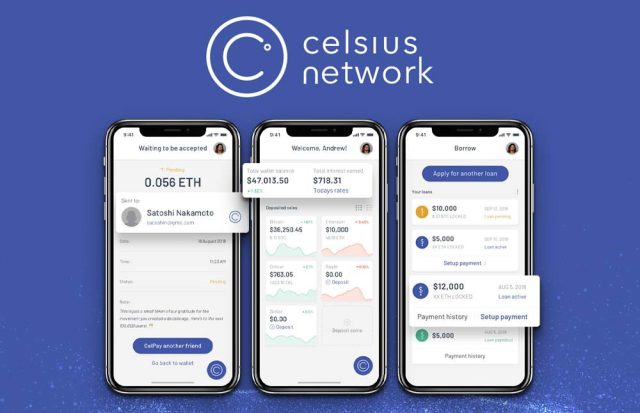 Celsius Network is trusted by many people because the user experience is too good. Celsius Network has brought investors an ideal interest rate for borrowing and lending. Along with that, there are no fees, no cumbersome procedures, easy operation. Celsius Network's service is good, now with CelPay, it makes receiving money extremely fast.
Eye-catching interface, easy operation. Web/ mobile App and Celsius Network's have an Interface that is as eye-catching, intuitive, and user-friendly as possible. You can access all the services and features Celsius has to offer, wherever you are. Your balance and total income/loan interest so far are available at the top of the dashboard and with one click you can see a weekly breakdown of your income/loans for the entire period you use the app. So it's easy to track your earnings, deposits, and withdrawal history.
With the purpose of being able to provide dedicated support, Celsius Network has a customer support team on many platforms. You can contact Celsius Network via Twitter and Reddit, via an app, phone number, email…this is special because not all platforms offer such options.
Celsius Network users can be assured of security because: Celsius Network is highly secure and provides better risk management and data security. It has ISO/IEC 27001 security certification, 24/7 Security Operations Center, Global Team of Cybersecurity Experts, Industry Leading Security & Asset Protection Infrastructure
Celsius Network vs Competitors
1. Celsius Network vs Crypto.com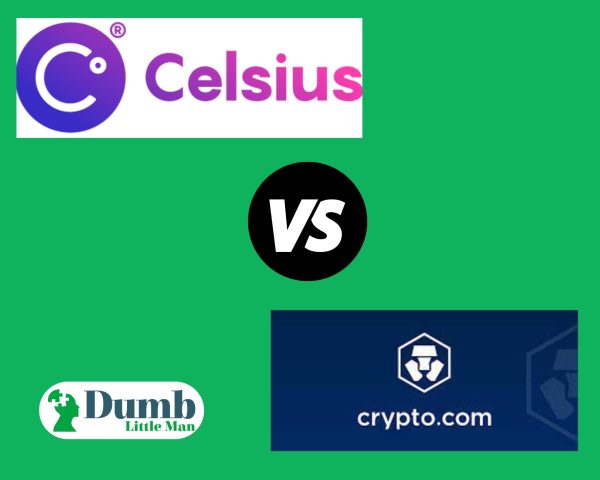 Celsius Network and Crypto.com are both crypto lending platforms, with no minimum deposit. But Crypto.com has a minimum trading rule of 0.0003 BTC and no demo account, which makes it inaccessible to new investors. And most importantly, Crypto.com is not regulated but Celsius Network is regulated by the SEC, FinCEN.
Broker
Best For
More Details


Sign Up Bonuses
Read Review




securely through Crypto.com website
2. Celsius Network vs Nexo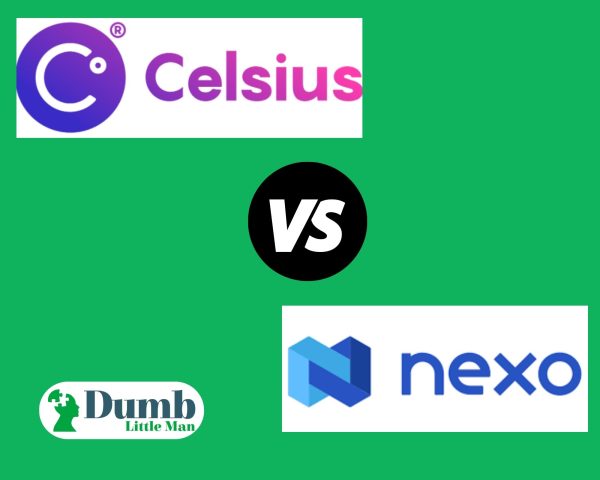 Celsius Network and Nexo are two lending platforms that are trusted by many people because of their peace of mind about security. Celsius Network is regulated by the SEC, FinCEN) and NEXO is regulated by (ASIC, FCEN). But Nexo requires at least $10 deposit, at least $30 trade. Instead of like Celsius Network you can start right away without minimum.
Broker
Best For
More Details


Long-term Cryptocurrency
Read Review

 




securely through Nexo website
3. Celsius Network vs BlockFi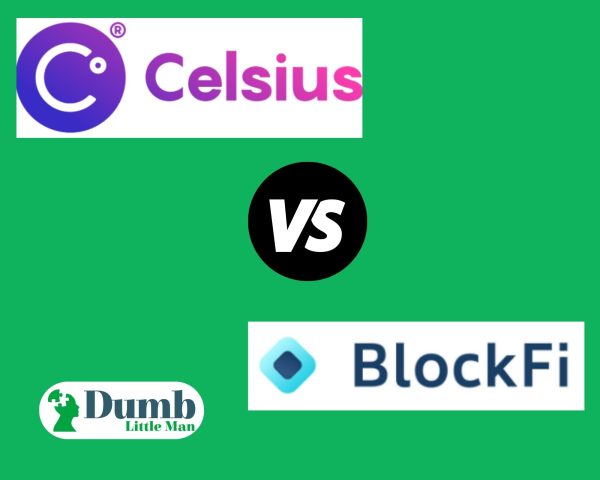 Together are two lending platforms and support many coins, no minimum deposit. But there are a few things that make BlockFi undeveloped and unregulated while Celsius Network is tightly controlled and reputable. If you are a newbie in the market, want to get more knowledge and experience without risking your money, unfortunately, there is no demo account in BlockFi, but Celsius Network does.
Conclusion: Is Celsius Network really the Best for Crypto?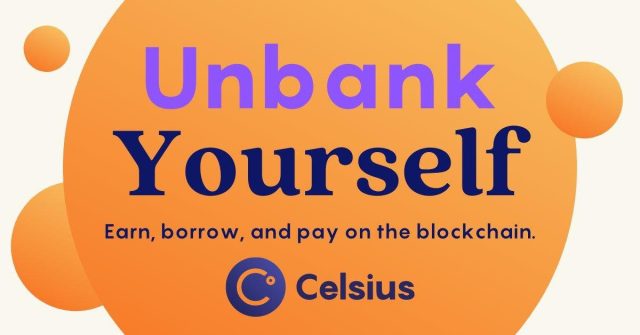 Celsius Network is a blockchain-integrated fintech platform. Celsius Network provides users with the most convenient crypto lending, transfer, and borrowing services. Anyone with an internet-connected device can access it as Celsius Network is available on both web and mobile app. Looking at the chart from January 1, 2021 to April 30, 2021, it increased by 200% and broke the record set by other digital asset lending platforms. This shows the potential of Celsius Network to become the largest lending and interest-collecting platform in the market.
If you have a long-term investment plan in Crypto, Celsius is a great choice that allows you to grow your crypto portfolio passively. If you already hold cryptocurrencies like Bitcoin, Ethereum, or stablecoin… then you can also earn interest on your holdings. Especially Celsius network is a great platform for beginners with advantages like earning and borrowing at attractive interest rates, no account minimum, no hidden fees, and no complications when you are ready to withdraw your money. These are all points that Celsius Network can overcome the weaknesses of traditional banks because Celsius Network's goal is to create a breakthrough in the financial industry, help users experience the most advanced services, bring the best experience. for customers. satisfied, eliminating intermediaries.
Additionally, the Company most recently raised $750 million and raised a new valuation of $3.25 billion. The newly raised money will be used by Celsius to increase its staff to 1000 people and carry out M&A deals to expand globally, expand its product portfolio and connect the financial industry. mainstream with DeFi through the newly announced CelsiusX project. From this Celsius Network review, it can be seen that Celsius Network's future prospects will grow extremely strongly to become the best for Crypto.
| RECOMMENDED TRADING COURSE | REVIEW | VISIT |
| --- | --- | --- |
| | #1 Forex, Crypto and Stocks trading course. Ranked most comprehensive by Investopedia and Best by Benzinga. Free to Try! | |
Celsius Network FAQs
Is Celsius Network Safe and Legit?
The Celsius Network is completely safe and legal. Celsius Network is regulated by the SEC, FinCEN and is highly secure and provides better data security and risk management. It has ISO/IEC 27001 security certification.
Can Celsius Network be hacked?
Celsius Network is a fintech platform that integrates blockchain and blockchain that is difficult to hack. However, investors still need to pay attention to actively protecting their assets.
How does Celsius Network pay interest?
Celsius Network will lend money to external exchanges, and the profits will be distributed appropriately to each user. To determine the exact distribution of payments to borrowers, Celsius Network has applied the Proof of Stake (PoS) algorithm. In which, the interest paid to the lender is a function of the amount benefit, the number of days participating in the Celsius Network consensus mechanism.
Like this Article? Subscribe to Our Feed!
Wilbert is an avid researcher and is deeply passionate about finance and health. When he's not working, he writes research and review articles by doing a thorough analysis on the products based on personal experience, user reviews and feedbacks from forums, quora, reddit, trustpilot amongst others.