Tradovate Review: Is it Best for High Volume Traders?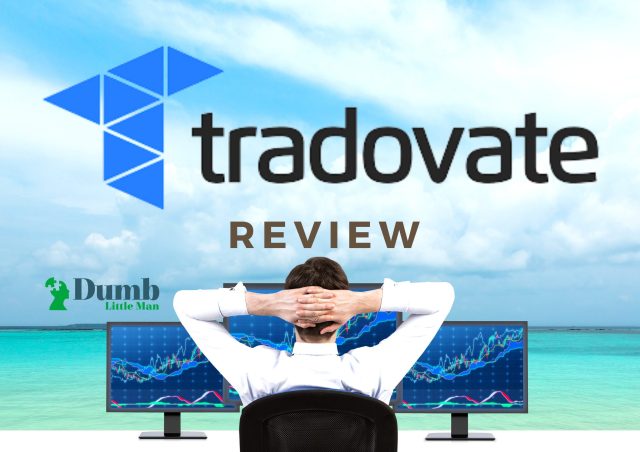 Want to jump straight to the answer? The best forex broker for traders is Avatrade
The #1 Forex Trading Course is Asia Forex Mentor
Tradovate is a forward-thinking futures broker with a tiered pricing system and a robust proprietary trading platform that can be used for a charge. Moreover, Tradovate has a community area where you may interact with other traders and discuss trading strategies. Tradovate's platform offers a sample account and a free trial to new users, allowing them to master the learning curve before registering an account.
Though the platform may be too complex for traders who want a more straightforward experience, it might be a good fit for more experienced traders.
Tradovate is an online trading firm that specializes in futures and options trading. It was founded in 2015. The broker offers web-based, mobile app-based, and computer program-based trading, all of which are seamlessly integrated.
There are several trading account choices available, and there are no transaction commissions charged by the broker. Choosing a futures trading platform might be tough with so many alternatives available. Tradovate is a forward-thinking futures broker with its own desktop and mobile trading platforms.
Our Tradovate review will teach you more about the advantages and disadvantages of signing up for an account. Let's see how you can trade stocks with Tradovate!
Tradovate Review: What Is Tradovate?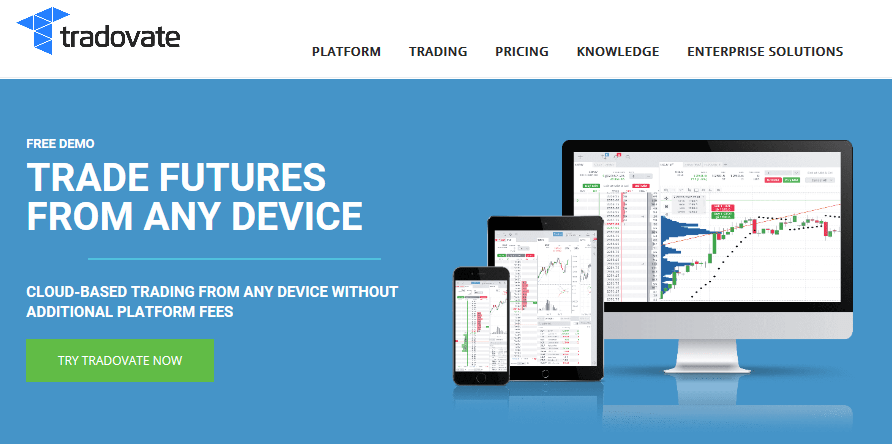 TRADOVATE is a corporation whose mission is to supply merchants with intermediate services. To begin with, brokers/cryptocurrency exchanges give access to currency/cryptocurrency trading.
In addition, many of them, particularly brokers, provide the ability to trade corporate shares, bonds, commodities, precious metals, indexes, cryptocurrencies, and other assets.
All of these instruments may only be traded by a private individual on a trading platform, which is supplied by a broker or a crypto exchange.
Tradovate is a cutting-edge derivatives platform and brokerage. Tradovate has created a reputation for itself in a competitive market because of its superior trading tools and novel features. Innovative fee plans and margin for day trading futures starting at $50 for the Micro E-Mini are two of its main selling features.
Tradovate focuses on addressing the demands of seasoned traders rather than being an all-in-one solution like many of its competitors. It gives them enhanced tools and features to assist them to make their tactics more efficient. Tradeovate became the go-to option for the highest echelon of the futures trading industry as a result of its niche-specific targeting.
How does Tradovate work?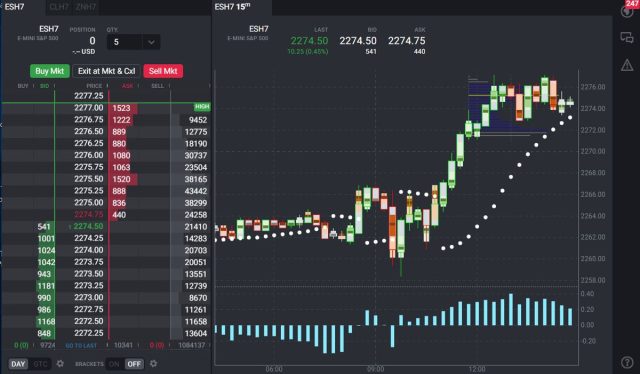 The Tradovate cloud-based trading platform is available to traders through the broker. The platform was created from the bottom up for speed and multi-device trading, using technologies tailored to active futures traders. It also allows traders to do market analysis using their preferred indicators and charting tools.
Tradingview, Jigsaw, and Collective2 all have direct API connectors that allow for smooth trading across all of your displays. As a client, you get full accessibility to all kinds of platforms, including the Windows or Mac desktop program, the web-based WebTrader, and the iPhone, iPad, and Android mobile apps.
On the broker's website, there are no separate trading tools. Nonetheless, the Tradovate cloud-based platform should feature plenty of built-in trading capabilities to please even the most discerning traders.
What are the Features of the Tradovate platform?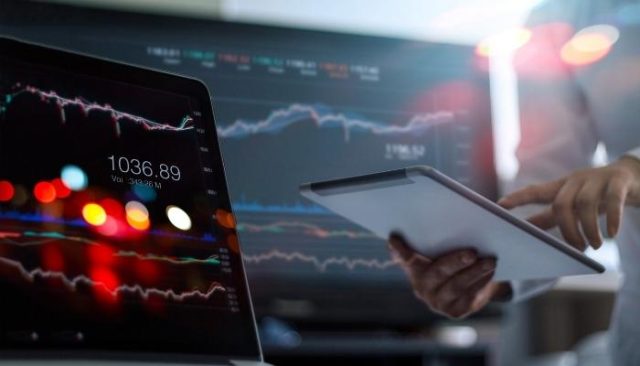 Tradovate is a specialist broker that allows consumers to trade futures contracts. Tradovate, unlike some brokers, has its own trading platform, which is surprisingly extensive and strong. The following list is a few of our favorite features of Tradovate's platform:
DOM (depth of market):
If your trading strategy relies on frequent, rapid trades, Tradovate's DOM function will come in handy. It allows you to swiftly examine price data, manage your positions, and make orders with increased speed.
Charting across platforms:
Tradovate's platform not only lets you design bespoke charts, but it also lets you store them and access them on several platforms, including PC and Mac.
You may, for example, access a custom chart you created on your desktop from your mobile account. This is a very beneficial tool if you frequently hop between different platforms to invest and trade.
Order management on the cloud:
Tradovate's cloud-based order management solution keeps orders safe on your server's exchange, not on your smartphone. This gives you speedier order management and an increased degree of security for your trades.
Trading accounts that are simulated:
You may practice your trading and investment techniques with paper trading accounts without any substantial risk of your real money. This can assist you in determining how well your specific trading strategy will perform in real-world futures market situations.
An account with a demo:
Still not convinced if Tradovate is the correct platform for you? Tradovate provides 2-week free trials to all users, with no need to establish and fund an account once the trial period ends. This allows you to try out Tradovate's trade management tools and directly compare it to your current platform.
Tradovate's website also offers a variety of technical lessons and instructional resources in addition to a complete platform. You may connect with other futures investors and futures trades opportunities, tactics, and ideas using the broker's Community function, for example. This sort of special feature can help you improve your trading and make the most of Tradovate's platform and resources.
Mobile app
Tradovate Pulse, the company's own app, allows investors who require mobile trading access to synchronize their Tradovate account. To make mobile trading easier, Tradovate Pulse has a number of extra capabilities not present on the browser-based platform, including:
Improved speeds:
Google's innovative Flutter UI is used to create Tradovate's mobile app. When trading on mobile, this helps you to execute transactions more quickly. It offers integrated multi device trading within the financial markets.
Effortless user interface:
When compared to Tradovate's desktop interface, the mobile trading platform is far more streamlined and uncomplicated. The broker is also aiming to make information more accessible on mobile devices, reducing the number of unnecessary taps and swipes.
Tradovate Pricing and Plan?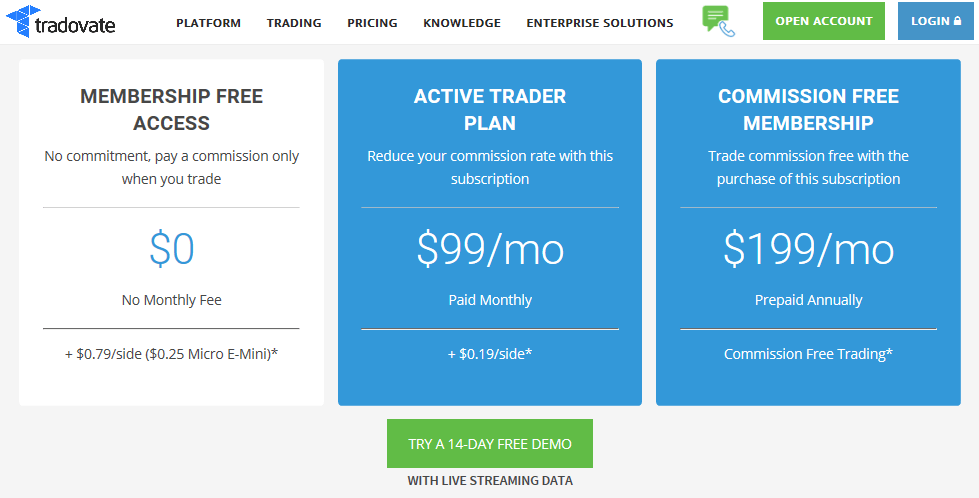 Monthly membership plans are divided into three categories:
Access without a membership:
This plan does not need you to pay a monthly charge to utilize it. You will be charged $0.79 per side commission for each deal. The fee for Micro E-mini contracts is set at $0.25 per side. The plan is ideal for futures traders who desire the flexibility of paying per transaction rather than making long-term commitments.
Plan for Active Trader:
This active trader plan package costs $99 per month and includes a $0.19 trading charge. Those that deal in large volumes and seek to lower their commission costs appreciate it. To make this plan a suitable alternative to free access ($99/$0.79=125), you must make at least 165 trades per month.
Plan with No Commissions:
This plan is the most sensible option if you want to trade in large volumes. If paid annually, it costs $199 each month; if paid month-to-month, it costs $349. This plan's sweet spot is about 441 transactions per month or >3,000 trades per year . When compared to the free and active trader plan, all of the aforementioned transactions save you money.
If you haven't pre-paid for a full year, Tradovate allows you to upgrade or downgrade programs every month. Additional add-on services, such as Market Replay, are available on the trading platform. It enables the trader to replay any open futures contracts for a certain time period and trade them with full market depth. The Market Replay tool is available in the free platform trial period of two weeks.
Otherwise, the cost is determined by the membership plan. The Membership-Free option, for example, costs $69 per month. It costs $25 for the Active Trader and Commission-Free programs.
Who is Tradovate Best For?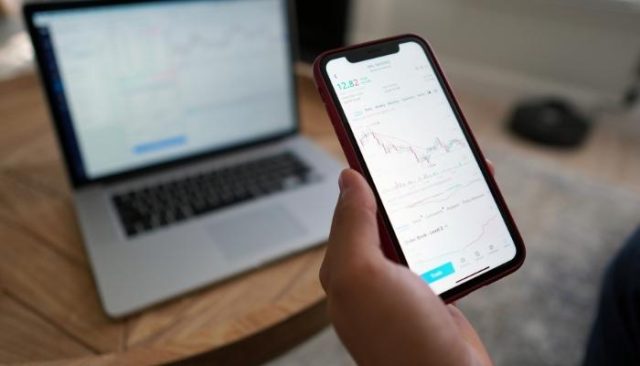 Tradovate is the best futures trading platform for active traders. The commission-free membership is Tradovate's key advantage.
Traders that pay $199 each month can trade without paying any commissions. To make it cost-effective, you'll need to trade substantially more than 1,000 times each month, but any trader who does will save a lot of money.
Standard futures accounts require a minimum deposit of $2,000, whereas Micro E-Mini accounts require only $250.
The day trading margin for Micro E-Mini futures is $50, while for normal futures it is $500. The overnight margin per ES contract is around $5,800.
Tradovate Pros and Cons
Pros
Free trading platform with a variety of features
Users may connect with other traders through the Community tab.
Pricing system with tiers
For experienced futures traders, it is simple to use right out of the box.
Cons
Currently, only futures trading is supported.
For beginning traders, the platform might be daunting.
Tradovate User Experience
While Tradovate has a lot of features and tools to help you improve your trading, we have found that the interface gets a little crowded and clunky.
When utilizing the desktop trial account, finding tools was tough, which might be a significant disadvantage if you're a beginner futures investor who relies on a succession of swiftly performed transactions.
Other brokers let customers connect to a familiar platform (such as MetaTrader), whereas Tradovate solely utilizes its own platform. This implies that when you first start using Tradovate, you should expect a learning curve.
Before choosing if the broker's unique platform is right for you, we recommend trying out a Tradovate demo account. This is not to say that you should disregard Tradovate because you've never traded before. Before making a choice, we recommend using the broker's free demo platform. Even if you have prior futures trading expertise, we recommend using the platform's demo trading capabilities to familiarise yourself with the platform's structure before placing a genuine deal.
Tradovate vs Competitors
1. Tradovate vs Tradestation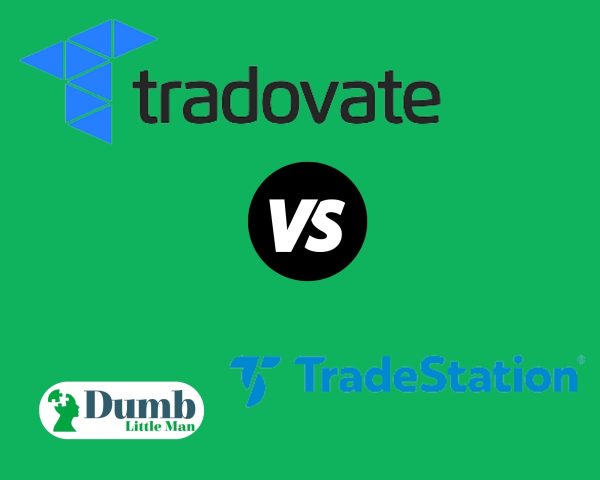 Both TradeStation and Tradovate provide an almost overwhelming amount of tools, data streams, and customizable portfolio analysis options to their customers. Both offer several third-party app connections, allowing for more in-depth technical analysis and automated trading techniques. Although they make an attempt to assist novice investors, some brokers are best suited to experienced traders. Furthermore, both TradeStation and Tradovate provide zero-commission trading, which is appealing to infrequent traders.
These two brokers, who have a long history of attracting regular traders, provide a choice of pricing options to suit their diverse clientele. In 2019, both companies introduced zero-commission programs with various restrictions.
Tradovate offered two new pricing plans during the price-cutting frenzy of fall 2019, both of which include commission-free equities trades and options transactions with no per-leg cost. The other programs are substantially more complicated and incorporate per-share or per-contract fees that are tiered based on trading frequency in each asset class. Tradovate's price page is a good place to start if you're a frequent trader.
2. Tradovate vs Interactive Brokers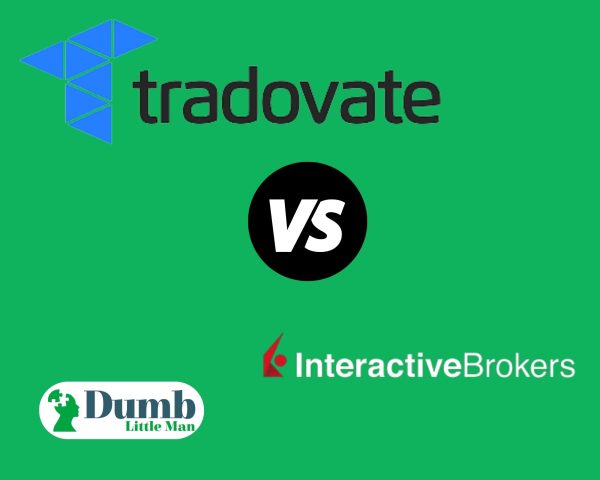 Clients of both businesses will not get interested in idle cash as of May 2020. The difference between what you're paid on your idle cash and what they earn on client balances is how the two brokers make money.f Stock lending schemes are offered by both firms, which split the income collected on shares lent to short sellers.
If you qualify, you may apply for portfolio margining with Tradovate, which reduces the amount of margin required based on the total risk estimated. Portfolio margining is most commonly used by clients who trade derivatives to mitigate the risk of their equity assets. Portfolio margining is not available on Interactive Brokers.
Conclusion: Is Tradovate really the Best for High Volume Traders?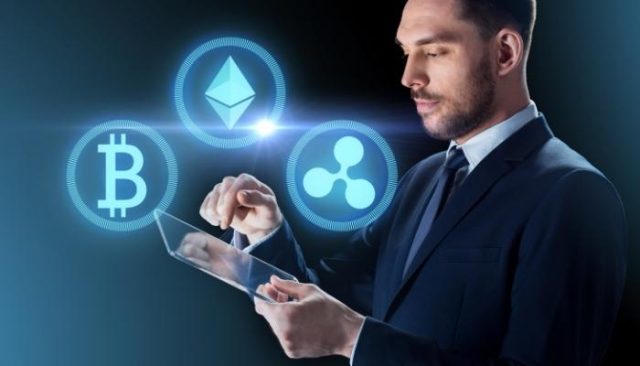 Tradovate's chart module includes personalized notifications and real-time news. This means you can close several browser tabs and have everything in one place.
It also includes on-demand reports of all your order, position, cash, and membership activities, making trading review sessions a breeze. People who have never traded futures assume that getting started is too tough. Tradovate, on the other hand, is the future's platform I suggest since it has made futures trading easier and more pleasurable.
Tradovate's commission-free trading and cloud-based solutions are similar to Netflix. You'll receive a seamless experience that you can use on any device, whenever you want it. Tradovate is the first online futures and options brokerage service that provides flat-rate membership pricing and next-generation technologies. The technology-driven broker is available on every screen size and on any platform.
Tradovate FAQs
Is Tradovate Safe and Legit?
No, tradovate.com is not a scam website, but it is your responsibility to be aware of the warning signs whenever you engage in an online transaction. Keep in mind that even legal firms receive complaints and have dissatisfied customers. Finally, you should use caution while doing business on any website, not just tradovate.com.
Tradovate provides mobile trading apps for both Android and iOS, allowing traders to trade on the go using their smartphones and tablets. The main Tradovate mobile app and the Tradovate Pulse app, which is created with simplicity in mind, are available to clients. It is one of the safe futures brokers.
How much money do you need to trade on Tradovate?
Tradovate account holders must have a minimum balance of $2000. The most prominent indexes also have $500-per-day trading margins (S&P 500 E-minis, Nasdaq 100, Dow, and E-mini Russell 2000).
Do you have to pay to use Tradovate?
You will not have to give a monthly fee to use the Tradovate platform and utilize its entire range of tools and services, unlike other rival futures platforms. Customer Service that is Tradovate, Tradovate provides a few unique ways to contact the company's customer support department.