TradingView Review: The Ways To Your Money [2023]!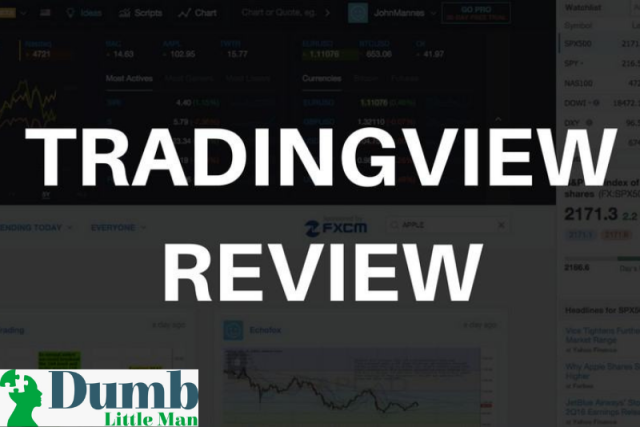 Hey, I know you might be wondering why we're talking about TradingView. Well, TradingView is a social platform that has been around for years and it's really the best place to go if you want to learn how to trade stocks and other assets. The site offers live chat support as well as several different types of charts that will help you analyze every aspect of your trades before deciding on whether or not to make them. It's also free so there's no reason not to try it out.
Here Is TradingView Review
What is TradingView?
Well, TradingView is an online stock trading platform that allows users to access "charts" which give them access to price data for specific currencies and assets. Users can also use their charts to place buy or sell orders on the chosen currencies or assets via a platform known as Stop Orders.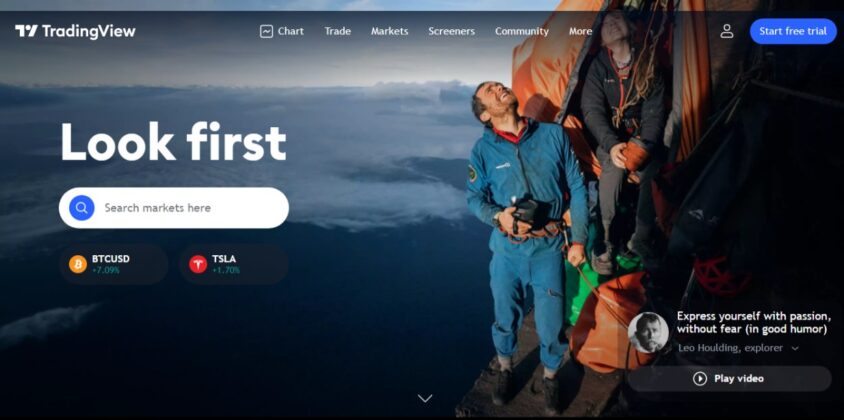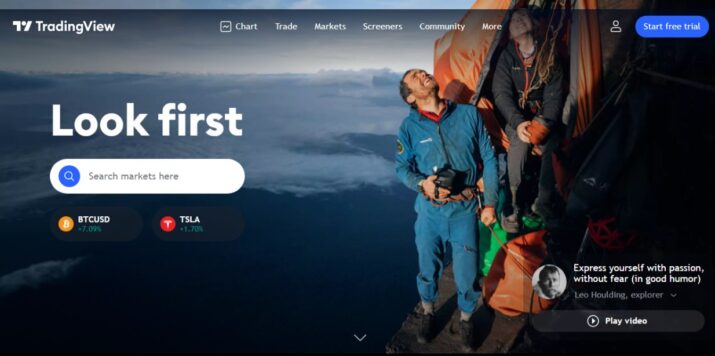 TradingView is basically a social platform that offers you various ways to learn how the market works and the tools you need in order to analyze your trades. It also gives you access to live chat support which makes it all user-friendly and very easy to use. The site has been around for years and many traders swear by it because of its simplicity and features that make analyzing trades a breeze.
| RECOMMENDED TRADING COURSE | REVIEW | VISIT |
| --- | --- | --- |
| | #1 Forex, Crypto and Stocks trading course. Ranked most comprehensive by Investopedia and Best by Benzinga. Free to Try! | |
How to use it?
No matter what kind of trader you are, if you want to get good at trading stocks or other assets, the first thing you'll need is knowledge. You can't trade anything successfully unless you know exactly what is going on behind the scenes.
Fortunately, TradingView helps you with that by offering you access to tons of different charts, own indicators per chart via pine script, and other information which will help you figure out if the price movement of an asset is likely to go up or down.
TradingView enables users to put together their own "watchlist any" made up of various assets or currencies they're interested in simulated trading at a given time. It also offers several different types of charts. Some of these include:
– Candlestick Charts – They offer both candlesticks (which shows the opening, closing and it usually shows highs, lows as well) and bar charts (which provide users with more statistical analysis than traditional candlesticks).
– Line Chart – This type of chart gives traders access to historical price data.
– Area Chart – This type of chart allows traders to see the highs and lows of the day as well as other dispute form showing price movements.
There's also a live chat that gives users access to expert advisors who will give you tips on how to execute successful trades if you're just getting started out. An experienced trader is the one available for advising over chat.
Plus, since TradingView is accessible online, you don't have to download any heavy software onto your computer in order for it works which makes things easy enough.
CLICK HERE TO READ MORE ABOUT TRADINGVIEW
Various features of the platform
Live Chat Support
As mentioned above, one great thing about TradingView is its ability to offer users access to a live chat customer support team which means if you don't understand something or need help with anything at all, you don't have to go elsewhere.
The customer support has several experts available who will answer your questions and allow you to learn more about trading stocks or other assets.
Tutorials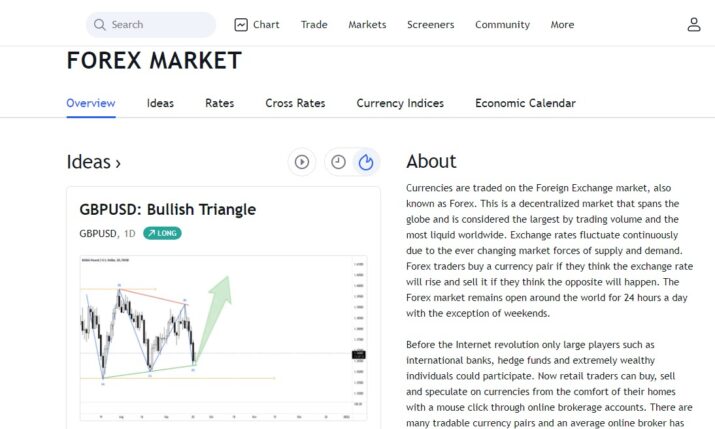 This is another great feature that makes TradingView easy enough for beginners to understand how it works.
It allows users access to short videos that explain the functions of each chart as well as other types of signals they might not understand. There is customer support if required.
Charting Platform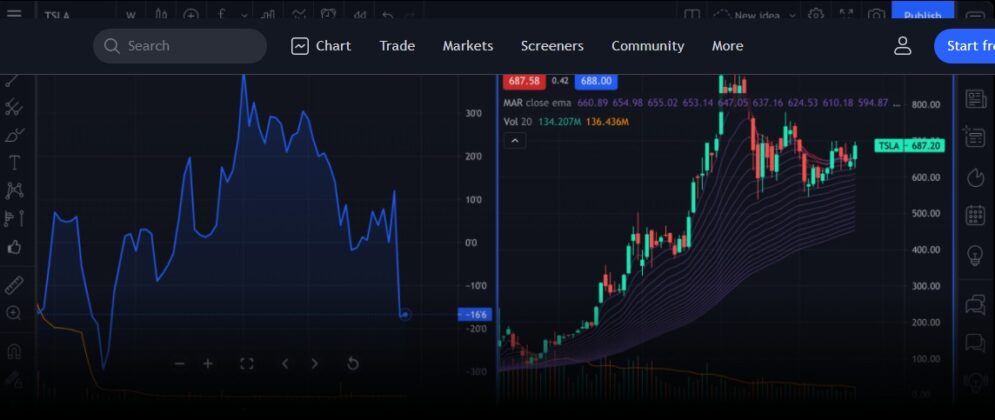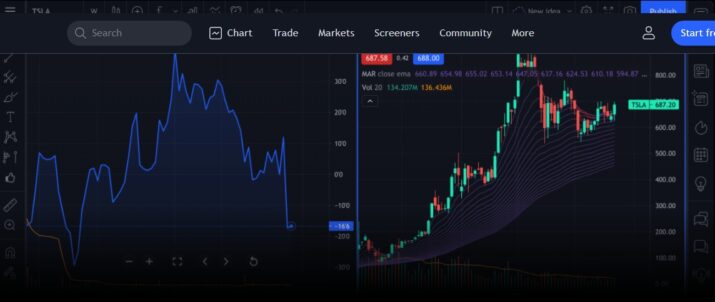 One of the main reasons why professional traders use TradingView is because of its various charts which give them access to historical price data, real-time price analysis via live chat support, expert advisors, etc., trendline tools, technical indicators panels, and several types of studies including Fibonacci Retracements, Gann Angles, Pivot Points and plenty more.
Technical Indicators
At the same time, TradingView features technical indicators on the platform which allow users to conduct technical analysis. For example, there are over 30 types of different trendlines that can be applied to different charts.
There are also over 500 different studies available (including Stochastic Oscillator, MACD Histogram, Fibonacci Fans, and more). That's not all, however; you also have access to things like Bollinger Bands Channels.
Drawing Tools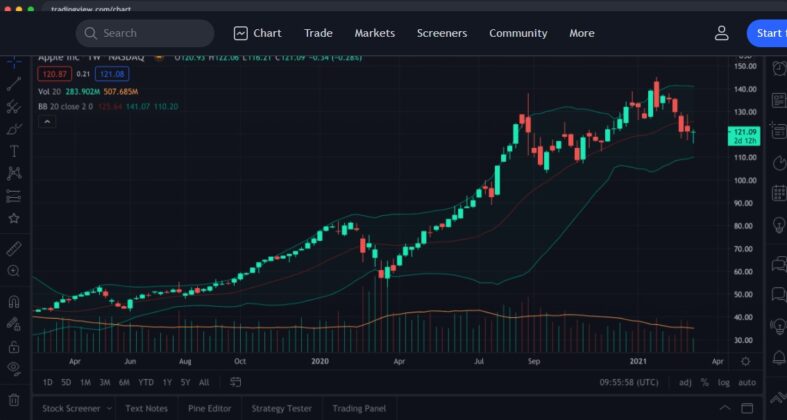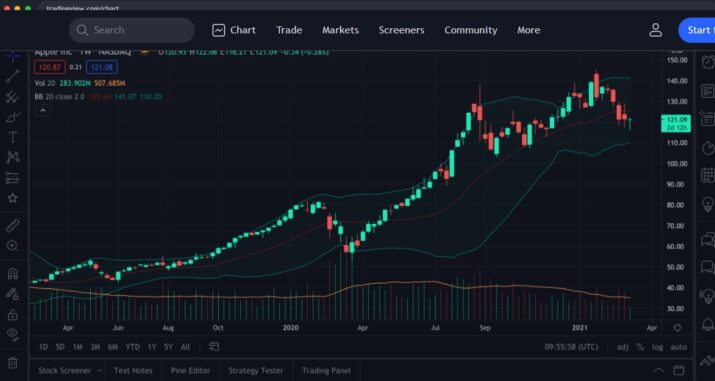 If you want to invest in assets but don't know what levels to buy or sell at, TradingView has a fantastic way for you to figure this out via its drawing tools consist of Trendlines & Horizontal Line, Fibonacci Retracements (both horizontal & diagonal), Gann Angles, Pitchforks and several other types of tools that traders need to know about.
Timeframes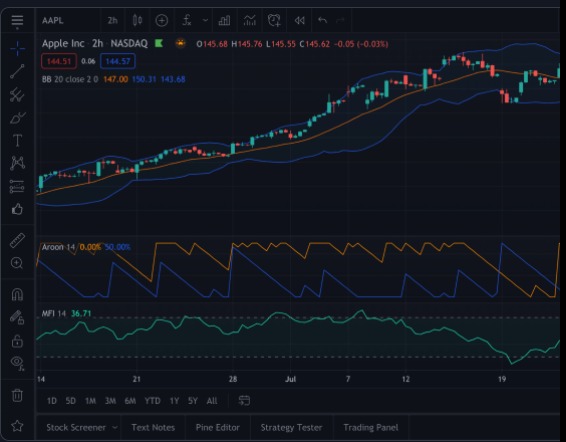 It doesn't matter if you're interested in long-term trading or short-term trading capabilities, TradingView has something for everyone with its various timeframes which allow users access to data from the likes of a 1-minute one chart way up to a monthly timeframe. It also offers paper trading facilities.
CLICK HERE TO READ MORE ABOUT TRADINGVIEW
Social Network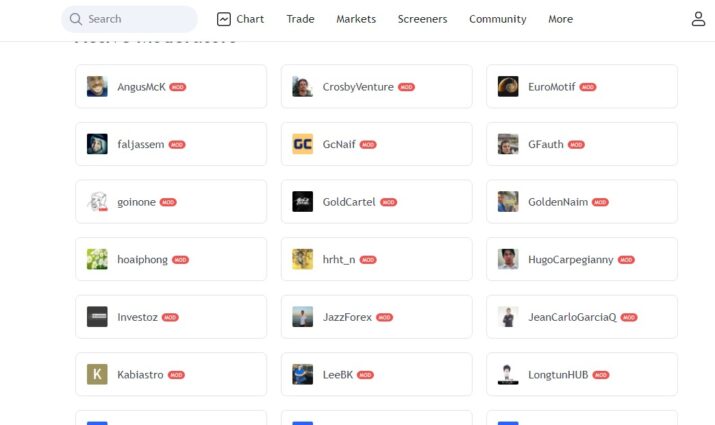 TradingView offers a fantastic social network that is filled with hundreds of thousands of traders from all over the world. It allows those who are part of the community to communicate with one another and share ideas (and chart setups) too.
Margin Calculator
This is a must-have tool for those looking to trade with leverage as it provides all the necessary information you need in order to calculate margin requirements and also see how much equity is needed in the account itself.
Plus, it's a great way to compare leverage usage against historical data so you can stay up-to-date with what's going on across different timeframes.
Portfolio
If you're an active trader, then this feature will be especially useful as it allows users to manage their entire portfolio from within one screen via TradingView's "Portfolio View".
It includes both assets that are being sold and bought, current holdings, and your gains/losses, etc.
Pivots & Levels
This is an excellent tool for those who enjoy technical analysis as it provides over 10 different pivot points which you can use to your advantage when trading with.
Aside from this, TradingView also lets you set up and save price targets and stop losses too (both long and short positions).
Exchanges
With TradingView you have the ability to trade on one of 11 different exchanges which include Bitfinex, GDAX, Poloniex & CEXIO. You have the option of an online ticket support system.
This means whether it be Bitcoin or any other cryptocurrency; you'll always be up-to-date with what's going on across each exchange at any given time.
Screeners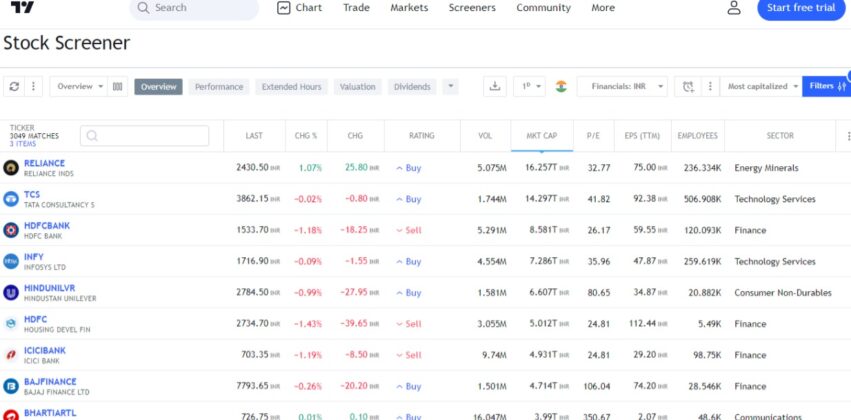 Screeners are an excellent way to find trading capabilities in real-time for active traders. TradingView offers 5 types of screeners which include stock screener, forex screener, crypto screener, stock heatmap, and crypto heatmap.
Stock screener includes screener from the likes of NASDAQ, NYSE & AMEX among other big-name exchanges. Stock screener helps active traders to easily find stocks that are being traded on the stock market. Crypto screener does the same thing but for cryptocurrencies instead. Forex screener allows forex brokers to see currency pairs in real-time market data so you can trade quickly and efficiently, while crypto heatmap is a great way to keep an eye on financial markets movements across several timeframes. Crypto heat maps allow users to analyze market changes based on percentage growth or loss.
Pros and cons of TradingView
Pros
– There are tons of resources available for beginners and advanced traders alike.
– The social media community aspect of TradingView is quite impressive as it allows like-minded traders and investors to come together in order to share strategies and ideas.
– It's easy enough for beginners to learn, however still offers plenty of research tools & studies that make an impact on more experienced individuals.
Cons
– Some functionality may be limited depending on the user's subscription plan. For example, drawing tools are not available in their free version.
– Does not have technical analysis timeframes below 1h.
Overall TradingView review is that TradingView has a great UI and provides incredibly insightful paper trading tools that function just as well on the web platform as they do on the desktop version.
You can also see how people are using certain strategies by viewing their backtesting results which is something you won't find with many other cryptocurrency paper trading platforms out there today. Plus, their free charting platform for beginners is very impressive too. And the platform supports all sorts of scripting language with server-side SMS alerts.
CLICK HERE TO READ MORE ABOUT TRADINGVIEW
Pricing and Subscription Plans

TradingView offers the following type of subscriptions:
Basic Plan with Free Account
A free plan with some limitations such as how many markets can be viewed simultaneously along with not being able to backtest strategies. This free version is great, however; there's no denying that having access to all those tools on a paid membership offers a lot more value and ease of use for new & experienced traders and investors alike. You may add a phone number thinking about the updated SMS alerts it will send.
This free plan lets users have three indicators per chart using pine script – this is suitable for those that just need a simple overview of prices – also it doesn't allow backtesting or custom time intervals. Furthermore, traders and investors cannot save their work as drafts.
This may be good for those who value privacy yet still want some data stored but these features should simply be included as standard at the very least.
Pro Account
Pro plan is a paid users plan at 14.95$ per month or 119.40$ per annum as a full subscription payment.
Key benefits of Pro:
With this paid plan, you get five indicator templates on your figure charts instead of three, and the ability to store two different time intervals for each chart. You also get 20 server-side alerts – great for keeping an eye on – and an ad-free viewing experience. If you like to be updated about what is going on in the community, you can enable the News Feed feature and stay informed with fresh content from all around the Trading View platform. Volume profile Indicators templates are another satisfying addition that tells how intense is price movement at certain price levels. In other words, the volume profile provides information regarding the market's behavior. You could also design your economic calendar.
Another great feature in the Pro plan is a Customized analysis of time intervals for your charts. Now, you can choose any timeframe and Trading View will adjust to it automatically. The watch list comes in two different variants: enhanced and simple. The main difference between them is that the first one has fewer columns than the second one and also it shows more information about each symbol. Bar replay allows you to go back in time on bars from historical data, without having access to an older chart's data file. Viewing the previous day's action could be very useful if you think there might've been a substantial move but you don't have data feed on yesterday or already closed your paper trading session.
Pro+ package
Pro plan is a paid plan at 29.95$ per month with 30-day free trial.
Key benefits of Pro+:
With Pro+, you get all the benefits of Pro. The other features provided are you get 10 indicators per chart, 4 charts per layout, 100 server-side alerts, 2 devices at the same time and you can view 5 custom formulas as well as use them as indicators on other graphs.
You also get Intraday exotic charts per layout, Charts based on custom formulas, and Chart data export.
Premium Plan
Also one of the paid plans at 59.95$ per month with a 30-day free trial.
Key benefits of Premium (extended trading hours):
With this premium pricing TradingView plan, you also get all the benefits of Pro and Pro+. Additionally, for this price, you can have 400 server-side alerts because it allows more than four simultaneous devices to connect to your account. You can have extended trading hours. You are able to back-test strategies with over 40 years of historical data (400K bars) within the platform. There are no limitations on the number of bars displayed on your saved chart layouts and you can view a larger amount of symbols within your enhanced watch lists. You also get Multi-user support, Unlimited alerts, a Personalized news feed, Sharing graphics from TradingView platform to other social media sites & TradingView for Excel. It also provides priority customer support to ring all the bells.
The mobile app allows for 5 mobile device to be connected to your account and you'll get more than four alerts at a time, along with having 25 indicators on charts per layout.
CLICK HERE TO READ MORE ABOUT TRADINGVIEW
Good Alternatives to TradingView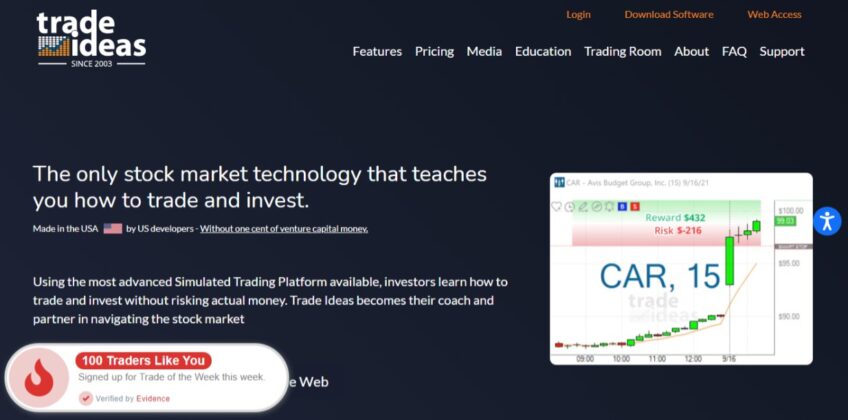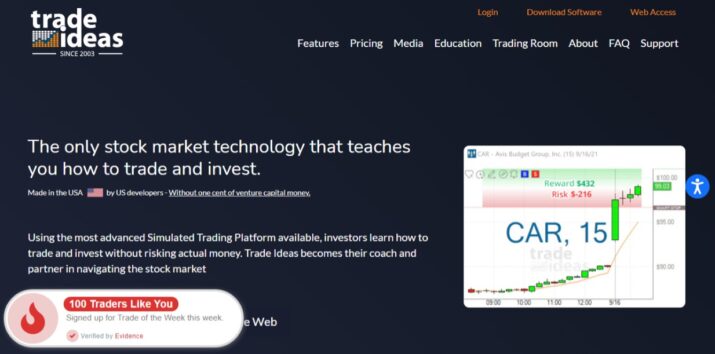 What is it?
Trade Ideas offers an incredibly easy-to-use interface that enables its users to quickly and effectively capture great trading ideas via its many drawing tools and strategies. All of their backtesting results are also displayed live in real-time alongside past performance price data too; making it very simple for new traders and other traders and investors of any level to become profitable using their platform.
Trade Ideas is an AI-powered trading assistant. It scans for signals in news, social media, and the markets that may impact publicly traded companies. The company can then provide you with up to 100 relevant trading ideas each day. Also, when trading strategies are found, it points you to the most important technical aspects of them so your investment decision is timely and accurate. Get alerts when certain events trigger (earnings dates, positive or negative sentiment) allowing you to stay on top of daily news releases without having to constantly check stock prices yourself.
How does it Work?
Sign up for a free account and begin receiving personalized trading strategies via email, text message, or push notification. Once you receive an idea, simply click on the trade that interests you and then click "Buy", "Sell", or "Hold". The platform can be used as a stand-alone tool or as part of your brokerage's software. When you first log in, the company asks for certain information such as your personal day trading style and how much experience you have. Afterward, Trade Ideas scans over 10 million sources including Twitter feeds, news articles, regulatory filings, and more to locate specific events that may move a stock price.
CLICK HERE TO READ MORE ABOUT TRADE IDEAS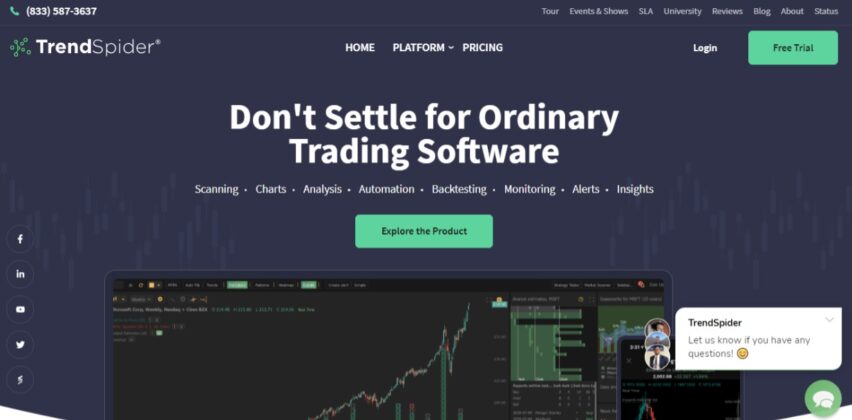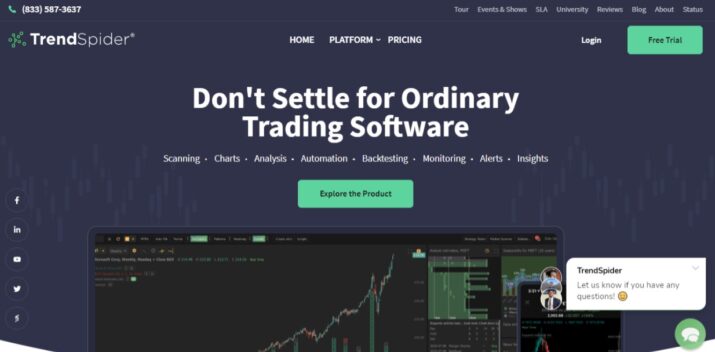 What is it?
TrendSpider will provide you with day trading ideas and strategies based on technical analysis (that means no fundamental analysis). Analyze saved chart layouts and market data right from your computer – no need to visit any other websites – Trend Spider embeds highly customizable intraday spread charts directly into its website, allowing you to analyze the markets and generate high probability buy and sell signals wherever you are in the world.
How does it Work?
Information such as daily highs and lows, weekly highs and lows, volume, market direction, moving average will be displayed on the saved chart layouts under different colors so that traders can easily see past price action.
On Trend Spiders' website, other users can quickly get a sense of which sectors look strong or weak by glancing at their respective sector indexes. The equity index data includes S&P 500 (SPX), Nasdaq Composite (OTC), Dow Jones Industrial Average (DJI), and Russel 2000 (RUT).
While the desktop platform of TradingView is undoubtedly great; their mobile app makes it incredibly easy to trade on the go at any given time. Not only this but you can also use their free charting package too which again; isn't something that most other cryptocurrency trading platforms offer today for free.
CLICK HERE TO READ MORE ABOUT TREND SPIDER
| RECOMMENDED TRADING COURSE | REVIEW | VISIT |
| --- | --- | --- |
| | #1 Forex, Crypto and Stocks trading course. Ranked most comprehensive by Investopedia and Best by Benzinga. Free to Try! | |
Choose Asia Forex Mentor for Your Forex Trading Success
If you have a keen interest in establishing a successful career in forex trading and aspire to achieve substantial financial gains, Asia Forex Mentor stands as the optimal choice for the best forex, stock, and crypto trading course. Ezekiel Chew, renowned as the visionary behind trading institutions and banks, is the driving force behind Asia Forex Mentor. On a personal note, Ezekiel consistently achieves seven-figure trades, a distinction that truly sets him apart from other educators in the field. Here are the compelling reasons that underpin our recommendation:

Comprehensive Curriculum: Asia Forex Mentor offers an all-encompassing educational program that covers stock, crypto, and forex trading. This well-structured curriculum equips aspiring traders with the knowledge and skills necessary to excel in these diverse markets.

Proven Track Record: The credibility of Asia Forex Mentor is firmly established through its impressive track record of producing consistently profitable traders across various market sectors. This achievement serves as a testament to the effectiveness of their training methodologies and mentorship.

Expert Mentors: At Asia Forex Mentor, students benefit from the guidance and insights of experienced mentors who have demonstrated remarkable success in stock, crypto, and forex trading. These mentors provide personalized support, enabling students to navigate the intricacies of each market with confidence.

Supportive Community: Joining Asia Forex Mentor brings access to a supportive community of like-minded traders pursuing success in the stock, crypto, and forex markets. This community fosters collaboration, idea-sharing, and peer learning, enhancing the overall learning experience.

Emphasis on Discipline and Psychology: Success in trading necessitates a strong mindset and disciplined approach. Asia Forex Mentor provides crucial psychological training to help traders manage emotions, handle stress, and make rational decisions during trading.

Constant Updates and Resources: The financial markets are dynamic, and Asia Forex Mentor ensures that students remain up-to-date with the latest trends, strategies, and market insights. Continuous access to valuable resources keeps traders ahead of the curve.

Success Stories: Asia Forex Mentor takes pride in a multitude of success stories where students have transformed their trading careers and achieved financial independence through their comprehensive forex, stock, and crypto trading education.

In summary, Asia Forex Mentor emerges as the premier choice for those seeking the best forex, stock, and crypto trading course to carve a rewarding career and achieve financial prosperity. Through its comprehensive curriculum, experienced mentors, practical approach, and supportive community, Asia Forex Mentor provides the necessary tools and guidance to mold aspiring traders into accomplished professionals across diverse financial markets.
Conclusion
TradingView is definitely one of the most feature-packed cryptocurrency trading platforms available today and provides its users with an incredible amount of flexibility to trade whatever markets they want without any restrictions whatsoever. Not only this but it's free so you can even test out all of its features before investing anything at all into the platform.
While the spreads and fees attached to each trade may be a little bit higher than others; this isn't by much and shouldn't really affect your overall trading performance all that much in my opinion. Plus, with such incredible advanced features available for free, you really can't go wrong here.
But if you would like to explore more, then Trade Ideas and TrendSpider are good AI Trading Softwares because they make the process of finding and managing trades much easier. They can filter through multiple charts and news events from a wide array of sources to pre-filter those which have been verified as being actionable for traders, whether there is a trade signal at the time or not. In this way, these programs can save tremendously on the time that you might have otherwise spent sifting through the various input signals manually, at least until you build an automated workflow to need it less.
CLICK HERE TO GET TRADINGVIEW AT A DISCOUNTED PRICE
CLICK HERE TO GET TRADE IDEAS AT A DISCOUNTED PRICE
CLICK HERE TO GET TREND SPIDER AT A DISCOUNTED PRICE
Like this Article? Subscribe to Our Feed!
Passionate in tech, software and gadgets. I enjoy reviewing and comparing products & services, uncovering new trends and digging up little known products that deserve an audience.