17 Most Important Stock Trading Software [2022]!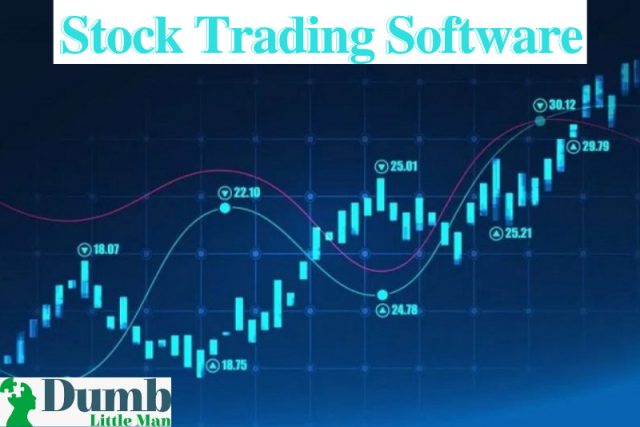 Thanks to the explosion of online trading in the late 1990s, people everywhere can try their hand at stock trading to gain a profit almost instantly. You've probably heard the stories and come across videos of people online who earn thousands of dollars every single day from trading stocks. You probably hope to become one of them. Despite those success stories, stock trading is neither easy nor a guaranteed way to make money. It takes plenty of research, patience, and a dash of luck to gain a significant profit. There are always inherent risks involved in this form of investing. Traders should only ever invest an amount of money they can afford to lose. Fortunately, just as technology continues to transform businesses, industries, and entire economies, it is also transforming stock trading. Trading technologies such as stock trading software are helping investors make smarter decisions.
What Is Stock Trading Software?
Stock trading software is a series of programs that assist in the trading of stocks and currencies. They guide traders through various stock markets and provide the tools necessary to make well-informed stock-picking decisions. These programs offer features for fundamental and technical analysis. Many of them show real-time data and teach you how to react to any fluctuations in the market. Some of them have charting features that allow traders to visualize stock information better. Other advantages include news coverage, backtesting, and advanced AI that scouts for profitable trading opportunities. Regardless of whether you are new to the stock market, a long-term investor or an experienced day trader, stock trading software can help improve your investing strategy.
| RECOMMENDED TRADING COURSE | REVIEW | VISIT |
| --- | --- | --- |
| | #1 Forex, Crypto and Stocks trading course. Ranked most comprehensive by Investopedia and Best by Benzinga. Free to Try! | |
Here are Stock Trading Software For Traders
There are plenty of stock trading software for traders to choose from. Each of them offers a range of advanced tools that improve the buying and selling decisions of stock traders regardless of their expertise. If you are looking to trade stocks, try the following stock trading software.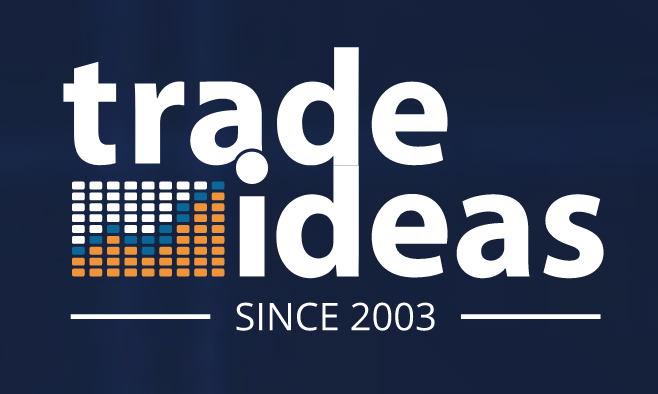 Image from Trade Ideas
Trade Ideas is an important stock trading software for any trader, but especially for day traders. It offers an impressive arsenal of sophisticated trading tools that have the ability to drastically improve trading strategies. Moreover, this trading platform is widely regarded to be one of the most advanced and trustworthy available to both amateur and professional traders.
Pros
Trade Ideas is considered to be one of, if not the best stock trading software around for good reason. It is hands down the best day trading software available. This platform is the most advanced day trading option for stock prediction and trade signals.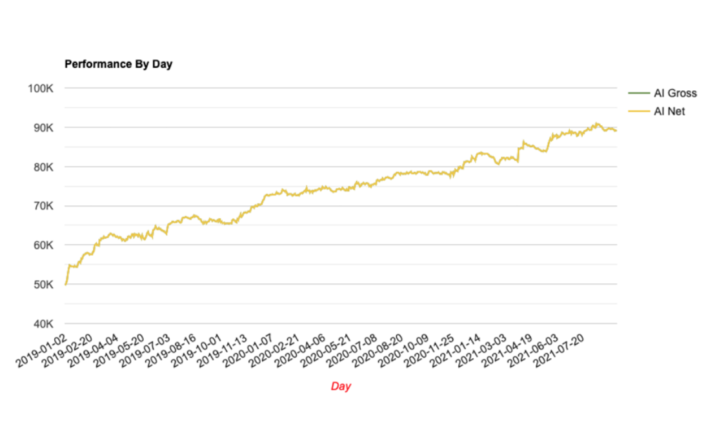 Image from Trade Ideas
It leads the industry in terms of artificial intelligence. The platform's AI, named Holly, is capable of suggesting trade opportunities that are potentially profitable. It scans for sudden spikes in mentions of particular stocks on social media so traders know the latest trends. Holly uses three algorithms that are constantly learning how to improve. In addition, active traders who grow tired of choosing their own stocks or want to take a break can switch into a fully automatic portfolio managed by Holly. Trade Ideas is one of very few trading platforms with the flexibility for AI-automated trading.
Their leading AI technology makes Trade Ideas the best stock trading software for day trading. Their AI can provide helpful trading signals for auto-trading. These trade signals are based on millions of backtests on numerous trading strategies. They are particularly useful for day trading because it scans and analyzes millions of trading ideas daily. The AI-generated signals can help anyone make a profit from day trading.
Beginners and experienced traders alike will benefit from the education and support on the Trade Ideas platform. They offer comprehensive resources to help new investors succeed in the stock market. These resources range from a live training class, introductory lessons, and the option for 1-on-1 lessons. On top of educational resources, Trade Ideas offers advanced tools for perfecting trading strategies. Through their Simulated Trading feature, investors can learn how to trade with the help of market experts. They can simulate various strategies without the risk of losing real money.
Other incredible features include point-and-click backtesting capabilities, a superb scanner system, risk assessment, and more.
Cons
Trade Ideas is one of the pricier trading platforms on this list, but you get what you pay for. In this case, you're paying for the best stock trading software available.
Broker
Best For
More Details

Scanning Platform
Read Review

 




securely through Trade Ideas website

Image from TrendSpider
TrendSpider is a stock charting software with a state-of-the-art AI. In terms of technical analysis using charts, there are few trading platforms that can compete with TrendSpider.
Pros
TrendSpider is one of the best stock trading software programs for technical analysis using charts. This stock charting software is one of the few trading platforms capable of automating chart analysis. The software is also available as a mobile app.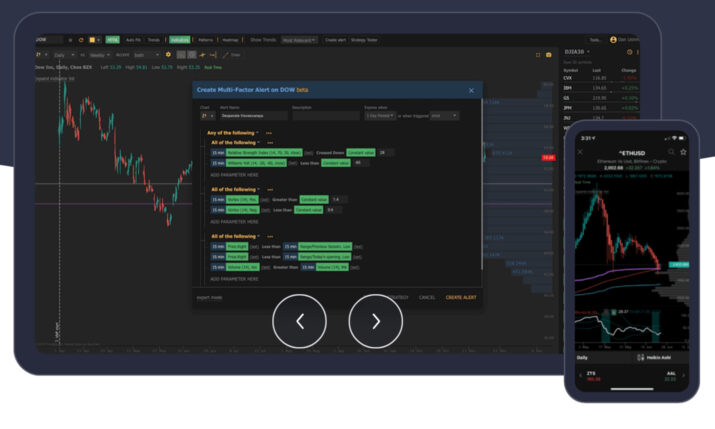 Image from TrendSpider
Its AI uses complex algorithms to automate technical analysis and present it to traders through charts. These algorithms backtest thousands of trades to identify those most relevant to the trader. An advanced trader will greatly benefit from the technical analysis indicators offered by TrendSpider.
This allows active traders and day traders to visualize the patterns occurring in regards to a specific stock. TrendSpider offers cutting-edge automated technical analysis tools to help traders analyze the market.
As a day trading software, users will benefit from the automated trendline and candlestick detection. Their AI recognizes patterns that can be especially useful for day traders. This technical analysis software can also automate multi-frame analysis, allowing those interested in day trading to view trendlines across multiple time-frames on the same chart.
All of these features combined can save trades and investors a tremendous amount of time from analyzing the market. Moreover, its backtesting of automated trendlines along with its cutting-edge pattern recognition makes TrendSpider one of the best technical analysis software available.
Cons
Unlike other platforms, TrendSpider has no feature that connects you to other traders for support or advice. Another downfall is the absence of automated trading.
Broker
Best For
More Details

Tool for Charting and Analyzing
Read Review

 




securely through Trendspider website

Image from Benzinga Pro
Although it is not traditionally a trading software, Benzinga Pro has become a powerful market analysis software. Benzinga Pro is a streaming platform for financial news.
Pros
Experienced traders understand the importance of financial news and its impact on trading systems. Benzinga Pro is specifically designed to inform traders and investors of news that could affect the stock market. This makes it an extremely powerful day trading software.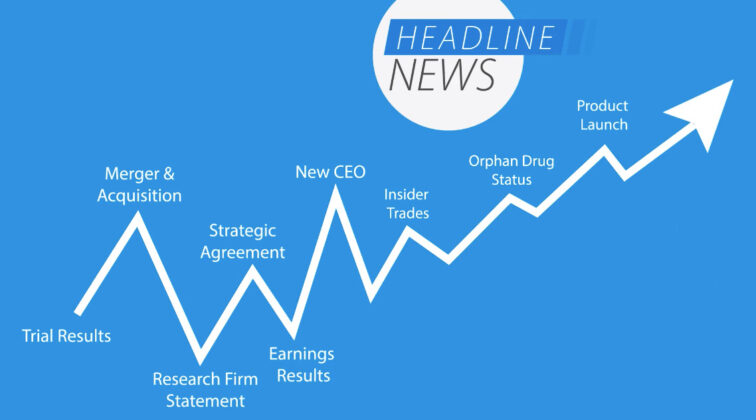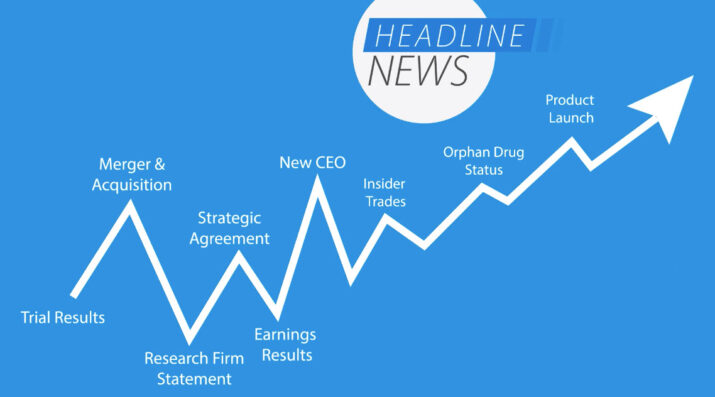 Image from Benzinga Pro
Benzinga Pro is arguably the most important financial news resource for anyone interesting in day trading, active trading, or a long-term investment. Staying on top of financial news is one of the best research tools for active traders.
On top of access to historical data such as earnings, Securities and Exchange Commission filings, and other corporate news that could potentially impact the value of a stock, Benzinga Pro offers real-time data on companies.
As a research tool, it offers news data feeds with features such as keyword search, custom filters, sentiment indicators, and more.
Traders can use the Movers tool to view real-time market data of the biggest losers and gainers. This allows day traders to take advantage of the top market movers and make trades accordingly.
There is also a very useful Signals tool that alerts users instantly of any sharp price fluctuations or other large trades occurring in real-time. Traders can customize their signals through filters.
Benzinga Pro includes a great stock screener as well. Using the stock screener, you can search for stocks using a wide array of technical criteria. Filtering according to these technical indicators will allow you to find the most suitable stocks for your trading style and goal.
Cons
Although Benzinga Pro is hands down the best news and research tool for traders, it is limited to equities news.
Broker
Best For
More Details

Stock Screener Platform
Read Review

 




securely through Benzinga website
4. Stock Rover


Image from Stock Rover
Stock Rover is one of the best stock trading software programs for analysis and research. Many of its most useful features are available to traders for free. It also offers broker integration which enables portfolio management.
Pros
As a free trading software, Stock Rover is absolutely stacked. For traders on a budget, this is a great free stock trading software to try.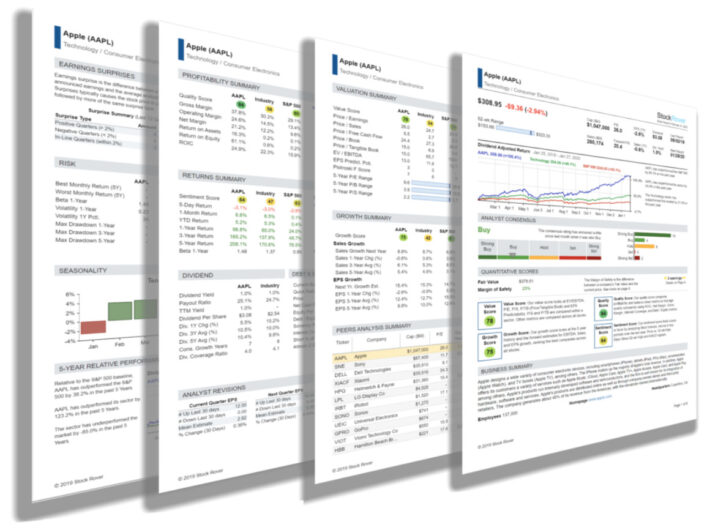 Image from Stock Rover
As a research and analysis tool, Stock Rover excels with its stock research reports. These reports cover real-time data as well as historical data.
Its stock screener is one of the best on the market. Its market scanning criteria are based on the strategies of Warren Buffett. It screens data points from a huge financial database, which gives traders the advantage of a full picture. Knowing the history of a company and its past performance is crucial when making trade decisions. Moreover, traders can take advantage of the historical data to backtest their strategies.
Another advantage of using Stock Rover as your stock trading software is the ability to connect to your brokerage platform. Liking to your brokerage account unlocks the portfolio management feature. In addition to managing your portfolio, the software can create reports based on your performance. This results in one of the most comprehensive stock trading software programs.
Other useful features include the ability to view market news, comparing strategies to gurus, and charting options.
Cons
Although many of its features are available for free, its true potential can only be unleashed with the premium version. Moreover, day traders will not benefit as much from this stock trading software as long-term investors. Its charting abilities are also not up to par with other stock trading software options. Stock Rover offers no market data on global exchanges.
Broker
Best For
More Details

Best Investment Research Platform on the Web
Read Review

 




securely through Stock Rover website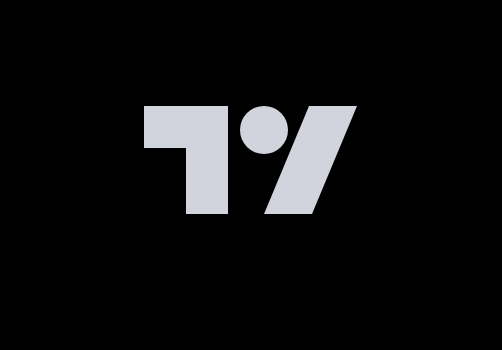 Image from TradingView
TradingView is one of the most popular stock trading software. It also offers many of its most useful features for free.
Pros
There are numerous benefits to using TradingView as your stock trading platform. It's one of the only online stock trading software that grants access to global stock, cryptocurrencies, Forex, and CFD trading. It's also available as a mobile app for more convenient trading.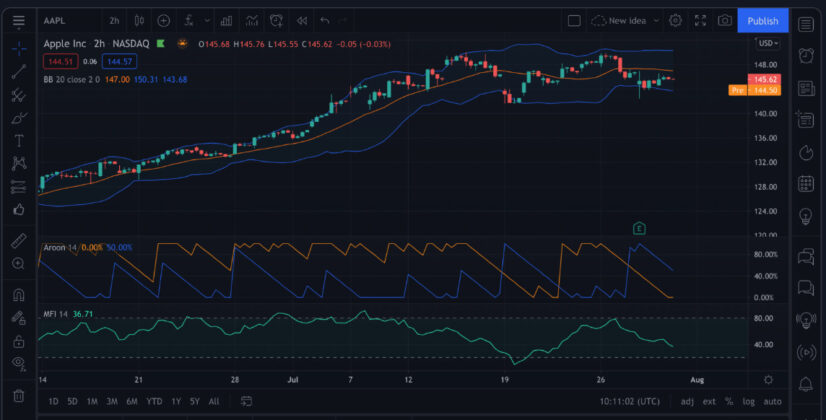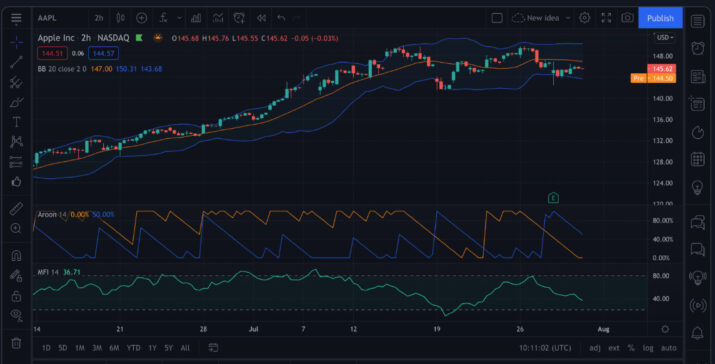 Image from TradingView
TradingView is a good choice for any trade hoping to make money trading stocks in Forex and cryptocurrency markets. Moreover, it's one of the only trading software that offers CFD trading.
It also boasts a strong trading community where traders can turn to more experienced traders for feedback and advice. There are plenty of groups to join depending on your trading strategy and stock interests. This is a great opportunity to learn from other investors and experts in the market. It offers one of the largest social networks for investors and traders.
There are plenty of technical indicators and chart styles to choose which allows for a more custom technical analysis. Some of the most useful features include a point and figure option as well as candlestick patterns recognition. TradingView also offers a multi-timeframe analysis feature in its charts which is very useful for a well-informed trading strategy. These technical analysis tools can be very useful for informing trades and the performance of a particular stock.
This stock trading platform truly shines in terms of its user-friendly interface. The features are incredibly easy and intuitive to figure out. This makes TradingView a great option for beginners who are just learning how to trade stocks.
In terms of screening, TradingView offers a variety of both fundamental and technical criteria for users to filter stocks with. This ensures that only the most suitable stocks are brought to the trader's attention. It provides a strong technical analysis using hundreds of pre-built indicators and thousands more that were built by the community.
Other helpful features include news feeds, backtesting, and more.
Cons
Although TradingView is a great free trading software, most of its best features are locked for premium subscribers. Moreover, this software does not cover stock options trading. While it includes news feeds to its platform, users can't customize the data feeds and the news is not in real-time.